Lavender grey hair is pretty fashionable and looks absolutely stunning! If you're a hair color enthusiast, you should definitely try dyeing your hair lavender grey because it gives out unique chic vibes.
Dyeing your hair lavender grey is a great option because the color compliments almost every skin tone and looks classy! Keep reading for some lavender grey hair inspiration!
How to Get Lavender Grey Hair
To dye your hair lavender grey, first, you need to dye your hair the color of the base, that is, grey and then you need to super-impose the lavender color on the grey hair.
If you have naturally blonde hair, then lucky for you! You just need to apply any permanent grey hair color on your hair after mixing the cream color and developer.
However, if you have dark brown or black hair, you'll need to bleach your hair to a blonde color first. You might require two bleaching processes if your hair is very dark. After the bleaching, don't forget to remove the yellow undertones by applying purple hair toner! Next, apply grey hair color to your hair.
After you've dyed your hair grey, it's time to add the lavender hair color! There you go, flawless grey hair in no time!
Watch The Following Video to Learn How to Dye Your into Lavender Grey Color
Lavender Grey Hair Vs. Silver Lilac Hair
It's pretty common for people to get confused between lavender grey hair and silver lilac hair. However, the distinction between the two is pretty obvious and noticeable. Lavender grey hair consists of a dull tone of grey. That grey tone isn't shiny. On the other hand, silver grey hair consists of a silver tone, which is shiny.
Moreover, the difference between the lilac and lavender color is pretty noticeable too. Lilac consists of purple with a hint of pink, whereas lavender consists of purple with a hint of blue.
In short, the lavender grey hairstyle has a bluish purple and dull or matte appearance whereas silver lilac has a shiny silver and pinkish purple appearance!
Makeup Tips for Lavender Grey Hair
Every hair color has its own set of makeup looks that are compatible with the color. Not all makeup suits all hair colors! Here are a few makeup tips for lavender grey hair:
Wear Dark Lipstick
Dark lip colors complement and bring out the beauty of lavender grey hair. Wear dark lip shades like maroon, brown, purple, etc.
Don't Forget Eyeliner
The eyeliner looks great with lavender grey hairstyles! It makes your eyes look bigger and at the same time, makes sure that the classy look of your lavender hair is preserved!
Keep Your Eyeshadow Color Light
Lavender grey hair color looks great with light eyeshadow colors, especially, faded purple hair color! You can also highlight the inner portions of the eyelid with silver or grey color. A dark eyeshadow doesn't go with lavender grey hair because it would take all the attention away from hair!
Best Lavender Grey Hair Inspirations
We have compiled a list o 10 most amazing lavender grey hairstyle ideas for you to choose from and try funky hair colors on your hair.
Lavender grey bangs look absolutely stunning! This lavender grey hair color is pretty well-done with the combo getting enhanced by the lip shade. In the photo above, all of the hair has been dyed lavender grey and looks gorgeous!
2. Hints of Lavender and Grey
In the photo above, the hair color is pretty heterogeneous. Not all of the hair has been dyed with lavender highlights with grey color and that looks pretty stunning! The shades of blonde and brown that are between the lavender grey hair dye give a very chic and stylish look!
3. Wavy Bob
This bob cut with the hair fully dyed lavender grey looks stunning! Bob cuts look very cute on those people with oval face shape, so if you have an oval face shape, you should go for this look! Bob hair cuts are also pretty easy to manage and get dyed, which is another plus for this lavender grey hair inspiration!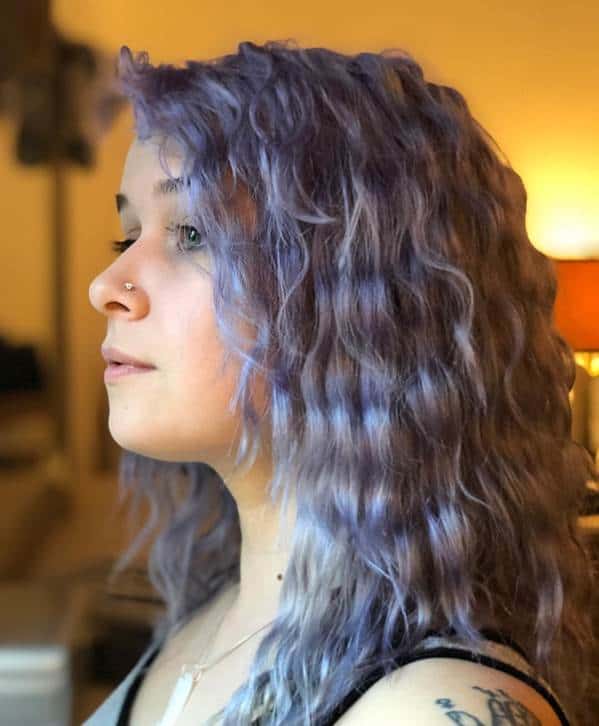 Lavender grey hair color looks amazing on curly hair! It makes the curls look more prominent and enhances their beauty. Dark-colored curly hair doesn't have prominent curls, so if you have dark curly hair, you should try dyeing your hair lavender grey! The color looks classy and pretty!
Dye your hair grey from the top and lavender from the bottom. Next, curl the lavender portion at the bottom to get this stunning hairstyle! The transition from grey to lavender is pretty well-done in the picture above and it looks pretty amazing!
The picture above shows lavender grey hair with short loose curls. The waves give a pretty classy and young look to the hairstyle. This hairstyle looks absolutely stunning and will look even better when complement by the flower.
7. Lavender Grey Hair with a Fishtail Braid
Lavender grey hair looks stunning with crown braid and complemented with flowers, as shown in the picture above! The short hairstyle further accentuates the look of this hairstyle. In this look, the lavender and grey hair has been colored homogenously and almost evenly, leaving behind no virgin hair.
This wonderful hair color combination looks gorgeous. In most cases, the grey hair is on the top and it gradually tapers off into lavender hair. However, in the picture shown above, the pastel lavender hair is at the top and it eventually tapers off to grey hair.
This lavender grey hair especially suits those hair colors which are originally dark in color because when the hair grows from the roots, the shift from dark lavender hair to brown or black hair looks gradual instead of abrupt as is the case when the grey color is on the top! Therefore, it allows your hair to grow without the awkward dark hair growth phase!
In this hair color, the bluish tint of the lavender color is pretty prominent, giving a bluish lavender grey hair look! It's a great hair color to have, especially if you're out of hair colors to experiment with! The bluish tin gives a soothing sensation to the eyes whereas the greyish color gives a classy and chic vibe!
10. Lavender Grey with a Green Tint
This lavender grey hair with a greenish tint looks amazing! It's a pretty soft and warm color to look at and it's soothing to the eyes! Lavender and grey color, when mixed with a hint of pastel green, gives a wonderful combination that will make your hair look stunning and gorgeous!
FAQs on Lavender Grey Hairstyles
Q. Which Skin Tone Suits Lavender Hair The Best?
Ans: Lavender grey hair suits light to dusky skin tones the best. On darker skin tones, dip-dyed hair with the lavender grey color at the bottom also looks great.
Q. Can Lavender Grey Dye Make Your Hair Look Grey?
Ans: Yes, the lavender grey dye can make your hair look grey. Actually, grey hair, also called granny hair, is pretty fashionable so it looks great!
Lavender grey hair is a trend that has hit the fashion industry by storm! Hair enthusiasts from all over the world have hopped on to the grey hair bandwagon and they love it! Never be afraid to experiment with your hair or try a new look because you never know which look might suit you better!
Moreover, trying a new hair color always uplifts your mood and change is always good because it helps you start fresh and look different. It's pretty easy to get bored with your natural hair color! So, what are you waiting for? Try dyeing your hair lavender grey! It can be done at home as well, but to be on the safe side, get it done by your hairdresser!