While ombres are conquering the world, there is a special type of this hair coloring technique that's often overlooked. Reverse ombre hair color is a wonderful way to breathe new life into your old hairstyle. It's an unexpected approach that will definitely make you stand out of the crowd while turning your hair into something really special. Since reverse ombres are not as popular as regular ombre or balayage, they look even more impressive. A reverse ombre entails coloring the top part of your hair with a light shade and leaving the bottom part dark. The disadvantage of this technique is the roots that will soon become visible on the light top part. Reverse ombres require frequent touch-ups.
Popular Reverse Ombre Hair Color Ideas
Since frequent touch-ups are a must for the reverse ombre hair colors, you can experiment with completely wild shades. While regular blonde and brown mixes are popular, you can go further to try something purplish or pinkish. Since the reverse ombre is a statement all on its own, adding some wild colors into the mix can really create an impressive picture. Don't stop at a simple reverse ombre, ask your hairstylist to recommend something extraordinary.
1. Blonde and purple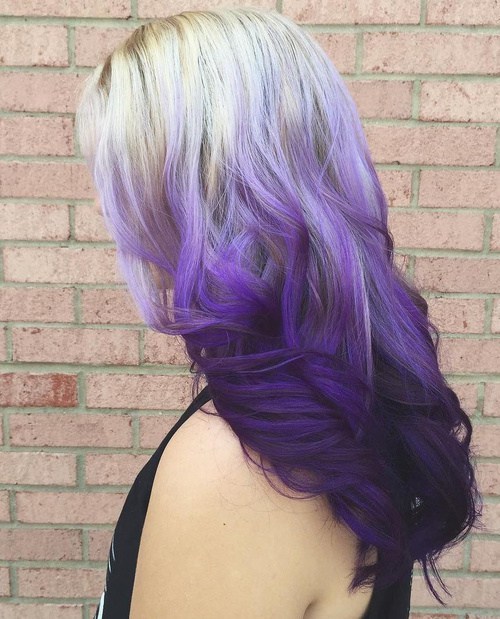 This is a perfect example of an extraordinary reverse ombre hair color. While looking impressive, this mix is actually soft and very stylish. Such experiments often bring the best results.
The Best 45 Ombre Hair Colors for You
2. Three-stage reverse ombre
Just like with a regular ombre, a reverse ombre can have several shades. Consider starting with honey blonde, going on to the reddish hues and dyeing the rest of the hair light brown.
3. Impressive reverse ombre
This reverse ombre is specially created for girls with naturally dark hair. If you take this 3 or 4 color approach, the dark roots won't be standing out too much. Consider using the balayage technology for the best results.
Balayage and Ombre Hair Color Ideas
4. Cold colors
Cold blond and black colors are a wonderful choice for a certain image. Choose the dark black, soft ash brown and bleached blonde shades to achieve an impressive reverse ombre. Even the dark roots might look as part of the balance.
5. Reverse ombre for short hair
Even of you have a short bob, you can enjoy a reverse ombre in full. All you have to do is keep the top light layer a bit higher than your ears and dye the rest of the hair any color you wish.
Reverse ombre hair color is a unique way to completely change your image and keep the heads turning. If you are not afraid of frequent maintenance, this hair dyeing approach should be your first choice.