While ombre is conquering the world, there is a special type of this hair coloring technique that's often overlooked. Reverse ombre hair color is a wonderful way to breathe new life into your old hairstyle. It's an unexpected approach that will definitely make you stand out of the crowd while turning your hair into something really special.
Since reverse ombre is not as popular as regular ombre or balayage, they look even more impressive. A reverse ombre entails coloring the top part of your hair with a light shade and leaving the bottom part dark. The disadvantage of this technique is the roots that will soon become visible on the light top part. Reverse ombre require frequent touch-ups.
Reverse Ombre Hair Color Ideas
Since frequent touch-ups are a must for the reverse ombre hair colors, you can experiment with completely wild shades. While regular blonde and brown mixes are popular, you can go further to try something purplish or pinkish.
Since the reverse ombre is a statement all on its own, adding some wild colors into the mix can really create an impressive picture. Don't stop at a simple reverse ombre, ask your hairstylist to recommend something extraordinary.
1. Red to Black Reverse Ombre Hair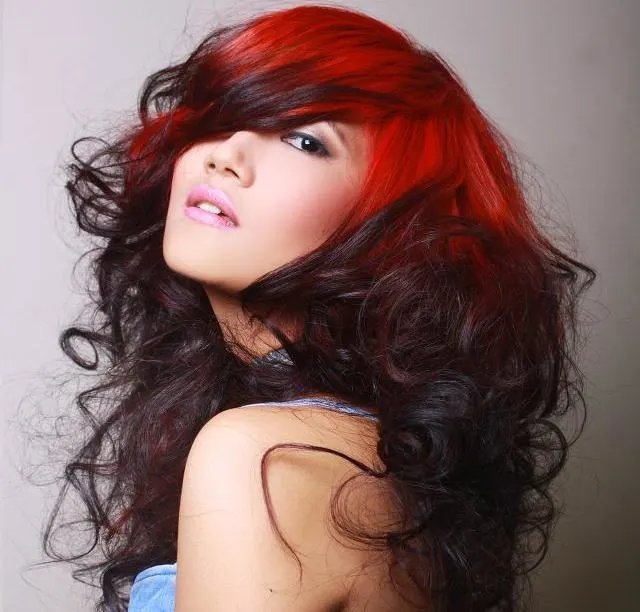 An electric red peeks through on long dark reverse ombre hair. Red is the perfect punch of edgy color for women who feel fierce and bold in their look.
2. Reverse Gray Ombre Hair Color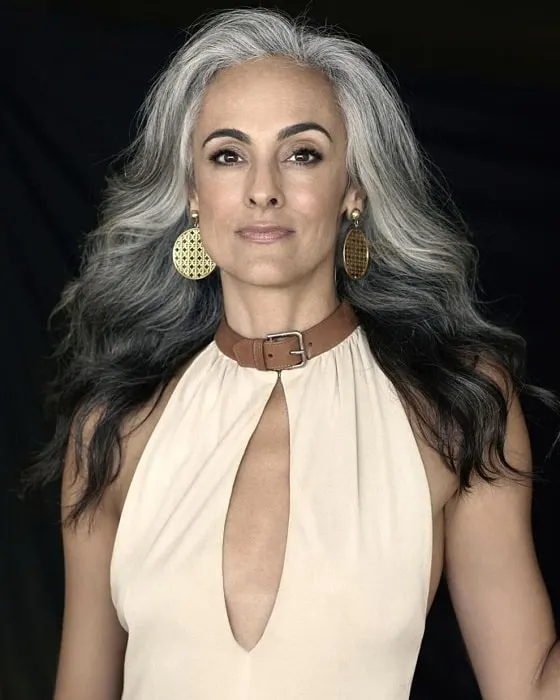 Reverse ombre is for older women too! Try it with your natural grey root tone and blend it with black to show the world you're happy to embrace style at any age!
3. Light Red Reverse Ombre
On this long hairstyle, light red fades to brunette for a truly unique pairing. If your skin is naturally light or pale, this is a combination that will actually look very natural.
4. Rainbow Reverse Ombre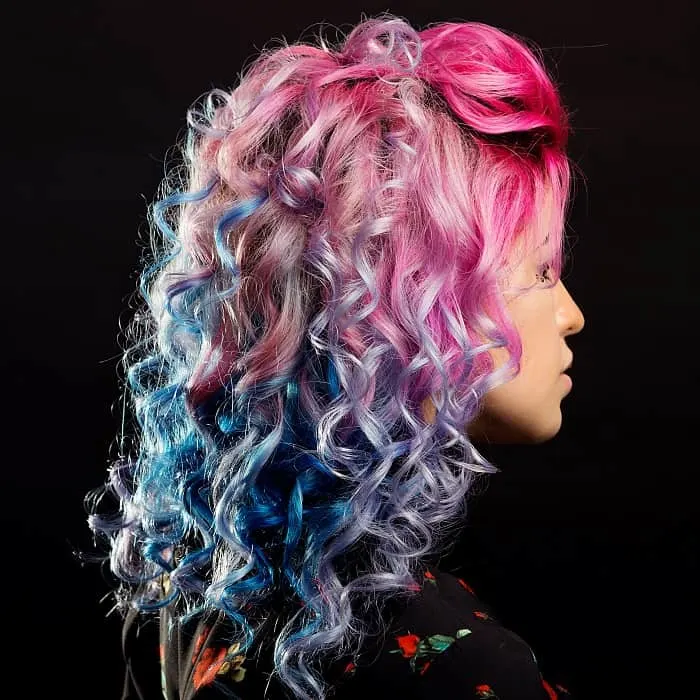 Why pick only two colors for your reverse ombre when you can combine three! Pink, purple, and blue ensure a statement style on medium curly hair.
5. Reverse Ombre Brown Hair
Light blonde melts into light brown beautifully on women with caramel skin tones. Add a side part and curls to the ends of your hairstyle for finishing touches.
6. Platinum and Orange Reverse Ombre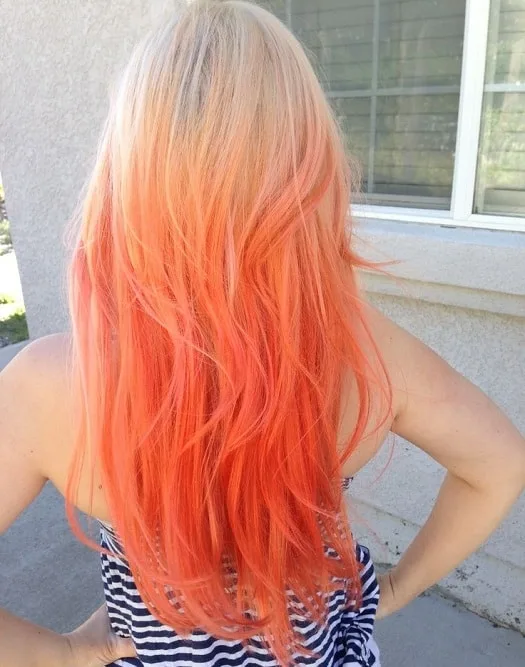 Orange probably isn't the first color you'd choose, but there are several tones on this reverse ombre that work beautifully with platinum and light blonde.
7. Light Brown Reverse Ombre
Add light brown with a dash of grey to this reverse ombre style and your traditional black hair will become more edgier and noticeable.
8. Burgundy Reverse Ombre
There are three shades to make this look: burgundy, brown, and a subtle forest green. If you can't decide on just two colors for your reverse ombre style, pick three!
9. Blonde and purple
This is a perfect example of an extraordinary reverse ombre hair color. While looking impressive, this mix is actually soft and very stylish. Such experiments often bring the best results.
10. Three-stage reverse ombre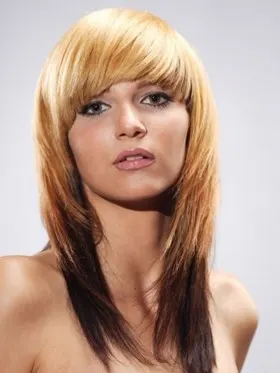 Just like with a regular ombre, a reverse ombre can have several shades. Consider starting with honey blonde, going on to the reddish hues and dyeing the rest of the hair light brown.
11. Impressive reverse ombre
This reverse ombre is specially created for girls with naturally dark hair. If you take this 3 or 4 color approach, the dark roots won't be standing out too much. Consider using the balayage technology for the best results.
Balayage and Ombre Hair Color Ideas
12. Cold colors
Cold blond and black colors are a wonderful choice for a certain image. Choose the dark black, soft ash brown and bleached blonde shades to achieve an impressive reverse ombre. Even the dark roots might look as part of the balance.
13. Reverse ombre for short hair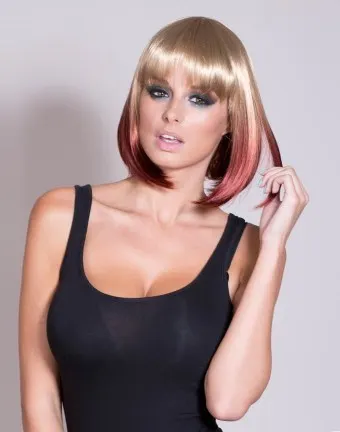 Even if you have a short bob, you can enjoy a reverse ombre in full. All you have to do is keep the top light layer a bit higher than your ears and dye the rest of the hair any color you wish.
14. The Red Grunge Reverse Ombre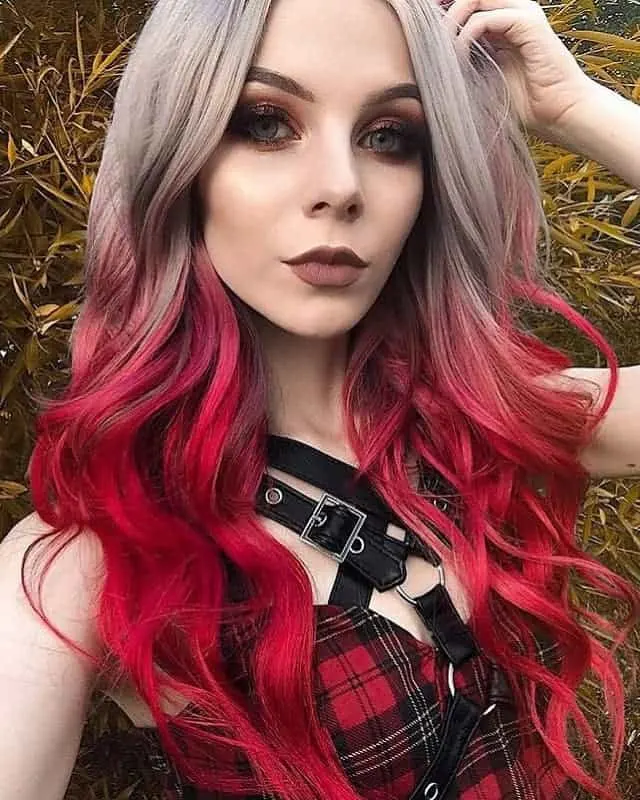 The red grunge reverse ombre is the perfect way to pair these deep red curls with silver blonde hair. It's a beautiful hair color if you're planning for deep red ombre ends and you have silver blonde hair then this look will be easy to pull off.
15. Sky Blue Reverse Ombre Hair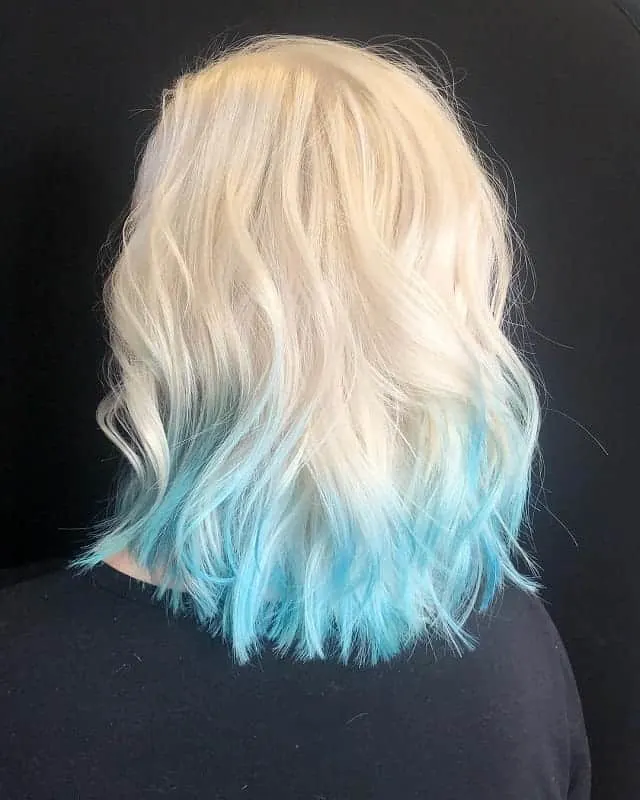 Platinum blond on itself is amazing. But combining it with sky blue electric reverse ombre could be one of the most exciting decisions you'll ever make. Even if you are tired of the blue color, you can wait for the end to grow and cut some hair off.
16. Fiery Orange to Blonde Ombre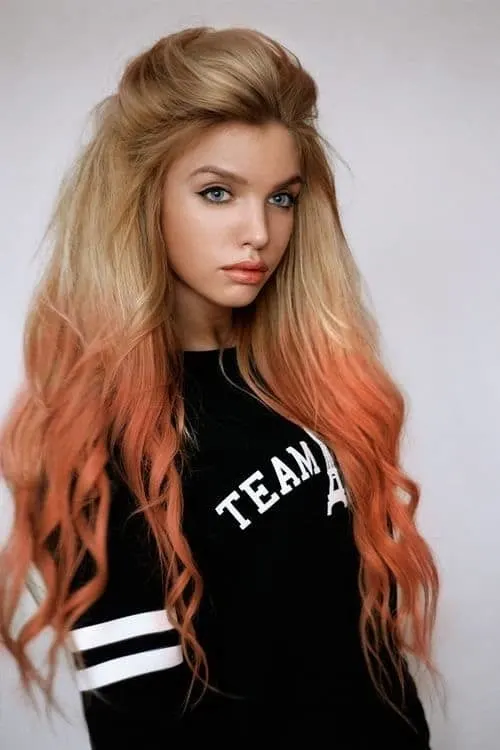 This fiery orange look is superb for girls with long hair. All my twenty-something who want to do something different with your hair you need to try this style ASAP. The soft curls add depth to the reverse ombre hairdo.
17. Dark Blue Reverse Ombre with Bangs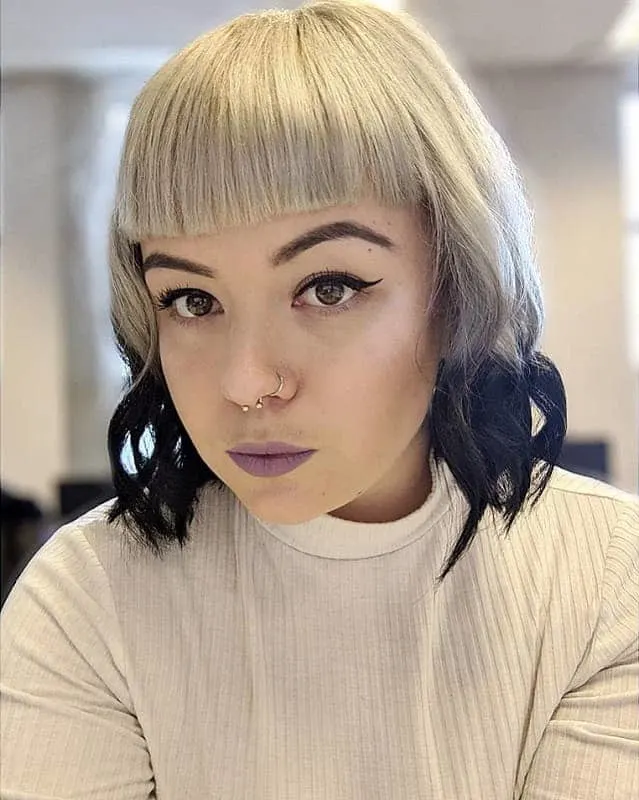 The word edgy has been described by the above image perfectly. You thought short hair and bangs could not get any edgier? Give a try to a dark blue ombre and see for yourself.
18. Reverse Red Ombre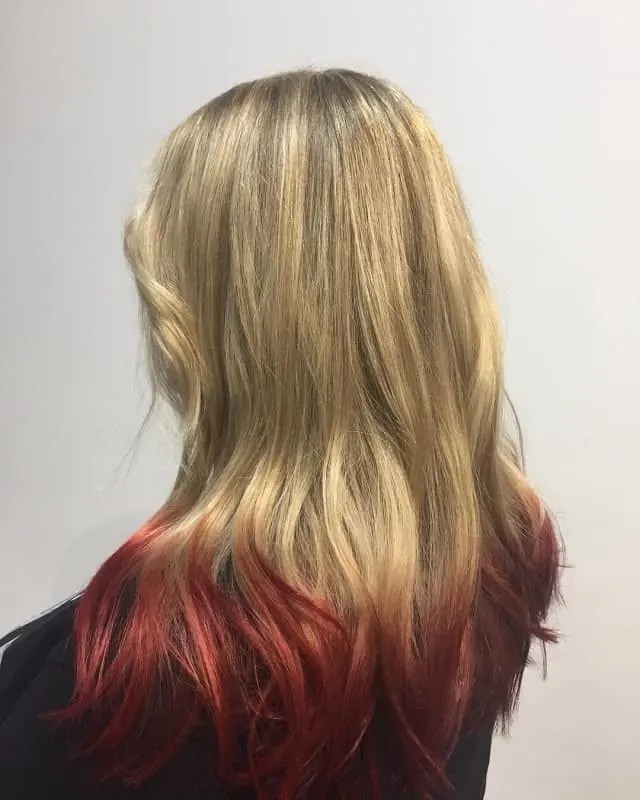 This hair color knows it's going to get enough attention. You don't need bright flashy colors all the time. A softer look like this can work perfectly well if you have long hair and want to show off your feminine side.
19. Blonde and Wine Red Reverse Ombre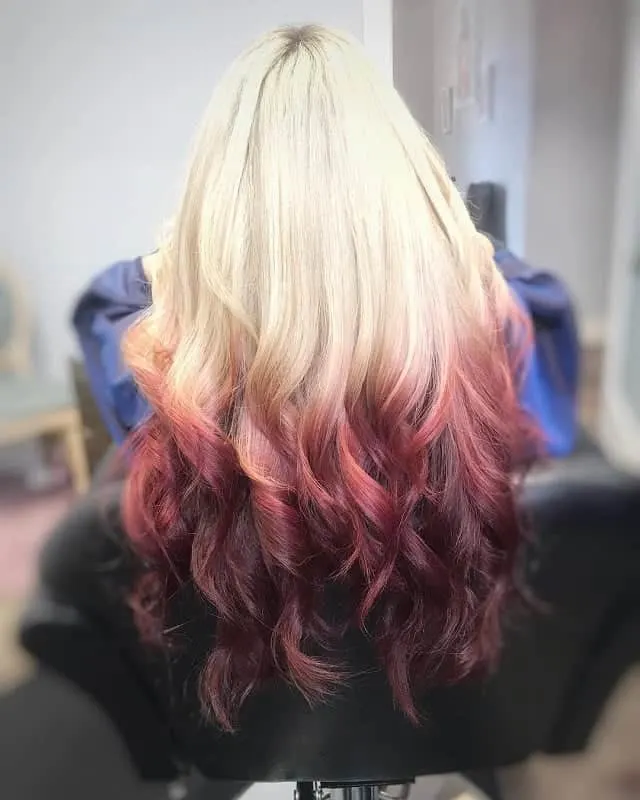 This combination is a layered reverse ombre hairstyle. The wine red look is gradually achieved with a light to a dark color application on the roots. This looks chic on light blonde hair.
20. Strawberry Blonde to Red Ombre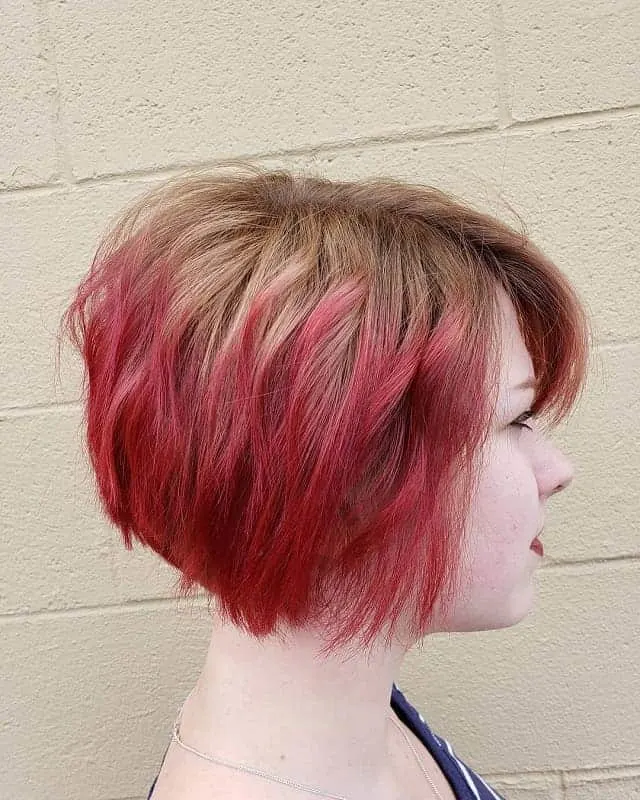 Strawberry blond to red may feel like a natural combination. It's a very eclectic style, and the lob is a great way to wear it.
21. Mermaid Reverse Hair Ombre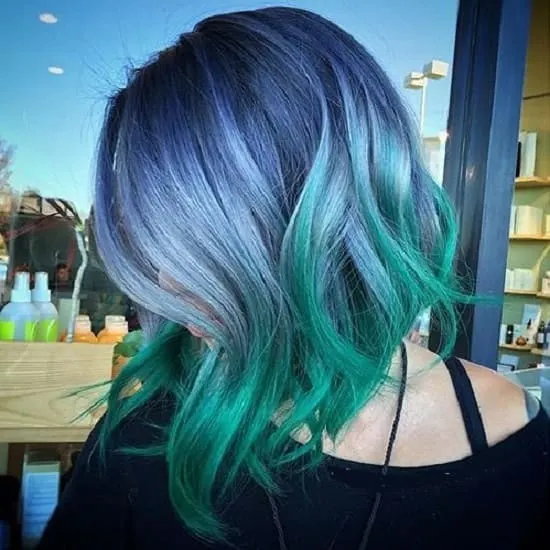 The mermaid's hair is the epitome of grunge fashion. Rocking mermaid hair in a reverse ombre combo can make you on top of your hair game. To be fair, this ombre will require a lot of work to achieve, but when done by professionals it can be very amazing.
22. Blonde to Burgundy Ombre
Burgundy is a very elegant and well-liked hair color. It's always in demand because it's the easiest to carry off without looking too flashy. But this blonde to burgundy will put you directly into the spotlight.
23. Blonde with Black Reverse Ombre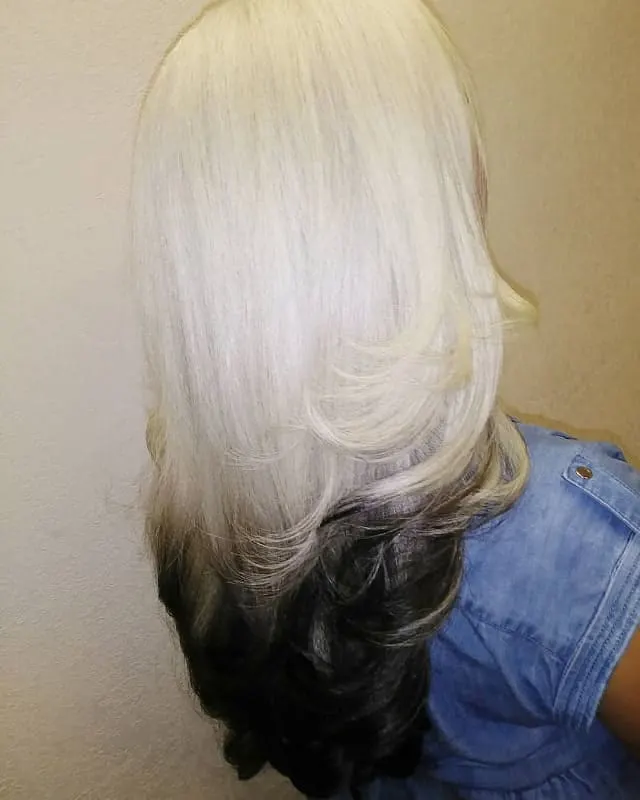 It can feel like you can do much with platinum blonde hair, but this look will have you thinking twice. This crisp blonde to black combo is amazing for a rock and roll look that is grunge and chic.
24. Bubble Gum Pink Reverse Ombre
Bubble gum pink is a very trendy color right now. The color is great when the sun catches it. The blonde hair on the roots and the pink ends are a fashionable choice you can definitely make.
25. Silver to Night Black Ombre
This look combines the night sky especially for you. With beautiful starry silver hair at the roots, it gets darker like the night sky towards the end. This look can be elegant if you're keeping your hair sleek and straight.
26. The Silver and Light Purple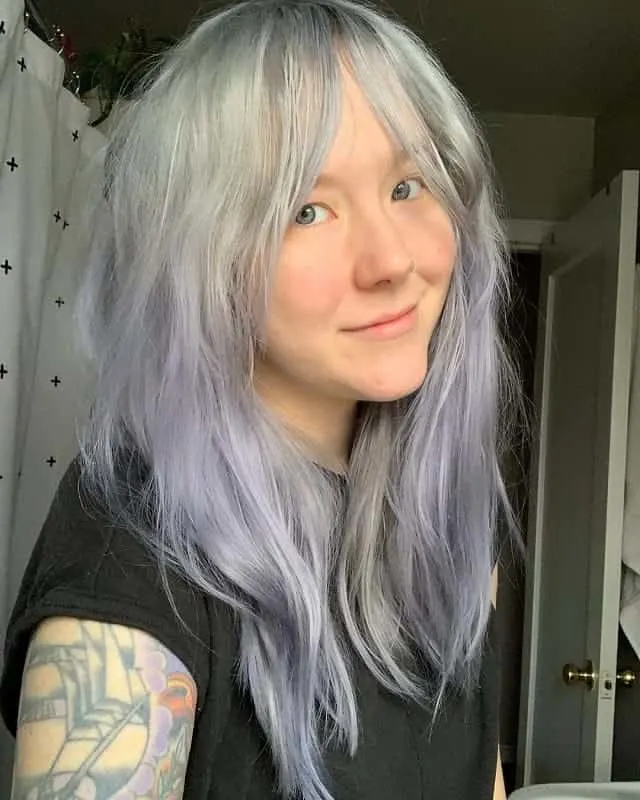 Silver hair is iconic at the moment in the hair color industry. With everyone trying it out you can always up your game by putting in a reverse ombre of light colors like this purple. It's a great combination if you want to keep the shades light in your hair overall.
27. The Unicorn Hair Combo
Unicorn hair is basically a combination of metallic color and platinum blonde hair that ends up looking like a holographic design. It's literally the coolest hair you will ever have in your life. The holographic darker ends provide the right kind of balance to pull this look off.
28. The Strawberry Blond Reverse Ombre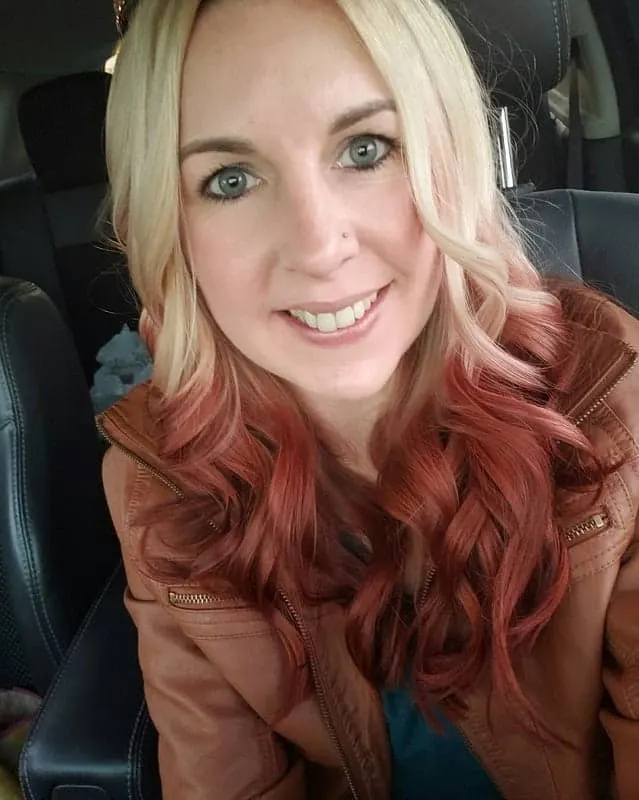 We covered strawberry blonde hair to red, but this one is unique. It pairs blonde hair with the iconic strawberry blonde color at the ends. It gives it so much more volume.
29. Three Layered Reverse Purple Ombre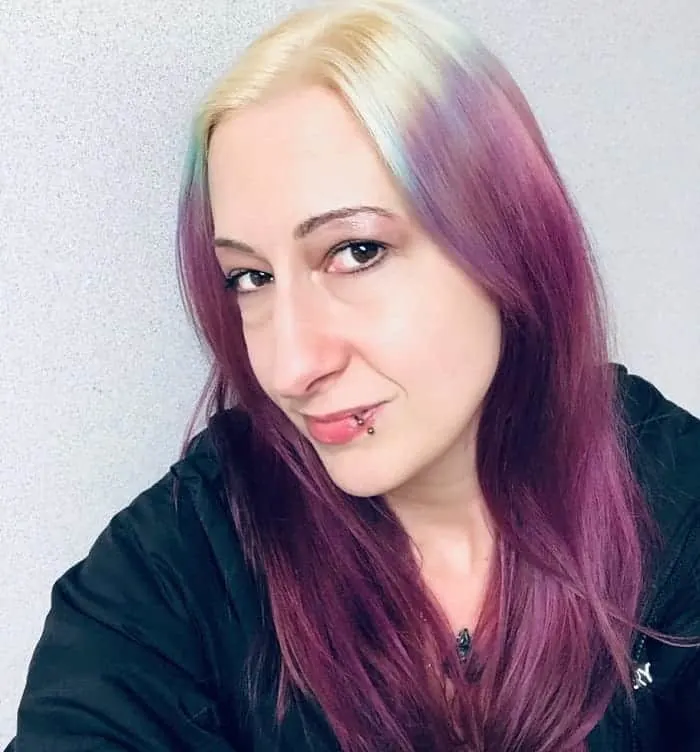 This layered ombre is beautifully unique. The blonde hair leads to some amazing strands of lovely metallic blue which leads to a deep purple fit for royalty. All you have to do it's start the color a little above the ears.
30. Green And Blue Reverse Ombre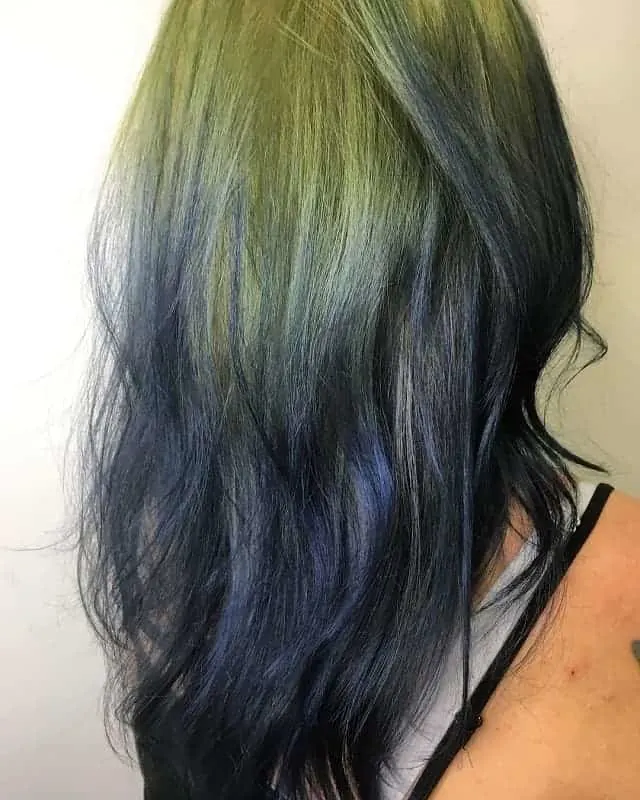 The last one on our list is a gorgeous but definitely different reverse ombre hair color combo. It's truly one of a kind hair color that you can try it if you're in the mood for something fun. The luscious green gives away to the dark blue roots which are electrifying and unique.
Tips for Choosing The Right Reverse Ombre Hair
When it comes to choosing the right reverse ombre look for your hair, you'll first want to figure out which colors you'd like! While the most common colors are blondes, you can try playful combinations too – just make sure they blend well together.
Make sure your choice will be professional for work – some companies have a strict policy about that. Other factors to consider are which tones complement your skin complexion and how often you'll need to visit the salon for touch-ups.
Reverse ombre hair color is a unique way to completely change your image and keep the heads turning. If you are not afraid of frequent maintenance, this hair dyeing approach should be your first choice.