Even if you don't know much about the world of fashion, you have probably heard about spiky hairstyles. Both men and women who like to make statements sport all types of such haircuts.
Short spiky hairstyles have been in style for ages. Every year brings new variations. The size, the length, and the colors vary, but the popularity of the spikes stays the same.
Girls with short spiky hairstyles can look amazing if you choose the style correctly.
Short Spiky Hairstyles for Fashionable Women
Keeping up with hairstyle trends can be challenging, as some cuts only last for a short period while others remain stylish over time. One of them is a short spiky hairstyle.
You must be brave to try a short spiky haircut as a woman. Look at the list below of spiky hairstyles for women; perhaps one of them will inspire you.
1. Pastel Pink Undercut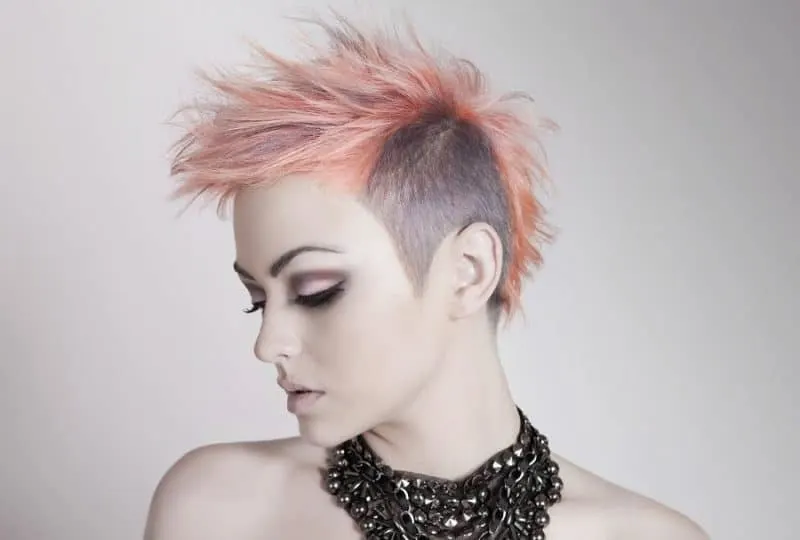 Bring out your inner rocker with this undercut mohawk style. We can't get enough of the ashy undertones in this coral blended-in dye job. Since the shaved sides are darker in color, the contrasting tonal shift looks striking.
2. Messy Copper Brown Spikes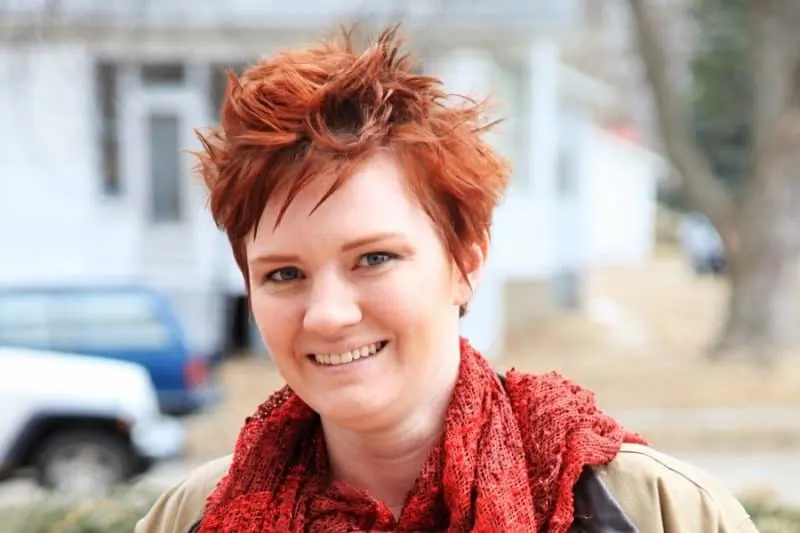 If you love the effortlessly undone look, you will adore this short spiky hairstyle. Set the bulk volume of the hair in the middle in a chaotic fashion by teasing the strands. The warm brunette shade makes this hairstyle remind you of the fall season.
3. Gothic Hair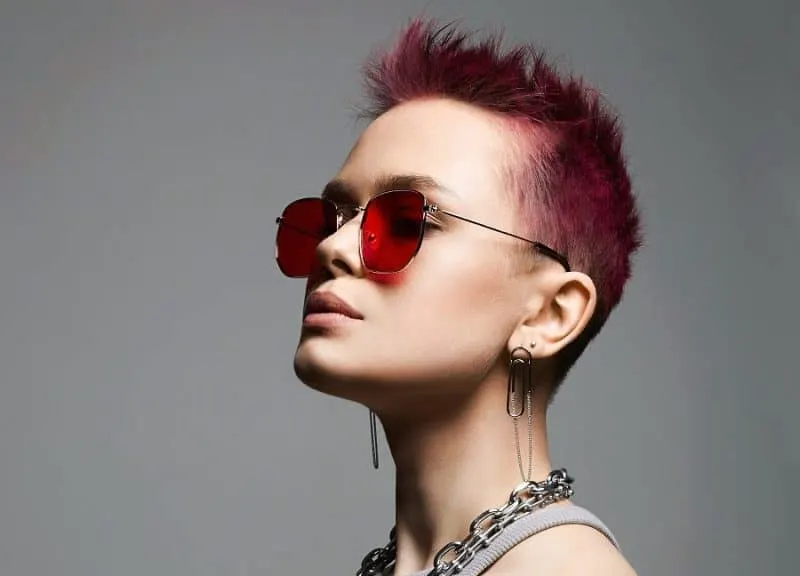 This undercut hairstyle is perfectly suited for women who want a fierce and feisty look.
High yet subtle spikes allow the muted pink to come out against the solid brown tones. Pair this hairdo with some metallic jewelry to turn up the gothic charm.
4. Asymmetrical Quiff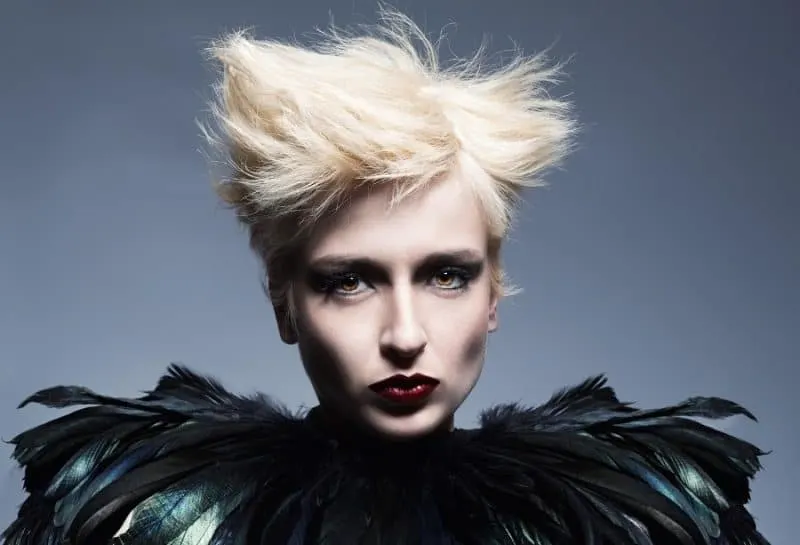 This avant-garde hairdo with the untamed flyaway tresses that resemble a bird's nest rightly imbibes the surreal vibes.
Colored in a light bleach blonde, the quiff hairstyle is rebellious enough to be a part of your Halloween costume.
5. Punk Mohawk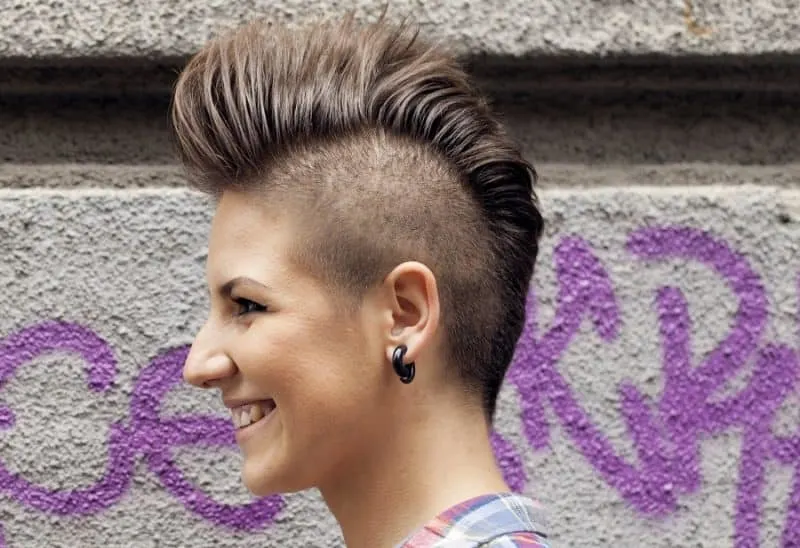 What better way to elevate your short hair than with a voluminous spiky mohawk? To create the mohawk, keep styling your hair upwards with hairspray, hair gel, and a blow dryer.
However, moldable hair wax can ensure a better hold and added texture. This updo helps you achieve a look full of suaveness and attitude.
6. Messy Spikes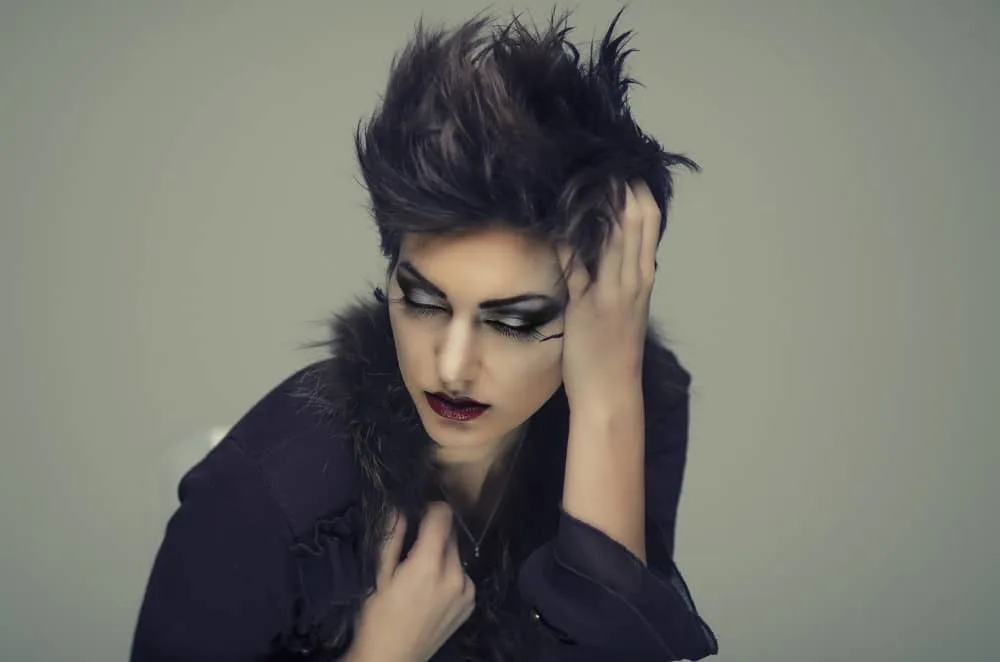 Go for a short pixie that allows you to create short spiky hairstyles for women. The sides should be shorter, while the top is lifted and styled messily. Use hair gel and fixing spray to create the spikes.
7. White Punk Hairstyle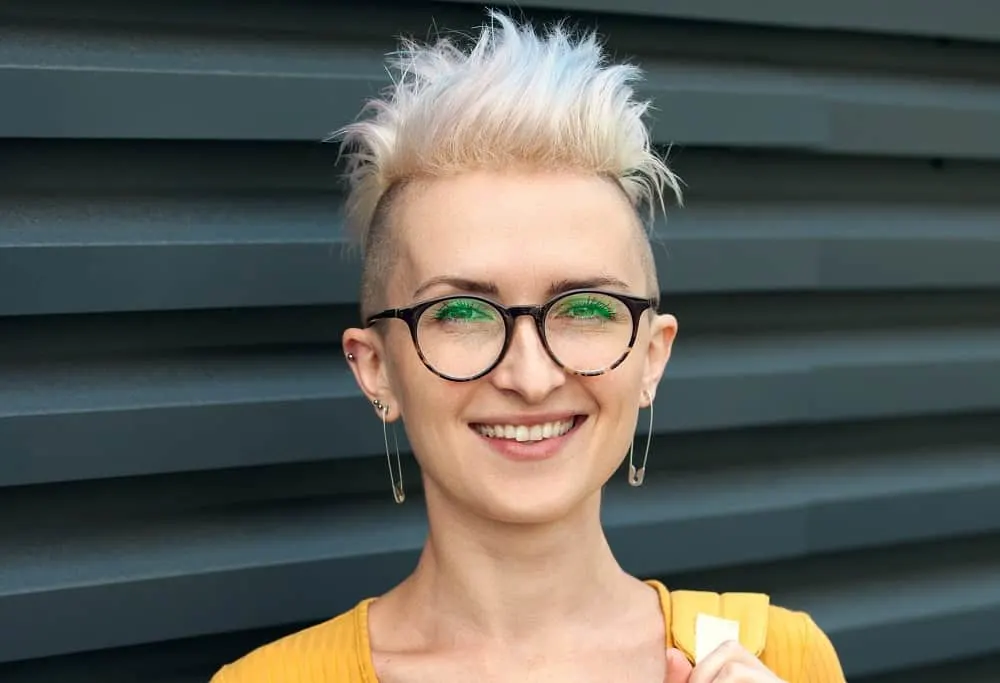 Shave your sides to create this gorgeous spiky hairstyle for women. Bleach the top and dye it white. You can also use a pale purple and blue dye to dye the tips. Tease the hair to lift it and create small spikes. The hairstyle should be messy and rebellious.
8. Spikes with Pink Bangs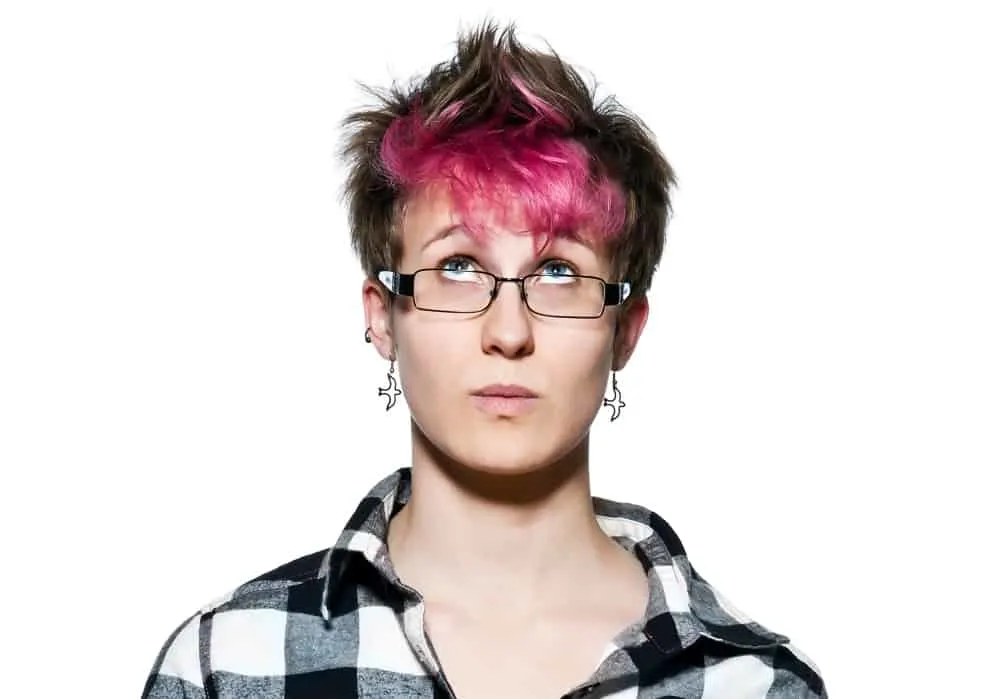 For this messy hairstyle with spikes and bangs, a layered pixie haircut works best. Also, bleach your bangs and use a vibrant pink dye.
Create a messy mohawk by styling the hair upwards and setting the hairstyle with hairspray or teasing the hair.
9. Wet Spikes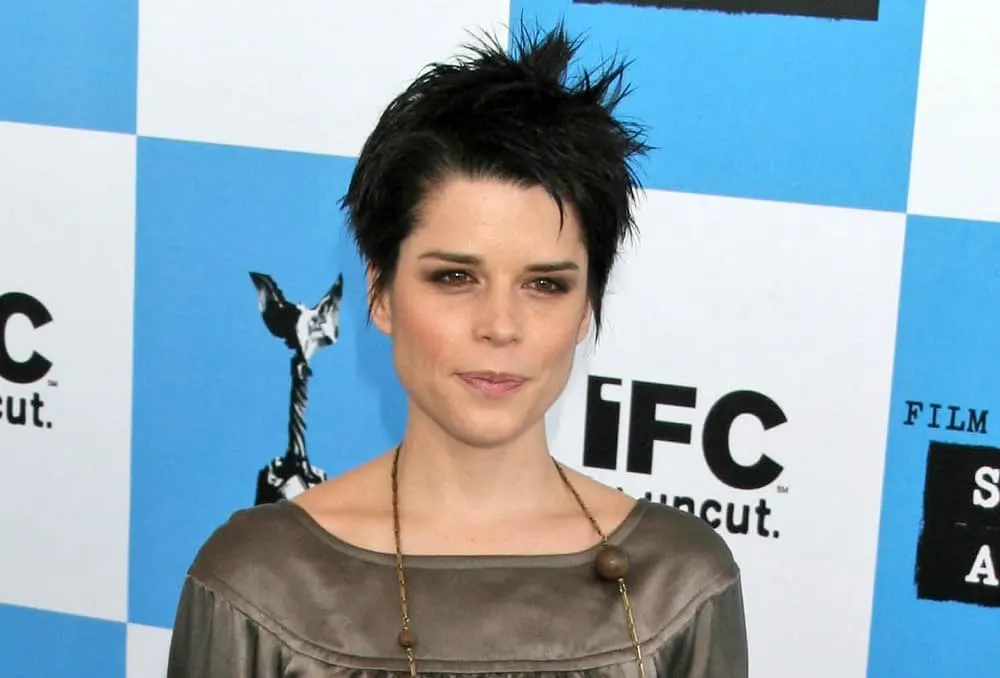 Wet spikes are cool; even great actresses sport this hairstyle on the red carpet. All you need is a short haircut with loads of layers and longer sideburns. To create that wet appearance, use a strong hair gel that will keep your spikes in place.
10. Spikes and Sides Bangs
Such a rebellious hairstyle requires medium hair. First, layer your strands and get bangs that you can swipe on one side.
Use hair gel to lift the hair from the roots and create the spikes. Also, this asymmetrical hairdo is ideal for you if you have a round face.
11. Rounded Hairdo with Spikes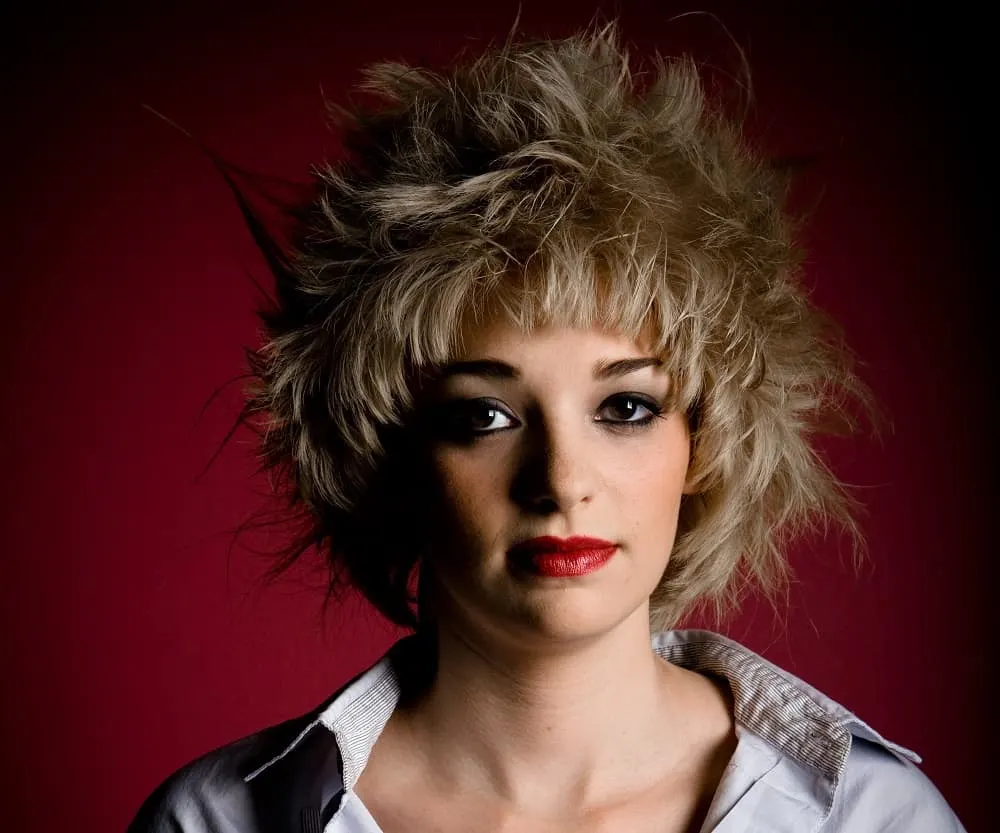 To recreate this hairstyle with spikes, opt for rounded bands that frame your face. Bleach your hair and opt for an ashy blonde hair color. Maintain the framing but use the sides and the top to style messy spikes.
12. Red Spikey Mohawk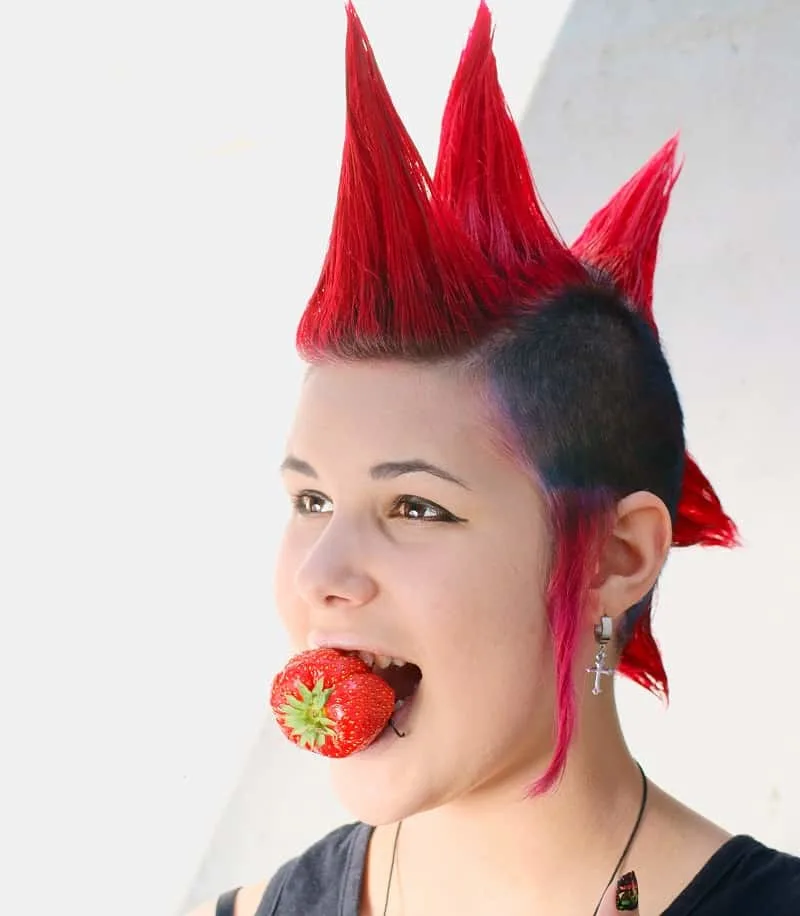 Firstly, to recreate this crazy hairstyle, you need to shave the sides. It would help if you kept the sideburns long, reaching the jawline. As for the mohawk, bleach the hair and dye it electric red. Create five large spikes.
13. Asian Spikes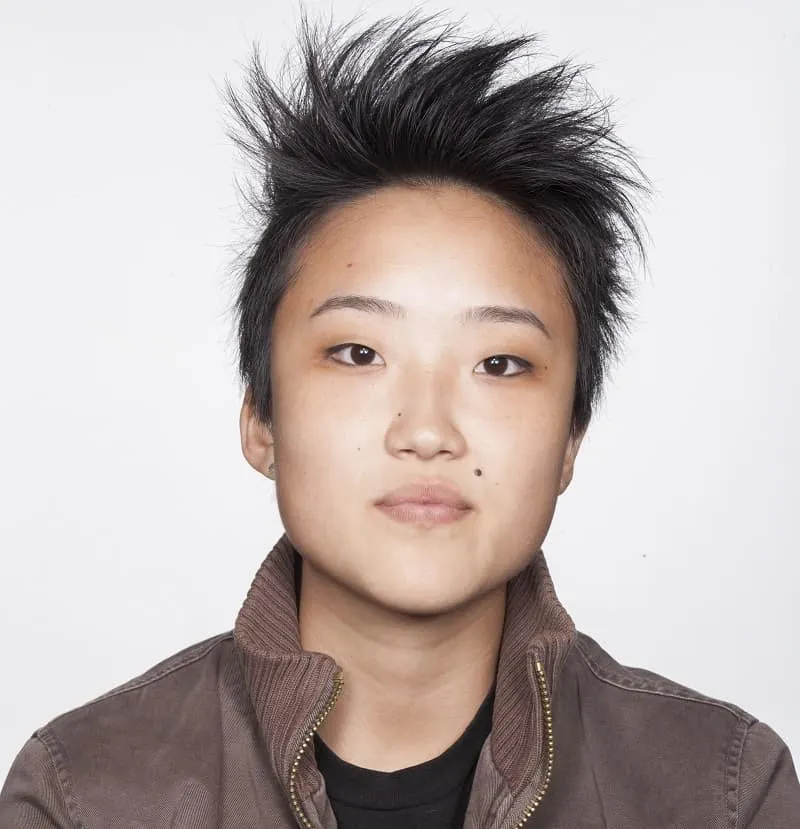 A pixie hairstyle will highlight your jawline and elongate your face. Shortly trim the sides and keep a long top.
Lift the crown section of the hair and tease the roots to create height. Comb the hair and messily orient the tips on one side.
14. Two-Color Hairstyle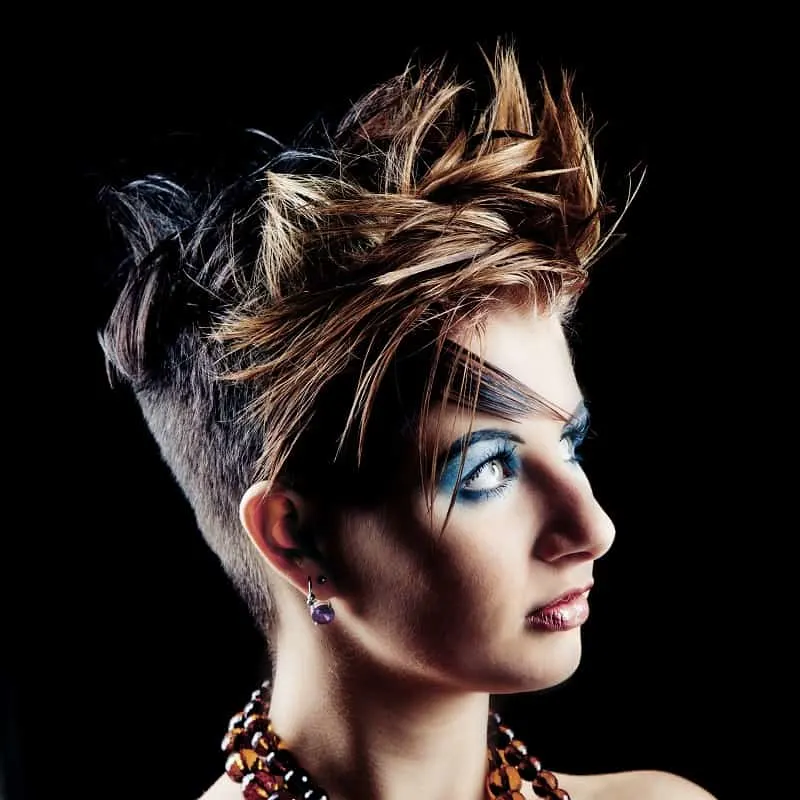 Go for a pixie with short sides and back to create a great-looking hairstyle with spikes. For the top, part it in two sections.
Dye the front section in a brown chocolate nuance and the back part in a dark shade. Apply hair gel and straighten the hair to obtain those spikes.
15. Ice Queen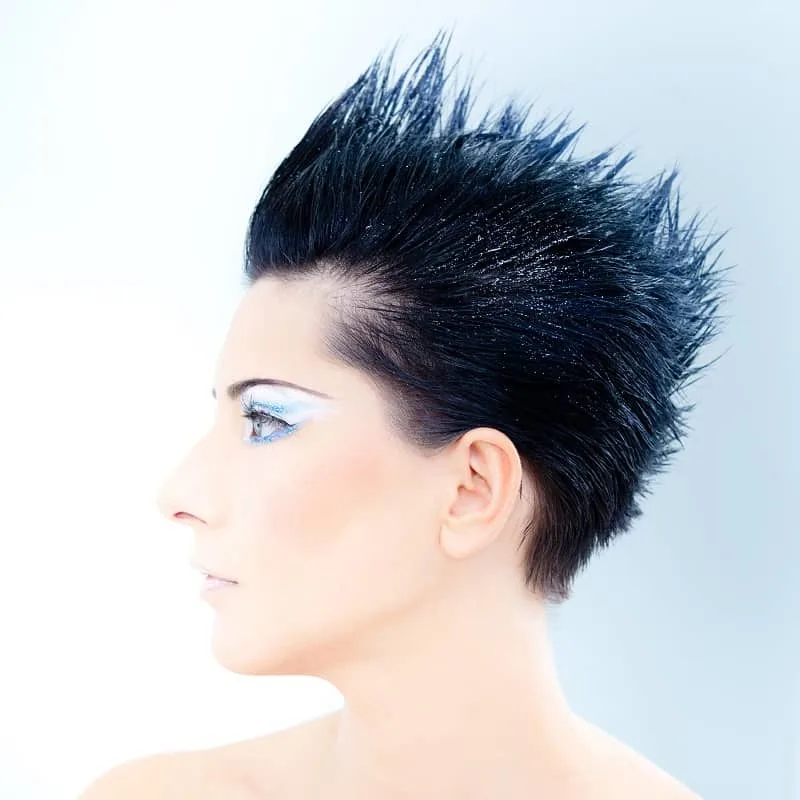 If you adore winter, you can transform yourself into an Ice Queen. Get a pixie haircut and lift all the hair, including the back.
Give your hair that frozen aspect and pour silver and white glitter to resemble snow and ice. Also, the makeup is very important, so make sure it matches the chosen theme.
16. Spiky back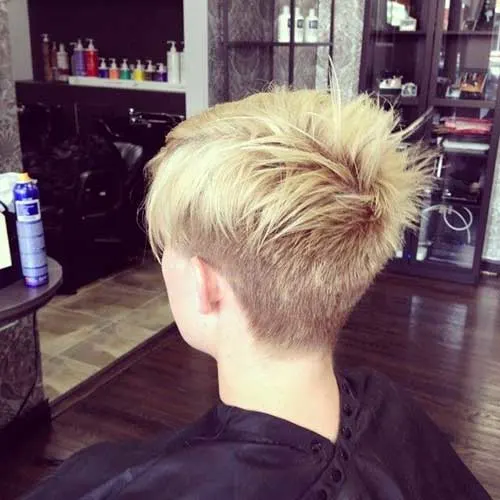 Spikes in the back look especially impressive since they are visible from all angles. This haircut is a low fade with side swept bangs. The hair in the back can be left straight or spiked up with the help of some hair gel.
17. Spiky textured bob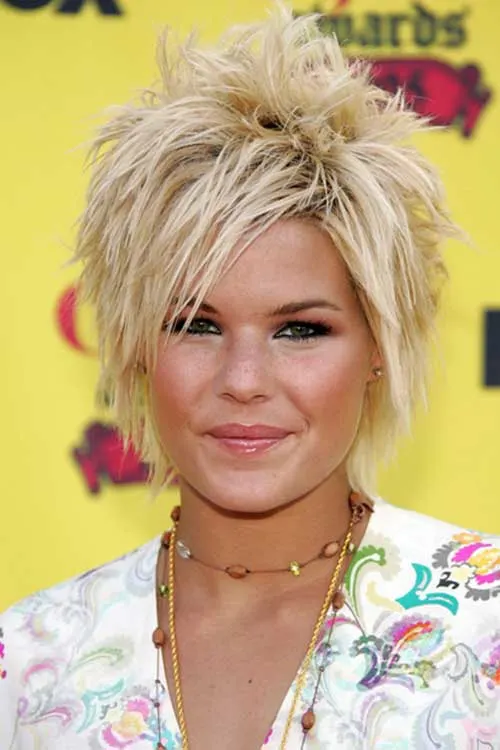 This textured bob is a great modern haircut with hair being cut at different levels. It is complemented by long asymmetrical bangs and spikes on top. This hairstyle can easily turn into a regular bob if the hair is just brushed.
18. Highlighted fohawk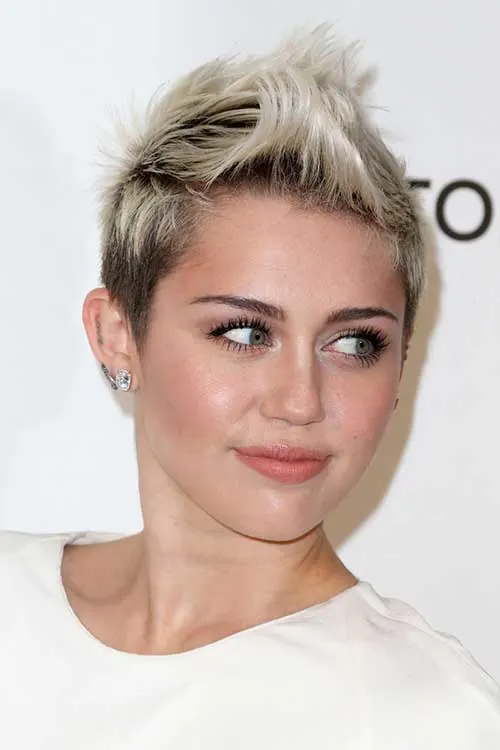 This short, spiky hairstyle will definitely make other women jealous. The hair on the sides is cut very short and left long enough on top to make the spikes you like. The color of the highlights can be chosen in accordance with your wishes.
19. High pixie with colorful bangs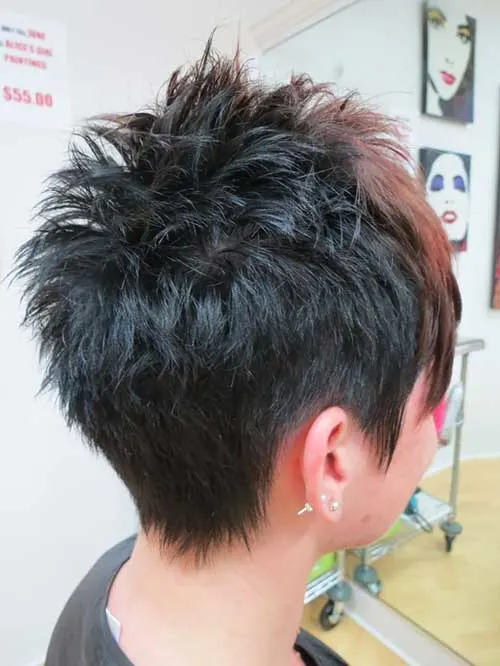 This high pixie will look amazing if the back is spiked up. The frontal strands and the bangs are left long and can be made asymmetrical. The fringe is dyed a different color than the rest of the hair to give this hairstyle even more spice.
20. Stunning crest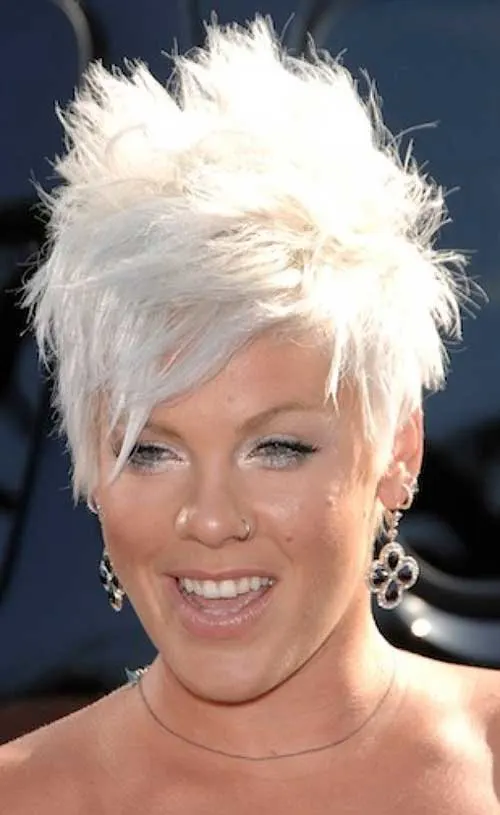 If you ever want to do something impressive with your short hair, you should definitely ask Pink for advice.
She is always finding new ways to look absolutely stunning. This is a long pixie turned wild by making a crest on top and side-swept uneven bangs in front.
21. Quick fix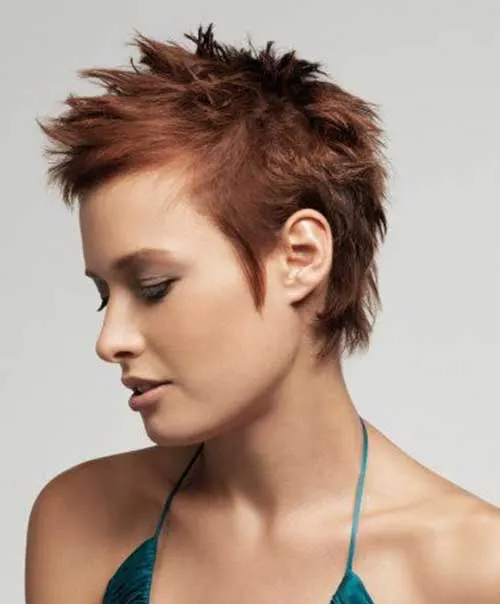 This simple spiky haircut can be made out of any pixie. Even the shortest haircut can be turned spiky by applying some hair gel and a lot of imagination. Spike up your hair any way you like and you will get a great and unique hairstyle.
22. Spiky undercut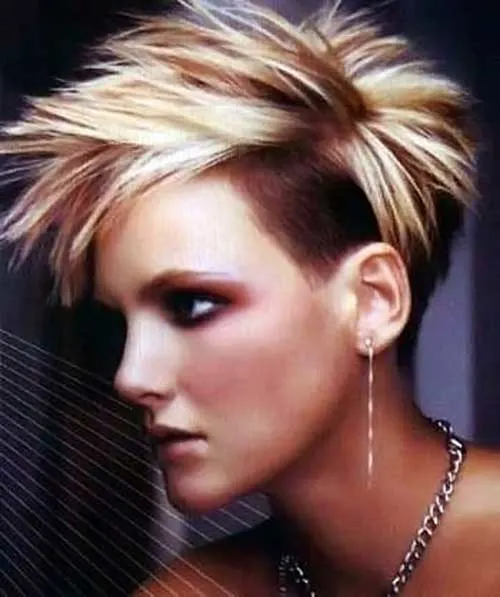 Getting an undercut is already a bold step. So making it spiky will not give you any trouble. Leave the hair on top long enough to spike it forward. The back part can be spiked up randomly. Use your imagination!
23. Thick and spiky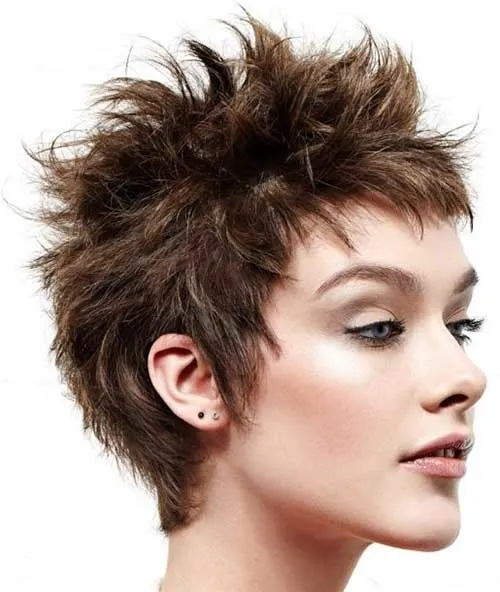 If your hair is thick, this amazing pixie is for you. All you will need to do is get a short layered haircut and the rest will happen almost on its own. Thick hair is very easily spiked up. All it needs is just a small amount of hair gel.
24. Finer than fine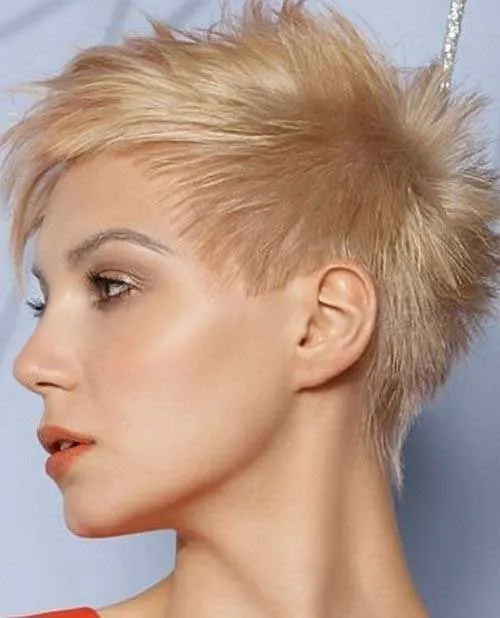 Girls with fine hair will appreciate this simple short hairstyle. This is a pixie with the sides cut shorter than the rest of the hair. Short cut in the back allows the hair to spike up naturally. The top part will need some help.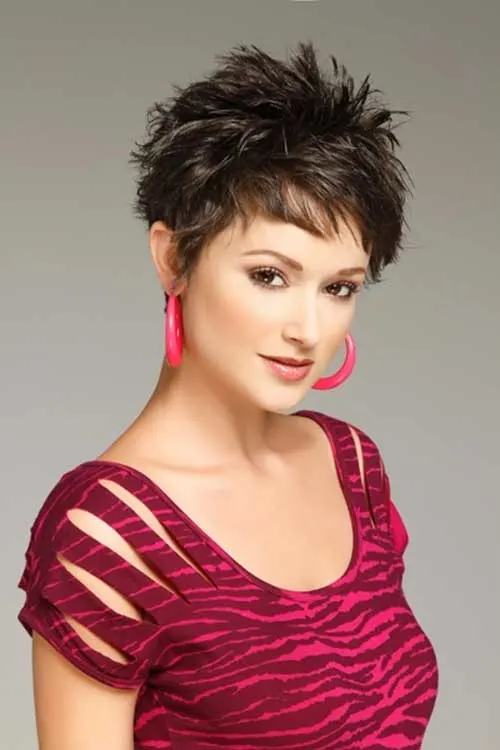 This stylish pixie is just slightly spiked up. But look at the difference such spikes make! A simple short hairstyle immediately turns into something incredibly fashionable. Just make sure to make spikes as neat as possible.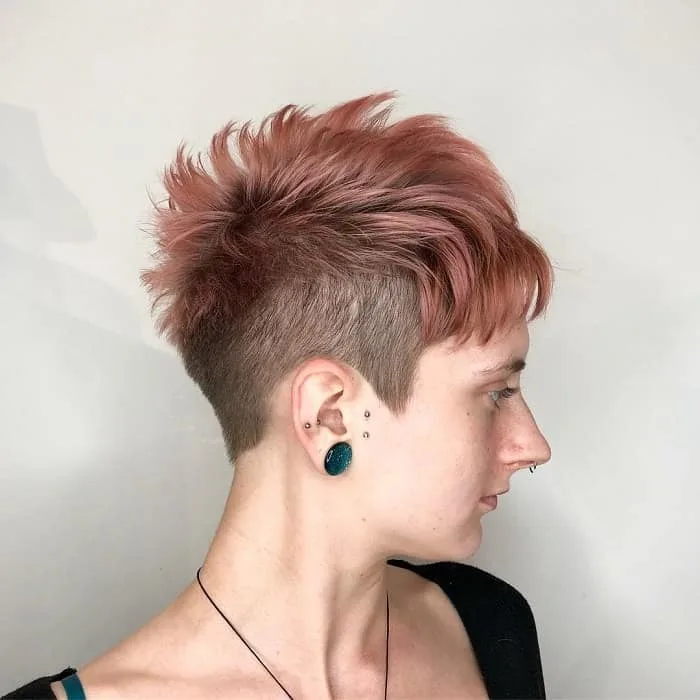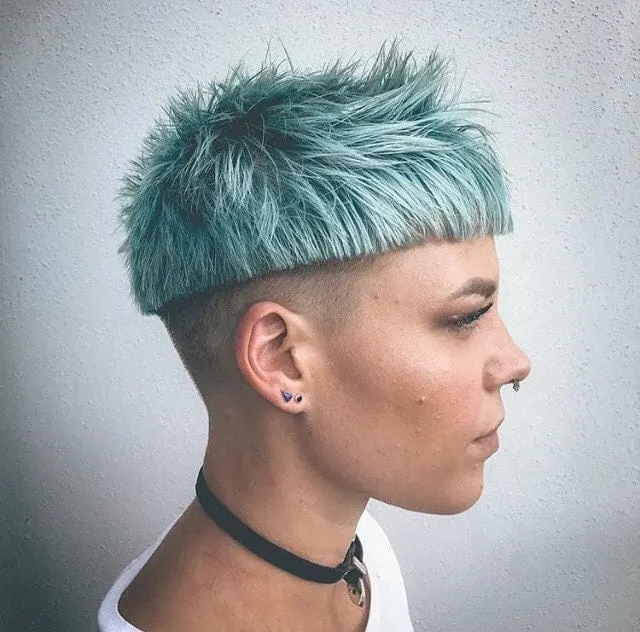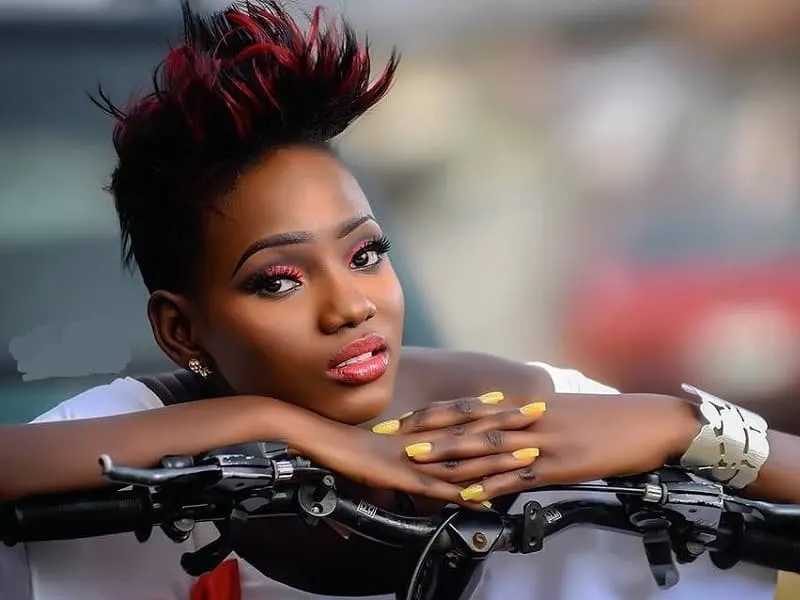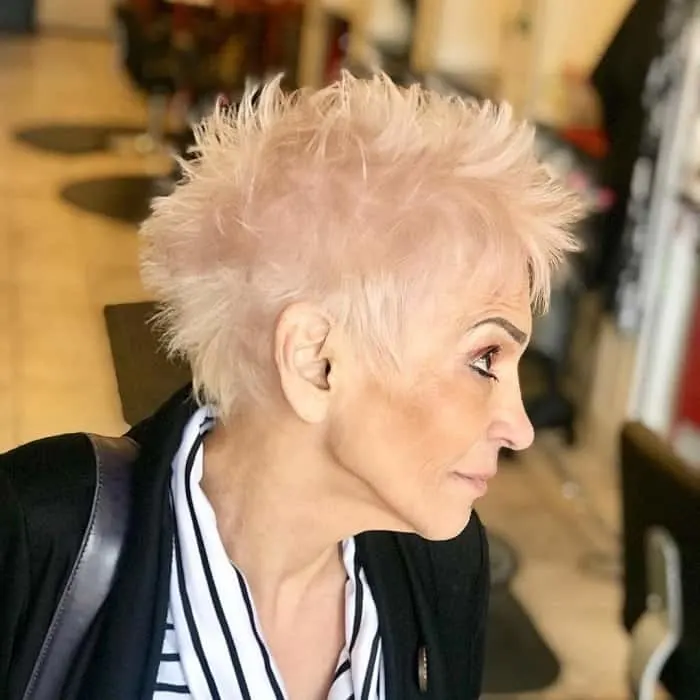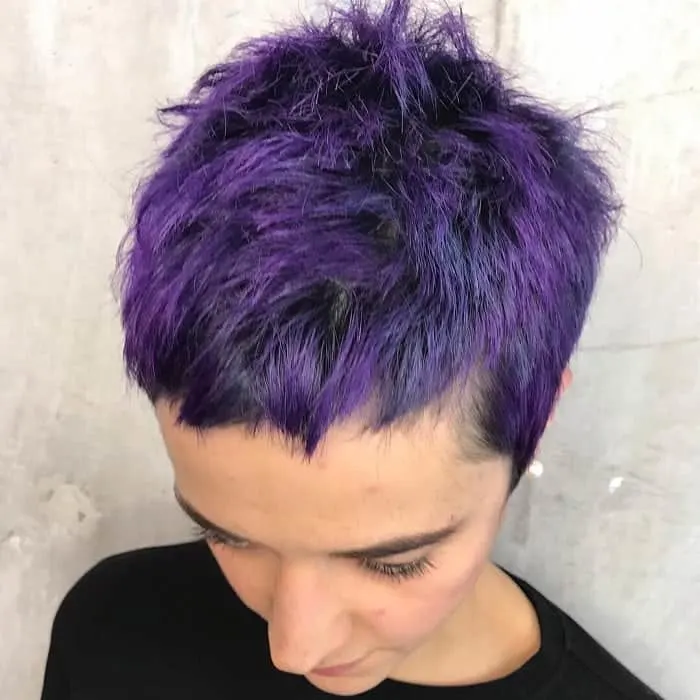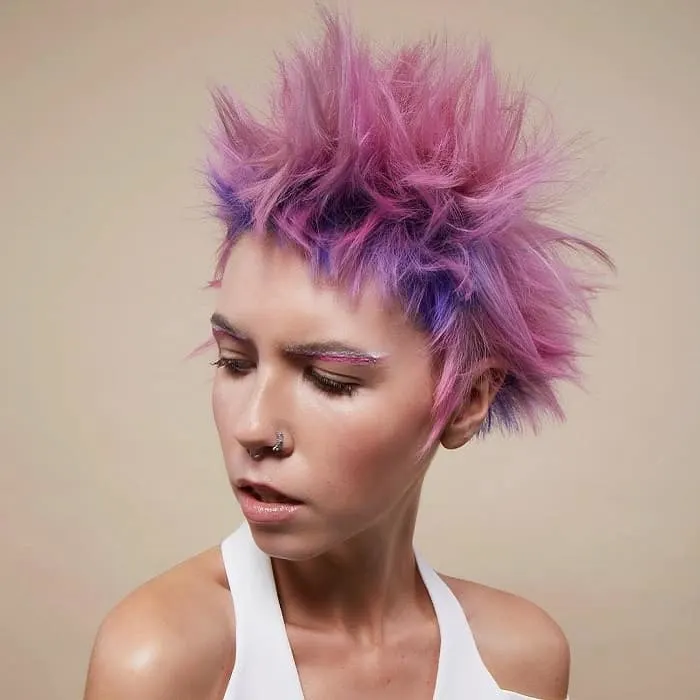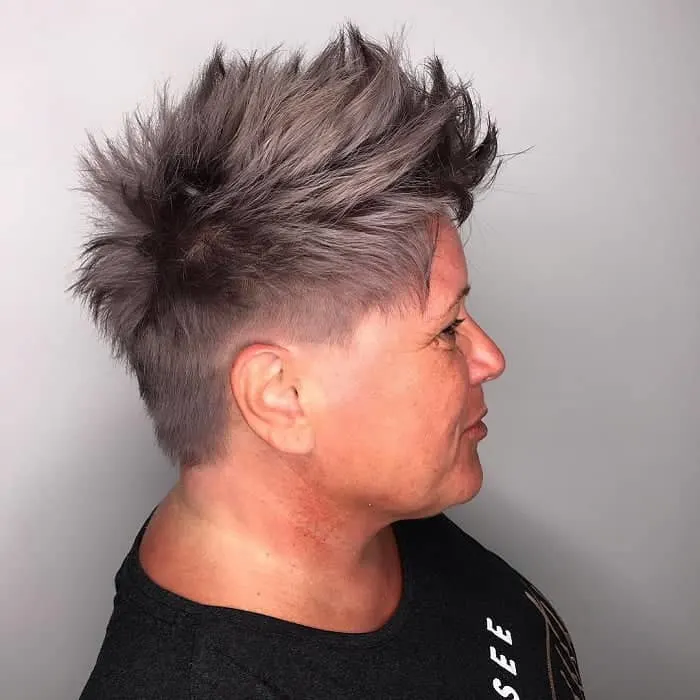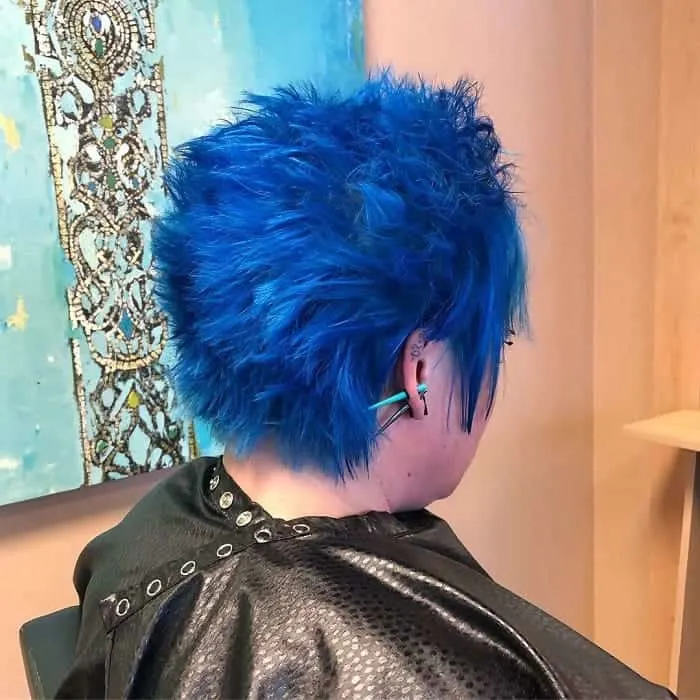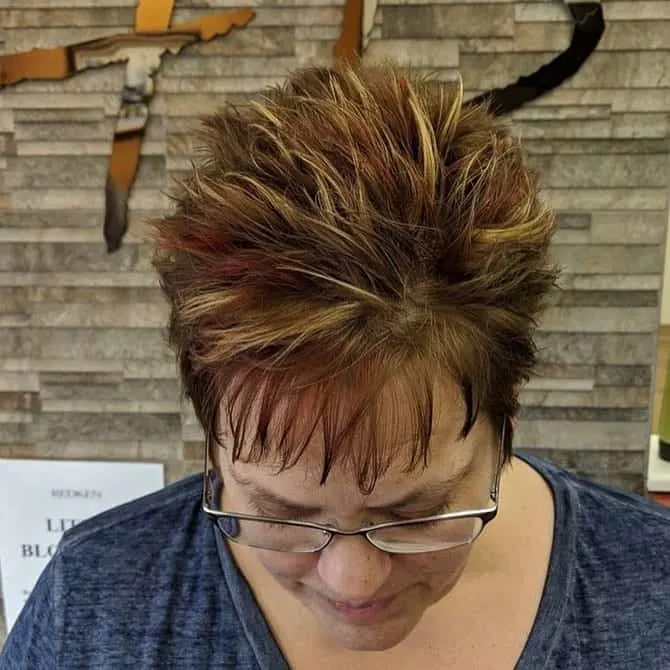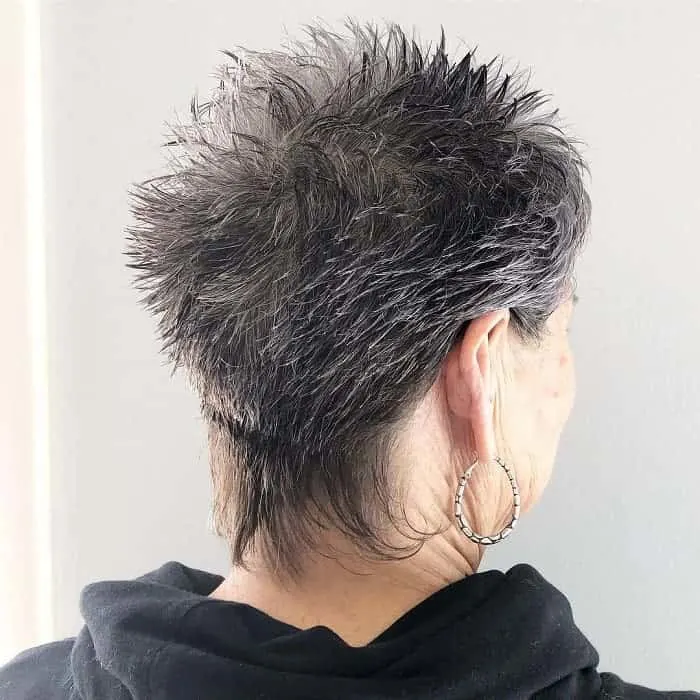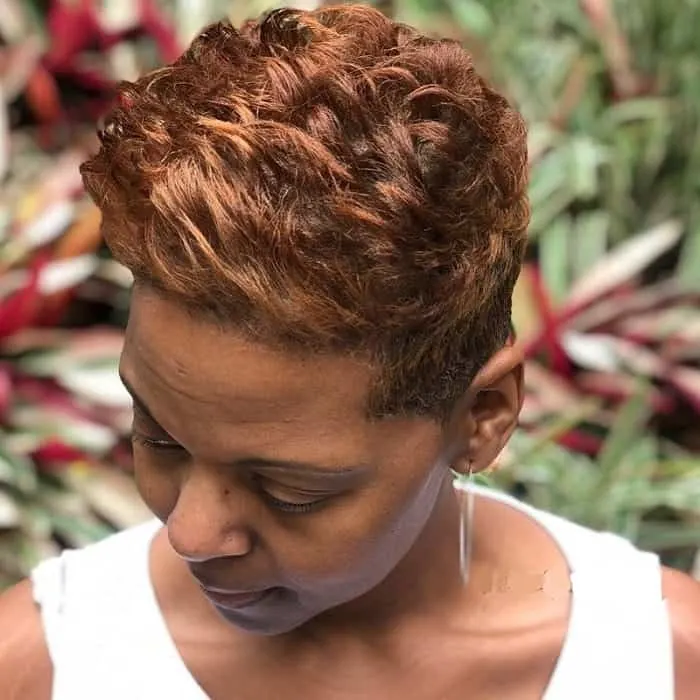 Spikes are a timeless style for both men and women! With just a few strokes of your fingers and some hair gel, you can create a unique and fashionable look. Get ready to turn heads with this edgy and bold hairstyle