When it comes to short hairstyles for young teenage girls, they love the most dynamic haircuts as they can adapt to any style.
At this age, most girls are confused about what haircut or style would suit their look, hair type, face cut etc and so they love to experiment to get finally to the perfect hairstyle.
If you have decided to wear a short haircut and you're a teenage girl… this post will help you decide the 'one' hairstyle made just for you!
Popular Short Hairstyles for Young Teen Girls
The teen girl already has a hint of childish cuteness on their faces and combining it with cuter style like a pixie cut or bobs they look even more adorable.
Following are some of the cutest trendy short hairstyles for teen girls that will make you look both stylish and confident.
#1: Braids Colors and Bangs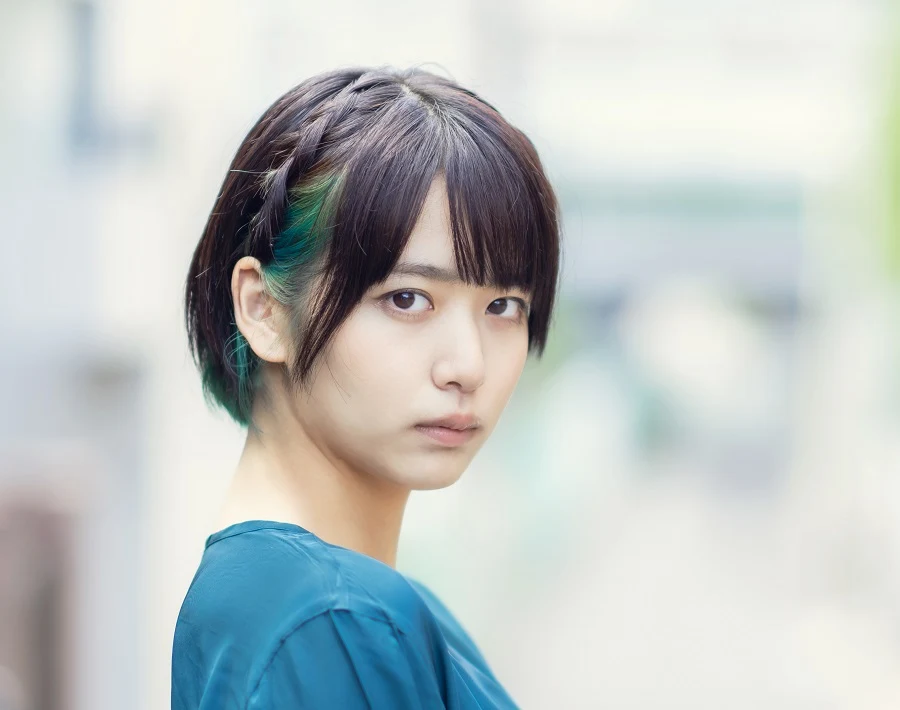 As an Asan girl with dark hair, you can create great contrasts. Bleach sections from each side and the nape area to create peekaboo looks. Get bangs and style half of a halo braid. This way, you will reveal the colors from the laterals.
#2: Blue and Pink Pixie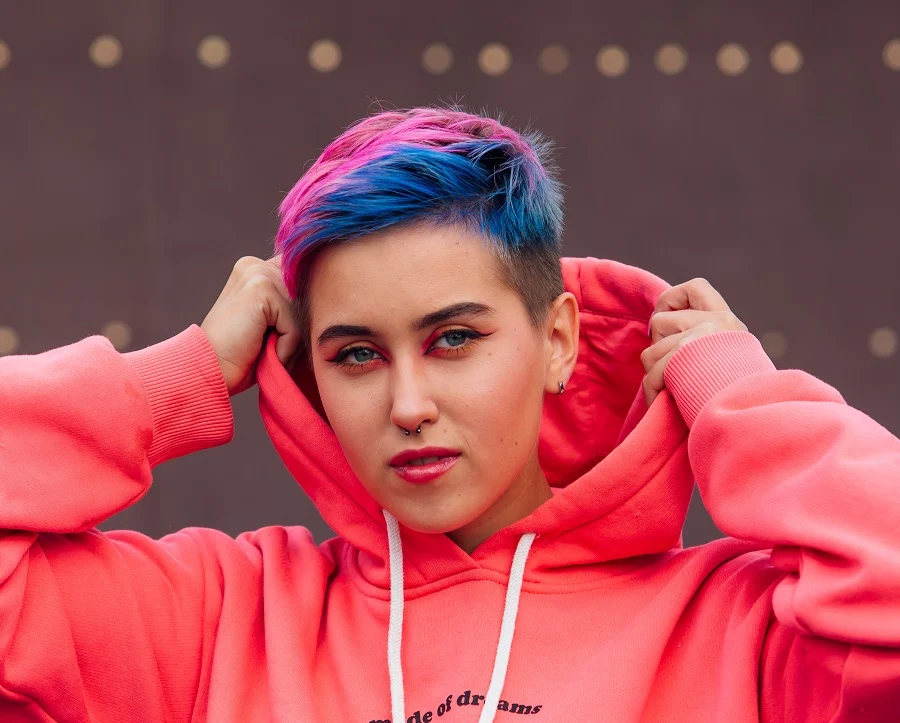 If you have fair skin and blue eyes and love short hairstyles for teen girls, you will certainly love this pixie cut with pink and blue sections. It is vivid, colorful, and fresh and gets everyone's attention.
#3: Very Short Pixie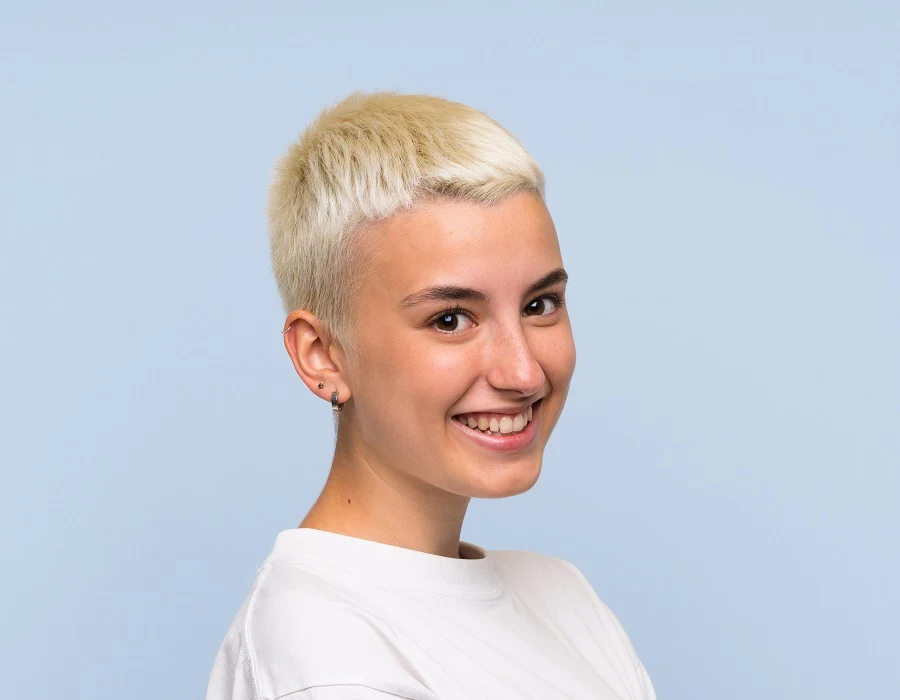 As a girl, cutting your hair this short takes a lot of courage. Many women are afraid of a dramatic transformation like this but if you are not one of those girls you might fall in love with such a short trim. It is low-maintenance, and you can change your hair color as often as you want.
#4: High Top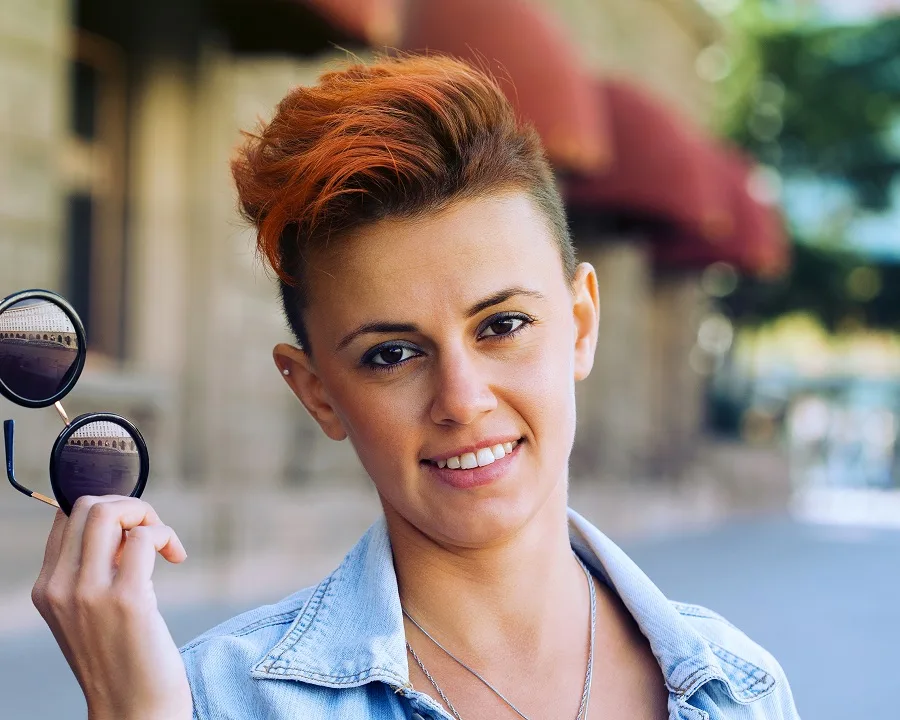 Depending on your skin tone, you can play with numerous shades and nuances when getting a pixie haircut. In this case, a pixie with both sides cut short will look fabulous if you maintain a longer top. Dye it in a copper color, keeping the roots natural.
#5: Layered Short Red Hair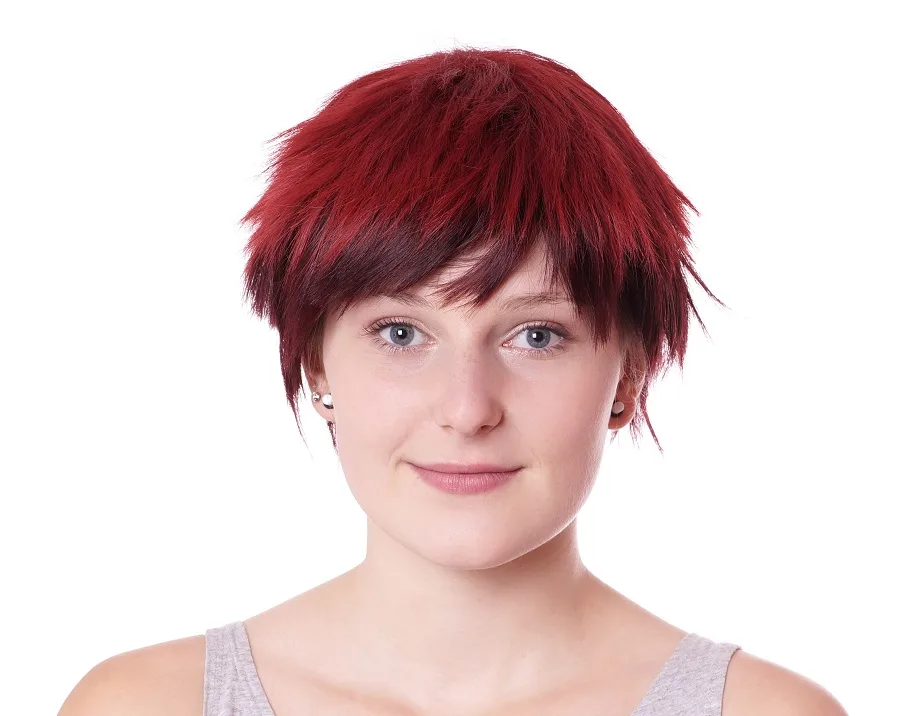 You can create all sorts of layers when it comes to your hairstyle. Whether cutting layers or styling colors, you need to find the best way to blend the two. And this hairstyle is the best example. Create burgundy peekaboo lowlight and opt for a fierce red top.
#6: Curly Twisted Braids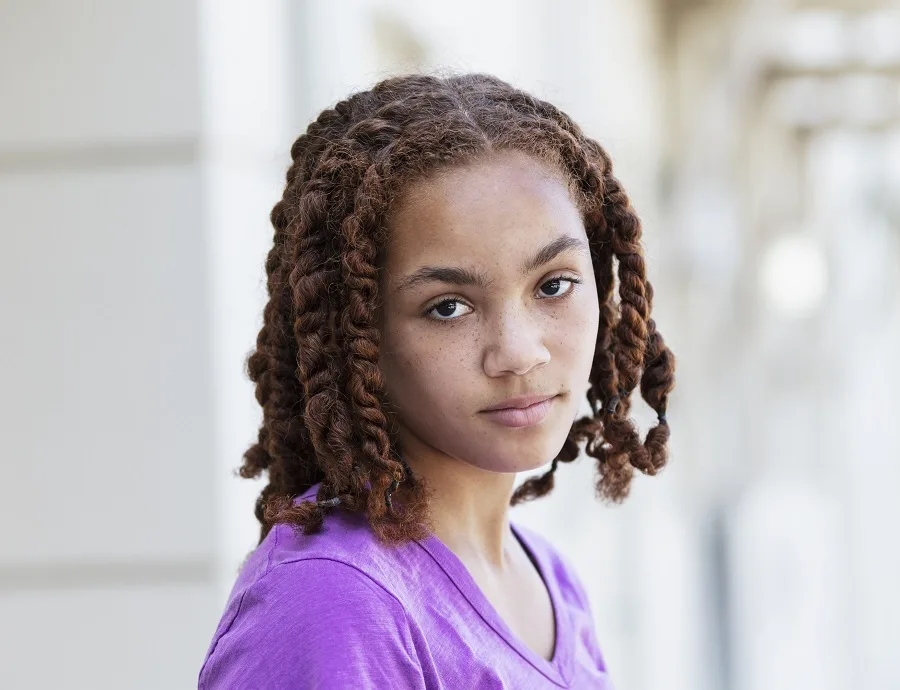 If you have curly hair, you can show off the texture of your hair using your braids. Make them chunky but quite loose so that you can still see the natural hair structure. Tie all the twisted braids at the bottom with a rubber band.
#7: Braids with Undercut
There are so many ways you can style a pixie cut! Integrating braids into your short hairstyle for teen girls is a great way to show off your tastes in terms of fashion and your style. Sport an undercut on one side and create a small cornrow braid that highlights this area.
#8: Tight Coils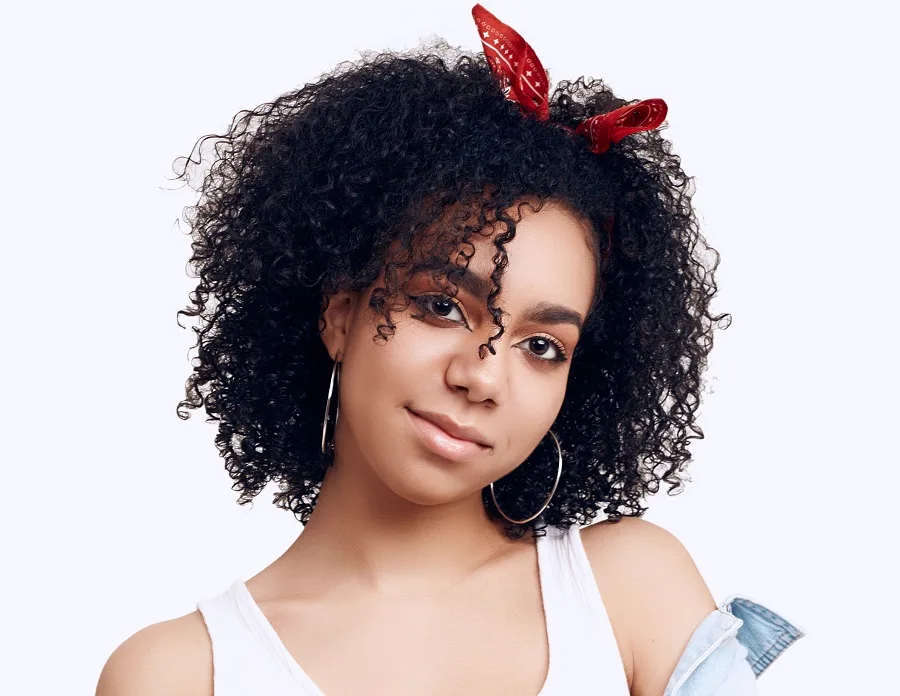 When you have such tight coils, your whole morning routine can be a real struggle. But with the right cut, you can make your life easier. Always use conditioner to soften the ringlets and once your hair is dry, use foam to get that wet look.
#9: Short Purple Bob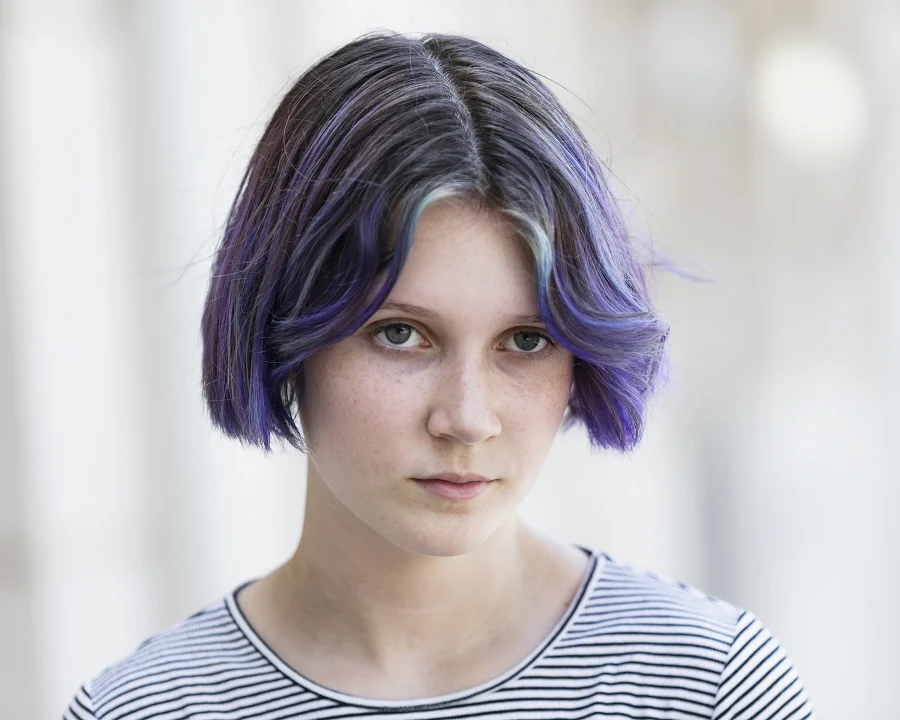 Short hairstyles for teen girls most of the time contain colors. This trend lasts for years and young girls love experimenting different nuances. If you have naturally lighter hair, you don't even need to go through the bleaching process. Use semi-permanent hair dyes that wash off after a few weeks.
#10: Blonde Bob Braids
Bob hairstyles can be easily achieved in multiple ways. You can cut your hair in that share, or use braids to get this short hairstyle for teen girls. Choose a blonde color for your jumbo hair and create knits that you will later cut in the shape of a bob haircut.
#11: Bob Cut with Bangs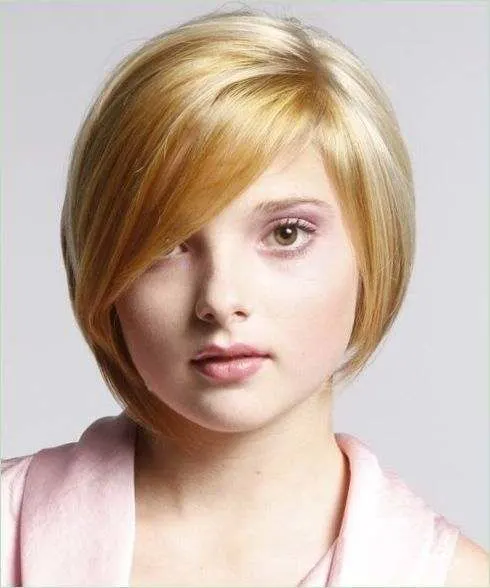 Teenage girls prefer shorter hair that tends to take a little time to style. Bobs preferably look great on round face. This style is the cut you might want if you are looking for volume on the crown and short bangs to cover your forehead.
#12: Round Edges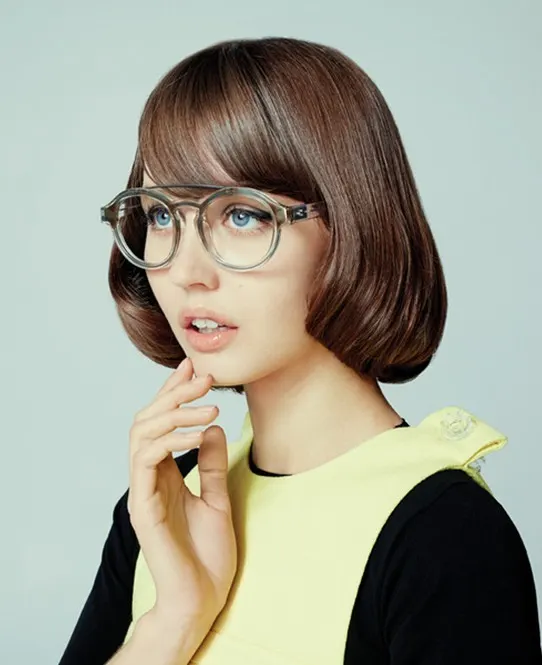 This haircut is a very sleek and neat look. Mostly suits for the girls with thin or long face cuts. Also doesn't require a lot of styling and is quite easy going.
#13: Adorable Pixie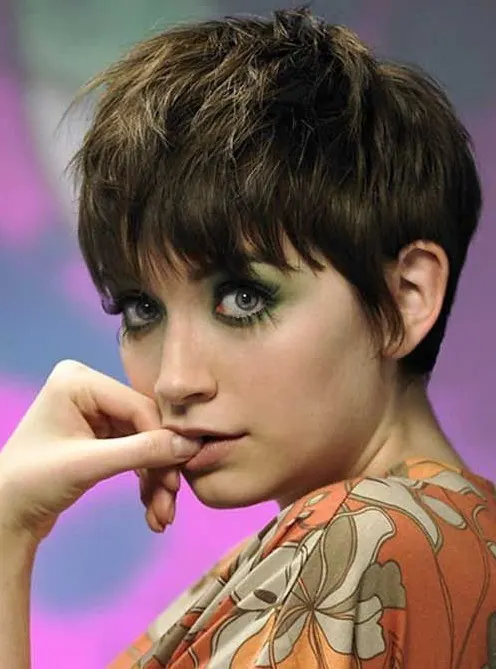 Pixie haircut itself is one of the cutest short haircuts for young girls. Just add it up to an imbalance of bangs on forehead. It is a great look for thin hair because it gives a good full look at your hair.
Best emo hairstyles for young girls
#14: Pointy Short Bob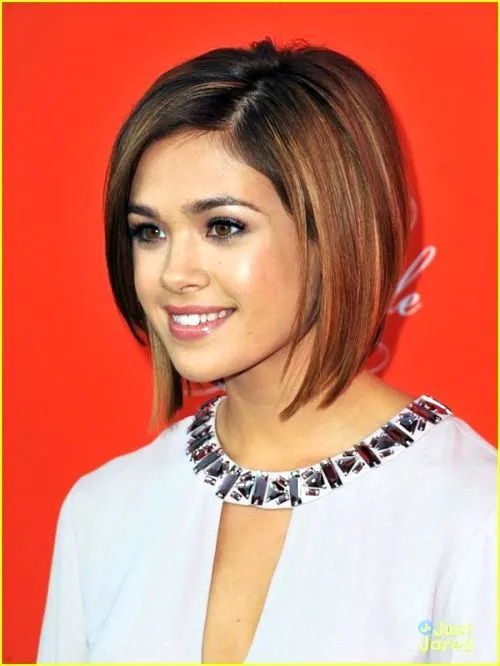 This is what you need if you don't want to go for very short hair or long. It is medium length bob with the hint of perfect highlights to give it an entirely fantastic look. Adding sharp edges create a very sleek look to your personality.
#15: Rainbow Pixie Dust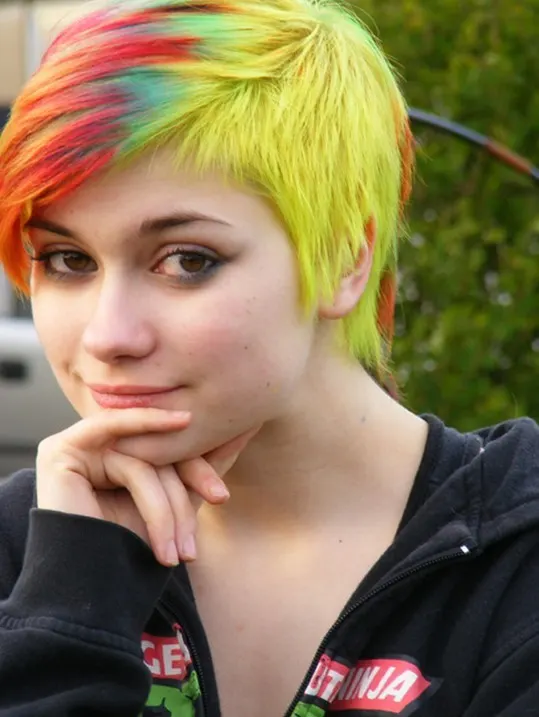 Combining cute Pixie Cut with much adorable rainbow color makes more delicate. Style it up with a focus on straightening your hair gives it little length to your face as well as your hair.
#16: Loose Curls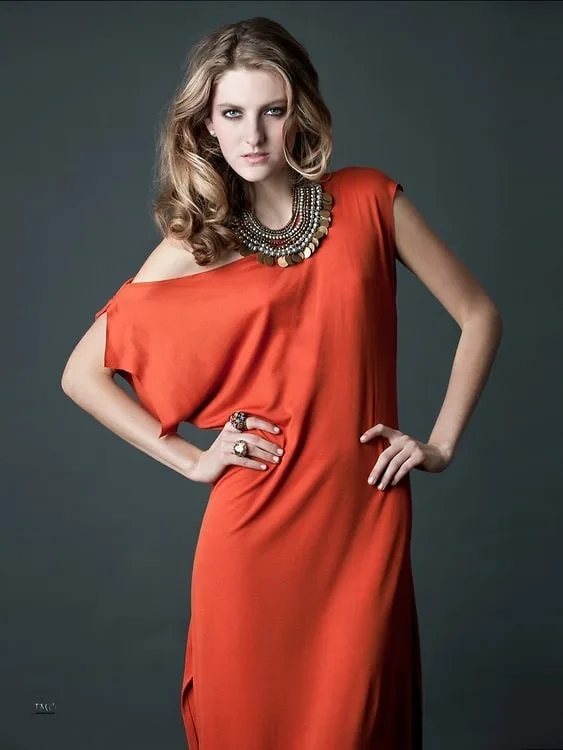 Curl your hair, and you create the illusion of a shorter hairstyle. With tightly rolled curls, you can even fake a bob or a page boy. Just practice with bobby pin placement and check out a few YouTube tutorials.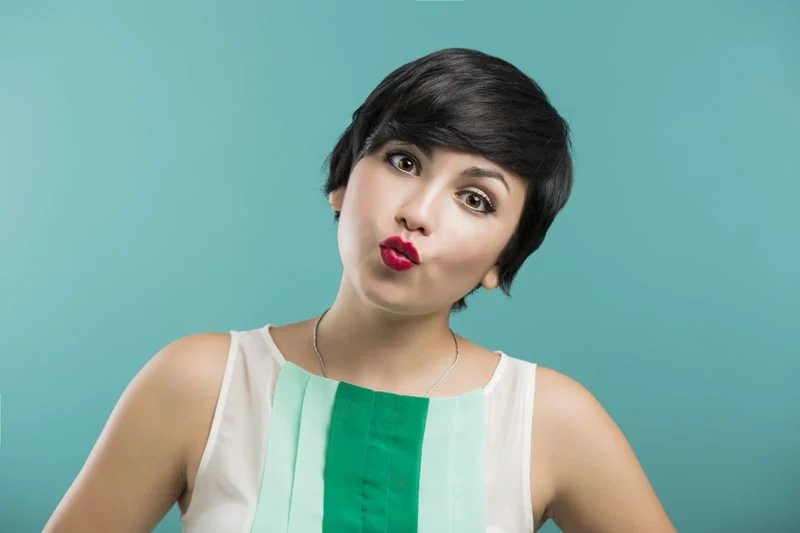 The beauty of most short hairstyles for teens is how versatile they are. A pixie cut with shaggy ends and tousled layers is charming. Consider it the official haircut of manic pixie dream girls from all over the world.
Best fringe haircuts for women
#18: Ride the Waves
Adding waves to your hair, or letting your natural waves shine through instead of straightening them into oblivion, is another way to make your hair appear shorter. However, you don't have to snip off a single inch.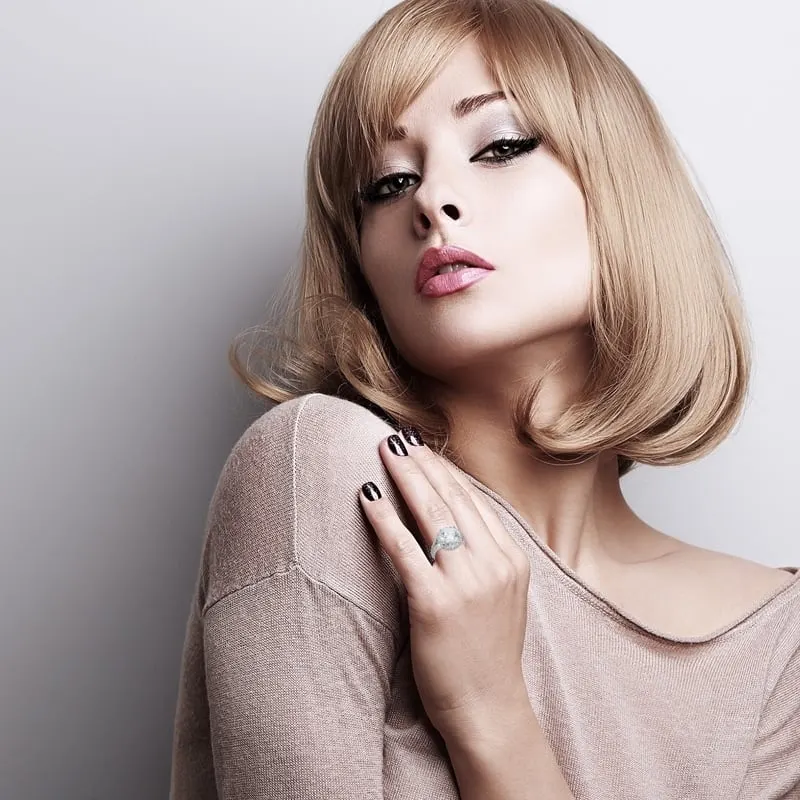 A bob is the perfect transitional cut for any teen who's not quite ready to go super short. You can give your bob even more definition by curling under the ends. Add some side swept bangs to define the shape of your face and bring out your cheekbones and jaw.
#20: Beachy Waves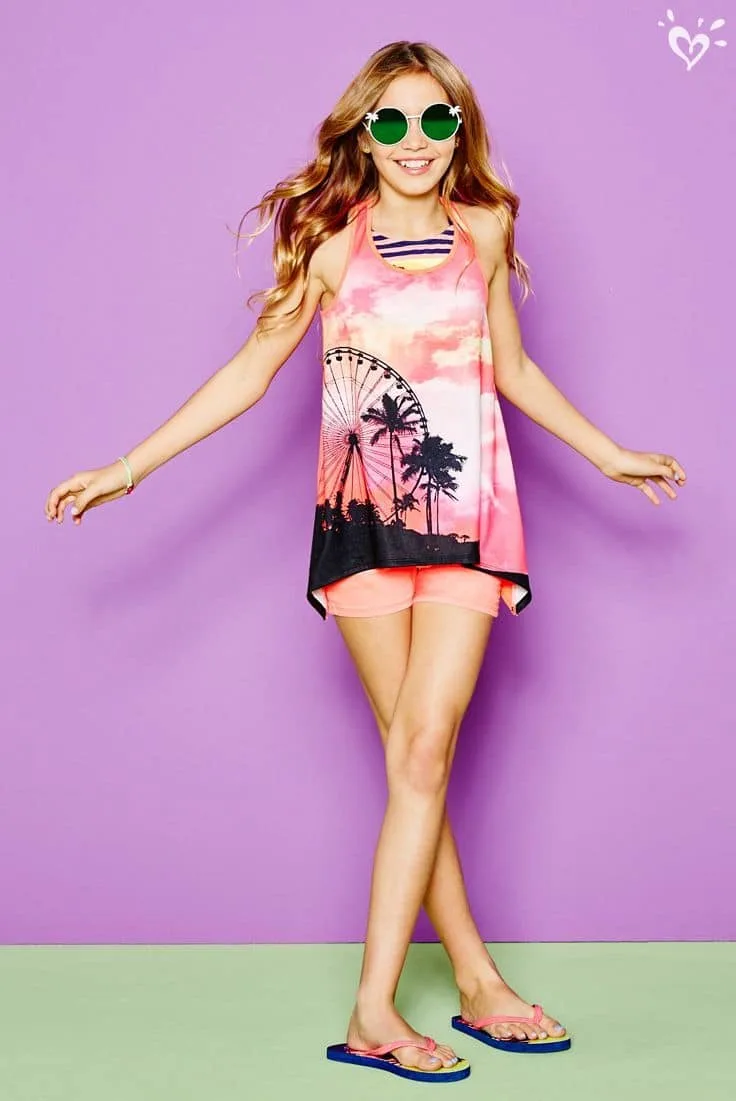 Beachy waves will take some inches away from your long locks, too. Fortunately, it's not a permanent fix. Just braid your hair the night before, blow dry your plaits a bit the next day, then free your mane.
#21: Cotton Candy Lob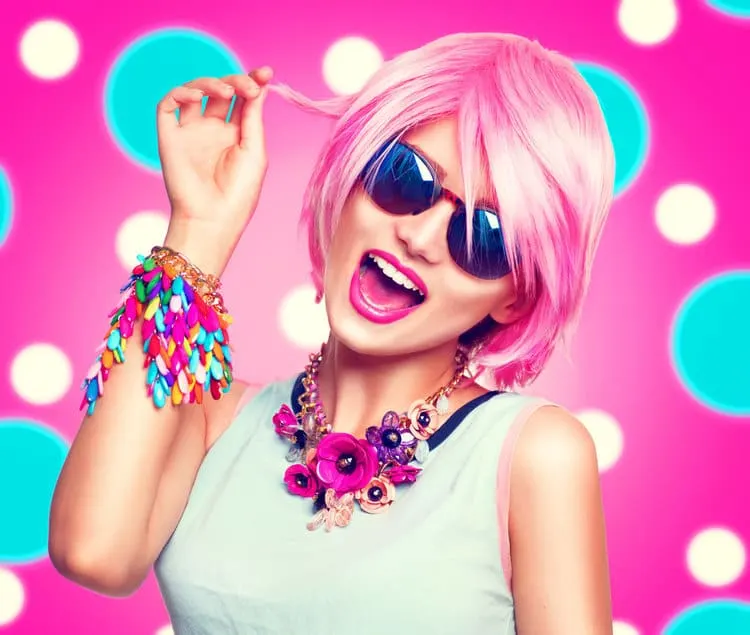 What's better than a lob? A cotton candy pink one, of course. The lob is one of the hottest teen haircuts going because it's halfway between a bob and pixie cut, but it's even more noticeable if it's sporting a vivid fantasy color.
#22: Short with a Fringe

It's hard to say what's better about this haircut—the rounded style of the cut, the fringe, for the on-trend faded denim color. Short hair is loads of fun to experiment with, so take advantage of your close crop and play around with fabulous hues.
#23: Victory Rolls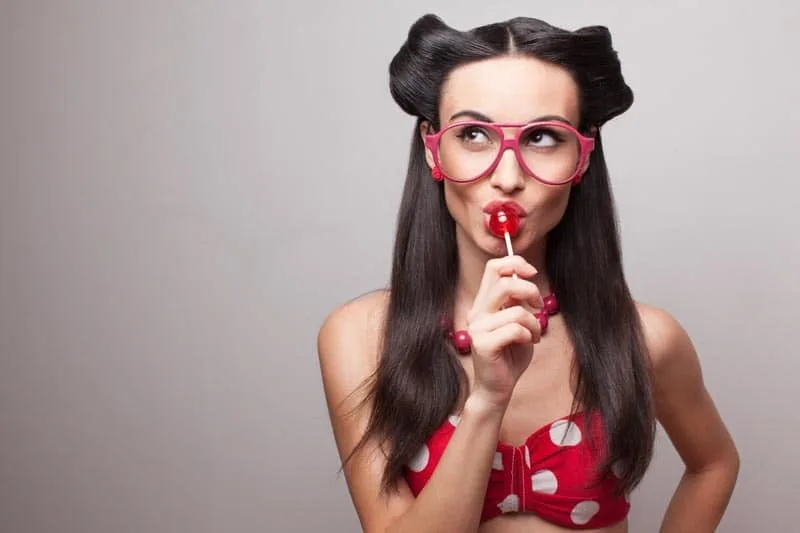 Want to keep your hair out of your face while serving the illusion of a short hairdo? Hop into the wayback machine for some inspiration and practice creating the victory rolls made famous by pinup girls in the '30s and '40s.
#24: Sassy Spirals

Spiraled curls are ideal for making your locks appear shorter. Give your tresses a twist using a curling iron, a straightening iron, or hot rollers. You could even try rag curls if you have the patience—and a handful of rags lying around, of course.
#25: Rainbow Fringe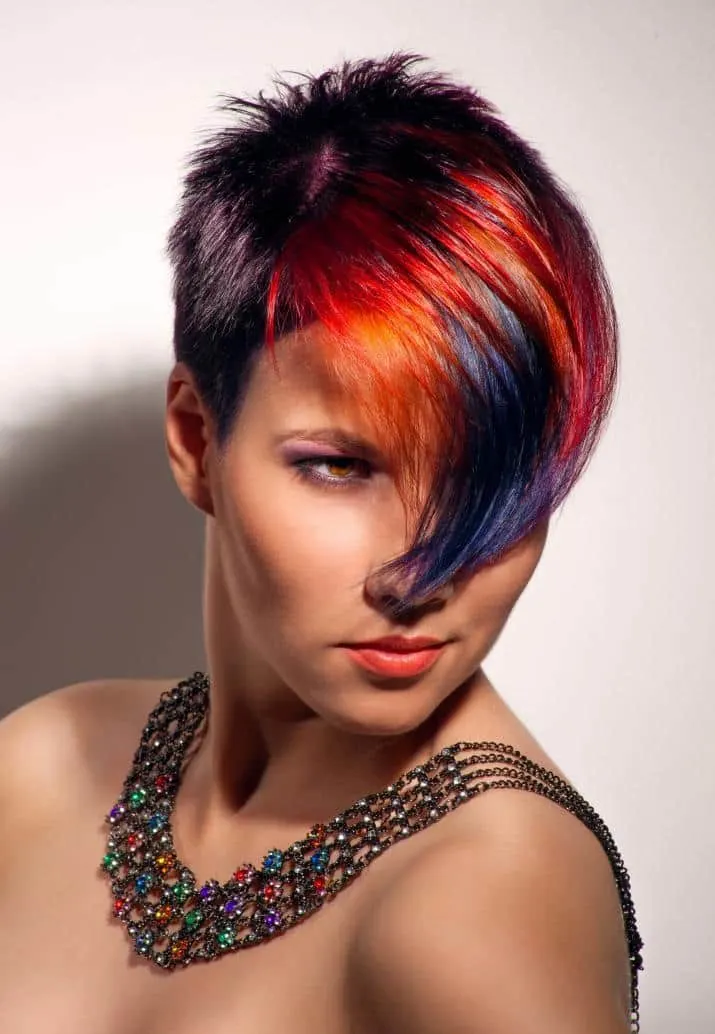 This quiff is too stylish. You have to love short haircuts for teen girls that give off an androgynous vibe. Whether you wear your colorful fringe combed forward or slicked back, you'll cement your status as an edgy trendsetter.
#26: Random Layers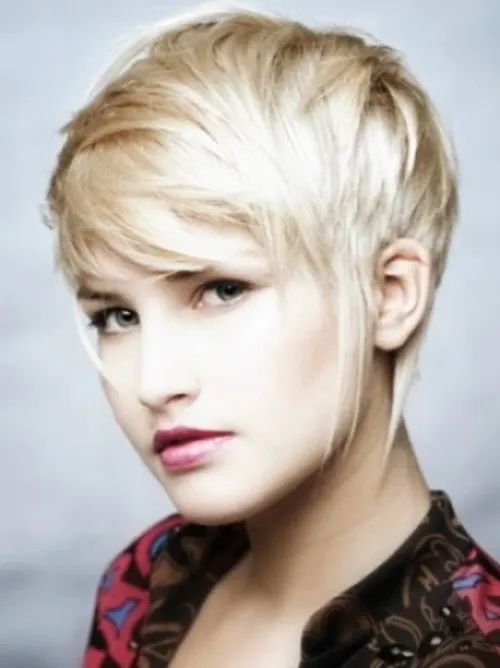 This short hairstyle is a classic pixie cut with a bit of twist. Pixie cut to bring out cuteness on the face while the pointy style around the end brings out a little edge into this look.
#27: Curly Bob Haircut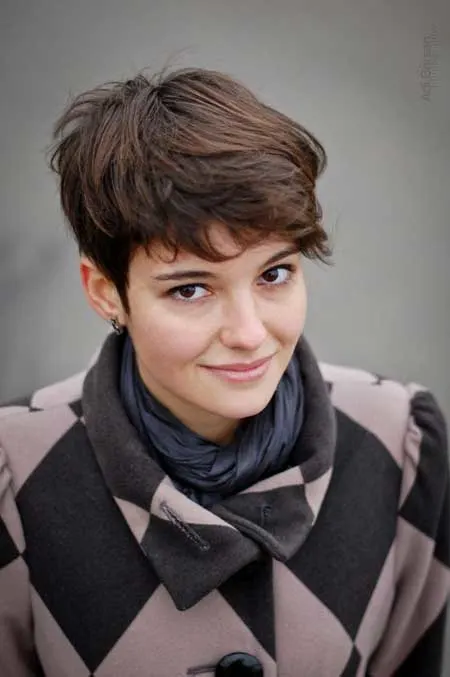 Who says that curly hair doesn't look good with short haircuts? Well, this totally clears your confusion. It is one of the most trending and coolest looks and doesn't take the time to style, as the cuts already provide the volume you need.
#28: Highlights Layers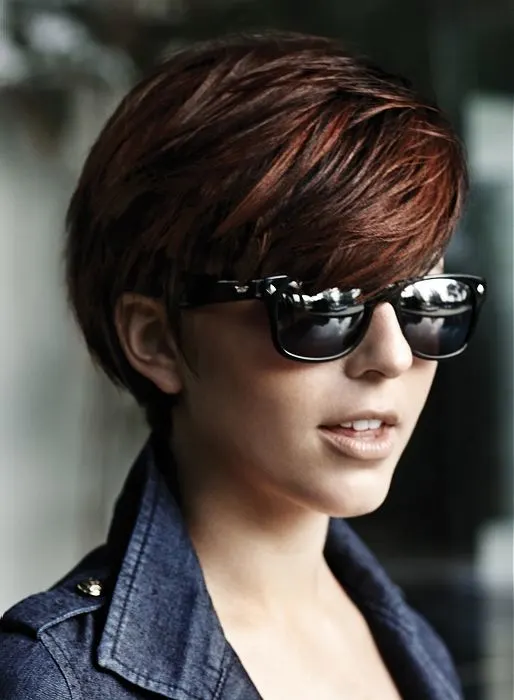 This hairstyle is the coolest of all. With a bit of highlight and low lights, this style gives out a very dynamic look to your personality.
#29: Buzzcut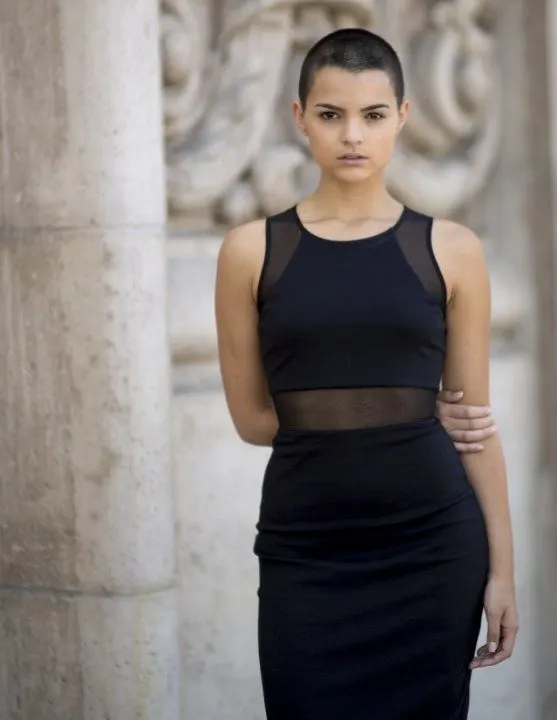 Really short hairstyles are a great choice if you have a strong bone structure. This teen girl hairstyle is super stylish and requires very little maintenance.
#30: Soft Wave Bob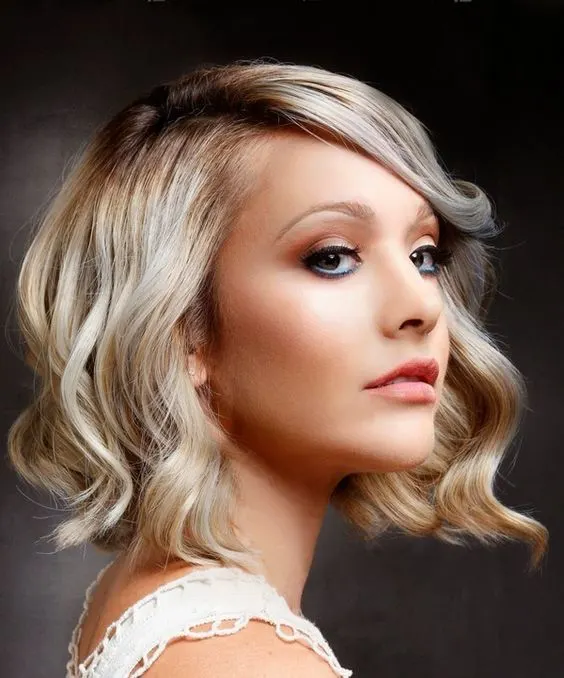 A bob with soft waves is a very beautiful short hairstyle for a teenage girl. It looks perfect when it is teamed up with smokey eye makeup and subtle blusher.
#31: Lowlights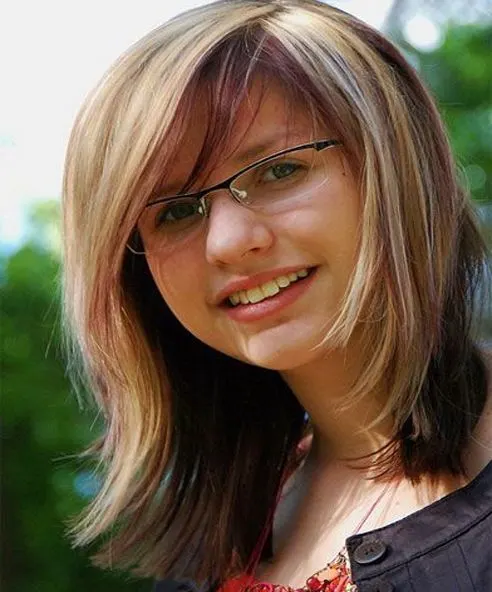 Lowlights give a short haircut a lot of texture and depth. Contrasting dark shades underneath lighter colours help to create a very dramatic effect.
#32: Reddy Steady Go!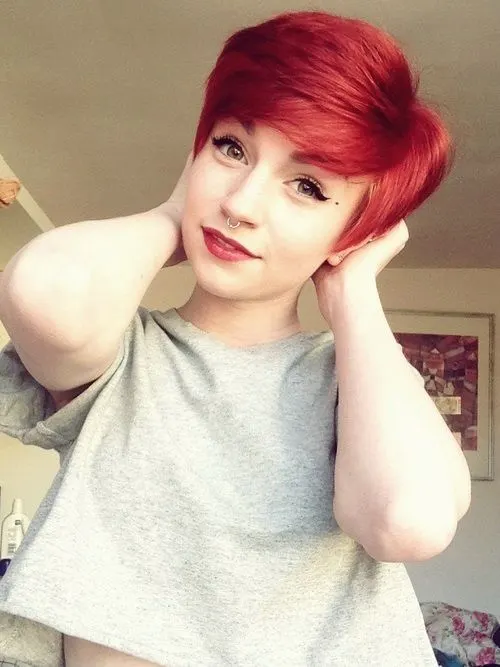 Bright red hair dye is a great choice for a teenage hairstyle. Vibrant colours can help to show of your energy and your dynamic personality.
#33: Basic Bob with Side Fringe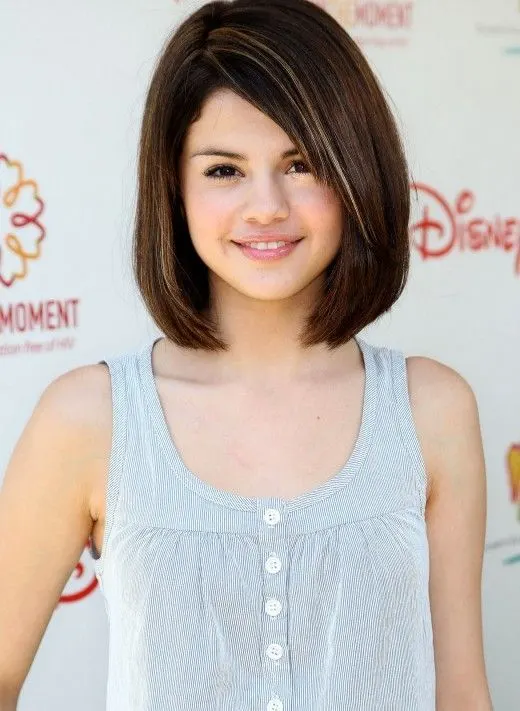 A basic bob is a classic style which will suit any teenager. Jazz up the look by teasing in a side parting and sweeping your fringe over to one side.
#34: Flyaway Style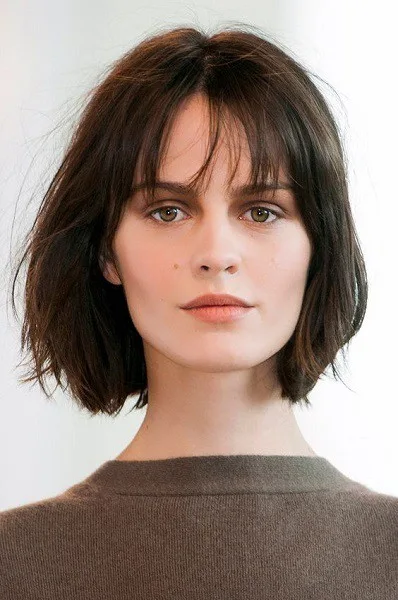 Thin hair can be very light and difficult to control without lots of hair products. If you don't want to use lots of hair products every day then embrace your Flyaway short hairstyle.
#35: Crop with Highlights and Lowlights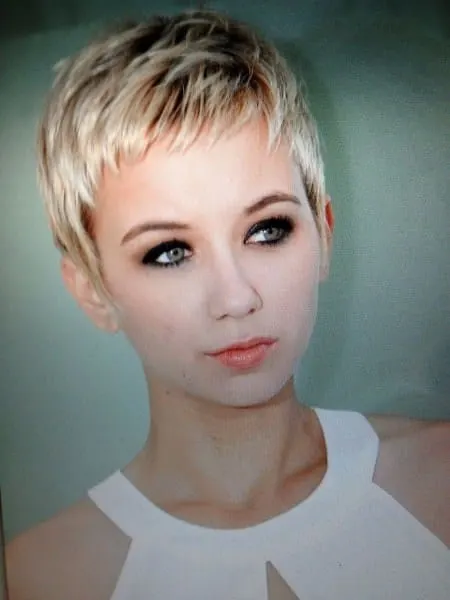 Pixie crops are incredibly popular right now as a short hairstyle for teen girls, but they are also seen all over film and TV. Give your pixie cut a hint of Hollywood style by adding highlights and lowlights.
#36: Crazy Volume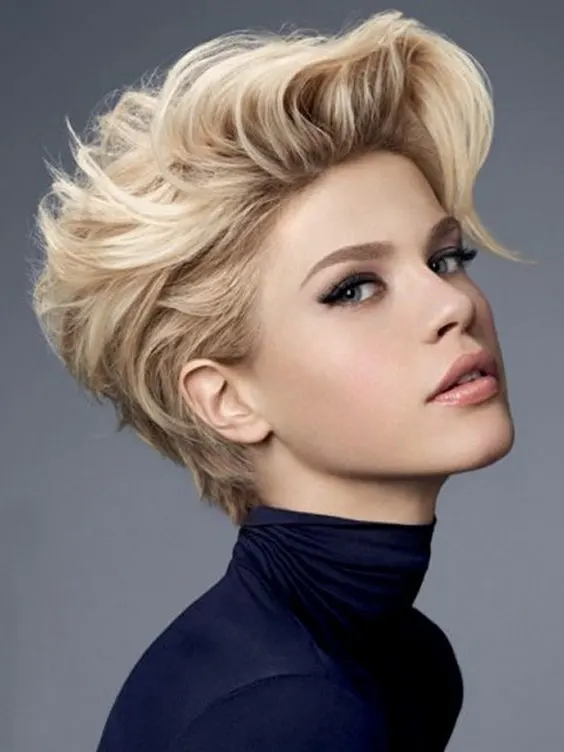 Volume is the key if you are looking for a dramatic haircut for a teenager. Use styling products and pull your hair upwards from the roots to give volume that holds all day.
#37: Stylish Headband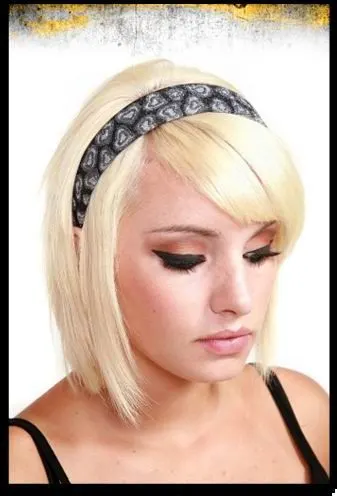 Use a stylish headband to keep any short hairstyle out of your face. The best thing about this is look is that you can easily change your headband to keep up with the latest fashion.
#38: Sonic Spikes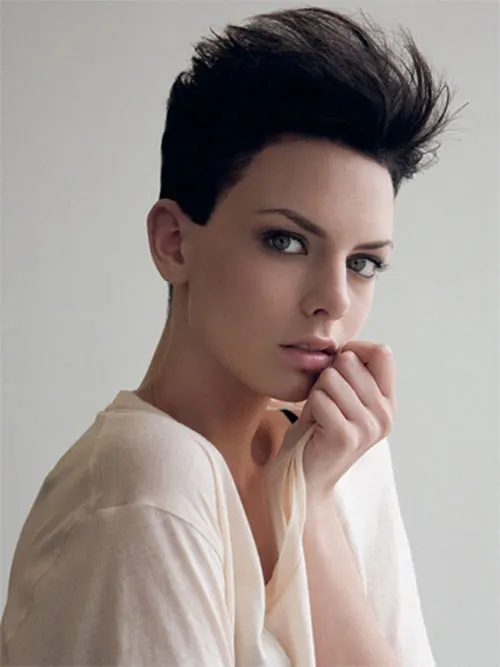 Sonic the Hedgehog was famous for his slicked back spikes. To emulate his cool look in your own short hairstyle your will need a lot of firm holding gel. This hairstyle is for teen girls who want to make a big impression.
#39: Choppy Long Crop
A choppy long crop is a popular style with emo teens. Wear your hair with lots of uneven length strands or add colorful highlights to give your hair an even more emo look.
#40: Messy Pixie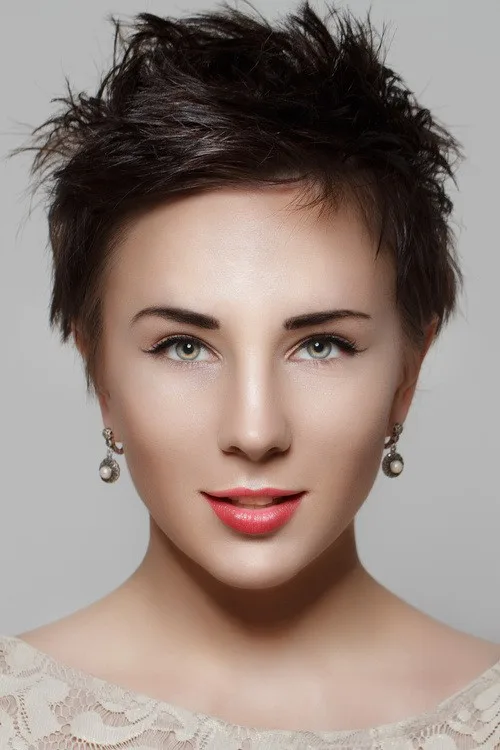 A pixie crop can be given more volume by styling your hair up into messy spikes. A messy style is normally very quick to do, so it is a good choice for a low-maintenance short hairstyle for teen girls.
#41: Asymmetrical Crop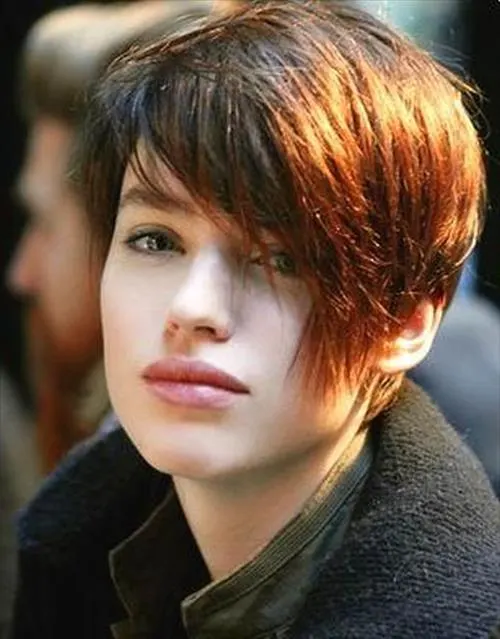 A funky asymmetrical crop is one of the perfect styles for teen girls who want to look a little bit different. Keep one side of your hairstyle longer than the other or sweep your hair across to cover one eye.
#42: Thin Bob with Heavy Bangs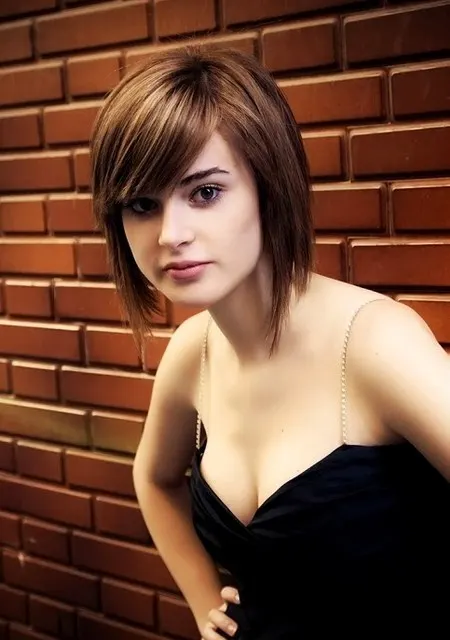 Even if you have thinner natural hair you can make it look thicker by cutting heavy bangs into your style. A blunt cut will allow your bangs to look heavier.
#43: Extremely Choppy Cut with Heavy Side Fringe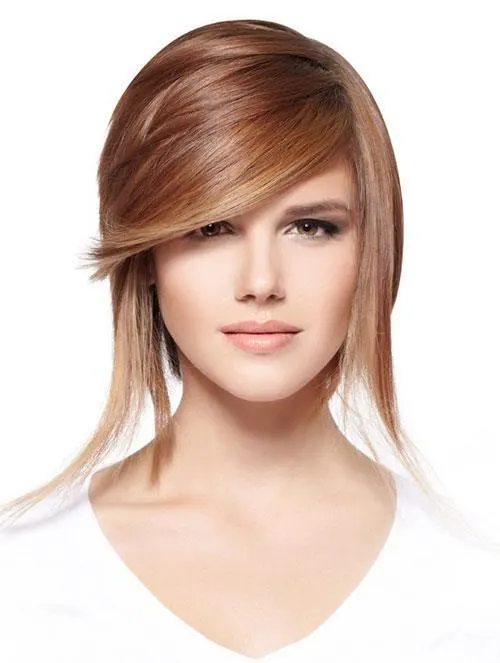 If you have an extreme personality then you will want to show it off with your funky short hairstyle. An extremely choppy cut is one where the hair is cut at a lot of different random lengths.
#44: Miley Style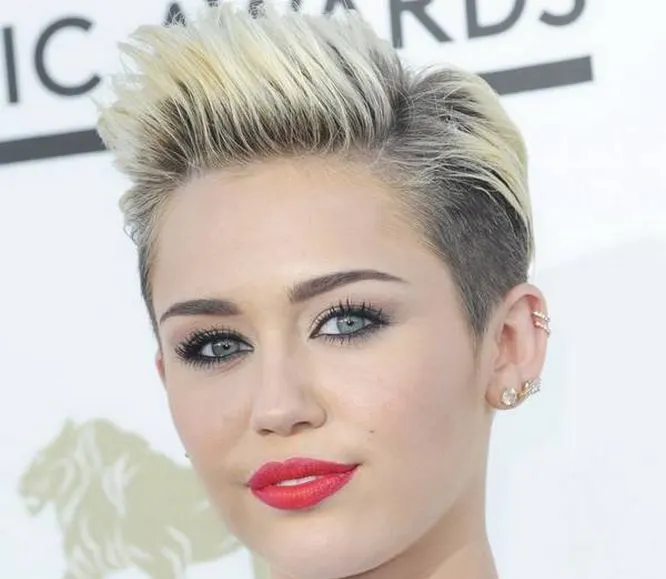 Miley Cyrus is a real style iconic and a great person to turn to if you want inspiration for a short haircut for teen girls. This short spiky style produces a very androgynous look.
#45: Hint of Pink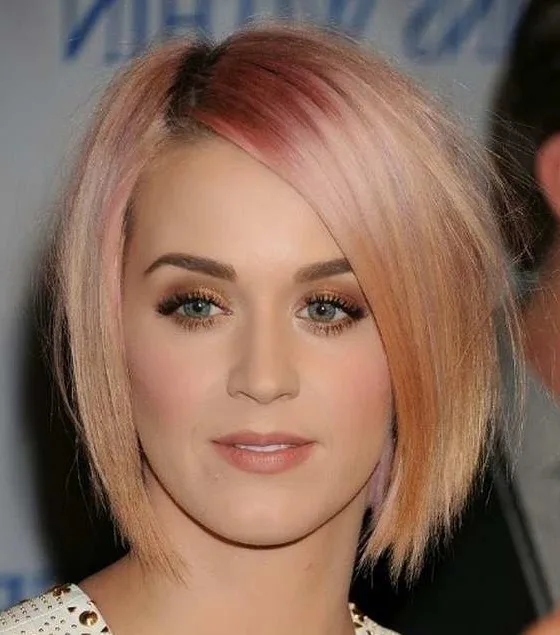 Color your hair with a very subtle shade of pink. This will give you a lovely soft look, whichever short haircut you choose.
#46: Flirty Purple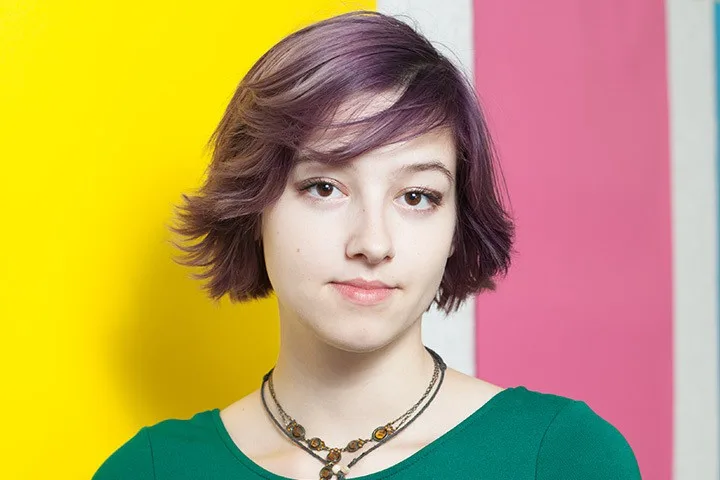 Purple is another great color for a teenage girl to choose to jazz up a short hairstyle. A dusky shade is quite subtle but it is also a little bit flirty too.
#47: Choppy Bob with Light Bangs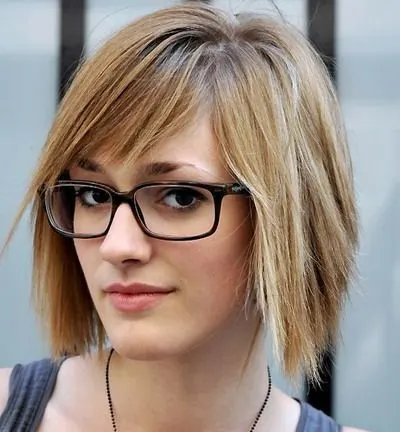 Choppy bobs are an ideal choice for a flirty hairstyle for a teen. Keep your face open by cutting in very light bangs. Team it up with rosy makeup choices.
#48: Curled Fringe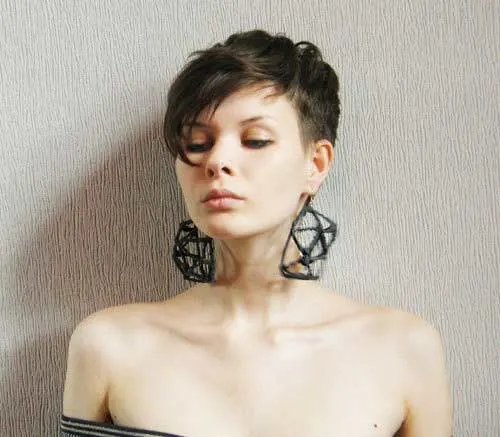 Change up a very short haircut by adding a unique signature feature such as a long curl fringe. Leave the rest of your hair in a very simple style.
#49: Rock and Roller

This amazing spiked up haircut for teen girls is reminiscent of some of the greatest musicians of the 1970's and 1980's. A few changes make it an ideal choice for the modern teen.
#50: Cute Pixie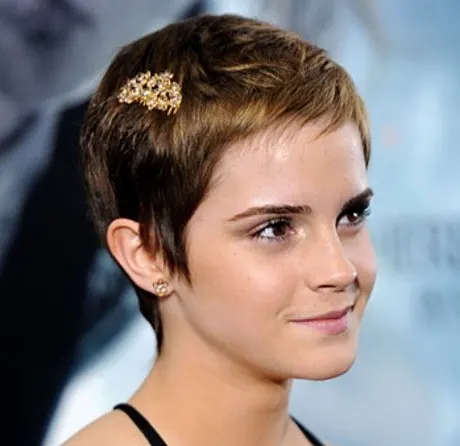 A close pixie crop is a good choice if you have very petite features. Comb your hair down to create a cute pixie shape.
#51: Curly Long Crop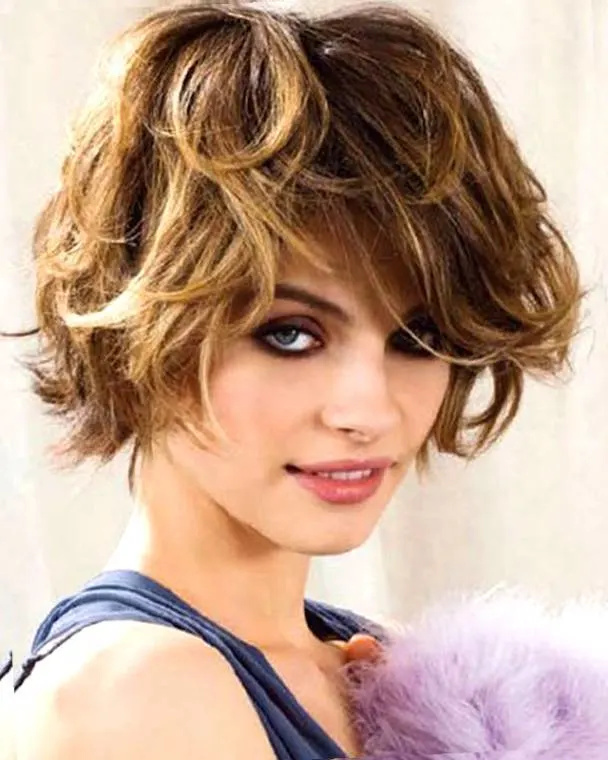 Long crops can suit any face shape if your hair has a natural curl. Use a special curling product in your hair to enhance this long crop hairstyle.
#52: Spiked Up Crop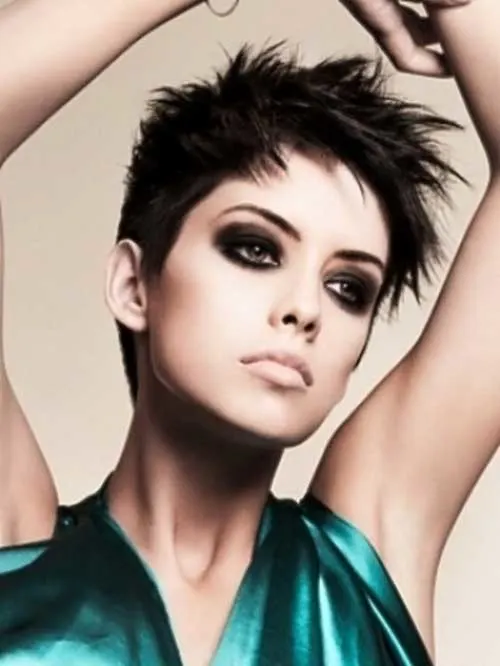 A short punky crop hairstyle like this one is the perfect choice for a fun and fearless teen girl. Use strong hold hairspray to keep your style looking amazing all day long.
#53: Extreme Bangs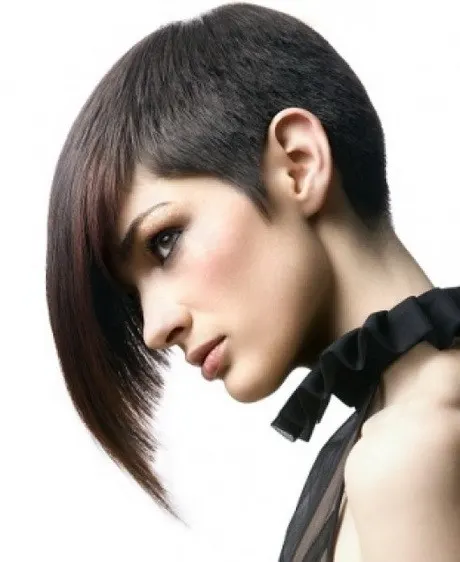 For a high fashion look for a teenage girl, choose an extreme fringe hairstyle as your next look. To make the fringe look more pronounced, keep the rear portion of your hair as a very short crop hairstyle.
#54: Rounded Bob with Copper Hues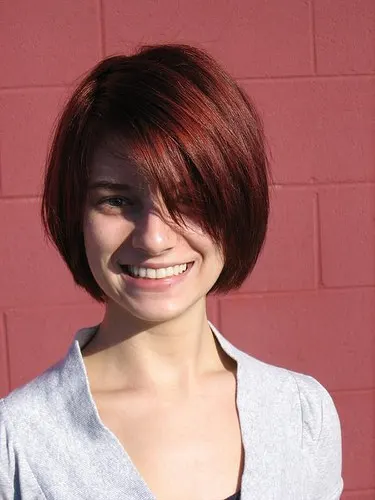 Copper tones look really good on a short, rounded hairstyle. To make the most of your rounded style you should smooth your hair with straightening irons. This will improve the shine of your hair.
#55: Short Bob with Flicked Fringe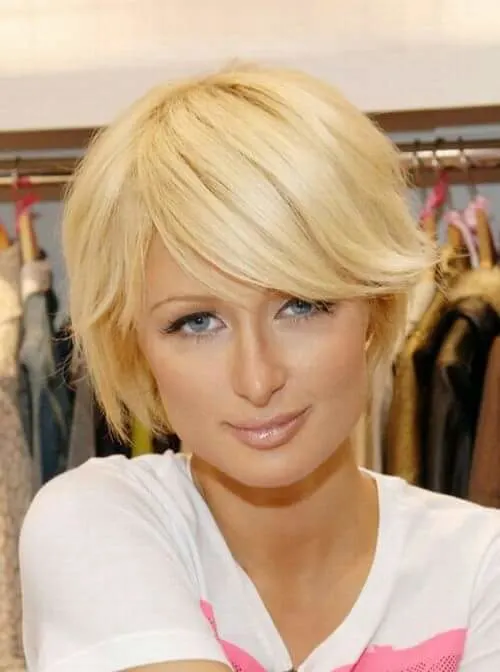 Flicked fringes are super cute. Use a curling wand or straightening irons to give you fringe a gorgeous little flick outwards. This will help to open up your face and make it brighter and more cheerful looking.
#56: Fabulous Faux Hawk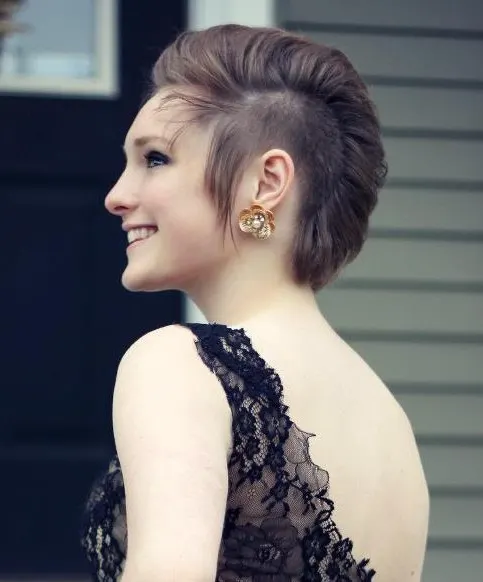 A brilliant Faux Hawk style looks even more impressive with a close undercut. This teen girl hairstyle is ideal if you are a bit of a wild child!
#57: Messy Short Bob with Blunt Bangs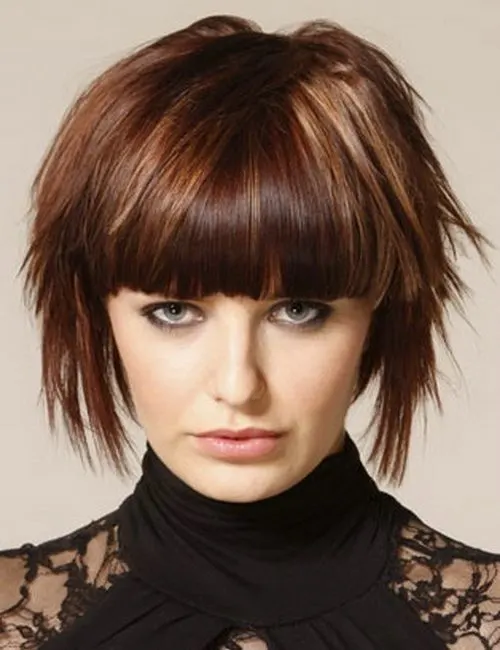 Short bob is one of the cutest easy to maintain short hairstyles for teenagers. Blunt bangs can look very severe. Take some of the edge off of this cool teen girl hairstyle by cutting in lots of crazy messy layers.
#58: Signature Colour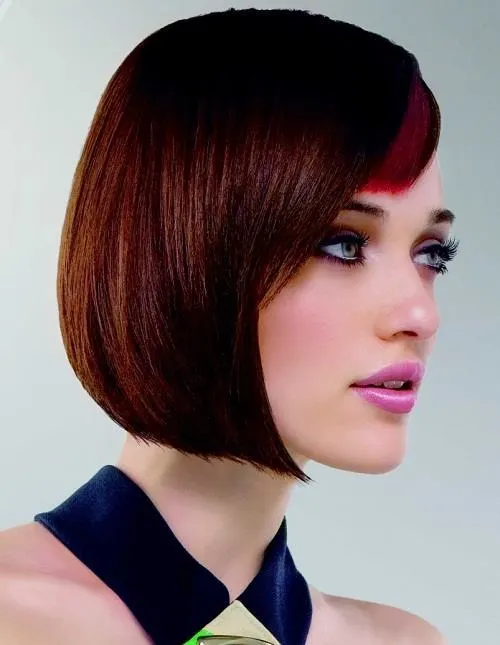 If you do not want to color all of your hair then you can just add a few signature streaks. Bangs or a fringe is a great place to add a splash of color.
#59: Long Front Short Back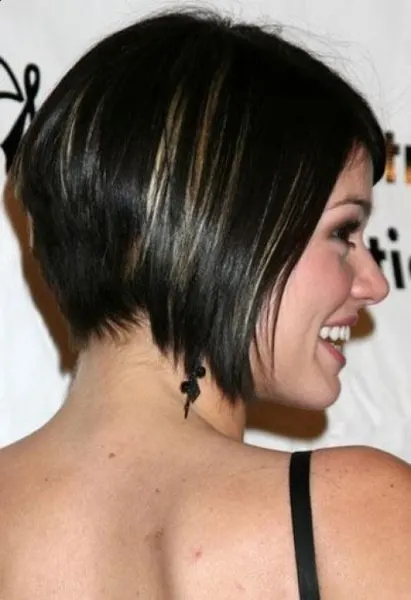 Keep the front of your hairstyle chin length and gradually taper the style off until it is very short at the back. This teen girl hair takes its inspiration from loads of Hollywood stars.
#60: Swept Back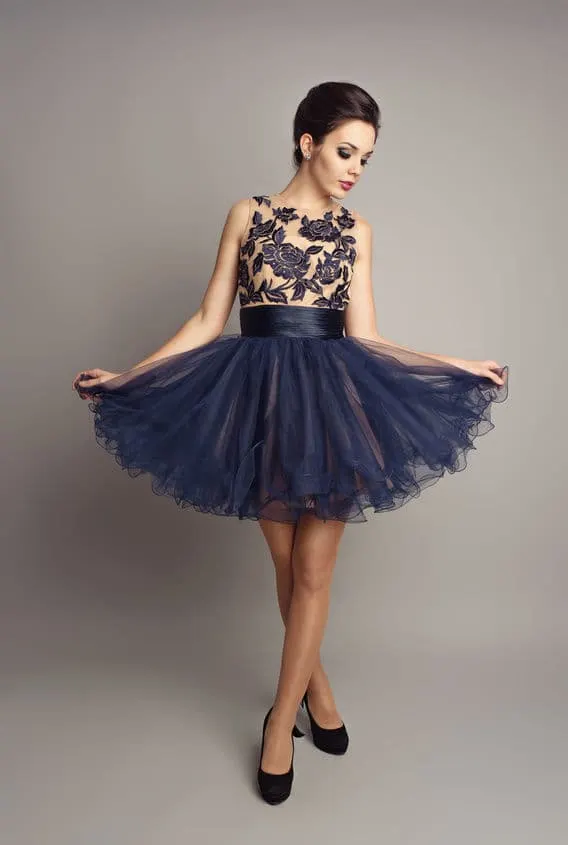 A softly swept back updo is a fantastic way to fake a short hairstyle. Not every woman wants to chop off all those inches, so fake it until you make it. Wear your hair tucked back for a formal function or simply to see if short hair suits you.
#61: Short Pointy Bangs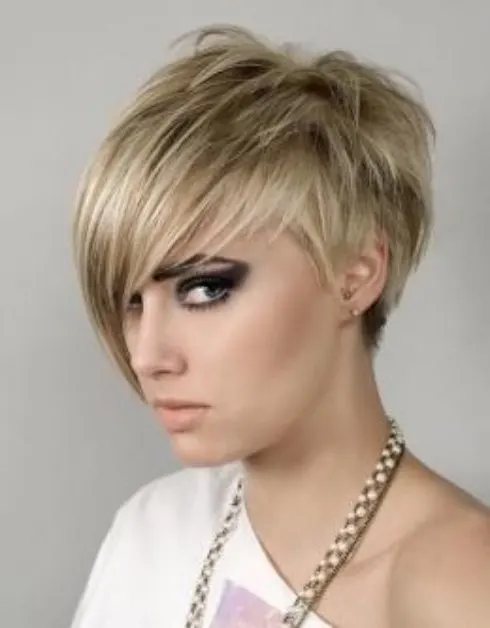 This look is the perfect for those girls who are facing hair fall issue. It not only ends your hair fall but also gives your hair a comprehensive look because of short layers on the top.
#62: Bob with Symmetrical Bangs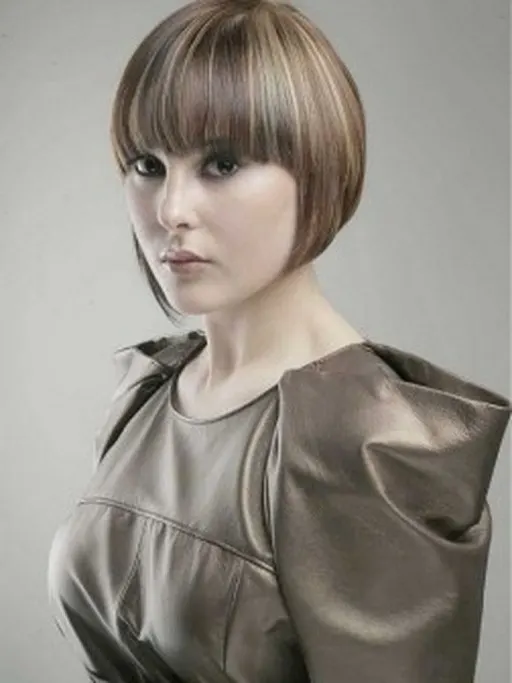 Symmetrical bangs on the forehead are the look preferred by people who have a long face or big forehead. These symmetrical bangs hairstyles cover your forehead quite nicely. This haircut comes with an incentive it not only hides your long forehead but also gives a cute look.
#63: Short to Extreme Haircut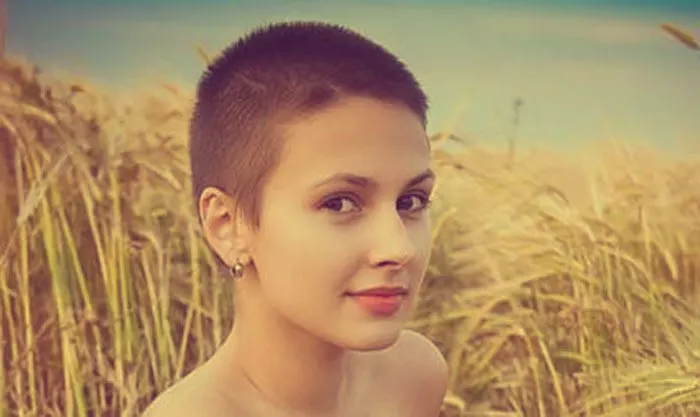 This short haircut is actually extremely short, look at it. Not all women prefer short haircuts or hairstyles to this extent but if it suits you then who cares for short or long as long as you are comfortable.
#64: Bob with Layered Bangs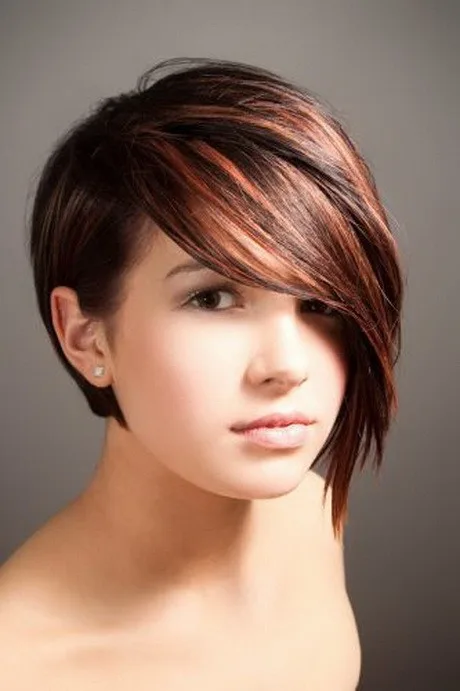 This haircut is one of the classic and most trending looks among women nowadays. It doesn't require a lot of styling, but it you style them right then it has a high shine on your personality.
#65: Side Parted Short Bangs Hairstyle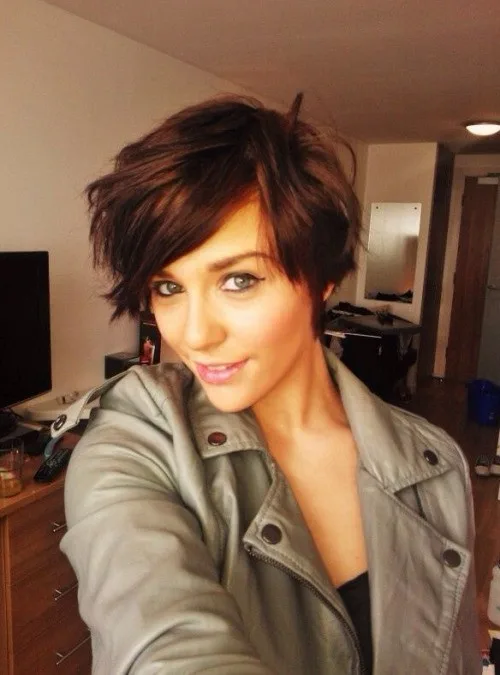 Most women prefer the short side parted hairstyle as it is easy going and you don't want to use too much of product on it. It looks elegant with a bit of highlight.
#66: Bob with Layers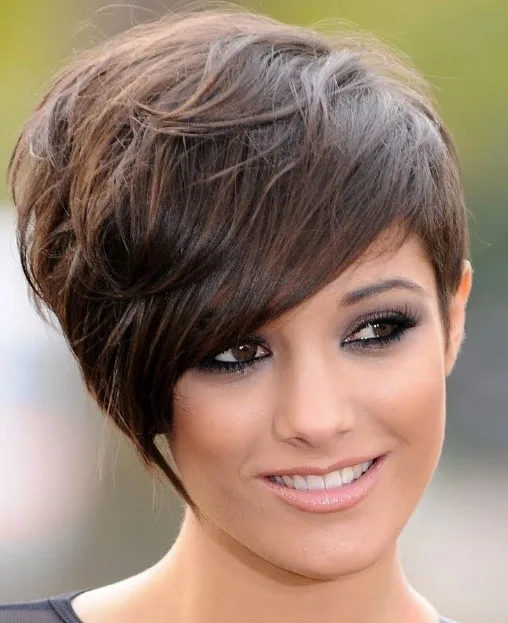 This bob cut is useful for creating a volume over the top of your scalp. Mostly this look is preferred by the girls with thin and less voluminous hair.
#67: Sexy Short Straight Bob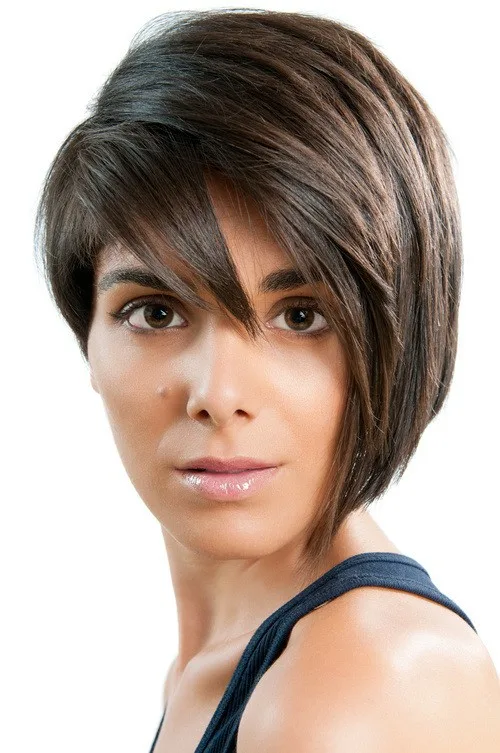 The toughest job is to decide the perfect hairstyle when you have silky and less hair. This haircut might be the answer to all your worries. It has a lot of layers making it a perfect cut to make some height on the top.
#68: Cute Blonde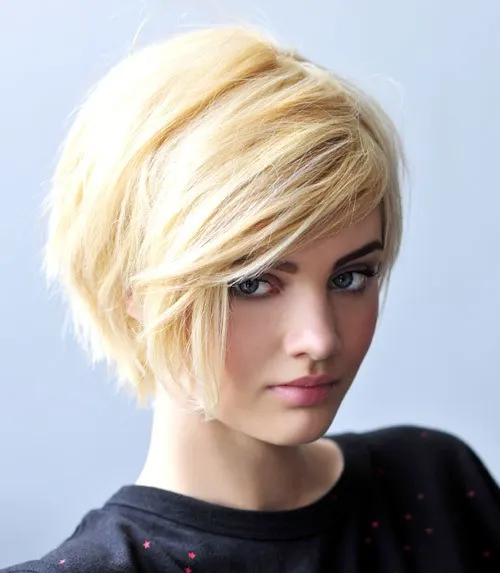 Girls with short blond hairstyle have a natural cuteness on their face. When you add it up a much cuter look of bob haircut, it makes them cuter and adorable.
#69: Short Gothic Hairstyle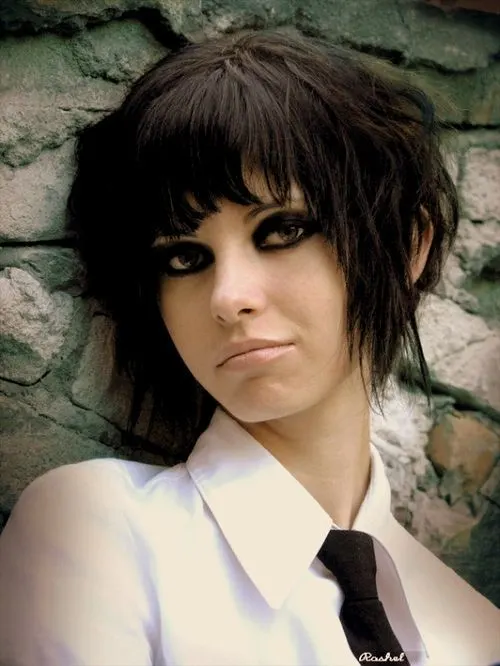 Many teen girls are fascinated by an impressive look. This particular one is a classic gothic style with a bob.
#70: Short Layers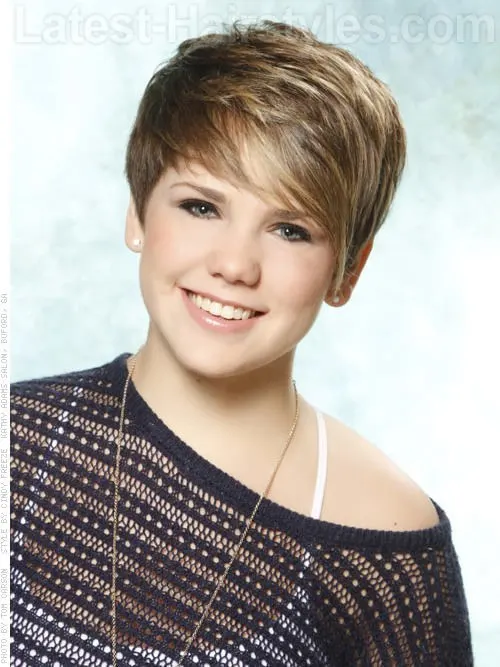 Girls with thin short textured hair prefer this style a lot. This hairstyle has lots of layer in it; you can make it more artful by adding some accessories or highlights.
#71: A Side Part Shaved Hair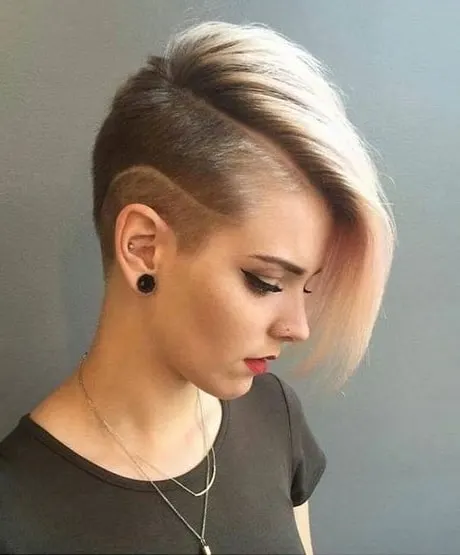 When it comes to short hairstyles for teens, its best to experiment a little too. Young people can have an easy option of side shave for their hair. The rest of the hair can be parted to the side for a chic red-carpet look.
#72: Red Short Hair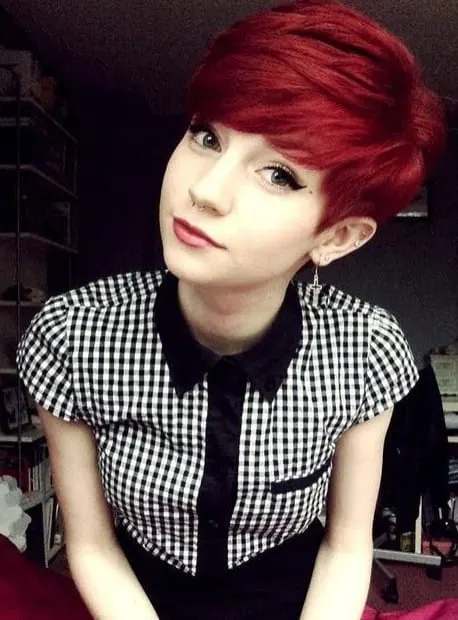 This layered look is done best when you have a voluminous head of hair. It's a boyish cut with this beautiful red color which is just a little bit gothic for us to love and try it out.
#73: Undercut Short Pink Hairstyle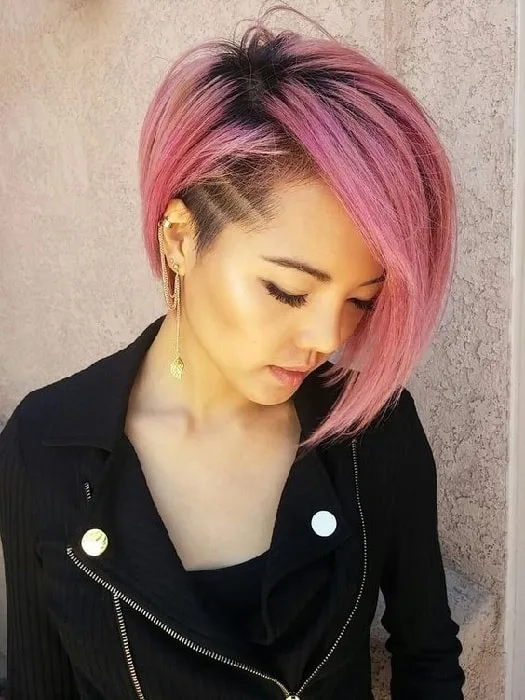 Pink hair with dark roots is a trendy style on its own. Mix in with that an edgy short haircut and a razor undercut with the design you have an amazing winner here. This is a must try hairstyle for any girl who wants to do something extremely contrasting with their hair.
#74: Short Purple Undercut with Line Design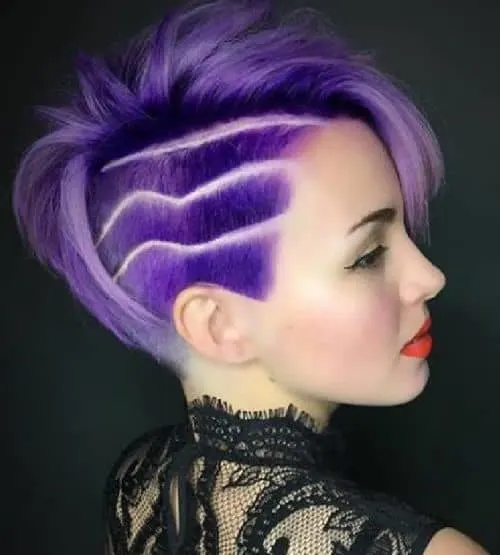 This metallic purple hair color is a signal that you're going to go all in. By that motto adding lines to a shaved part of your hair should actually be an exciting thought. It's the epitome of all attention-grabbing hair color looks for teens.
#75: Textured Shave with Short Hair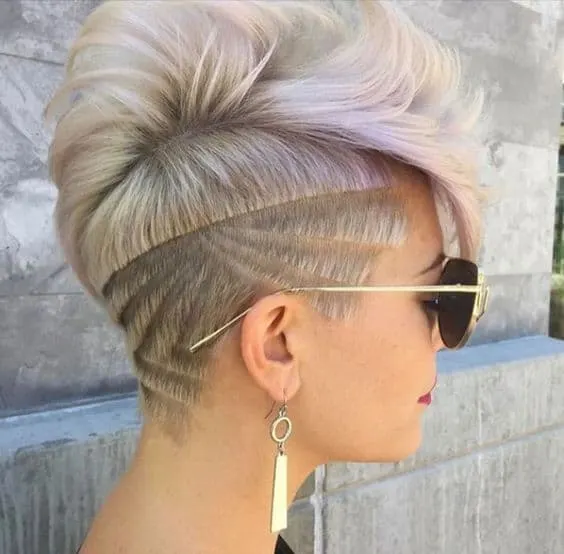 The textured shave can be done with hair that is thicker than you know what to do with. It's an amazing hairstyle for girls who have a lot of hair and aren't worried about having difficulty growing it back. This design is purposefully made so to add texture and depth to the shaved area.
#76: The Fiery Shaved Red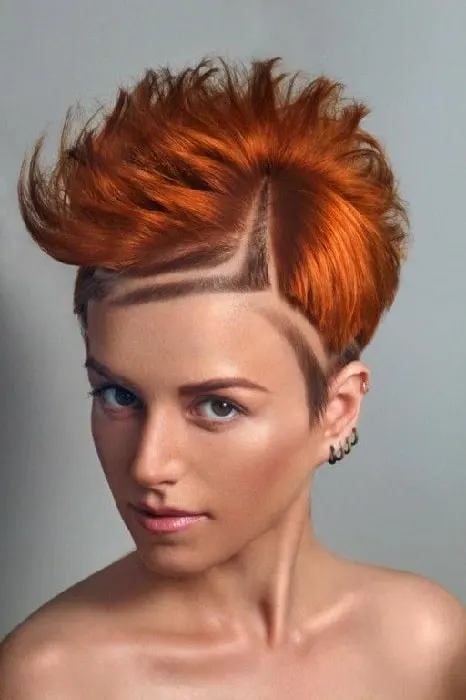 This hairstyle is made for the bold girls, and its design is made such that pulling it off can be a task, but on the right person it would be amazing. So, if you think your bold personality can combine well with this hairstyle then go for it!
#77: Silver Fox Hairstyle for Teen
This hairstyle is unique and can be pulled off by only a few people. The silvery fox look with the red center looks like blood drops on snow. It's enchanting and intriguing. If you consider yourself grunge, then this is for you.
#78: Soft Short Bob Haircut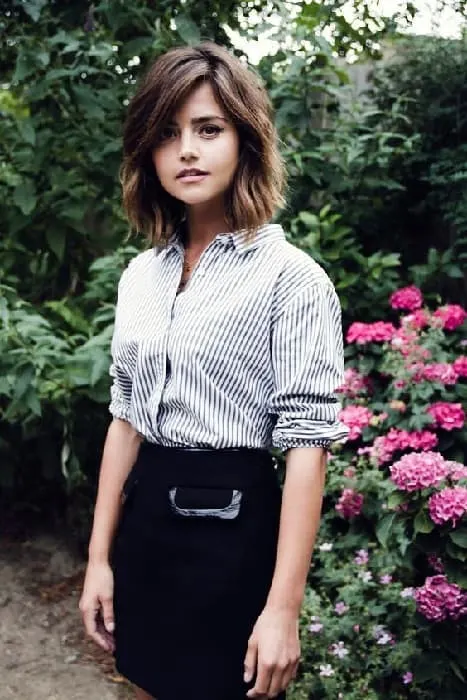 The 'short haircut for teen girls' list doesn't only have grunge and pixie or shaved looks. Here's a softer bob look for our teen girls out there. It's a more feminine shorter look and great for somebody who doesn't want to experiment.
#79: The Coral Afro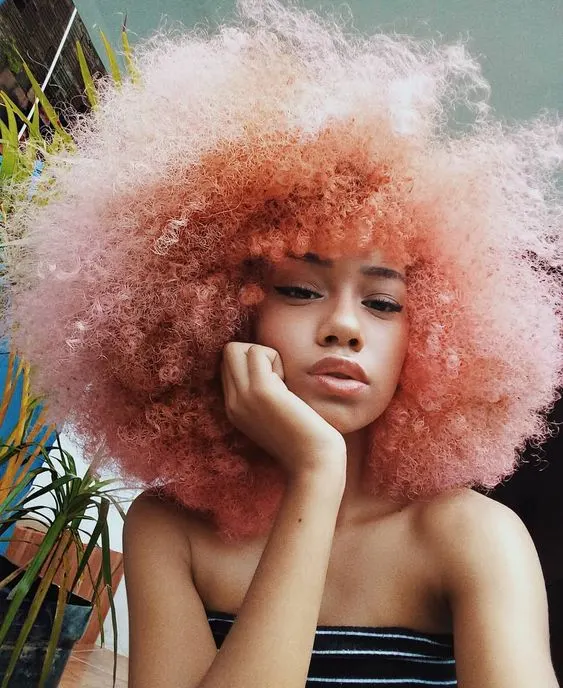 The greatest ways to bring out the best in an afro is by keeping it short. This particular look heavily relies on coral tones to give it this amazing depth and texture. A full afro should be kept open and worn with pride.
#80: The Boyish Short Haircut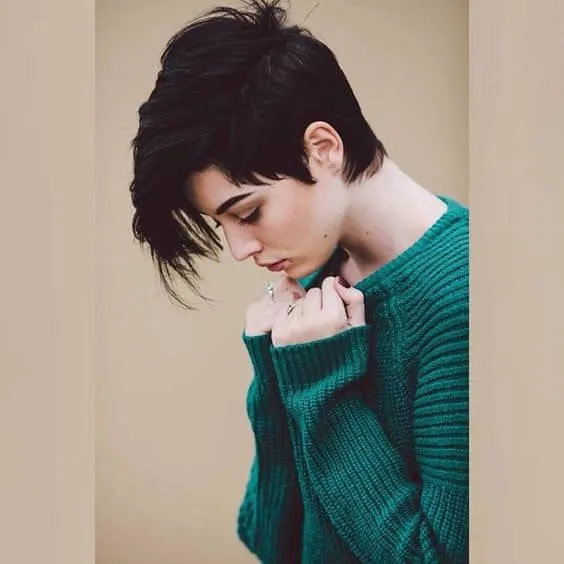 Who said only boys could rock their luscious locks like this? It's a wonderful hairstyle for that tomboy girl out there who just wants her hair out of the face to enjoy life. It's no doubt also a cool cut for anyone who knows how to carry it well.
#81: Short Messy Waves for Teen Girls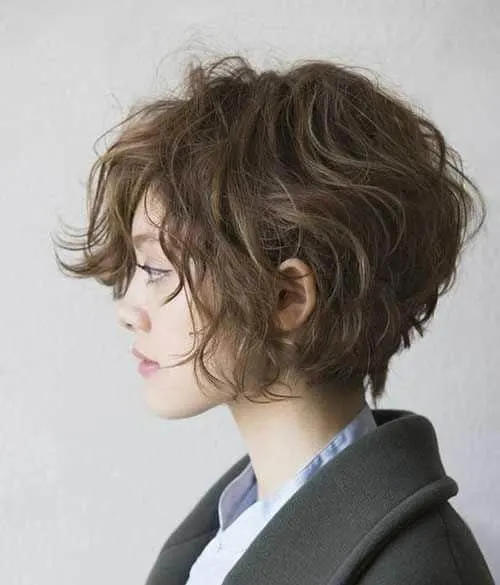 Short hairstyles on hair that is on the thinner side look great when kept messy like this. This mess may scream just got out of the bed but is actually very hard to achieve on a regular basis. It needs a lot of volumizing products and lots of layers to look like this.
#82: The Unkempt Short Cut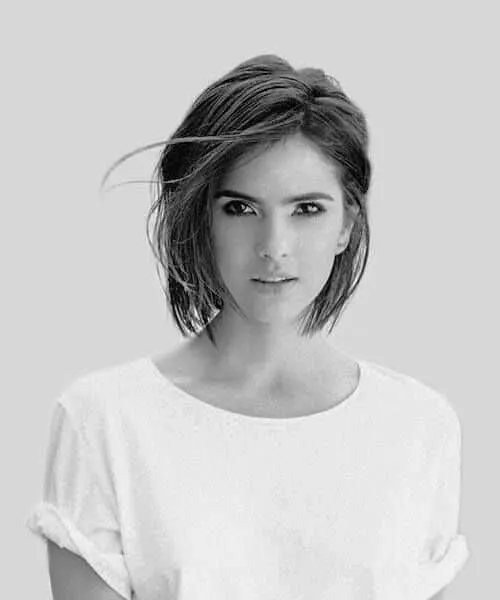 Short hairstyle for girls can be messy and elegant too. There comes in the unkempt look. Its short hair with layers at the end to give its soft and thinner finish. Try some long bangs to give your face a lift with the hair that will fall in the front.
#83: Bubble-Gum Pink Short Hair
This short pink hairstyle combines cute and girly together very well. To make sure that you get the best out of this go global with the pink. Maintain the roots for as long as you're maintaining your bangs. This way the look won't get awkward.
#84: The Windswept Short Haircut
Windswept short bangs have been common amongst young boys. But teen girls too can try out this short hairstyle for themselves. This wonderful haircut keeps the hair off your neck and also gives you a voluminous front for your face and forehead.
#85: The Full-Blown Brown Afro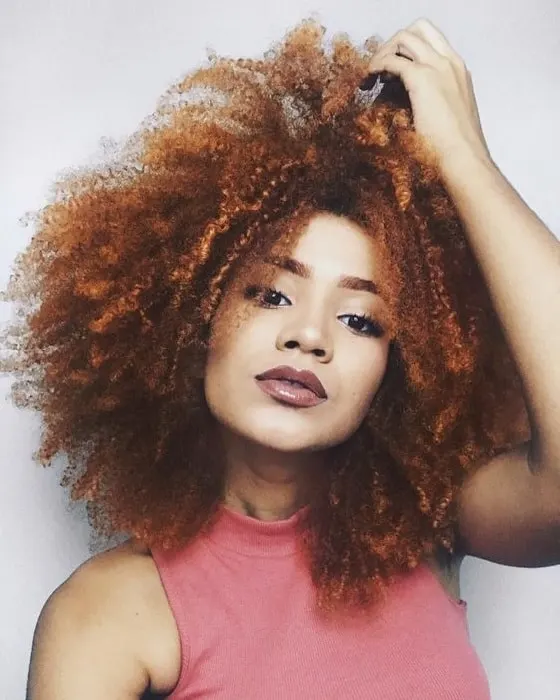 A full-blown afro deserves the attention of everyone. That's why we suggest you keep your afro short and sweet so that it's not too hard to maintain on a daily basis. A neutral color like this brown can give it a calming tone.
#86: Electric Blue Curls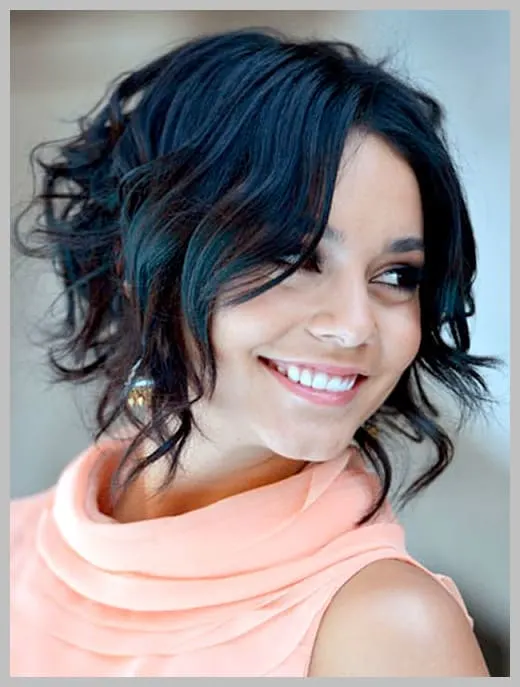 Vanessa Hudgens sports a lovely electric blue-green hair color combo. This hairstyle is great for experimenting with teen girls, and blue Hair color is becoming big in the industry anyways.
#87: Short Feather Layers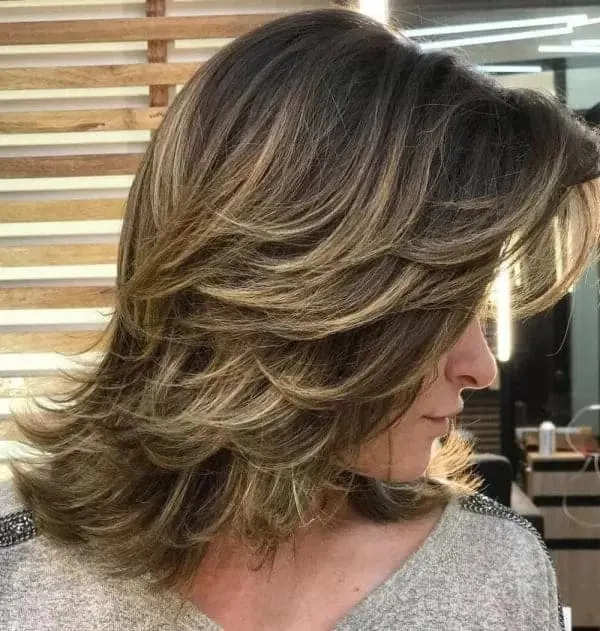 This is an amazing hairstyle for teen girls. Try this feather cut to see how small hair looks on your face.
#88: Short Curls
If you have curly hair then this style might look on you, a great option of short curls. Check out whether that length suits you.
#89: Iconic Short Wavy Hair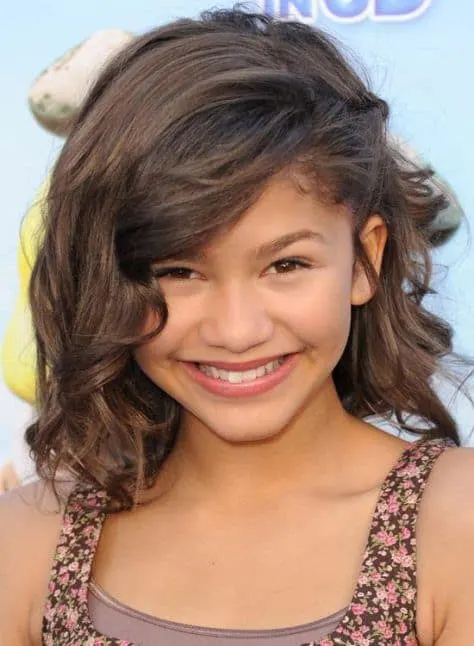 The wavy hair framing your face will always be a cute look on any girl. It's soft and feminine giving it a charm like no other. A perfect short hairstyle for teen girls!
#90: Mushroom Brown Layered Hair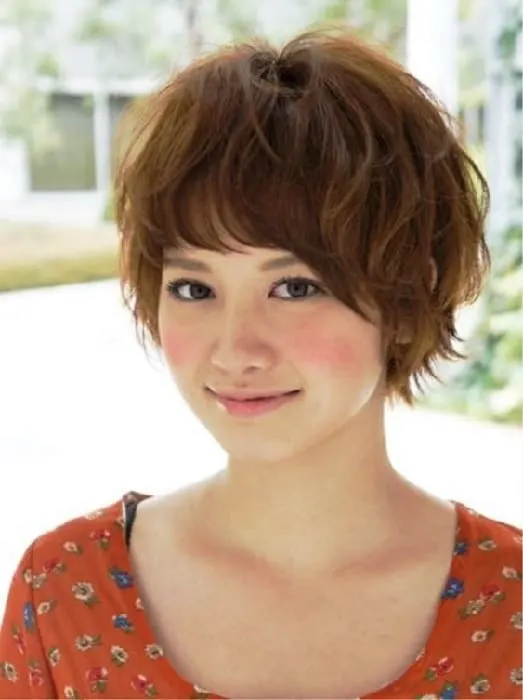 Unruly curls are enchanting and beautiful. With a mushroom head haircut and some layers, it is quite easy to achieve this simplistic and cute look.
Hope you have enjoyed our list of short haircuts and hairstyles for teenage girls. Young girls and boys never compromise on their looks. Especially when it comes to the girls, they want to spice up every single look. Before choosing a hairstyle, never neglect the importance of your outer frame and what will look good on it.
Choose the short hairstyle that's best for you and never compromise on it. No matter it's short or long, the final thing is: you need to look good on it!