Thick hair might be a real dream for some girls, but women who have it know all about how much hassle such manes can be. They are always hard to deal with since they tend to stick out at all the unnecessary places and become really unruly at the wrong time. Learning how to deal with short thick hair is an art. One of the easiest ways to do it is to choose a short haircut.
The shorter the hair, the easier it is to manage. This is why short hairstyles with thick hair are much more popular than haircuts for long manes. Thin locks might be something you take pride in, but with time many girls wish for them to be less troublesome.
Choosing the right short hairstyle with thick hair is easy. All you need to do is go through some options. Remember, the right length is not the only key to a hassle-free haircut. The right styling is compulsory as well. You can choose the style with short thick hair that will save you some time in the morning while looking absolutely terrific. Go for it!
Stunning Hairstyles for Women with Thick Hair
Lucky owners of thick hair often wish they weren't so lucky. Keeping thick hair neat is absolutely necessary to sport a fashionable appearance. Women with such locks will find a lot of different hairstyles to try.
The most popular short haircut for thick manes is a stacked bob. The stacked layers allow the hair look bulky and that creates an appearance of shape and volume.
We have prepared a useful list of short haircuts for women with thick hair. Take a moment to browse these interesting options to get a better idea of what you might want to do with your hair. Once you choose a couple of suitable short thick hairstyles, you can ask the hairstylist for some further advice.
1. Short bob with bangs
As we said, bobs are great for women with thick hair. This bob's special feature is the bangs. Thick bangs look amazing and suit almost anyone. Cut your bangs to be a little wispy and side sweep them to create a dreamy look.
2. Asymmetrical bob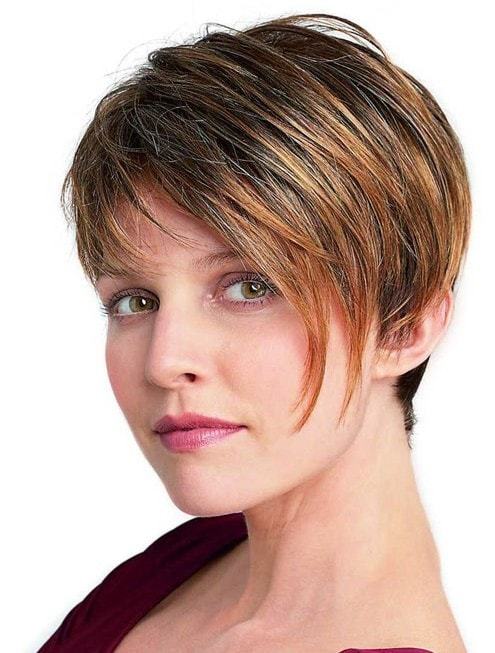 This hairstyle for thick locks is great for its asymmetry. The regular bob gets revived by frontal strands on just one side. The bangs will also look great with this haircut. You can choose any size you wish. Wispy bangs will make your hair look lighter. Check best asymmetrical haircuts and styles here.
3. High bob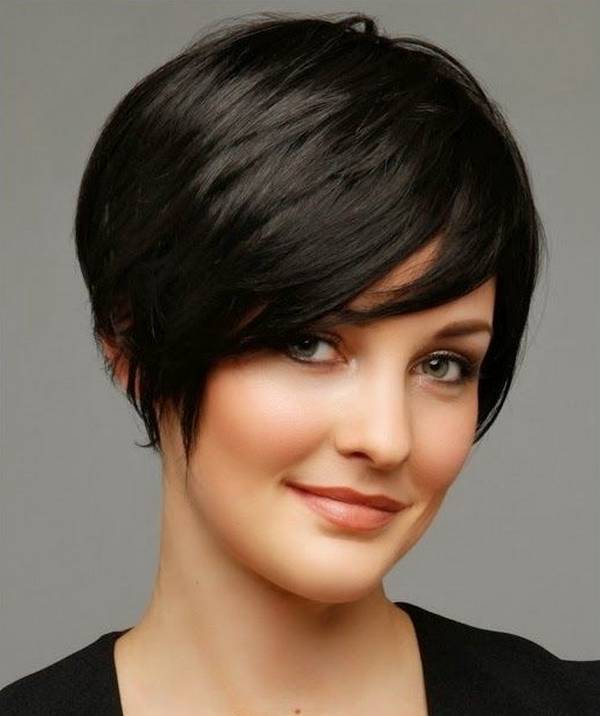 This is a perfect bob for girls with thick straight hair. It is easy to style and looks amazing on almost all face types. Try to avoid this bob only if your face is oblong. The top voluminous part might make it look even more elongated.
4. Rounded bob
This bob is amazing for thick hair since it adds a lot of volume and makes a very stylish look. This hairstyle will need daily maintenance to make the frontal strands surround the face. A great choice for women with square face types.
5. Eye covering bangs

Women with thick hair should give special attention to their bangs. They add any hairstyle a special zest which is hard to overlook. Thick eye-covering bangs create a sexy appearance, which will definitely keep some heads turning your way.
6. Angled bob

Angled bobs are very fashionable and can become a perfect hairstyle for girls with thick manes. Such bob will not need much maintenance since heavy locks will keep themselves in place. Only regular brushing is required.
7. Blunt cut

Heavy hair is perfect for blunt cuts. So, if you are choosing a long bob, you can go for blunt ends without any worry. Try the long blunt bob with side swept bangs. You are sure to like it!
8. Graduated bob

Graduated hairstyles are designed for any hair which lacks volume. Thick and heavy hair will look terrific in a graduated bob. You can choose any length you like, but if you don't want much maintenance, go for shorer ones.
9. Very short

Take a look at this wonderful hairstyle, which will allow you to forget about styling. Women with thick locks can easily go for short haircuts without being afraid to look as though they are balding. Give it a try!
10. Stylish pixie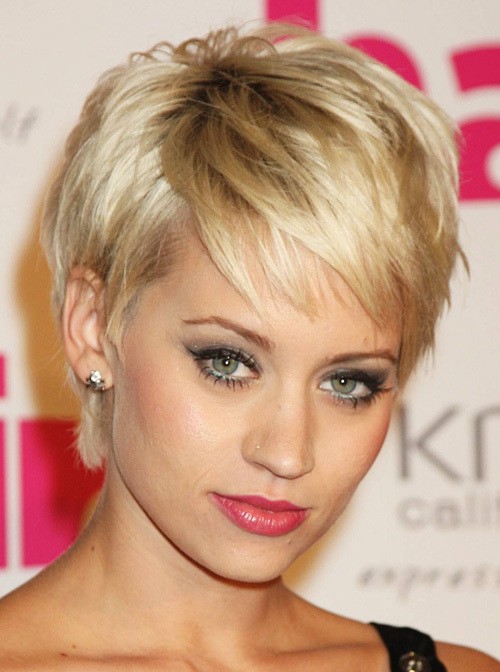 Stylish pixies are a great way out for women with thick hair. This hairstyle makes any woman look special and doesn't require much maintenance. Play around with the length of the bangs to go from a business-like to a sexy look.