Thick hair might be a real dream for some girls, but women who have it know all about how much hassle such manes can be. They are always hard to deal with since they tend to stick out at all the unnecessary places and become really unruly at the wrong time. Learning how to deal with short thick hair is an art. One of the easiest ways to do it is to choose a short haircut.
The shorter the hair, the easier it is to manage. This is why short hairstyles with thick hair are much more popular than haircuts for long manes. Thin locks might be something you take pride in, but with time many girls wish for them to be less troublesome.
Choosing the right short hairstyle with thick hair is easy. All you need to do is go through some options. Remember, the right length is not the only key to a hassle-free haircut. The right styling is compulsory as well. You can choose the style with short thick hair that will save you some time in the morning while looking absolutely terrific. Go for it!
Things to Consider When Styling Short and Thick Hair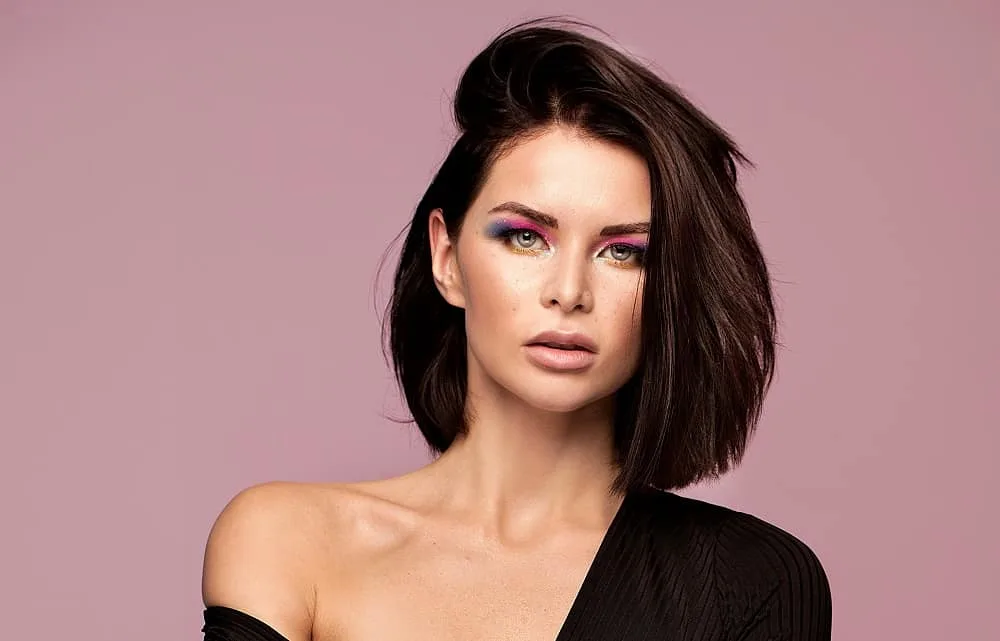 There is a huge selection of short hairstyles for thick hair. Any woman with thick hair to choose a short hairstyle that will suit her.
One of the most popular is a bob. Choose any length above the shoulders.
Ask your hairdresser to add some choppy layers, that will suit your face shape. The main goal is to take the weight out of your hair and add movement to your hair.
If you still feel like you have a lot of hair, you may consider an undercut. Your bob will hide it and nobody will know but you will feel relief.
Thick hair also happens to be frizzy and coarse. In that case better to use oils or serum before styling, that will make your hair smooth and silky. Use a flat iron to get a sleek look and reduce the volume. And remember about heat protection.
What if your hair is thick and naturally wavy? The best option is to go with a flow and choose a messy look. It can be done with pomade or soft cream for curls. Try to use foam to achieve a trendy wet look.
The next popular hairstyle for women with short and thick hair is a pixie cut. It is the most manageable haircut. You can easily style it using any product of your choice. It can be pomade, wax, salt spray, anything that helps to create texture.
Thick hair is definitely easier to maintain when it's short. It saves you a lot of time and requires less product.
Stunning Hairstyles for Women with Thick Hair
Lucky owners of thick hair often wish they weren't so lucky. Keeping thick hair neat is absolutely necessary to sport a fashionable appearance. Women with such locks will find a lot of different hairstyles to try.
The most popular short haircut for thick manes is a stacked bob. The stacked layers allow the hair look bulky and that creates an appearance of shape and volume.
We have prepared a useful list of short haircuts for women with thick hair. Take a moment to browse these interesting options to get a better idea of what you might want to do with your hair. Once you choose a couple of suitable short thick hairstyles, you can ask the hairstylist for some further advice.
1. Short Thick Wavy Hair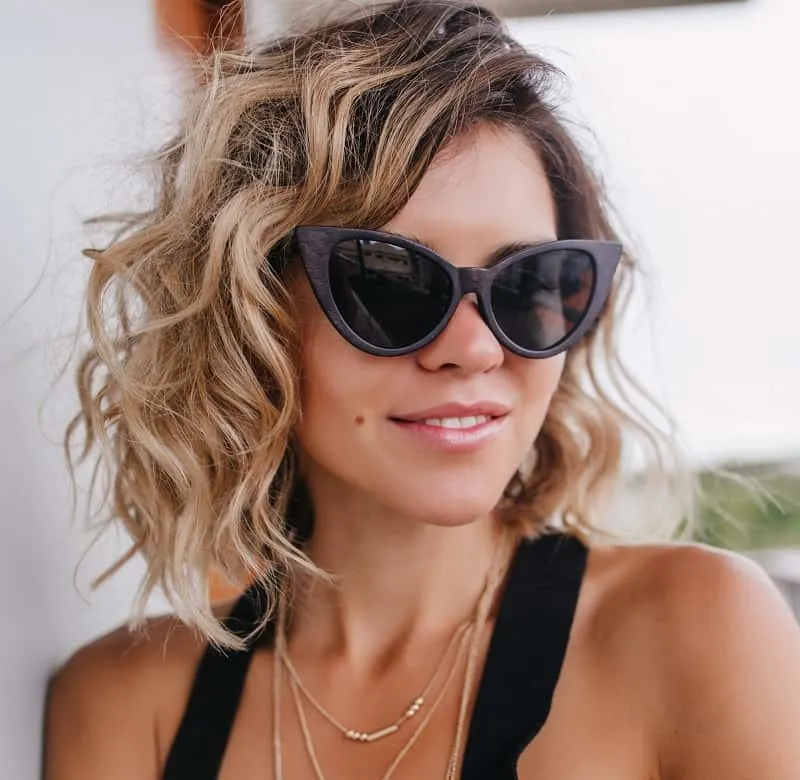 A short side-parted hairstyle gets major lift from a bit of hairspray. Load up your hair with beachy waves and pair the whole thing with your favorite statement sunglasses.
2. Short Hairstyle for Thick Hair Over 50
If you're over 50, you probably don't want to spend too much time on your hair. This short haircut with soft waves and blonde hair color only requires a center part and hairspray.
3. Short Haircut for Thick Curly Hair
Are your thick locks weighing you down? Give them a healthy cut above the shoulders! This style will also make your curls billow out, creating a flattering angle for your face.
4. Short Thick Haircut for Black Women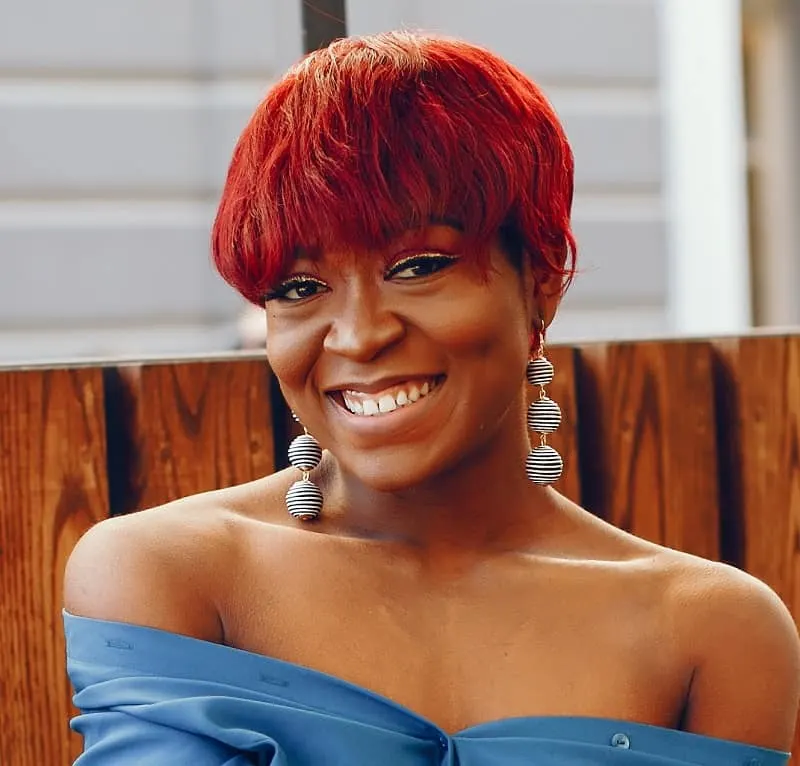 In between haircuts and want something fun? This short pixie features straight hair several inches in length brushed forward and glossed with dark red.
5. Short Thick Haircut for Round Faces
Make your round face look its best with a short layered haircut. This one features soft waves, an off center part, and burgundy hair color.
6. Short Hairstyle for Thick Hair and Oval Faces
When you have an oval face, you can pull off just about any haircut. A short asymmetrical pixie cut is beautiful with its blonde base and light pink balayage.
7. Short Thick Hair with Highlights
Need a fresh update for your thick hair? Have your hair stylist cut in layers for movement and add purple highlights. Piecey bangs aren't harsh and fan out across the forehead.
8. Short Thick Afro Hair
Natural hair is gorgeous so let it fly free as an afro. To avoid a rounded shape, cut in layers. Then seal the curls with product which will also add shine.
9. Teal Pixie for Thick Hair
For the woman looking for an edgy, colorful hairstyle, a pixie is the answer. Not only will it cut down on bulky thick hair, but the straight edge bangs and textured body combined with bright color is the ultimate look.
10. Long Top Short Sides for Thick Hair
For an oval face, a hairstyle with a long top and short sides is super edgy and flattering. Just add platinum blonde to the top and keep sides dark for rock contrast.
11. Short bob with bangs
As we said, bobs are great for women with thick hair. This bob's special feature is the bangs. Thick bangs look amazing and suit almost anyone. Cut your bangs to be a little wispy and side sweep them to create a dreamy look.
12. Asymmetrical bob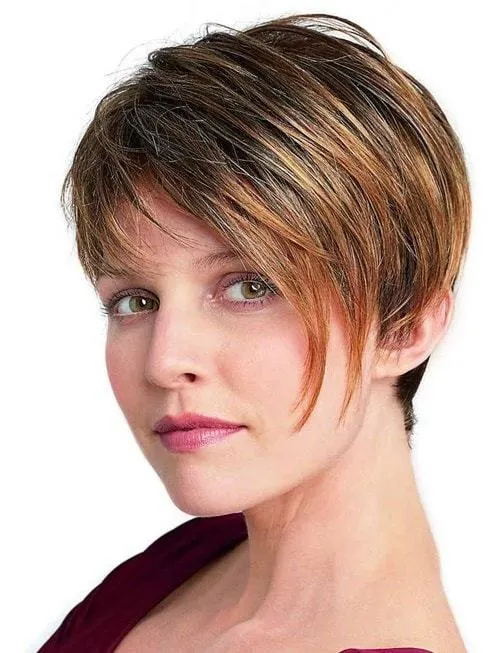 This hairstyle for thick locks is great for its asymmetry. The regular bob gets revived by frontal strands on just one side. The bangs will also look great with this haircut. You can choose any size you wish. Wispy bangs will make your hair look lighter. Check best asymmetrical haircuts and styles here.
13. High bob
This is a perfect bob for girls with thick straight hair. It is easy to style and looks amazing on almost all face types. Try to avoid this bob only if your face is oblong. The top voluminous part might make it look even more elongated.
14. Rounded bob
This bob is amazing for thick hair since it adds a lot of volume and makes a very stylish look. This hairstyle will need daily maintenance to make the frontal strands surround the face. A great choice for women with square face types.
15. Eye covering bangs

Women with thick hair should give special attention to their bangs. They add any hairstyle a special zest which is hard to overlook. Thick eye-covering bangs create a sexy appearance, which will definitely keep some heads turning your way.
16. Angled bob

Angled bobs are very fashionable and can become a perfect hairstyle for girls with thick manes. Such bob will not need much maintenance since heavy locks will keep themselves in place. Only regular brushing is required.
17. Blunt cut

Heavy hair is perfect for blunt cuts. So, if you are choosing a long bob, you can go for blunt ends without any worry. Try the long blunt bob with side swept bangs. You are sure to like it!
18. Graduated bob

Graduated hairstyles are designed for any hair which lacks volume. Thick and heavy hair will look terrific in a graduated bob. You can choose any length you like, but if you don't want much maintenance, go for shorer ones.
19. Very short

Take a look at this wonderful hairstyle, which will allow you to forget about styling. Women with thick locks can easily go for short haircuts without being afraid to look as though they are balding. Give it a try!
20. Stylish pixie
Stylish pixies are a great way out for women with thick hair. This hairstyle makes any woman look special and doesn't require much maintenance. Play around with the length of the bangs to go from a business-like to a sexy look.
21. Blunt Bob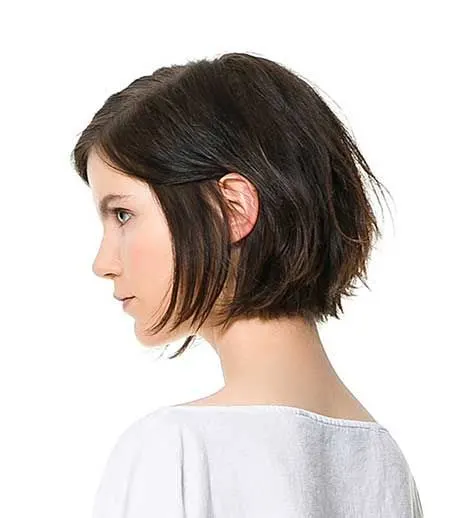 This chin-length bob really taps into the blunt cut style. It is a great choice if you have strong facial features and it looks great in a monochrome color. Lightly tousle the top layer of your hair to take some of the harshness away.
22. Swept-Over Style with Dark Under Layers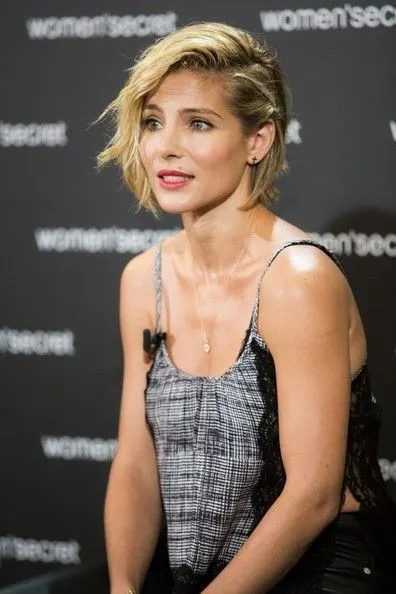 This cool look is as stylish as it is easy to create. If you have dirty blonde hair, put a few bright and vibrant highlights into the top layers of your hair. From a side parting, sweep your hair all the way over to the other side. Your dirty blonde under layers adds a real coolness to the style.
23. Bob with Side Parting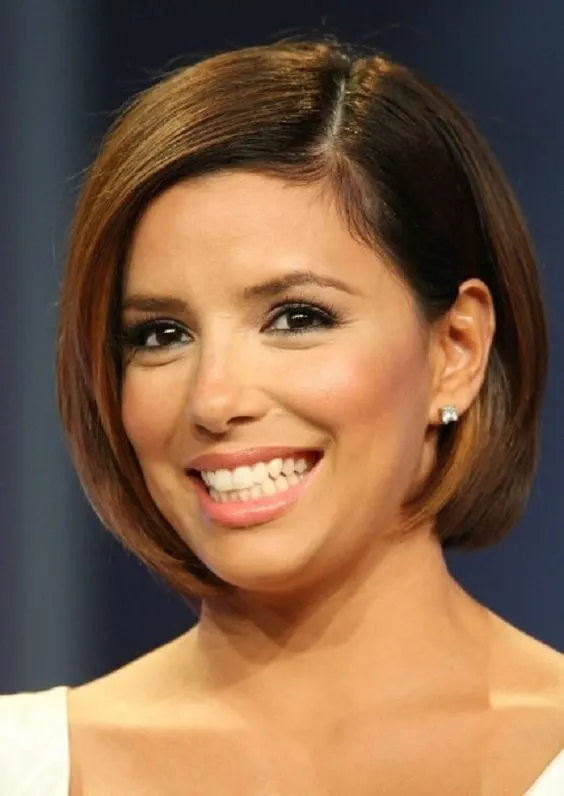 This cute bob style is a great choice if you want a simple, no-fuss hairstyle that is easy to maintain. Choose which side to part your hair on based on the symmetry of your features. Keep your style looking straight and sleek by running over it with heated straighteners.
24. Punky Spikes

A spiked up punky style will let you show off your individuality. Ask your stylist to cut your hair into lots of choppy layers with a few longer pieces to frame your face. Use holding gel to tease some sections up into cool spikes.
25. Stylish Crop
A crop looks great on women with small features but can look overwhelming if you have thicker hair. Tone down your thickness by cutting in a few layers. You can wear this style at the office, and then change it up for your big night out.
Problems Only Girls With Thick Hair Will Understand!
26. Punky Crop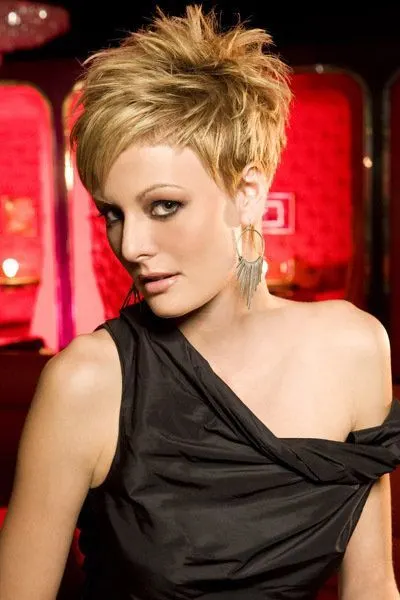 Punky crops have been seen as a perfect short style for women for the last few decades. To create a real storm with this style, you need to cut in plenty of short choppy layers near to your crown. Run a little holding gel through your hair and pull each layer up into a flayed spike.
27. Layered Rounded Crop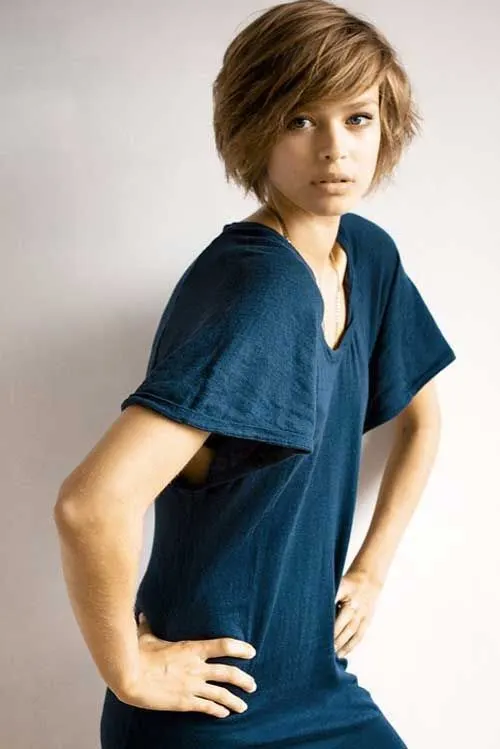 This style can help your face to look more rounded if you have a thin face. As well as helping to create a rounded bob style, the layering will also help to soften some of the sharper angles in your face. The length of the style means that people will instinctively look straight at your lips.
28. Short and Curly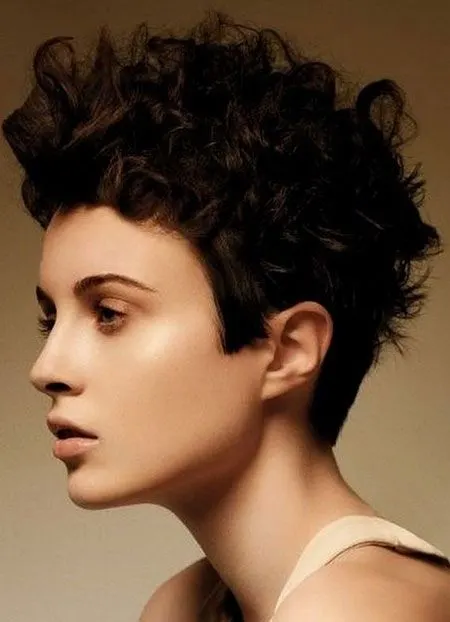 This gorgeous style is perfect if you have naturally short and curly hair. All that you need to do is get out of the shower and let your hair dry naturally. A special curl shampoo and conditioner will keep your style looking extra cute.
29. Sloping Bob with Light Curls
Sloping bobs are a fashionable style that you will see on loads of celebrity women. Give this highly fashionable style a casual edge by wearing it with a few light curls. All that you need to do is wrap a few strands around your finger and spray lightly with hairspray.
30. Shaggy Bob
A shaggy bob is the height of casual cool and is a great look if you don't want to look like you have put too much effort into a chic style. Cut in lots of layers to give your hair a choppy look. Scrunch your hair through your fist as you are drying it to create extra shagginess.
31. Long Crop
A long crop style looks amazing if you have thick hair. Sometimes your thickness can be overwhelming if you choose a shorter style, but the length of this crop will help you to balance things out. This is an amazing thick hairstyle if you are a businesswoman with short hair.
32. Face-Framing Layers
Wearing layers around your face is a great way to draw attention to the beauty of your face. At the very front, your fringe should be cut to chin length. Your cut should get gradually longer as it moves back. If you want to give your style an extra kick, use your straightening irons to flick your hair in to curve under your chin.
33. Bob with a Flick Out
On the other hand, if you want to be a little contrary you may flick your hair outwards instead. All that you will need to do is to use your straightening irons to turn your hair away from your face.
34. Wavy Bob
Wavy bobs are smoking hot right now, but they are surprisingly easy to achieve. When you are drying your hair, you should attach a diffuser attachment to the dryer. This will help to give your hair a gorgeous light kink. Scrunch curl product through your style to keep it looking perfect all day long.
35. One-Sided Style
A one-sided style is a gorgeous choice for any woman who wants to turn heads. You can choose which side you want to wear your hair based on the features that you want to show off. This means that you can play to your strengths and hide your weaknesses.
36. Wavy bob
This wavy bob hairstyle will appeal to women with wavy and thick hair. The trick is in the layers. They don't allow your wavy locks to create an unruly volume. Make sure to keep the hairstyle neat by applying a little hair gel.
37. Asymmetrical textured pixie
This amazing textured hairstyle is perfect for thick locks since it takes the volume out of them together with messiness. Asymmetry adds this haircut a lot of styles. Daily styling is not required here, only brushing will do.
38. Wispy bangs
Wispy bangs might be hard to achieve for girls with thick hair, however, once they are done, the result is tremendous. Wispy fringe is very easy to take care of and will not get into your eyes. Add some asymmetry to maintain a great style.
39. Blond and textured pixie
This is a great hairstyle for women whose thick locks never look great on top of their heads. Such hair usually likes to stick up and cause a messy and wild look. So, if you are not a fan of looking outrageous, thin your locks out a little to create a textured pixie.
40. Bob with blunt ends
If you don't like layers and wispy ends, this bob is for you. However, it will not keep you from having a messy look. You will either have to style it daily or let it be! All depends on your style. Messy haircuts are also quite trendy.
41. Highlighted pixie with side-swept bangs
Highlights are a great way to diversify your haircut. Thick hair might take a long time to highlight, but the result will surely be great. You can experiment with dyeing different layers or just the tips or the roots. In any case, you will look fantastic.
42. Wavy pixie with wild highlights
This 1920's hairstyle can become very popular nowadays if you add it some special flavor. If you add some wild highlights, you will surely turn some heads. This haircut will need some styling to look neat. However, a messy look can also be quite appealing.
43. Long layered bob
If your thick locks are not wavy, you can consider getting a long layered bob. Make long wispy bangs and a you'll get an amazing sexy look that will call for amazed glances. This is a low maintenance hairstyle.
44. Short side-swept pixie
This short side-swept pixie is easy to make and maintain. It does wonder for opening up the forehead and brightening up your face. All you'll need to do in the morning is brush it properly and apply a little hair gel.
45. Ear tucked bob
An easy way to keep your thick hair neat is to make the ear tuck bob hairstyle. It will keep your hair from getting into your face and will create an open and friendly look. You can add side swept eye-covering bangs to look even sexier.
46. Wavy pixie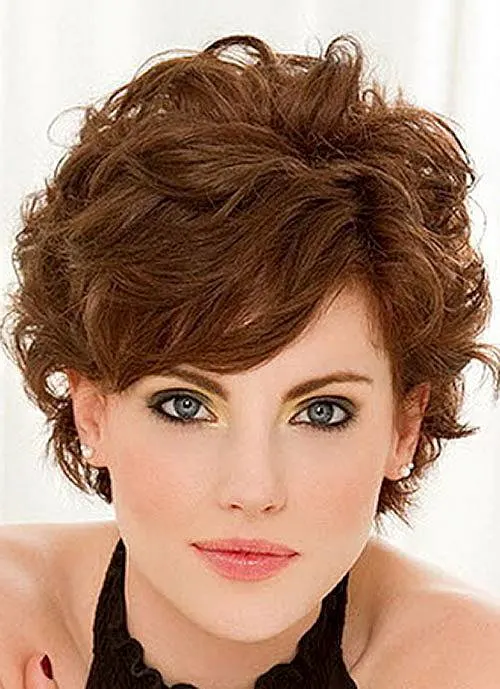 If you thought that thick wavy hair can't look good when not styled, take a look at this wavy pixie. It requires almost no maintenance while looking absolutely fantastic. Give it a try and you will never regret it!
47. Fluffy bob
If you are not afraid of some work, this fluffy bob will become your favorite hairstyle for thick hair. You will need to do some styling, but the result will surely be incredible. Start with getting a layered bob and let your natural waves shine!
48. High and windblown
This high pixie is a pretty unique hairstyle that will really make you stand out of the crowd. The thick hair on top looks especially well arranged into long bangs. You will really love the look that will cause you no hassle.
49. Short curly bob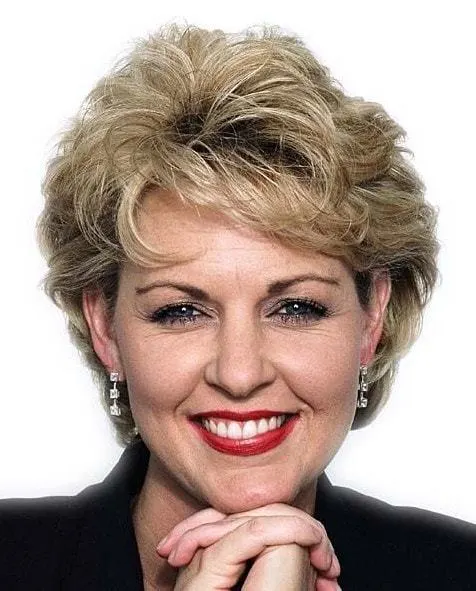 This short hairstyle is especially appreciated by middle-aged women. It makes their thick hair look neat and the length of the hair is perfect to make them look younger. If you are over 50, this hairstyle will be perfect for you.
50. Graduated bob
If your hair is thick and straight, a graduated bob will be one of the best hairstyle choices. It makes even the unruly locks look neat while giving an impression of a very complicated style. However, there is really not much to it.
51. Windblown bob with long bangs
If you are not into neat hairstyles and are ready for some experiments you can go for a windblown bob. It can either be a-line or just layered. If your mane is wavy, the result will be immediate. No styling required!
52. Color mix
Your thick mane will look truly fabulous if you apply proper highlights. Browse some dye options to create the best color mix. Short hair with highlights looks especially interesting when you use two or more colors.
53. The shorter, the better
The shorter your hair is, the easier it is to take care of. So, if you are not afraid of a boyish look, this amazing pixie is for you. All you'll need to do is take care of the top part to look neat. However, a messy look is also allowed.
54. Round bob with wispy ends
Round bob with wispy ends is great for girls with long faces. It makes their face shape appear more oval. If your hair is thick, you can still achieve this stunning round bob, however, you will need to work on it.
55. Wild textured pixie
This amazing short hairstyle with thick hair is often chosen by women who are not afraid of change. The top part is high and textured. This makes the overall look wild and appealing. You will certainly appreciate the way this hairstyle will make you feel.
56. Elongated wavy bob
This hairstyle is great for girls who are not afraid to flaunt their volume. While you will have to put in some effort to keep it neat, this hairstyle will make an amazing impression. You will definitely keep some heads turning your way.
57. Short and black
Dark colors do wonders to hide the volume. It is a must-have for women with thick locks, who want a short haircut. So, if you are choosing the best color for your short bob, black will be the best option.
58. Blond and light
A great way to achieve a light appearance of the heavy and thick locks is to thin them out and to dye them blond. Ask your hairstylist for an advice on how you can do both things in one visit. You'll immediately see the results!
59. Wispy look
This wispy look is achieved by thinning out the hair and making some layers. If you are not a big volume fan and don't want your hair to be too short, this hairstyle is for you. All you'll need to do is keep it a little neat on top.
60. Classical thick pixie
This is a classic appearance for girls who like to flaunt their thick locks, but don't want to go through the hair care hassle. The shorter you make the pixie, the more amazing it will look. Add short bangs to complete the look.
We hope you got a good idea of what to do with your thick hair next time you head to that hair salon. Choosing a short hairstyle with thick hair is never easy, but you can make the perfect choice by browsing the most popular options.
Bobs and pixies look wonderful on women with heavy manes. So, if you are tired of constant washing and time-consuming styling, choose one of the hairstyles for women with short thick hair. Your mornings will become worry-free, while you will look your best every day. Good luck!