When we hear about a bowl haircut, we imagine something terribly outdated. In fact, this hairstyle was created ages ago as a quick fix for people who didn't have enough money to go to the barber. This haircut is pretty easy to make and can be done by almost anyone.
The bowl haircut means cutting the hair all the same length, starting from the fringe and going all the way around the back. It got its name from looking as though someone placed a bowl on a person's head and cut all the hair sticking out from under it.
However, nowadays women learned to create special bowl haircuts that look very stylish. By adding different elements to the standard bowl style, they came up with many new ways to sport this old cut.
Bowl Haircuts For Women
Did you think a bowl haircut is something terrible that you will never want to have? You were absolutely wrong. There are many different ways to go about a bowl hairstyle to make it look very fashionable. In fact, many women ask their hairstylist for a bowl cut to look as stylish as possible.
We came up with a list of the 40 most interesting options for women who are looking for something new. Take a look at these hairstyles and you might even want to try one.
1. Short pixie bowl cut
This short pixie bowl will look impressive on women with long faces. The fringe should be about a quarter of an inch above the eyebrows and the rest of the hair should be cut just as short. The two strands on the sides can be left as a special touch.
2. Blond wispy bowl cut
A wispy bowl hairstyle looks much better than its blunt counterpart. The hair is cut the same length but the ends and the fringe are left wispy. This variation is quite popular among women nowadays. Some call it a short bob.
3. Low bowl hairstyle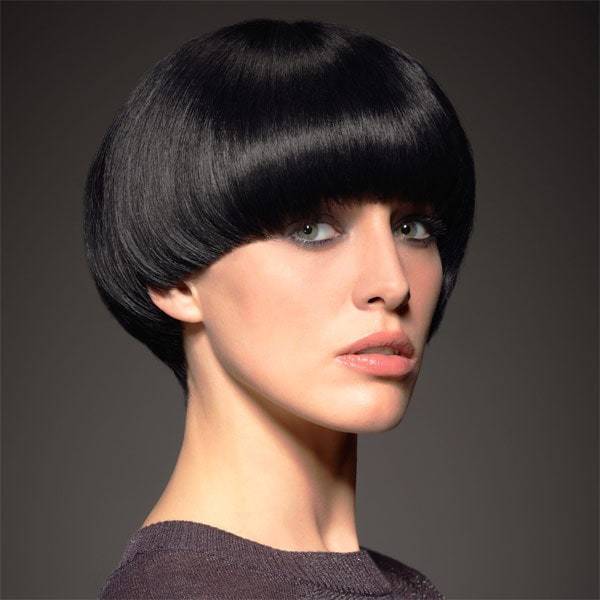 This low bowl hairstyle is great for women with triangular and long faces since it makes them appear more oval. The fringe is left long, just touching the eyes. The rest of the hair is kept the same length. The hair in the back can be a little lower than the rest.
4. Rounded bob
This rounded bob hairstyle has its roots deep in the old bowl cut. The blunt bangs are cut just above the eyes. The back part is kept lower. This hairstyle can cover your ears and go even further down your neck.
5. Highlighted bowl
The short bowl haircut will look especially well when the blunt fringe is highlighted. You can go for several different colors or just stick to a couple. In any case your short bowl will get an absolutely new image.
6. Undercut
Another way to call an old school bowl is an undercut. Looks familiar? The sides are cut short or even shaved while the rest of the hair is left long. The short blunt bangs remind of a bowl cut. But the overall appearance is much more stylish.
7. Stylized pixie
An old bowl cut gave a new look to the modern pixie. The short pixie is created by cutting or shaving the hair in the back and leaving the top part at the same level as the fringe. The sides can be tapered to give the pixie an even more stylish look.
8. Voluminous bowl bob
In order to make this hairstyle the hair doesn't have to be all the same length. The fringe is short and blunt and the rest of the hair is a couple of inches longer. If your mane is thick and a bit wavy, it will give the old bowl style a new and voluminous appearance.
9. Shaggy bowl haircut
This shaggy bowl cut can be sported by women with long and oval face types. The edges are ragged instead of being absolutely blunt, which gives this hairstyle a more modern look. The hair can also be layered.
10. Asymmetrical bob
This stylish asymmetrical bob came from the well-known bowl style. The hairstyle is rounded just like the bowl but the fringe is asymmetrical. Same goes for the rest of the hair below the bowl line. Highlights look very effective with this hairstyle.
11. Short mullet
A short mullet is another way to diversify the old and boring bowl cut. The top part is trimmed to be all the same size, including the fringe, which can be asymmetrical. The bottom back part is grown long to fall down the neck.
12. Messy bowl cut
If you have thick hair, your bowl cut will look pretty impressive. Don't smooth it down to create a classical bowl hairstyle. Mess it up and you will get a unique hipster hairstyle from the 1990's that women will be jealous of!
13. Elongated bowl style
This elongated bowl style is also called a rounded bob with blunt ends. The idea of a rounded cut with blunt bangs is taken from the old bowl cut, while the rest is more than modern. Highlighted bangs and front strands will make the image even more stylish.
14. Low taper fade
Women who like experiments will really appreciate this low fade hairstyle. The hair on the sides is faded and the top is left long as it would be in a bowl haircut. The result will truly be impressive and will definitely turn some heads.
15. The classics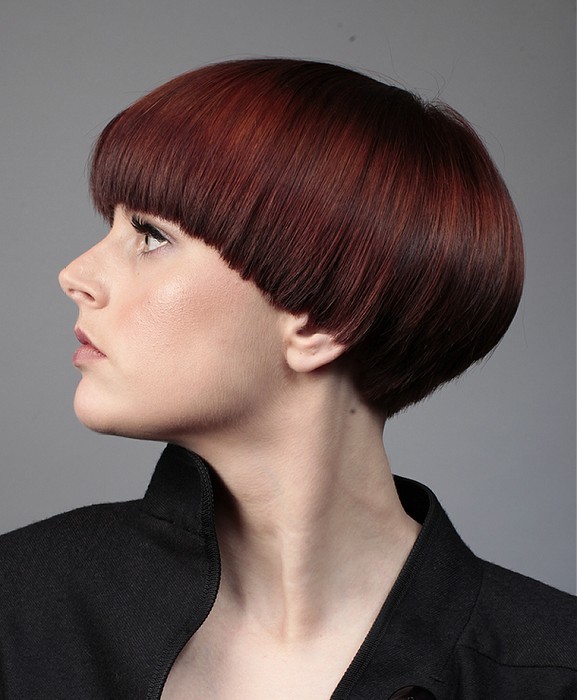 While many people might consider a bowl hairstyle outdated, they will probably be surprised to see it done by a professional. Professionally made classical bowl hairstyle looks really impressive and can be a good choice for many women.
16. Spiky pixie
Spiky pixie is a great choice for girls who are tired of their bowl hairstyles. This haircut is very low in maintenance and doesn't need very frequent touch ups. In fact, you can just get out of bed with this hairstyle and go about your business without any brushing!
17. Angled bowl
This angled asymmetrical bowl cut is a wonderful way to make a statement. This hairstyle will be suitable for girls with fine and straight hair. It needs daily maintenance in order to flaunt its amazing neat asymmetry.
18. Eye covering bangs
Eye covering bangs have always been considered very alluring. A bowl hairstyle with such bangs turns from an old school creation to a modern sexy haircut. If you choose the right color for your bowl cut, your image can be truly amazing.
19. Simple bob
A simple bob is also a variation of the old bowl style. All hair is cut to be the same length. The bangs are short, wispy and side swept. This haircut doesn't require almost any maintenance and is very popular among modern women.
20. Short and bold
If you are into making statements and shocking your friends and family, this bowl hairstyle is definitely for you. It's created by shaving the hair on the sides and the back and making the top part all the same length. The hairline should start about 2 inches above your ears.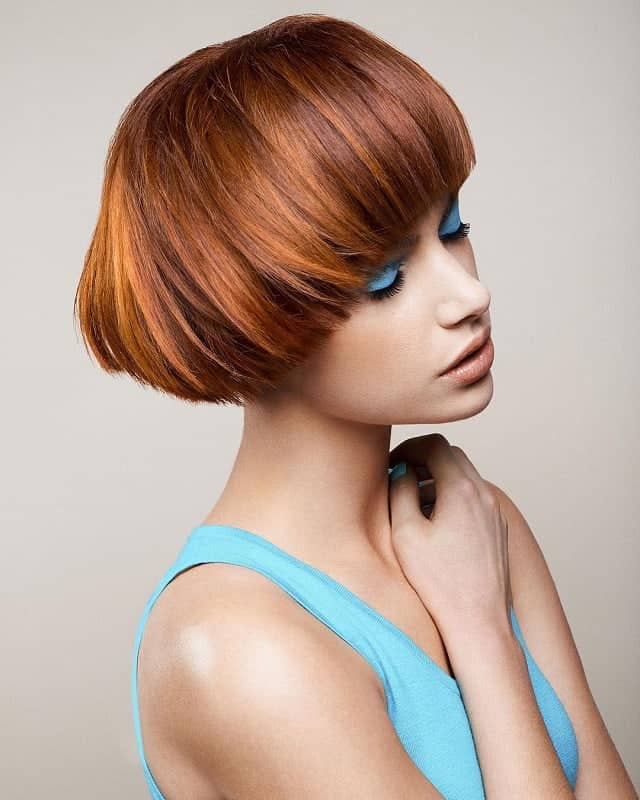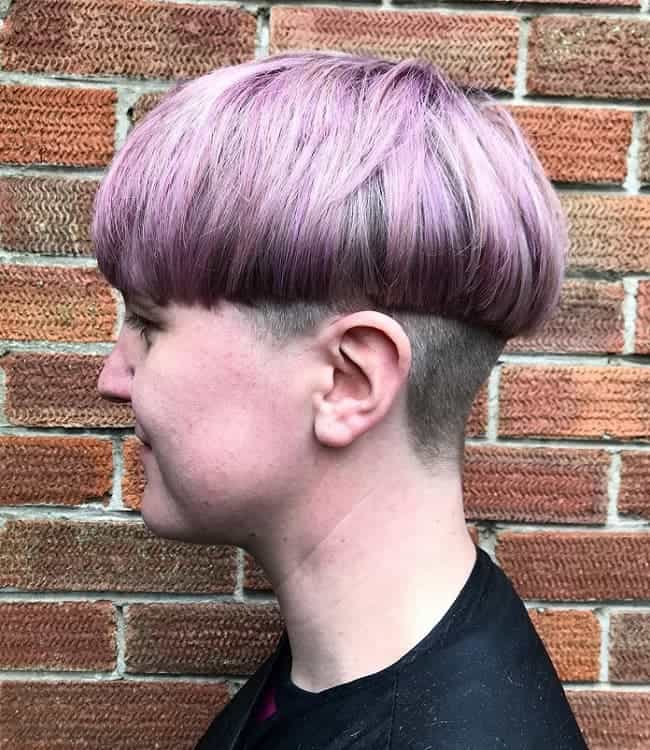 We have learned the best and the most amazing ways to turn an old bowl haircut into a modern hairstyle. Never disregard old school styles. They often get a new life after some time passes. Nowadays getting a bowl cut is considered stylish not outdated. Give it a try!