While most people only think that men can have mustaches, there are some women with mustaches too. It may sound surprising at first, but seeing women with mustaches is becoming more common.
There are some gorgeous women wearing mustaches that are sure to turn your definition of beauty on its head.
Is Female Mustache Genetic?
Females with heavier mustaches are genetic for the most part. Your ethnicity has a lot to do with how much hair you will likely grow.
Other medical conditions and things like an elevated androgen hormone level will affect how much facial hair a woman grows.
How to Remove Mustache for Women
There are many ways to remove unwanted hair on your face, specifically the upper lip on females. Some products are formulated for this purpose only. This formulation makes them a good option if you have sensitive skin! Here are a few of the most popular ways to remove the female mustache:
Wax

Hair removal creams

Shaving

Tweezing

Use an epilator

Sugaring

Laser hair removal

Threading
Though there are likely other options on the market, these are the top choices for hair removal methods by women. Follow the instructions according to your chosen method closely to get flawless results, time after time.
You can purchase waxing, sugaring, and hair removal creams for at-home use. Whereas, laser hair removal and threading services are performed by professionals at salons or spas. If you prefer shaving or tweezing, you can use these methods easily at home.
Facial skin is very delicate. When using an epilator, follow the instructions on the box, so you do not damage your skin!
There are plenty of hair removal services and salons in most areas. If you are curious about any hair removal methods, reach out to a service near you.
Mustache Styles Sported By Women
Women can have facial hair if the specific male hormone produces in women's body. Here's a list of 7 women and girls with mustache:
1. Older Lady with Dark Mustache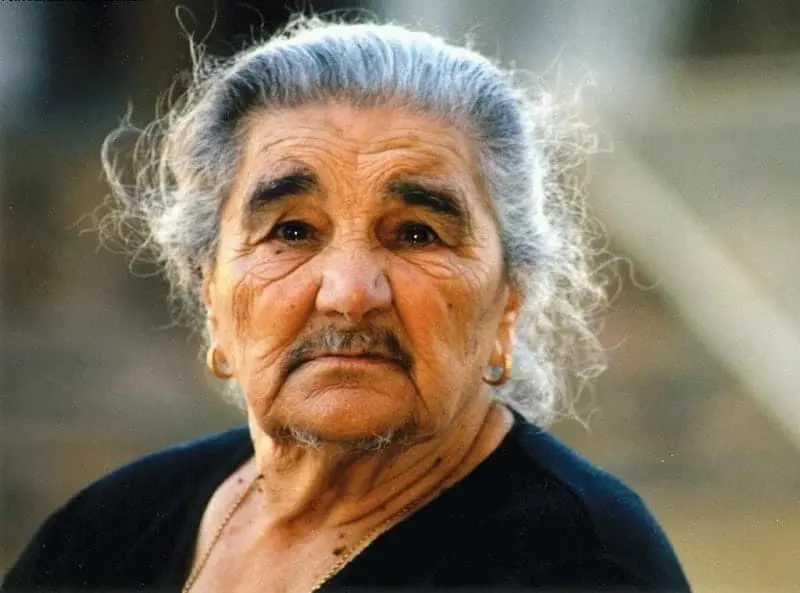 There's no reason why women must worry about growing a mustache as they get older. This woman with mustache shows that women can have facial hair and wear it with dignity. The dark color of her mustache matches her full and dark eyebrows for a striking look that is sure to attract attention anywhere that she goes.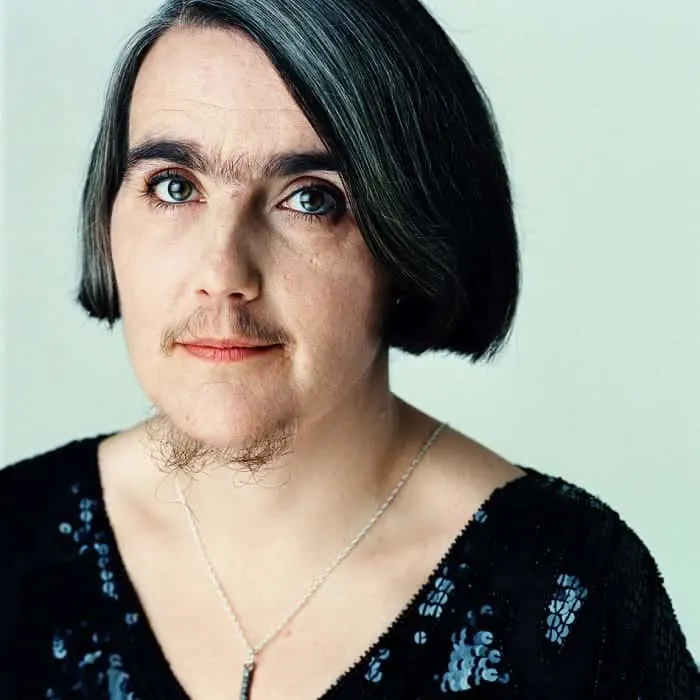 Women who have mustaches often have other facial hair, as well, and there isn't any reason why they shouldn't grow it all out and enjoy the freedom that this allows. Dark and full eyebrows, a female mustache, and a bit of a beard make this woman very attractive and give her freedom from plucking and shaving.
3. Short Pencil Thin Mustache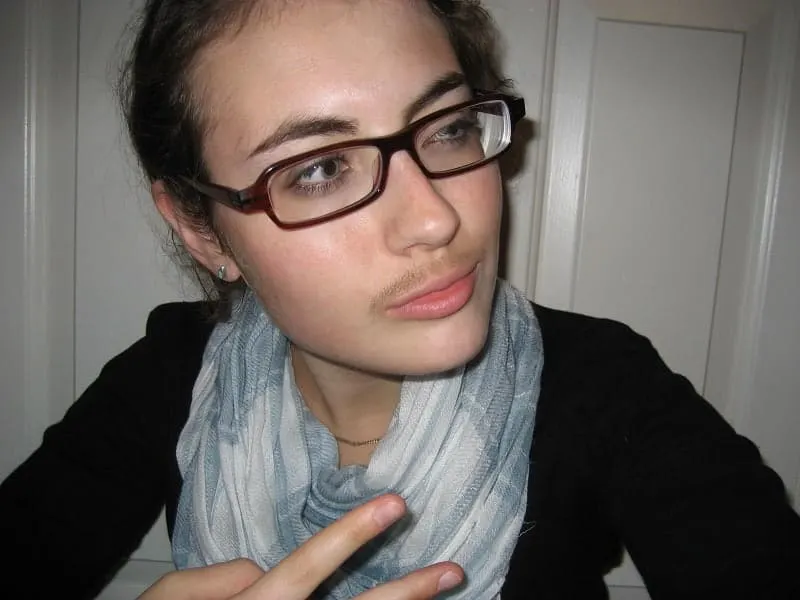 A short pencil mustache is perfect for the woman who is growing out her facial hair but doesn't want anything that is too long or is going to take too much effort to maintain. As long as the mustache is kept at a shorter length, it does a wonderful job drawing attention to the mouth, which can be quite attractive.
4. Great Looking Red Mustache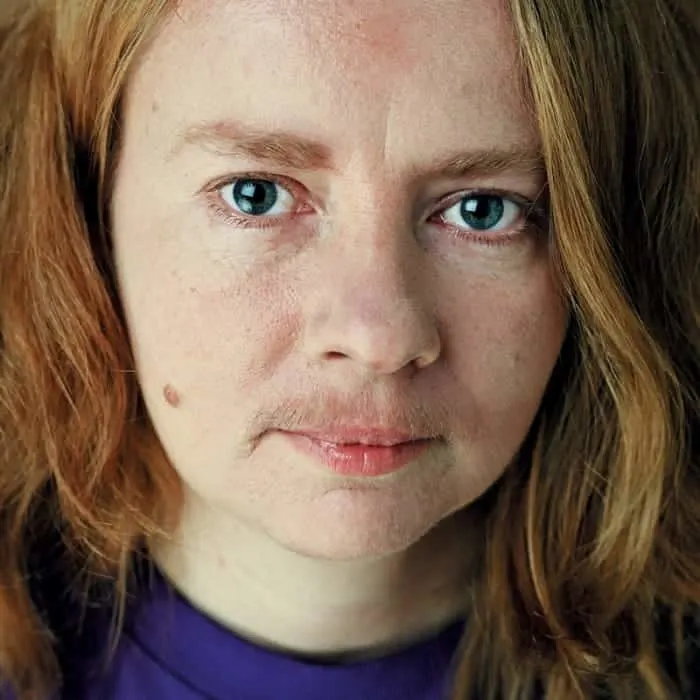 Redheads have stunning hair, and there isn't any reason why they shouldn't allow the beauty of a red mustache hide. The matching red color of the eyebrows, hair, and small mustache create a beautiful appearance. By keeping the mustache neat and trimmed, women can allow its color to really shine. This woman with mustache looks so stunning.
5. Small and Understated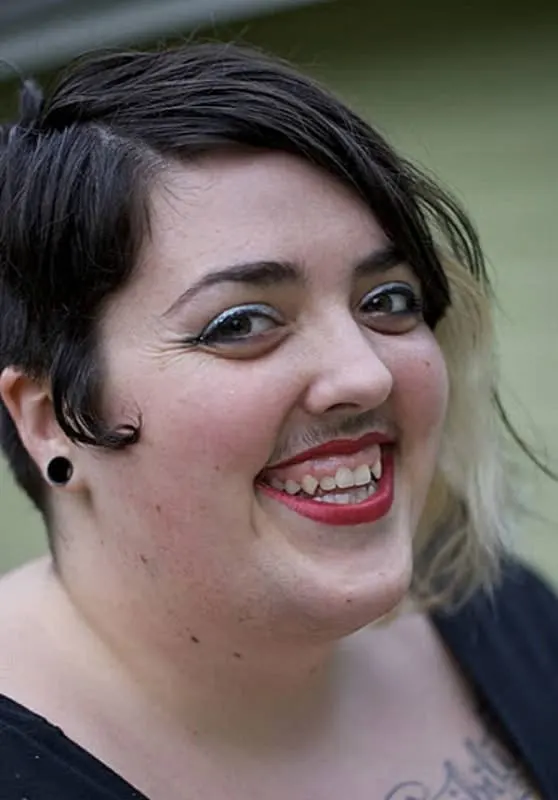 Pencil mustaches are really popular with women, and for good reason. They look great when they are kept shorter and tend to draw attention to the mouth. Here, a girl with mustache paired short hair with bright red lips, which is sure to make everyone look twice and will give her the boost of confidence she deserves.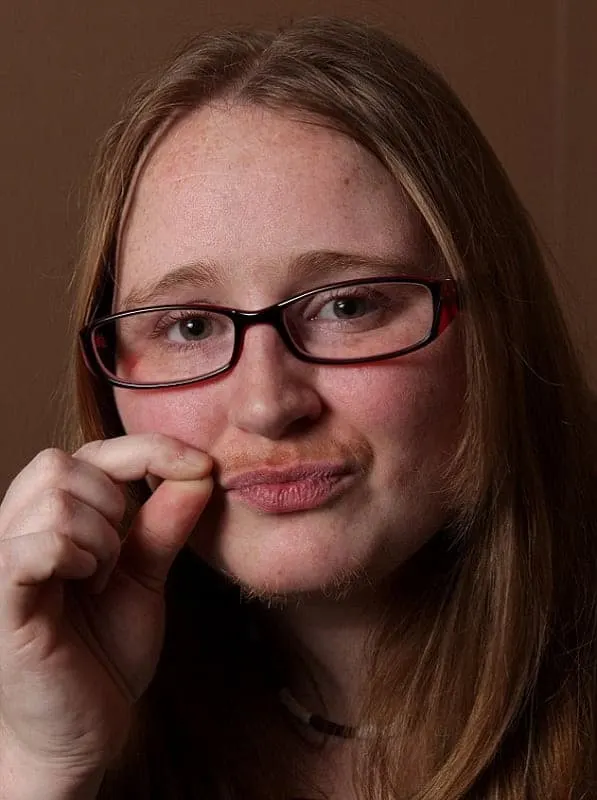 A small female mustache with a carefully trimmed beard can be quite an impressive look on any gender, and women are now wearing this style with the same confidence that men are. The result is impressive and beautifully frames all faces, no matter if they are wider or more delicate.
7. Baby Blonde Mustache
For an understated look that will still make people look twice, women should consider a baby blonde mustache that is small and light. It's the perfect way to start wearing a mustache without drawing too much attention to the face, which is why so many women choose a naturally light mustache for their first style. Look how edgy this lady with a mustache and light blonde hair looks!
FAQs
In this section, we'll review the most commonly asked questions about women's mustaches.
What's the reason for a female to have a mustache?
Ethnicity can affect the amount of facial and bodily hair growth a person has. Additionally, the androgen hormone is responsible for hair growth in this manner, and some people may have higher levels of this hormone than others.
Women having a mustache – is it normal?
Yes, female facial hair is normal. It usually comes in more strongly around puberty. Some medical conditions cause abnormal hair growth rates, like polycystic ovarian syndrome.

If you think you have an abnormal amount of facial hair, schedule an appointment with your physician.
Are women's upper lip hair and mustache the same?
Yes, female upper lip hair and a mustache are essentially the same. The word mustache refers to the placement of facial hair and style.

There are smaller hairs, called vellus hair, that are very light and transparent hair. This hair grows in childhood and remains on the face unless you remove it through dermaplaning or another skincare regimen.
Can I get rid of the female mustache naturally?
The best way to get rid of the female mustache without chemicals is to use tweezing or threading methods. Beyond that, there is no way to change your diet or lifestyle habits to rid your skin of the mustache.

In severe cases, a physician may prescribe medications to regulate hormone levels and bring down the level of hair growth hormones if they deem it necessary.
As you can see, women with mustaches can look great, as these seven photos prove. These women have shown that having a mustache isn't just for men anymore.