Beards and mustaches play a huge part in representing a man's masculinity. And since almost all men have tried it at least once before, we can find several beards and mustaches as well as their various combos trending these days.
With the inspiration of people from different sects, religions and races from different parts of the world, millions of beard styles have originated.
Best Beard Plus Mustache Styles
Here are 40 various beard plus mustache styles that are trending these days, so make sure to take a look before you give any style a go.
1.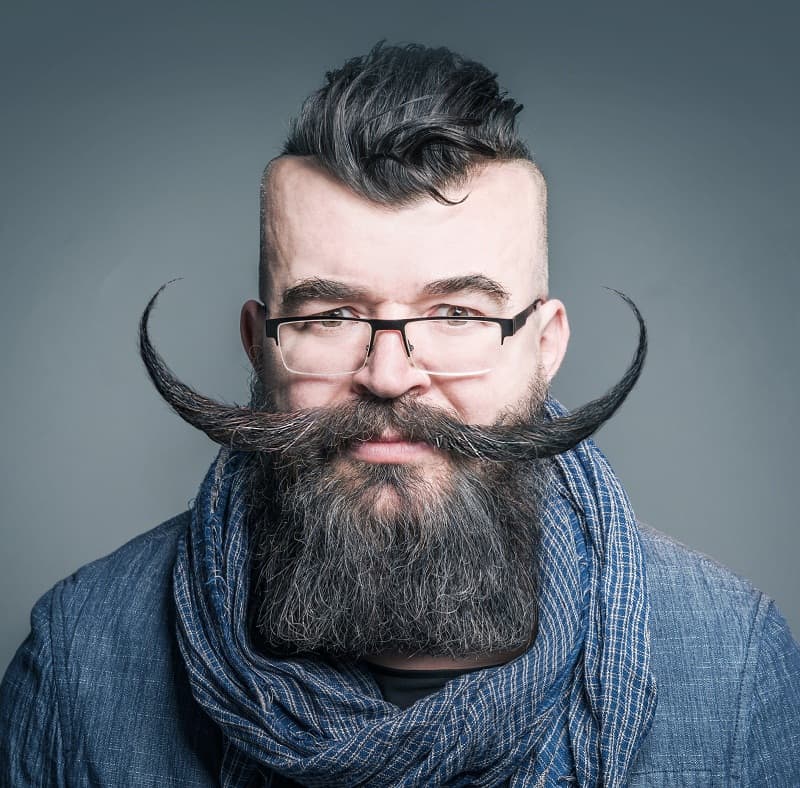 beard with long mustache
2.
long beard with mustache
3.
black men's beard and mustache
4.
balbo beard with mustache
5.
red beard and mustache
6.
van dyke beard and mustache
7.
Asian beard with mustache
8.
mustcahe with soul patch beard
9.
long goatee beard with mustache
10.
Indian men's beard with mustache
11. Professional Beard With a Cool Mustache
Getting a professional beard -not too long not too short- is perfect for important meetings and conferences. Not only are they well-kept but also provide a manly and a sexy aura.
Best Beard Styles to Try Right Now
12. Van Dyke Beard
Although this style was popular in the 18th century, it's slowly coming back. It consists of a mustache and a goatee with the hair on the cheeks all shaven. Some different variations and details can be added to it, to make it more stylish and chic.
13. Full-On Beard With Hipster Mustache
This beard style is perfect to keep you warm in winter season. Although it takes time to grow and style, you need to restrain yourself from shaving it. This style certainly accentuates your features better and gives you a more virile look especially with the outgrown mustache.
14. Simple Stubble Beard Plus Mustache
Since the combination of long beards and hot weather is a troublesome blend, try trimming your beard and mustache properly in length and keep it off your neck to avoid much sweating.
Short Beard Styles You'll Love
15. Man Buns with Beards
Sometimes rocking a man bun on its own might make you feel like there's something missing or wrong. And this 'something' could be just as simple and predictable as a beard. Be aware though, not any beard goes with this hairstyle. However, a long stubble or a full beard could perfect your look.
16. Circle Beards
If you want to look presentable without letting go of your beard, then a circle beard is a decent option. With the mustache connected to your chin beard it can be a little bit dainty to get the shape right, but once you've got it, trimming will be an easy task to do. Not to mention the ship-shaped end result is totally worth it.
17. Medium Stubbles for Rough Look
Not in for trimming your short stubble? A medium stubble awaits you! This beard style is what most guys go for, for it doesn't require much styling and attention. Although it can give you a scruffy look, with a little care it can look tidy and presentable.
Long Beard Styles to Spice Up Your Style
18. Extended Goatee
This extended goatee is also known as Hollywood beard, will give you a chic and a stylish aura. It's a bold statement you can make, without you even uttering a word.
19. 5 O'clock Shadows
Although this beard style could be the result of your laziness when it comes to shaving, it's considerably handsome to wear one. With your beard and mustache all on the same level, it doesn't make you look like a macho but still shows your masculine side.
Hottest Beard Styles for Black Men
20. Clean Shaven
And last but not least, an all shaven beard style. It really requires nothing but to remove anything that's defined within the set of facial hairs. This style will never be out of trend, and not to mention are more suitable for formal interviews and meetings.
21.
22.
23.
24.
25.
26.
27.
28.
29.
30.
31.
32.
33.
34.
35.
36.
37.
38.
39.
40.
With these ten examples, it can be quite obvious that beards without mustaches and vice versa are not as trendy as of them being combined together. Whether your aim is a long or a short beard, there are endless options when it comes to styling your beard.
And not to mention, it's always easy when it comes to styling facial hair since they can be easily shaven in case you didn't like the style, growing them, though, might take some time. So, if you're targeting full beards, you might want to be patient.