Beards and mustaches play a huge part in representing a man's masculinity. And since almost all men have tried it at least once before, we can find several beards and mustaches as well as their various combos trending these days.
With the inspiration of people from different sects, religions and races from different parts of the world, millions of beard styles have originated.
Best Beard Plus Mustache Styles
Here are 40 various beard plus mustache styles that are trending these days, so make sure to take a look before you give any style a go.
1. Ultra Long Mustache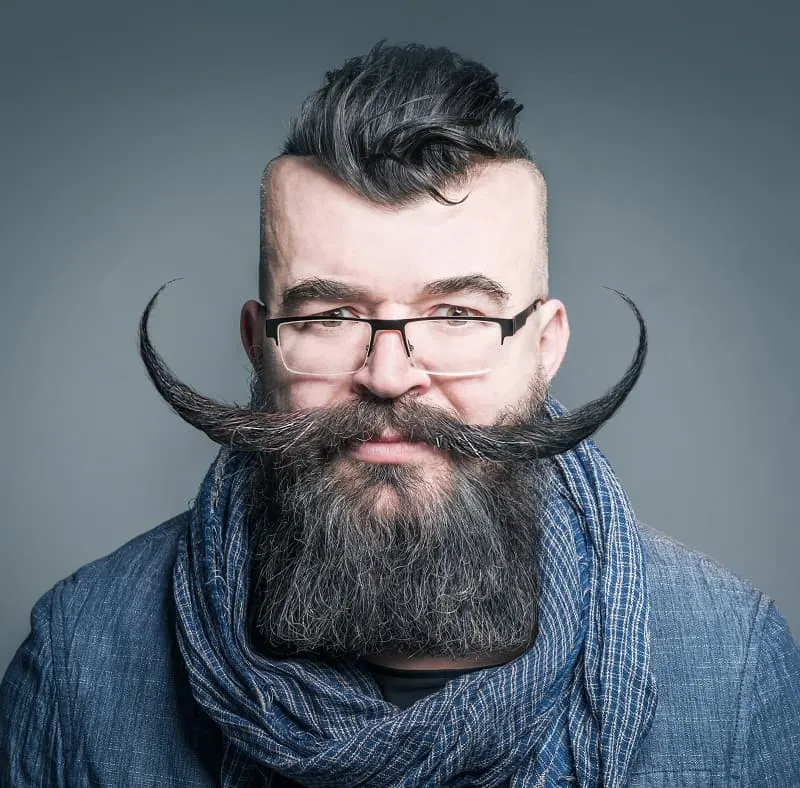 Even if the image above is photoshopped to transform this man's face into a rectangle, we can still admire the beard with a long mustache and that funny mohawk placed in the center of the head.
2. Long Ginger Beard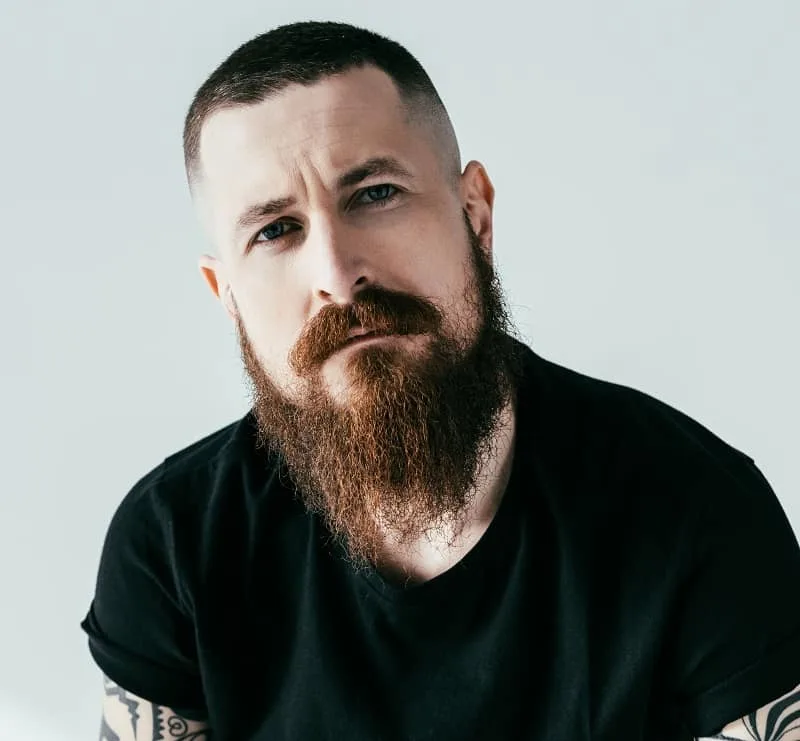 A long beard with a mustache will instantly transform you into a masculine figure. A buzz cut will contrast the long dark copper facial hair, and your blue eyes will stand out like never before.
3. Afro Beard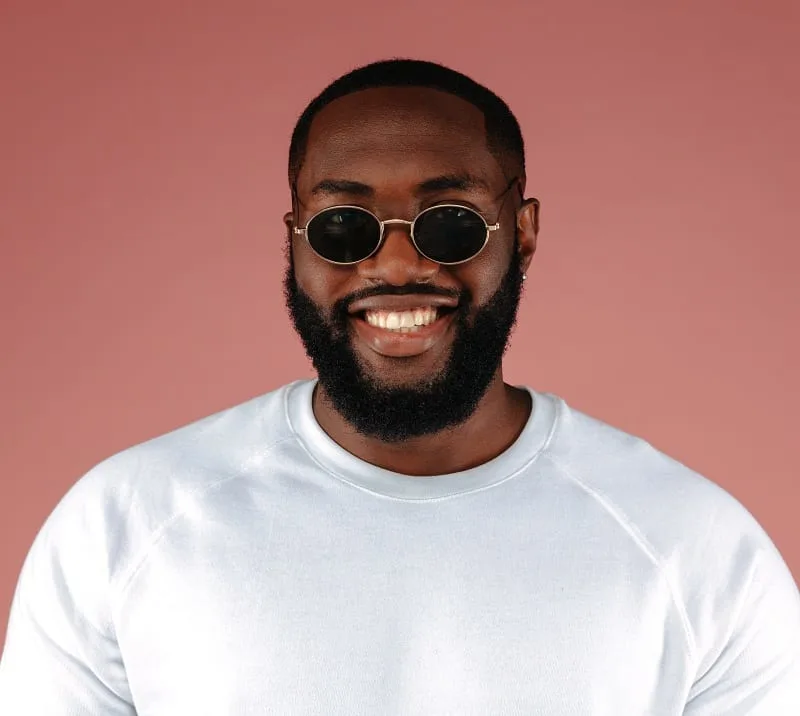 A short buzz cut is perfect for any black man that also opts for a thick beard and a mustache. Get that trendy image by completing your look with a pair of glasses with golden frames.
4. Thick Balbo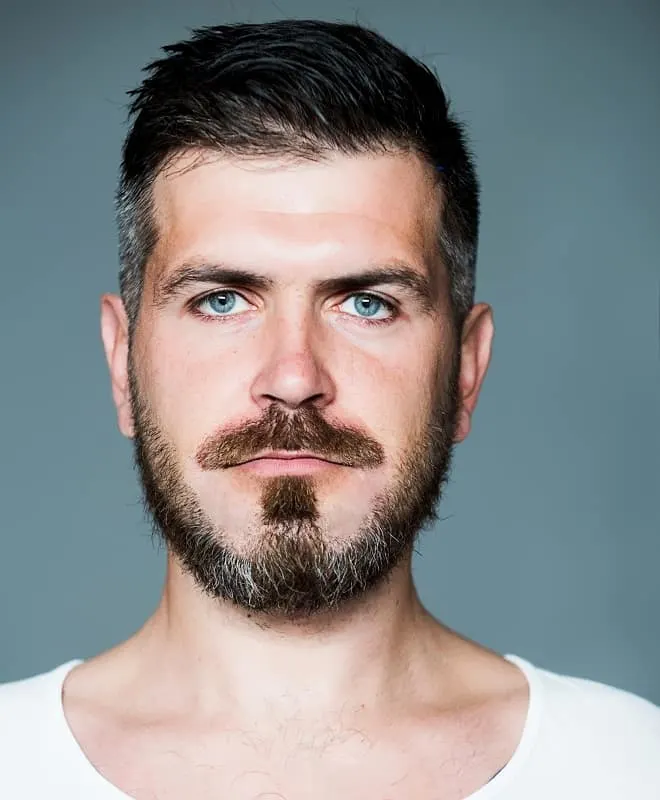 Balbo beards create better framing for your face and if you also add a mustache, you'll get a masculine look that is suitable for men who already have gray threads.
5. Red Full Beard + Mustache
If you like medieval looks, this long, slightly pointy red beard with a mustache will be the best choice for you. Grow your hair, and keep it messy.
6. Van Dyke + Thick Mustache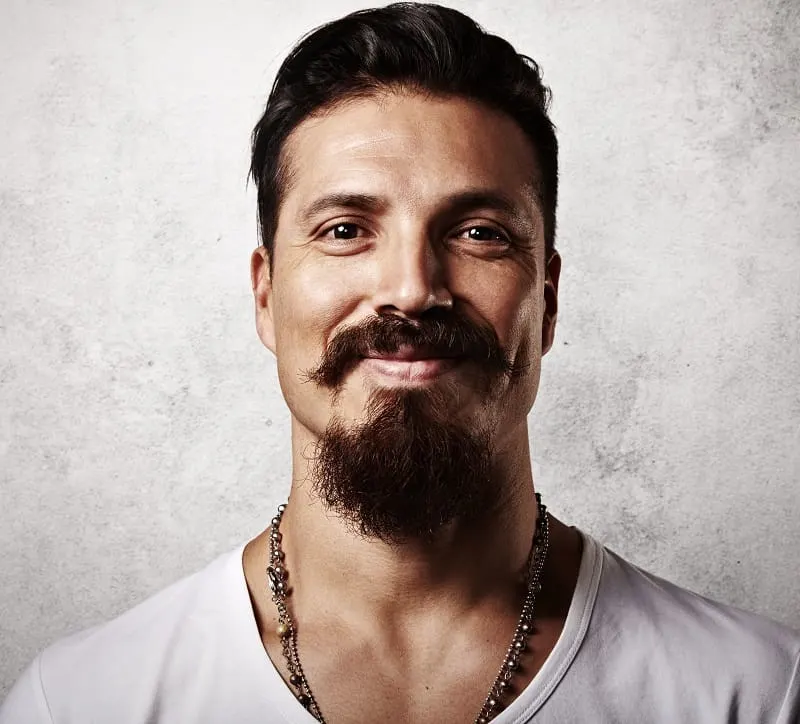 This Van Dyke beard with a mustache will make your face look elongated, and it will give a better definition to that prominent jawline. A messy comb-over will amazingly suit your beard.
7. Long Asian Goatee + Mustache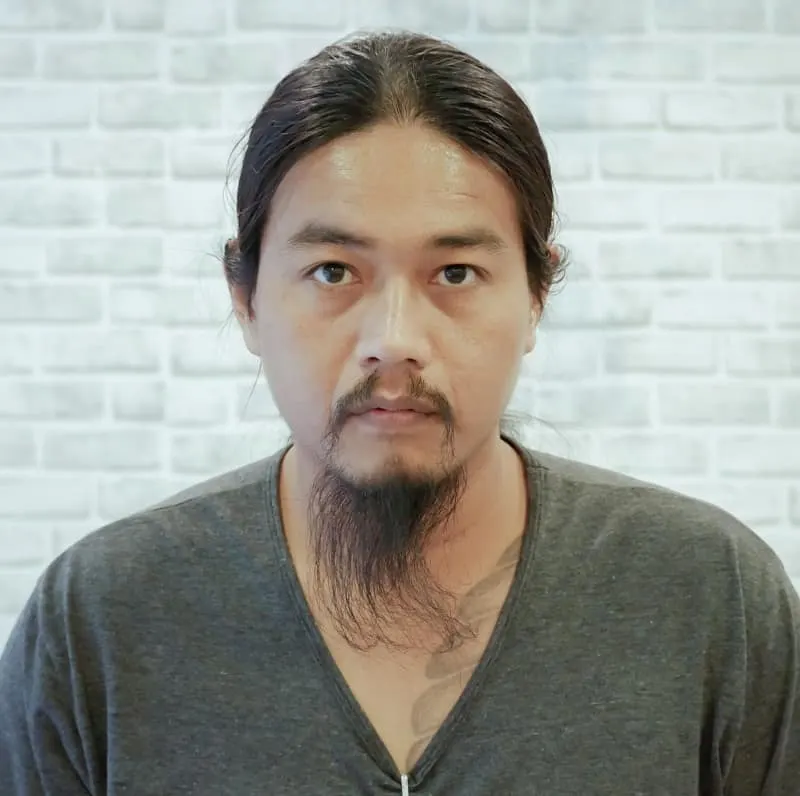 This Asian thin beard with a mustache is so low maintenance. Occasionally trim your mustache and your tips, and if you have straight thin hairs, your beard only needs a simple combing.
8. Mustache + Soul Patch for Older Men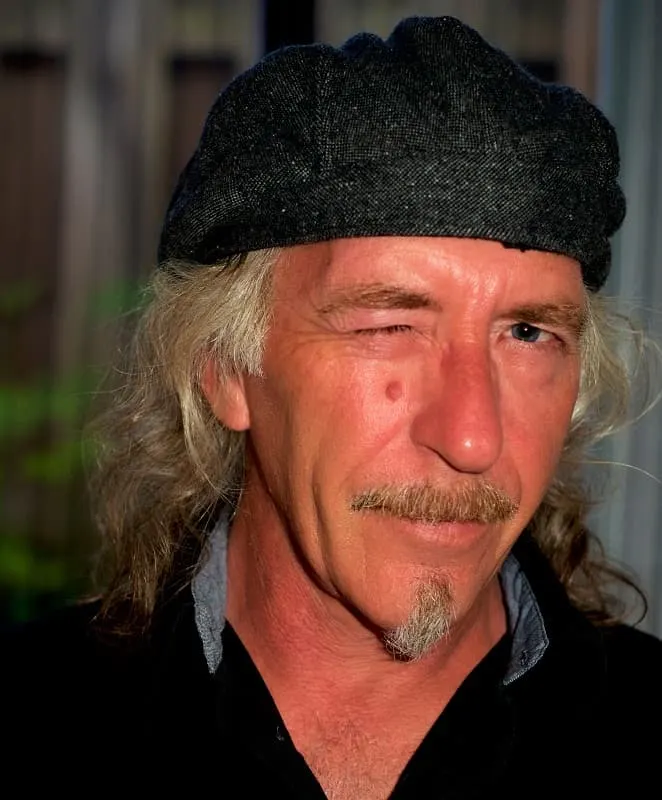 Get a thick, perfectly trimmed mustache with a soul patch beard if you love old-school looks. Wear your hair wavy and long and a reversed flat cap. You will look like a real rockstar!
9. Long Goatee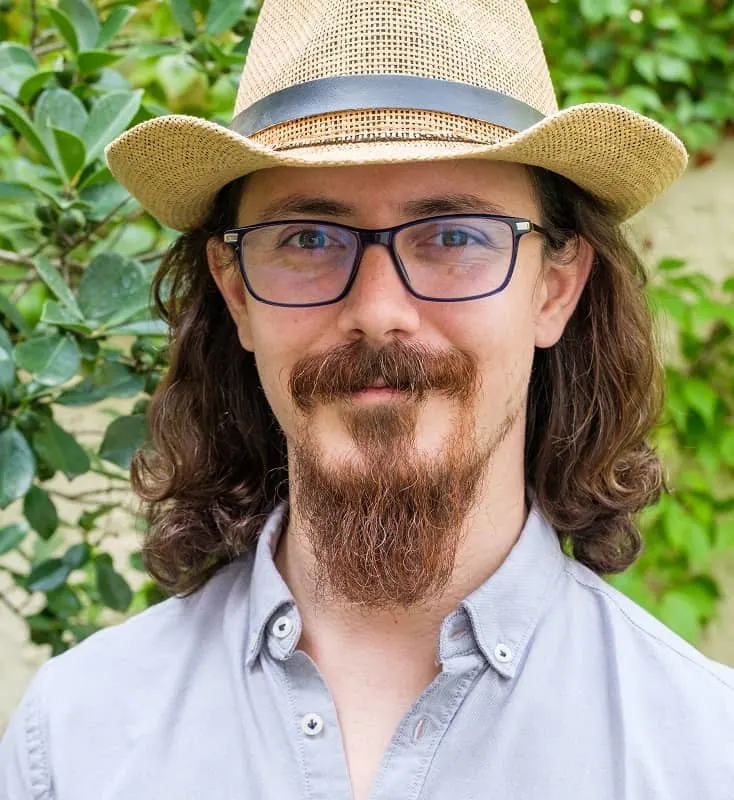 Such a long goatee beard with a mustache is ideal for men who adore that powerful cowboy image. Wear your curly hair long, on the back, and cover it with a specific hat.
10. Full Long Indian Beard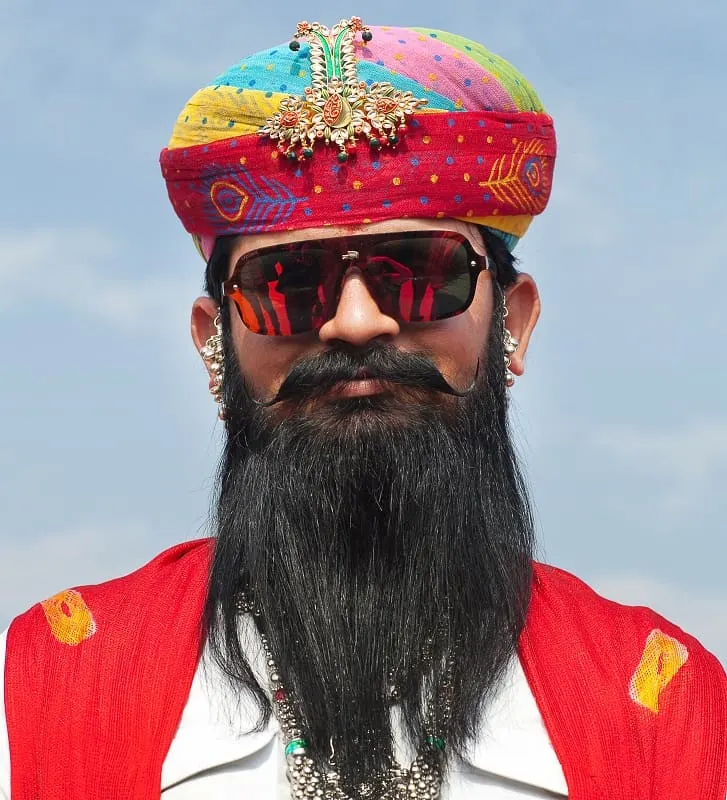 This Indian men's beard and mustache are totally mind-blowing. If you want that flawless effect, you need a mini straightening iron that will be so much easier to manipulate.
11. Professional Beard With a Cool Mustache
Getting a professional beard -not too long not too short- is perfect for important meetings and conferences. Not only are they well-kept but also provide a manly and a sexy aura.
Best Beard Styles to Try Right Now
12. Van Dyke Beard
Although this style was popular in the 18th century, it's slowly coming back. It consists of a mustache and a goatee with the hair on the cheeks all shaven. Some different variations and details can be added to it, to make it more stylish and chic.
13. Full-On Beard With Hipster Mustache
This beard style is perfect to keep you warm in winter season. Although it takes time to grow and style, you need to restrain yourself from shaving it. This style certainly accentuates your features better and gives you a more virile look especially with the outgrown mustache.
14. Simple Stubble Beard Plus Mustache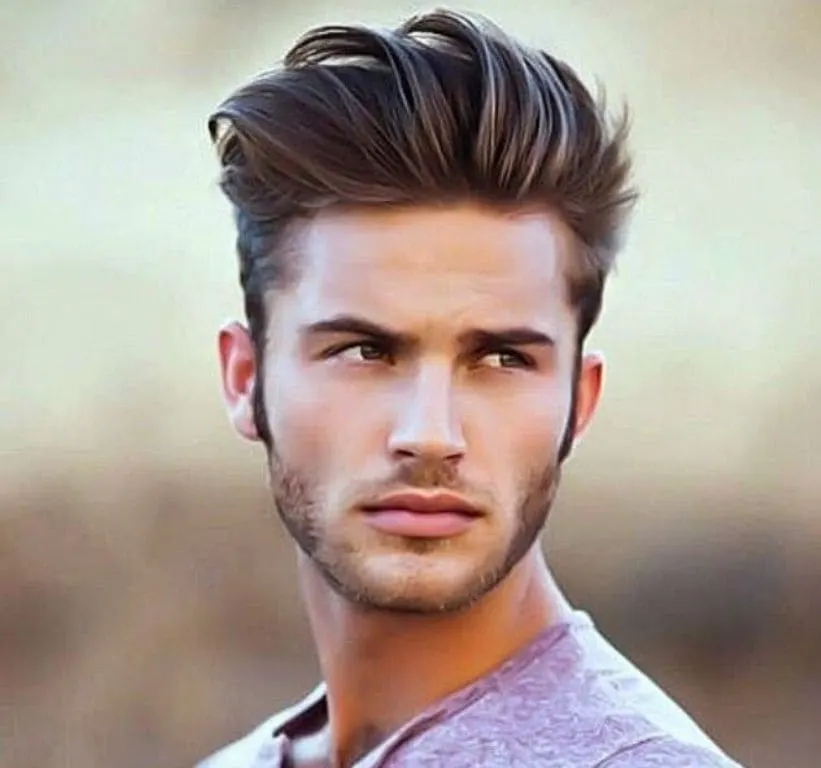 Since the combination of long beards and hot weather is a troublesome blend, try trimming your beard and mustache properly in length and keep it off your neck to avoid much sweating.
Short Beard Styles You'll Love
15. Man Buns with Beards
Sometimes rocking a man bun on its own might make you feel like there's something missing or wrong. And this 'something' could be just as simple and predictable as a beard. Be aware though, not any beard goes with this hairstyle. However, a long stubble or a full beard could perfect your look.
16. Circle Beards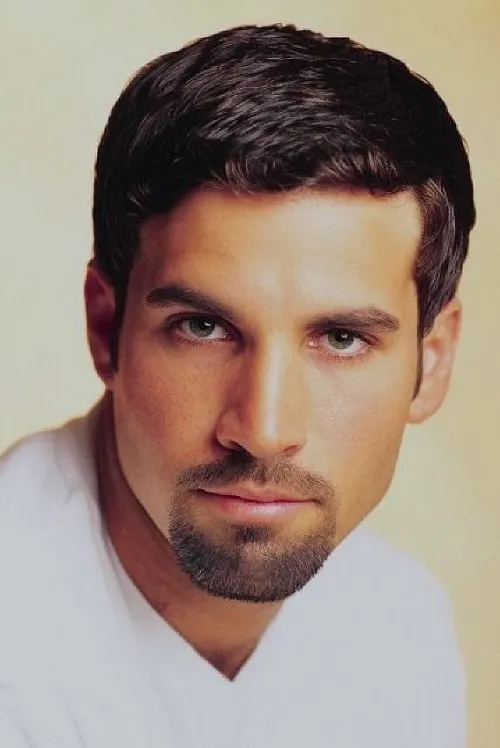 If you want to look presentable without letting go of your beard, then a circle beard is a decent option. With the mustache connected to your chin beard it can be a little bit dainty to get the shape right, but once you've got it, trimming will be an easy task to do. Not to mention the ship-shaped end result is totally worth it.
17. Medium Stubbles for Rough Look
Not in for trimming your short stubble? A medium stubble awaits you! This beard style is what most guys go for, for it doesn't require much styling and attention. Although it can give you a scruffy look, with a little care it can look tidy and presentable.
Long Beard Styles to Spice Up Your Style
18. Extended Goatee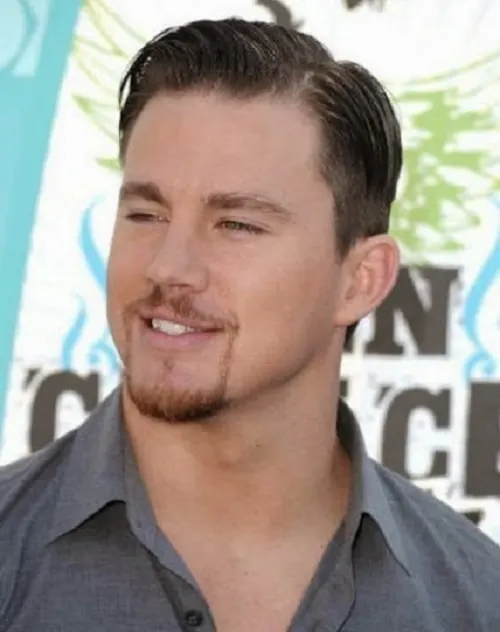 This extended goatee is also known as Hollywood beard, will give you a chic and a stylish aura. It's a bold statement you can make, without you even uttering a word.
19. 5 O'clock Shadows
Although this beard style could be the result of your laziness when it comes to shaving, it's considerably handsome to wear one. With your beard and mustache all on the same level, it doesn't make you look like a macho but still shows your masculine side.
Hottest Beard Styles for Black Men
20. Clean Shaven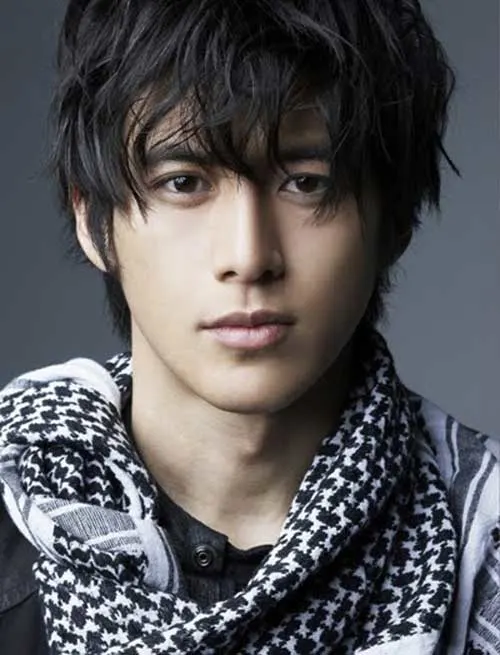 And last but not least, an all shaven beard style. It really requires nothing but to remove anything that's defined within the set of facial hairs. This style will never be out of trend, and not to mention are more suitable for formal interviews and meetings.
21. Indian Salt and Pepper Beard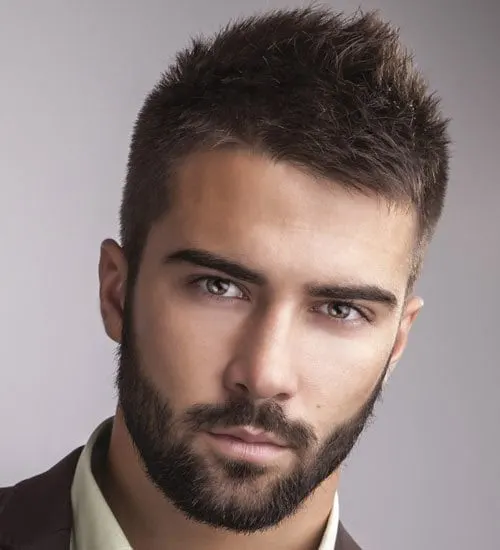 Indian men have such gorgeous ebony hair, and when white threads start to appear, they create a great contrast and blend. Get a full beard, and make sure there's no disconnection between your hair and beard.
22. Medium Ginger Beard
If you have fair skin and a rich ginger beard, you can make it look flawless by keeping it in medium length. Make sure you daily hydrate your face if you want gorgeous skin and beard.
23. Mutton Chops + Van Dyke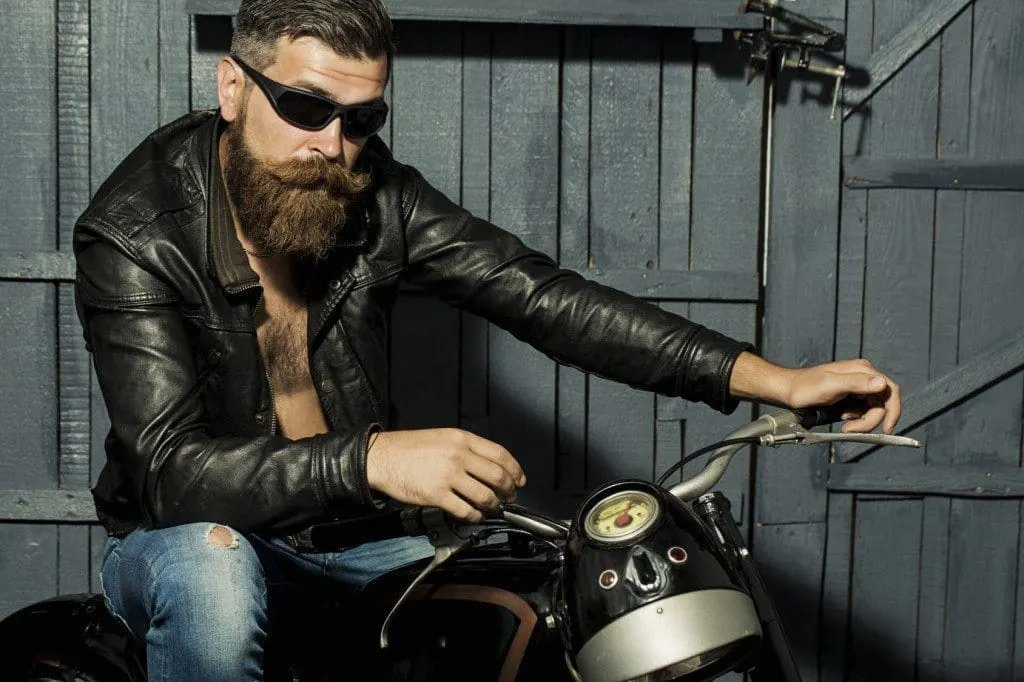 Mutton chops are old-school, but you can transform them into a great option if you also create Van Dyke Beard. The hairstyle also plays a very important part when adapting an old look to 2021.
24. Bandholz Beard
When you have a long beard like this, always use nourishing oils that will maintain your threads thick and strong. Occasionally trim your beard to maintain that perfect shape and round the tips of your long mustache.
25. Ultra Long Beard with Rings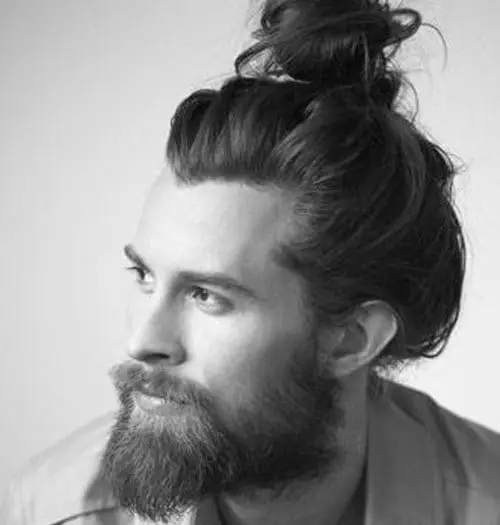 We should first probably say how much we respect this man for his patience and care for that enormous beard. If you are willing to wait years to grow your beard, you should definitely use those gorgeous decorations.
26. Straight Line Mustache
If you want something that is out of the ordinary for a kids party or just get out of your comfort zone, grow a long mustache and use beard styling products that will make that straight frozen effect for your mustache.
27. Santa Claus Beard
If you are not old enough to get white threads and play Santa Claus, there's always a way to make a child happy. When you have a long beard, you can use a white hair spray that will make you look just like Santa.
28. Curly Brown Beard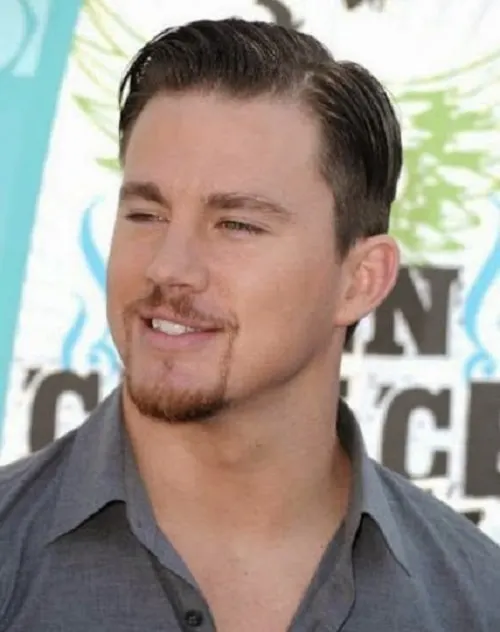 Such glam and finesse! When you have a long beard, you can take its styling game to a whole new level by curling it with a thin wand or curler. Build a glorious Pompadour that will make you look incredibly elegant.
29. Extended Mustache + Soul Patch
If you want a look that will get you noticed, make sure your soul patch is as thick and prominent as possible and so is your mustache. Remember that if you want to pull off this look, you need to have dense, thick hair.
30. Boss Salt and Pepper Beard
This beard that is shorter on the sides and more extended in the chin area will make you feel masculine and imposing. You can also go for a long mustache and get a faded haircut with a quiff.
31. Extra Long Blonde Mustache
If your hair is not your strong point, at least get a perfect beard and a long thick mustache. Use a baby straightening iron to make that hair look flawless, and if you are so proud of your work, you can even go to beard contests.
32. Thin Beard
Some men have a thick, dense beard; some have to accept that their facial hair is thin and rare. Even so, if your beard falls in the second category, don't despair; you can still get a medium-long patchy beard if you want to look more masculine.
33. Classic Beard
If you are an older man that takes pride in his long perfect salt and pepper beard, here is one of the coolest ways to arrange it. You can use a brush and air dry it or straightening iron. Make sure you use select products that protect your beard from the heat.
34. Long Braided Beard
If patience is a quality you've always have had, then you must know that keeping such a long beard is quite his maintenance. For those of you who want to grow your beard that long you need to know that it requires periodic grooming, styling, and caring.
35. Spiky Beard
If you are going to beard contests, this is a gorgeous styling you can present. It resembles that heavy grillage that train locomotives had back in the days. The cap perfectly completes the look. You can recreate the whole image with precision and a lot of hair gel.
36. Garibaldi Beard
Garibaldi beards make any man look imposing, masculine, and also sexy. They are thick, long, and quite fastidious when it comes to growing them as beautiful as the one presented above.
37. Ultra Long Straight Beard
If you want to achieve that perfect straight cut, you first need to straighten your beard. If it tends to get curly, be aware that if you're going to maintain this look, you will probably have to use the iron or air dryer daily.
38. Brett Beard + Horseshoe Mustache
A beard and mustache and act like a frame for the mouth and jawline will certainly get everyone's attention. Use a razor if you want to get those perfect lines.
39. Dreadlock Beard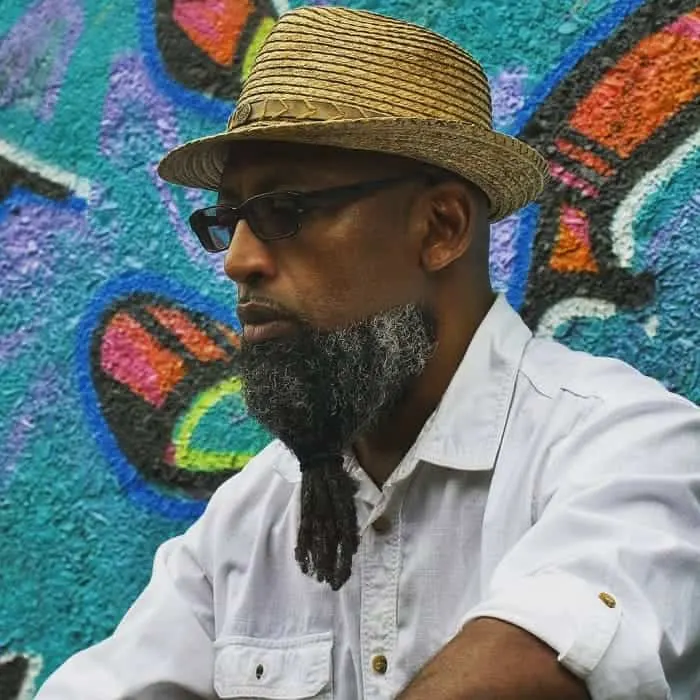 If you are a black guy that loves reggae culture, you can even use this knitting technique to build dreadlocks out of your braid. Frequently wash the beard if you want to avoid the itchiness.
40. Spade Full Beard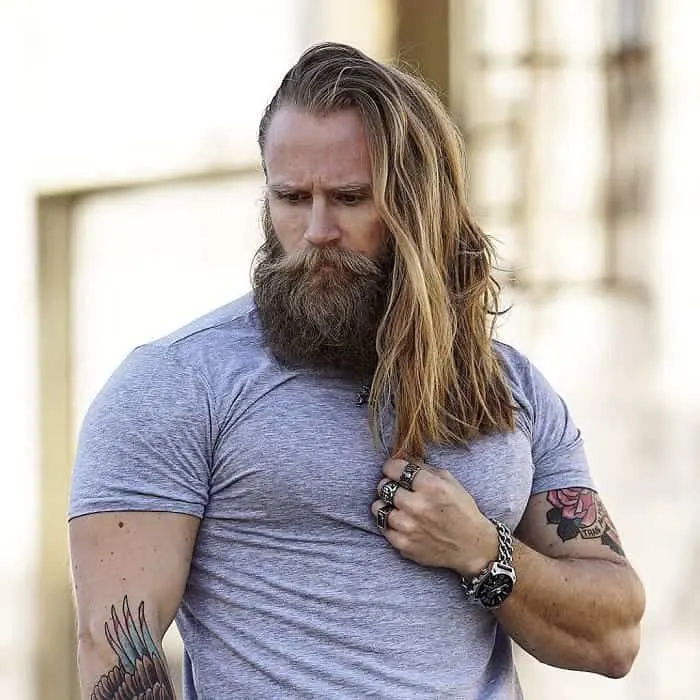 When you have thick hair, you can show it off and by growing your hair, beard, and even mustache. If you are a massive guy that goes to the gym, be sure everybody will feel dominated by your presence.
With these ten examples, it can be quite obvious that beards without mustaches and vice versa are not as trendy as of them being combined together. Whether your aim is a long or a short beard, there are endless options when it comes to styling your beard.
And not to mention, it's always easy when it comes to styling facial hair since they can be easily shaven in case you didn't like the style, growing them, though, might take some time. So, if you're targeting full beards, you might want to be patient.