At least once you must have heard of glycerin. The tasteless and odorless product is present in most cosmetic and beauty products, like soap, shampoo and hair conditioner, moisturizers and makeup. But do you know what it is for after all?
Glycerin has highly emollient and moisturizing properties, which means it can offer great hydration to the body. Especially when it comes to our hair, the ingredient has been widely used in home recipes to keep the strands always moisturized, frizz-free, smooth and shiny, and even make them stronger, which is essential to avoid split ends and breakage.
Glycerin for Hair Care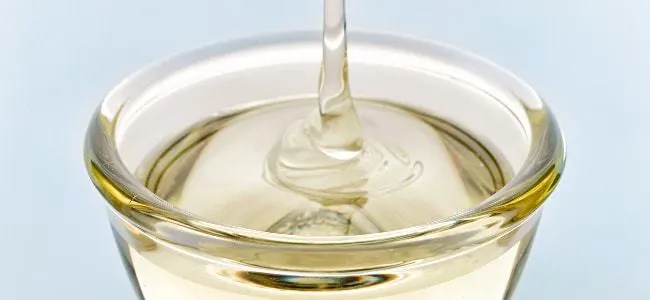 Many women have been choosing to apply glycerin purely in the locks since it can enhance the desired moisturizing effects. However, it's worth pointing out that there are two types of glycerin: natural and synthetic.
The ideal is using natural glycerin to treat the locks, which is made from vegetable oils and is also called vegetable glycerin. The ingredient is water soluble, which makes it key in the composition of cosmetics and hair products.
This organic compound is made from palm and coconut fat hydrolysis, based in glycerol with water under high heat and pressure. Then it is distilled to remove excess water, thus achieving pure glycerin at a 99.3% rate. In pharmacies or cosmetic stores, you will find it as pure glycerin.
Do you want to know the benefits and how to use glycerin for hair? Then keep reading and I'll tell you all about it!
What are the benefits of glycerin for hair?
Pure glycerin, which is the most recommended for hair, has moisturizing and emollient properties, which means its application can help deeply moisturize, strengthen and protect hair from drying.
In effect, the product has two features: absorbing water from the air and slowing down the rate of its evaporation from hair. Which means that in an open environment, with air humidity at 70% or more, the ingredient can attract that water and bring it into your hair strands, helping them keep it, since it forms a kind of protective barrier around them, so they are always hydrated.
Also, due to that protective barrier, when you use the pure organic compound in your locks you can strengthen them, making them less prone to breakage and the so feared split ends.
On the other hand, watch out! Glycerin should only be used to moisturize the hair if relative air humidity is high when the product will be able to "pull" that humidity to your hair.
However, if air humidity is low, when we are going through the so-called "dry weather", you are at a risk of a "rebound" effect, in other words, the product will "steal" the most from your hair and throw it into the environment, which means dry and brittle hair.
Who can use it?
Due to its moisturizing effects, glycerin can be applied in all types of hair, especially if they are brittle. However, if your hair is porous, you must be careful before using the product.
That is because if porosity is high and the weather is wet, constantly using glycerin will make your hair absorb a lot of water, which means your hair will be too saturated with moist, making them lose elasticity and causing them to break when manipulated. Learn to do the hair porosity test here.
In brittle hair, it's best to avoid using glycerin when the weather is dry, which means when air humidity is low (below 70%), since the product may then make hair even drier. "But I live in an area where the weather is dry most of the year and my hair is naturally dry. What do I do?".
In that case, the tip is to dilute glycerin in a larger amount of water before applying them to your locks or add a few drops of jojoba oil. The oil, being very similar to the natural skin and hair sebum, can quickly penetrate the skin and hair strands, moisturizing them even more without leaving oily residues that can make the hair look greasy.
Those with curly hair can heavily rely on glycerin since it can effectively help control frizz and shape the curls. On the other hand, those who have just dyed their hair with semi-permanent dyes should not apply the product, since it can penetrate the hair cuticles and fade the dye color.
For women who like permanent dye, there is nothing to worry about! That type of hair dye has much smaller particles and are absorbed faster after the first wash, thus making it impossible for glycerin to reach them. So, the tip is using the product only 48 hours after dying the hair, which is the time it takes for the dye to permanently set on the strands.
How to use glycerin for hair
As well as being super easy to find and being quite cheap, glycerin is also simple to use for hair. You can add the product to your favorite moisturizing mask, shampoo or conditioner, or even just mix it with water and essential oil.
For the recipe below, you'll need:
2 tablespoons of your favorite moisturizing mask;
1 tablespoon of pure glycerin.
How to apply:
Step 1: Mix well the glycerin with the moisturizing mask in a container.
Step 2: Then, split the hair (washed with shampoo only) in locks and apply the mixture, massaging it well. Avoid the scalp, especially if you have greasy hair.
Step 3: If appropriate, after applying the mixture to all the hair, you can also spray a little water to enhance the moisturizing effects.
Step 4: After that, you can wear a plastic cap or just tie the hair up if you don't have a cap. Leave it on for about 20 to 30 minutes for the product to act.
Step 5: Rinse well and finish by applying regular and a leave-in conditioner. It's best to leave the hair to dry naturally, without the use of a blow dryer or iron.
Watch The Following Video of DIY Glycerin Mix to Treat Dry Damaged Hair
Price and where to buy
Pure glycerin can be found in any cosmetic stores or pharmacies. Price varies depending on where you are from.
Did you like the article? Have you ever used glycerin on your hair? Then leave a comment below and tell us your experience!
Check out more ingredients that help growing healthy hair: