Guava leaves are well known for their many benefits to the human body, but they can do more than cure an upset stomach. You can use guava leaf for hair growth. You heard it right – guava leaf helps in hair growth.
Using guava leaves for your hair has so many benefits. From darkening and healing to strengthening and restoring, guava leaves are a one-stop answer that is free from the harsh chemicals and complications that manufactured products include.
Are Guava Leaves Good for Hair Growth?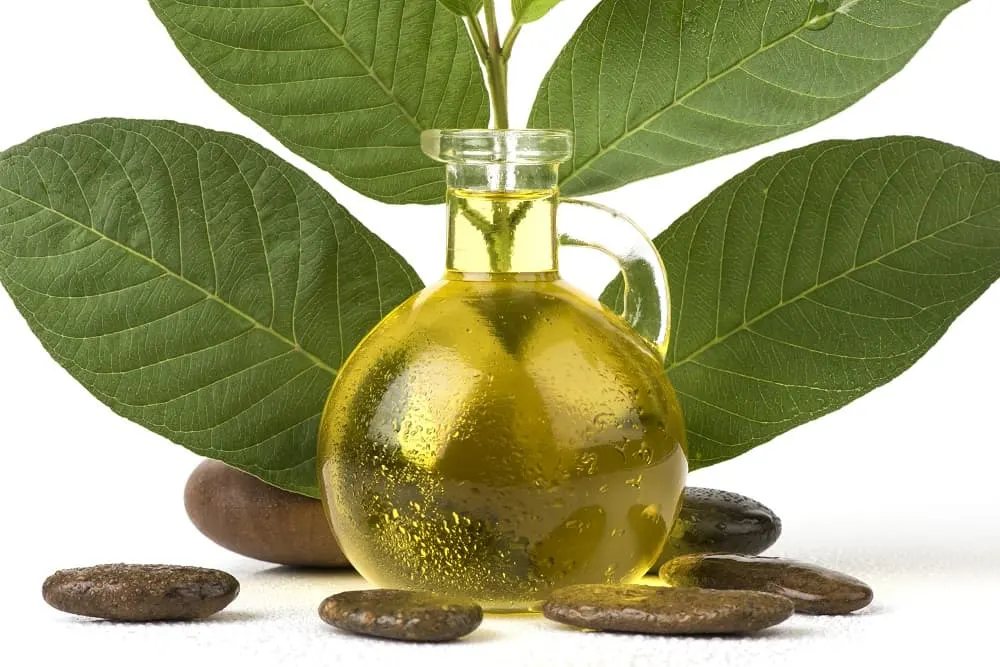 Guava leaves have many beneficial properties for hair growth. Guava leaves are a natural source of vitamin C and B, as well as many minerals such as sodium, calcium, magnesium, potassium, and iron. This has taken over the internet as the "miracle" solution to fight hair loss while boosting quick and healthy growth of hair.
Using these leaves to bolster hair growth allows for a multifaceted approach to hair care. Hair growth is one of the many things that guava does. It also strengthens, protects, and restores your hair.
Guava can clean up the scalp and hair follicles while also thickening the hair and protecting it against damage.
Benefits of Guava Leaves for Hair
Hair can be improved in many ways when you use a guava treatment two to three times a week, though it may take some time to see results. You may have to continue in most cases for continuous improvement and care.
Here are some of the benefits of guava leaves for hair.
Fights Hair Loss
Due to the properties of guava leaf, it's possible to use it as a powerful natural remedy against hair loss. That is because it helps stimulate the restoration and strengthening of hair follicles on the scalp. All you have to do is massage the area with homemade recipes based on the ingredient to activate blood flow, strengthen the root of your hair, and prevent its loss.
Stimulates Hair Growth
Rich in vitamin C, guava leaf can activate and increase collagen production in the scalp, stimulating the best and fastest hair growth. Also, since it improves blood flow in the roots, this natural ingredient also helps in nourishing the area, which also aids hair growth.
Thicken Hair Follicles
Guava can do more than encourage hair growth. It can also help hair increase in volume and thicken. Thin hair can be hard to work with and often means that the hair is not well taken care of.
Using a guava leaf mixture, especially when mixed with other ingredients such as water, can help hair naturally thicken. It may help it get thicker because the hair will be healthier while also making it last longer and grow.
Strengthens and Repairs Hair
Guava is already known to help hair grow, but it also strengthens and repairs the hair. This is what allows the hair to return and regain its shine and thickness.
To really strengthen hair and ensure that it repairs as best as possible, the treatment has to be done at least twice a week. There are a few ways you can use the guava leaves to reach this effect.
Helps Prevent Hair Discoloration
Hair changes with age. Whether your hair is lightening from the sun or going a little gray with age, guava can darken and restore lost hair color.
While it does not restore hair from dye or permanent changes, it does help darken and protect the natural transformations that occur.
Avoids Dandruff and Greasy Roots
Since it has antioxidants, guava leaf can also help fight free radicals in the hair root, which causes a lot of damage to the scalp and hair. Also, the plant helps remove the build-up of dirt from our locks, through the so-called build-up effect, avoiding greasiness and dandruff.
Makes Hair Smoother and Shinier
For helping remove the build-up of dirt in the scalp and hair, guava leaf is also able to help to make hair feel smoother and look shinier.
Protects Hair from The Sun
Guava leaf is an excellent source of lycopene, a substance that can protect our hair against UV rays, avoiding the main damage caused by them, like dryness.
Protects Hair From Seasonal Damages
Hair constantly breaks and falls out. We all find random fallen-out hairs, but using guava leaf in a mask or a mixture can help hair develop a defense against damage and breakage. Hair encounters a lot of damage, from the wind and water to some accidental rips.
It is no secret that the winter months bring an increase in bad hair days and dry follicles. Guava can be used to guard against and prepare hair for the coming dry, cold days.
Protects Against Parasites and Hair Diseases
Hair diseases go beyond dandruff, and parasites do not avoid the head. Guava leaf can protect against and, in some cases, prevent these from happening. While guava does help relieve dandruff, it can do much more for your scalp.
Guava leaves are anti-fungal; this is what makes them so great to use to combat bacteria and all the things that lead to disease while also protecting against parasites.
Take These Foods and Say Good-Bye to Your Hair Problem
Guava Leaf Is Rich in Vitamins & Other Nutrients
Guava tree is a tropical one, native to South and Central America. As well as its fruit, its leaves are also widely used for medical reasons, as they can give many health benefits aside from our hair care. It's not without reason that guava leaves have been used since ancient times to treat hair problems such as hair loss and poor growth.
This powerful natural ingredient rich in vitamins A, B, and C, as well as lycopene, fibers, and potassium, has lots of properties, from anti-inflammatory, analgesic, and antimicrobial to the antioxidant, that help improve the health of the scalp, nourishing the hair follicles and promoting the growth of new hair.
Also, recent studies show that guava leaves can also be useful to prevent and fight baldness, being great allies against hair loss. That is why homemade recipes based on the plant are back with full force and will never again leave the hairdresser of many women, especially those who love to care for their locks.
How to Use Guava Leaf for Hair Growth
The good news is that guava leaf can be used in countless ways to treat the hair. Next, I'll show you 2 simple home recipes to use guava leaf for your hair.
You will need:
About 34 fl oz of water;
A handful of fresh guava leaves.
How to prepare:
Put the water and the guava leaves in a pot and boil for 20 minutes. Then strain and let it cool.
How to use:
First, wash your hair with shampoo only. When the hair is dry, apply the tonic on the scalp and hair. Massage the roots, always using your fingertips (not your nails), in circles for about 10 minutes. That will help in activating blood flow and enable the nutrients to reach the hair follicles.
Leave the guava leaf hair tonic acting for 2 hours or during the whole night. Then, just rinse with warm water. Finish it by applying your favorite conditioner. There you go!
Guava Leaves As Hair Mask
Another way of using guava leaves for hair growth is with your homemade hair mask. To prepare it, you'll need not only the leaves but also the guava fruit pulp as well. All you have to do is put 4 or 5 guava leaves with the pulp in a container and blend them in a mixer until you obtain an even mixture.
Then, apply this mixture to clean, product-free hair by starting at the roots and working down to the tips, and wrap your hair with a towel to avoid staining clothes. After that, just let the mixture act throughout the whole night and rinse in the morning, finishing it by applying a hair conditioner.
Spray
The first step is to grab some guava leaves and boil them with water. For the best results, use about five leaves and a cup of water, leaving it for five minutes or so.
Once that time is up, and the color of the water is no longer the same, cool and strain, then throw in some rosemary essential oil, and you are good to go! Leave this spray on for twenty minutes for the best effects.
Tea
For the best guava leaf tea, start by boiling a cup of water. Tear up one singular leaf, and then you can put those pieces into the cup of boiling water. Steep it and enjoy!
Serums and Oils
There are many different ways to make a serum or an oil. One way would be to take a cup of guava tea and mix it with three teaspoons of aloe vera (preferably the gel kind). Mix in the vitamin e from three tablets (cut open), and then stick the thick mixture in the refrigerator until you are ready to use it.
When ready to use, put it all over your hair. Wash it out of the hair when it is dry.
Powder
Ground leaves to a fine powder, and add in lemon juice. When that becomes pasty, apply it to the scalp well by massaging it. Wait for about thirty minutes before washing it out.
Other foods that help in hair growth:
FAQs
Here are some frequently asked questions regarding guava leaf for hair growth.
Do guava leaves help to reduce hair loss?
Guava leaves can take part in the reduction of hair loss. Using a treatment from the leaves can clean and naturally strengthen the hair, which helps keep the hair away from breakages.
Can I use guava leaves for greying hair?
Grey hair is a part of life and a sign of the time, but who does not want to look a little younger? Guava leaves can reduce and restore grey hair while also darkening it.
Can guava leaves be used for hair darkening?
Guava leaves have natural properties that can darken hair. The darkening of hair is one of the reasons that these treatments find favor in countries like India. It works the same way that the leaves help restore greying hair.
Do guava leaves thicken hair?
In short, yes, guava leaves can help hair thicken when used over time as a treatment. Using these allows for healthy growth, which in turn, will lead to thicker hair, but the hair still has to be well taken care of.
Can I leave guava leaf water on my hair?
While these leaves are very beneficial to hair growth and renewal, it is best not to leave them on indefinitely, even if it is a guava leaf and water mixture. Anything left on your hair for a very long time can cause unwanted side effects.

Guava leaf water should stay on the hair for at least two hours. Like other hair masks, this one can stay on overnight, but in the morning, it needs to be rinsed. Whenever you rinse out the leaf, make sure to use lukewarm water as that is the best temperature.
How often to use the homemade guava leaf recipes?
You can use the homemade recipes with guava leaf for the hair to fight hair loss up to 3 times a week. Those who want to accelerate hair growth should use it at least twice a week. The most important thing is to use it for a few weeks to get the best results.
The benefits of using a guava-based product for hair are truly amazing. They are one the best things to help with dandruff, hair growth, thickening, and even greying hair.