Dyeing relaxed hair is a considerable risk that can ruin your hair's well-being. However, with the proper care and maintenance, you can achieve healthy, strong, and vibrant color-treated relaxed hair.
Let's look at how you can achieve dyeing your relaxed hair without damage.
When Can You Dye Relaxed Hair?
It's critical to wait before coloring your hair after you've relaxed it. Relaxing the hair is a process that often leaves the hair in a weakened state.
Relaxers work by breaking down proteins in the hair strands. This dismantling process results in the hair becoming more malleable but also more fragile. Therefore, you should wait at least two weeks before dyeing your hair.
Is It Safe to Dye Relaxed Hair?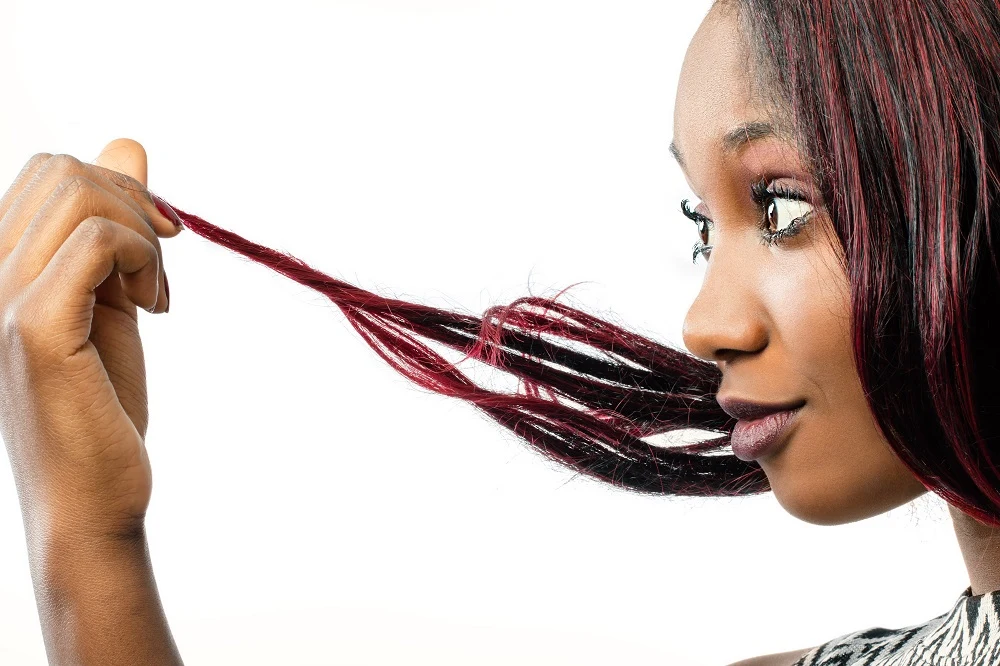 It's only safe to dye relaxed hair if you have waited for 14 to 20 days after relaxing it. Anytime before that will only create more damage and problems with your hair.
During this time, it's critical to use the proper shampoo, conditioner, and hair products that will help to strengthen your hair. In addition, you want to use products that will add moisture and help to stop or reduce breakage.
You also want to use heat protectants or minimize the heat you use while your hair recovers. Also, try your best not to place your hair in styles that will cause further stress to your strands.
So make sure you're doing everything possible to be gentle with your hair. Even when combing and brushing, it can be straightforward to be rough.
How to Dye Relaxed Hair Without Damaging It?
Minimizing as much damage as possible is essential. Here are a few ways you can reduce and prevent damage during the relaxed hair coloring process.
Check Your Timeline
When did you get your hair treated? You should hold off dying your hair at least two weeks and have undergone one shampoo before trying to introduce permanent color. Waiting helps to ensure that you don't overprocess or lighten your hair.
Understand Your Relaxer Type
Next, you should keep in mind what type of relaxer you used in the first place.
There are different types of relaxers, and it's important that you know which is applied to your hair. There are three types: Sodium hydroxide, ammonium thioglycolate, and calcium hydroxide.
These relaxers interact differently with hair dye. Therefore, you must understand how they react chemically to take care of your relaxed hair afterward properly.
For this reason, it might be prudent to start small and slow especially if you are performing this task yourself. Experiment by dying small portions of your hair (the ends are the best bet) so you can get a sense of how the dye and relaxer may interact. This will help minimize any potential issues.
Use Appropriate Products
Using a strengthening formula like some bond rebuilder will help to rebuild the bonds in the hair. It will also keep the hair firm and strong during the coloring process.
You can mix bond rebuilders with the color or use it by itself. These formulas aren't only good for rebuilding the hair structure and adding shine and softness. This goes for your aftercare shampoos and conditioners.
Make sure you are applying products that will go hand in hand with the dye and relaxer. Something that is made for the dying process is usually a great thing to consider.
Tread Carefully
You probably won't need the same amount of product as you might normally. You should follow the instructions on your particular dye for the color, but if it asks for peroxide or developer, you should reduce the portion to one-half and instead replace it with distilled water.
Once this mix is ready, you can add a few droplets of liquid protein. Mix this completely and use this to dye relaxed hair.
Make Sure to Implement Aftercare
If you go to a salon for your color, it's probably ideal to go every two weeks once it's colored. Also, make sure you keep your relaxed hair moisturized and hydrated.
When choosing aftercare products, ensure these won't strip your color. But, again, you also want to make sure that you avoid heat styling as much as possible.
Ensure that you keep your ends trimmed, protect your hair while you sleep, and implement oils into your care routine.
Mistakes to Avoid When You Dye Relaxed Hair
It's easy to make mistakes when dying relaxed hair, and that can cost you. However, here are some important ways to avoid making critical mistakes when dying your hair.
Don't Dye Weakened Hair
Avoid dying your hair if it's in a weakened or brittle state. Doing this will only further the damage. Instead, take some time to nurture your hair back to health before applying any color to it.
Never Color and Relax on the Same Day
You should only do one of these processes at a time. Each process causes damage that must first be repaired before doing another chemical treatment to the hair.
For example, when you color your hair, you lift the cuticle, which significantly changes its natural structure. Once it's changed, it cannot revert to its natural state.
Applying these processes at once will ultimately damage your hair to the extent that it won't be salvageable. So, you must check with your stylist before doing either of these processes.
If you're doing it yourself, ensure you do proper research and understand the risks prior to starting.
Don't Use Heat Prior to Application
Ideally, it would help if you went at least a week without heat before coloring your hair. If you need to use heat, ensure you're using a high-quality heat protectant.
The Best Products to Use for Dyed Relaxed Hair
Chemical treatments, such as relaxers and color dyes, leave the hair damaged. Even if the hair is in a healthy state, naturally, the process will take its toll.
Taking great care of your hair in between relaxers and colors can help make a huge difference by helping to reverse damage while rebuilding your hair's strength.
This shampoo and conditioner combo is perfect for color-treated and relaxed hair. They contain a key ingredient that aids in getting the hair back to a healthy and strong state.
The key ingredient is quadra bond peptides. This fantastic ingredient assists in keeping the hair hydrated and restores proteins and layers in the hair.
The best feature of this shampoo is it helps your color to last. So you won't have to worry about it stripping with every wash.
The Olaplex brand has always been known for being top quality in protecting and restoring hair's health. In addition, it's incredibly excellent for hair that is colored and relaxed.
The hair perfector helps to revive the hair by reversing damage and rebuilding the hair's structure. Overall it provides maximum protection while helping to clean up any damage and breakage.
One of the primary keys to healthy hair is to ensure your hair remains hydrated and retains moisture. This shampoo helps to lock in hydration. In addition, it's perfect for colored and relaxed hair since it doesn't strip the scalp of its natural oils.
It contains natural ingredients that promote lasting moisture, including henna and hydrolyzed oat protein. It also deep cleanses, adds shine, and increases strength and moisture levels.
This shampoo is also sulfate and cruelty-free.
This mask is rich in ingredients that will supply the hair with moisture and even help to keep hair color intact. It contains keratin bamboo stem cells which aid in shine, softness, water, and strength.
It's also unique since it contains pigment which helps to keep your color vibrant while adding moisture. It's best to use hair masks at least once a week, especially when combatting breakage.
This leave-in spray treatment is excellent for colored and relaxed hair, for several reasons. First, it helps protect your hair shaft from heat styling.
It's filled with nourishing ingredients that promote hair growth, such as hydrolyzed silk, green tea extract, and hydrolyzed keratin.
This repair mask is perfect for every hair texture and can be used with your regular hair care routine. In addition, it assists in fighting breakage by restoring the broken bonds that occur after a color treatment.
Applying after you have dried your hair with a towel is best. Then, please apply it to your hair and finish your routine after leaving it in for four minutes.
How to Take Care of Your Colored Relaxed Hair
Taking the time to nourish and care for your hair dramatically affects how it reacts to relaxers and dyes. If your hair is strong and cared for consistently, it can sustain the damage much better.
Ensuring you set time aside to maintain healthy hair will always allow it to get through these chemical treatments. So here are some ways to take care of relaxed, colored hair.
Take care of your ends
Hydrate your hair during styling and care routines
Use products that moisturize
Apply shampoos that work best for your color
Use low heat or none at all
Apply hair masks in between washes
Keep your ends trimmed
Apply oils and serums to help retain moisture
Related Topics