If you have been looking for little girl braids with beads that will give your little girl sweet smile, you are reading the right article and at the right time. We have collected the best, most stirring and interesting little girl braided hairstyles with beads that will look astonishing, adorable and alluring on your little princess. Accompany us in this journey of exploring these creative braided hairstyles with beads for little girls.
Best Braided Hairstyles with Beads for Little Girls
It is highly pleasing to create your little girl braided style. This article consists of feed-in braids, hair bun, kids braided hairstyles with beads and varying hair color clips.
1.Braid with Beads Top Bun
This braid style resembles the snake's tail. The braids are held together with shiny brown color beads. The upside hair is a sign of the top bun.
Adorable Little Girl's Box Braid Hairstyles
2. White and Blue Beads Long Braid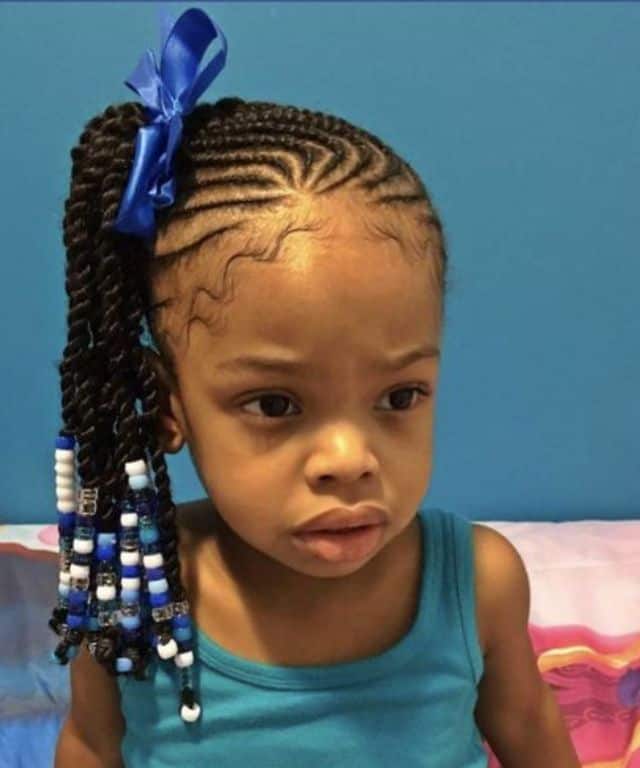 This black girls hairstyle with bead is suitable for the kids aged between 2-5 years. Shaped braids incorporate downward mid-braid. The combination of blue and white beads makes it even cuter for your little black girl.
3. Side Parted with Pretty Clips
This is styled with medium length straight tresses. The middle part of the mane remains untouched. The braid made of two sides is entirely covered with white beads. The pink balls on top accentuate the style.
4. Braided Hairstyles with Beads End
Entirely braided black girls hairstyles with beads and curve shape on the forehead. The ends of the two braids contain white and blue beads.
5. Dashing Braid with Transparent Beads
This is a unique, rare and difficult braided little girl hairstyle with beads to create. It is not easy to maintain as well. The entire head is covered with numerous small braids. Also, the trimmings of the hair are styled into braids. The remaining two braids aren't merged at the end but completed with beads.
6. Small Hair Braid with Beads
The best term to use to describe this style is bead braided hairstyle rather than a braided hairstyle. The reason is apparent; wonderful hard beads entirely cover almost all the braids.
7. Little Girl Goddess Braid with Beads
A straight hair on the upper head with two-side braids is what defines this beautiful black little girl hairstyle with beads. The special thing about it is that the braid ends even without reaching the real hair ending part. The beads are also attached to the braids. The cascading hair is twisted at the trimmings.
8. Cross Feed in Braid with Hair Clips
A long and straight hair are integral elements of this little girl braids with beads. Whole hair is combined. The front hair is entirely cross twisted. The hair at the back continues the in-front part and stays crossfeed in the braid with beautiful red hair clips.
9. Cute Girl Freaky Hairstyle with Beads
This is entirely freaky little girl braided hairstyles with beads. A lot of stuff is added to it. The braids are pretty thin with a striking distance between them. The side part incorporates lovely small beads with a flower sticker. The other ending portion is spire decorated with blue tape.
10. Shower Braid with Beads End
This hairstyle is portioned into three distinct parts with each part containing different styles. The middle portion is sleekly braided with cascading beads. The left part is thicker braids with beads, and finally, the right one is also thicker with a decoration of pink tape in the upper hair.
Cute Cornrow Braids for Little Girl
11.
box braids with beads for little girl
12.
13.
braided ponytail with beads for little girl
14.
braids with beads for little black girl
15.
lemonade braids with beads for little girl
16.
17.
braided mohawk with beads for little girl
18.
19.
20.
twist braids with beads for little girl
As you can see, these are some of the best and trendiest little girls braided hairstyles with beads. If you want to have a beautiful and lovely one for your kid, try standard methods of styling braids and accessorize them with beads and adorable color accents. It takes only a little creativity to create a fantastic hairstyle for your little girl.