Have you been looking for little girl braids with beads styles to give your little girl a sweet smile? We've collected the best, most adorable and interesting little girl braided hairstyles with beads that will look simply beautiful on your little princess. Get ready to see the most creative braided hairstyles with beads for little girls!
Best Braided Hairstyles with Beads for Little Girls
Put a smile on your little girl's face with these pretty braided hairstyles. This article consists of feed-in braids, hair buns, kids braided hairstyles with beads and varying hair color clips.
1. Braid Band
Instead of using a traditional headband in your little girl's hair, make thin braids starting from her hairline and going back a few inches, leaving the rest of her hair natural. For the braided strands, top the ends with alternating colorful beads.
2. Braided Pigtails
Every little girl has to go through the pigtail phase, but you can make your little girl's style even cuter by braiding them! Start from the hairline and braid to the ends, then make two pigtails at each side of her head.
3. Extra Long Braids
If you have a little girl with really long hair, show her how to make a statement look with lots of thin braids. On light blonde hair, rainbow-colored beads will help the style pop even more.
4. Braided Half Ponytail
For any little girl with long hair, braids help to keep their hair styled and out of their face. This half ponytail is an adorable style, and the dark purple beads look great with dark-colored hair.
5. Sporty Diagonal Part
For kids who are quite active and/or play sports, a braided hairstyle with beaded ends is a great way they can rock their team colors. Before styling, part hair diagonally up front to switch up the braid direction.
6. Chunky Beads on Black Hair
Thick black hair on little girls can be difficult to style, but braids will help! For girls with a dark skin tone, consider a chunky bright-colored bead for accent. These yellow ones are a cheery addition!
7. Baby Box Braids
On baby girls who are lucky enough to have long hair so young, show it off in box braids. We love the cute light and dark purple beads on the ends seen above.
8. Braids with Double Ended Beads
Instead of adding beads to only the ends of braids, try adding them to the base as well. On dark hair, light colored beads will stand out best.
9. Beach Braids with Bandana
If you have some time before hitting the beach, skip the messy bun and give your little girl thin braids. Add two beads to the ends, then the hair tie, then add one more bead. A cute bandana will protect her hair and her skin from the sun.
10. Starfish Beads
Circular pony beads are the go-to for braid hairstyles, but there are so many cute shaped beads you could also use. These colorful starfish beads top off lots of super thin cornrow braids.
11. Curved Braids
From the curved shape of the braids to the twisted ends and colorful stacked beads, this hairstyle will be loved by any little girl.
12. Thin Braid Bun
When a special occasion calls for an equally special hairstyle, a lot of thin braids are a must to give beautiful detail to a little girl's updo. Two large sections of bead-tipped braids hang loose to keep the style soft.
13. Braid with Seashell Beads
Any little girls spending their days at the beach need a beach-themed hairstyle to match. Try three or four sections of ponytails featuring two braids, topping off the ends with seashell beads.
14. Half Beaded Braids
Rather than use two or three beads on the ends of braids, consider covering half of each braid with them. For either long or short hair, the more beads the merrier!
15. Spaced Beads on Braids
Another way to feature braids with beads is by spacing them out instead of stacking them on top of each other. The colorful beads seen here help to also make the hair look fuller.
16. Braid with Bead Top Bun
This braid style resembles the snake's tail. The braids are held together with shiny brown color beads. The upside hair is a sign of the top bun.
Adorable Little Girl's Box Braid Hairstyles
17. White and Blue Beads Long Braid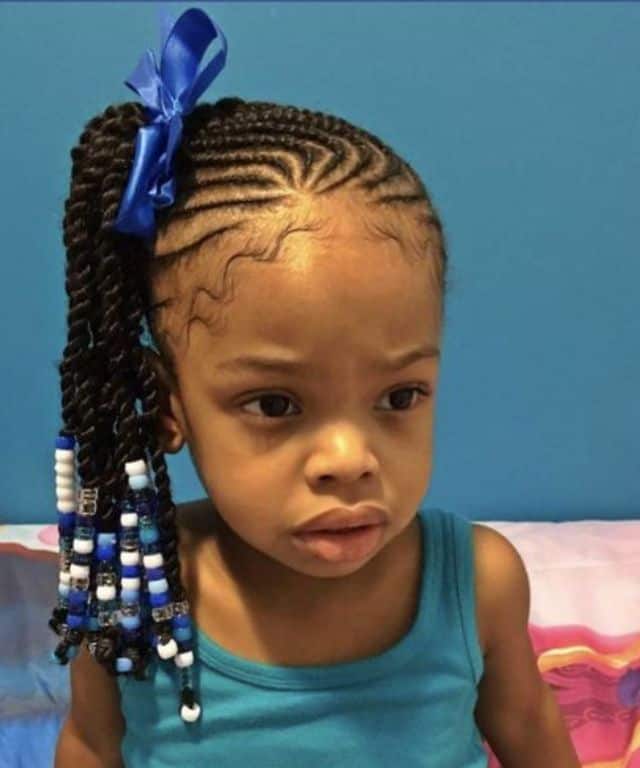 This black girls hairstyle with bead is suitable for the kids aged between 2-5 years. Shaped braids incorporate downward mid-braid. The combination of blue and white beads makes it even cuter for your little black girl.
18. Side Parted with Pretty Clips
This is styled with medium length straight tresses. The middle part of the mane remains untouched. The braid made of two sides is entirely covered with white beads. The pink balls on top accentuate the style.
19. Braided Hairstyles with Beads End
Entirely braided black girls hairstyles with beads and curve shape on the forehead. The ends of the two braids contain white and blue beads.
20. Dashing Braid with Transparent Beads
This is a unique, rare and difficult braided little girl hairstyle with beads to create. It is not easy to maintain as well. The entire head is covered with numerous small braids. Also, the trimmings of the hair are styled into braids. The remaining two braids aren't merged at the end but completed with beads.
21. Small Hair Braid with Beads
The best term to use to describe this style is bead braided hairstyle rather than a braided hairstyle. The reason is apparent; wonderful hard beads entirely cover almost all the braids.
22. Little Girl Goddess Braid with Beads
A straight hair on the upper head with two-side braids is what defines this beautiful black little girl hairstyle with beads. The special thing about it is that the braid ends even without reaching the real hair ending part. The beads are also attached to the braids. The cascading hair is twisted at the trimmings.
23. Cross Feed in Braid with Hair Clips
A long and straight hair are integral elements of this little girl braids with beads. Whole hair is combined. The front hair is entirely cross twisted. The hair at the back continues the in-front part and stays crossfeed in the braid with beautiful red hair clips.
24. Cute Girl Freaky Hairstyle with Beads
This is entirely freaky little girl braided hairstyles with beads. A lot of stuff is added to it. The braids are pretty thin, with a striking distance between them. The side part incorporates lovely small beads with a flower sticker. The other ending portion is spire decorated with blue tape.
25. Shower Braid with Beads End
This hairstyle is portioned into three distinct parts, with each part containing different styles. The middle portion is sleekly braided with cascading beads. The left part is thicker braids with beads, and finally, the right one is also thicker with a decoration of pink tape in the upper hair.
Cute Cornrow Braids for Little Girl
26. Box Braids for White Little Girls
Box braids with beads have impressed any woman and became trendy also among white little girls. Even if they don't have the same hair thickness and volume, you can easily create this hairstyle. It will probably be less time consuming than it is for Afro American people, and your little lady will end up with a marvelous hairdo.
27. Black and Blonde Braids
If your little girl is fashionable and loves to pull off perfect looks, these half cornrow braids will suit her like a glove. Also, make sure you add a pinch of color and create a few blonde strands before you start knitting the hair.
28. Colored Braids for Little Girl
Little girls adore braided ponytails with beads, especially if you can add some colors. Pick a few knits and include some pink and purple threads to make those braids shine.
29. Thin Braids
Braids with beads are little black girls favorites, and we can all agree that they look so sweet with this hairstyle. As a mom, opting for this hairdo will make your job so much easier in the morning because you won't have to spend so much time fixing your kid's hair.
30. Lemonade braids with Beads
Beyonce was that fabulous diva who created a real trend out of lemonade braids and little girls instantly became fans of these knits and beads. Start from one side of the head and knit the hair to the other part if you want to obtain this impressive effect.
31. French Braids
Part your little girl's hair in two parts and start braiding as close to the forehead as possible. Create two French braids and decorate them with four translucent braids.
32. Glitter Braids
To recreate this braided mohawk with beads you will need some glitter and we guarantee that your little girl will adore this fabulous transformation. After all, which little lady doesn't love glitter?
33. Half Braided Space Buns
Braids give you infinite hairstyling options and your little girl will adore this half up half down hairdo. For the upper part, use the braids to create space buns and let the rest of the knits fall on the back, securing them with translucent and purple beads.
34. Fulani Braids with Beads
Fulani hairstyles feature numerous braiding patterns. For this look, create a middle knit as part and build marvelous braids on each side and meet them in the back. Use the temple hair to style other braids that you will secure at the bottom with colored beads.
35. Twisted Braids
Twisted braids with beads can be easily styled on a little girl's hair. You can do them manually or buy a braiding device that will help you get this fabulous hairdo faster. Either way, use white beads to secure the knits.
As you can see, these are some of the best and trendiest little girls braided hairstyles with beads. If you want to have a beautiful and lovely one for your kid, try standard methods of styling braids and accessorize them with beads and adorable color accents. It takes only a little creativity to create a fantastic hairstyle for your little girl.