Knotless braids are among the most beloved hairstyles for kids because they look natural and don't create knots that cause scalp tension. So next time you plan to change your child's hairdo, consider these knits.
Adorable Knotless Braids for Kids
Knotless braids allow you to extend hair and keep natural pieces protected from dust, sun, or other external factors.
Also, if your kids love some hair jewelry or decorations, now you will have the perfect canvas. Shape them in a bob, keep them long, curl the ends, make the braids thin or chunky; you have plenty of options.
Continue reading and check out right here the best knotless hairstyles for kids!
1. Box Braids with Beads
Knotless braids look gorgeous on small girls and young ladies of any age. Use hair extensions that have the same color as your child's hair and attach them close to the scalp by adding hair right from the roots. Decorate the ends with translucent and white matte beads.
2. Braids with Curly Ends
Do a side part and braid the hair on each side, feeding in the braid with small pieces of hair extensions, so the braid will look as natural as possible. Don't tie the ends and roll the tips on a rod that you will dip into hot water. This technique will help you achieve a curly end and more volume.
3. Top Rolled Bun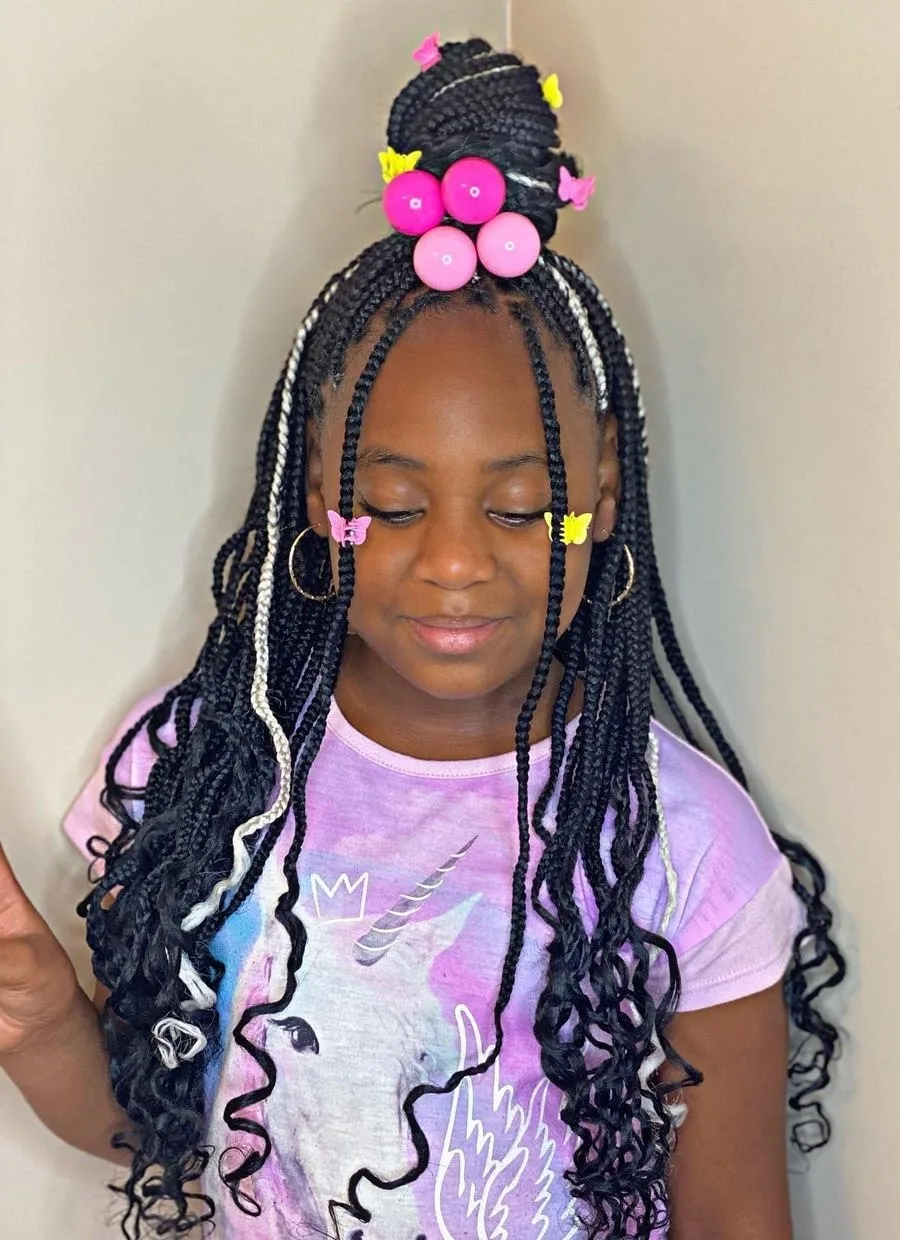 By using hair extensions when braiding your small princess's hair, you will give the hair length, and the braid will look flawless. To get those curly ends, use the hot water technique and keep half of the braid straight. You can also use white pieces to build that highlighted aspect.
4. Multicolored Braids
If your little one loves a look that catches everyone's attention, you definitely need some rainbow hair extensions. Go for knotless feed-in braids with pieces that have the same color as the natural hair and colored extensions. Get those curls for the ends by wrapping the tips on small rods that are dipped into hot water.
5. Braided Pony
To create that heart made to of knits on each side, you have to build feed in cornrow braids that you will guide and shape in that form. At the base, where the two braids meet, blend them into one knit. Use the rest of the braids to pull off a low top of the head ponytail. Decorate with teal green butterfly clip.
6. Yellow and Pink
If your girl has short black hair, use yellow and reddish-pink hair extensions to extend and protect it. Make the braids look layered, and use a head scarf or a headband to keep the front pieces away from the face.
7. Medium Box Braids
To style these knotless braids, you need to create great sectioning, preferably in the shape of a square. Feed in the braids as you knit and curl the ends. Cut the extensions into a medium bob, giving the hairstyle body and making it look natural and cute.
8. Thin Knotless Braids
Part the hair in the middle and create very small sections so that the resulting braids will be thin. For some of the parts, you can add fuchsia extensions instead of natural-looking pieces. They will act as highlights, and your little one won't need to bleach her hair starting from this young age.
9. Twisted Top Bun
When you want to style thicker braids, but your natural hair is not as dense as you want, create square sections for which you will need a knot. Gather all the hair on top of the head and pin it down. Roll the ponytail into a big bun.
10. Bob Braids with Pink Beads
Before creating these knotless braids for kids, you will need to prep the hair. Do the sectioning, then, as handling each piece, add a jam that will make the part much more manageable. Once you finish, trim the braids, giving them a long bob haircut, and decorate each piece with red, pink, and translucent beads.
11. Ultra Curly Ends
If you want to keep your daughter's hair tamed and protected from external factors, then protective knotless braids have all you need to be a successful and good-looking hairdo. You can even get highlights, curls, or more length; you only need to use some hair bundles when styling the braids.
12. Chunky Braids
Part the hair into even squares and use hair jam to tame those tresses and keep baby hairs altogether. To make them look this chunky, you will need to add extensions gradually. For the two front pieces, consider using some blue electric extensions. Braid the hair tightly, so hairs won't stick out.
13. Beads and Butterflies
Most young girls love a well-decorated hairstyle, and this is probably one of the best knotless braids you can choose for kids. Each braid is decorated with eight beads, using blue shades and nuances. Opt for dark navy, light and dark blue, and white beads that you'll add at the tips. Some butterfly clips are also highly appreciated by a young lady.
14. Side Butterfly
Side butterfly braid designs require knitting skills, so if you want it to look brilliant, take your daughter to a well reviewed salon. Also, consider decorating them with black, white, and translucent beads. For the top, you can opt for straight feed in cornrows, zig-zag, or snake shape patterns.
15. Two Ponytails
Ponytails, curls, braids and long hair are probably the ingredients that all young girls crave when choosing a hairstyle. So curl the knits, get your daughter two high ponytails and wrap the ends on rods to gain that tight curl aspect.
Knotless braids for kids can be styled in diverse ways, with hair extensions, colored beads, and pieces, mingling multiple requests that your little one might love to have. These braids can challenge your child's creativity and your stylists and will protect natural hair and make those tresses look perfect each day.