To make sure your little one has the best hairstyle for when it's time to go back to school, why not have a stylist give them cornrows? They're one of the most popular hairstyle choices for kids with all different hair types not just because of how long they last, but because of the many ways they can be styled. Your kiddo is sure to love at least one of the styles below!
Cornrows for Kids
Below are 20 ways your kiddo can look their cutest with cornrows.
1. Cornrow Ponytail for Little Girl
Instead of the cornrows braided straight back on this little girl's ponytail, they're braided diagonally from one side to the other. The ponytail is poofy and full of springy curls.
2. Cornrow Braids for Young Girl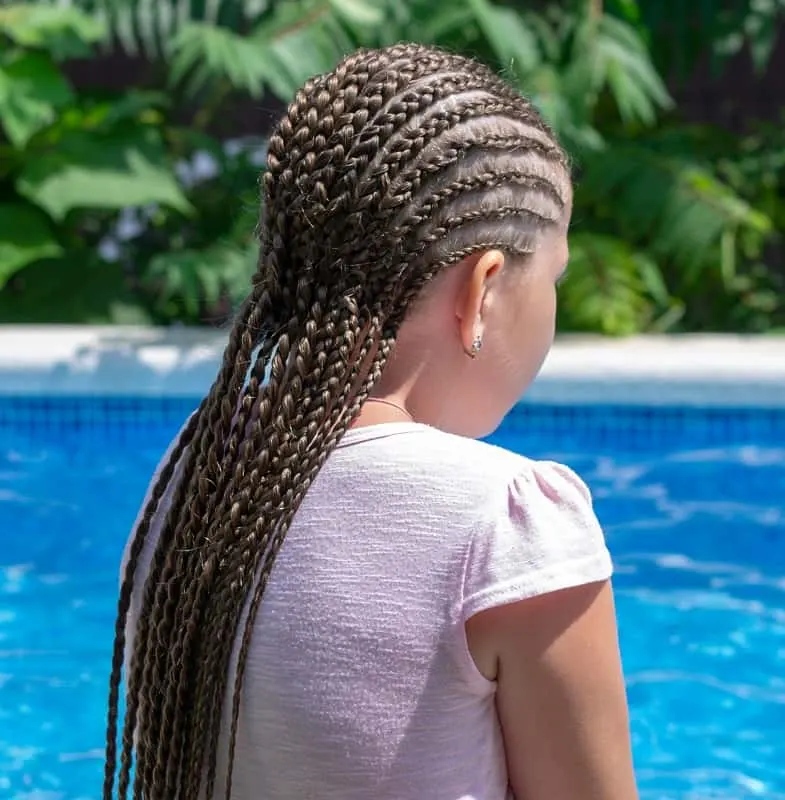 Cornrow braids adorn this little girl's head from the hairline to the tips of locks. About 13 braids are featured here but you can alternate their thickness to have fewer braids.
3. Cornrow Braids for Girls with Short Hair
If your little girl loves playful hairstyles, you need to take her to have these cornrow braids that wind up into two high space buns. The hair is somewhat loose so you can still see the hair's beautiful texture.
4. Tiny Cornrows for Little Girl
Here's another way to switch up your little girl's hairstyle: tiny cornrow braids in opposite directions. She'll love these colorful elastic hair ties that help her express her fun side.
5. Cornrow Ponytail for Formal Event
For pool time or recess at school, a cornrow ponytail is just the look to keep your little girl's hair out of her face and have her looking adorable. Let her choose a fancy colorful bow or faux flower for a fun touch of flair.
6. Mini Cornrow Bun
Swirled and swooped cornrows are so much cuter than traditional straight ones. Leave one or two braids loose and cap the ends with beads. Gather braids in a cute bun or ponytail for the final touch.
7. Stacked Beaded Ends
If your little girl has hair that is just to their shoulders, top their braids off with five or six beads in different colors or let her choose a fun pattern. She'll love swinging them around to show them off.
8. Braid Band
For a different hairstyle, make a headband or crown by just braiding an inch or two long starting at the hairline. It's a cute look whether you're working with long or short hair.
9. Pink Braid Extensions
When it's summertime and your favorite girl has the freedom to rock a fun, creative hairstyle, choose bright pink braid extensions. They'll give both length and poppin' color, and can be easily switched out for a different color.
10. Pigtail Braids with Beads
Pigtails are a classic little girl hairstyle. These curved cornrows are thin and delicate, gather together in two cute ponytails, and their ends are tipped with beads in a classic pink and clear pattern.
11. Cornrow Ponytail with Bangs
This look presents the perfect opportunity to teach older girls how to straighten their bangs to complement a pretty cornrow braid ponytail. It's sophisticated but chic, perfect for teens.
12. Short Cornrows
Short braids will keep your little one's hair off her face so she can run around without looking like a mess. Start from the hairline, then stop mid-height at the back.
13. Thin Cornrows with Curls
To show off hair's natural curly texture, opt for super thin cornrow braids and emphasize curled ends with a different color. The above style uses gold, but any color will work.
14. Thick Cornrow Braids
If your little girl has thick hair, try a medium to thick cornrow hairstyle. The braids will be thicker so there will be about six smooth braids formed from the hairline down to ends.
15. Micro Cornrow Braids
Alternating zig-zag and straight cornrows decorate the top of this little girl's hairstyle. About halfway through, the hair is gathered into two high ponytails with loose curly hair to show off.
16. Half Cornrows Half Box Braids
If you choose cornrows as your hairstyle, it doesn't mean that you have to go full – braided hair. On the contrary, combining with box braids can be more than enough to show off your girl's feminine inner beauty and shine like the beauty she truly is. And the great thing about this braided hairstyle is that she gets to flaunt her long hair.
Tip: Adorn your hair with catchy beads that grab more attention.
Cornrow Braids To Twist and Turn Your World
17. Cornrow With A Bun for Little Girls
When it comes to youngsters, updos win the hair combat with more than just one advantage. Because kids need practical hair designs that wouldn't get in their way while they build their own cities and fortress in the sandbox.
They also hate it when it gets mixed up with their sandwich on a windy day and they end up biting their hair instead of a whole grain healthy meal.
Therefore, for the sake of practicality consider holstering those braid up into a bun when you are done. Voilá, a 100% functional and beautiful hair design for every taste!
Gorgeous Braided Hairstyles for African American Girls
18. Double Trouble

Combine the basic ponytail style with cornrow braids to end up with a peculiar design just like the one illustrated in the photo above. The stylist makes sure that the braids are not too short by adding the faux hair to the tips of the natural plaits.
After that, instead of just letting them hand in their tie them up into to nonsymmetrical ponytails to make them look even more eye-grabbing.
Short Hairstyles for Teenage Girls
19. Just Casual
Is school around the corner? Then you are definitely having a hard time doing your Lil girl's hair every day before school with such a short time given before the school bus arrives. Plus, kids hate it when they are told to hold still and just endure the grabbing and pulling of their hair.
Because obviously, they don't think fashion is worth it. However, being good parents means it's your job to show them how cool hairstyling can be as well as finish off with an endurable and versatile design.
So, check out the colorful style presented in the photo above that goes with practically any outfit and any time of day!
20. The Central Braid
Instead of cornrows in the vertical direction, stand out in the crowd with horizontal cornrows to make your kid feel special.
However, a central element employed as the focal point of your design can be a great idea if you really want your toddler to shine as the star of the event.
So in addition to the horizontal cornrows, make sure you don't forget the central chunky braid made out of several twisted plaits and secured with an elastic at the tip. You can never go wrong with kid's cornrow braids!
Cute and Adorable Braids for Little Girls
Some Cute Cornrow Braids for Kids
Do Kids Really Need Hair Extensions?
When it comes to braiding, the kid's hair is probably the best to work with. Because it's still fresh and free of split ends, unlike adult's worn-out hair.
Despite the quality factor, kids might not have the length needed for decent braids. So, you can just add braided hair extensions to fulfill the vacancy in the length department.
However, if you are worried about the safety factor, the fake braids can be easily installed or removed without harm to your youngster whatsoever.
The 'Don't' List

First things first, before you start off with the braiding procedure you need to keep in mind these vital tips in mind in order to end up with flawless kid's cornrow braids.
Don't braid them too tight or you might your kid a headache without even noticing that the braids are behind it.
Don't braid them too thin because this will cause hair breakage and thus damage your kid's hair quality. In addition to that, thinner braids will not come out as polished as thicker ones. Plus, they take forever to accomplish.
Don't keep them over two weeks maximum. Otherwise, you will be ruining the quality of your kid's hair at an early age. Plus, it would be practically impossible to untie them after that much time.
Finally, cornrow braids will really look adorable on your kid and also it's a low maintenance hairstyle with a longer lifespan. In addition to their functional aspects, their aesthetics have been proven to be outstanding! So, stop hesitating and just copy your favorite design from these cornrow braids!
Are you looking for the most adorable hairstyles for Nigerian kids? You are as hair is a big deal in Nigeria and children are not left out of the styling process.
With kids required to have their hair done for school as well as social events, it's necessary to have a list of hairstyles you can run to when you need to pick your kid's hairstyle.
Although some schools already choose the hairstyle, there's nothing wrong with having some backup for special events such as birthday parties, school excursions, and similar events.
Adorable Haircuts and Hairstyles for Nigerian Kids
In this post, we have a list of Nigerian kid hairstyles for both little boys and girls. They range from simple hairstyles to some that might be considered unconventional, what they all have in common is that they would make any kid—boy or girl feel gorgeous.
1. A Simple Puff
Simplicity is key when picking hairstyles for Nigerian kids and a simple style like the puff on natural hair looks effortlessly adorable.
And you don't have to break the bank trying to get accessories because natural hair alone has the charming effect of many accessories. So, only a headband will do, let her gorgeous kinks do the talking.
2. High Flat Top for Nigerian Boys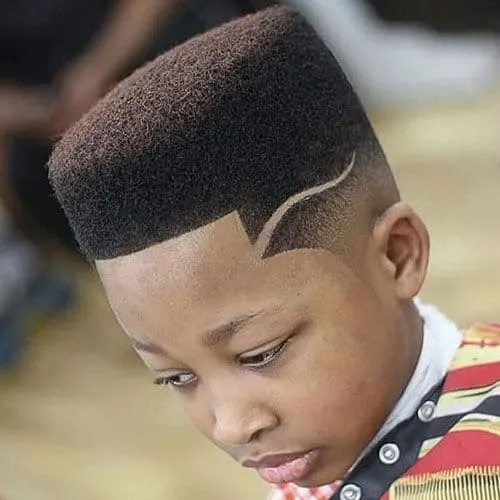 The high flat top has slowly made its way back into the heads of many and we love it.
While some might see this as being too dramatic for a kid, others can only see their kid's next hairstyle. The height of the flat top is totally based on preference and can be shorter or higher.
3. Mohawk for Little Boys
The Mohawk used to be something quite garish and associated with punk stars, but thank goodness it has been 'watered down' to suit just about anyone who isn't into rock and roll. That makes it perfect for a children's hairstyle.
4. Side Braids with Beads
A cute Nigerian hairstyle for kids with beads. Side braids are cute enough of .on their own, but when you add beads to the mix, it makes it even better and perfect for a children's hairstyle.
A simple cornrow braided all the way from the crown to the nape is a convenient hairstyle for nigerian kids. For special occasions, add accessories like beads, headbands and so on to make it look even better.
6. Curly Frohawk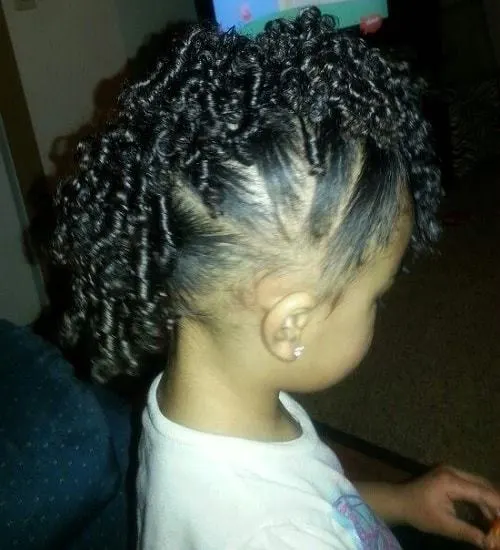 The curly frohawk is a cute hairstyle for Nigerian kid. It works best if your little girl has natural hair. But if she doesn't, a curly extension can be sewn in or crocheted to get the same look. To get this look, section the hair horizontally. Get a brush and gel to slick down the hair on both sides and secure it with a ribbon. Repeat the process in other sections and style as desired. If you'll be adding extensions, braid the middle part down and include your extensions there for a natural look.
7. Two Twisted Pigtails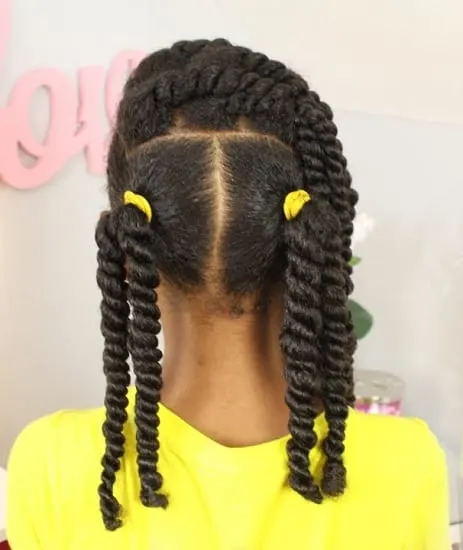 Don't you just love this look? Although adults wear buns and updos, no one does them quite like kids. The gelled up look plus the ribbons are what little girls' dreams are made of.
8. Double Puffs for Nigerian Little Girls
Just packing your kid's hair in two puffs is as cute as they come. Styling your children's hair doesn't have to be fussy.
As usual, there are extensions that can be used to achieve the puff if the kid doesn't have natural hair. However, if you would rather not use extensions, there are other styles on this list to try.
9. Nigerian Little Kid With Braids and Puff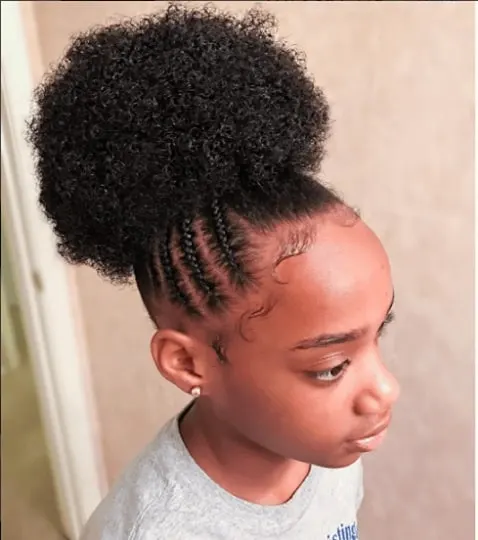 The braid and puff are cute, sassy and also very simple. Cornrow about 3 or 4 big braids halfway, secure them with pins to keep them from unraveling, then add a little extension or comb the hair out if long and full enough.
This kid's hairstyle is perfect for graduation, birthday parties, and similar events.
10. Tree Cornrow
The tree cornrow is a great way to transform the basic cornrow and it's so easy to do.
You just have to braid each section of hair towards each other in small-sized cornrows then join all that into one giant cornrow. Repeat in as many sections as you choose and you're good to go.
11. Blowout
This is another gorgeous hairstyle for Nigerian kids, especially teen boys. It is done by using a clipper to 'clean up' the edges and then using a blow-dryer on the hair to make it appear this way.
Similarly, if done on natural hair, a texturizer can be used to blow out the hair to achieve the same look.
12. Cornrowed Hearts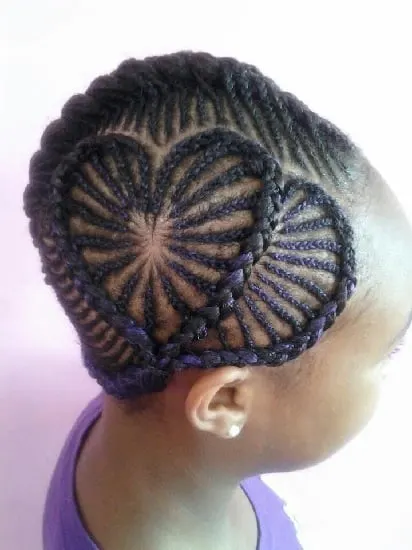 There are many ways to let a child know that they are loved and one creative way is to design hearts into their braids as in the image above.
It can be styled in so many ways so long as the stylist can include hearts not only behind but in front so whenever she looks in the mirror, she remembers that she is indeed loved.
13. Slicked Updo for Nigerian Kids
Buns are really simple to make, but they can look basic on a kid. In order to prevent this from happening, try jazzing it up like in the image above, you can never go wrong with accessories, especially not on children.
14. Fade and Curl
This fade cut would make any boy feel as fresh as his cut. The curls on top are just the icing on the cake to make him look presentable and smart.
15. Nigerian Kid: Go With The Cornrows
Although cornrows on boys is not a widely accepted kid hairstyle in Nigeria, there's no denying that it does make a good hairstyle for them. For the progressive and bold parents, neatly braided cornrows like this would make your little one the envy of his peers.
16. Dyed Top and Line hairstyle for Nigerian Kids
Adding some color to hair has been changing ordinary hairstyles from as far back as we can remember.
This line hairstyle is better suited for Nigerian teen kids considering that adding color to the hair of kindergartners is frowned upon culturally.
You could try using spray-on dyes, pastel chalk, colored chalk to get a color if you are scared of damaging your child's hair with permanent dyes
17. Nigerian Little Boy Locs
We know that in Nigeria, locs are seen as a grown-up hairstyle. But there are many kids who wear locs, although mostly for religious reasons.
If your kid wears locs, they could clean it up with this shaven look. If you are thinking of locing a Nigerian kids hair, this is also a great inspiration to consider.
18. Nigerian Little Girl With Colorful Braids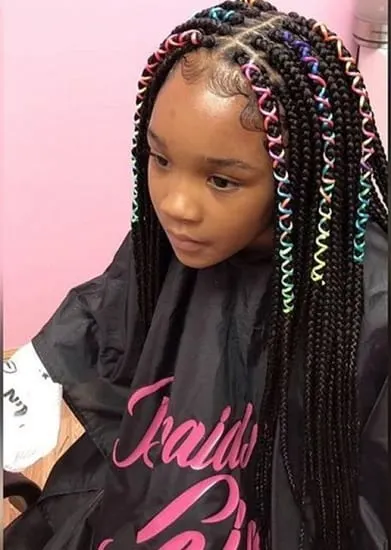 Box braids for kids are one of the most convenient Nigerian kids hairstyles. They can be accessorized with beads, clips, and barrettes.
But a new and cheap accessory to use is a thread, a colorful one. Winding it around the braid would create a gorgeous look like in the image above.
19. Shuku with Faux Bun
The shuku is a hairstyle that involves braiding the hair upwards into a bun. An intricately woven cornrow like this in addition that elegant braided bun and bow is the perfect recipe for an amazing kid hairstyle.
20. Two Shukus
Double braided buns are one of the most popular braided hairstyles for Nigerian kids. It's rare to attend a kid's party without finding even one little girl rocking this hairstyle. It is simple, classy, and cute, allowing them to be just kids.
21. Cornrowed Top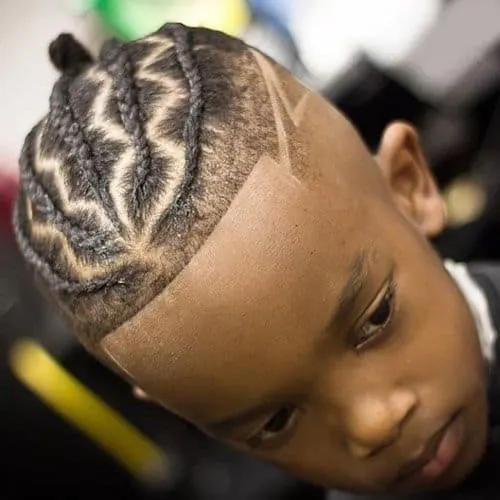 The faded top is a wonderful hairstyle for Nigerian kids on its own. But when you add cornrows to the mix and tie it up in a little kid bun, this kid is sure to stand out in a crowd.
22. Afro
Boys don't always have to get a haircut, sometimes just let their little afro be free, no add-ons no accessories, just a good old afro.
What Are the Most Common Hairstyles for Nigerian Kids?
Afro Puffs
Imagine a ponytail with a burst of natural curls at the end. That's what we're talking about! Nigerian kids rock this hairstyle by gathering their hair into one or more puffballs. It's simple, cute, and lets those natural curls have their moment in the spotlight.
Cornrows
Next up, Cornrows. Imagine rows of neatly braided hair lying flat against the scalp. You can go simple with straight lines or get creative with shapes and designs. It's neat, it's stylish, and it's a classic that never gets old.
Bantu Knots
Say hello to Bantu Knots! Here, the hair is divided into sections, and each section is twisted into a small, tight bun. The buns look like little knots and can be scattered all over the head. It's fun, unique, and adds a touch of culture to the look.
Twists
\Take two strands of hair and twist them around each other. That's it! Twists are like the laid-back cousin of braids. They're quick to do, and you get tons of styling options. Wear them long, short, or even in a bun.
Braids with Beads
Kids love Braids with Beads. Why? Because beads are fun! The hair is braided, usually in cornrows or plaits, and then decked out with colorful beads at the ends. It's like wearing a party in your hair!
Bob Braids
Picture the classic braids, but shorter and chicer. The hair is braided and then cut to bob length. It's sleek, trendy, and perfect for older kids who want to make a statement.
Dreadlocks
This Nigerian kid's hairstyle is where the hair twists into locks. It's low-maintenance and versatile. Boys, in particular, dig this look. You can wear them long, short, tied up, or let them hang loose.
Natural Curls
Natural Curls are all about embracing what you've got. No fuss, just wash, maybe add some curl cream, and go. From short fades to bouncy afros, this style celebrates the beauty of natural curls.
Flat Twists
Last but not least, Flat Twists. Think of cornrows, but twisted. The hair is sectioned and twisted close to the scalp. It's neat, lasts for weeks, and you can even mix it up with other styles. It's like cornrows, but with a twist.
Trending Topics