One of the effortless and sure ways to have a fun and fascinating little girl hairstyles is by accessorizing with beads. Little girl hairstyles with beads look glam and attractive in any occasion, both formal and informal ones. Creating them is also not difficult as all you need is a little bit of practice and patience. We created a list of the best kids hairstyles with beads that we are sure you and your little princess will love.
Little Girl Braided Hairstyles with Beads
These braided hairstyles with beads for little girls will undoubtedly look glam on your kid when dressing for either special events, for school or casual happenings.
When it comes to selecting the best-braided hairstyle for your little African girl, this little girl braided hairstyle with beads will be the best option. It appears elegant, sophisticated and will be ideal for any little girl with a long face.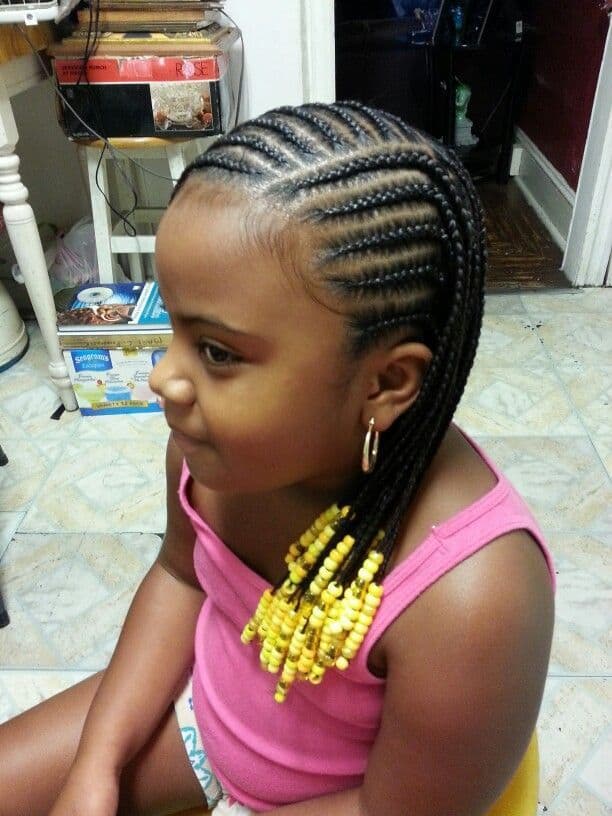 #2. Beaded Conrows for Black Girls
Look how the braids are installed on this beautiful black girl! Braids are installed into cornrows like braids on her scalp. Slightly above the ears, the beads are incorporated into the braids for a gorgeous look.
#3. Black Braided Hairstyle with Beads
This little girl hairstyle with beads incorporates both twists and braids. The front hair is styled into a gorgeous cornrow like braids and that at the back is styled into loose twists and left to hang freely.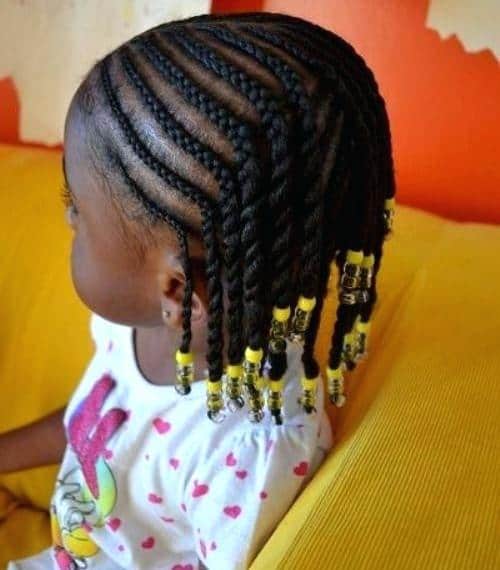 #4. Black Kids Braided ponytail with colorful beads
Do you want a braided hairstyle that will make your little princess look endearing? This kid braided hairstyle with beads will meet your needs. It is effortless and quick to create.
#5. Heart Shaped Braids with Beads.
African American little girls look exciting when their hair is styled into inventive braids and accessorized with beads. The uniqueness of the patterns of these little girls braided hairstyles with beads make it best little girl hairstyles with beads 2018.
#6. Pigtails Braided Hairstyle
Another way of creating braids on your little girl is by sectioning them in three sections and securing them as if you are creating a ponytail. The look is finished by adding colorful beads at the ends of braids in all the sections.
#7. Fine Hair Braided Hairstyle for Little Girls
This is specifically for little girls with fine hair. It is created by styling simple three strands and then accessorizing the trimmings with colorful beads. However, the braids design may vary depending on your girl's face type. If your girl has a squire or round face, you may want to style the braids around her cheeks. However, if she has a long face, any style will work pretty well.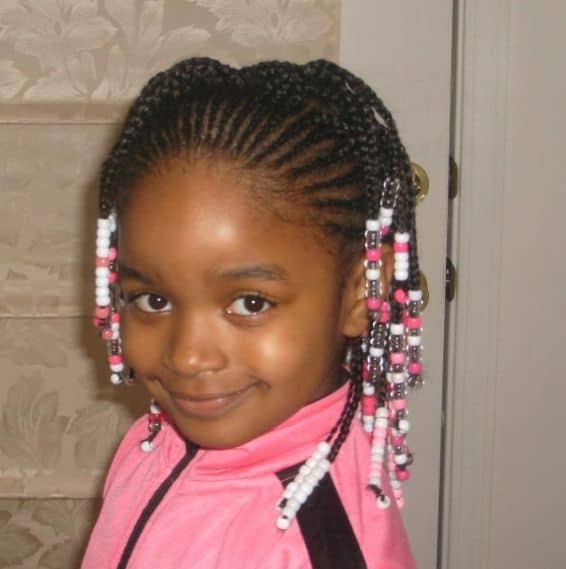 #8. Creative Black Braided Hairstyles with Beads
This braids with beads for black little girl hairstyle are the best choice for you if your girl has short hair and you've been wondering which style to suit her best. It shows a creative pattern of braids styled in a unique design.
#9. Medium Length Braided
Many thick braids with mid-length tresses for little girls. In this little girl hairstyles with beads, the braids are parted, not as the standard one-way braid, and tied with colorful beads.
#10. Little Kids Braided Beads Hairstyle
This hairstyle incorporates lots of braids that cover the whole head. The beads are not styled in a common style, but they are entirely placed on one side with a combination of braids.
More Black Kids Hairstyles with Beads
Black kids hairstyles with beads are everywhere on social media platforms. You know why? Well, beads are admired by many African cuties, both young and adult. Every natural haircut can be made more beautiful with lovely beads. For kids, beads are more preferred, since they can be experimented and played with in many ways.
Basically, kids want to mimic everything adults wear, and there are a variety of haircuts for kids that can aid them to create their own style. In the case of black kids with natural hair, there are unlimited opportunities open for them. Take a look.
#11. Natural Pigtails
This stunning hairstyle with beads for black kids will make your kid look cuter, innocent and playful. The pigtails can be made even more beautiful with extension, streaks, and ribbons. With this style, your little girl will become the attention of every friend group.
#12. Ghana Braids
If you like thick braids as well as using beads to highlight their glamour and volume, these Ghana cornrows are the perfect choice for you. The beads in between the braids give your girl a fun look.
#13. Heart-Shaped Braids
The heart-shaped style is undeniably one of the most loved black kids hairstyles with beads since everyone has a special association with the heart. If worn by a kid, you will be sure she possesses a lovable personality.
#14. Diagonal Braids
Braids have a variety of designs, and this style is winning the hearts of children as well as adults. It is a haircut that profoundly expresses African culture and vibrant spirit. The diagonal braid tips are made more beautiful with beads.
#15. Short Box Braids
When it comes to the hairstyles with beads for black women, versatility and variation are prime. If your kid has been wearing heavy updo styles, you can go for light, intricate braids. This will give her hair a break from, and she will get an opportunity to decorate her locks with many colorful beads.
#16. Crisscross Mohawk
With this beaded hairstyle for black kids, every black girl will appear unique and exciting. The crisscrossing styles are always natural and eye-appealing, and the beads only add accent on the dimension and creativity of this haircut.
#17. Curved Cornrows with The Beaded Ends
Another simple black kids hairstyle without much styling is the cornrow hairstyle. The beads at the end add individuality and personality to the hairstyle, hence getting full ownership of it. If the cornrows aren't straight, but curvy, they add some alluring effect to the hairdo.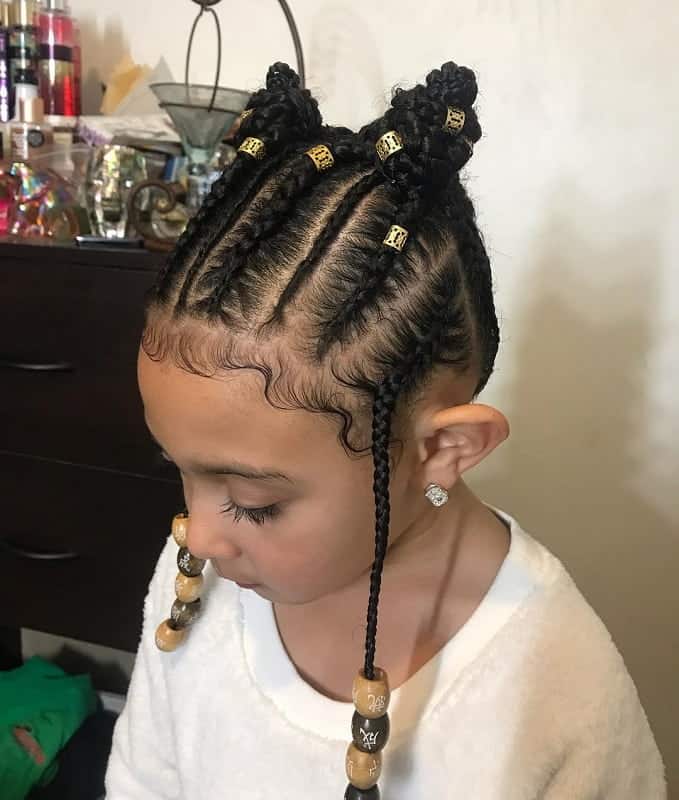 You can incorporate beads in any natural haircut. All you require is a little bit of creativity and thinking things outside the box! Take control of your kids style, and she will really like it.
Now there you have the best 21 kids braided hairstyles with beads. It is upon you to choose which one suits your little princess. Depending on her face type and her personality, you are sure you won't fail to get one style for her.