Between the age of 4 and 6, kids start taking more interest in their surroundings. Apart from expressing their emotions better and raising questions about everything children, especially girls become curious about their looks.
This is when hairstyles play an important part in making these little girls feel pretty. So if you are a toddler mom looking for creative hairstyles to make your little one look like a star every day you are at the right place.
With so many options available we have hand-picked the trendiest hairstyles and haircuts for 4, 5, and 6-year-old girls. You'll love them all.
Hairstyles for 4 Years Old Girls
At such a young age there are no limits to follow. Just remember not to overdo the hair. Apart from that choose any hairstyle you and your little one like! Here are some cute hairstyles for 4-year-old girls.
1. Twintails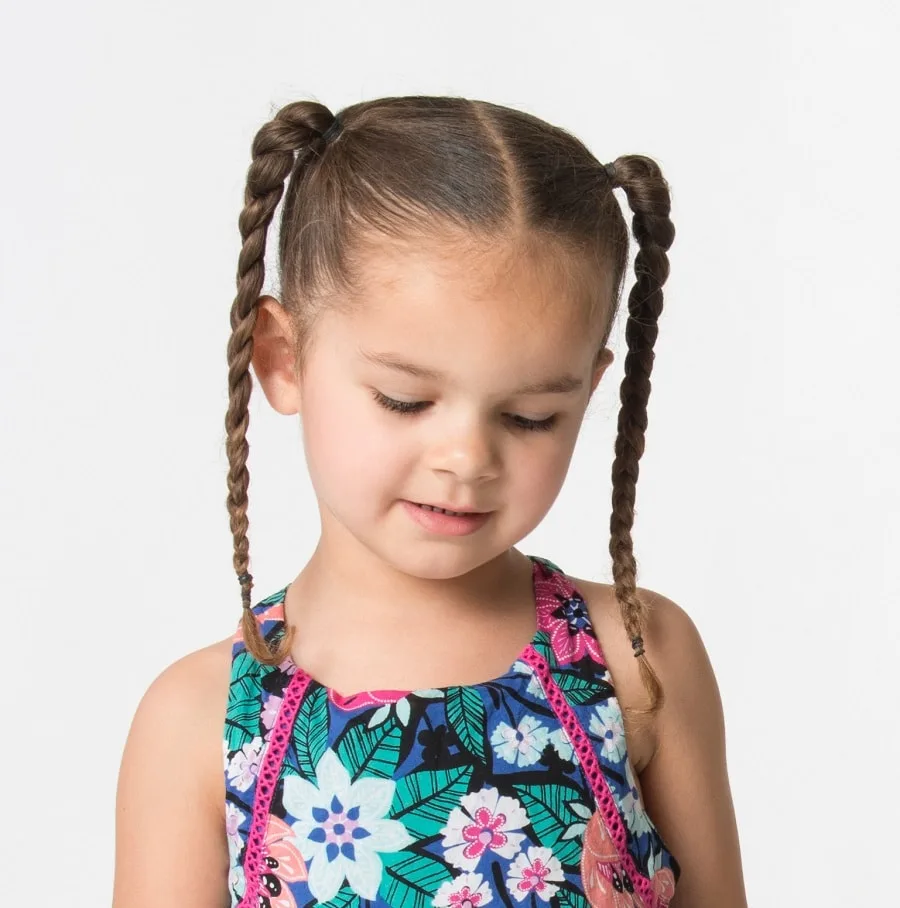 Most common but the cutest hairstyle for little girls is ponytails. Starting with the basics, some 4-year-olds get irritated by all that hair getting into their innocent faces.
Well, that's where twintails come to the rescue. Slick back those tresses into two ponytails and braid/twist them down. Apply some pomade for a neat finish and done!
2. Half-Up, Half-Down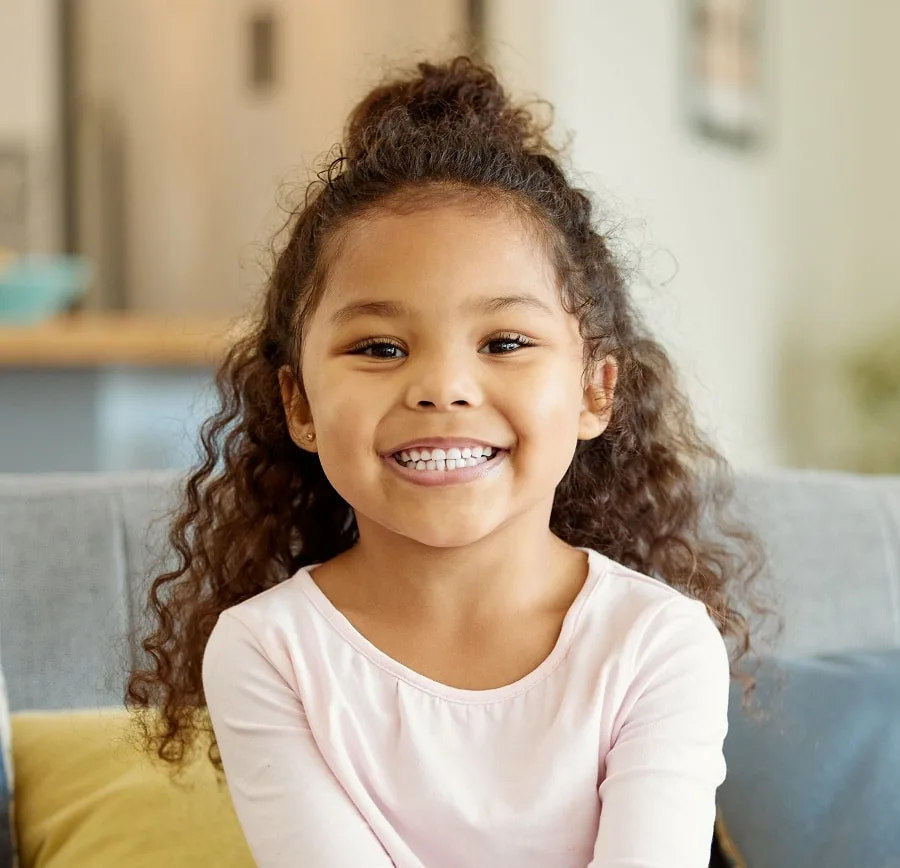 Half-Up hairstyles are not only timeless, but they are also ageless too looking as good on little girls as on mature women.
Regardless of the hair texture, take half of the strand and whirl them around into a chic bun sitting on top of the head. Leave the remaining mane loose at the back.
3. Hime Cut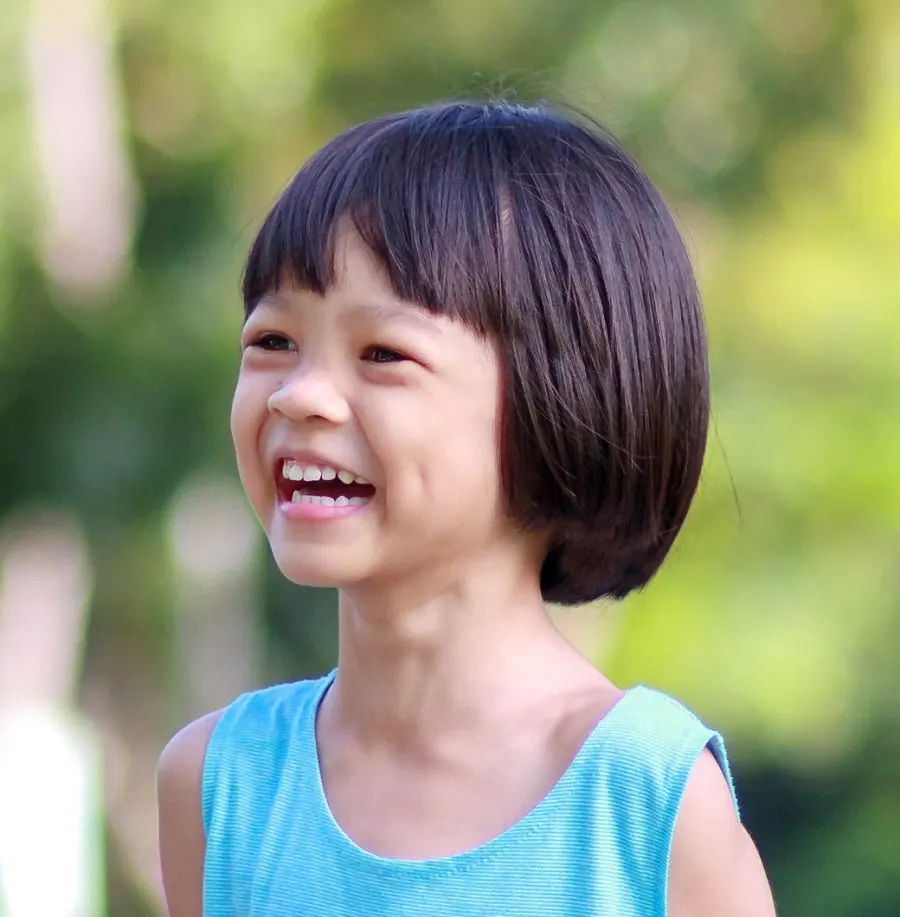 The Hime cut is a traditional Japanese haircut defined by cheek-length side locks and bangs with longer hair at the back.
If your toddler has got a straight mane naturally this hairstyle is worth a try. You can choose the length you want as long as the side locks are kept short.
4. Bantu Knots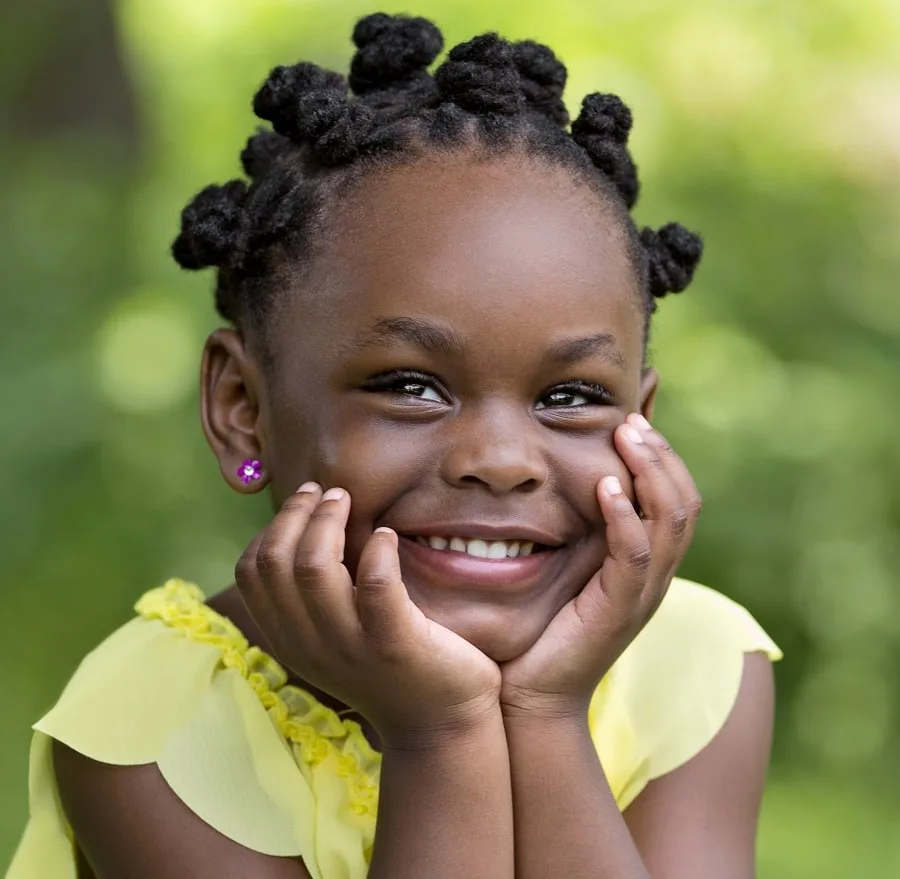 Black moms can protect their daughters' kinky curls from any damage with Bantu knots. Partition the hair, twist the sections around themselves creating tiny buns all over the head, and secure them in place with pins.
On untwisting the knots you'll be surprised by well-defined bouncy coils. Another cute afro hairstyle for your little girl for free!
5. High Ponytail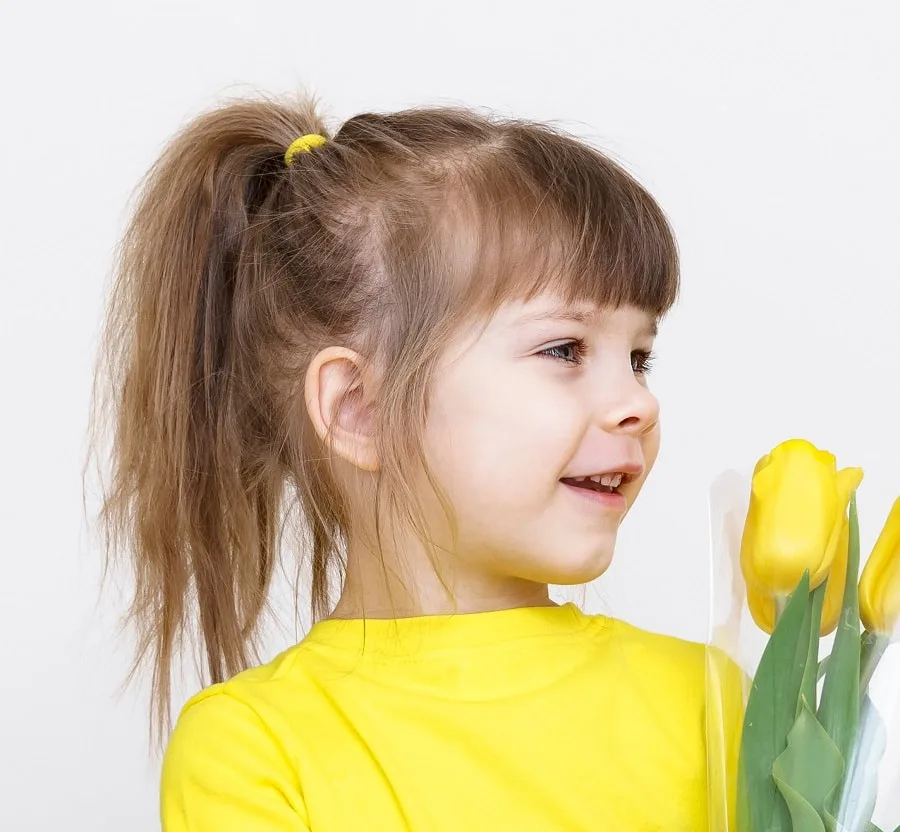 Having a busy day? Or rather a lazy one? Detangle and assemble your kid's hair in a high ponytail at the back with bangs framing her face at the front. Don't worry about a little mess as it adds up to the look.
6. Colorful Rope Twists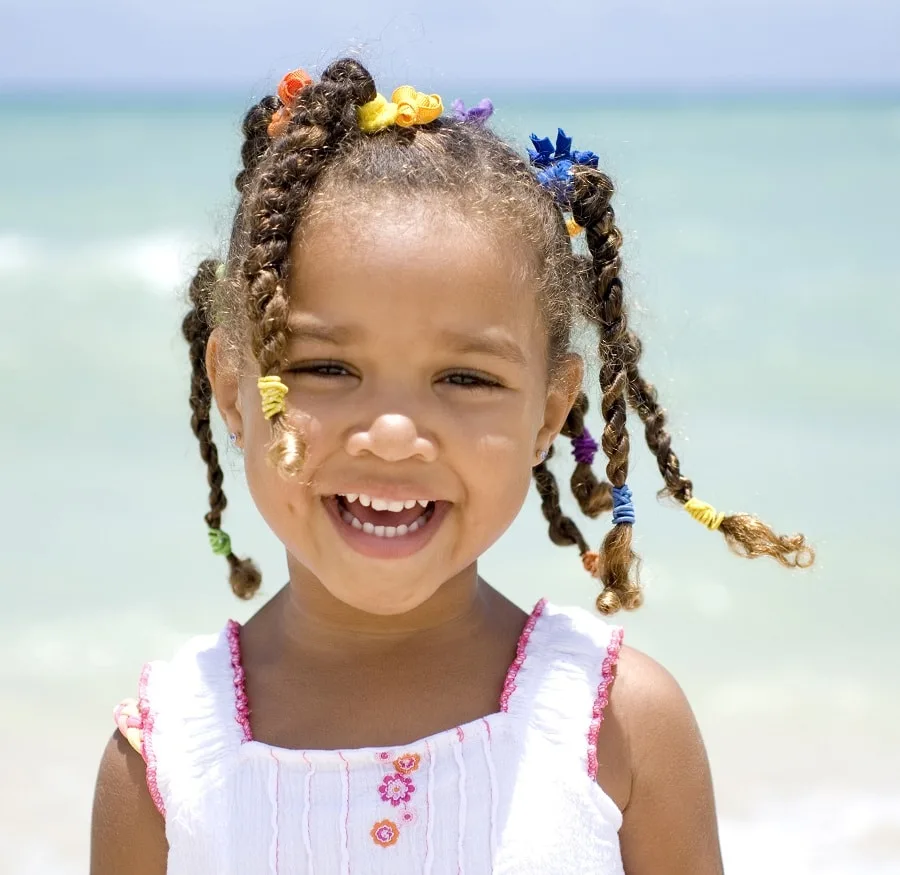 Colorful hairstyles like this attract 4-year-old girls the most. Use multicolored hair ties when creating as many ponies as you want. Divide the ponytails into two sections and wrap them around one another resulting in stylish rope twists that won't be overlooked.
7. Loop Buns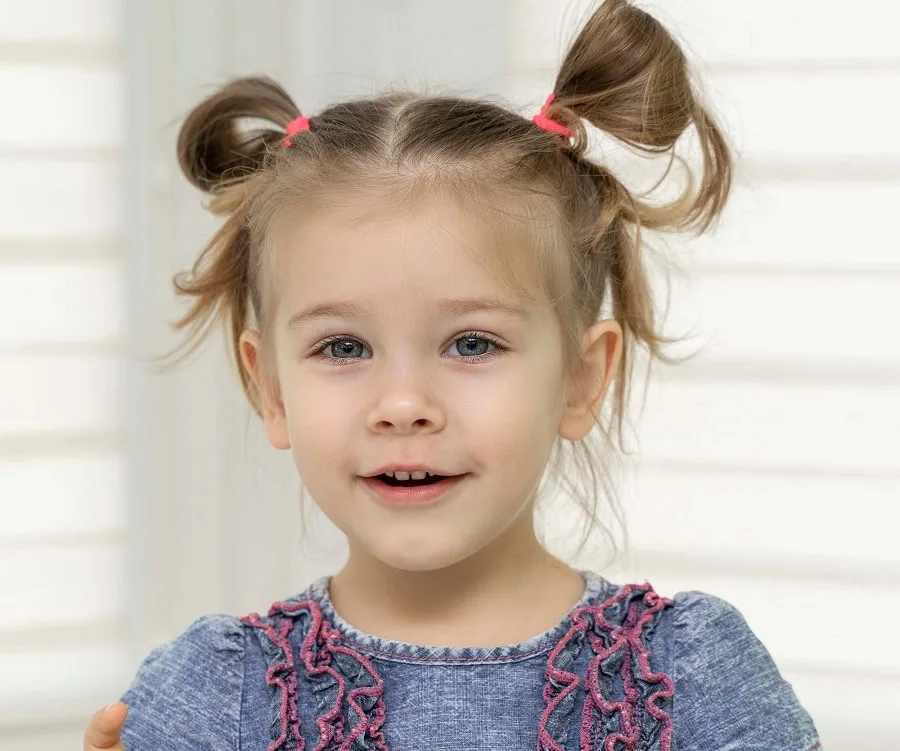 Little tricks and tiny details are sometimes enough to set a hairstyle on fire. Add a twist to those boring pigtails by pulling them halfway through the rubber bands resulting in funky loop buns that are sure to bring a smile to your little star's face.
Hairstyles for 5 Years Old Girls
At the age of 5, your little girl is ready to start school. Time for some hairdos to impress her friends! Here are super cute hairstyles for your 5-year-old little princess.
8. Long Bob + Bangs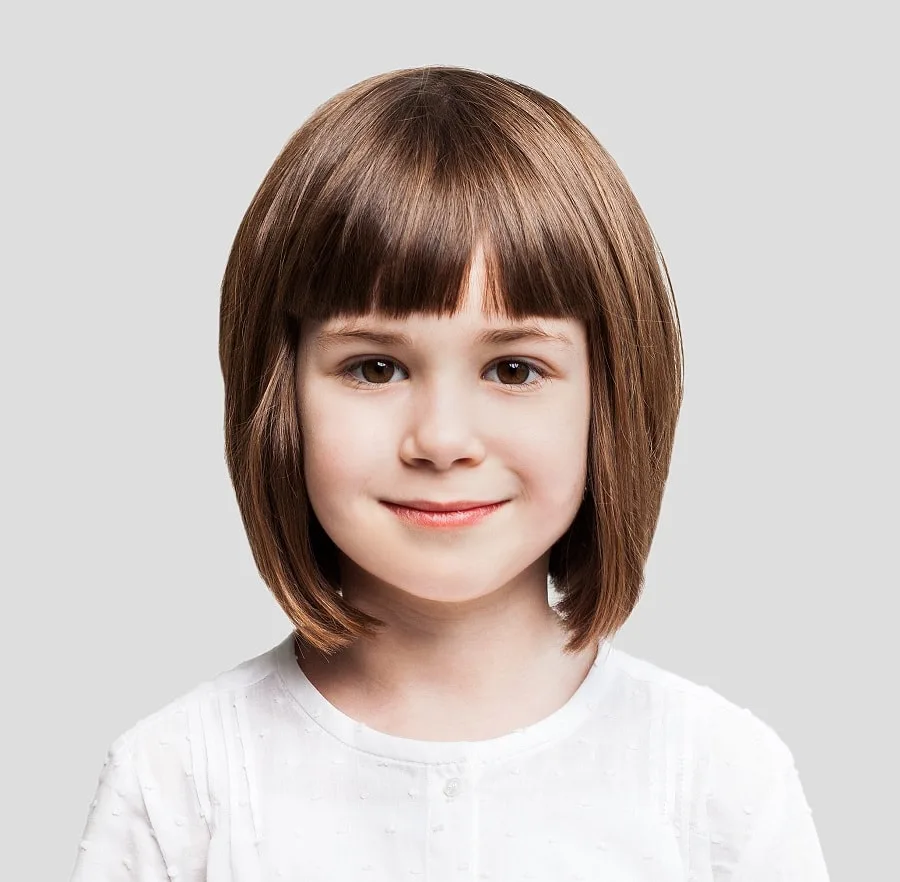 This classic haircut is ideal for your 5-year-old girl to begin her school journey with confidence. Instead of opting for a short bob or shoulder-length lob keep it chic with a neck-length blunt haircut and straight bangs grazing the brows. Brush the hair and voila!
9. Side-Swept Afro Puff
African-American little girls should be taught to own their afro fluff from the very beginning. While keeping the mane loose on most days slick it back into a puffy ponytail for a change tilting it on one side for an edgy appeal. Put on a headband and that's it!
10. Messy Updo
At school parties and formal events, there is no need to book expensive salon appointments for your kid. Recreate this messy yet dressy updo by curling the strands and piling them on top of the head leaving some chunks loose for an undone look. Don't forget to add a fancy hairpin!
11. Bubble Braids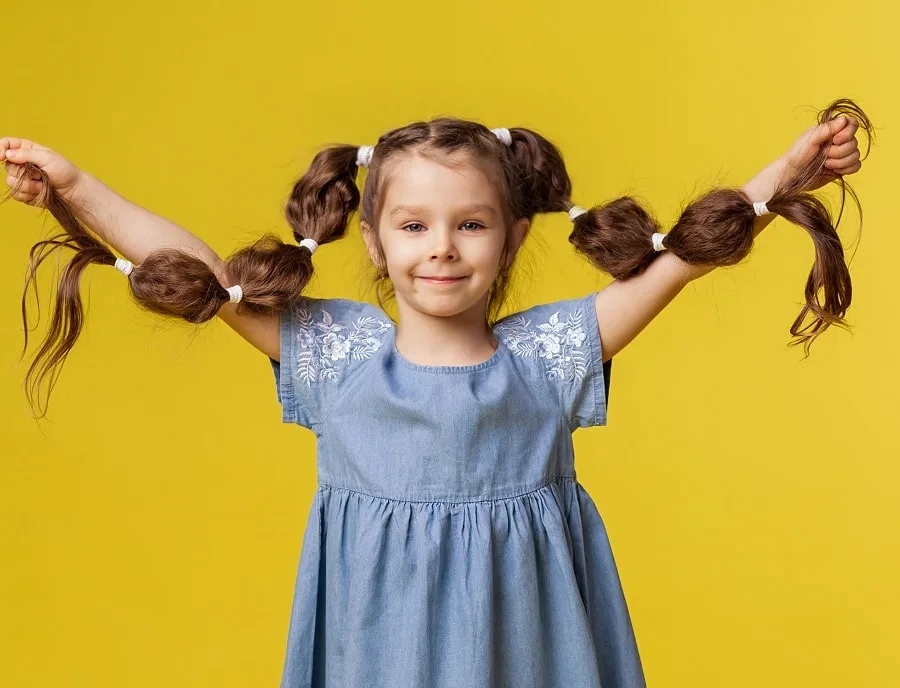 Looking for cute braided hairstyles for your little girl? Long tresses can be difficult to handle both for moms and their daughters. But that does not mean chopping off all that precious length. Apart from plaits and buns, add multiple ponytails along the length of those pigtails resulting in playful bubble braids that won't go anywhere the entire day.
12. Pinned-Back Look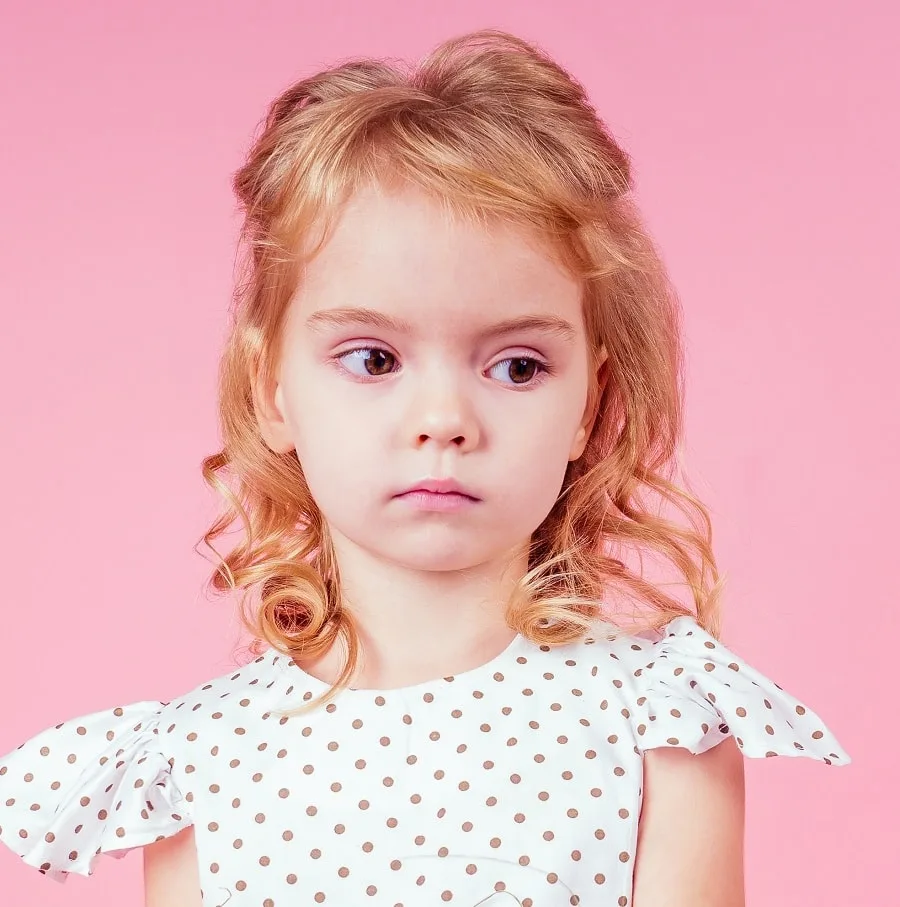 If your 5-year-old has got a head full of curls refresh them with soft layers falling on the shoulders with or without bangs and pin the front strands away from the face at the back. Can't get any easier!
13. French Braids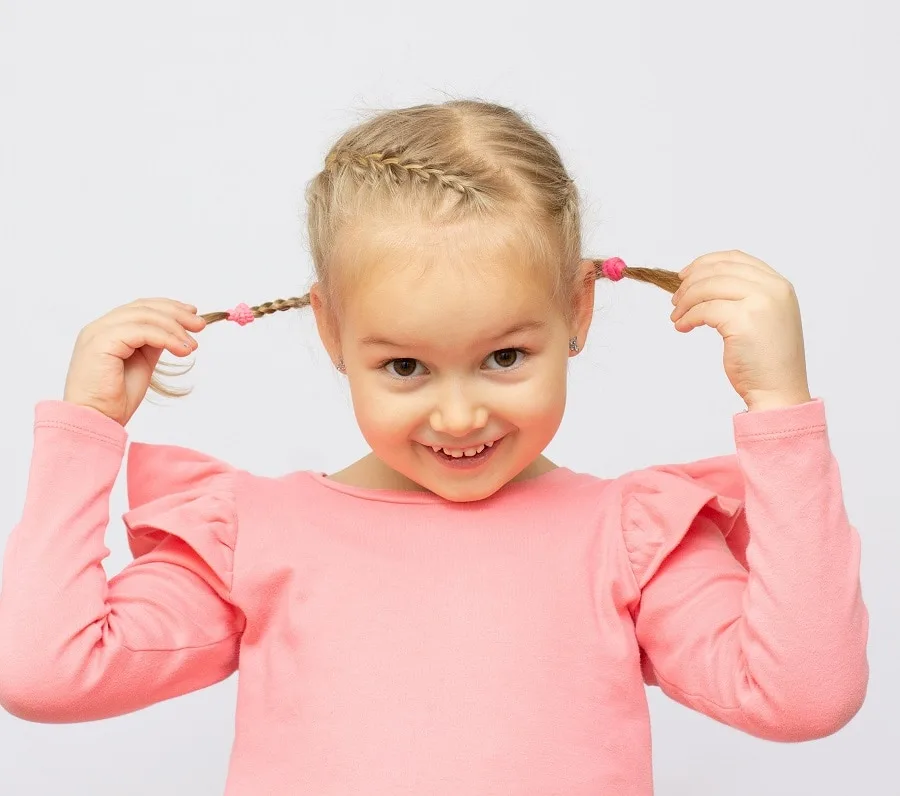 French braids look cute on girls even with fine locks. Rather than going for a traditional single French braid or double knits carve out a side parting and plait the strands diagonally for an eye-catching hairdo while taming the mane skillfully.
Hairstyles for 6 Years Old Girls
As a 6-year-old's thinking and physical skills continue to improve so should her hairstyles! Here are some amazing 6-year-old little girl hairstyles that'll make your princess look cuter.
14. Side Pony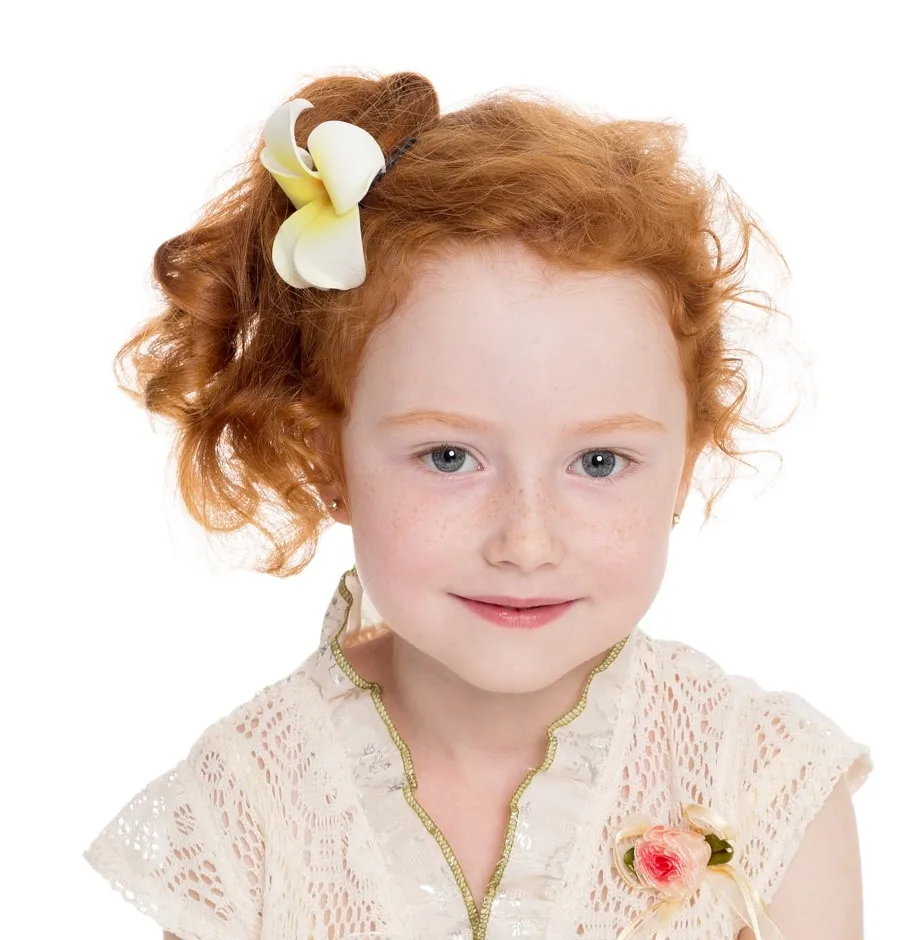 When you just get out of ideas gather the tresses on one side of the head and secure them with a fancy hair tie matching your young one's outfit. Amp up the look further with oversized hairpins and clips or leave it simple. Whatever you like!
15. Half-Up Double Buns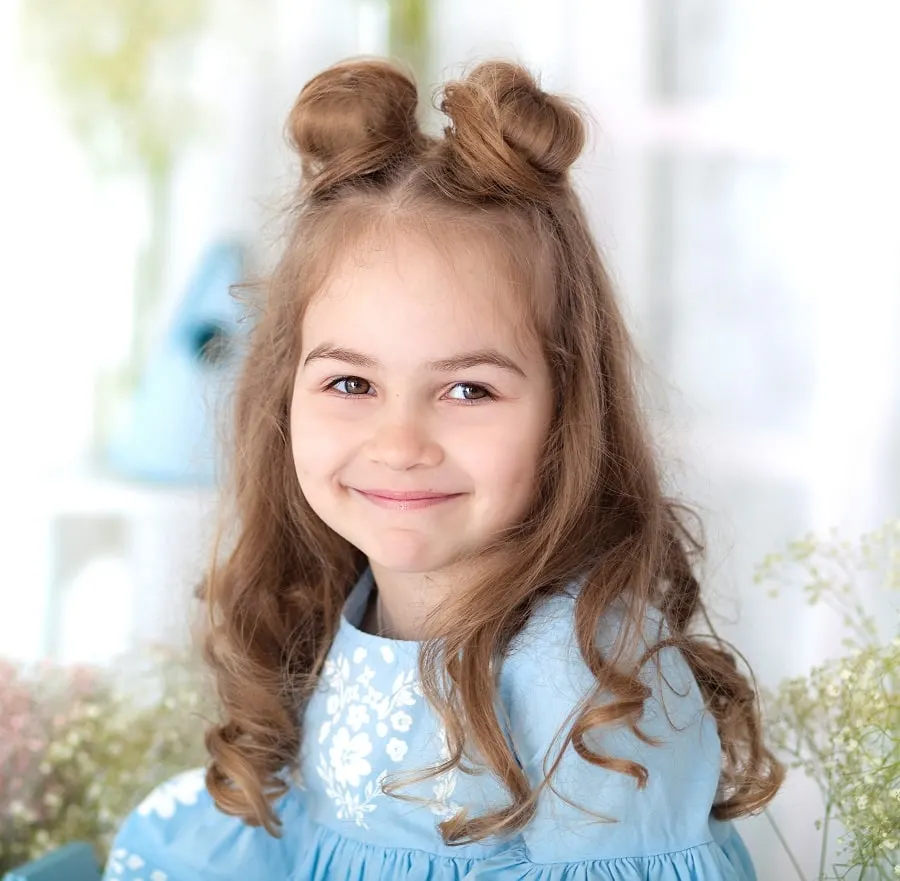 A boring updo comes into mind when hearing of buns. But that's not the case. Buns are the most versatile hairstyle for school-going 6-year-old ladies enabling them to rock a new look every day. Take this style as an example where double buns are coupled with a half-up hairdo.
16. Pretty Pixie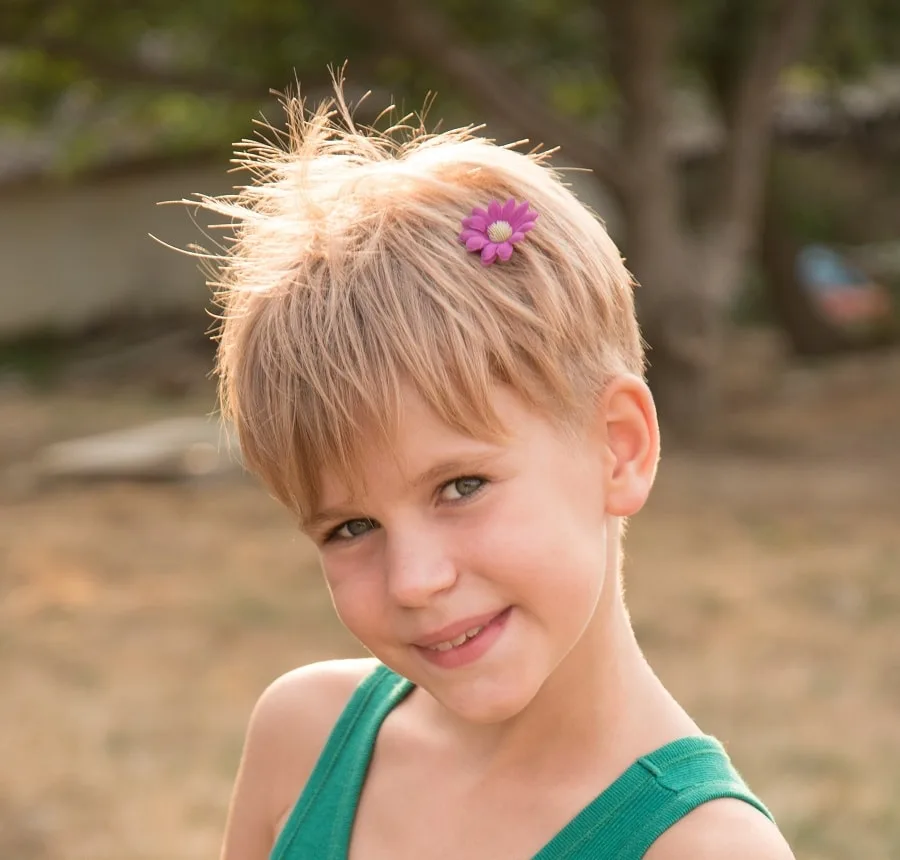 Considering moms who are just not good at hair styling or don't have the time to it is better to go with a short haircut for your young lady.
Give a short bob a try or opt for a textured pixie with an undercut. Keep it girly by adding one or more floral hair clips.
17. Space Buns
If your kid hasn't rocked space buns yet she is really missing out. These double buns sitting on top of the head look groovy without a doubt and are ideal to get through an oily hair day. All you need to do is create two ponytails and wrap them around into buns.
18. Catchy Cornrows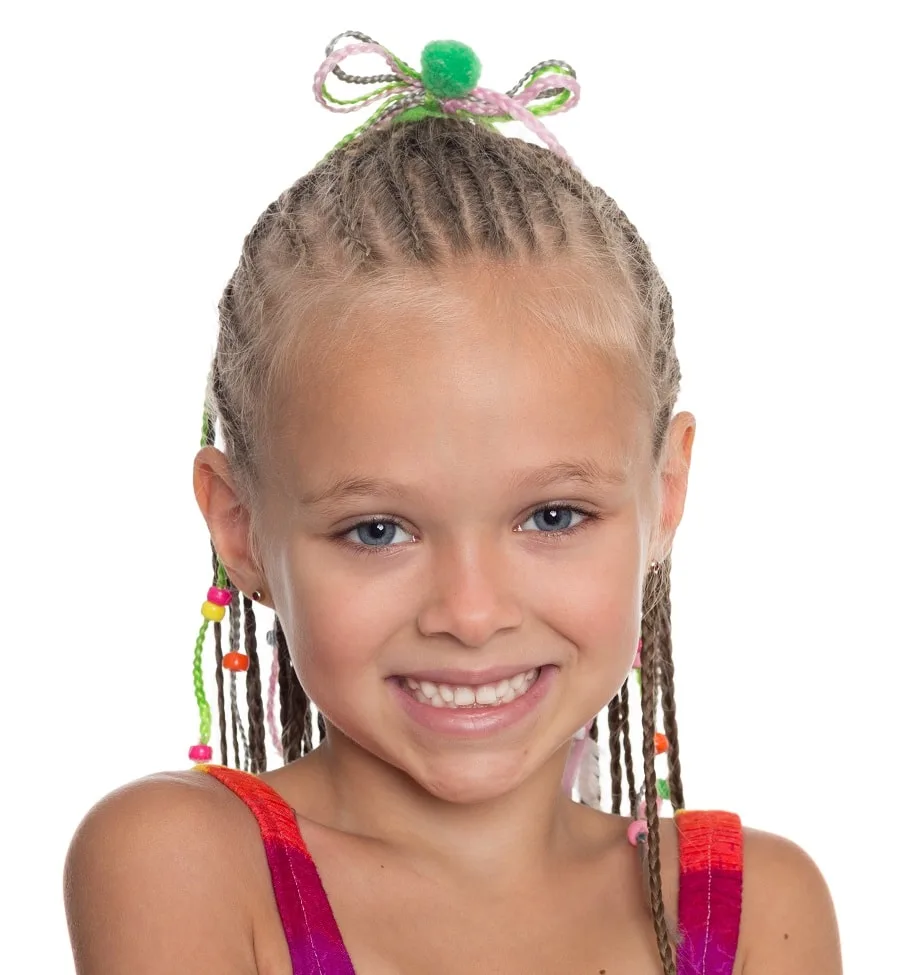 Contrary to common belief cornrows do not belong to any specific group or race. They can be rocked by anyone regardless of age and gender. So if your girl is attracted to braids, get her the finest scalp plaits with vibrant-colored beads all along the length.
19. Multiple Ponytails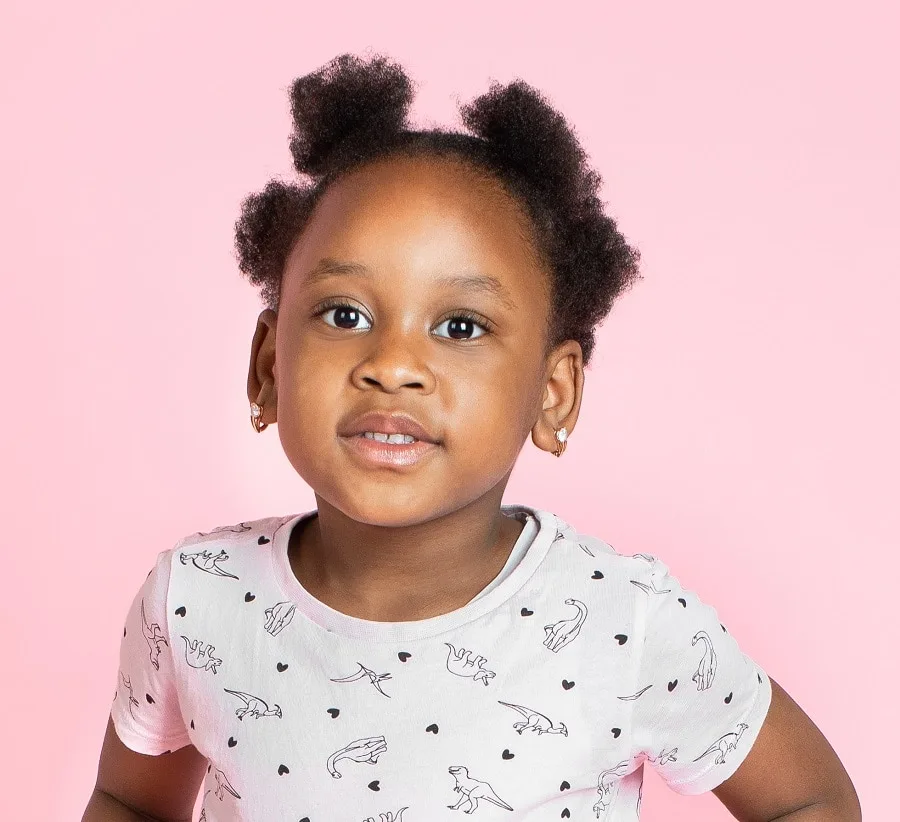 Turn a little one's hairstyle into one of a kind by sectioning the afro hair and creating multiple ponytails on the entire head. Leave the rest to those natural kinky curls as they will fluff up into teeny tiny clouds that will surely be praised.
20. Layers with Curtain Fringe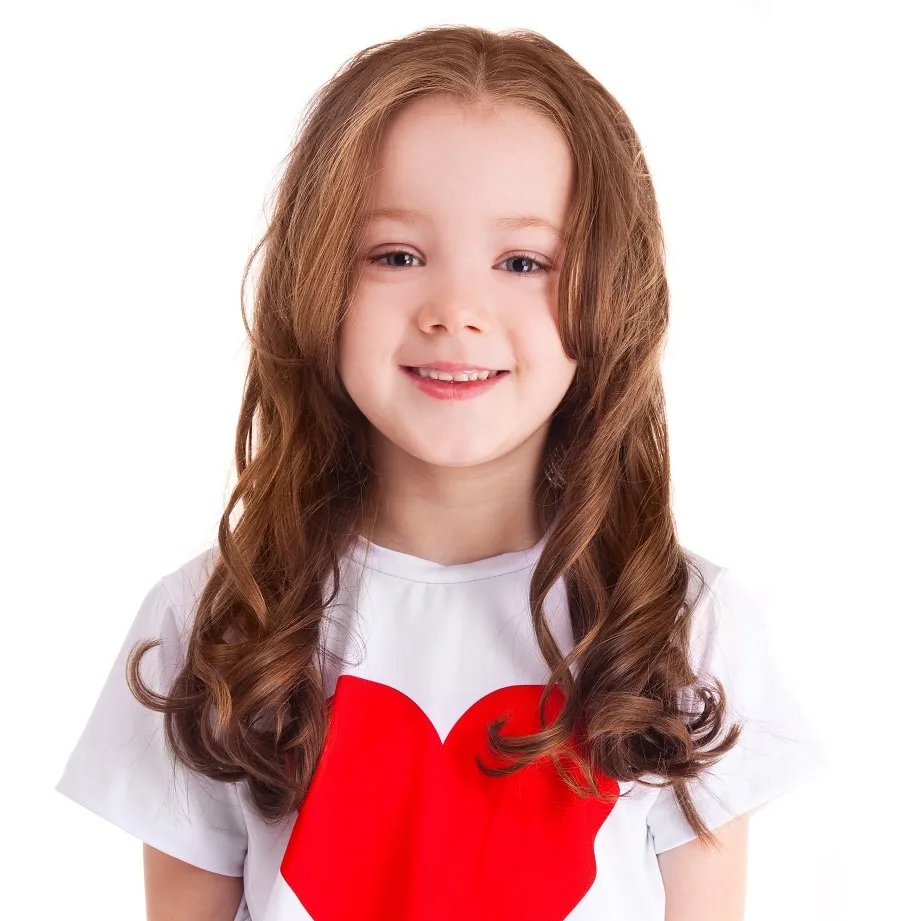 Give your 6-year-old fashionista a hair makeover by asking the hairstylist for soft layers with a blunt or U-shaped haircut and curtain bangs falling flawlessly on both sides of that adorable face. Curls are well deserved after a fresh haircut, aren't they?
Styling your young lady's tresses is a memorable time you are going to cherish years after. Enjoy it! Get creative, try new ideas, and copy these hairstyles on a 4, 5, and 6-year-old girl, or personalize them as you wish. How about some fancy accessories? Worth a shot!
Related Topics: