Little girls are just young women, and matters concerning beauty can't be new to them, regardless of their tender age. From their tenderest age, they show a significant concern in their makeup and always try to mimic everything they see with their moms.
Little girl updo hairstyles offer an excellent opportunity for creativity. Different intricate pigtails, elegant buns, playful braids, and natural-looking updo hairstyles can be very over-elaborate and multipurpose.
Updos for Little Girls
Basically, little girl updos look sweet and are easy to style. Always choose the best easy updo for your little girl. If your little princess has fine or thick hair with beautiful curls, let her allow them to grow longer so that she can get an opportunity to style a chic and a more sophisticated updo. To make this easy for you, we have compiled the best updos for the youngest fashionistas.
These are the cutest updo hairstyles for your little girl. Take a look and choose the one that suits your princess.
#1. Half Updo With Ribbon Braids for Little Girls
This beautiful little girl updo hairstyle incorporates some adorable adornments such as clips, hair flowers, and glamorous ribbons. Style a ribbon into the braids, and you will effortlessly transform a normal hairdo into a ceremonial one.
#2. Decorated Four-Strand Braid Flower
A ribbon braid is beautiful when it is let free to hung, and also makes an adorable updo. Make the braid into a shape of a flower, while loosening it as you swirl it. Add some flower clips to give it a more natural look.
The Best Hairstyles for Your Little Girl
#3. Little Girl Buns
When it comes to little girl updos, do not braid the hair, instead, twist it. This is one of the admired updo hairstyles for little girls. Part the hair at the center, and twist the hair in both sides from the front and increase the hair as you approach the nape, and coil the portions into buns.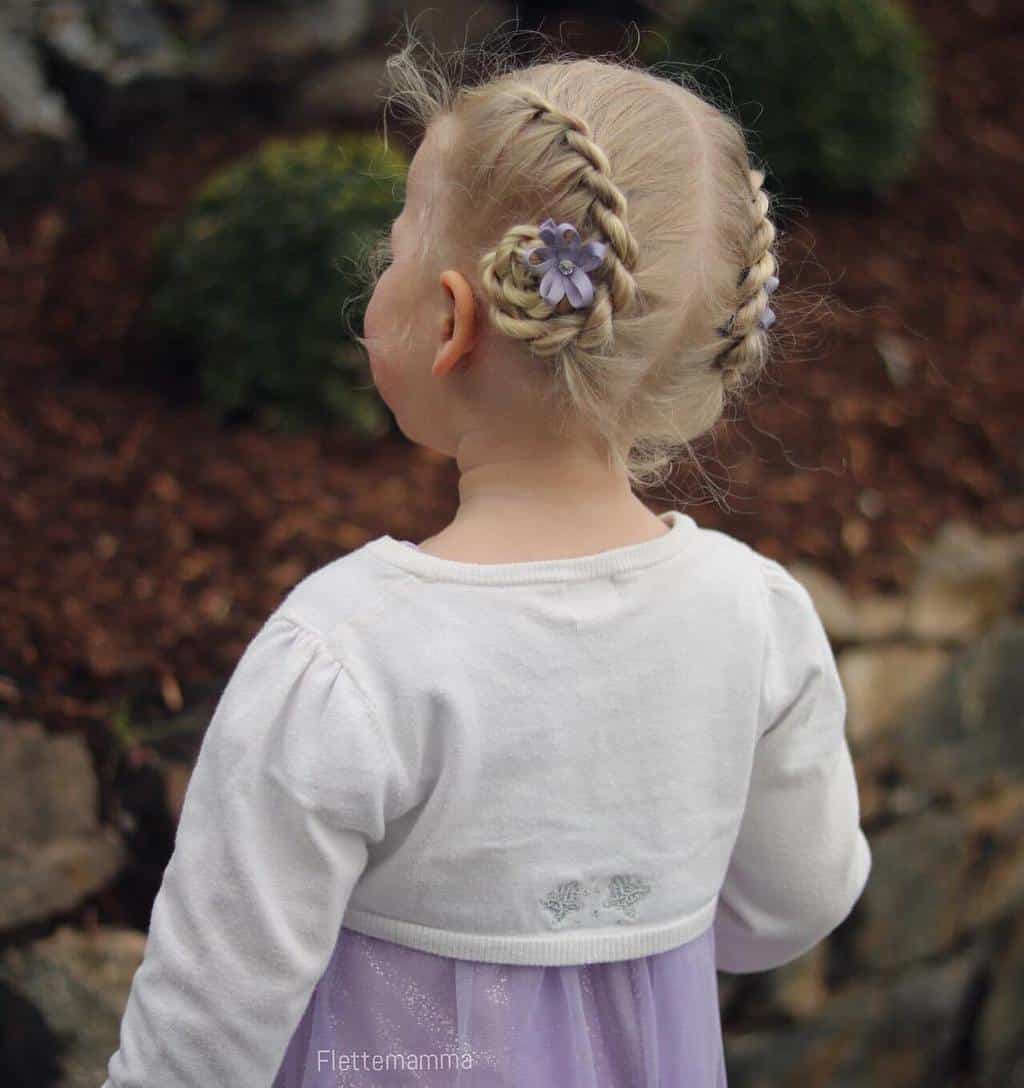 #4. Double Heart Pigtails with Bows
Little girls like fun haircuts, especially those which show particular shapes. This updo gives your pigtail a more fantastic look, thanks to the double hearts. The hair in the two sections is twisted to form the shape of hearts.
#5. Colorful Loop Faux Hawk
Faux hawks are the most sophisticated little girl updo hairstyles. It can be given a colorful upgrade by dyeing it. If your little girl has thin, hair comb it to increase volume and thickness.
#6.
#7.
#8.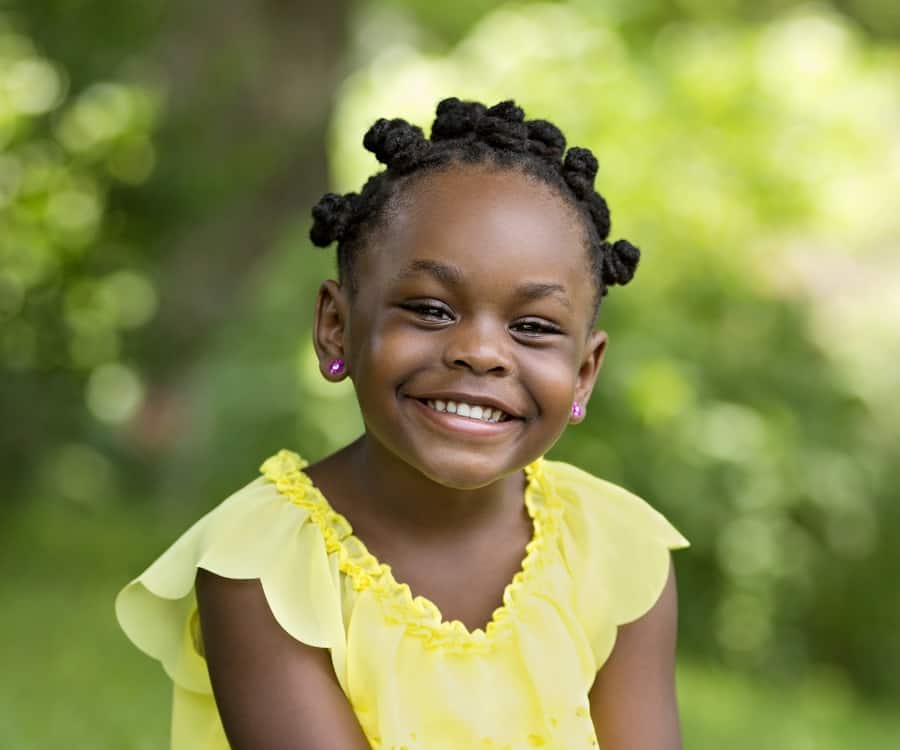 #9.
#10.
#11.
#12.
#13.
#14.
#15.
#16.
#17. Sweet Twisted Fishtail Updo
A half-updo can be made more exciting with braids. To achieve this look, part the hair down to the center and then divide the two parts into two distinct sections. French braid each section to the crown.
#18. Braided Style
Little girl updos are not for those with straight, smooth hair. Little black girls with thick hair can also rock this glam updo. It is an ideal style for hot summers.
#19. Braided Updo With A Middle Bun
This is created by coming up with eight braids from the underneath hair while pairing them in twos. Brush the remaining mane side to side and pull the braids up at the top of the head but near the forehead. Secure the remaining hair into a bun.
#20. Low Updo
The low updo for little girls is one of the easiest updos that offers a tousled, sophisticated and fun look. Try this hairstyle for more formal occasions such as musical performances or even for school. It is sure haircut to turn heads!
Little Girl Updos For Weddings
#21. Boho Updo
What another look can you recommend for your little girl apart from this gorgeous boho updo? The twists and braids bring this Bob-inspired hairdo together. Loose tresses contribute to the effortless vibe.
#22. Looped Bun Updo
Upgrade your bun using this updo. To achieve it, pull the manes into a bun shape. Semi-secure it. Loop the remaining hair around and over. Hold it with bobby pins and make it neat with hairspray. It is such an effortless look to pull off!
#23. Fancy curls updo
Using curling iron and rollers set your hair into voluminous waves, then pull it into a mid-length updo to finish the look. It is an ideal easy updo for little girls for a formal glam wedding saturated with satin gowns, crystal embellishments, and bright white flowers.
Cute Little Girl Updos With Tiara
#24. Polished Preppy Updo For Little Girls
A tiara is an essential accessory any little princess would love to wear. Let the princess in your little girl shine like diamonds regardless of where she goes.
#25. Hippie Double Braid with Tiara
Many little girls veer towards lustrous curls and white florals for formal events, but modern girls will like this multi-braid unique look with a tiara. If you are looking for a little girl updo for flower girls that suits perfectly to almost all formal events, this is an ideal style to consider.
#26. High Bun Updo With Tiara
If you want to accessorize with a tiara or if the dress of your little girl reminiscent ballerina, then go for this high bun. Hair clips, subtle flowers, and tiaras can be accessorized around the bun to hold it in place while styling it for a formal occasion.
#27. Side Twists
If a flower laurel, veil or a large tiara is put in place, consider stretching the sides of your little girl back into twists and fasten them at the back. This twisted updo for little girls is advantageous in two ways: it helps keep the hair intact in the front, so it doesn't become messy. Secondly, it offers support to the wreath. The style suits all lengths of the hair.
Braided Updos for Little Girls
#28. Braided Bun Updo for Little Girls
The multiple French braid style is complicated but it holds hair like a charm. It's ideal for long days at play where looking cute is still a must. The level of intricacy of the braids is pretty much left up to your skill. Fishtails work well here, too.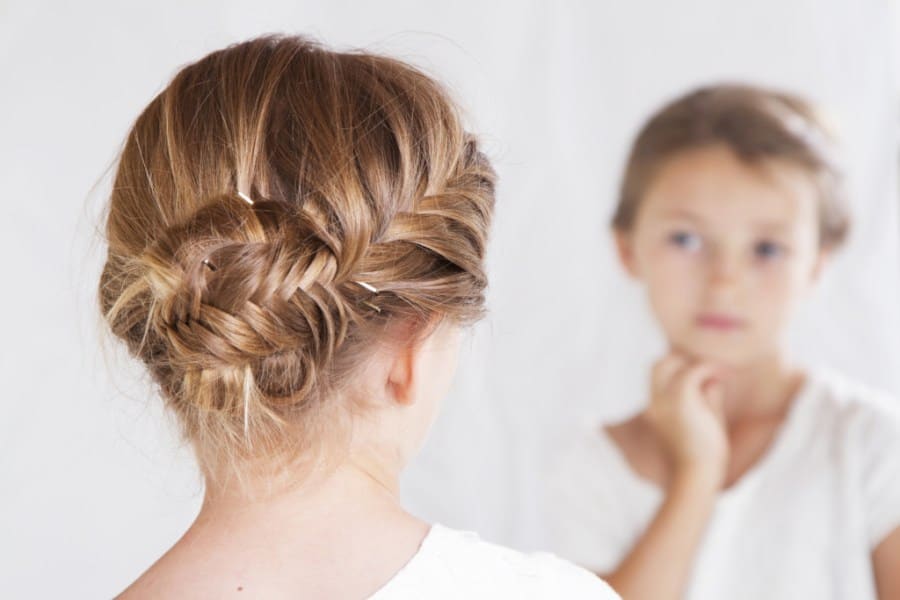 #29. Braided Double Bun Updos for Little Girls
Double braided buns work wonders on young girls with lots of hair. You don't have to create all of that intricacy at the nape of the neck, however. These space buns look just as cool on their own.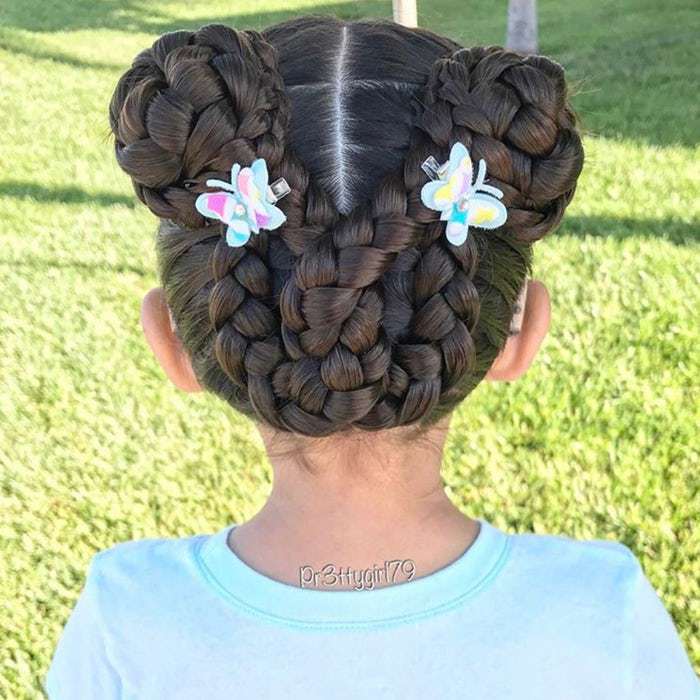 #30. Braided Side Ponytail for Toddler Girls
This sweeping side braid follows the natural curve of the head to create a style that is as functional as it is practical. It looks especially cool on sweet little girls with natural, sun-kissed highlights.
#31. Messy Bun Updo
This look is pretty sophisticated, so it is best when reserved for a formal event. To give it the oomph it needs, remember to create ample height at the crown of the head so the style doesn't fall flat.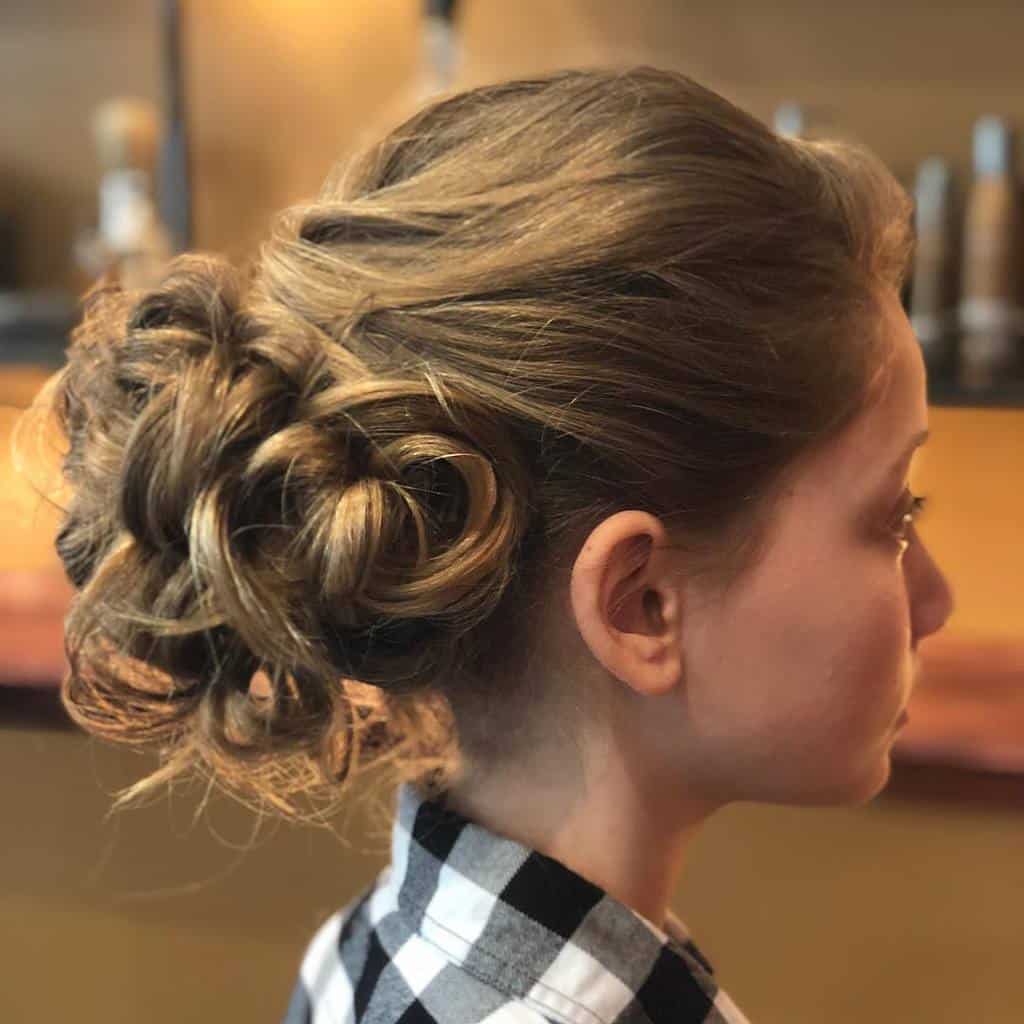 #32. Little Girl Bow Updo
Show her just how she sweet she is with a pretty little bow hairstyle. This look works best as a small accessory as opposed to one large hairstyle. Tilt it to the side for the best effect and add two end pieces for a ribbon look.
#33. Unique French Braids + Ponytail Combo
A ponytail is fine, but a french braid ponytail is super fun! Little girls love magical hairstyles like these and parents love them as well, thanks to their ability to be done and redone for multiple days of wearing.
#34. Bun + French Braid
French braids are the version of braids that keeps hair together best, making it a super secure and protective style for school, dance recitals, and long events. Use a donut sponge insert to help create a perfectly round bun at the back of the head.
#35. Party Braided Updo for Little Girls
Perfect for weddings or other formal events, this braid crown is romantic yet understated. Start with a braid at the crown of the head that rests over top a classic low chignon.
#36. Little Girl Updos With Various Braid Patterns
Why not have fun with it? Braids on updos are not only cute, but let's face it, they are practical, too! Little girls at play tend to get messy, and braids provide even more security for tidy hairstyles. From pigtails to braid crowns and space buns, there is so much variety to choose from.
#37. Complex Beauty
If the little girl in your life has a lot of hair, you may want to try a braided bun combo to help distribute weight and bulk. Start with a thick side braid that feeds into a large, round bun. Wrap the end of the side braid around the base of the bun.
Styling your little girl's hair into a beautiful updo is an exciting process that you are sure to enjoy to the fullest, once you start it. And more important, don't forget to take some pictures of her new look, since little girls grow fast, and every moment counts in their life. Those pictures of her hairstyles when she was young can make the best collection of her memories at the later date when she is grown.