Any small girl fancies knits, bows, and glittery hair clips, and if you want to make your kid feel like a real princess, these braided hairstyles for little girls will boost her confidence and make her look astonishingly beautiful.
Adorable Braided Hairstyles for Little Girls
At this young age, kids find various models to the cartoons they are watching or in adults that are around them and crave to become queens with imposing dresses and sophisticated hairstyles. We have gathered over 100 braided hairstyles for little girls, which your child will absolutely wish for.
1. Braided Space Buns
Give the traditional ballerina bun a detailed update by going for these braided space buns! Start with a braided section of hair down the middle, followed by two high ponytails that you then braid and twist into tight buns.
2. French Braid Ponytail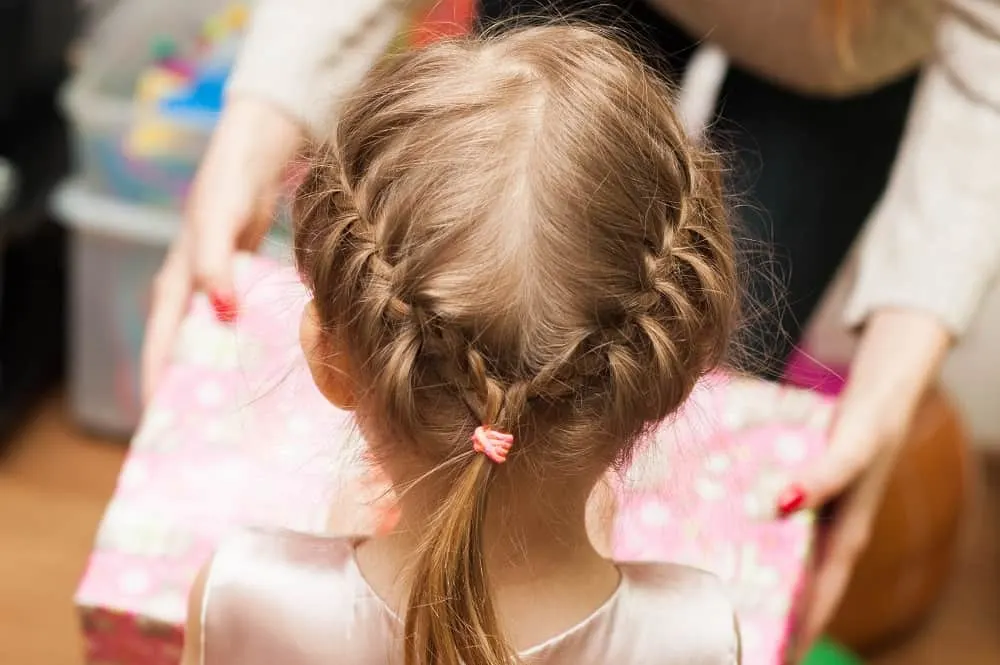 Instead of two low ponytails, go for two loose French braids that combine into a short low ponytail. It's perfect for the little girl in your life!
3. Claw Clip Braid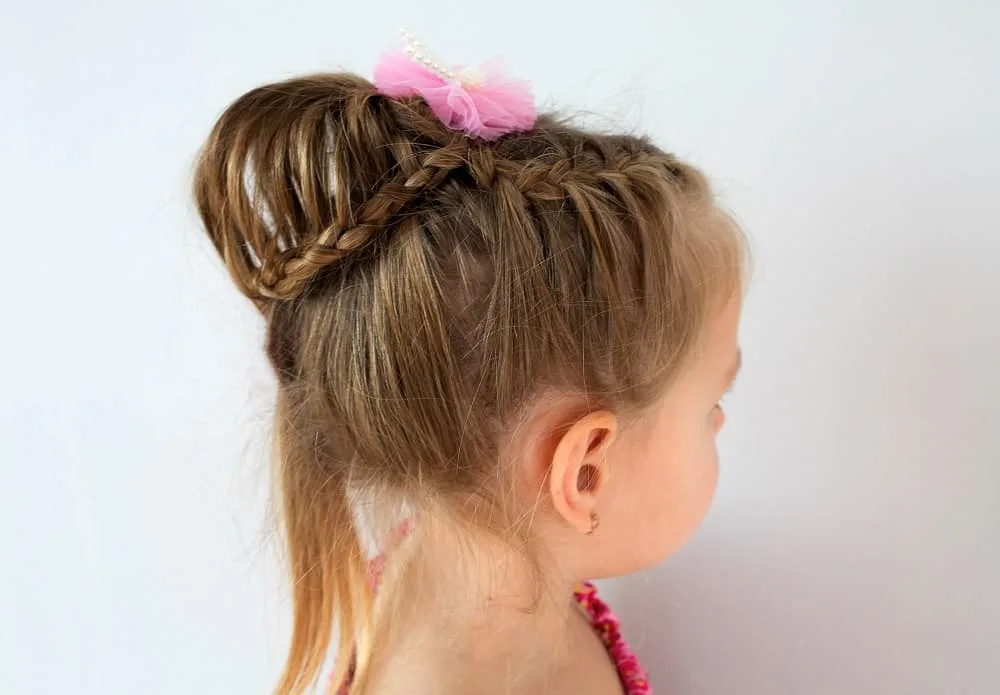 To get this sophisticated little girl's braided hairstyle, start with two Dutch braids at either side of the head. Braid them halfway back, then combine into a high pony secured with a hair claw.
4. Pull-Through Braid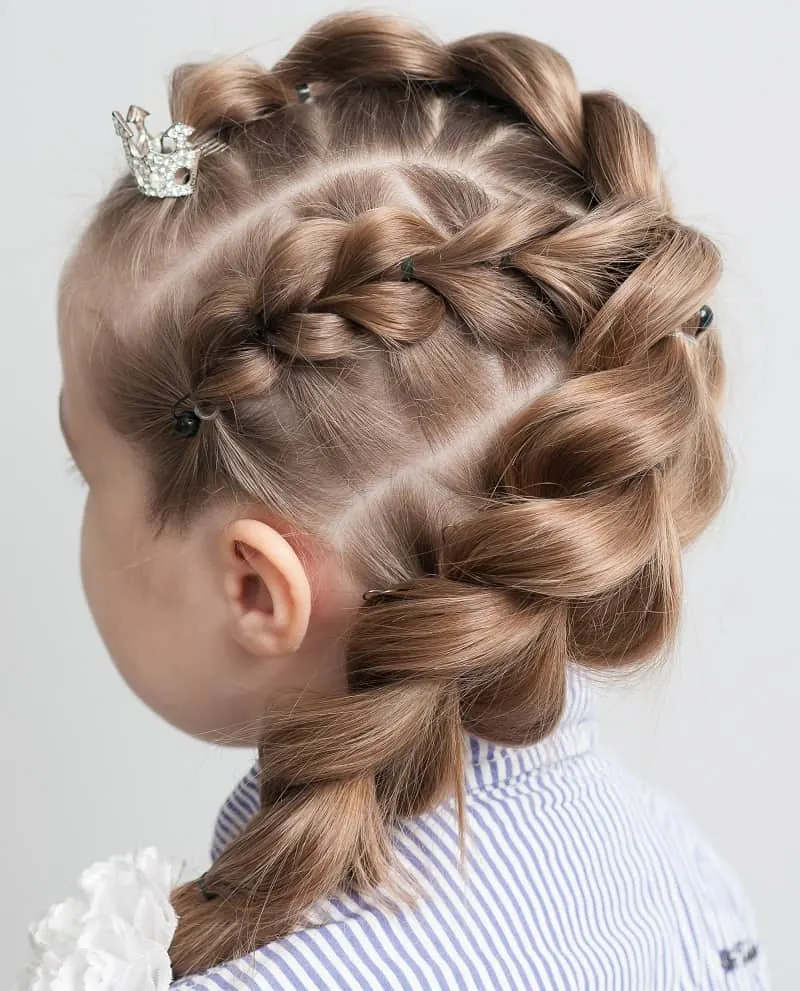 The pull-through braid is super chic and absolutely adorable on little girls. Start with three braids and combine them into one long one that can be draped over the shoulder. Adding flowered details will make this little girls braided hairstyle perfect for a fancy occasion.
5. The Five Braid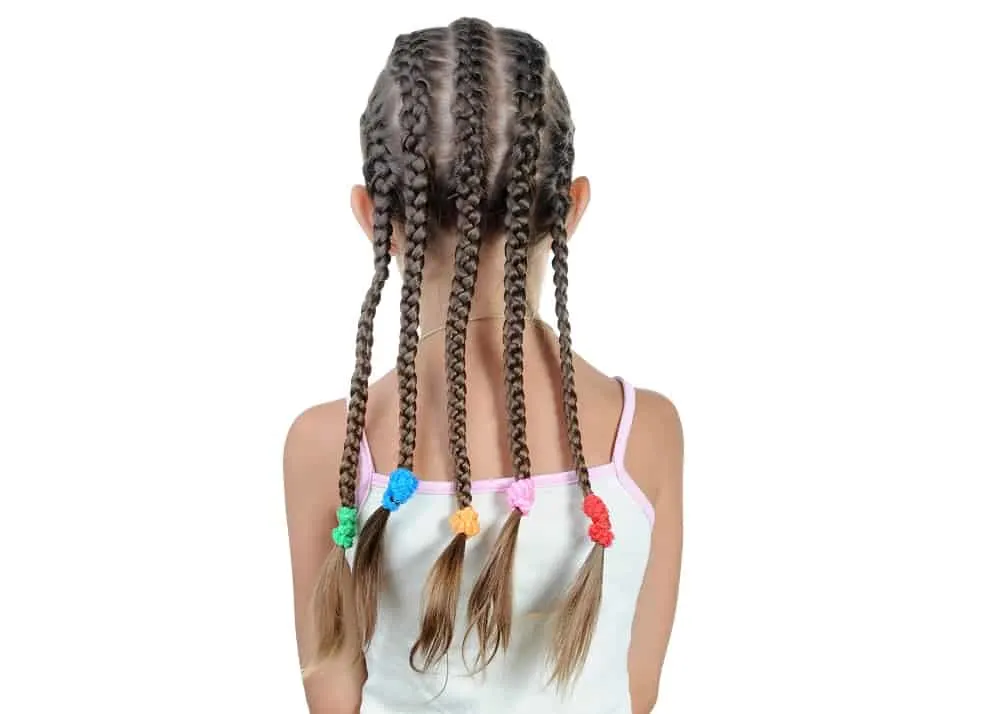 For little girls with long hair, a braided hairstyle that contains their hair while allowing them to be their playful self is a must! For symmetry, make your five braids the same size. Let your little one choose her favorite colorful hair ties to secure them.
6. Bubble Braids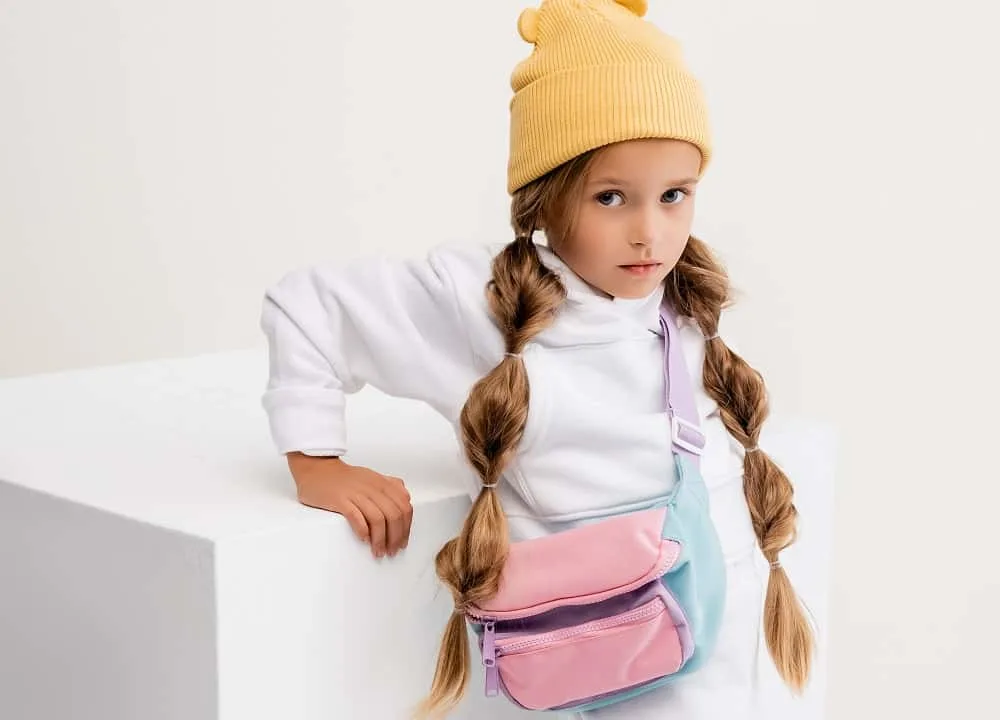 Bubble braids are a great braided hairstyle for little girls, especially if their hair is thin. For little girls with at least shoulder-length hair, make two low bubble braids to make her feel like Rapunzel!
7. Braid Extensions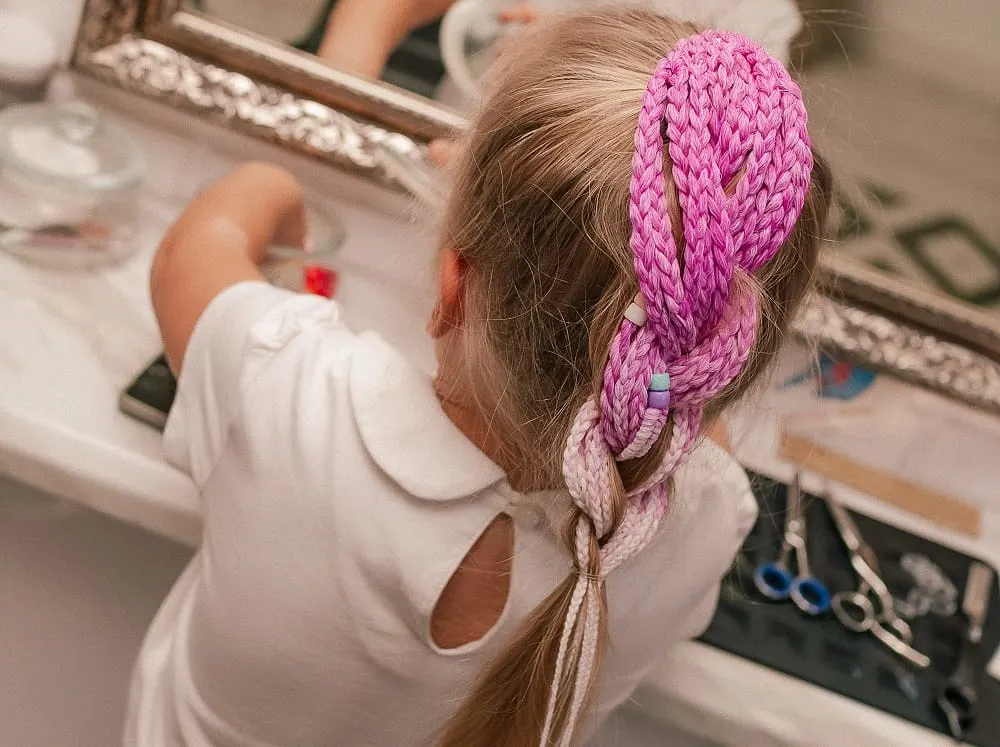 Colorful braid extensions are one way to give your little girl a fun braided hairstyle. Simply pick their favorite color, like the hot pink seen here. Then you can twist them into a high ponytail for a pop of color!
8. Half Braided Ponytails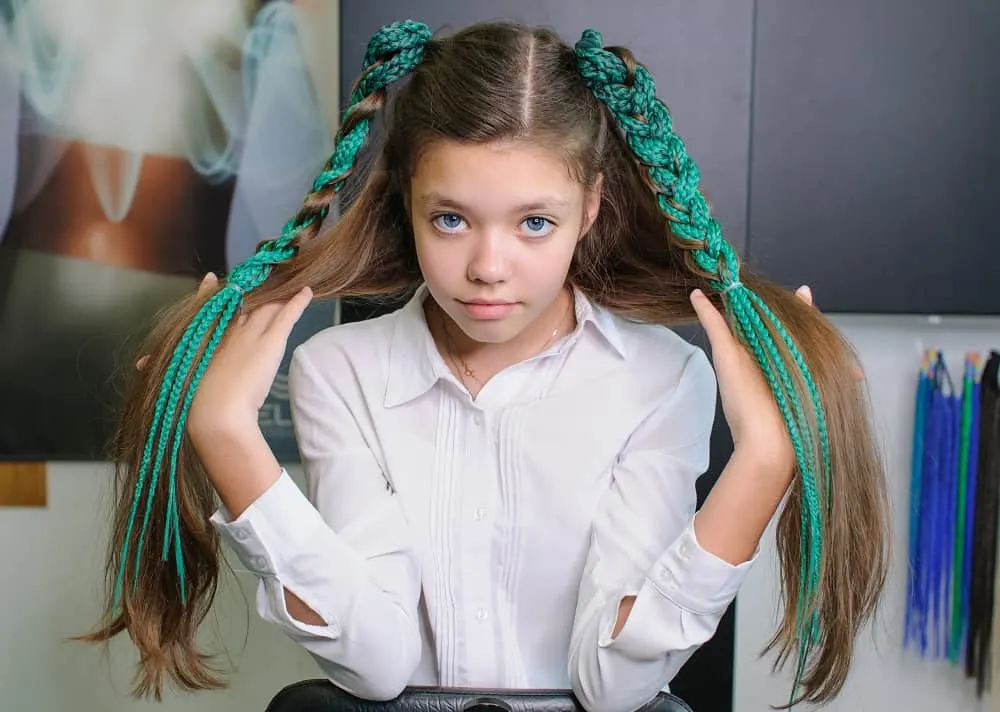 A half braided hairstyle is a beautiful choice when your little girl wants to wear some of her hair down. Try two high ponytails with colorful braid extensions woven throughout.
9. Sectioned Braid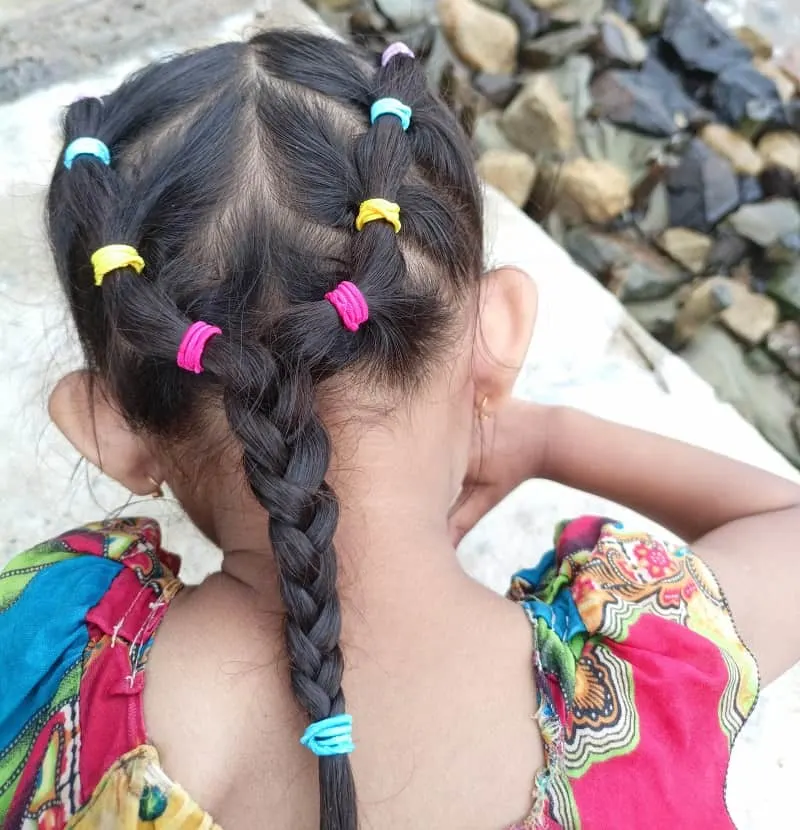 This little girls braided hairstyle features two ponytails sectioned off with colorful hair ties. At the neck, they combine into a low braided ponytail. It's a quick hairstyle that can be pulled together in the morning in no time!
10. Tiny Braid Half Updo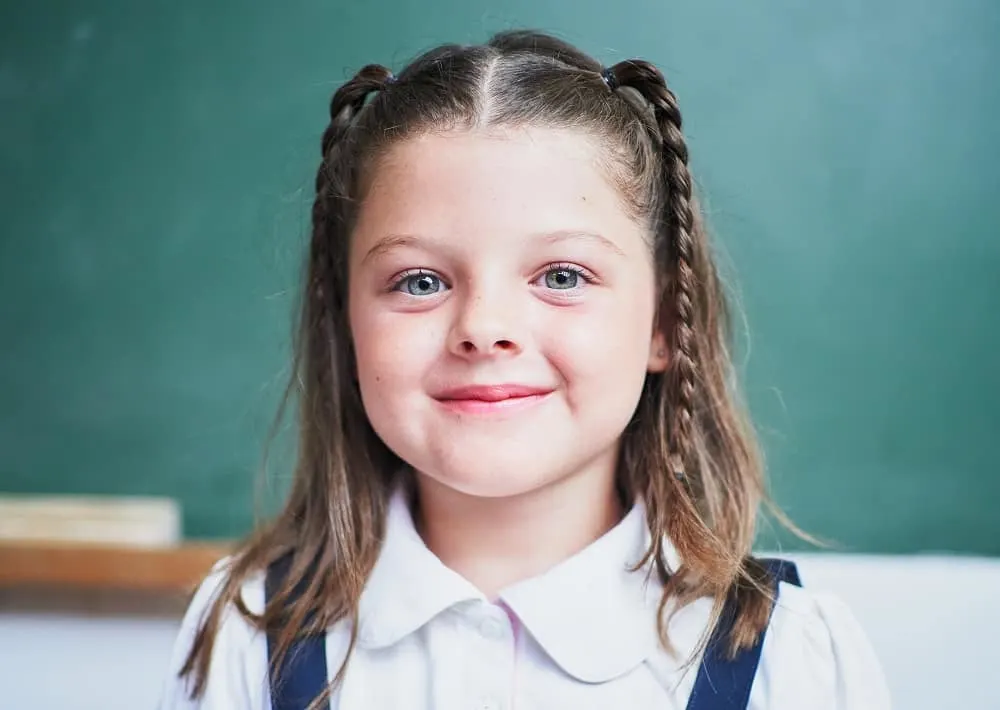 Another low maintenance little girls braided hairstyle is this half updo featuring two small, thin braids near the face. The rest of the hair can be left down and natural.
11. Little White Girl Braids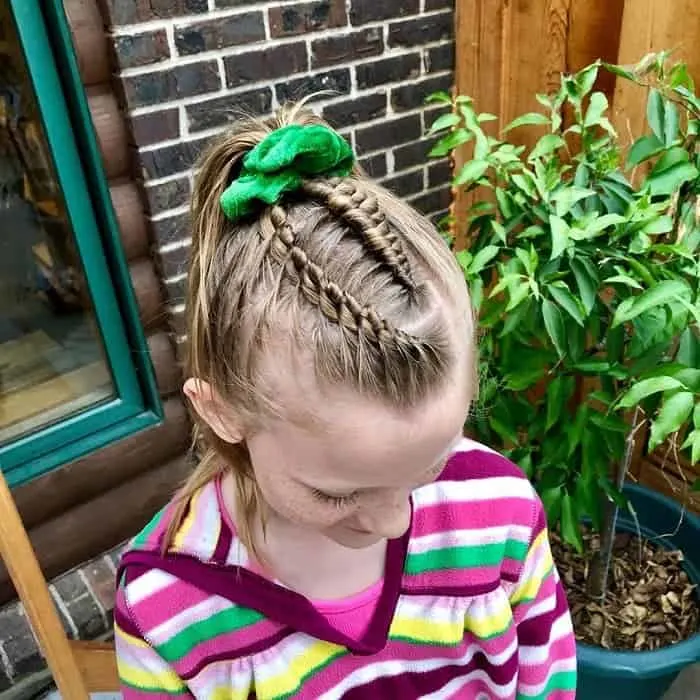 This hairstyle is perfect for a school day and works with all sorts of outfits for little kids. Style a curved braid that slightly goes on one side and a tight Dutch braid that you can place in middle-top. Bind both of the knits in a high ponytail and use a green velvet puffy hair tie.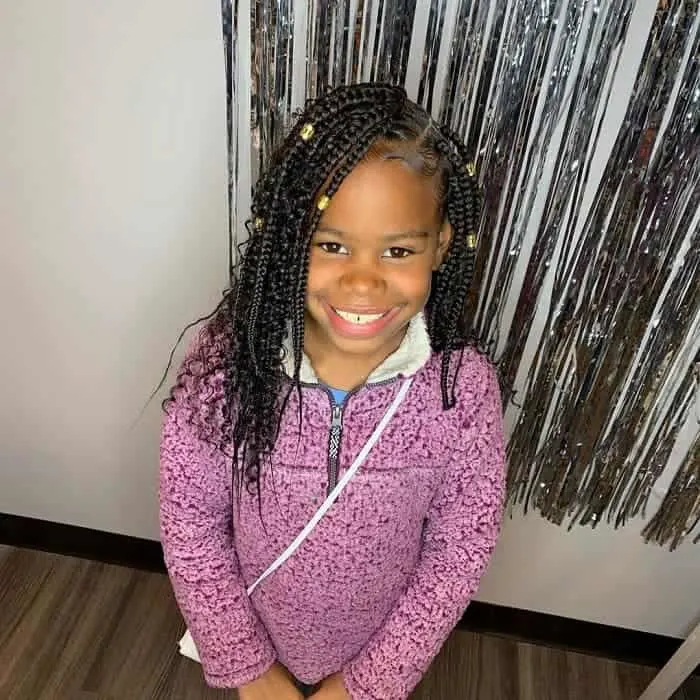 If your little girl has long curly hair, you can choose a protective style for her locks. Box braids fantastically go with curls, so make sure you leave out some strands of hair that will beautifully blend with the knits. Accessorize her hairstyle with cuffed beans that she can pick by herself.
13. Lemonade Braids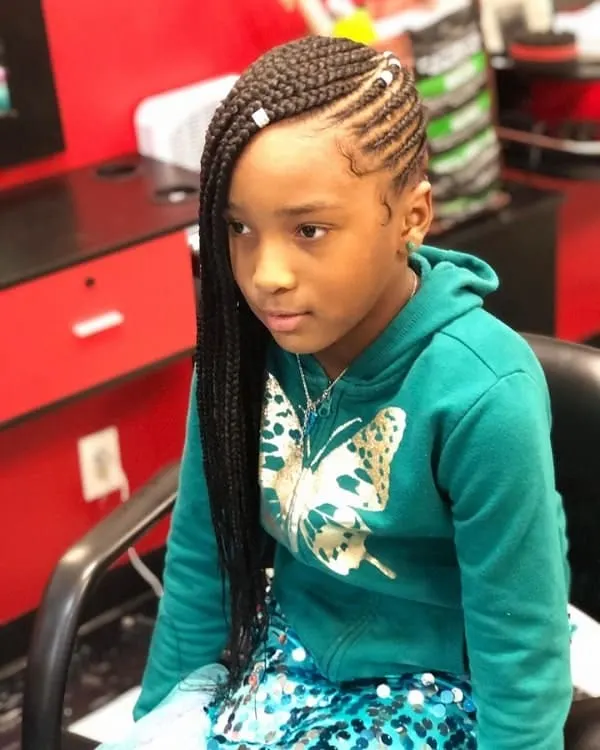 Most little black ladies adore Beyonce, and her signature Lemonade braids are raging among kids. Knit her hair and use silver cuffed beads to make this braided hairdo for little girls stick out.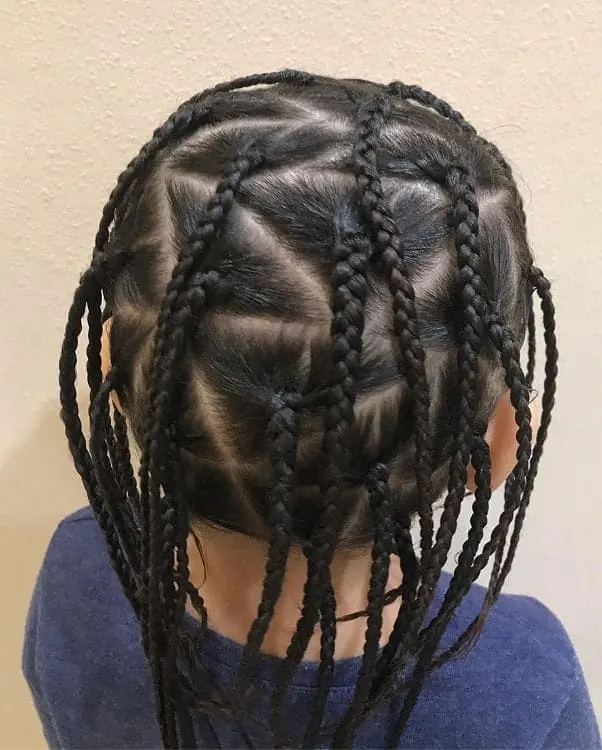 Part your kid's hair in multiple triangle-shaped sections and create small thin braids. This way, you can easily pin her hair up into a braided pony or let the knits loose, like in this image.
15. Little Girl With Feed In Braids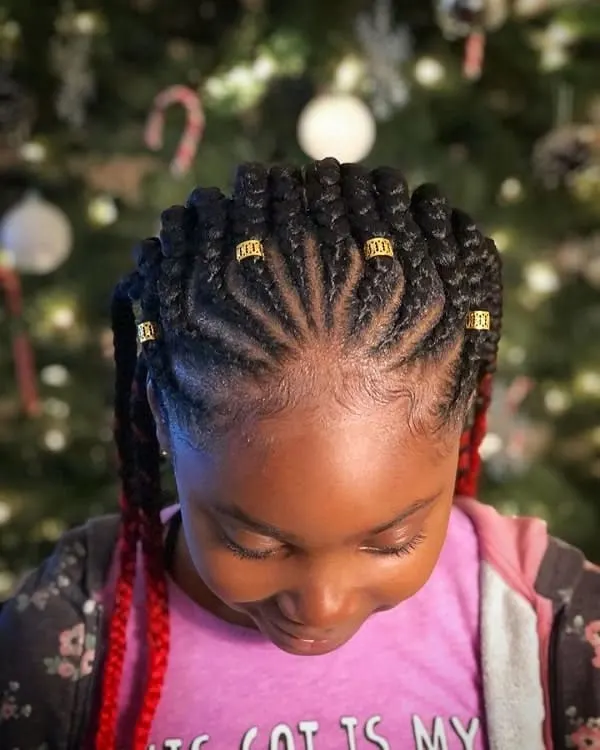 For this braided hairstyle for little girls, you will probably need a pack of red ombre Jumbo Kanekalon hair extensions. Start sectioning the hair and highly moisturize the roots. Start blending the jumbo hair while you create the braid and repeat the process for all the knits.
Halo braids instantly transform any little girl into a princess. Start braiding from one side and create a hair crown by knitting a Dutch braid. Go around the whole head and, at the end, give it a fuller look by smoothly pulling out the edges.
17. Little Girl With Two Braids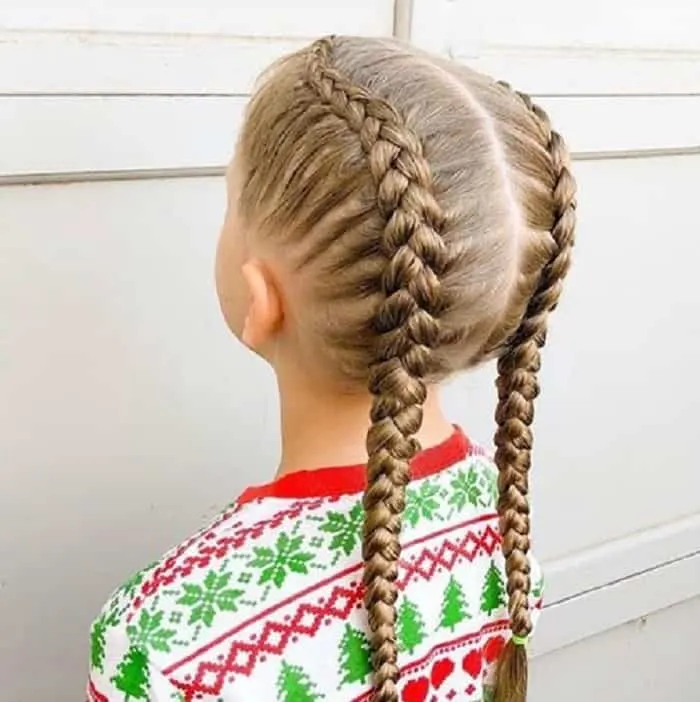 Section your little girl's hair in two even parts and knit a tight Ductch braid for each section. Tie them up with thin colored rubber elastic.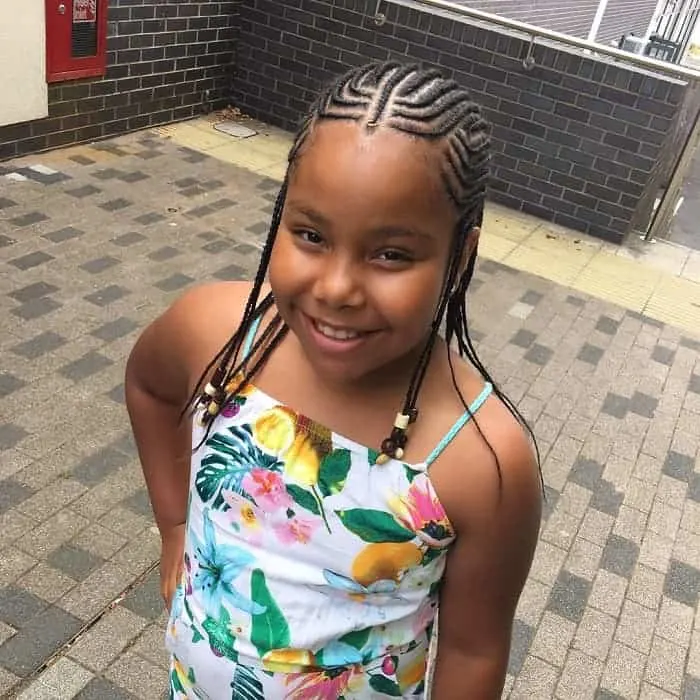 Fulani braids probably make the best-knitted hairstyles out there. They involve fabulous designs and are based on taper braids that can be combined in which way you want to create stunning models. Use wooden cuffed beads to secure your braids.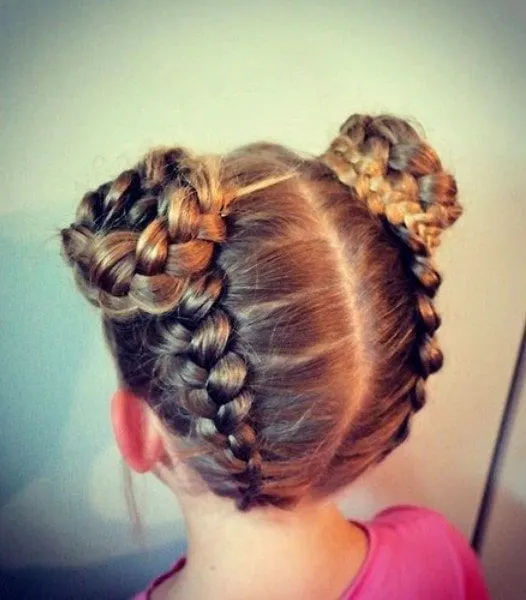 This is one of our favorite braided hairstyles for little girls because it reminds us of Princess Leia. We also love the technique of braiding up from the bottom—that takes skill!
20. Zig-Zag Braid for Little Girls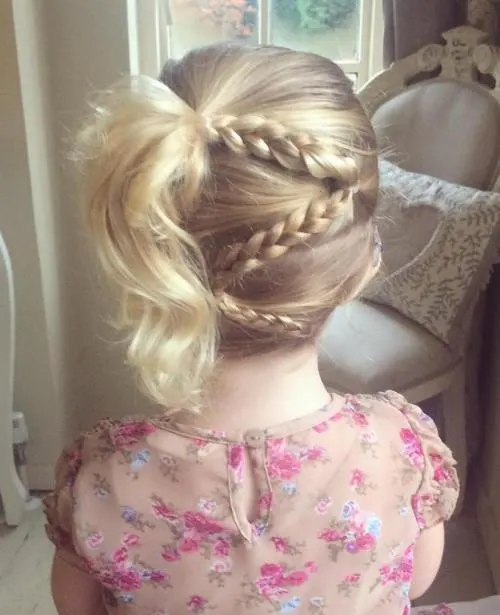 How in the world…? It takes practice to master a braid like this. Would you be willing to give it a go for your little lady?
Gorgeous Braided Hairstyles for African American Little Girls
21. Princess Braid
It's easy to imagine Rapunzel wearing her hair like this, isn't it? One single braid twists around her ponytail and both are firmly secured at the ends. Imagine if the braid was a different color, such as bright pink or blue.
22. Side Braid for Little Girls
Believe it or not, some little girl braids are quite sophisticated. Consider this Exhibit A. This lovely lass is giving us a look, and we love it.
23. Beaded and Braided
We cannot get over this braided coiffure. This gorgeous little girl's baby hairs are perfection and the curls exploding from her ponytail are giving us so much life.
24. Swooped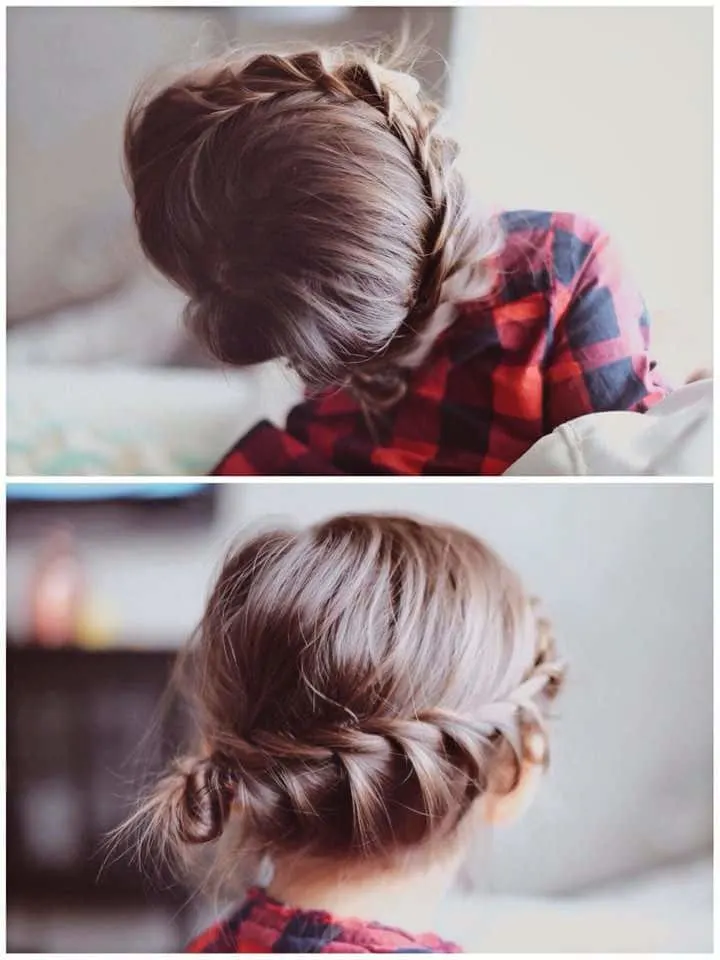 How gorgeous is this swooping braid? It's not quite a French braid, nor is it a waterfall braid, exactly; it's more of a mix of the two. She looks like a seashell, however, and that is fierce.
25. Half Braid
Here's a sweet and easy braided style for little girls. As long as you know how to French braid, you can even do this in the morning before school.
26. Little Poms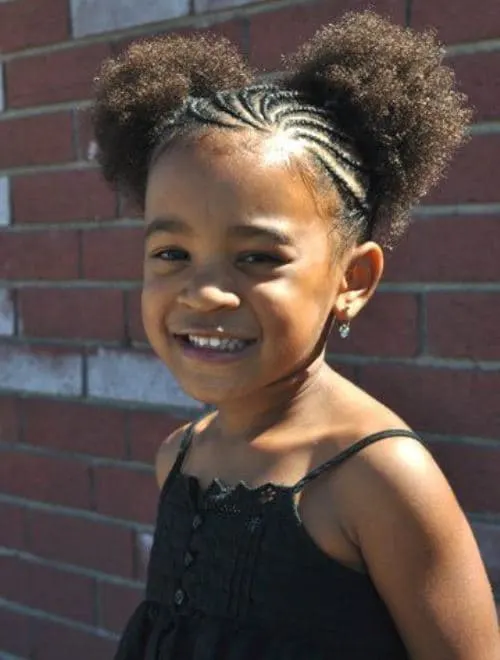 Could you die? This cutie knows she's a stunner—and she knows her hair is all that, too. Those little puffs of curls popping up from her flawlessly plaited cornrows are perhaps the most adorable hair-poms we've ever seen.
27. No Fuss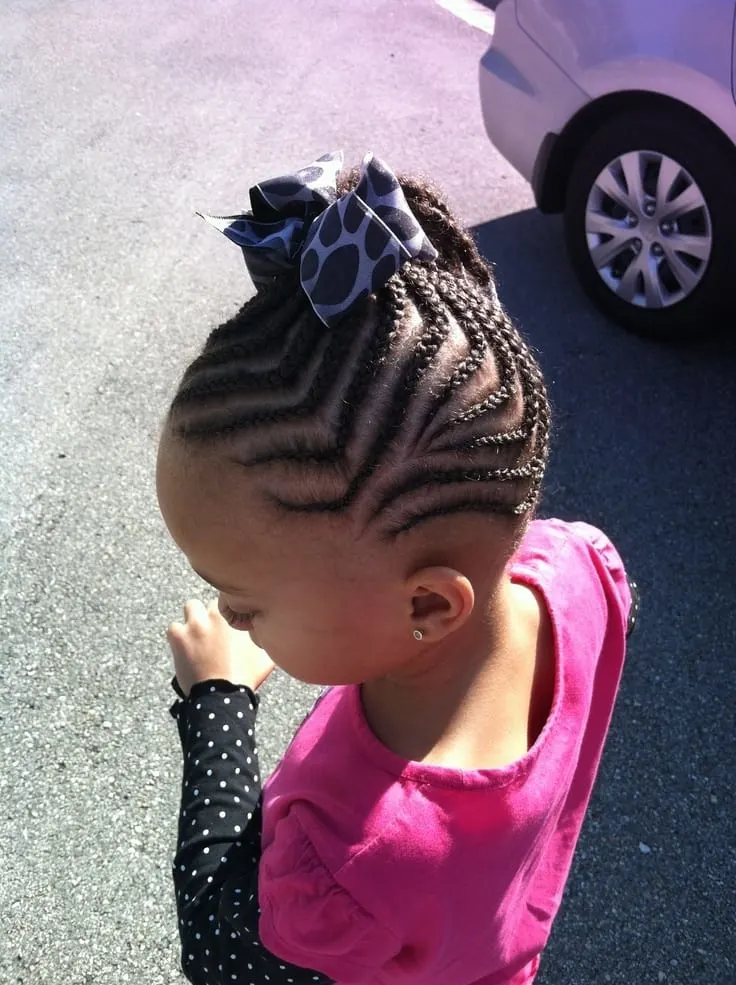 This is a protective style, but it's no less beautiful. Her little side ponytail, also composed of braids, is perky, pretty, and perfect.
28. Little Girl Braids with Beads
This is a fantastic braided hairstyle for kids of color. Again, it's protective, but it's also fierce as all get out. The part in her cornrows is sharp as can be and so pretty. The kicker, of course, is the beads at the ends of her beads. Yes, please!
29. Intricate Plaits
There are braids everywhere and look at the stunning pattern they form. Thin braids and thick braids come together in a lovely swirl that leads up to two sky-high buns—love it!
30. Pulled Back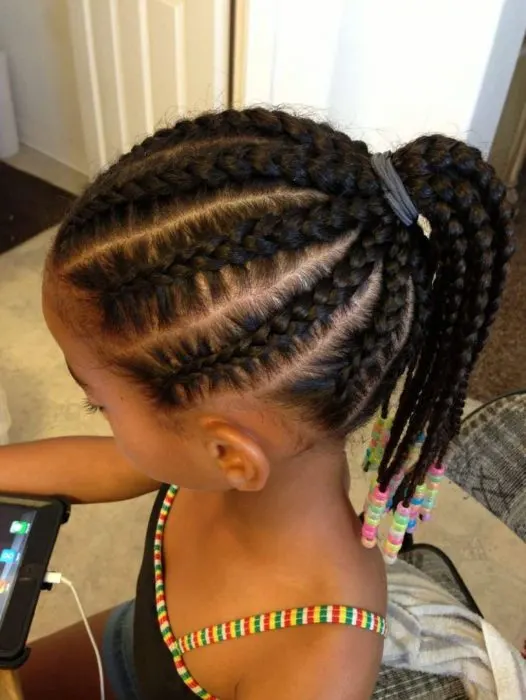 Protective hairdos still lend themselves well to a variety of styles. Pull those braids back into a ponytail, a bun, a half-up half-down look—anything.
31. Geometric Style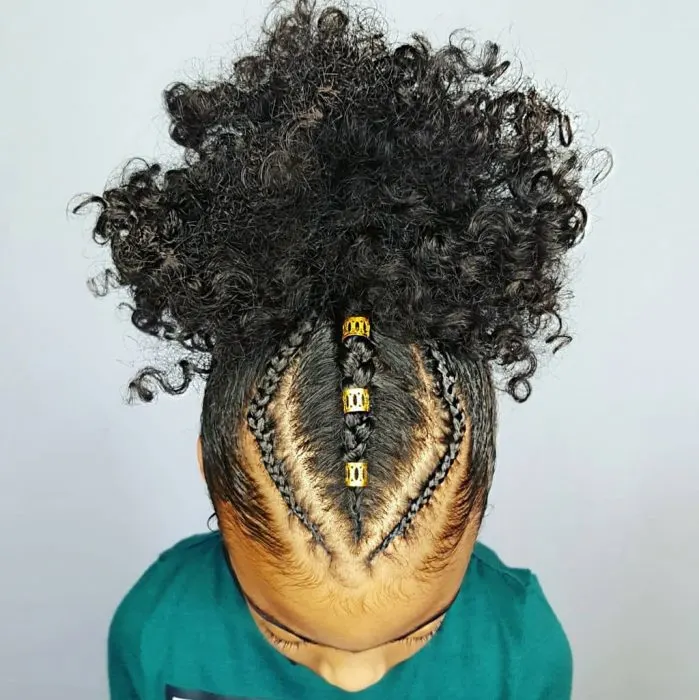 How much do you love the two braids that form a diamond shape at her crown? Sing praises to those gold beads, as well, and marvel at the curly-cue profusion that bubbles up from her ponytail. This is one of the cutest braided hairstyles for little girls that we've seen, so keep it in mind for your collection of coiffures.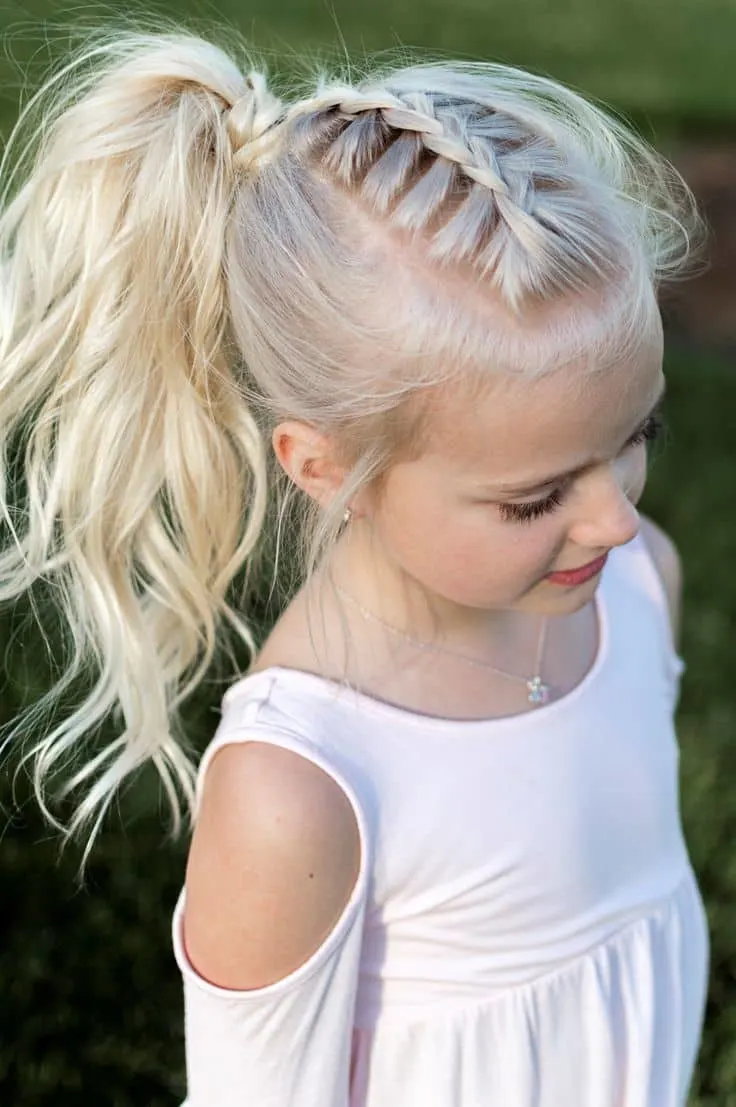 This isn't really a faux hawk, of course, but the separation of hair resembles the style. Love the way the end of the braid wraps around the ponytail, too.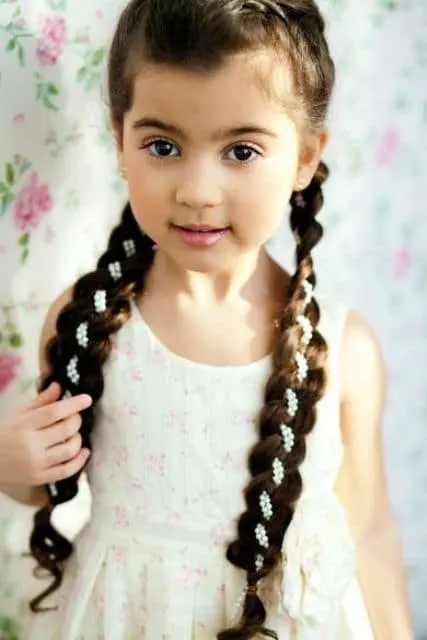 Although this coif is clearly for a special occasion, you can plait your child's hair in Dutch braids whenever you like. We're a fan of the little beads tucked into each plait, too. You don't have to add them, but why wouldn't you.
34. Braided Updo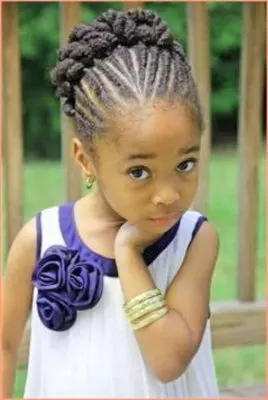 Actually, this is so much more than just a braided bun. It's an intricately braided hairstyle for little girls, but it's still ideal for the everyday. Honestly, her bun is more like a crown, as it should be—this gorgeous girl is clearly a princess who's set to grow into a queen.
35. Back Braids
Back braids that start from the bottom change the entire look of a braided hairstyle. This one is so perfectly plaited that you could spend hours just marveling at its fierceness.
36. Bigger Bun
Here's a similar 'do, but the tiny braids leading up to the bun are juxtaposed against the thicker braid. The bow is the perfect touch. Always add a bow.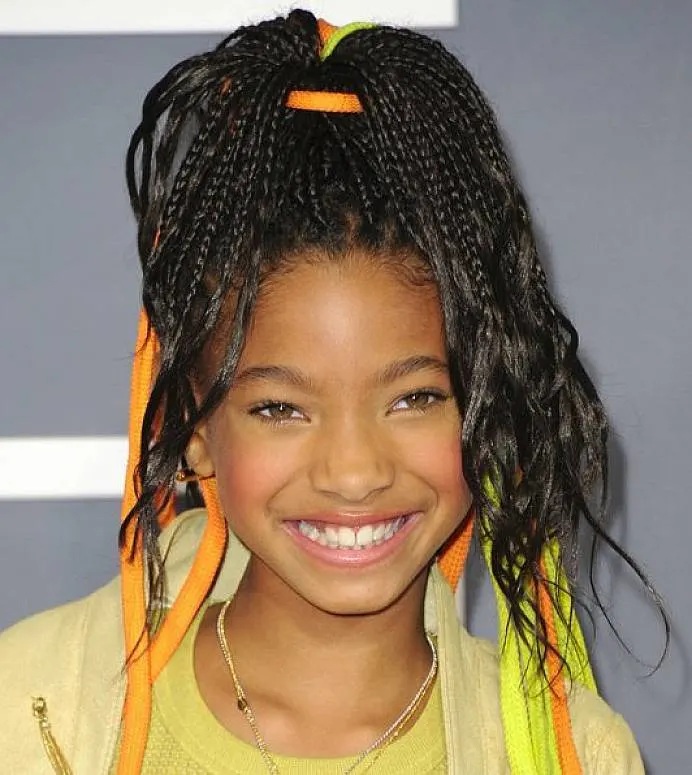 If you're looking for a versatile braided hairstyle for little girls, here you go! Wear it up, wear it down, go half-and-half—everything will look good, simply because the braids themselves are stunning.
38. Short and Sassy
Never let someone tell you that you can't braid short hair. That's a dirty lie. Look at this little queen. Not only are her braids banging, but her hairstyle is edgy as heck.
Short Haircuts for Teenage Girls to Look At The Best
Braids for Kids
Braided hairstyles are a fantastic choice for kids because they are a lot of fun to do. When your child is very little you might have to help them to do the braids, but once she gets a little bit older she will love to style the braids herself.
Braids are also a great way to keep your child's hair under control whilst she is out having fun.
39. The Fishtail Braided Bun
For mini fashion figures like your precious daughter, only the latest trendy hairstyles will suit her fashionista ego. So, you need to stay up to date with all the top hits. Consequently, we present to you the bun made out of classic fishtail braids.
40. The Feather Braid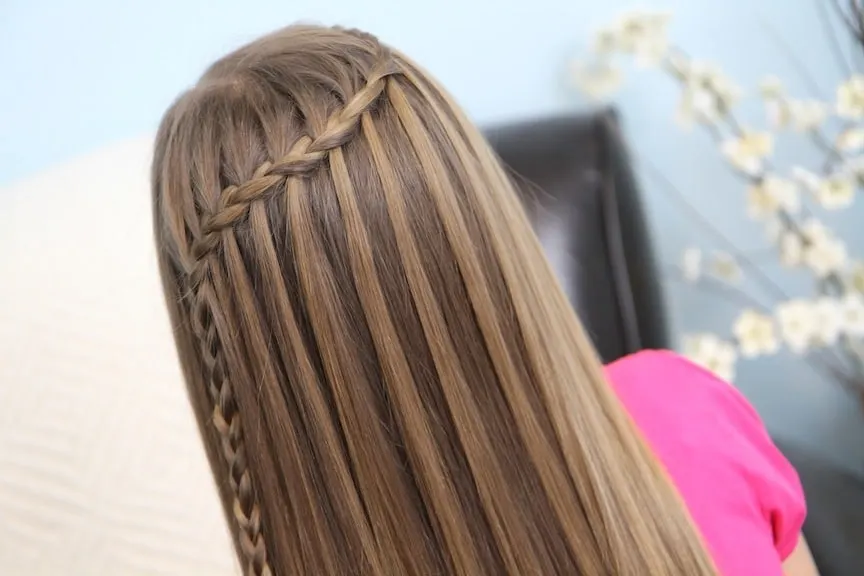 In order to get your little cutie an eye-grabbing hairstyle, you do not need to go the extra mile with a ridiculously complicated design. And since kids braids are all about the innocence of a soft hair strand then you should go with something simple yet picturesque. So, why don't you try the feather waterfall combo? It is really established and comes out as an amazing hairdo.
41. The Ladder Braid Combo
This hairstyle incorporates the ladder braid technique. It is a whimsical design that gives little girls some extra cutesy points. Moreover, it works for any type of hair. So check out the tutorial below if you want to experiment this on your bundle of joy.
42. Kid's Mohawk Braids
For African American cuties, kinky and frizzy hair needs much more care than you imagine. But don't fret because we have got you covered. So, since kids hate it when we style and groom their hair too often this practical design is low maintenance and would last longer than any other designs.
Therefore, you wouldn't be worried about going after your kid from one sand box to another in the park to fix up their flyouts or move their loose strands from their sweaty face. And all you need for this hairstyle is simple cornrow braiding skills.
Finally, don't forget to form them in peculiar irregular shapes like the twisted mohawk shown in the photo above for a bigger chance at catching everybody's attention.
43. Crowned Princess
Some call it the headband braid, however, a crown will always sound better for little girls who have always dreamt of being enchanting princesses just like the ones they see on television.
In addition, this design allows you to style your kid's hair while some of it still hangs over her shoulder. So, make your child's dreamy wishes come to life with this amazingly catchy design.
Wash the hair or spray it with water until it gets wet enough for easier styling.
Using a rat tail comb start with one side and section out a front section.
Tie the rest of the hair you wish to keep unbraided to keep it out of the way.
Divide it into three subsections and start off like a regular braid.
Add hair from the front after each stitch.
Go all the way around until you reach the other ear.
Secure the end with an elastic.
Clip the rest of the hair behind your ear.
44. Crochet Braids for kids
To give her braids some subtle waves, you can plait her small braids into bigger ones. Send her to sleep and then unpick the bigger braids in the morning. Her hair should stay in gorgeous waves.
45. Baby's First Cornrows
Start plaiting your little girl's hair into cornrows from a young age. Cornrow braided hairstyles for kids are a great way to keep her hair under control and out of her eyes whilst she plays.
46. Cornrows with a High Pony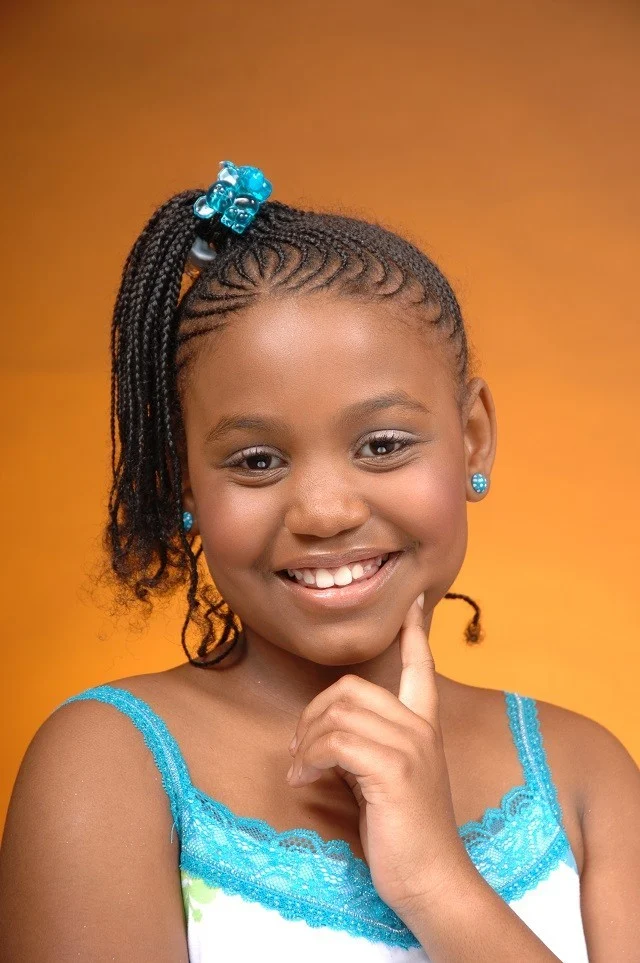 Pull her hair up into a high pony tail and then let it flow freely down her back. It is a perfect kids hairstyle if she has beautiful little curls.
Top 30 Cutest Little Girl Hairstyles Ever
47. Braid Band with Sleek Hair for Kids
Draw in hair from the front of her head and use it to form a band of braids across the top of her head. Leave the rest of her hair down in a gorgeously sleek style.
48. Cornrow Braids with White Beads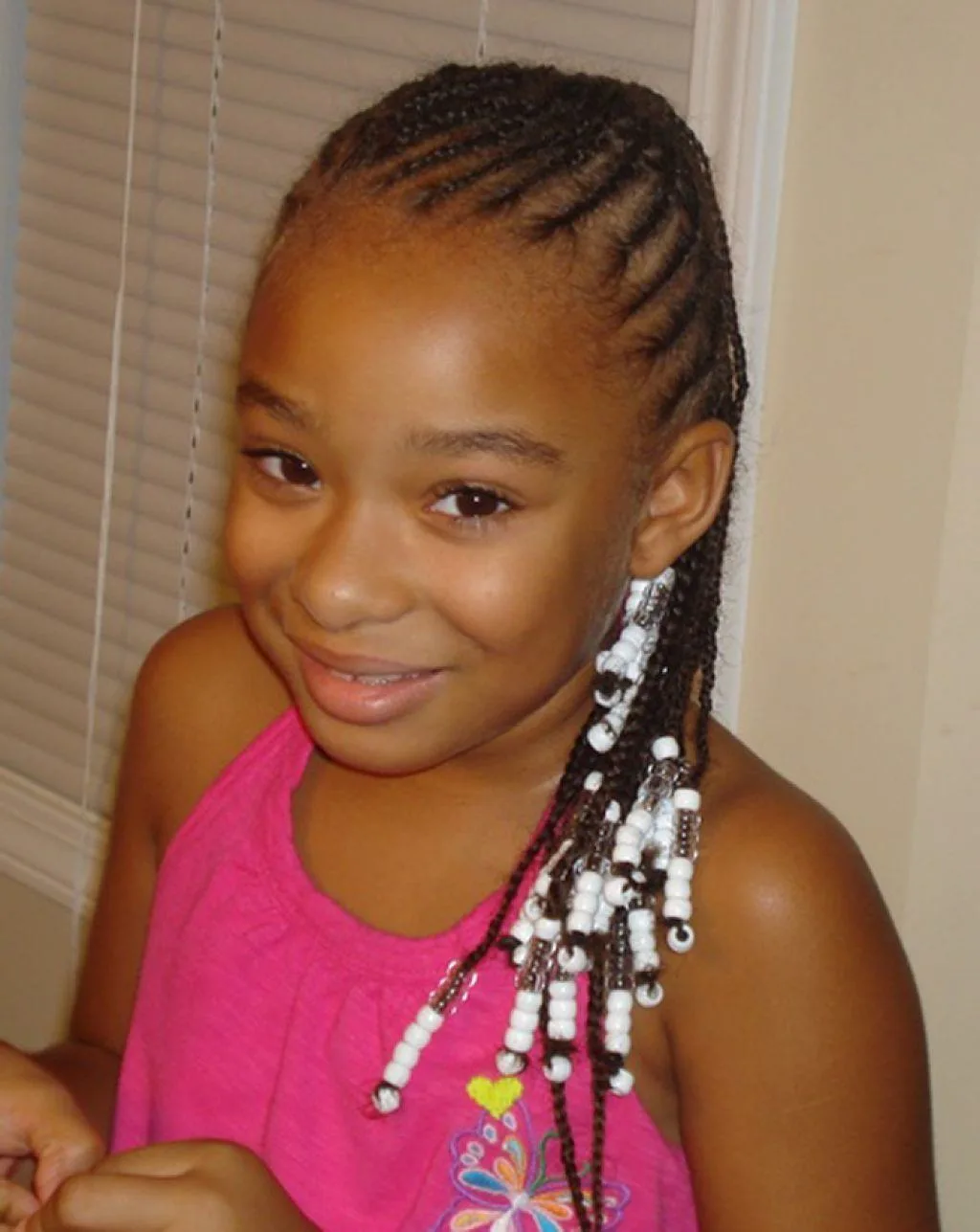 Cornrow braids for kids look really cool when they are styles with fun beads. They can choose their own beads. White Beads look great against dark colored hair.
49. Cornrow Art
Cornrow braids are very versatile. You can use cornrows to create amazing patterns in your hair. Try latticework or creating different shapes and patterns.
50. Chunky Twists
These chunky twists are a big and bold choice. The hairstyle looks really unusual because of the texture that the twists create. It's a really fun style of braids for kids.
51. Braided Bob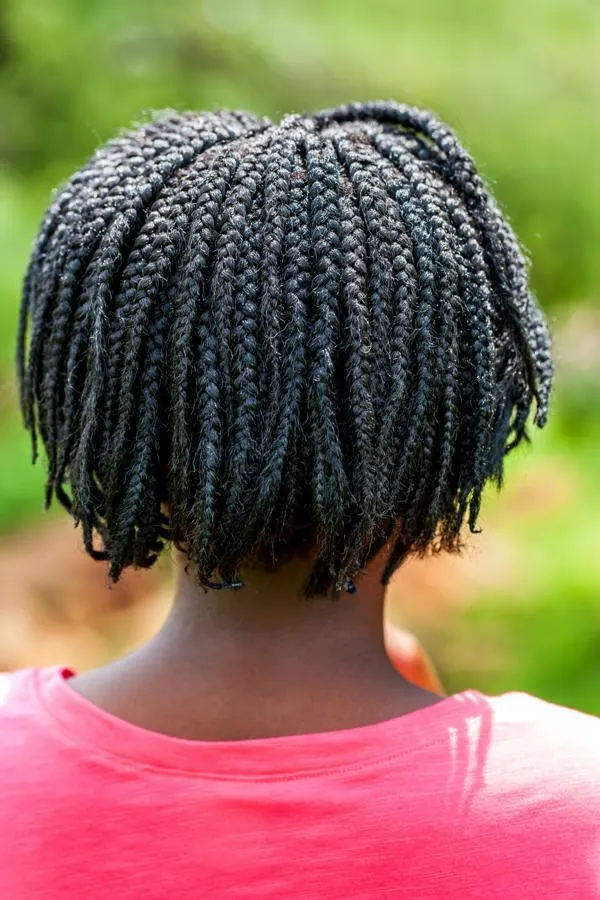 A bob hairstyle is a really cute look for a child. You can make a great braided bob using lots of little microbraids. Use braided extensions if she doesn't have naturally long hair.
52. Cyclone Braids
Give your daughter a braided style with a twist by plotting her cornrows in a twisted cyclone formation. The rows should form a spiral formation.
53. Geometric Hair with Beads
Geometric patterns are great in braids for kids. It is easier and quicker to braid in straight lines, so they are perfect for impatient children. Finish off each braid with a few subtle beads.
54. One-Sided Wonder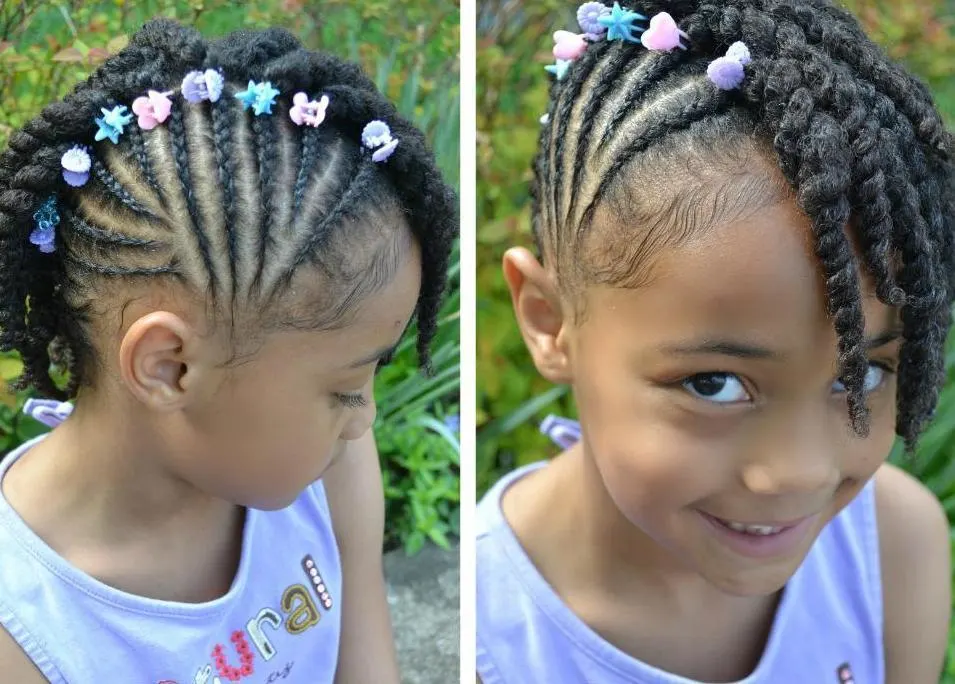 Create tight little cornrows across her scalp on just one side of her head. At the top of her head, braid in much thicker and chunkier braids. Mark the demarcation between the two areas by securing the hairstyle with some fun and funky clips.
55. Twisted Crown
Give your little princess a cool new look by creating a twisted braid crown for them. Start the braided hairstyle at the side and front of her head, then bring the braid the back. If her hair is long enough, you can leave a braided section hanging down.
56. Multi-Coloured Magic
Coloured beads allow you to have hundreds of different options when you are creating braids for kids. Let your child choose which beads they would like to wear as part of their hairstyle. Coloured beads allow you to keep the braids themselves relatively simple.
57. Back-to-Front
African-American kids look so cute with this type of braided hairstyle. Plot cornrows into her hair travelling from the front of her head to the back. Clip her braids up and then pull her hair forwards so that it sits in a really cute style.
58. Up and Down Braided Hairstyle
Take her hairstyle to another level by mixing high styling with low styling in this fantastic braided hairstyle for kids. Pull half of her hair up into a high style at one side, but leave the rest down at the alternating side.
59. Classic High Braided Pony
A high ponytail is a classic style for anyone who has braids, whether they are adults or children. It is an easy style for kids with braids to do for themselves. All that they need to do is pull their hair together at the top of their head and then fasten the hairstyle securely.
60. Sunshine Yellow Beads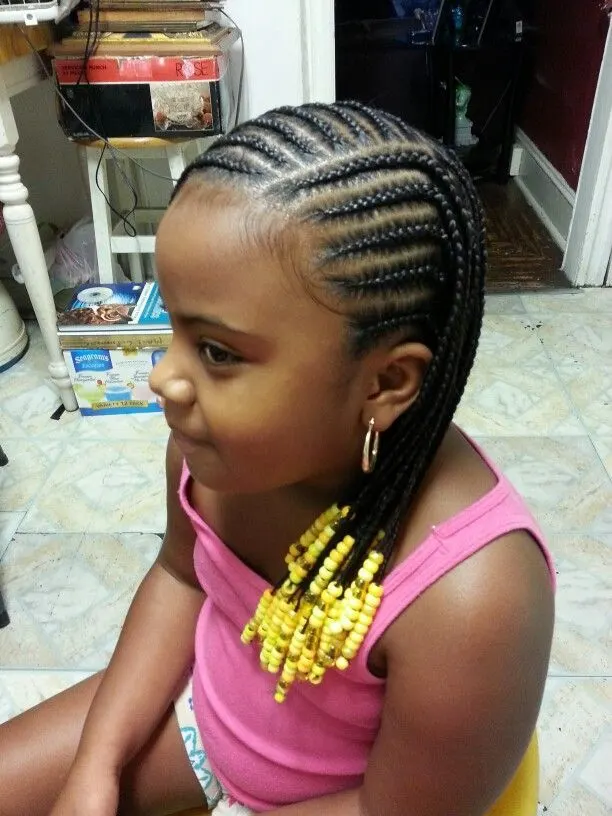 Yellow beads are a great choice for any child who is happy and smily. This colour is reminiscent of sunshine, happiness and the outdoors. Beads like these help to give braids for kids a really playful and fun edge.
61. Cornrows with Kinky Curls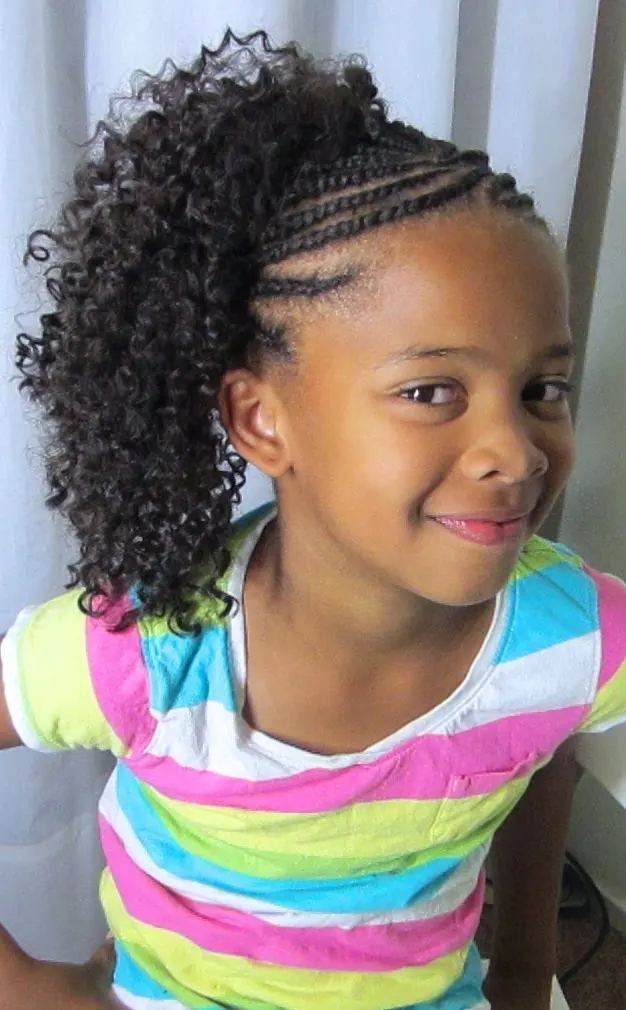 Work cornrows into her hair along the top section of her head and then stop the braids as they move away from her scalp. Pull her free hair up into a high ponytail. Allow her gorgeous natural hair to flow downwards with lots of kinky curls.
62. Pink and Silver Beads
Another cute braid for the kids. Pink and silver beads are a great combination for your daughter's braided hairstyle. Silver is a very good colour for a princess, whereas pink is an excellent choice for a girly girl.
63. Flowing Curls
Tiny cornrows along the top of her head can make way for big flowing curls. This is the perfect style to choose if she is looking for a kids hairstyle for a birthday party or hairstyle for a beauty pageant.
64. Cornrows with a Chunky Central Braid
Weave beautifully straight cornrows into her hair until you get close to the middle of her style. Draw all of the hair in together to make a brilliant chunky braid right down the middle of her hairstyle.
65. Curly Tips
When you are making braids for kids, you can give the braids a few extra cute touches. Instead of completely sealing the ends off in the style, wrap them around a pencil a few times to give the ends an adorable little curl.
66. Kid's Tribal Braids

Create a thick crescent braid on either side of her head and then pull the two sides together at the back of her head. Make braided crescents by rolling all of the braids around one another.
67. Heart-Shaped Cornrows

If you are feeling very artistic when you are styling braidded hairstyle for kids, then you can curve her cornrows around to create a heart-shaped pattern. Enhance the style even further by adding heart-shaped beads to the end of her braids.
68.Caramel Highlights
For a little bit of a different look, put a few caramel highlights into her hair before you braid it. Once the hair has been completely braided, you will see a few fun and funky caramel specks throughout her hairstyle.
69. Sunburst

Start braiding all of her cornrows from a single point close to the front of her head. Fan out all of the rows so that they form a glorious sunburst formation. Keep the sunny theme going by capping all of her braids with bright summery colors.
70. Hair Down
As your child grows a bit older, she may start to want a more mature style of braids for kids. Wearing her hair down can help her to look a little more sophisticated without taking away her youth and innocence.
71. Short Bob with Medium Braids

A short bob hairstyle with medium braids is a really cute hairstyle to choose for your little girl. Keep her hairstyle short so that her bob curls underneath her chin. This style looks great with a cheeky smile.
72. Half-Up, Half-Down

Draw the top sections of her hair up into a high ponytail on the top of her head. Leave the rest of her braids down. This creates a cool mixed style which would be good for any occasion.
73. Overlapping Crescents

This gorgeous crescent pattern is ideal for those who want braids for kids with a different. Start each crescent close to the back of her head and over to one side.
Bring the crescent braid towards the front of her head and then around again towards the back. Leave the rest of her hair down if you want to.
74. Hair Bow with Braids

Braid thin horizontal cornrows until you get to the centre of her head, and then make one chunky braid up towards the top of her head. Leaving her hair free from braiding, create a big bow from her hair. This braid hairstyle for kids is a really fun choice.
75.Twisted Top
Twist the micro braids around so that they sit in high wheels on top of her head. Tuck the twisted wheels in tightly to prevent them from unraveling. This cool braided style for kids looks great on younger teenagers.
76. Chunky Braided Crown

All little princesses will love a chunky braided crown hairstyle for kids. Style the thick braids so that they make a full circle around the top of her head. Leave a few short braids down for extra effect.
77. Reddy Steady Go

Red is a really fun and funky color choice if you are trying to jazz up the braided style for kids. Add a few red strands to her hairstyle to add a splash of color. Put some red beads into the braided hairstyle as well for maximum effect.
78. Peak Hair

You can still put braids into shorter haircuts, although your options will be very different. Plot cornrows into their style which runs backwards to a point. Give the hairstyle a slight peak at this point.
79. Twisted Ponytail

Make a ponytail with a difference by twisting two sets of chunky braids together with one another. This will create an unusual but really cool texture to her hairstyle.
80. Braided Pigtails for little kids

Pigtails are a classic hairstyle for children. If your child has braids then you can still pull her hair up into a high pigtail on either side of her head and then allow her braids to fan out. This is a great kids hairstyle for the playground.
81. Kids Swept Over Hairstyle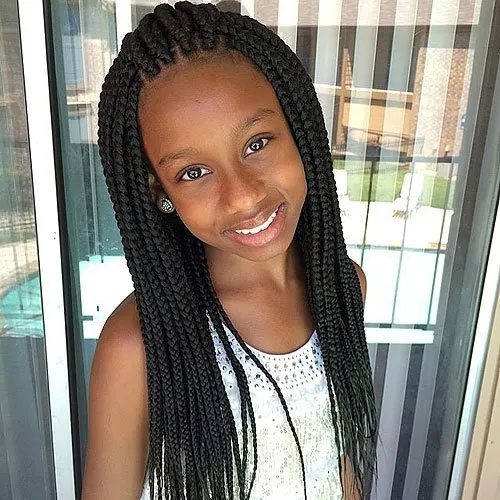 Instead of keeping all of her beads on one side of the head, she can style her braids so that they sweep over from one side of her head to the other. She will love this funky look because it will be quirky and different.
82. Bold and Bright Beading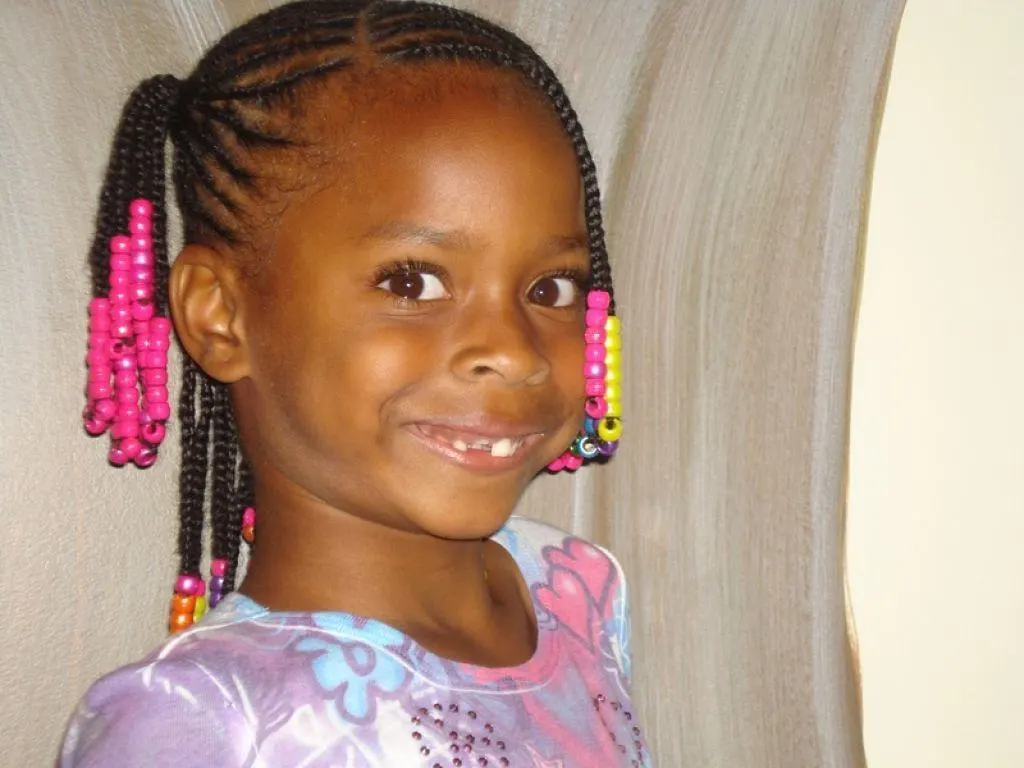 If your daughter really wants to stand out, let her choose bright and bold beads for her hair. Let her change the beads to match the outfit that she is wearing or allow her to choose colors that really show her personality through her hairstyle.
83. Jumbo Braids for Kids
Chunky braids can be easier to style than thin micro braids are. If you choose to do thick braids like these, then you may only be able to pull 7 or 8 braids together across the whole of her hairstyle.
84. Clip-On Accessories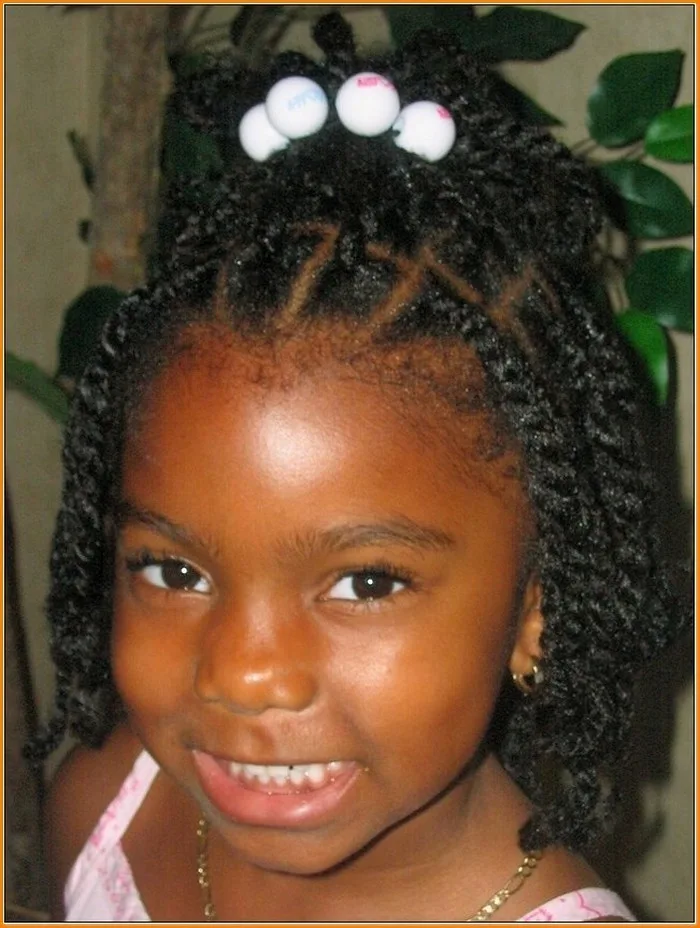 Hair accessories can be both fashionable and functional. Use a cool hair accessory to fasten braids for kids into a cute little updo hairstyle. There are thousands of different accessories and clip-ons to choose from.
85. White Bow
Pull her braids high up onto the top of her head and then secure them with a bow. Let her ponytail fan out from the bow in a gorgeous formation. A white bow represents childhood and innocence.
Braided Hairstyles for Toddlers
How to Do Braids on Toddler Girls Hair
Regardless of their caste, creed, color, or ethnicity, toddler girls are the perfect tiny tots to showcase an incredibly chic braided look. Adults need to realize that, in addition to looking great, little girls need to be comfortable and free too.
Avoid using any sharp pins or pointy stuff on their hair lest they hurt themselves with it. Now that the precautions are out of the way, ensure that you choose an easy yet pretty braid hairstyle for little girls that your toddler can carry effortlessly while being comfortable too.
The easiest and most practical way is to start off with making a high ponytail which you will then braid as per the style you want to make for your little girl. You can make, two, or multiple braids depending on the hairstyle you choose.
Watch The Following Video to Learn How to Do Toddlers Braided Hairstyle
Adorable Braided Hairstyles for Toddlers
Check out these amazing toddler braids hairstyles for your little princess. These will make your girl look cuter instantly!
This can be made using one or two braids. Start by braiding your baby girl's hair at one end of the head over the top and take it across the head to the other side and place it tightly with a bobby pin.
Repeat it for the other end too where the braid now goes from the second side to the first. This will create a crown-like illusion for your little princess. Brownie points if you decorate this crown with a few fancy beads or flowers.
87. Side Fishtail Braid
This is one of the most stylish braid hairstyles for toddler girls and young women alike. Braid your toddler's hair in a side fishtail braid and secure it at the base with a hair tie. You can even create a messy look with the braid and also choose to make a straight braid instead of a side one.
88. French Braided Headband
This toddler's braid style works exactly like the crown braid, but it goes atop your head like a hairband instead of around it. In other words, you're making your girl a hairband made up of her own braid!
Bets suited for toddlers, pigtail braids are cute, comfortable, and just the right kind of toddlers braided hairdo to sport for a casual session at preschool or a day out in the park.
As the name suggests, this toddler hairstyle consists of space buns made up using braids. Make one or two high ponytails, braid up the hair in a kid's cornrow braids and secure it with a band at the end.
Then wrap the braid around the hair tie to make a bun out of it. Toddlers look pretty cute with one or two small little buns on either side of their heads.
Part your little girl's hair into two sections, one for each braid. Start off with the first section by making two parts and tying a knot tightly until it is secure. Continue until the entire length of hair is complete, and tie it at the base. Repeat with the other half for the second braid.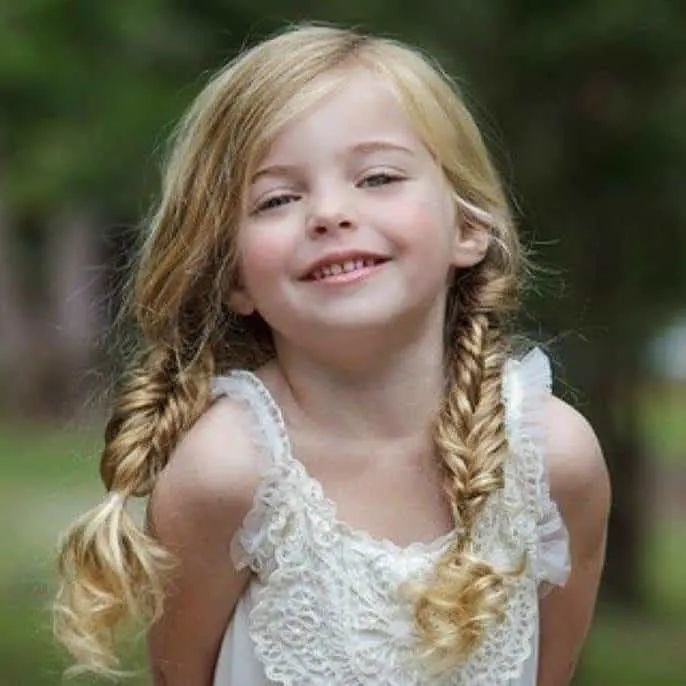 This toddler braided hairstyle is a little different than the rest since it needs a little longer hair than average length. For this, make two fishtail braids as usual and puff them up using a rounded hairbrush to create a messy look.
This is one of the most sought after looks among all braided hairstyles for toddler girls. For this, make a simple side braid in the standard style. But one of the third sections must be a braid itself.
When you braid up your baby's hair this way, it gives out a cute and stylish vibe with the peek-a-boo that the microbraid plays in the larger braid.
This is a simple standard French braid made either on the side or straight down the back. For a funky yet trendy vibe, adorn this toddler braid style with beads or small flowers.
These are a stylish version of the crown braids. These are exactly like the crown braids but a little varied. Unlike other toddler hairstyles going around the head, Heidi braids go across your head crossing over at the nape of your neck. You'll need to secure them with bobby pins ta the base so that these braids retain their look and shape.
For toddlers with very short hair, there is still some hope for a braid! Style your toddler's hair in a short braid resting across her head, and she'll be instantly ready to rock her latest outfit.
97. Fishtail-Accented Ponytail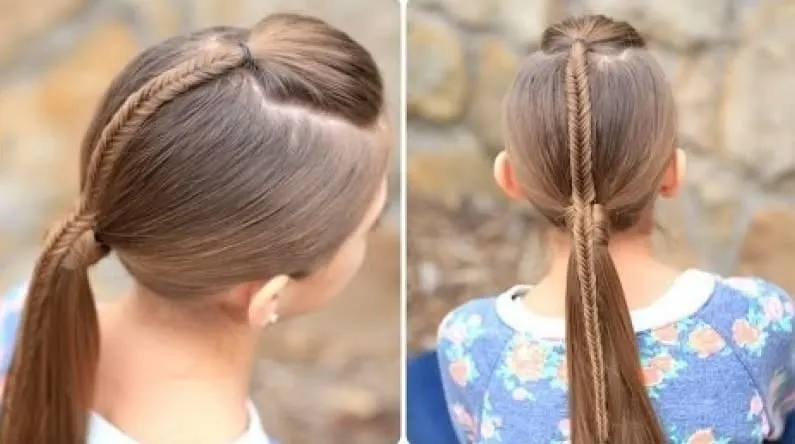 Part a section of hair at the top of the head into a small pony and start braiding it all the way down. Secure it with a hair tie at the end. Post this, bunch up the rest of the loose hair into a low or high pony, and neatly arrange this fishtail braid atop it with bobby pins.
You can even use a standard braid instead of a fishtail one. This toddler girl's braid hairstyle works well for both parties as well as casual outings for your princess.
This one is the classic braid sported by most baby girls all over the world. Not only does it look cute and elegant, but is pretty convenient and comfortable too.
Make one or two ponytails and braid each pony into a neat plait. You can even try this look with a single pony and beads on the braid.
This one is a variation of the ponytail braids for toddler girls. Instead of braiding the entire hair in the pony, braid only a small section of it while leaving out the rest of the hair loose in the ponytail. When completed, wrap this braid around the length of the loose pony for a chic yet cute look.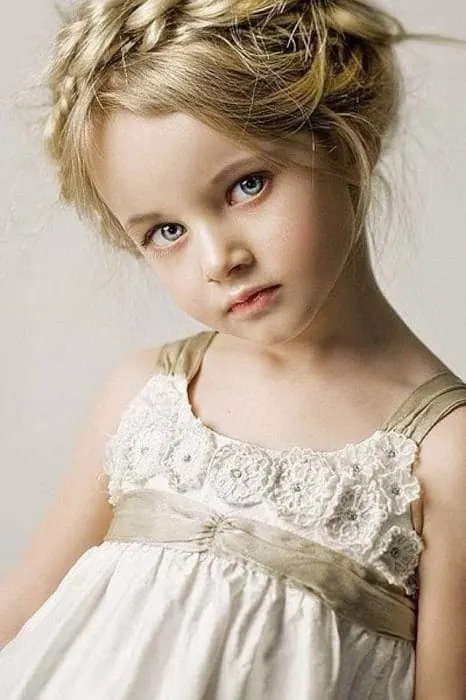 For this look, part the hair at the center and tie two ponytails at the nape of the neck. Braid one pony at a time and secure it with a bobby pin across the head like a hairband. This way, the braid will be going from behind one ear to the temple of the other side.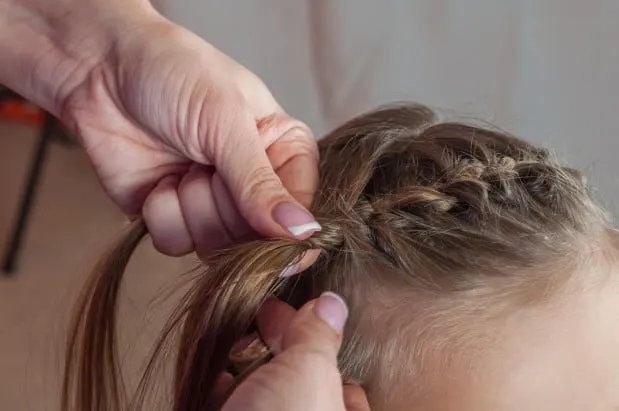 You can use beads over the head along the length of the braid or only at the tail of the braid. Many people use colorful beads as well as monochrome ones as per the outfit the kid may be wearing. Decorate your toddler girl's braid all along with beads or put on only a couple of them.
Some little girls even sport long braids with scanty beads at regular intervals which only takes their looks up by several notches. However, make sure to not go over the top with your styling. For instance, if you are opting for a sleek braid, the best style is to use beads scattered all over your braid instead of having all gathered down at the end.
Beads are just the right kind of accessory that you can use on your toddler's hair. It is safe, beautiful, and quite the right kind of accessory for a toddler. You can even make variations of your own beaded braiding hairstyles for baby girls depending on the above-mentioned ones. So, if you have a little toddler girl, what are you waiting for? Use one of these beaded braids hairstyles on them at the earliest and watch them becoming the center of attention at your next party.
Toddlers are quite wriggly and always on the go. They need to run around, play, skip, and jump in their growing years. Therefore, refrain from using any hairstyle products or accessories that may hurt them physically or hinder the smooth and carefree movement in their day.
Repeat this with the other braid too. For a fancier toddler braid style, you can even add a ribbon or a bow tie to the milkmaid braids.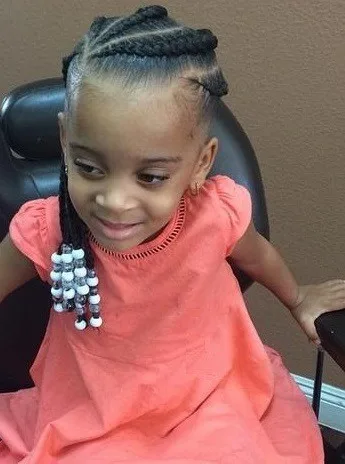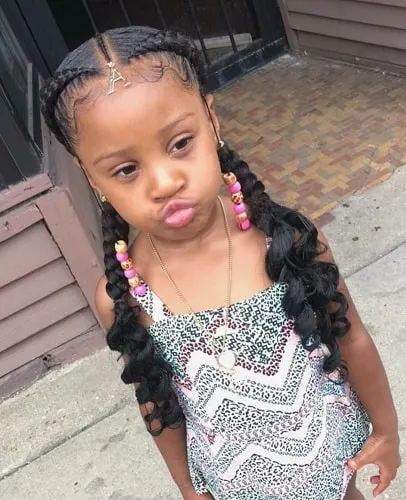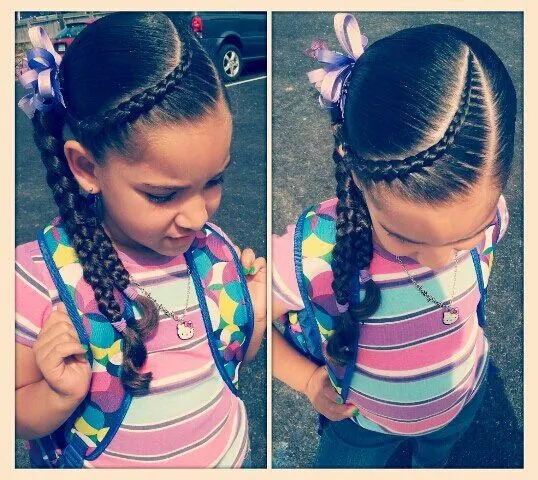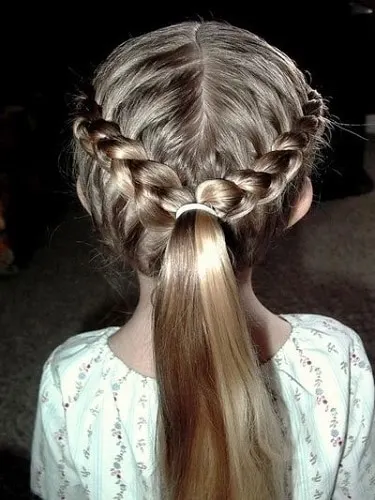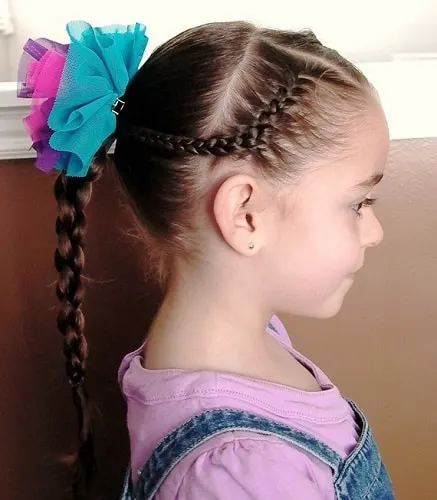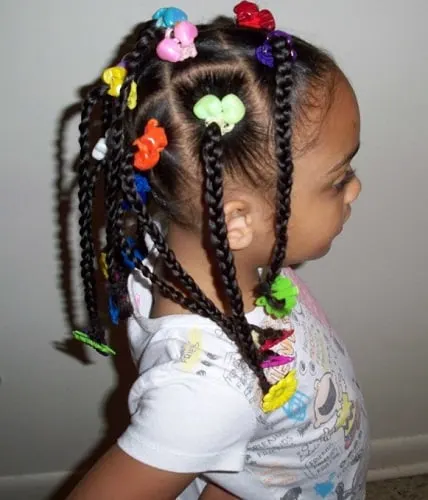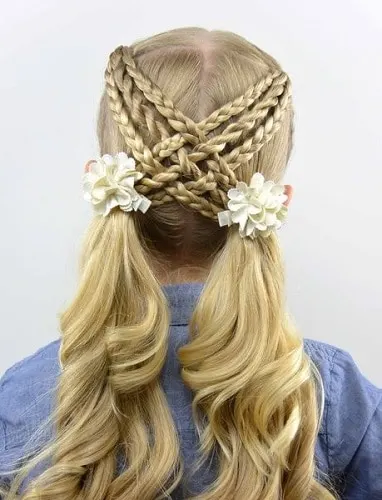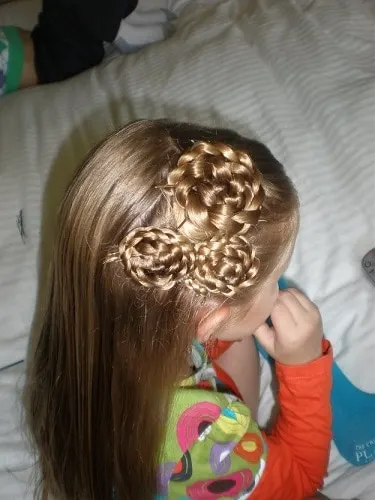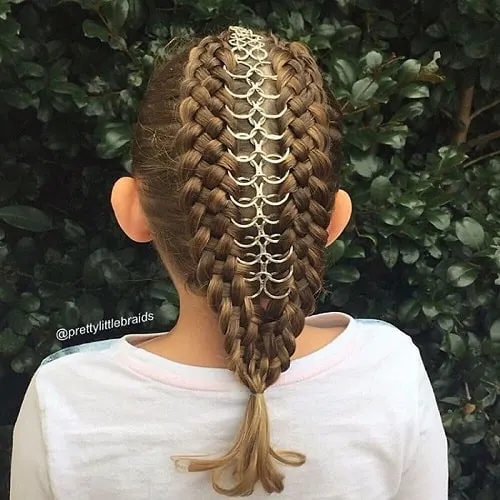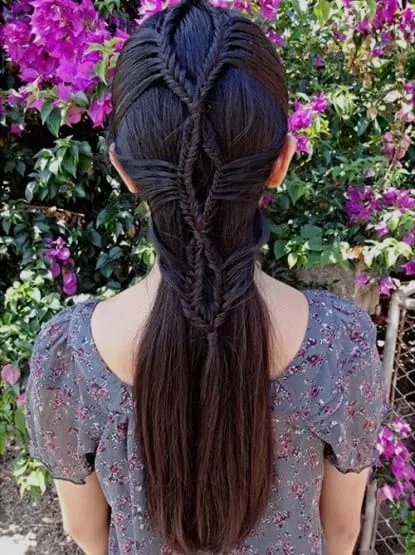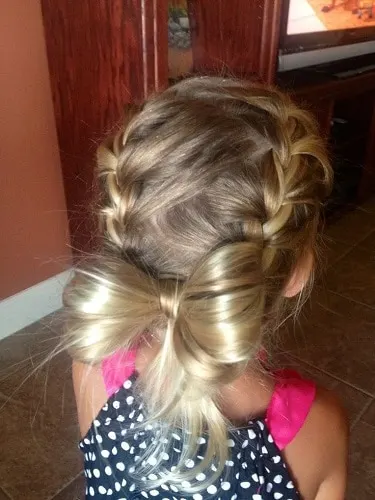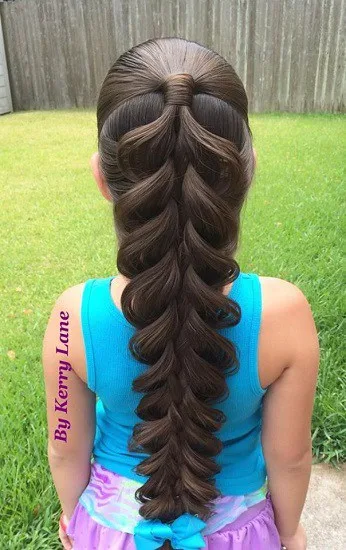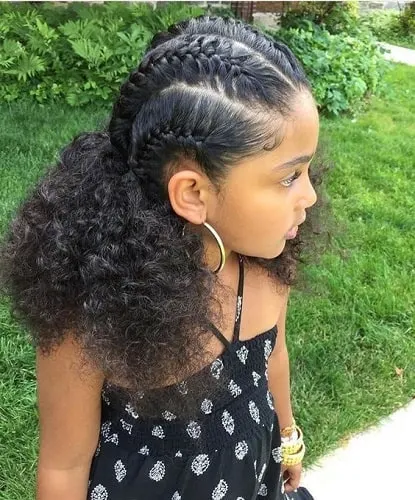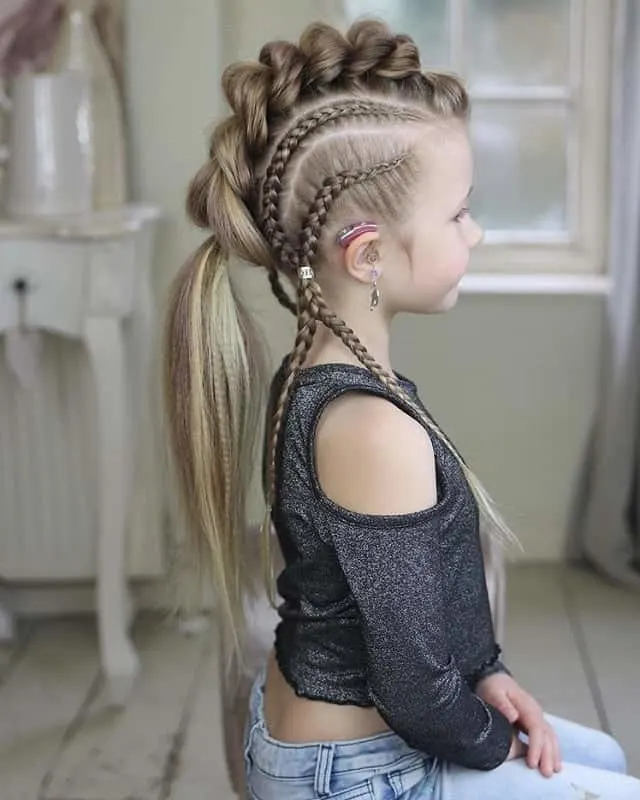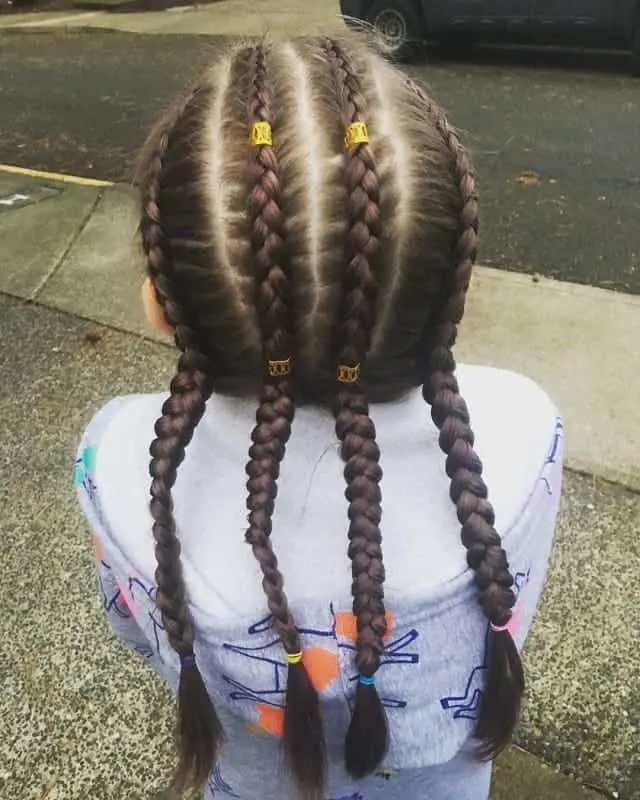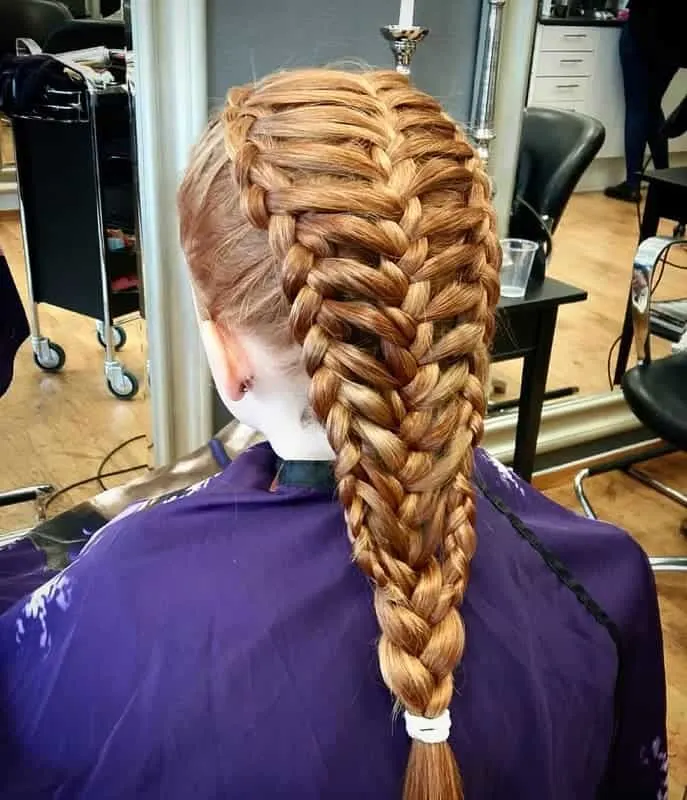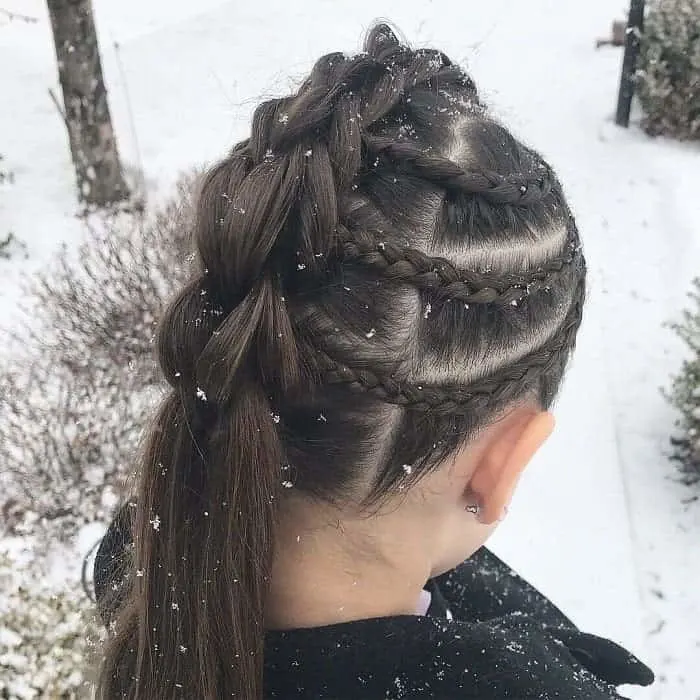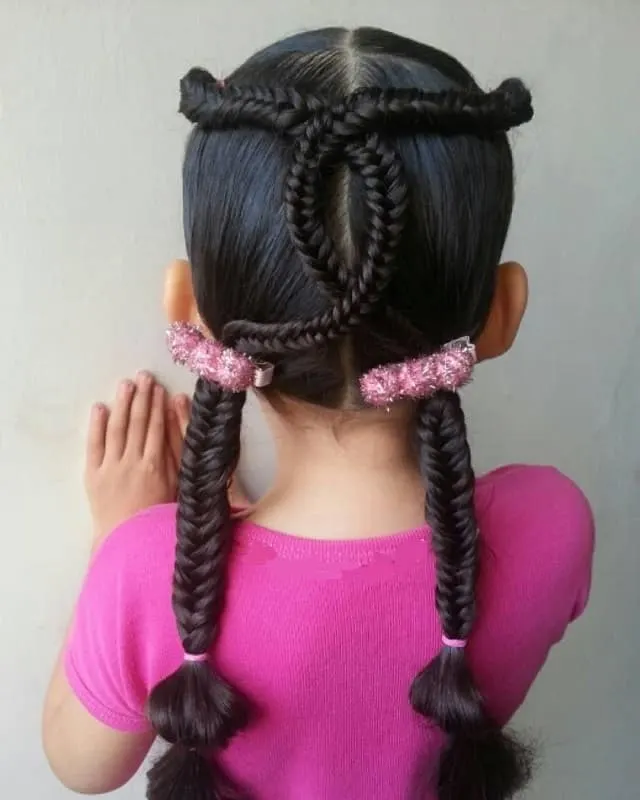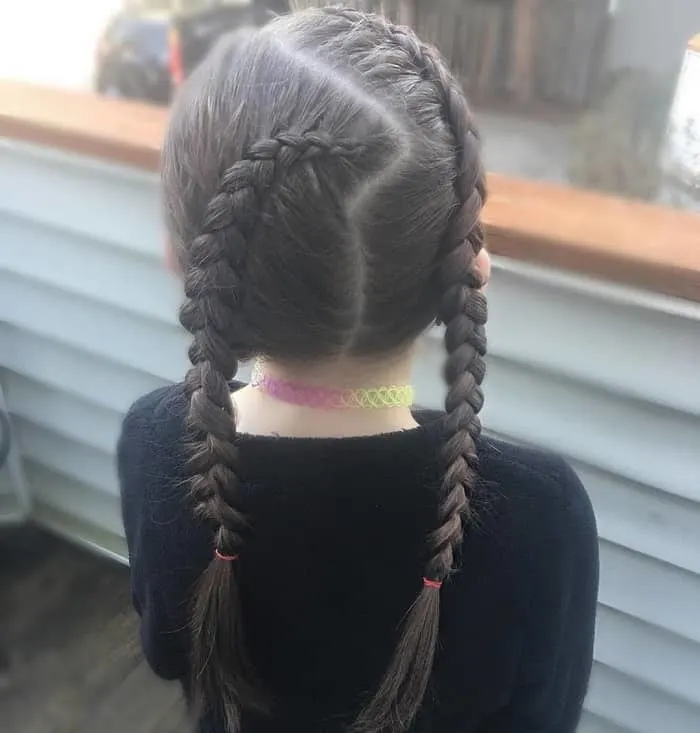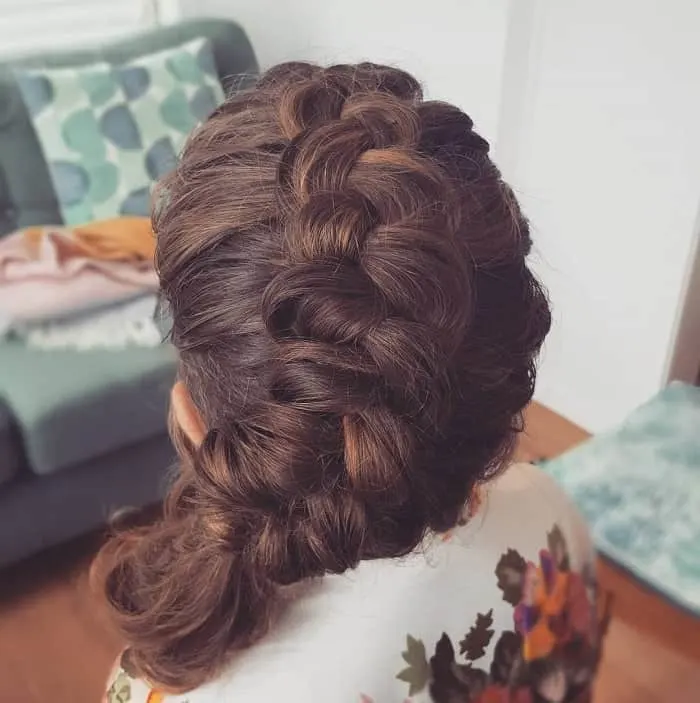 Kids look really adorable in braids. If you and your daughter cannot decide which braided hairstyle you like the best, then you can work your way through the list until you are able to find your favorite one.
Fortunately, there's no shortage of braided hairstyles for little girls. How do you like to braid your little girl's hair?