Are you looking for a cute hairstyle to make your little girl look more adorable? Every mother wants her daughter to look like a princess, and every little girl wishes to be part of a fairytale. Sometimes it can be difficult to convince a girl to sit still for a masterpiece on her head.
However, it is possible to find some little girl hairstyles that are easy to create and look fantastic. Girls often have thin hair, so the hairstyle must be carefully chosen to suit any hair type. If you are searching for the best hairstyle for your little girl, there's no need to look any further.
Tips for Styling Little Girl Hair
Here are some little girl hair styling tips.
Wet the hair before styling to make it more manageable.
Use clear, cheap hair bands for ponytails and cut them out at the end of the day to prevent breakage.
Use bows and clips to camouflage flyaways and messy hair.
Use a lightweight leave-in conditioner to manage curly or frizzy hair and make styling easier.
Keep your child entertained with toys or videos while styling their hair.
Avoid giving toddlers bangs as they can be difficult to maintain and may get in their eyes.
Make hair styling a part of your child's routine to help them understand the importance of good hygiene and looking presentable.
Use the Right Kind of Brush (Lil' Wet Brush is recommended)
Untangle Your Child's Hair Right Before Bath Time to make hair-washing less time-consuming
What Are the Best Hairstyles for Little Girls?
A chin-length bob is a good option for fine hair that doesn't require much styling and can be adorned with twists or small French braids.
If the little girl has thick hair or curls, longer hair can be grown to create fancier updos and downdos like braids and ponytails.
Mothers often dislike super tight and overly braided hairstyles and prefer simple styles like a smart pony, double braids, high bun, or headband braiding, which look decent and are not time-consuming.
For special occasions, curly hairstyles like Hollywood curls or finger waves work well, and girly accessories like bows or headbands can be added to soften the effect.
Small details like a single thin braid or twists can turn a basic haircut into a chic hairdo.
Cute & Easy Hairstyles For Your Daughter
We have chosen some fantastic little girl haircuts and hairstyles, so you can pick the one that will fit your princess best. When choosing one of the hairstyles from the offered list for your cute little girl, make sure to consider the type of hair your little princess has and how much patience she will be required to demonstrate.
If your pretty romp can't sit in one place for more than 15 minutes, then go for the more low-maintenance haircuts we offer. If your girl is serious and ready to spend some time getting her hair done, then there are more complicated options.
1. Thick Hairstyle for Little Girl
If you and your little girl are getting frustrated by her thick hair, tame it into two high braided ponytails. Secure the ends with two colorful hair ties.
2. Half Up Space Buns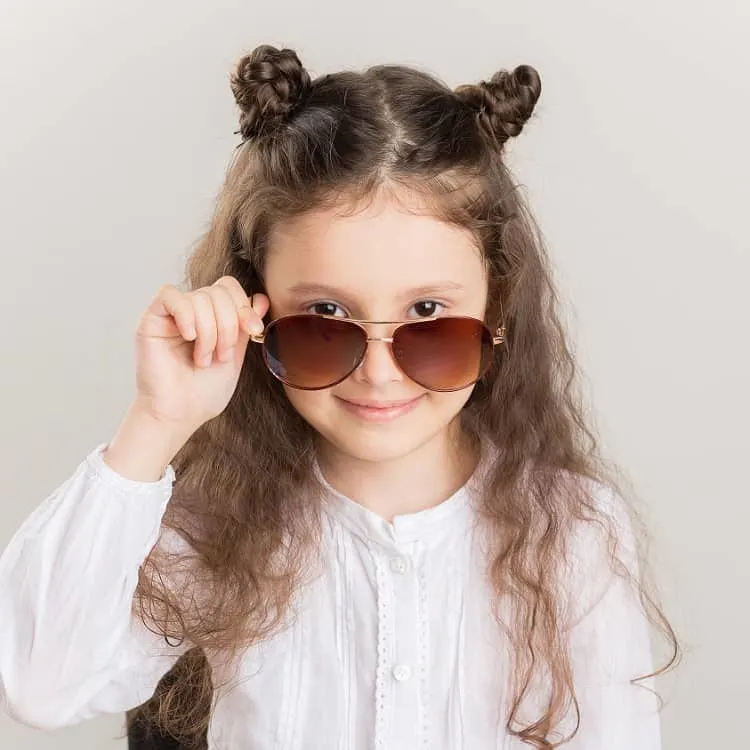 Are you looking for a cute half-up hairstyle? Try these super adorable braided space buns. They'll work for both short and long hair.
3. Little Girl Hairstyle for Fine Hair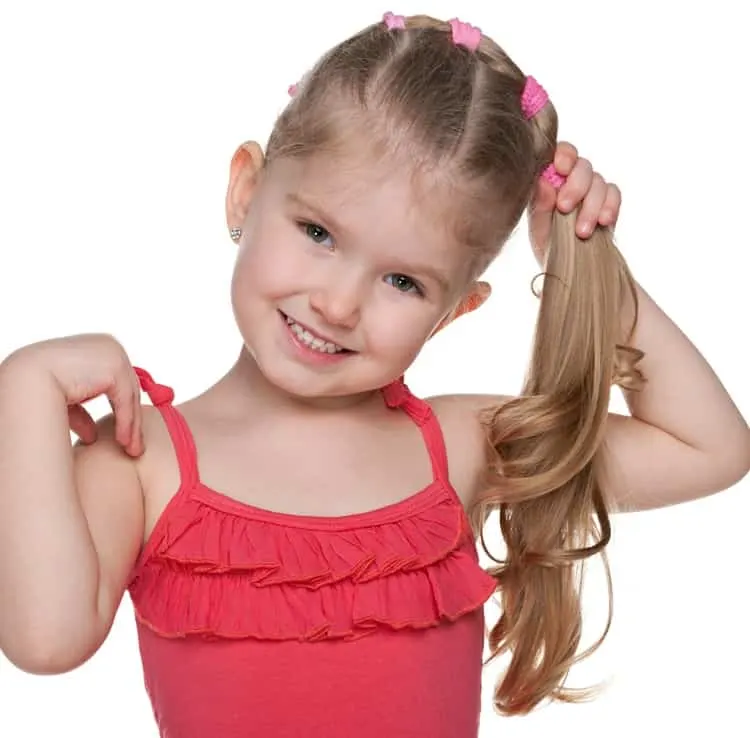 Both fine and thin-haired little girls will love how fun a side-sectioned ponytail is. Secure the section in different rainbow color or use just one to match her outfit.
4. Little Girl with Blonde Hair
Give your little girl a hairstyle to remember for holidays or other special occasions. This high ponytail or bun look features a gorgeous bow up front and center.
5. Twists for Black Hair
A short haircut made of twists is styled sweetly into small side ponytails. Three small ponytails are started from one side of the head and cross over to the other, secured with contrasting hair ties.
6. Updo for Little Girl
Another great hairstyle for little girls with long hair is this low bun updo featuring colorful ribbon woven between a loose braid before being wrapped up in a delicate bun.
7. Straight Hairstyle for Little Girl
Try a side waterfall braid for the little girl with long straight hair. Straight hair is easiest to braid, although to make this look prettier, you can fill the body with curls or waves.
8. Curly Hair Middle Part
For little girls with curly hair, try leaving it loose for a simple style. A middle part and a bit of styling cream are all it takes to contain curls and enhance their shape.
9. Little Girl Hairstyle with Beads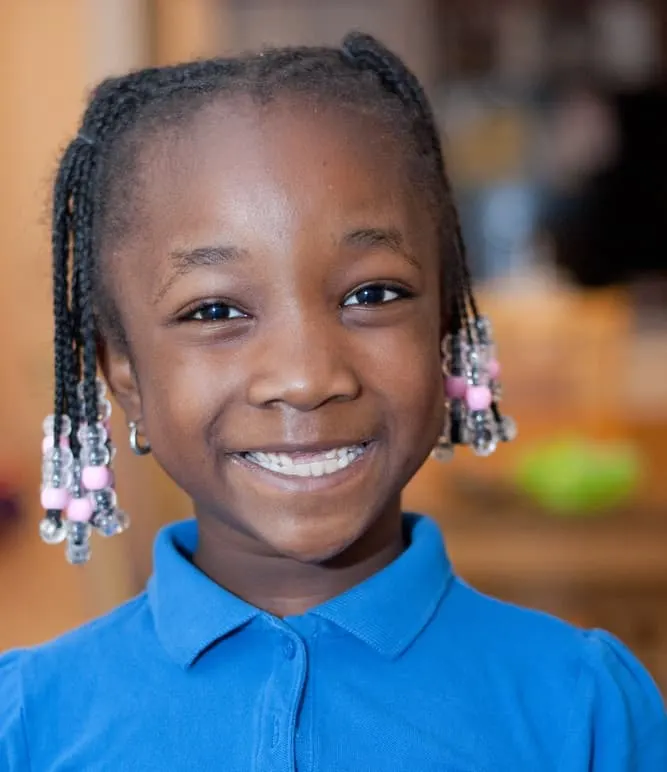 Does your little girl have naturally black hair? Go for micro-braids or twists and top the ends with a stack of colorful pony beads.
10. Little Girl's Hairstyle for Wedding
Before styling up this low-side ponytail, add a few spritzes of hairspray. Curling iron helps fill this ponytail with luscious waves. Just add a few white flowers.
11. Chiffon Bow Bun
As pretty as this hairstyle will look on your child, it is just as easy to make.
Make a tight, half-done ponytail on the head. Wrap the ends around the ponytail to make a bow and add an accessory to hide the ends.
12. Dutch Braid with a Bun
If your daughter's hair is long, then you have to try this toddler updo!
Make a front dutch, and at the end twist the hair into a high bun. You can make it prettier by adding little flowers or clips.
13. Opposite End Braided Ponytail
The opposite braid hairstyle is stunning, practical with no hair out of place.
Divide her hair from the middle and make braids on top from one end and on the bottom with the other. Now add the ends of each braid to the opposite ponytails.
14. Divided Ponytail
To achieve the hairstyle for a toddler, divide the hair and make small twists. For the ponytail, add rubber bands at regular intervals.
Add a bow or clip for a cuter vibe!
15. The butterfly
This might be one for the pros! Using hair to create the shape of a butterfly with intricate weaving, the result is completely breath-taking. Although the butterfly shape is incredible, people marvel at the strength and texture of your baby girl's hair.
All sorts of patterns can be achieved like this; why not get inspired by some of the tutorials available?
16. Trendy fringe
Fringes are a fantastic way to add interest and style to your little one's hair. Fringes can be used to frame your little girl's face or draw attention to her beautiful eyes, and there's a whole range of fringe styles available too.
Talk to a hairdresser about what would suit your little one's hair, your styling needs, and your little girl's personality. Adding hair chalks like in the picture is another way to demonstrate your little girl's personality through her hair.
17. Small details
Little pops of intricacy can set off your little girl's hairstyle; for example, a small braid or heart braid draws the eye to the hair.
In contrast to the intricate detail and precision of this braid, the back of the hair is loose and flowing and this juxtaposition enhances the beauty of the hair.
18. Pipe braids
Pipe braids are achieved with a different technique to regular braids, wrapping and tying hair around itself. This has the effect of showcasing the hair, as often elastics and the like are not even visible.
If you can master the pipe braiding technique, this is another one to add to your arsenal.
19. Party in the black
Keeping the front of the hair super neat and slick and allowing the rest of the hair to be pulled into a simple updo is a fabulous way to style hair for little black girls. The contrast emphasizes beauty, which is especially true in the case of hair.
In this example, the slick front emphasizes the beauty of this girl's wild curls.
20. Twists and pleats
There is a range of braiding techniques available, all of which are beautiful. The art of pleating, twisting, and manipulating hair around itself showcases its beauty and also the skill of doing so.
If you struggle to master traditional braiding techniques, the twists might be for you. In contrast, once you've mastered a traditional over-under braiding technique, you can make a reasonable attempt at a pleat by using these same techniques.
The long bob is a lovely hairstyle for little girls. It's neat, simple and classic and very easy to maintain. It also allows hair to speak for itself and can be added to with accessories, braids and some of the other hairstyles mentioned.
It's a practical hairstyle as it has plenty of lengths to frame the face and experiment with but is short enough to be out of the way, not trailing in paint or dinner at preschool!
22. Twisted braids
Twisted braids are more straightforward to achieve than other kinds and keep more of the hair's original shape and texture, which can be lost in other braids.
You can tailor the number of braids and the sectioning to suit your needs and your little one's hair and work with nature rather than against it. This achieves a more relaxed, cute look that suits little girls.
23. Color pops
Hairstyles for little girls can also involve a little bit of fun! Sometimes the best way to make the most of your little girl's hair color is to add some (temporary!) unnatural color.
Pops of bright funky tones draw attention to your girl's natural color. Hair chalks or sprays are a great way to experiment with different colors without damaging the natural hair.
24. Graduated locks for little girls
This is one of the low-maintenance little girl hairstyles out there. The most significant effort is to keep the girl in the stylist's chair enough to make the levels. Once this job is done, all you'll need to do is keep the waves intact.
Radiant hairstyle ideas for your baby girl
This is an excellent hairstyle for a little princess with long and straight hair. Pull your girl's hair up high and tie it with an elastic band. Then wrap the ponytail around itself to make a bun. Secure the bun with an elastic and a bow.
26. Mischievous curls
One of the best little girl hairstyles is, of course, the curls. Go with the curls, and you will never go wrong. The mischievous look the messy curls add to your little princess is priceless. Use some hair pins to keep the hair out of the girl's eyes.
27

. Ponytail and braid mix for little girls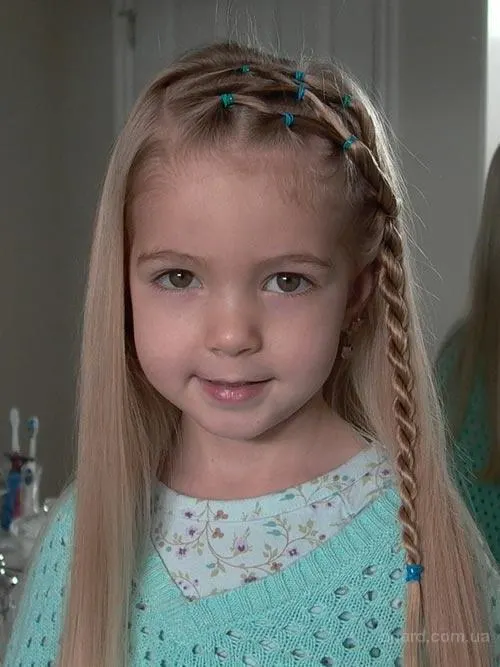 Braids look fantastic on little girls. A cute little girl hairstyle can be created by adding just one braid. The strands for the braid are taken from the opposite side and are secured by little elastic bands. This great hairstyle looks very neat and is hard to mess up.
28. Braid basket
Making a braid is a win-win choice for any little girl. But if you are tired of the way regular braids look on your princess, use your imagination and create a braided basket on top.
All you need to do is make two braids and arrange them on top, as shown in the photo. Use Invisible pins to keep the basket in place.
This hairstyle will require some effort and patience from your little princess. It is created by brushing the hair to the top and making two loose braids. Then the braids are arranged in the front and secured by pins. Use some hair gel to keep the rest of the hair in place.
30. A flower coronet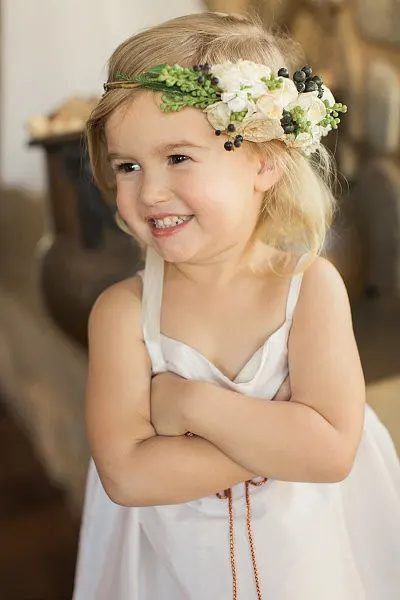 There is no doubt that your girl is a princess and any princess needs a crown. Buy any kind of coronet with flowers to make your girl feel regal.
No special hair styling is needed here. Just make sure the dress you choose correlates with the flowers. Check out some of the most beautiful & adorable flower girl hairstyles here.
Many girls don't like to sit in one place all the time. They will run around, climb trees and chase dogs. This haircut is perfect for a little romp who doesn't have time for hair escapades.
Asymmetrical bangs are created not to get into the girl's eyes. The rest of the hair can just be left straight and gathered into braids or ponytails.
32. Soft waves
Waves are always a good idea for any little girl's hairstyle. Take out your flat iron and do some curling. Even the princesses with fine hair will look gorgeous with soft and long waves. You can settle for tip waves if your girl doesn't want to sit still.
33. Loose low bun
Loose low buns are a great alternative for top knots. They are pretty easy to create. However, they don't hold in place just as well. Make sure to use a lot of hair gel to keep the bun intact. You can add a crown and pin the hair to it.
This cute little girl hairstyle looks great on curly hair. Make a regular top knot and decorate it with a crown. Then pull strands of hair out of the top part of the knot and curl them with a flat iron. This will create a regal look.
35. Loose fishtails for girls
If you want to create a special-looking braid, go for fishtails. Loose fishtails create a nice and messy look, which suits the little girls so much! Your little princesses can be as mischievous as ever and will look fabulous at the same time.
36. Bob with short bangs
Do you know your girl doesn't have a minute to keep her hair neat? Go for the short bob with short bangs. This little girl hairstyle is rather famous for sweet romps, who are annoyed with hair getting in their way. The haircut doesn't need any maintenance at all.
37. Spiral curls for kids
Little girls look incredibly adorable with spiral curls, so why not make them? It might take some time, but the result will be excellent. A flowery coronet will be a great addition to your girl's fresh and bright summer look.
38. Interlaced hair band
Create a fantastic hairstyle by curling the lower part of the hair and interlacing it into a decorative hair band. Pin the hair to the band with elastics or hair pins and your princess will look even more fabulous than before.
39. Neat bob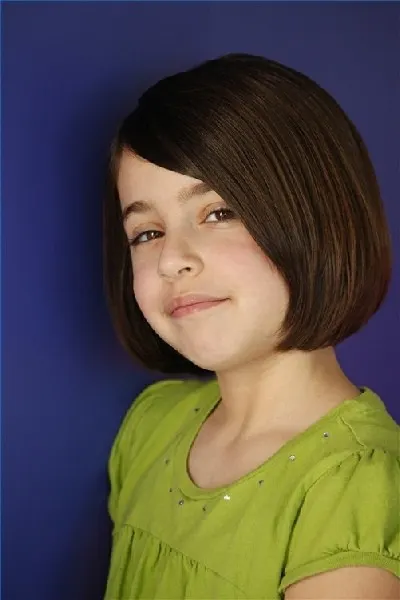 Bob's are an excellent choice for little girls. They are easy to make and don't require much brushing. Girls look amazingly cute with neat bobs and there is nothing else to add.
If your girl doesn't appreciate princess-like hairstyles, the bob is the choice for her.
40. Cute ponytails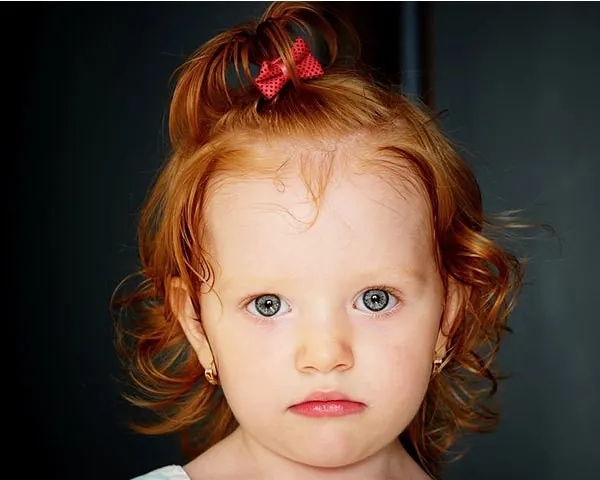 Toddlers often don't have enough hair to come up with a full-blown hairstyle. However, there is always enough locks to make a sweet ponytail on top. This amazingly cute little girl hairstyle is a must do for any toddler. Check more toddler girl hairstyles here.
41. Little girl hairstyles with long hair and no bangs
It is hard to keep long hair neat. But if your girl wants to create all kinds of different hairstyles, long hair is a must. At the same time, there shouldn't be any bangs since they are rarely part of the regal picture.
42. Asymmetrical bob for little girls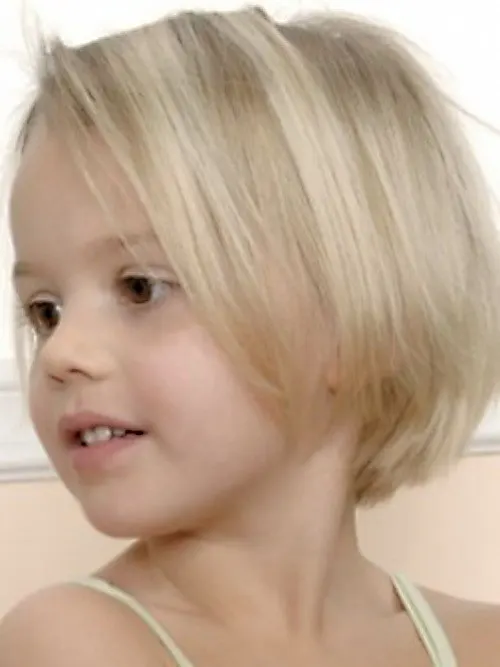 Short asymmetrical bobs are the style of choice for little girls with fine hair. Remember, fine hair shouldn't ever be braided. Ponytails are also not a great idea. So to keep the hair out of your girl's face, go for a cute short asymmetrical bob.
43. Simple bun
If your girl has long and thick hair, it would be a crime to cut it short. However, there is no playing and running around with your hair down. So go for a simple bun to keep your girls hair up top. You can decorate the simple bun any way you want.
44. Natural curls
If your girl's hair curls naturally, there is often nothing that should be done about it. It looks fabulous all on its own. To keep the natural curls neat, use some hair gel.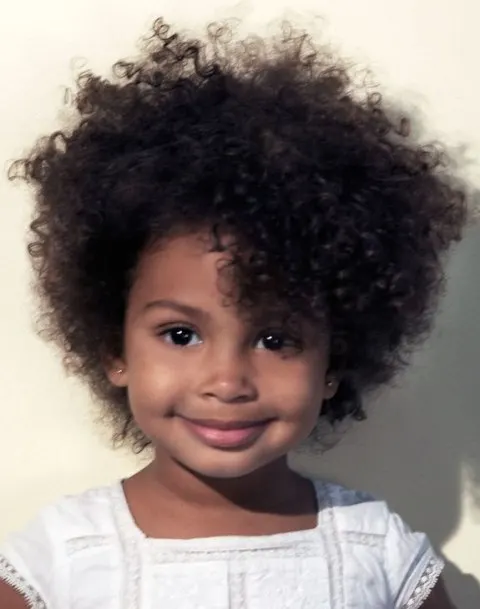 This cute little afro is achieved by making a pixie cut. Leave the hair on top and do a taper down the neck. In the end, you will get the cutest afro out there, which needs almost no maintenance and will have the grandmothers squealing with delight.
46. Flower bun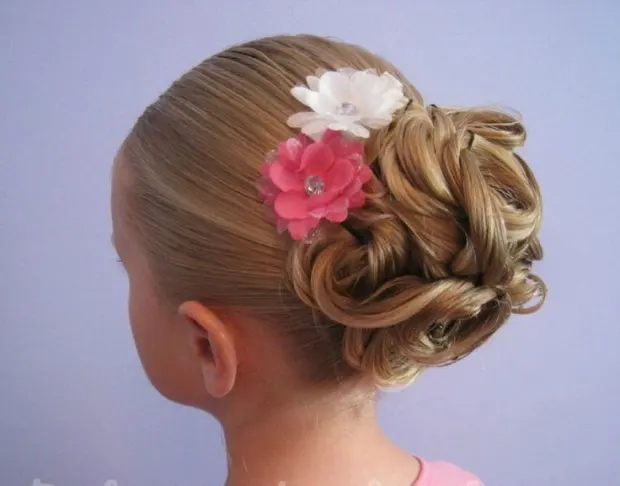 The longer your girl's hair is, the better the flower bun will look. It starts with a simple ponytail which then gets divided into strands that get clipped to the elastic band and each other.
This style takes practice, so get ready for tough work or make an appointment at the hair salon.
47. Long side swept bangs and soft curled tips
Try this style out if you want your little princess to look as cute as possible but don't want to use too much hair cosmetics. All you need to do is create long bangs and curl the tips of the hair a little. This will produce a cute and low-maintenance style any girl will appreciate.
48. Stylish braids for little black girls
African American girls can sport a great look with stylish braids and a fluffy ponytail. This little girl hairstyle is easily achieved by collecting most of the hair to make a high ponytail. The rest of the hair is left in front and four small braids are created and tied together with a bow.
49. African Braids for Cute Little Girls
If your little princess has long hair, a time will come when she will ask for African braids, so let her have them! African braids are a great idea for the little girl look. However, they take a pretty long time to make.
50. Complicated braids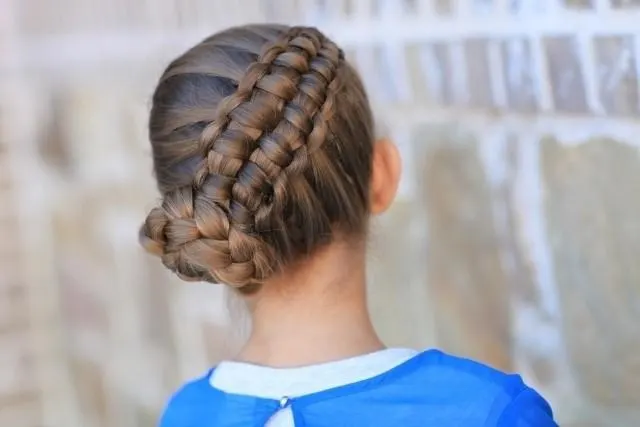 Girls with long hair have a chance to try out different complicated braiding. There are many tutorials on the Internet which will help you create complicated braids on your own. However, there is nothing better than professionally made braids.
Our Favorite Updos for Little Girls
51. Side ponytail
Of the girl's hair is not thick enough to create large ponytails, there is no need to even try. You can make a ponytail on the top part of the head by using some of the girl's hair just like on the photo.
If a special occasion is coming up and you want to create a very special little girl hairstyle, go for the movie star hairdo. The best idea would be to go to a professional stylist since the style is complicated.
53. Short bob with wispy bangs
Some girls just don't want to bother with long hair. Even if your little princess has a wonderfully thick mane, a time will come to cut it short. Keep it cute and pretty by creating a short bob with wispy bangs.
54. Chunky Plaited Ponytail for Little Girls
A chunky plaited ponytail for black girls is a classic choice for a little girls' hairdo. It is a quick and elegant way of tying the hair back away from the face.
55. Delicate Soft Waves and a Flower Crown
Delicate soft waves are a gorgeous style for a little princess. Adding a flower crown means that this is a lovely choice for a flower girl or a hairstyle for another formal event.
56. Braided Crown and Chignon
Braids can be worn all of the ways around the head to create a beautiful crown effect. Finish these braids off by pulling them up into a chignon at the nape of the neck.
57. Hearts and Bows
Why not try creating some hair art with cleverly styled plaits or pigtails. Shape them into a heart and then tie things off with a gorgeous bow for a really lovely hair effect.
Splendid Haircuts for Cute Little Boys
Bob is a cute short hairstyle for little girls. A curly bob has a little extra bounce, so it is great for little girls with fun and bouncy personalities.
59. Side Parting with Big Curls
Having a parting at one side can help to change the shape and the thickness of a hairstyle. Big loose curls look really pretty as part of a formal hairstyle for little girls.
60. Loose Plaited Pigtails
Loose plaited pigtails are big fun and messy. They are quick to do and they straddle the line between a formal and an informal hairstyle for small girls.
61. Half Up Half Down Hairdo
A half up and half down style creates variation in the length of the hairstyle. The concept looks pretty with perfect medium-sized curls.
62. Pageant Hairstyle for Little Girl
Whether it's a professional competition or Halloween, a pageant hairstyle is just the look for glam vibes. This little girl's short hair is filled with curly ringlets and topped with a tiara.
63. Shoulder Length Haircut for Little Girl
Long or shoulder-length natural black hair curly in texture will look even better with a bit of shape. Add some layers and part it in the middle.
Chopping your little girl's hair short can be a big decision, but it can also really emphasize your little girl's face and jawline. If you want her beautiful facial features to take center stage, then perhaps a short hairstyle is the way to go.
Another benefit of a short haircut is that very little is needed in terms of styling in the morning and you can spend your time on other things.
Pigtails are always adorable and these ones especially so. Ideally suited to toddlers or young girls, these add an extra cute factor by extending the reach of the hair.
Elastics hold the hair more rigid so that it extends out further from the head. The fluffy ends seem extra cute in comparison to the structure afforded by the elastics.
You have probably chosen your princess's best little girl hairstyle by now. If your girl has long hair, you have a chance to try many different hairstyles. However, even if the hair is short, there is no need to worry. There are a lot of different short hairstyles for little girls out there. Take your pick!