When people hear about a fade haircut, all of them imagine different things. Many think that a taper fade and an undercut are the same hairstyles. Others can't tell high and low fade apart. This is all quite unfortunate for those who are heading to the hair salon with a certain plan and leave it with a haircut they didn't want. Knowing the different 60 types of fade hairstyles will save you a lot of disappointment.
Everyone knows that a fade means "fading" length of hair from top to the bottom. A well-done fade hairstyle is obvious to the onlooker. That means you will be able to see the fading hair levels without getting too close. These hairstyles look very fashionable and are among the most popular haircuts for men around the world.
Every man has his own idea about what the perfect fade hairstyle is like. But before going to the barber shop, some information should be learned about the different fade types.
How to Create a Fade Haircut
If you've never cut your own hair before, we recommend watching the way your hairdresser does it closely. When you feel you are ready for experiments, you can follow a few simple steps. All you need to buy is clippers, scissors, trimmer, a comb and a mirror.
Start with the simplest high fade that doesn't do any dropping. This way you have to take care of the sides only. With time, you can go on to more complicated options
Choose the fade line. It can be right above your ears, at the temple or as high as you wish as long as you leave some longer hair on top.
Start with cutting the sides. Do one side at a time. Choose a long trimmer attachment, such as # 4 or a #5 for the top layer of your fade.
Replace the trimmer attachment to #3 or #2 and trim the sides right below the first line you made with the higher attachment.
Go on to do the back. If you can, ask someone for help. If not, use a mirror to slowly do the back part. Consider cutting it simply with one attachment at first since keeping to several lines is complicated in the back.
More complicated scissors fades are available for guys who are good with hair cutting tools. A scissors fade looks more impressive but needs frequent maintenance. Consider going to the salon for that one.
Why Guys Choose A Fade Haircut
Men in the USA have always wanted an easy way to set themselves apart from the crowd. A new fade will allow a man to keep the style that they love whilst adding a little bit of variety to the look. Some men also want a fade because it helps to make their haircut more manageable.
Give yourself a new fade haircut to change your existing style into something special. The modern fade technique will really change your style if you do it correctly.
Different Types of Fades for Men
There are various types of fades you can choose from. Let's take a look at the most popular options.
1. Classical fade
The main rule for choosing a hairstyle is as follows: If you are lost, choose the classics! In the classical fade hairstyle, the tapering starts about 3–4 inches above the hairline and the fading levels are about a ½ inch thick. The hair is faded at the same length all around the head perimeter.
Such fades are easy to take care of. They require regular barber shop visits for touch-ups. A perfect touch up period is about 4 weeks. However, it can be extended up to 6 weeks, depending on the hair growth rate.
2. Low fade
When the barber is asked for a low fade, he or she will make the hair disappear about one inch above the natural hairline. The same will go for the back of the head.
However, the level of the fading line can vary depending on a man's wishes. The fade style will stay low as long as it is lower than the classics.
The lower the fade is, the more respectable the hairstyle looks and the better it fits men of all occupations. The disadvantage of the low fade is more frequent touch-ups. The top can be styled in many ways, depending on the person's preference. The low fade is also often called a Taper Fade. However, there are some minor differences between the two.
3. Taper fade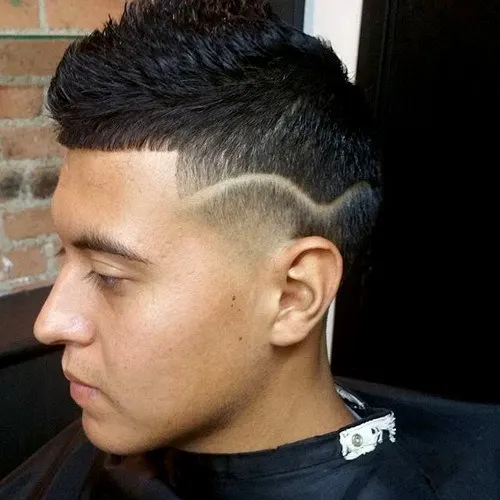 The taper fade is the most popular hairstyle of the modern generation. It can be called a mix between an undercut and a low fade. The connection levels of this fade are quite short and the tapering is almost unnoticeable.
Usually, this fade is a little higher than the low one. In many cases, taper fades are complimented by different hair designs at the shaved parts. The top styles also vary dramatically. The advantage of this fade is its popularity. Men always feel sure of themselves with a well-made taper fade.
4. High fade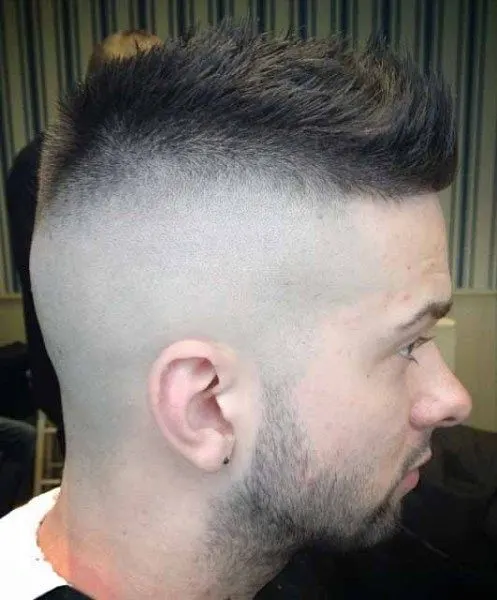 A high fade type haircut is somewhat related to a mohawk. The hair stops fading about two inches from the top part. It means that most of the head perimeter will be shaved.
The advantage of this fade hairstyle is very low maintenance. If you will not be choosing something extravagant for the top part, you will not be spending too much time taking care of this haircut.
However, touch-ups must not be forgotten. Depending on the hair growth speed, you will need to visit your hairstylist once in about 4 to 6 weeks.
5. Scissors fade
As you can tell from the title, this fade is made by using just the scissors without a trimmer. This haircut can be made by highly professional barbers only. It will also take a pretty long time to do.
However, the result will truly surprise any man. This is a perfect option for men who don't appreciate the first week after going to the salon before the hair grows out a little. A scissors fade looks perfect from the very beginning and will not have you adapting to the new hairstyle.
6. Temple fade (Blowout fade)
This is a type of fade haircut that became popular in the 1990s and needs a high-top hairstyle. It can be considered a low fade created as an auxiliary style to shape up the top part.
Basically, what it does is make an edge to make the top style more obvious. The fading itself is quite short. There is only about 1 or 2 inch fading stripe created around the head. The longer your top is, the more obvious the temple fade will be.
This type of fade haircut requires frequent touch-ups since it can quickly blend in with the rest of your hair, especially if the top is not too high.
7. High top fade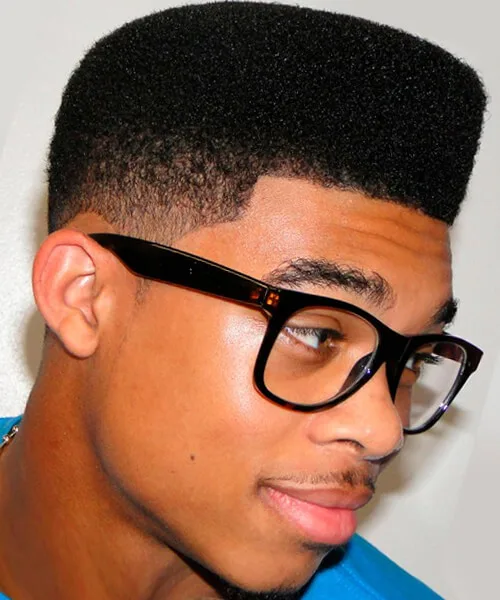 When you want to imagine a perfect high top fade haircut, think about Will Smith in Fresh Prince of Bel- Air. It's a 1980s hairstyle that stayed pretty popular for about 15 years. Nowadays it can still be made. This hairstyle is popular among African American and Jamaican men since their thick and curly hair allows them to make it.
The hair on the sides and in the back is cut as it would be in a high fade, while the top is left quite long. Some top parts start at just 4 inches and others go up to 10. All depends on how much time you are ready to spend on styling your hair. In modern days, men with high top fades prefer making complicated designs on the shaved part.
8. Medium shaped-up fade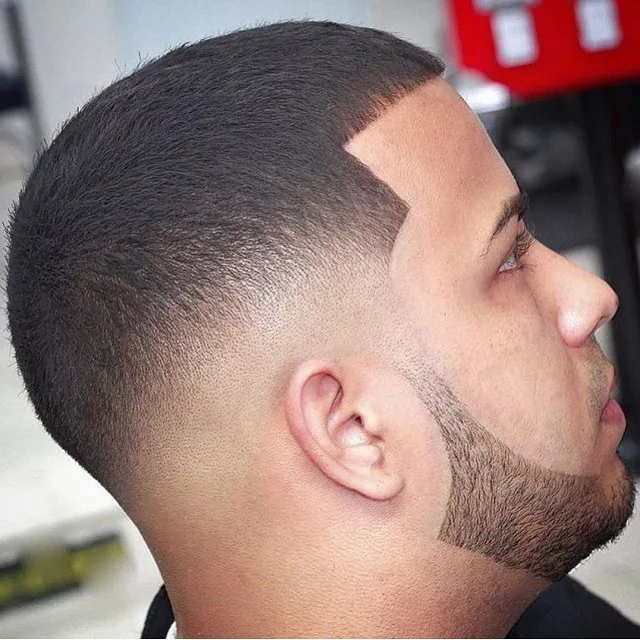 This is a short fade that will appeal to men who don't like to bother with too much styling. The fading starts in the middle of the forehead and goes down to about 3 inches above the ears. The top part is closely trimmed by the scissors to create a shaped-up appearance.
9. Combed over high fade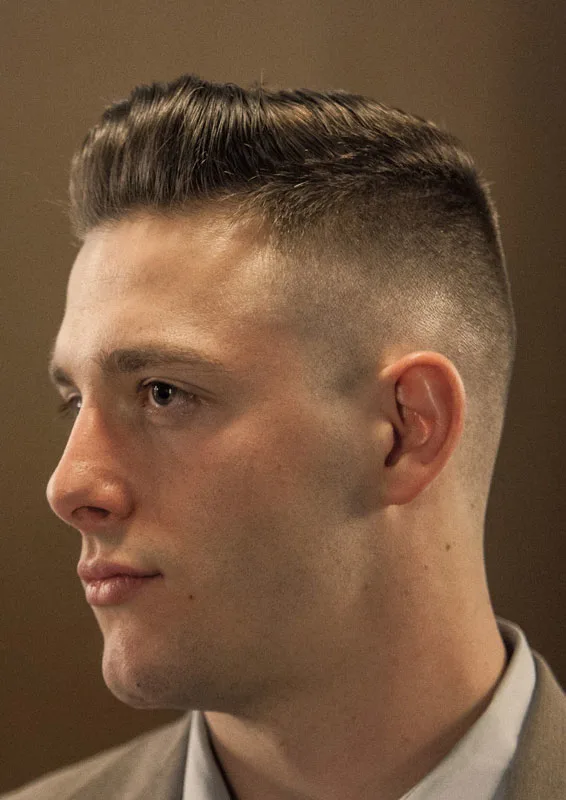 High fades are gaining popularity due to their low-maintenance properties. However, many men are choosing to leave the top part of their fade long enough for styling experiments. If the hair on top is longer than about 5 inches, you can create a stylish high comb-over.
10. Side part disconnect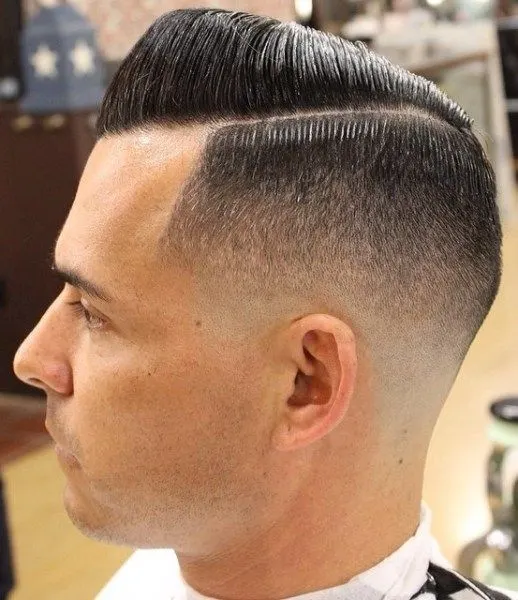 The disconnected side part is a popular way to shape a fade. The fade itself is high and starts about two inches above your ears. The top part is 4 inches long. You need to make low side part and use hair gel to make the disconnection line obvious.
11. Low top fade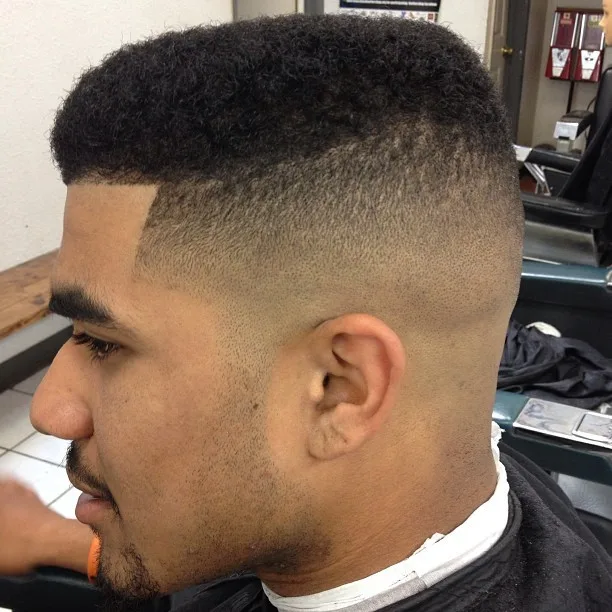 Low top fade is similar to the high top fade. However, the top part is cut much shorter. This haircut will appeal to Prince of Bel-Air fans who are not ready to spend a long time styling the top of their fades.
12. Regular fade with spikes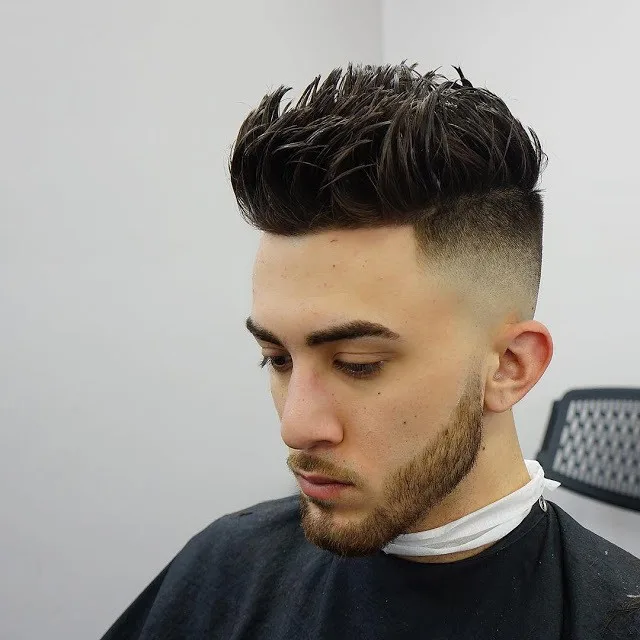 This is another complicated variation of the regular fade haircut. You can enjoy the long top hair since it gives you an opportunity to experiment and enjoy the stunning results. Spikes are very trendy right now and they are easy to create. All you need to do is run the gel covered fingers through your hair and spike it up.
13. High fade with low spikes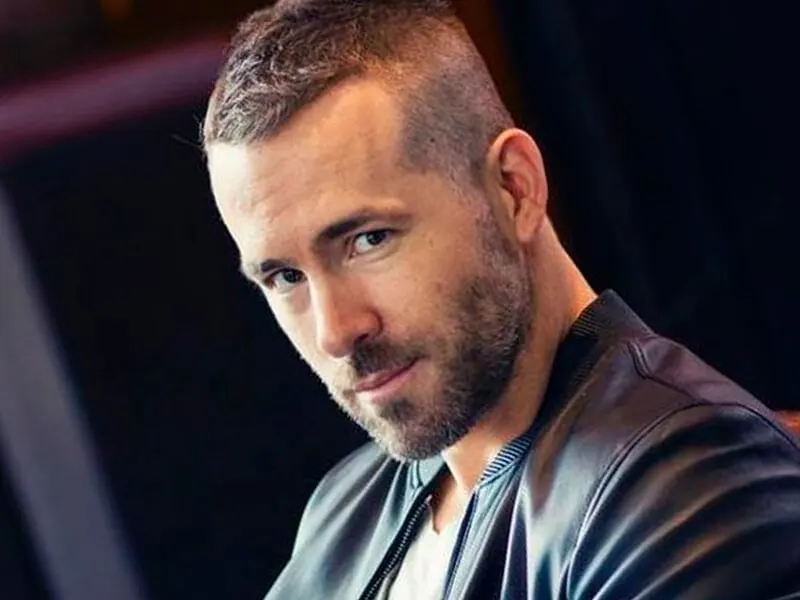 High fade haircuts are appealing thanks to the easy maintenance and rare touchups. In order to make spikes, you need to grow the top part long. But if you are looking for a maintenance-free option, consider leaving the hair about one inch long and spiking it up a little to make a low and subtle crest.
14. Regular fade with a wet look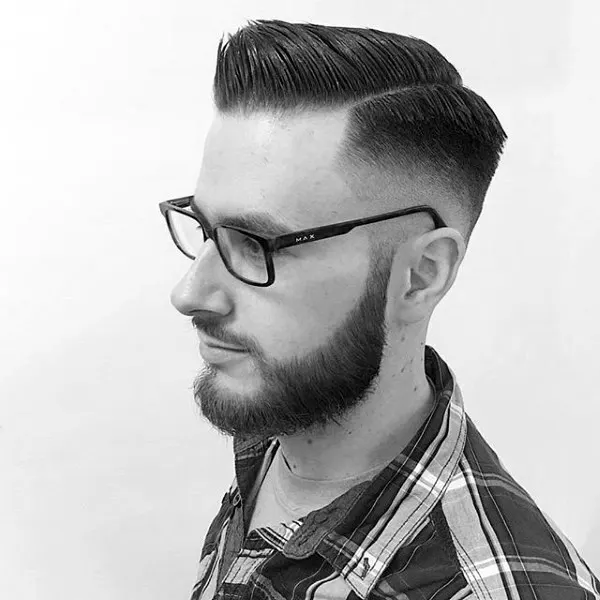 This regular fade hairstyle is easy to create thanks to the hair gel. The hair on the sides is cut into a regular fade while the top is left about 3 inches long. The more gel you apply to the top hair part, the more complicated the upper style can be.
15. Scissors + trimmer fade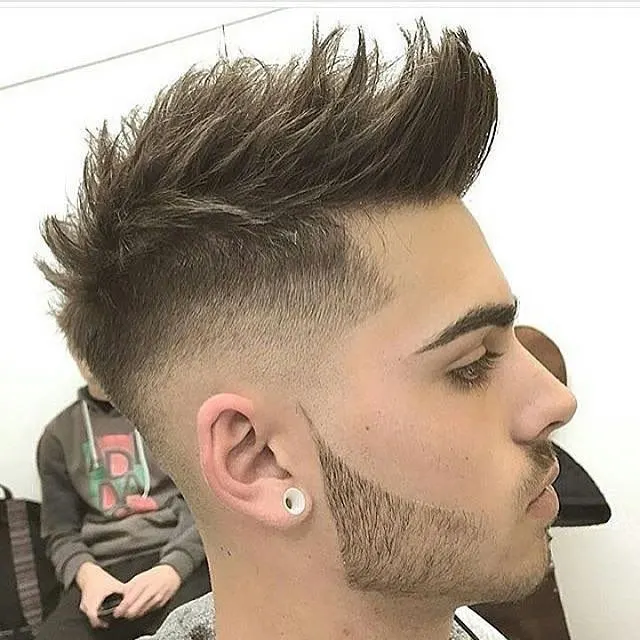 The fade haircut made by using both scissors and a trimmer always look especially effective. The high part is cut with scissors while the lower is left to a trimmer. The top part is left long enough to create wild spikes and other complicated options.
16. Razor shape up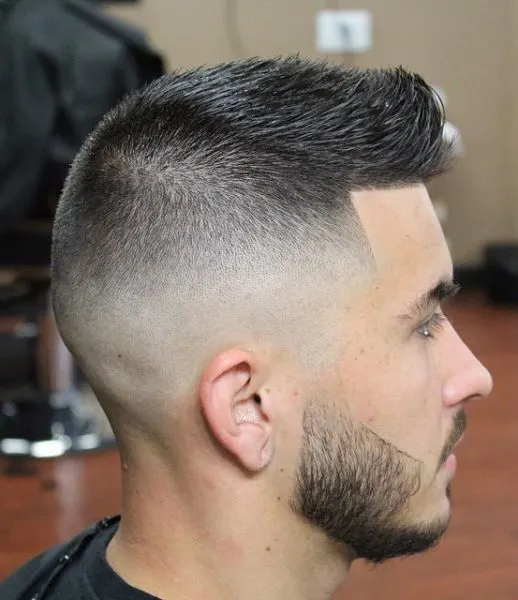 No matter what type of fade you choose, you can ask the hairstylist to create a razor shape up. He or she will use a razor to make the edges of your haircut sharp. This way the hairstyle will look neater and will stand out more prominently.
17. Undercut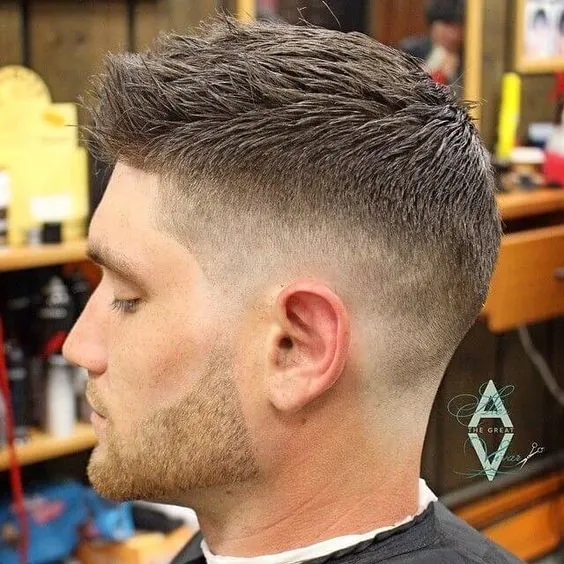 This medium-leveled fade is similar to an undercut. The fading layers are rather slight; however, the transition from long to short hair is obvious. This is a good choice for men who are looking for a unique hairstyle.
18. Fohawk fade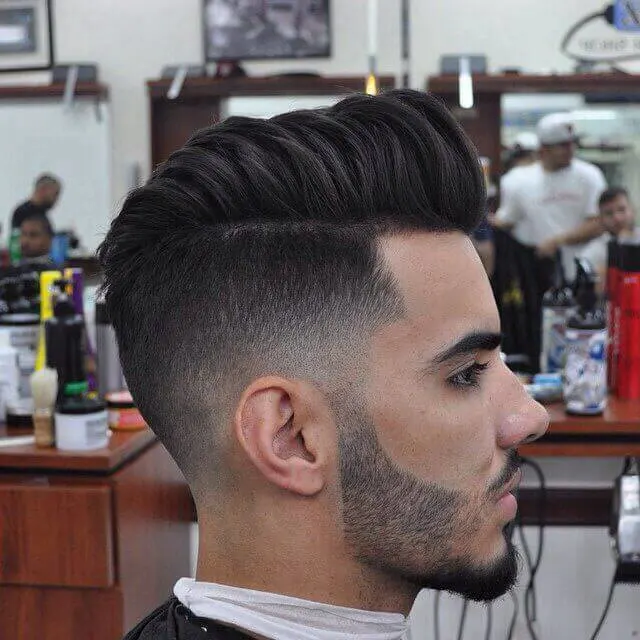 The fade technique in this hairstyle is used to create a fohawk. The sides are faded while the top is kept high enough to make a contrast. Eventually, you will get a hairstyle very similar to a mohawk while keeping the hair on the sides intact.
19. Low side part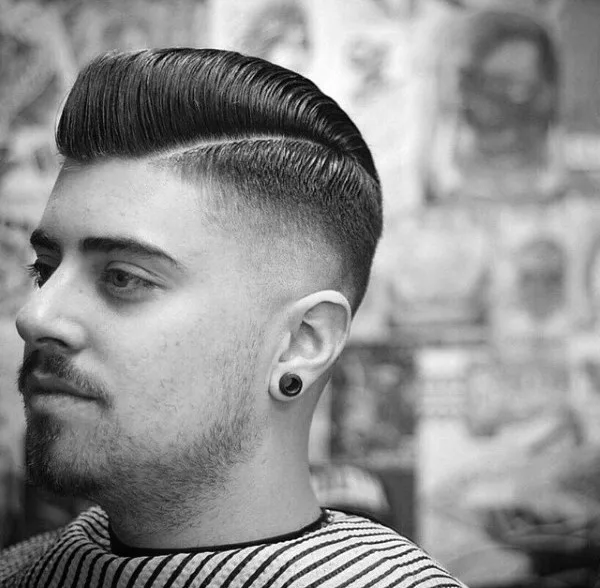 The low side part is a popular technique used with a high fade haircut. The reason for its popularity is the stunning appearance of the top part styled into a comb over or spikes. The lower the side part is, the more effective the hairstyle appears.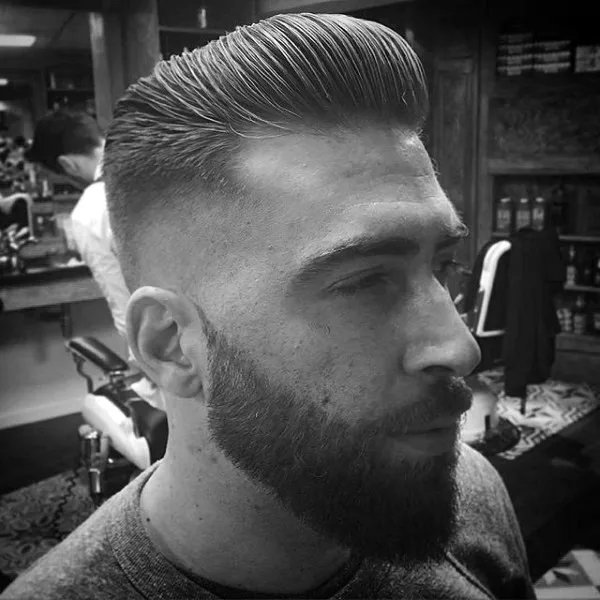 A high taper fade is a great addition to the modern grease hairstyle. While three-quarters of a century ago, grease hairstyles were made on more or less long hair, the modern ones look terrific with a high taper fade.
21. High Fade with a Cowlick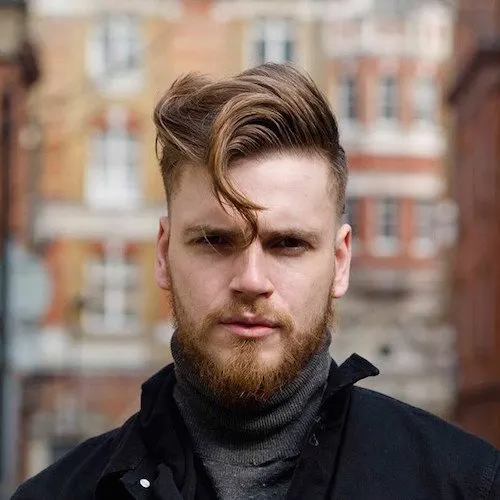 When you consider making a new fade haircut on the sides, think about the millions of options you can take advantage of when dealing with the top. Growing long hair on top of your head allows you to make a romantic cowlick.
22. Part lines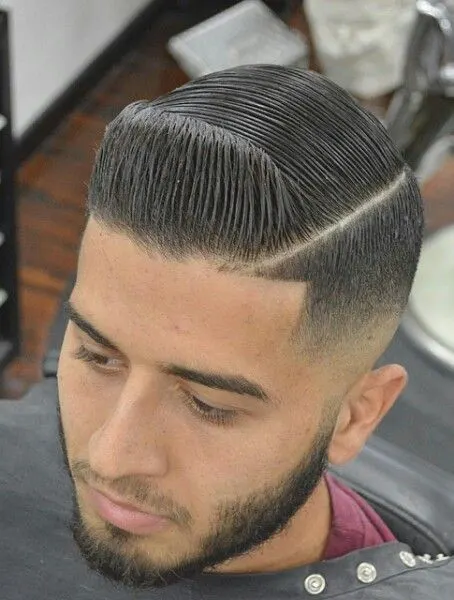 Short fades give you a chance to experiment with hair designs. Part lines are very popular nowadays as well as other geometrical symmetry and asymmetry you create on the shaved parts of your hairstyle.
A pompadour looks perfect when coupled with any fade haircuts. Be it a high, low, trimmer or scissors fade a slick, well-shaped pompadour is always a great way out. It's easy to make with some hair gel and a few shaping motions.
24. Fohawk fade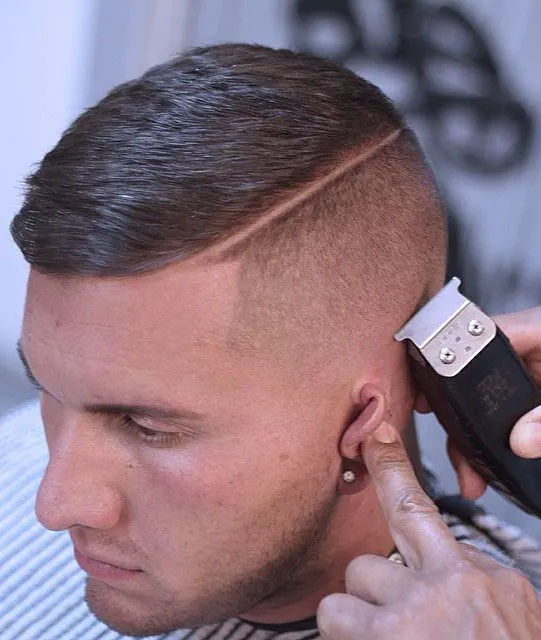 A fohawk is a bold hairstyle that makes many men hold their breath and say no. However, there is a simple way to make it look more conventional. All you have to do is create a high fade and not grow the hair on top too long.
25. Side fade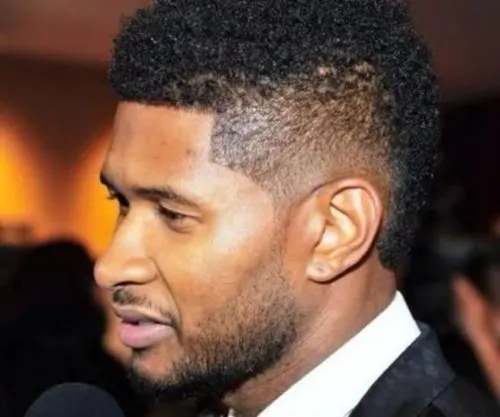 Making the fade on the sides is very easy on your own. If you have thick hair but want to make something special out of it, this haircut is for you. Whether you fade it high or low, it will look fantastic.
26. High and soft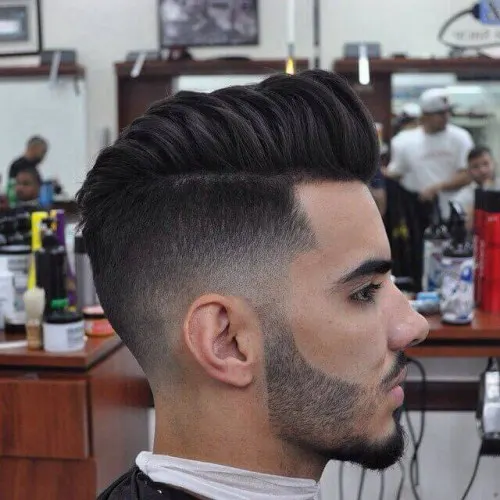 A high drop fade looks wonderful when coupled with high and soft top hairstyle. You can create a pompadour without too much hair gel by shaping the locks with your fingers and using hairspray to keep them in place.
27. Fast and simple
This fade haircut is not new but it's 100 % all-purpose. The hair is cut as short as possible on the sides to create a high fade. The hair on top is left to be about 2 inches long. Use hair gel to spike it up or smooth it down depending on your preferences.
28. Scissors fade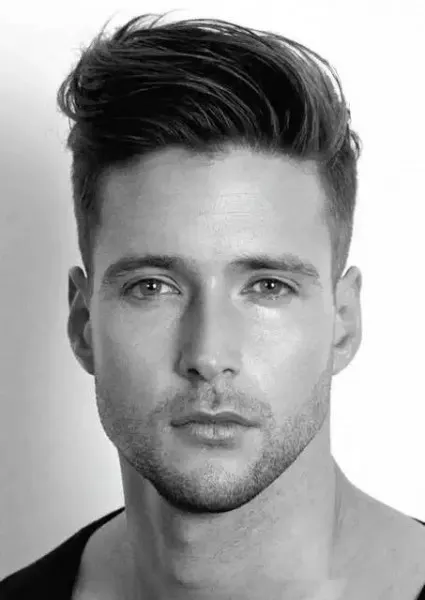 A scissors fade is a complicated haircut which looks amazing no matter how you style the top. If you are ready to go further and play around with spikes or pompadours on top, you'll definitely make an impression.
29. High drop fade
A high drop fade is the best way to get rid of all excess hair and keep the maintenance to a minimum. If you are one of those guys who doesn't like combs, brushes, and hair gel, this style is for you.
30. Slick look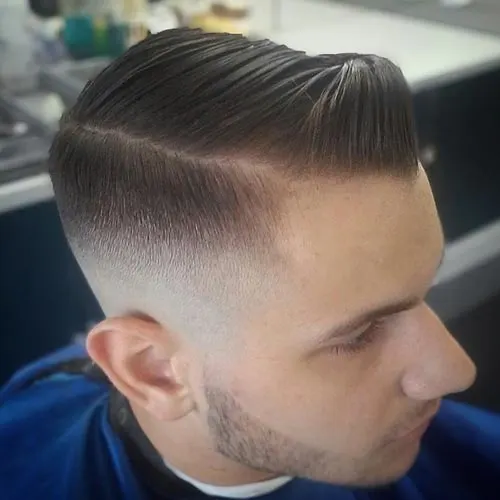 Hair gel can help you deal with the top part of your fade haircut whenever you are not feeling up to something special or simply forgot to wash your hair. Take a look at the picture and try to create a similar form with your fingers.
31. Thick spiked up hairstyle
Spiked up hair is still a really popular look for men. Comb it up so that you have a peaked fringe at the front. A fade can help your haircut to look thicker and fuller.
32. Thick Block Cut and Fade
Comb all of your hair in the same direction to create a thick block cut. This style will look more intense if you have a darker hair color.
33. Comb Cut Pomp
This is a new twist on a very retro style. You should start by putting a lot of styling product into your hair and then pulling it up into a pompadour shape. Use a fine tooth comb to cut ridges into your style.
34. Thin Spikes
If you only have a thinner hairstyle, your spikes can look quite thin. A long fade can be used to help your style to look a little bit thicker.
35. Men's Blunt Bangs With Fade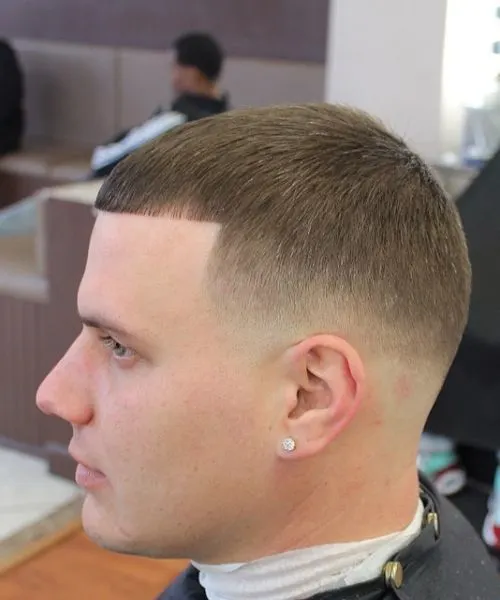 Trim your bangs in a straight line to give your hair a thick and masculine look. This new fade hairstyle is simple but it is very effective.
36. Artistic Curves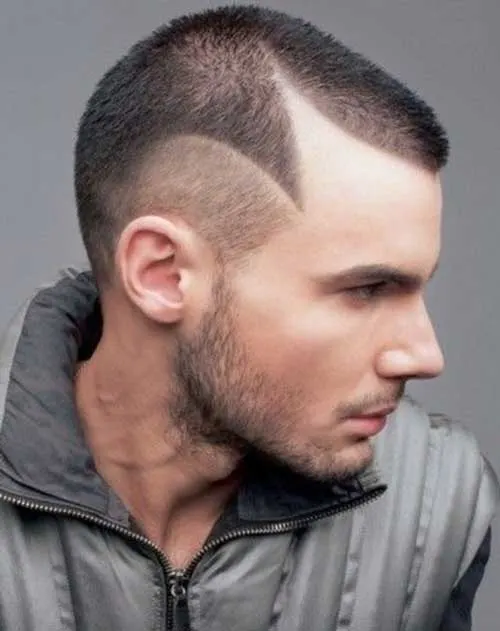 Artistic haircuts can take many forms. If you already have a widow's peak hairline, then you can change the style dramatically by cutting artistic faded sections.
37. Groomed Pomp with Heavy Tramlines
A groomed pomp style is a great choice for guys who like to shape their hair. A heavy tramline will set the main body of your hair away from the faded area.
38. Thick Peaked Pomp with Tramlines
Guys with naturally thick hair can create a really thick and wide pomp hairstyle. It is very easy to create the right shape using a comb and some good quality styling product.
39. Short Afro with Fade
A short afro looks great with a short fade hairstyle. The look is very clean and neat, so it is great for guys who want a smart looking hairstyle which is suitable for any occasion.
40. Afro Fohawk
It is really easy to create a fohawk with Afro-textured hair because this hair type keeps its shape without any additional styling product. The fade will allow you to keep more of your natural hair whilst allowing the fohawk to look bigger.
41. Short fade
A short faded haircut with a very subtle fade is a great style for guys with any hair type. It is a universal style which works well for hundreds of different guys.
42. Subtle Peak
Comb the hair in the center of your head up into a subtle peaked style using your hands or a comb. This will give your style a little bit more volume.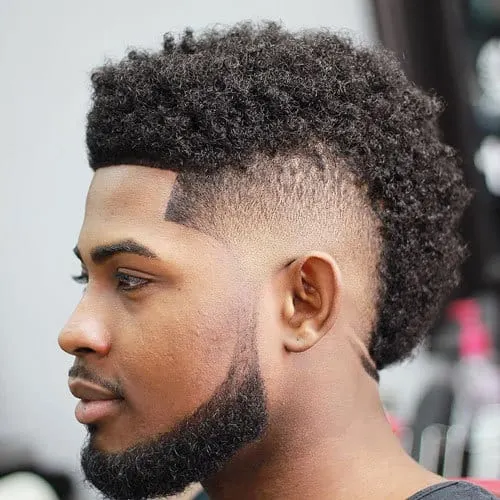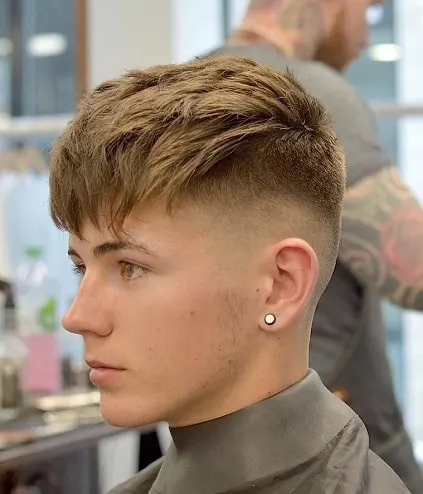 Now that you know the above different types of fade hairstyles, you will never be caught unawares in a barber's chair. Most of the hairstylists have a good idea about the perfect way of making all these fade haircuts. However, some of them also get mixed up in terminology. So, if you want to get what you've come for, we recommend bringing a picture with you or save this post on your mobile gadget to show the barber what you really want.