When we think of a fringe cut in hair, it only limits our thoughts to women's haircuts. Fringes are not just for the ladies out there to style in their hair, but it is also for men to wear in their hair too. To have an idea of what kinds of fringes are there for men to style according to their face shapes and hair types read this article to have an insight of 7 haircuts with fringes for men.
Men's Popular Fringe Haircuts
There are huge options of hairstyles for men and the fringe is one of the most fashionable hairstyles among them. Check out below 7 best fringe haircuts for men which are in trend now.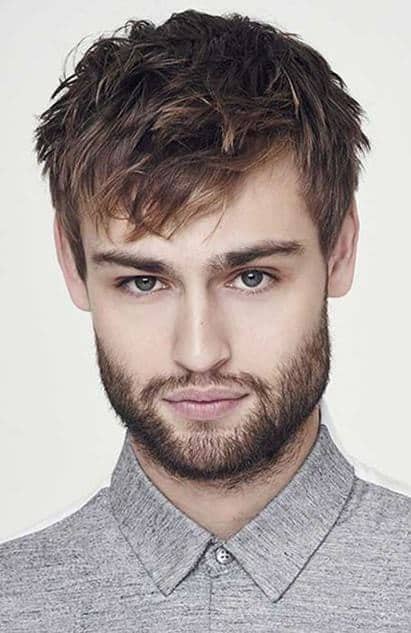 Men, who have a square face shape i.e. a square jawline, should go for a V-shape fringe in their hair. The hair can be cut into choppy layers look that fall in a V over the forehead to really accentuate the jawline of the face.
2. Front Fringe for Wavy Hair
Having wavy hair is blessing itself as the messy hair creates a "bed hair" kind of look. Keeping front fringes that lie on one side of the forehead is perfect for faces that are diamond shaped.
3. One-Side Front Bangs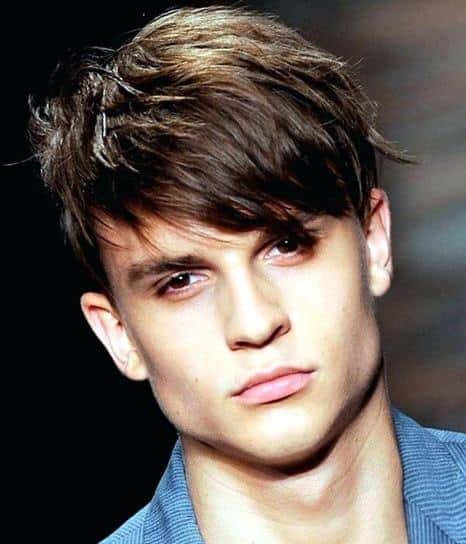 Men who have a chiseled jaw structure should go for a one-side front bangs look. It gives the face a nice angle and asymmetry that evens out the facial cuts topping it off with choppy front bangs lying on one side of the forehead.
This hairstyle is one of the trending hairstyles as of now. All of the hair is directing towards one side with the bands falling over the forehead. It looks amazing in blonde hair as the hair color is light and more of the hairstyle can be seen happening.
5. Pointy Edge Front Fringes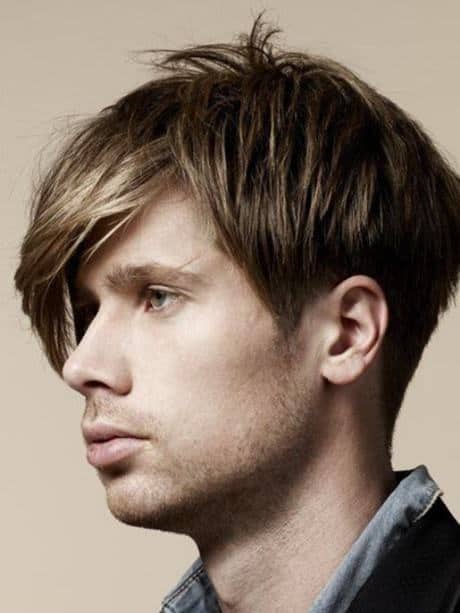 Men who like an extra edge to their haircut can go for a pointy front fringe look. The hair is cut into wispy layers that are pointy towards the end. The front fringe is falling over the face covering half of one side of the face.
6. Front Fringe with Glasses
Fringes give an extremely cute style on men's hair who wear glasses, especially if they have. Pointy fringes help in giving a man a nice frame to really make those eye-glasses pop out and make them look younger.
7. Face Frame Fringes
One can also refer to this hairstyle as "The Young Version of Steve Jobs" look. If you Google pictures of him in his youth, you'll find that he had the same haircut like the one shown below which has the hair framing the face from above and the sides in a square shape.
Fringe cuts can be worn by men who love styling their hair in different ways according to their face shapes and also to give their facial cuts, like the jawline or forehead a nice frame to create attractive facial angles. One can try these styles out regardless of hair texture as we have mentioned fringes for hair that is straight, silky and wavy or cut into different types of layers.