Fringe haircuts for men come in many styles: very short, shaggy, wavy, and choppy. They all flatter a variety of haircuts and can be worn handsomely on many men's face shapes. If your current look could do with an update, try one incorporating fringe.
Fringe Haircuts for Men
These fringe haircuts will show you how to rock the coolest trend for yourself.
1. Fringe Haircut with Fade
This cropped fringe looks great with a medium fade. Be sure to leave the hair on the top several inches long to have enough to add texture to.
2. Textured Fringe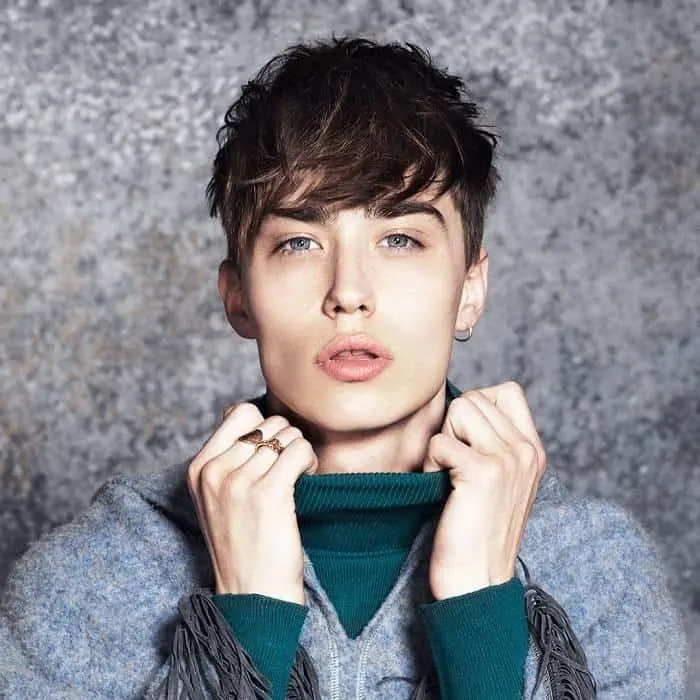 On rectangle faces, textured fringe is especially flattering. Cut the sides short or just give it a fade to draw attention to the front of your haircut.
3. Short Fringe Haircut
Short, choppy fringe has a European vibe especially when worn with a fade. Keep the fringe about an inch above the eyebrows to copy this look, then use fingers to shape the texture at the top of the head.
4. Curly Fringe
Curly hair can be quite handsome when worn the right way. Keep it semi-short and shape fringe so it falls subtly over the forehead. Keep sides short or leave them longer to round out your face.
5. Long Fringe Cut
If long hair is your thing, don't give it up. Embrace your natural texture, but add in some fringe for a cool hippie vibe. If your hair isn't naturally straight, try flat-ironing it to control the texture.
6. Undercut Fringe
An undercut added to a fringe haircut is especially rocker and hot. Leave the top hair to grow out and embrace its pieceyness by letting it fall flat across a fade.
7. Blunt Fringe Haircut
Blunt fringe is similar to a bowl haircut except the rest of the hair is still long. Giving your fringe a blunt cut will draw attention to your eyes and make your style dramatic.
8. Spiky Hair with Fringe
Your spiky hair will stand out with a bold color like dark blue or turquoise. With a blunt-cut fringe and short sides, this style comes across as futuristic.
9. Straight Fringe Cut
Straight fringe under a wavy top is a hip contrast and usual for men's haircuts. To keep the vibe edgy, a medium or high fade should be added to sides.
10. Angular Fringe
For men who want to cover up a large forehead, an angular fringe is a great option. Straighten it and brush it down over a corner of the forehead to create a cool effect; layers on top will create movement and volume.
11. Cropped Fringe
When you see a stylist to get your own fringe haircut, have them cut it bluntly or slightly choppy for a cropped look. Thick layers up top create built-in texture you can play with using product.
Men, who have a square face shape i.e. a square jawline, should go for a V-shape fringe in their hair. The hair can be cut into choppy layers look that fall in a V over the forehead to really accentuate the jawline of the face.
13. Front Fringe for Wavy Hair
Having wavy hair is blessing itself as the messy hair creates a "bed hair" kind of look. Keeping front fringes that lie on one side of the forehead is perfect for faces that are diamond shaped.
14. One-Side Front Bangs
Men who have a chiseled jaw structure should go for a one-side front bangs look. It gives the face a nice angle and asymmetry that evens out the facial cuts topping it off with choppy front bangs lying on one side of the forehead.
This hairstyle is one of the trending hairstyles as of now. All of the hair is directed towards one side, with the bands falling over the forehead. It looks amazing in blonde hair as the hair color is light and more of the hairstyle can be seen happening.
16. Pointy Side Swept Fringes
Men who like an extra edge to their haircut can go for a pointy front fringe look. The hair is cut into wispy layers that are pointy towards the end. The front fringe is falling over the face covering half of one side of the face.
17. Messy Fringe with Glasses
Fringe is an awesome hairstyle for men who wear glasses. Pointy fringes help in giving a man a nice frame to really make those eyeglasses pop out and make them look younger.
18. Face Framing Fringes
One can also refer to this hairstyle as "The Young Version of Steve Jobs" look. If you Google pictures of him in his youth, you'll find that he had the same haircut as the one shown below, with the hair framing the face from above and the sides in a square shape.
19. Extra Long Fringe
Extra long fringe that fall into your face can even give you a mysterious vibe with a little edginess going on too. Make sure to keep your hair light, so it doesn't make you look unapproachable. Leave gaps between strands so you can see, too.
20. Wild Curls
Wild curls can easily fall into your face. Have some of yours fall onto your forehead in a fringe. However, curly hair can easily get in your eyes and cause irritation, so make sure the hair isn't too long, especially around the center of the forehead.
21. Medium Hair + Bangs
Guys with medium-length hair are often torn over what to do with the front of it. Brush yours into your face and cut it above your eyebrows.
Brush some of it to the sides and leave three thin strands in the center of your forehead so you don't have your entire upper face taken over by your hairstyle.
22. Super Short
Very short fringe is becoming very trendy lately, especially in men's hairstyles that fall between the chin and the shoulders. Make sure they're thick, and pull the sides back so people can see your bangs a little clearer.
23. Choppy Grey Texture
A little texture in your fringe goes a long way to make your look stand out. Make your hair choppy while embracing your natural grey to add a youthful vibe to an older man's look. Shaved sides and a longer back will make the cut ultra trendy.Fringe haircuts can be worn by men who love styling their hair in different ways according to their face shapes and giving their facial cuts, like the jawline or forehead, a nice frame to create attractive facial angles.
One can try these styles out regardless of hair texture, as we have mentioned fringes for hair that is straight, silky and wavy or cut into different types of layers.