Everyone loves hippies because of their free-spirited and carefree nature. But more than that, they have this amazing hippie hairstyle and fashion sense that greatly inspired the 70s era.
If you want to embody their devil-may-care nature and eye-catching style, copying their signature hippie hairstyle is the way to go.
Bold Hippie Hairstyles for Men
No need to go back to the 70s just to find the perfect hairstyle because we've rounded up some of the best hippie hairstyles for men below:
1. Long and Layered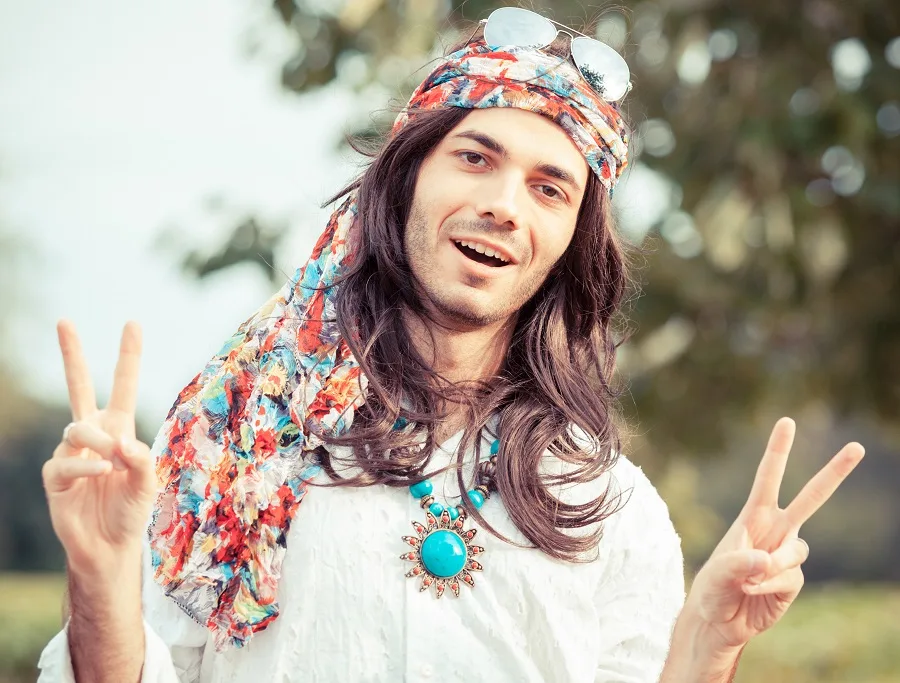 The classic hippie hairstyle is one that's long and flowy, so it's the perfect way to go if you want something simple yet on-point. Add some layers that will draw attention to your best features and frame your face beautifully.
2. Brushed-Back Flow with Beard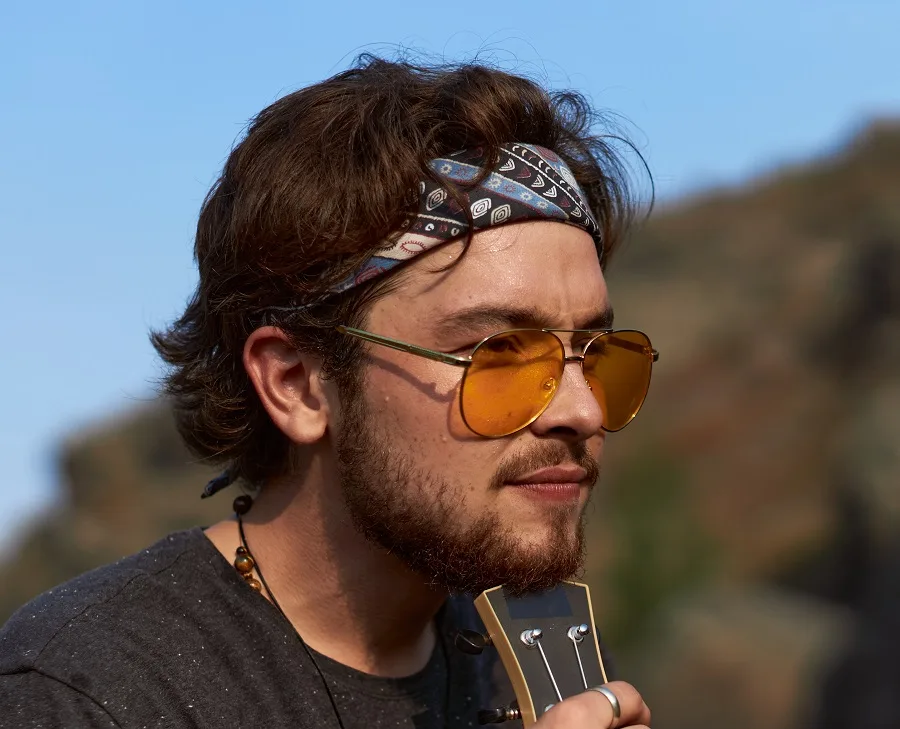 Do you want to keep your look relaxed yet extremely masculine? Try the flow haircut, which shows off your gorgeous waves in the most effortless way possible. Brush it back and put on a bandana to sport that hippie vibe.
3. Voluminous Bro Flow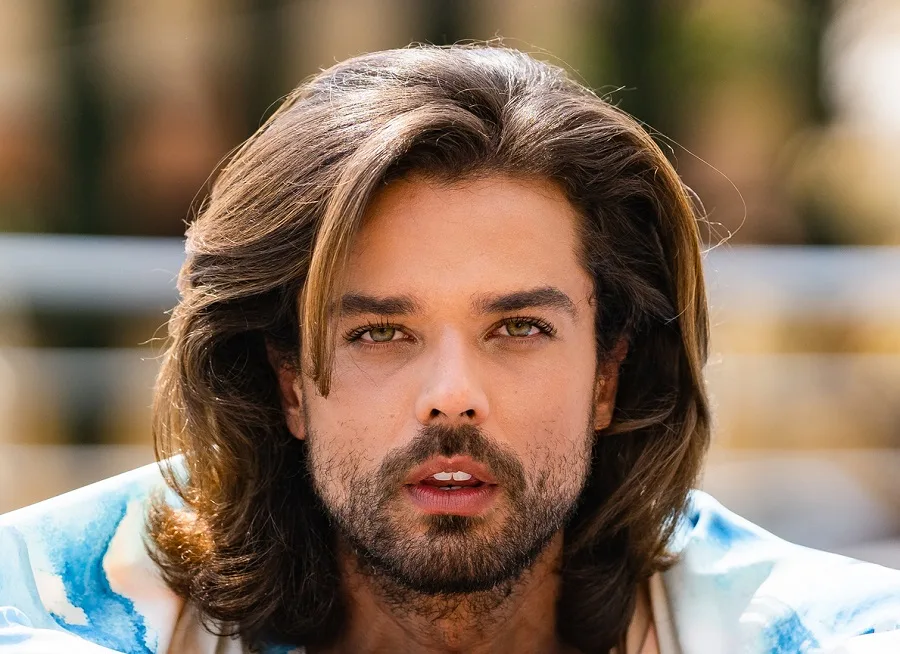 Go for a voluminous bro flow haircut if you want to show off your thick and textured hair. With this simple look, you get to cop those long and flowy hippie hairstyles for men. The good news is this one has a better structure.
4. Dreads in High Bun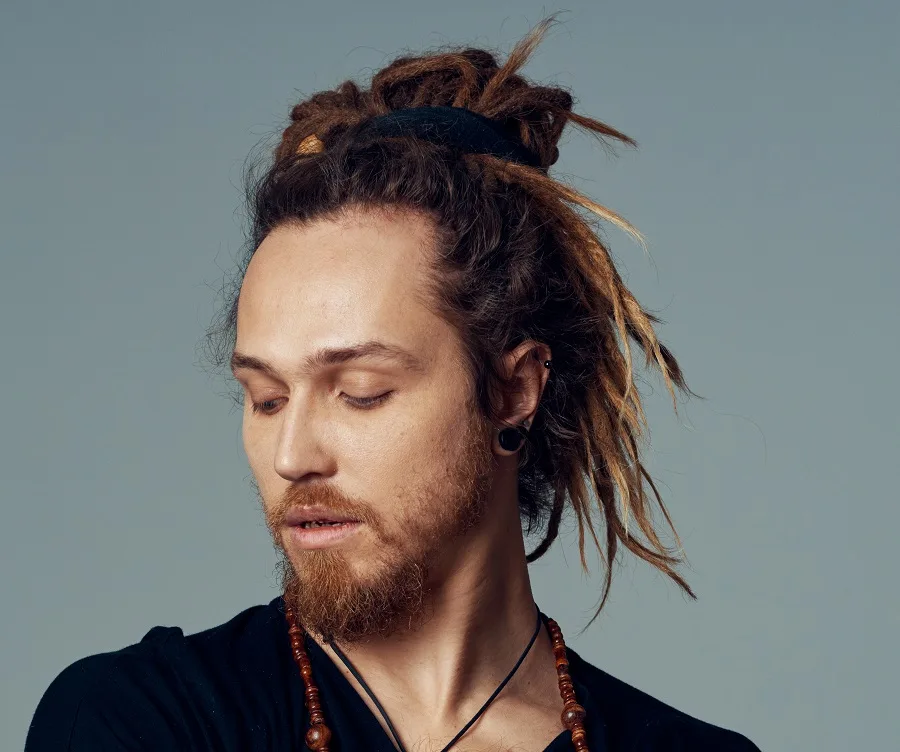 Dreadlocks are one of the go-to hairstyles of creative and expressive men. Give it a bit more pizzazz by pulling your locs into a loose high bun for that dramatic artistic look.
5. Dreaded Man Bun with Bandana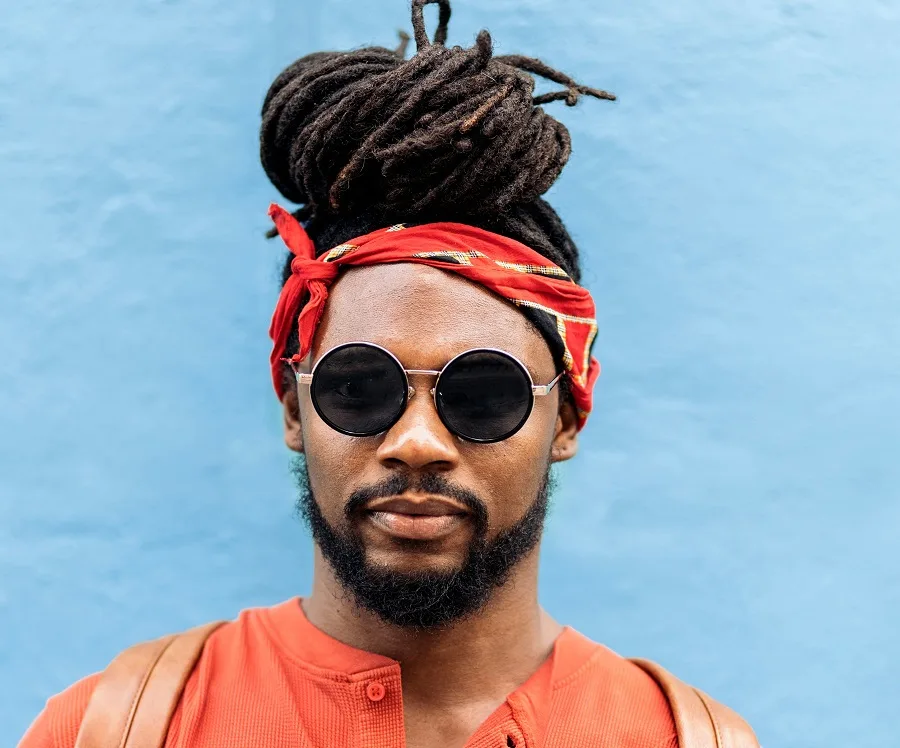 Don't like messy buns? Here's another idea—pull your locs into a smooth and sleek high man bun. You can give it a bit more of the hippie attitude by tying a colorful bandana around your head.
6. Medium-length Waves + Braids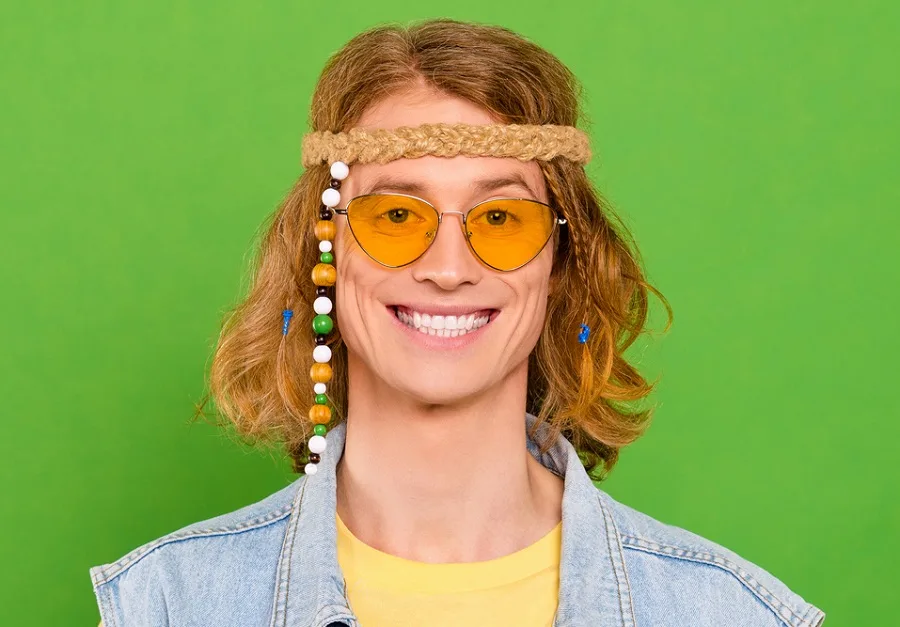 If you want to go for the more classic route, wavy medium-length hair is the way to go. But if this seems a bit simple for you, don't hesitate to bring in the big guns—crochet headbands, beads, and of course—a few braided strands here and there.
7. Center Part + Curtain Bangs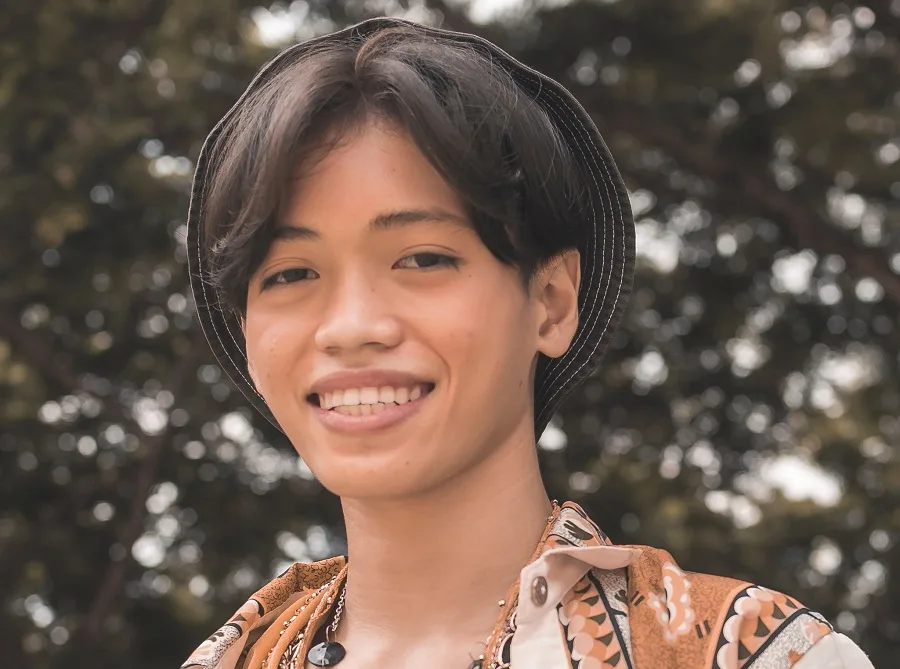 This might seem the simplest hairstyle of them all but trust us, there are a lot of hippie elements that make this a worthy choice. The combination of the center part along with curtain bangs opens up your face, enhances its symmetry, and makes it look more elongated.
8. Long Curls + Bandana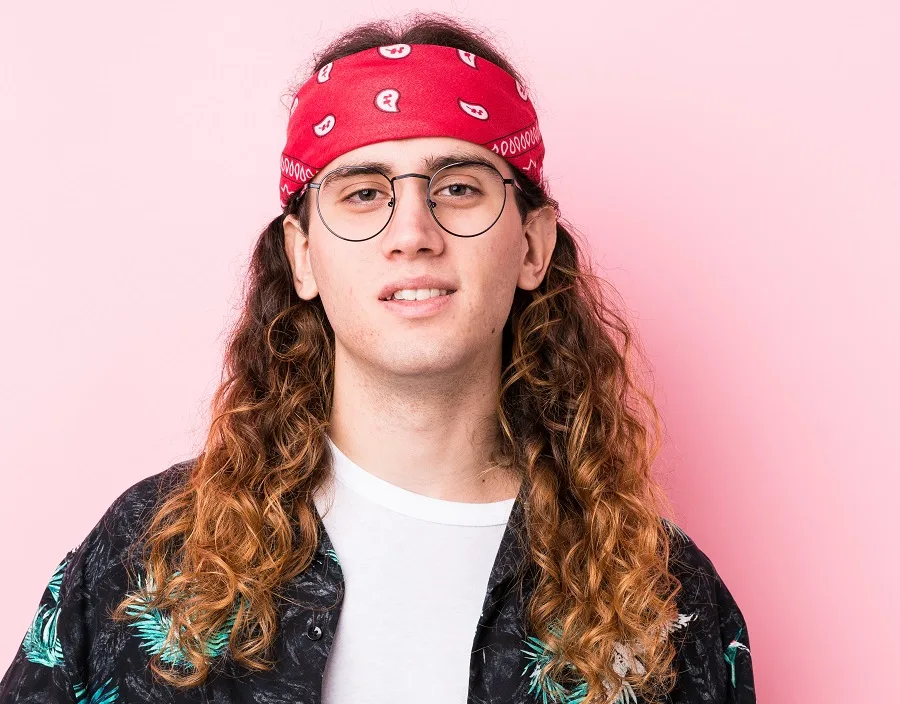 When it comes to hippie hairstyles for guys, long and curly hair is the name of the game. You can style it up with a stylish paisley bandana to protect your hair from the sun and sweat. Also, add in a blonde ombre that gives your hair that sunkissed glow.
9. Faux Hawk + Dreads + Undercut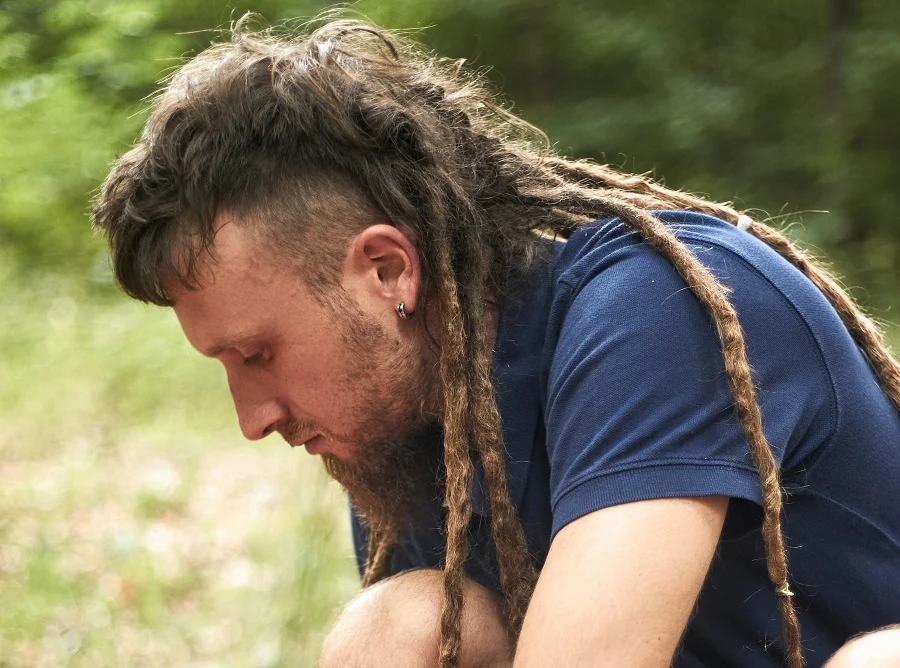 Now, here's the men's hippie hairstyle that's not for the faint of heart. After all, this has all the excellent elements that give your stylish hair a badass twist.
10. Tiny Fohawk
Do you want to keep it short and simple? This is the way to go. The classic mohawk haircut paired with the beard shows off a fun and carefree look. On the other hand, its short length and the faded sides give structure to it.
11. Loud Curls + Rasta Beanie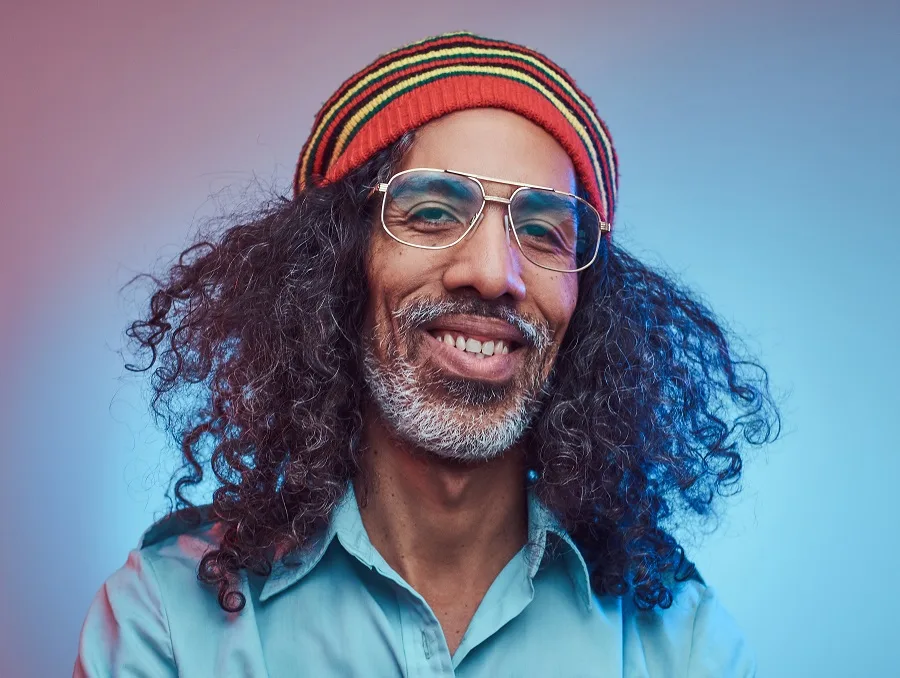 If you have crazy curly hair, don't chop it off if you want to sport one of the most eye-catching hippie hairstyles for men. Let it run wild. Just put on a rasta beanie which will rein the curls in and at the same time, give a stylish spin to your hippie look.
12. Short Dreads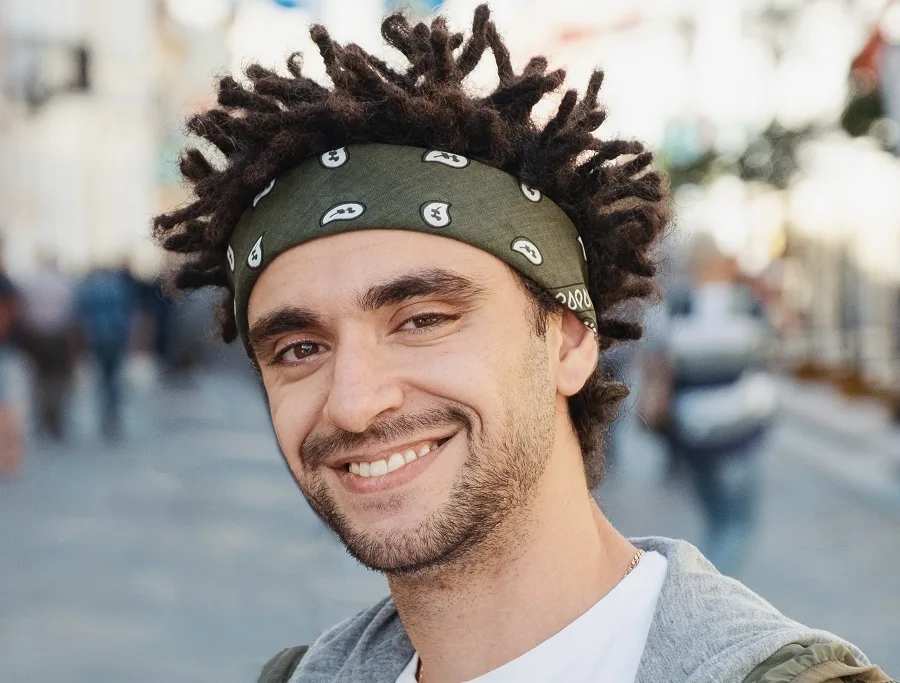 You can now wear those gorgeous dreads, even with just 1 to 3 inches of hair. The only downside is it these short dreads will definitely get in your face. If this bothers you, you can simply get it out of the way with a cool bandana.
13. Half-up Half-down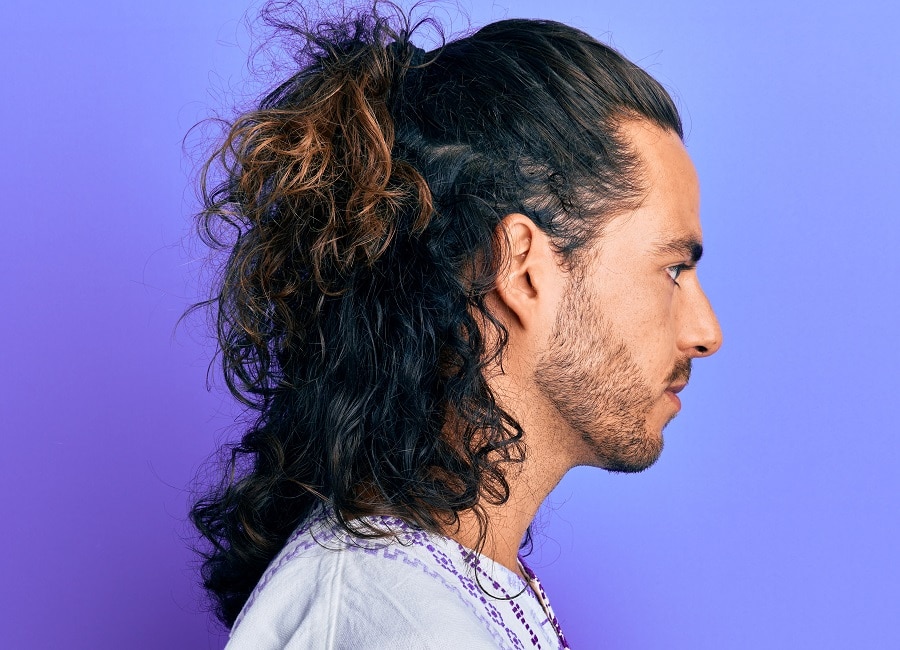 Do you want to keep your hair away from your face, but a ponytail is not your thing? We've got your next best option—the half-up half-down look. With this simple hairstyle, you can keep your face hair-free and still be able to show off your beautiful curls.
14. Mohawk Dreaded Ponytail + Shaved Sides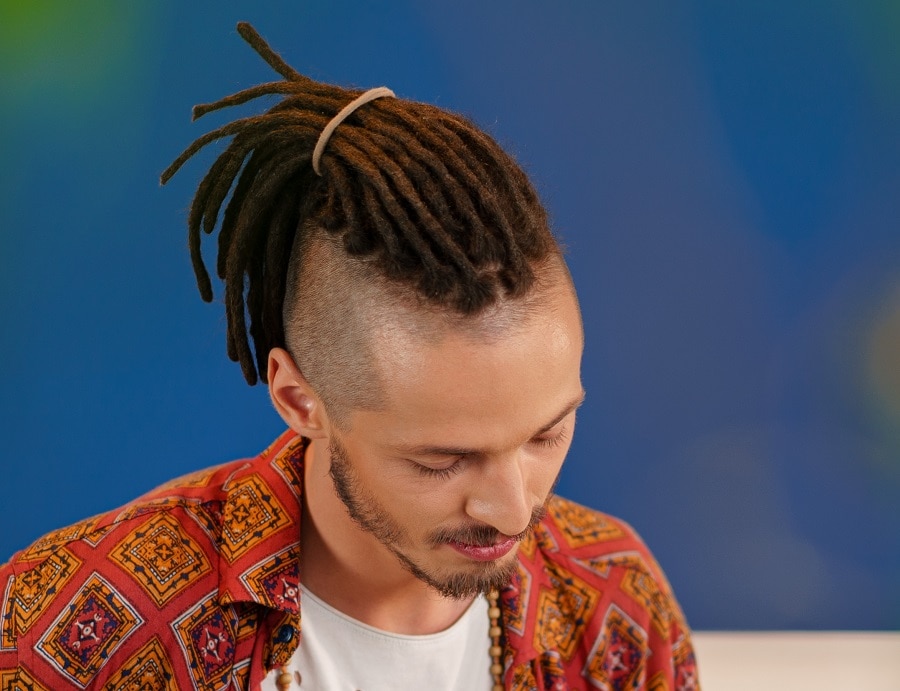 Go for mohawk dreads if you want to take your dreadlocks to a whole new level. By keeping your dreads only in the middle, you get to keep your locs in check and easier to manage.
As if that's not enough, you can pull all your dreads into a rocking high ponytail which is the perfect way to secure them and get one of the edgiest hippie hairstyles for men.
15. Wick Dreads + Accessories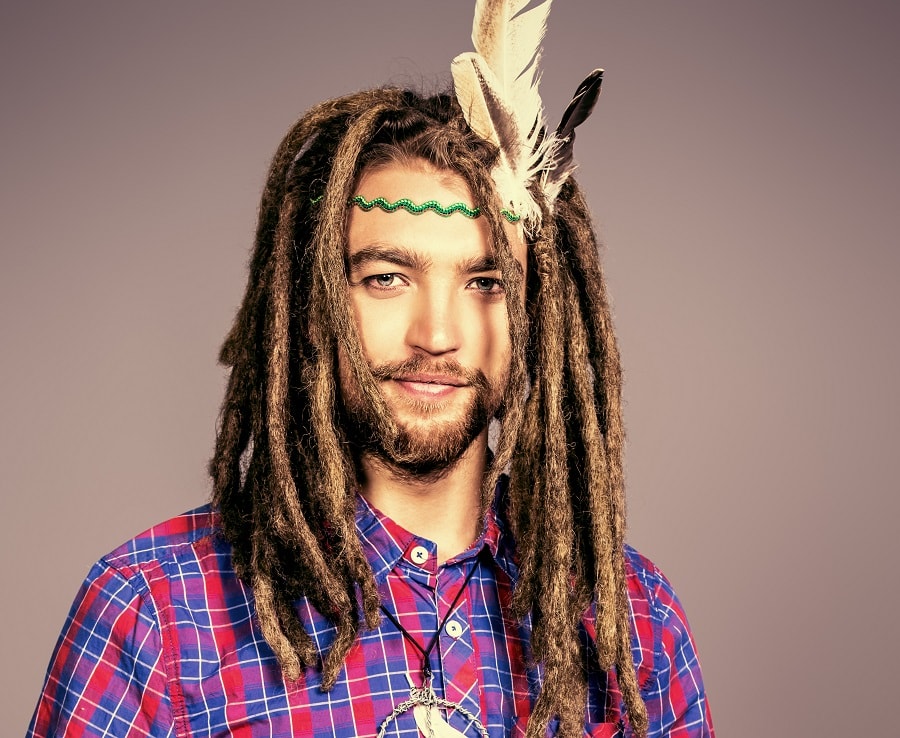 Let's face it. The regular-sized dreads or baby locs can become too boring or plain. Well, you can surprise everyone with these humongous ones—more popularly known as the wick dreads.
Not only are they bigger, but the strands also look thicker and a bit pointier. They also have rounded ends which give the strands a unique twist.
16. Fluffy Mess
The hippie movement is not just a lifestyle—it's a creative expression of oneself. So if you're not into the long and flowy, skip it and go for stiff, loud, and messy hippie hairstyles like this one.
17. Feathers and Dreads + Beanie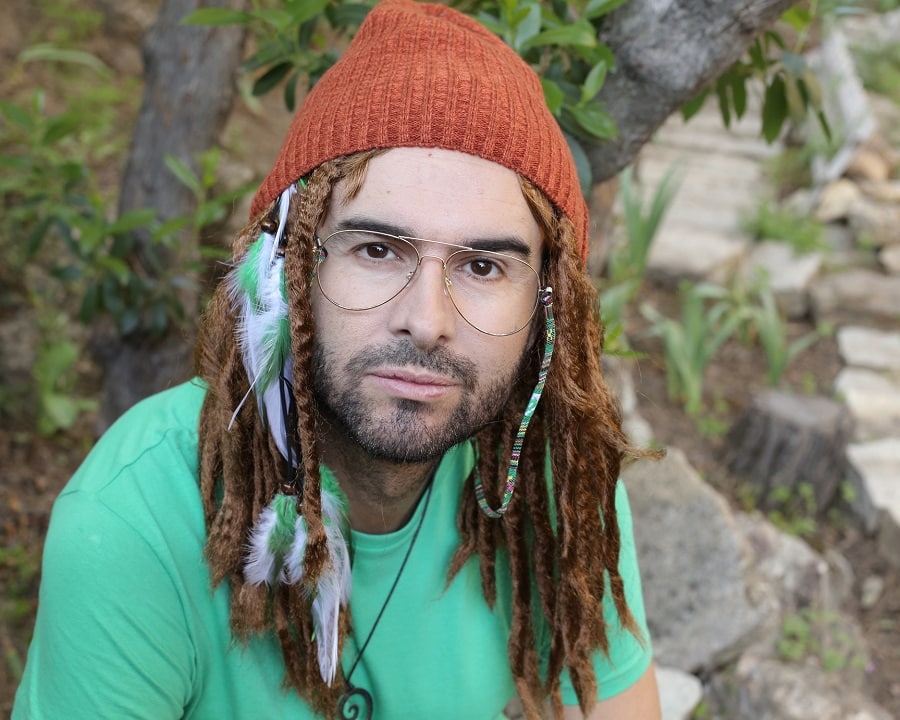 Are you looking for ways to take your dreads to a whole new level? The best and easiest way to do that is to put on a beanie. If that still seems simple to you, go for the classic hippie accessories—feathers. That ought to do the trick.
Whether you want something long and flowy or short and badass, you can definitely take your pick from any of these attention-grabbing hippie hairstyles for men that we've shared with you.