Men's blonde hairstyles run the gamut from natural-looking to pale platinum. That, in fact, is the current trend, in no small thanks to dudes like Justin Bieber and the kid from "13 Reasons Why"—although we're compelled to point out that Eminem did it first (and best). Staying on-trend today requires much more than an economy-sized bottle of peroxide, however.
To avoid that horrific brassy blonde shade and to steer clear from the greenish hue indicative of a bad bleach job, you'll fare far better if you take your blonde ambition to a stylist with skills to pay the bills when it comes to lightening locks. Then you're free to find the perfect blonde hairstyle for you.
Attractive Blonde Hairstyles for Men
The shape of your face, skin tone, eye color, and natural hair color all play essential parts in picking out which blonde hue and which haircut is the most flattering. For you, that might be an ash blonde flow cut, a platinum undercut, or a strawberry blonde pompadour.
Who knows? You won't find out unless you try, and that means opening up your mind to the possibilities of bleach and a pair of scissors. Here are top 30 blonde hairstyle ideas for men you can try the next time.
Men's Blonde Hairstyles: Short
1. Dirty Blonde Combover
Best on neutral skin with pink undertones, your short dark blonde hair for men can be adjusted to work with your precise skin tone. This casual combover is ideal for the workplace and casual hangouts alike. The height and depth of the swoop can be adjusted for all face shapes.
Ideal for: all face shapes
How To Style: If your hair is naturally straight, you may not need a blowdryer. Start the swoop high in the left or right corner of your forehead and work a lightweight pomade into hair using a wide tooth comb.
2. Caramel Quiff
Finding the ideal short blonde hair for Asian guys comes down to working with texture that is typically naturally straight. A cool, off-center quiff allows you to incorporate gritty texture, while light caramel highlights contrast perfectly with warm, olive skin tones.
Ideal for: heart-shaped, round, and oval face shapes
How to Style: You'll probably need a blow dryer for this style, especially if your hair is straight and fine. Texturizing mousse adds necessary grip so the quiff can be worked into a natural, wind-swept style.
3. Ombre Fade
This men's short dirty blonde hair look is all about the dimension that comes with ombre style that lightens your hair a few inches out from the scalp. It can be done on all hair types, but looks best on thick or textured locks.
Ideal for: thick hair, all face shapes
How to Style: To create this relaxed quiff style, hair should be cut short on the parted side of the head. Use a blow dryer to create the swooping motion with the hair over the forehead. Secure with spray or your favorite pomade.
4. High and Tight Natural Hair
Any black guy with short blonde hair should be mindful of finding that perfect sunny hue to work with your skin tone. A high faded square-shaped peroxide look adds essential definition to a rounder jawline.
Ideal for: natural hair, oval and round face shapes
How to Style: Be sure to properly hydrate natural hair and use a detangling comb to work those locks upwards. Softer textures should use a lightweight gel to create height and firmly hold hair in place.
5. Simple Straight Style
Typically, short ash blonde hair for men works wonders on skin with pink and red undertones. An ash toner can be applied to every style of hair out there. This simple look is great for straight hair because side bangs add interest where texture is lacking.
Ideal for: oval and round face shapes
How to Style: Ideal for the minimalist guy out there, this look requires little to no styling, just a quick tousle with your hand and perhaps a few strokes with a fine-toothed comb.
6. Blonde Highlights with Skin Fade
This textured crop is a great way to add interest and drama to men's straight blonde hair – and this style is taken up a notch by some clever layering and color choices.
Ideal for: Oval, square, oblong and triangle faces.
How to Style: Once cut, this style will take very little daily maintenance. Run some wax through the lengths of the hair and tease into position with your fingers.
The quiff continues to be a very popular hairstyle and this is a modern and stylish take on the 1950's masterpiece.
Ideal for: Oval, square, oblong and triangle faces.
How to Style: The quiff is all about volume and this is enhanced by upping the blonde a few more shades around the forehead to add definition within the quiffed portion.
The choppy cropped sides are a great way to show off the texture and color. This blonde hairstyle for guys can be easily maintained every day with some strong hold wax or hairspray.
8. Blonde Bangs
These tousled bangs and beautiful blonde tones make for a perfect combination for men– and let's not forget about that hyper-fashionable hair accessory!
Ideal for: Oval, diamond and heart-shaped faces.
How to Style: Whatever shade of blonde you choose for your hair, colored hair paired with bangs can make for a great look. By keeping the sides and the back of the hair shorter and in a marginally darker blonde hue, it creates a great contrast with the lengthier portion of the hair.
If you are after volume and drama in your style, then pairing an undercut with sky-high tresses is a sure bet. Matching this look with a smart color choice can, however, take this short blonde style to another level.
Ideal for: Oval, square, oblong and triangle faces.
How to Style: This harsh cut is matched with a warming blonde tone which makes for a dynamic style. By starkly shaving the hair up as far as the temples and then graduating the cut, it allows for, not only the cut, but the color to stand out.
10. Frosty Follicles
This is a deliberately jarring color choice that pairs well with the marginally darker back and sides, dark facial hair and peroxide top.
Ideal for: Oval, square, oblong and triangle faces.
How to Style: This is definitely one to speak to your colorist about as hyper white-blonde icy tones such as this can be difficult to achieve. You will also need to fade the color into the beard along the sideburns. Make sure you use a purple toning shampoo to avoid yellowing and brassiness.
Men's Blonde Hairstyles: Mid-Length
11. Heavenly Highlights
Adding simple highlights through the length of the hair is a fast and easy way to pimp up any hairdo.
Ideal for: Oval, diamond and heart-shaped faces.
How to Style: The key to this look is keeping it natural and that is with the color choice and style too. Warming blonde tones are dotted throughout the hair which is worn naturally kinky and tousled.
12. Trendy Tones
This mid-length blonde hairstyle is highly idiosyncratic and unique but if you are after something daring and eccentric then look no further.
Ideal for: Oval, square, oblong and triangle faces.
How to Style: The naturally dark roots are graduated into that ice-white color making for a jarring yet very contemporary look. Pieces of the hair are backcombed at the roots and set with strong hold spray to create that vertiginous style.
This blonde haircut is all about those vintage vibes with the nod to the 1950s ducktail but is brought fully up to date with that modern color choice!
Ideal for: Oblong, heart, diamond, and triangle shaped faces.
How to Style: This is a less coiffed and neat version of the classic ducktail, with the sides of the style being cropped short and left unkempt. Tease the sides and top of the hair up and forward using a wax or pomade.
The bangs are then nurtured into that classic ducktail swirl. The ice-blonde bangs make for a very dynamic statement 'do.
14. Pixie Crop
This pixie-style crop is not a common look on a fella but definitely is a stylish and modern trend that we will likely be seeing a lot of.
Ideal for: Side parts are great for heart, diamond, triangle, and oblong faces.
How to Style: By keeping the back and sides of the hair short and layered, the feature piece of the hair is that perfectly dyed and tousled side fringe. This style needs very little daily effort – just use your fingers to set in place with some serum.
15. Chic Colors
This very chic and neat blonde bob for men is a clever way to add volume and movement to very thin straight hair.
Ideal for: Side parts are great for heart, diamond, triangle and oblong faces.
How to Style: By running warming golden colors through the tresses it adds the illusion of depth and volume to hair that is actually very thin and straight. The cropped bob really sets this style off perfectly.
Men's Blonde Hairstyles: Long Hair
16. Medium Grunge
We can thank stars like Kurt Cobain for popularizing this look. Long platinum blonde hair for men is perfect for surfers and sporty guys who love a simple style for their straight hair.
Ideal for: straight hair, square and oval face shapes
How to Style: This look is all about feeling effortless, so styling should be kept to a minimum. A center part is ideal and a few simple strokes with a brush finish it off so you're good to go!
17. Dimensional Ombre
The perfect men's long blonde ombre hair is here! Ideal for low maintenance guys, a subtle sandy blonde ombre grows out well and looks totally natural. Try it on hair both straight and wavy.
Ideal for: oblong, heart, square, and oval face shapes
How to Style: This hair really embodies the bedhead aesthetic, so less is definitely more when it comes to styling. Create a center part and give hair an easy little tousle.
18. Man Bun Fade
Clean up your men's long blonde hair with beard with a high fade style. This will open up the appearance of your face and give that scruff a polished vibe. A low man bun is perfect for formal settings.
Ideal for: oval, oblong, and square face shapes
How to Style: Hair should be cut short or buzzed on each side of the head. Pull the center part of hair back into a small tear drop bun. Groom that beard and you are ready to face the day.
19. Golden Curls
Softening up a particularly strong jaw is easy with this men's long blonde curly hair. Cut at the midway point of the neck, this bob style uses layers to create shape and to soften the look of the face without distracting from its natural angularity.
Ideal for: heart and square face shapes
How to Style: This look is all about loosely defined waves, so use your favorite curl creme when hair is wet for definition and hydration. For the most natural effect, make a center part with plenty of curve.
20. Edgy Side Braids
Long braids for men with blonde hair may have a softening touch, but styled to the side on long locks gives it an edgy appeal. We love it on this natural, dark blonde hair with rich highlights.
Ideal for: oval and square face shapes
How to Style: First, creating height at the top of the forehead is key for a windswept feeling. Next, section off a portion of hair at the side of the head. Create a thicker, larger braid on top and a smaller braid underneath it. Add charms if you wish.
Highlights are a great way to add definition and extra style to an updo on blonde hair, especially a man bun like this.
Ideal for: Oval, diamond and heart-shaped faces.
How to Style: Long colored hair does take more effort and upkeep than short hairdos however by opting for highlights as opposed to an all over the color you can make things easier for yourself. Highlights are a great way to add definition to a style, drawing the eye away from the face, adding depth and movement.
22. Tousled Tresses
With the right skin tone, super blonde hair can look warming. However, be sensible in your color choice as light colors, such as this, can wash out darker complexions.
Ideal for: Side parts are great for heart, diamond, triangle and oblong faces.
How to Style: To keep this color in top condition and to keep it looking natural you will need to get your roots done every 6-8 weeks when new growth appears. Wear the style natural, altering the part to suit your face shape. Run some mouse through the hair to create that tousled vibe.
23. Warming Highlights
Warming highlights can look good on men and aren't solely a hair choice for the ladies.
Ideal for: Side parts are great for the heart, diamond, triangle and oblong faces.
How to Style: The side part and layered fringe is a great way to frame a face and keep the overall length of your hair. Warm highlights can help add depth to your 'do, especially if you have very thin and straight hair such as this.
A side part is a great way to a frame a face and creates volume to men's long blonde hairstyle.
Ideal for: Side parts are great for the heart, diamond, triangle, and oblong faces.
How to Style: The key to this look is in the cut – the layering helps create volume around the crown of the head, with the side part and slightly layered bangs all pieced together with warm flaxen tones.
25. Blonde Beach Vibes
If you like beachy vibes, then blonde is the perfect way to a sizzling style.
Ideal for: Oval, diamond and heart-shaped faces.
How to Style: This beach babe look appears very natural and that's key to its success however this kind of blonde does take some maintenance. You will need to keep on top of those roots every 6-8 weeks and ensure that you use a purple tone shampoo or conditioner to stop the color becoming brassy.
More Amazing Blonde Hairstyles to Try This Season
26. Golden Flip
The cut pictured here is the ideal blonde hairstyle for men who aren't ready or have no desire to go the white-blonde route. The golden color is warm, and the seamless blend of highlights looks completely natural. The style itself is tousled and appealing in a scruffy romantic lead kind of way.
50 Kick-Ass Long Hairstyles for Men
27. Long Blonde Lion's Mane
Gentlemen, here are your hair goals. The contrast between those pale flaxen tresses and the dark facial hair is eye-catching, on-point, and just dramatic enough to earn a second, third, and probably fourth glance.
Keep in mind that if you bleach long hair, you need to take excellent care of it. Specifically, ensure that your hair remains healthy and hydrated, and indulge in a deep conditioning treatment two or three times a month.
RIP, Heath Ledger, but his style lives on just as much as his movies and his reputation. He's responsible for several trendy blonde haircuts for men, including this one. Let your curls or waves hold their own. Don't straighten them or tame them. The blonde surfer boy aesthetic is timeless—always stylish and always sexy.
Fresh and Bold Teenage Guy Haircuts
29. Pale Blonde Undercut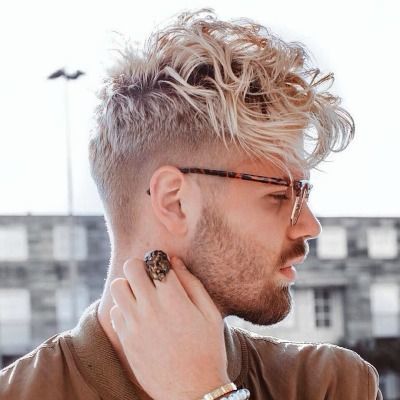 Pale or platinum short blonde hair with undercuts are having a moment. As a matter of fact, they've been having a moment for nearly a year now, and it doesn't look like the spotlight's dimming anytime soon.
Some guys choose to leave their buzzed hair natural since the bleaching upkeep of short hair takes tremendous effort. Props to you if you opt for an all-over blonde aesthetic, though.
Yeah, it's another undercut, but is it any surprise that this is one of the most popular blonde hairstyles for men right now? This one shows that you can make dark roots work to your advantage because everything about this 'do is on-point, on-trend, and on fire.
Give into your blonde ambition. It's just hair, after all, and there are tons of blonde hairstyles for men who are ready to take a walk on the wild side. Have some fun with it. Brighten up your life by brightening up your locks—and if you get sick of the blonde, remember that bleached hair is oh-so-easy to dye.