A square-shaped face is widely considered handsome, masculine, and chiseled. You naturally want to emphasize those rugged good looks with a flattering hairstyle for square faces! You might not think your facial shape matters much when it comes to choosing your haircut, but it's actually an essential consideration.
A haircut that's too rounded, too long, or too short won't do your squared jaw any justice. Fortunately, it's not that hard to figure out what will complement your features and make you stand out like a stud.
Square faces are quite versatile regarding which hairstyles they handle, and the styles themselves are just as widely varied.
The Trendiest Hairstyles for Men with Square Face
Clark Gable, Brad Pitt, Jon Hamm—men's hairstyles for square faces aren't restricted to leading men, but they should stand out as your haircut gurus.
In general, anything too short or too long isn't compatible with a strong, square-shaped jaw. That still leaves a lot of middle ground, but it's also why you should take the time to research and check out other guys with your facial shape, so you can figure out which style and cut will flatter you the most.
Here are 40 hairstyles for men with square face shapes.
A square face has quite sharp angles which can be softened with a long shaggy haircut. Grow out the hair a few inches and trim it into layers to sit on the shoulders. Wear the shag with a deep middle parting for a romantic appeal.
2. Spiked Up Front
Consider this fresh hair look defined by a long front and neatly trimmed sides. Ask the hairstylist for a pompadour haircut and instead of slicking it down spike it up for a boyish appeal. Some pomade will keep the brushed-up hair in place all day long.
3. Tousled Look
Natural waves look irresistible on men and they can take things up a notch by taper fading the sides with a long wavy top. Pair the look with a rugged beard and pointy mustaches. Hand-tousle the top and the style is done.
4. Curly Top + Shaved Sides
Here is a hair look that makes a square face appear slimmer. The sides are shaved exposing the skin and contrasting with the longer top consisting of gorgeous curls. A ducktail beard tops off the style.
5. Crew Cut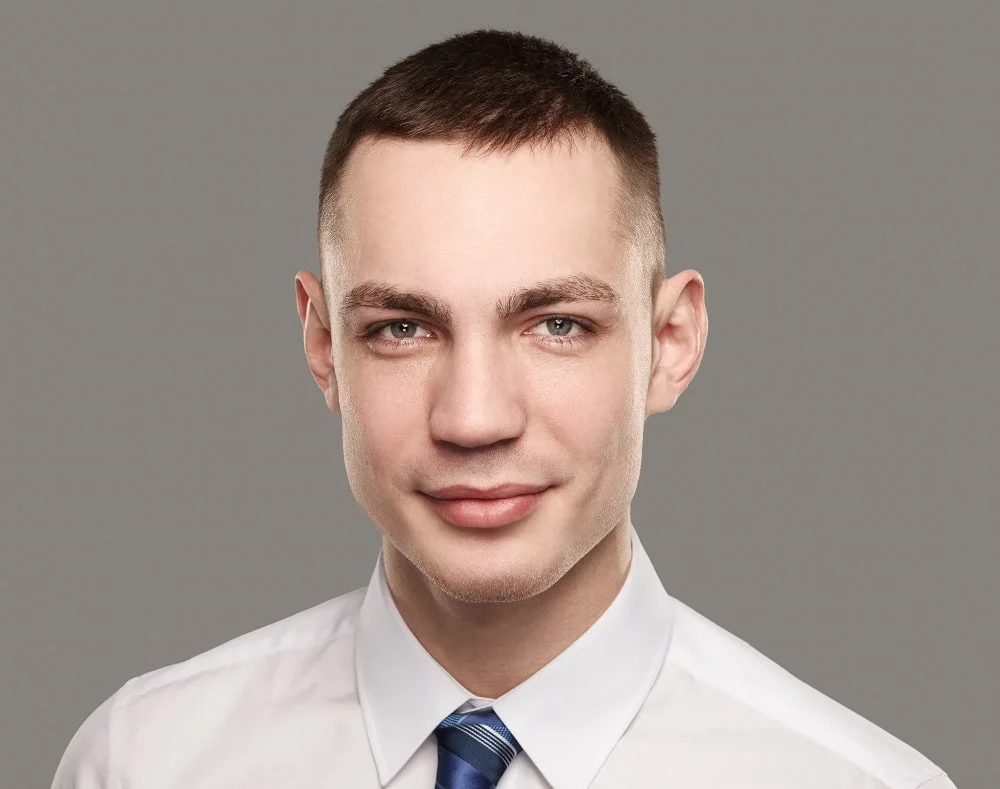 A crew cut goes well with any face shape and is ideal for men looking for a low-maintenance haircut. The top is slightly longer than the sides which fade while reaching the neck. This style is also perfect for a receding hairline.
6. Brushed Forward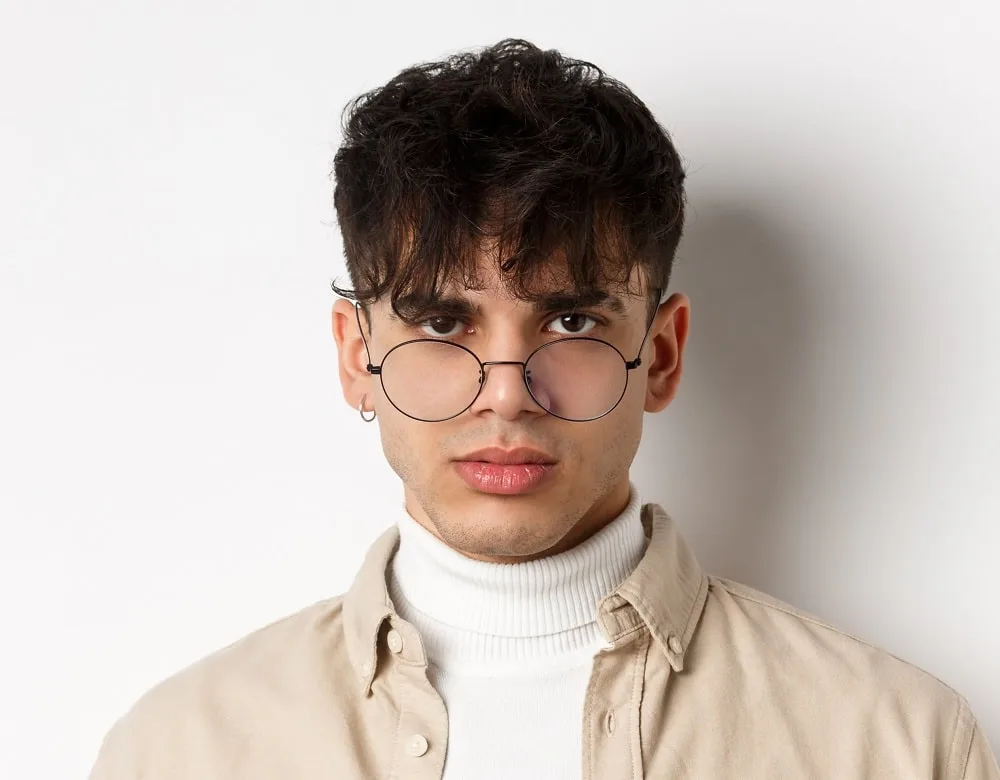 A wide square forehead can be covered with this look. The sides are clipped neatly to keep all the attention on the top which is long enough to reach the eyebrows. Use pomade and style the waves with your fingers for a carefree appeal.
7. Chestnut Layers
Grow out a comb-over with style. The long chestnut hair is layered to frame the face with long sideburns. Wear the waves with a side parting and couple them with an unkempt facial stubble for a masculine vibe.
8. Elegant Quiff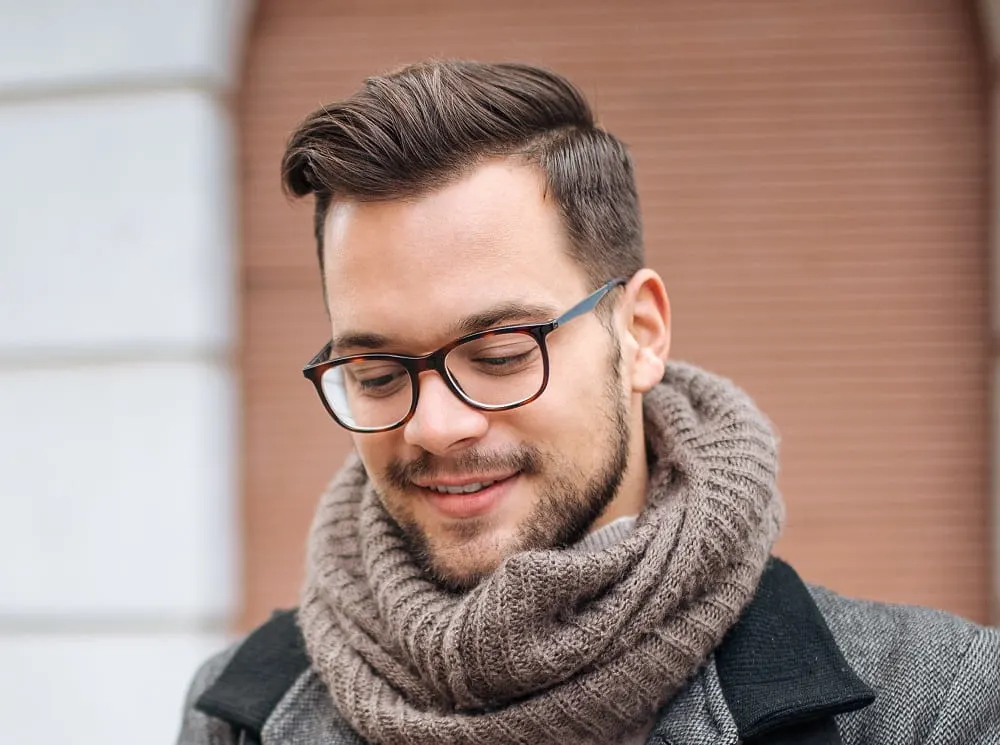 The quiff hairstyle has stood the test of time and is ideal to flaunt a square face shape. The sides are short with the longer top being side-swept and brushed back creating the classic look. This style is ideal for office-going guys.
Middle-aged men can flaunt their greys by going for a Caesar haircut featured by short sides and a disconnected longer top. Spike up the top strands for an edgy finish. This look is easy to maintain needing a trim every few weeks.
10. Blonde Box Braids
This style will surely turn around many heads. The long sectioned hair is styled into box braids with blonde extensions for a two-toned appeal. Entwine the box braid in a jumbo braid and couple it with a rugged beard for a masculine allure.
11. Side-Swept Hair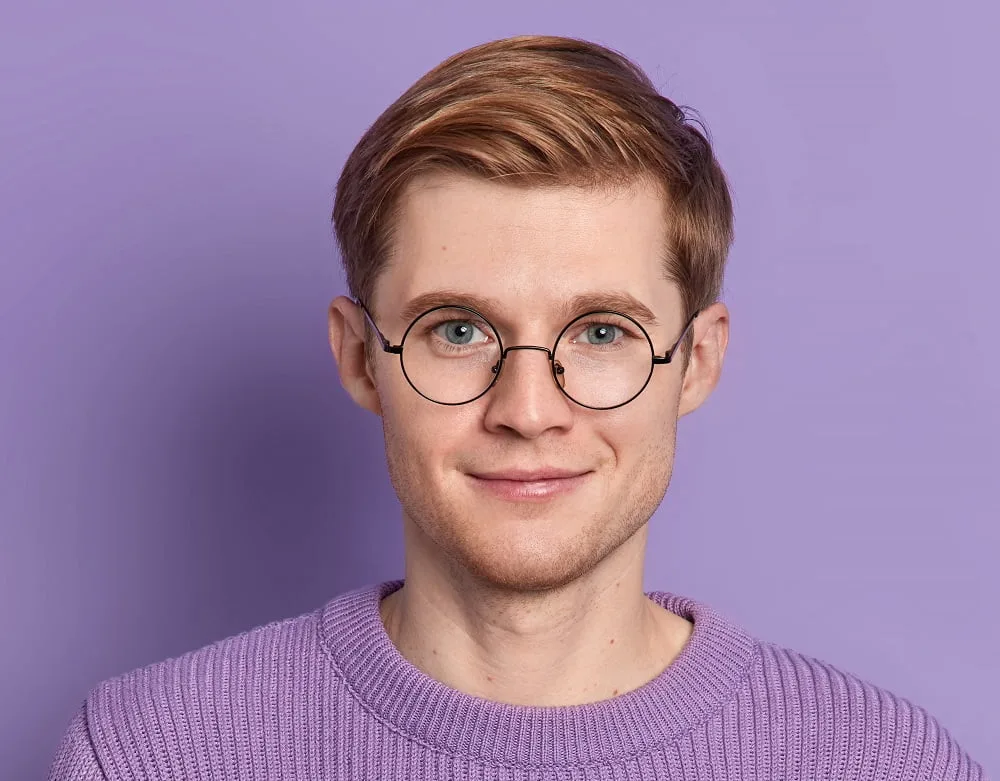 All guys have flaunted this hairstyle at least once in their life and still, it never goes out of fashion. The clipped sides become longer as they reach the top. With a deep side parting, brush the strands on one side recreating this look.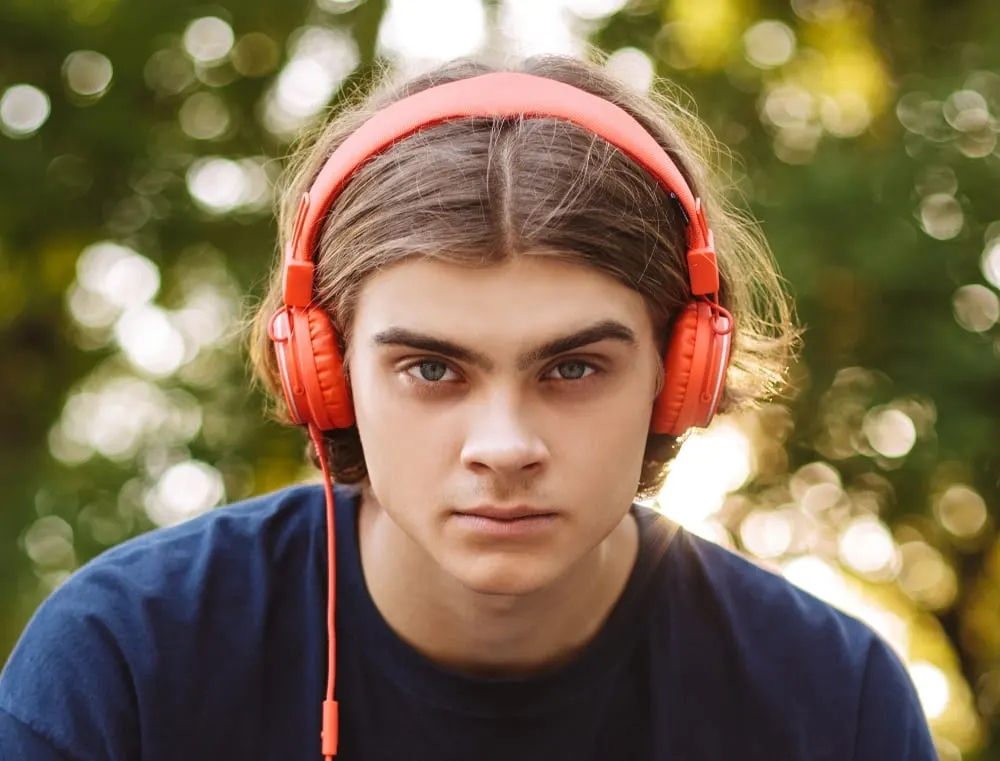 One of the trendiest hairstyles for men with square faces is this 90's-inspired curtain hairstyle. The hair is outgrown and styled with a center parting coupled with long messy bangs falling like a curtain along both sides of the face.
13. Sleek Pompadour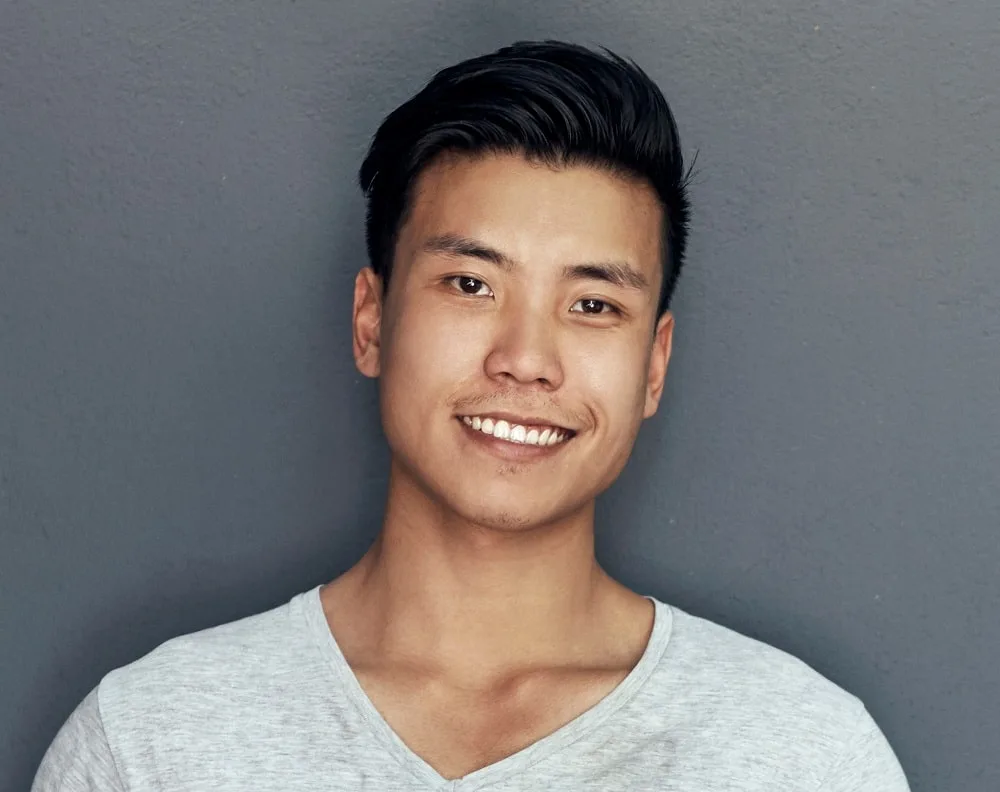 Another classic look that will make a square appear a bit longer. The hairstyle is featured by an undercut along the sides with a long voluminous top that is brushed back and falls on one side. This style is ideal for men with naturally straight hair.
14. Modern Kinky Afro
Black men can show off their afro curls by styling them in a way to accentuate their square face shape. The micro coils are long at the top with a neat undercut along the sides. The sideburns are kept long and triangle-shaped.
15. Ruffled Waves
Ginger heads can opt for this hairstyle to flaunt their prominent jawline and straight sides. The long ginger waves are trimmed with subtle layering along the length. The side-swept ruffled fringe looks charming and will surely keep all the eyes on you.
A shoulder-length haircut looks attractive on men while it can be styled in a top knot too keeping all the attention on the face. The neatly trimmed beard adds up to the masculine appeal.
17. Curly Mess
Neatly trimmed sides make square faces appear slimmer. In the case of the long top, the messier it gets the better it looks. Guys who prefer a more detailed look can add blonde babylights. An unshaven face and mustaches accentuate this undone look.
Dreadlocks are popular among men and with a bit of maintenance, this look will make you stand out from others. Dye the hair in a blonde hue with darker roots before dreading it. Push back the strands with a headband flaunting your sharp facial features.
19. Simple and Classy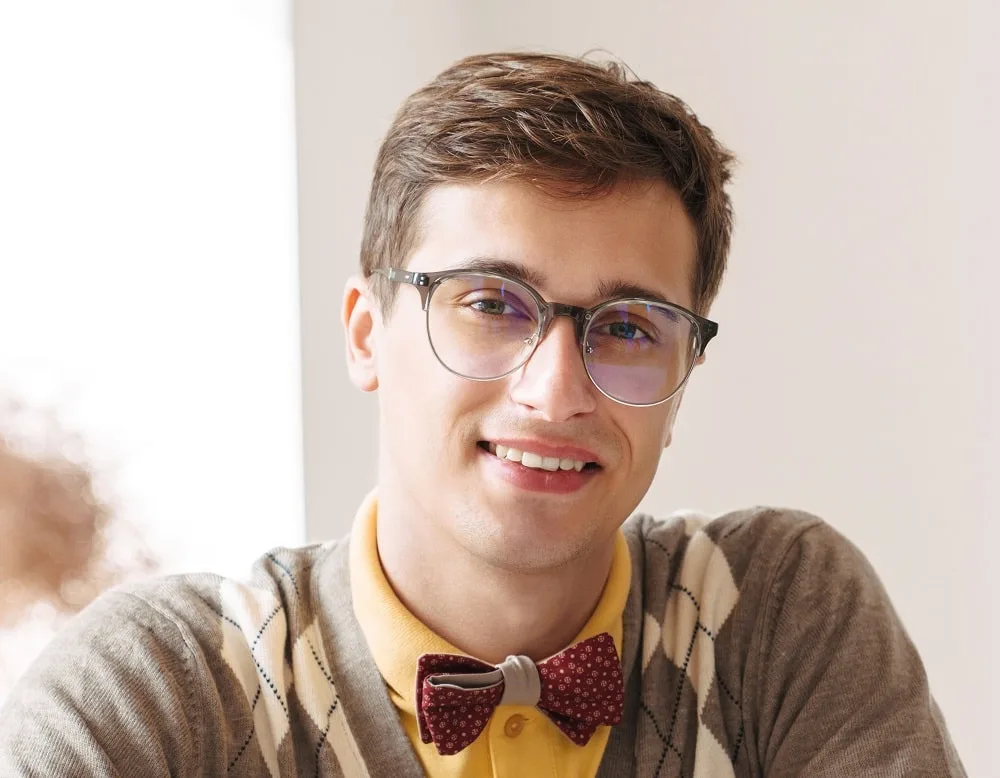 This is a more laid-back form of the classic sleek side part. The top is layered with neatly brushed-down sides. Finger-tousle the top every now and then for a carefree hairstyle that is ideal for lazy young boys.
20. Brushed Back with Taper Fade
Flaunt your square face shape with confidence by going for this clean-cut hairstyle. The sides are taper faded exposing the skin while the long top is flattened and brushed back. A light facial stubble and mustaches complete this macho look.
Another manner to soften those sharp facial features is by opting for a 90's-inspired mullet haircut. The sides are trimmed short around the ears with the top front and back being the longest. Finger tousle the hair leaving the rest to the curls.
22. Bedhead Look
Guys who want to spend minimal time styling their hair can grow out their short layered haircut for a ruffled look. Finger brush all the hair forward to fall on the forehead and sides of the face. This bedhead look won't be ignored.
Black men can tame their afro curls by fading the sides and keeping the top long enough for each section of hair to be styled into two-strand twists falling along the sides. A chin strap beard finishes off this punk look.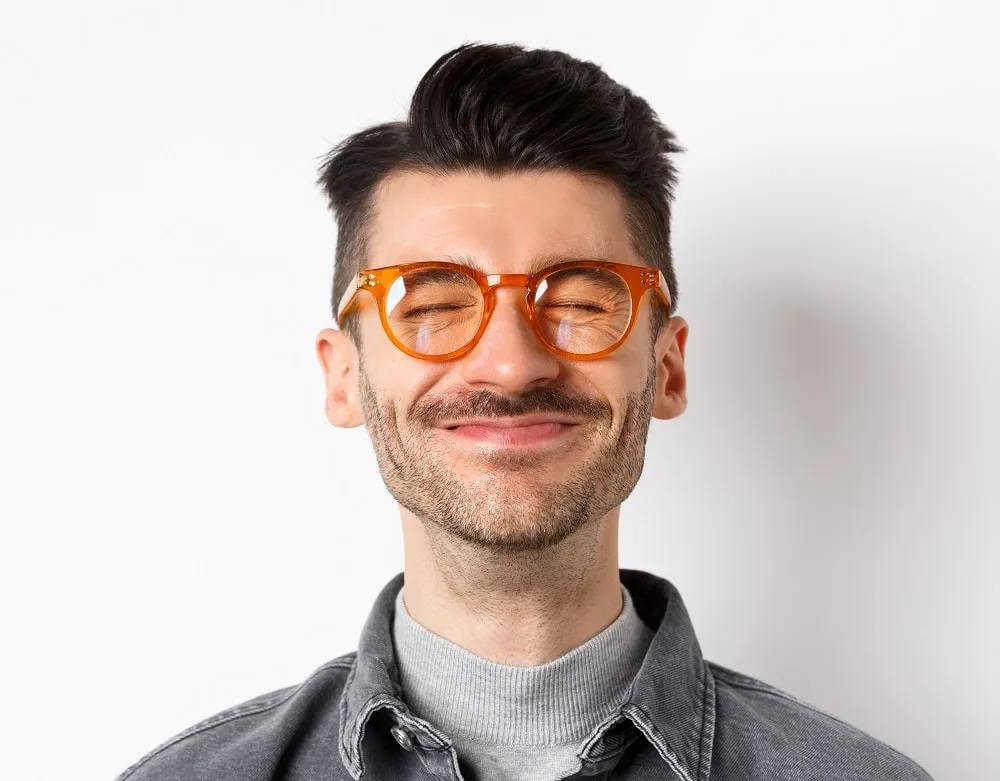 A disconnected undercut is trending these days and is defined by completely different lengths of the sides and top part. The sides are buzzed and meet the long top that is uni-length too. Comb over the hair with a side parting.
A high fade along the sides results in a neat and clean look. Pair it up with a significantly long top that is slicked back. The faded sideburns merge into a well-kept beard making a square face appear slender.
26. Classic Comb Over
The classic comb-over is timeless and is one of the trendiest hairstyles for men with square face shapes. The long top is combed over falling on one side. Naturally blonde-haired men can copy this charming style exactly by growing out a beard.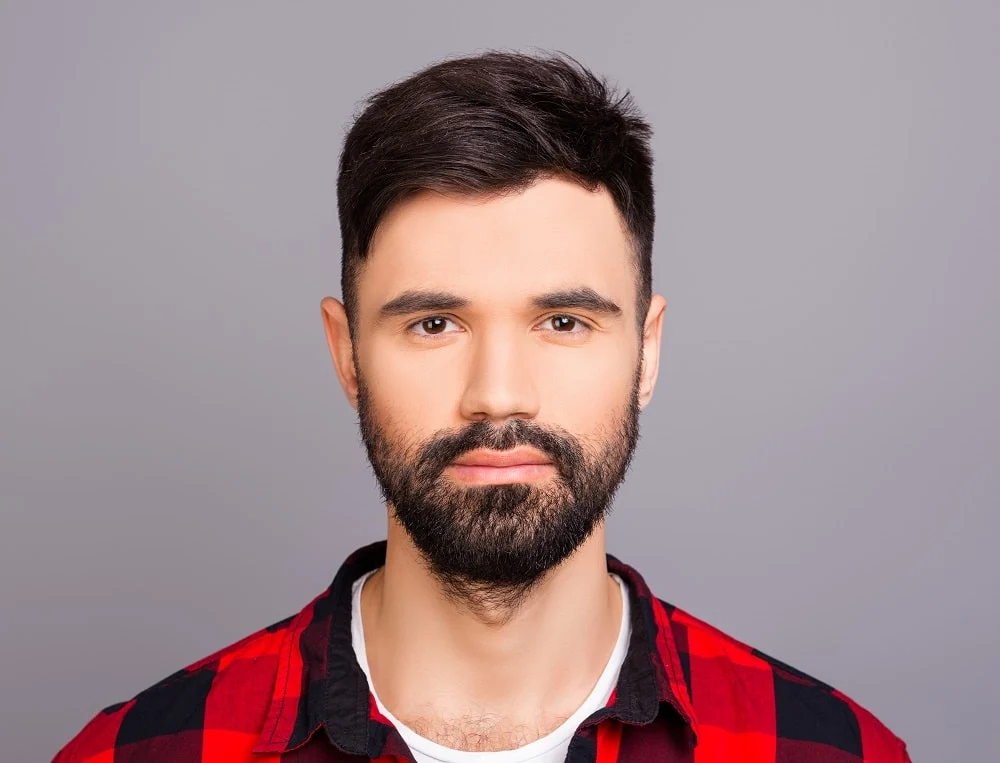 A medium-length Ivy League haircut is ideal to sport a smart hairstyle. Leave the top two to three inches long to contrast with the buzzed sides. Sweep the strands on one side and finish off this fresh masculine look with a rugged beard.
28. Textured Style
A textured haircut compliments a square face very well. It has varying lengths all over the head with shorter sides and a long side-swept top. This hairstyle is suitable for men with thick hair who want an everyday undone look.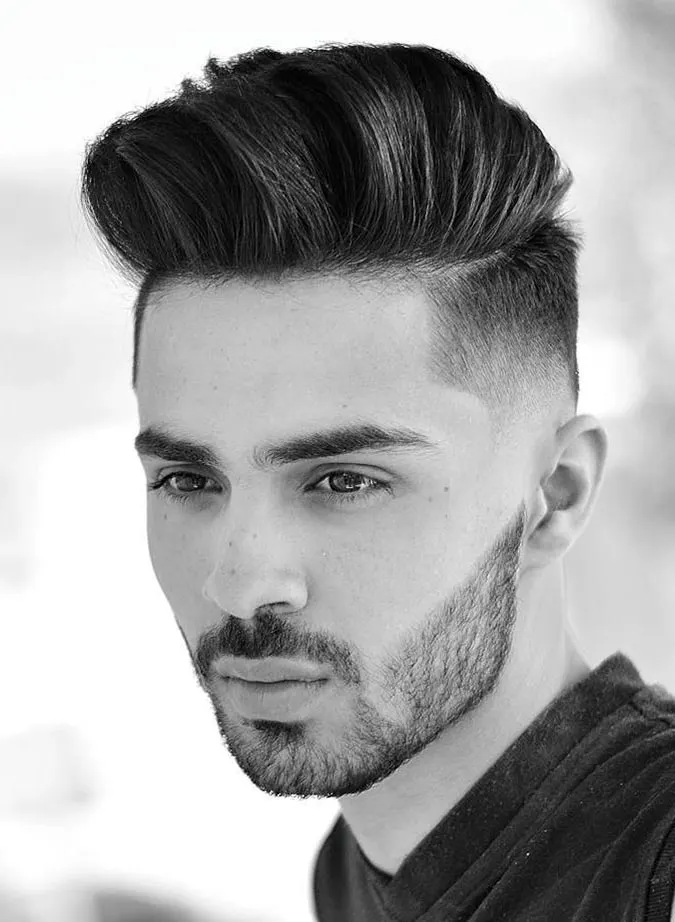 Does it come as any surprise that the undercut is one of the most flattering hairstyles for square faces? Is there any facial shape it doesn't complement? Here's the thing, though. If you have a square-shaped jaw, keep the sides tight and buzzed. Maintain moderately short hair on top, as well—just long enough that you can slick it back, but not so long that it falls over your face.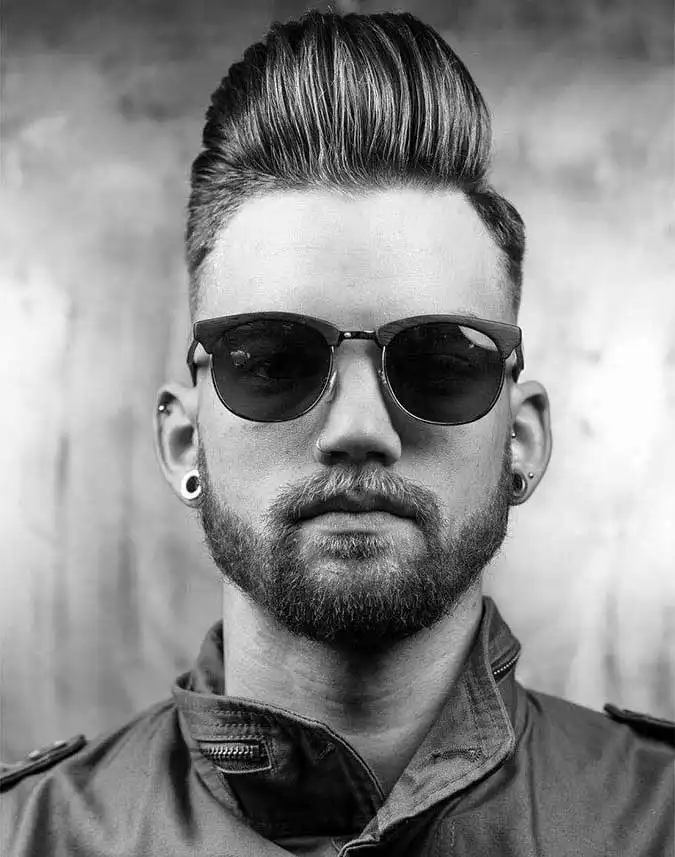 Wear a pompadour to emphasize your square face, and you'll soon be drowning in attention. Again, tight sides are the key, even if you don't buzz your hair in the undercut style. Once again, try to maintain a shorter pompadour—the more you slick it back, the better it looks.
31. A Smooth Shave
There's one exception to the rule concerning no short men's hairstyles for square faces, and that's the buzz. Since a buzz cut is short all over, it doesn't detract from the sharp, strong angles of your face. If a traditional shave isn't your cup of tea, then try a butch cut, crew cut, or the preppy Ivy League style.
Yep. Both man buns and top knots emphasize square-shaped faces and jawlines. The secret is to keep the sides short and neat, even if you don't shave them down to the scalp.
Hairstyles for Men With Round Faces
33. A Sleek Side Part
A simple side part is sophisticated, professional, and polished, with just enough of the preppy vibe to make you look clean cut and fresh to death. You can pull off this style regardless of the length of your hair. Just don't forget the hairspray.
34. The Close Crop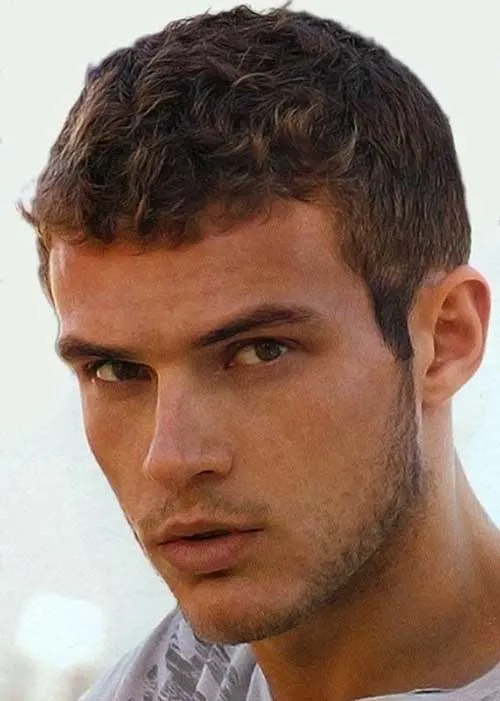 An all-over crop never fails. It's an ideal hairstyle for square faces because, although relatively short, it's still versatile. You can spike it, tousle it, smooth it back, part it, or just let it do what it wants to do.
Faux Hawk or spikes, anything with plenty of height and volume will complement your square jaw. Don't be afraid to grow out your hair a bit—think mid-length, erring on the short side.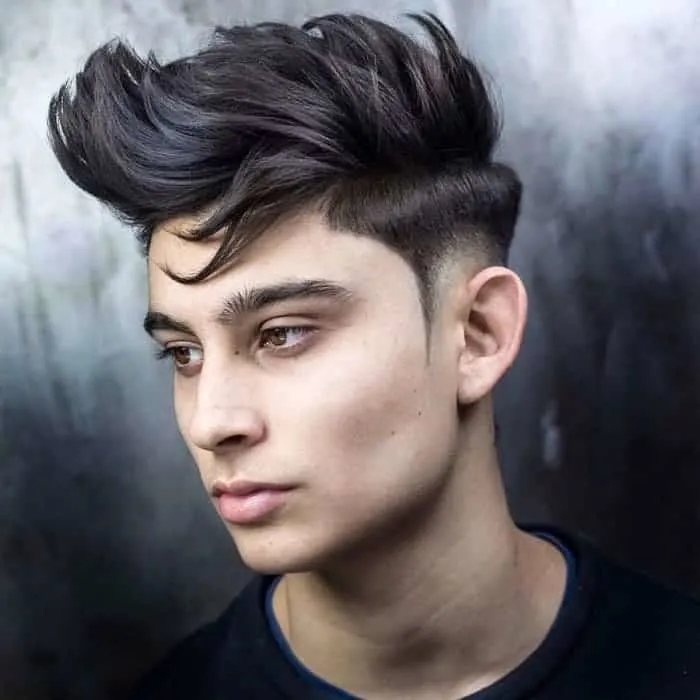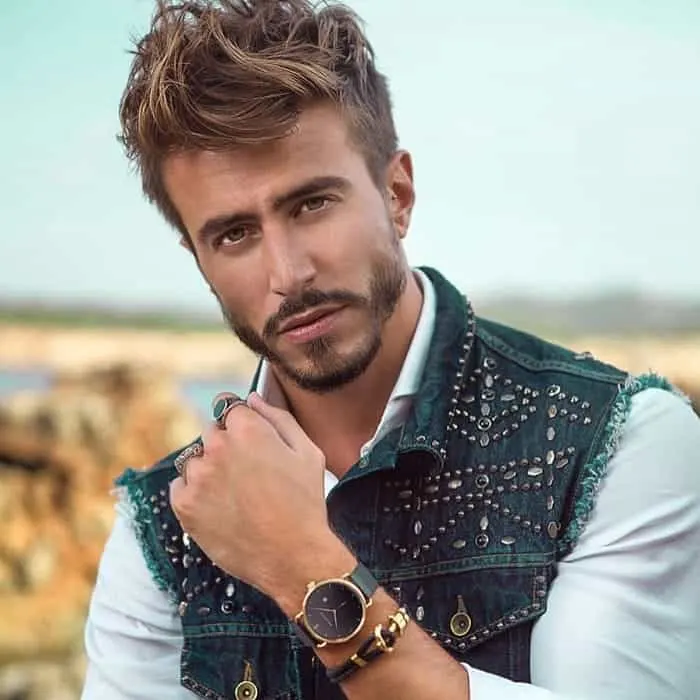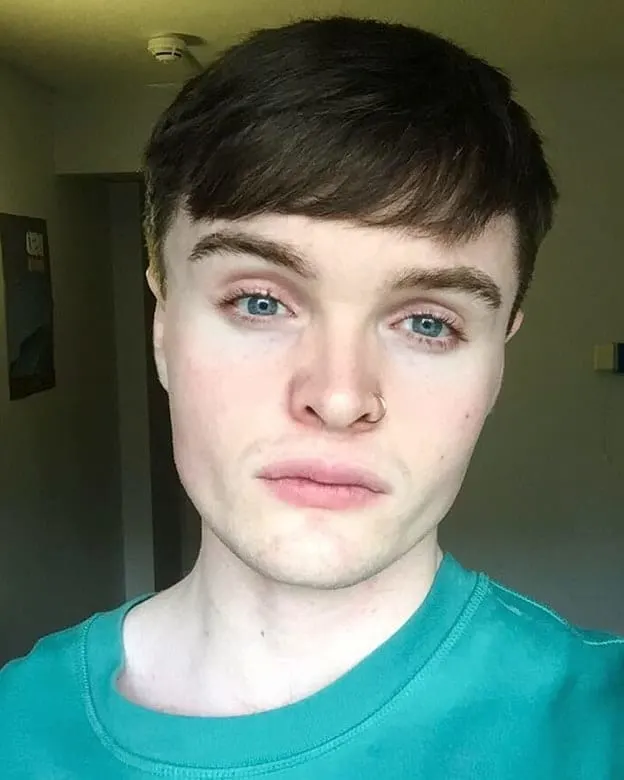 With so many men's hairstyles for square faces, you'll discover the 'do that flatters your facial shape and features better than any other haircut you've ever tried. What brings out your chiseled jaw?