You might think that there is nothing more boring than a simple taper fade haircut. You will change your mind after taking a look at taper fades with long hair. The fascinating way long hair can be when mixed with tapered sides is exactly what you need to make an impression.
These hairstyles are great for guys who have been sporting long locks for a long time and are looking for a way to incorporate them into a short haircut. The contrast the short sides and the long top create is sometimes worthy of an award.
Stylish Taper Fades for Men With Long Hair
Everyone knows that long hair requires a lot of maintenance. That's why guys usually run away from this responsibility.
But if you have grown your locks long enough to create a taper fade cut with long hair, then you are not afraid of any challenges. In fact, the taper fade on the sides will significantly reduce your morning hassle. All you'll have left are the locks on top which allow your imagination to run wild.
We have collected 15 long taper fade hairstyles that'll give you a small push toward a long-awaited change.
1. High taper fade with a pompadour
This high taper fade is especially stunning due to the addition of an angled beard. The top part is left to be about 5 inches long and is styled into a large pompadour. The hair in the front is longer than the hair toward the back.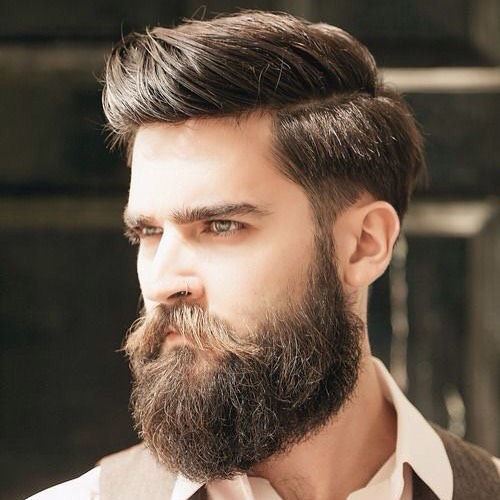 A scissors taper fade cut with long hair is exactly what you need to make a statement. A scissors taper fade takes longer to make but creates an impression of a very fashionable hairstyle. Give it a try!
A very high and short taper fade coupled with a long top part creates an impressive mohawk not many guys are ready to wear. This hairstyle is a wonderful statement-maker and deserves your attention. Get more ideas on taper fades with the mohawk.
If you have thick and curly hair, a great way to keep it tamed is to create a high blowout. The tapered sides and back become a solid base for a long and stunning style. You'll need to make some effort to keep this haircut neat.
5. High and stylish
This hairstyle is a mix of a high taper fade and a stylish top with a side part. The higher you can keep the shaved portion of the taper fade, the more impressive the hair on top will look. In this case, it looks striking!
Smart & Simple Tapered Crew Cut Styles
Taper fade cuts with long hair are designed to make you enjoy your new and improved image. Experiments with long hair are just starting. Allow yourself to dive deep into the fascinating world of complicated styling.