If you like skateboarding, do in-line skating, or extreme biking, you must be wondering which haircut will fit you best.
Skaters like their hairstyles to allow them to express their unique style and let them stand out from the crowd. At the same time, the skater's haircut should be short enough not to get into your eyes while skating and long enough to be expressive.
The hairstyles most skaters choose are medium in length. Such hair doesn't interfere with spins, flips and glides while allowing the skater to create great hairstyles and express their personality. Let's not forget about the helmets. The hair should be styled to look good under them.
Best Men's Skater Haircuts
We have collected 41 of the most stylish haircuts for men for the skaters to choose from. You should consider the type of hair you have and the length you are ready to deal with. Remember, the longer the hair, the harder it is to manage, and the more time it will take to keep your hair looking neat.
If you are not sure how to express yourself with your haircut, take a look at the below skater hairstyles that'll help you make your own decision.
1. Layers
The best way to keep medium-sized hair looking neat is to make layers. A layered haircut will add some volume to thin hair and allow it not to get completely ruined after hours of skating. Create bangs to complete the look.
Most popular men's undercut hairstyles
2. Short hair with long textured fringe
This skater haircut is perfect for those who don't want to stand out from the crowd but still wish to have a little zest in their style. The zest is created by the long textured fringe, which falls just slightly below the eyebrows.
3. Trendy medium-sized hair with side swept bangs
This skater boy haircut will fit a skater with thick straight hair. The bangs should be left rather long to draw attention to the eyes. Some hair is left to cascade down the neck to make an expressive and unique hairstyle.
4. Thick and textured skater hairstyle
Thick textured hair on top will look great when you take off your helmet. The rest of the hair can be cut short to decrease maintenance. Make sure not to use any hair gel if you plan to skate. Better to style your hair after the helmet is taken off.
Wanna try the Faux Hawk haircut? Check these styles
5. The shag
Shags are quite popular nowadays and look great on men with thick hair. Such a haircut doesn't require any hair products and will look great under a helmet. Once you take the helmet off, the slightly disheveled look will turn some heads.
6. Straight and sleek
This special skater haircut will make any man look and feel unique. It might take some time to style, but the result will exceed all expectations. This is one of the best ways to express your feelings while skating.
7. Highlights
Highlights are probably the easiest and one of the most effective ways to make your haircut look creative. Instead of going for the classics, choose to dye the top part of your hair with a darker shade than the bottom. You will surely make a stand!
8. Disheveled look
The disheveled look is always a hit with the skaters. It needs no maintenance and always looks great, even if you just got out of bed. Leave the bangs long so that you can create a new style daily. Try side-swept bangs or comb overs, depending on your mood.
9. Disconnected cut
Disconnected cuts are very trendy nowadays. Give one a try. The disconnected skater boy haircut will require long bangs and short, but not shaved, sides. Remember, the long bangs will require maintenance unless hidden under a helmet.
10. Thick and shaggy
The skaters who don't appreciate bothering with their thick hair can choose this low-maintenance cut. If your hair is thick enough, keep the sides and the bangs long and they will require no additional brushing or shaping.
11. Punky skater hairstyle
This skater boy haircut is a perfect way to express yourself while looking unique. Dye your hair raven black and keep it medium length. Make asymmetrical bangs and sides to complete the look. Remember, this style will need some hair gel to be kept intact. The bangs will look great under the helmet.
12. Asymmetrical style
This asymmetrical style is perfect for any skater. It looks great under a helmet and fantastic without it. It requires little to no maintenance and looks absolutely amazing. Make sure to give it a try and you might make it your style of choice for months to come.
13. Eye-covering bangs
Bangs, which cover the eyes, provide a sexy look any skater will appropriate. However, the bangs will be getting into your eyes while skating, so make sure to brush them under a helmet. Long bangs need some hair gel to look neat but can be left a little disheveled as well.
14. Spikes
Spikes are a great way to express your personality since they come in all shapes and sizes. Keep the hair on top of your head long enough and you can experiment with spikes any way you want.
15. Suave
If you want a skater haircut, which can easily be changed into something neat, go for the suave look. Keep your bangs medium length and hair on the sides long enough to cover your ears. No hair gel is needed to keep the suave and neat look intact.
16. Messy Pudding Bowl
The Pudding Bowl men's hairstyle is one that looks like someone has just put a mixing bowl on your head and then cut the hair to this shape. After starting with a standard Pudding Bowl style, you can use some gel to scruff your look up.
17. Dark and Stormy
Intense black hair with a little bit of a messy edge is a great skater hairstyle. The best way to give your hair a stormy look is to put both your hands into your hair and twist it.
18. Messy Peaks
Men's hairstyles with peaks are all the rage. Your peaks can be messy ones rather than regular peaks. Pull up your hair with your hands at intervals and set the peaks in place with styling spray.
19. Sleek Style
Sleek styling makes a real change from a lot of the messy men's hairstyles which are popular with skater guys. Use a comb to keep your hair looking sleek and free from knots.
20. Wispy Fringe
A wispy fringe can help give you a really coy skater style. Cut your hair so that it is long enough to cover up your eyes, but so that it can be easily brushed aside whilst you are skating.
21. The Shaggy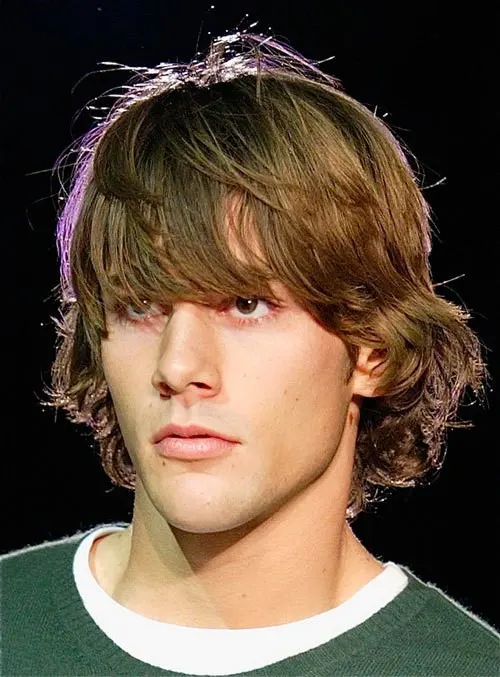 Shaggy is one of America's most famous cartoon characters. Pay homage to him with the classic skater haircut. This style has long bangs and even longer back and side cuts.
22. Foppish Spikes
Louche spikes are very in keeping with the whole skater style. A spiked up hairstyle helps to keep the hair out of your eyes. The floppy look adds a touch of casual skater cool.
23. Soft Pompadour
A soft Pompadour probably won't stay in place underneath your skate helmet, but it is a great style whenever you are off of the board. Gel up the hair in the center of your head and gently curl it over with a comb for the classic Pomp look.
24. Sleek Backcombed Style
Try combing your hair straight back to keep it out of your eyes for a stylish skater hairstyle. Use a very small amount of gel to keep your hair soft and in the right place.
25. New Heights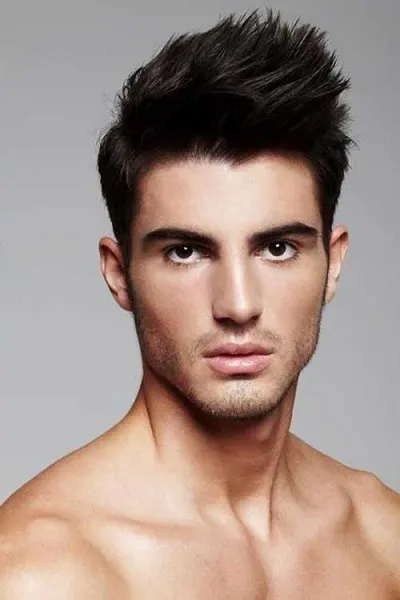 Reach new heights with this hair-raising men's hairstyle. The easiest way to fix your hair like this is to tip your head upside down and then run gel through it to hold your style in place.
High and Low Fade Haircuts for Black Men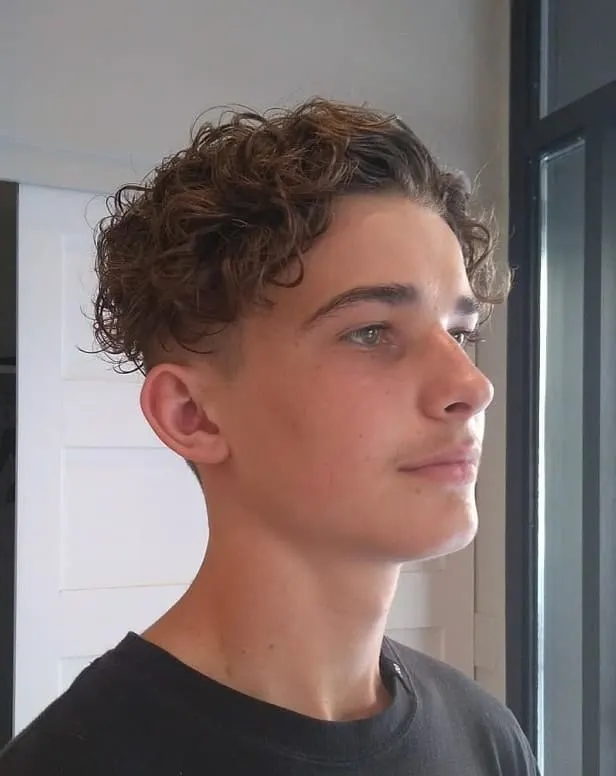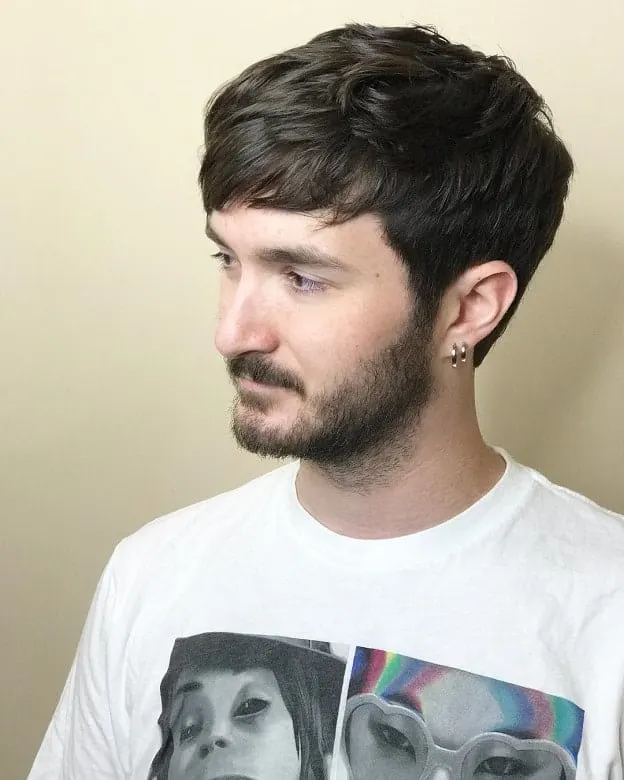 We hope these 41 skater haircuts have been helpful and assisted you in making the right choice. You can combine some of these styles or even create your own. Remember, the haircut you get should allow you to express your emotions and make you feel free.