When we talk about the modish haircut, layered undercut hairstyle comes first in the mind. Men's layered undercut is the most versatile and fresh one. It can work on thick as well as thin hair. Not just that, whether you have straight hair, curly hair or wavy, this undercut works amazingly on any of these types of hair.
If you have thin hair, then this undercut would probably be your first choice as it adds a wonderful depth to your thin hair causing it to look voluminous.
How to Do a Layered Undercut
The best part of this haircut is that you can try the layers by your own self. But for the better result and professional look, we recommend you to go to a barber. For beginners, it will be difficult to cut short hair for the first time.
Just Wet your hair and make sections of your top hair. Hold hair between two fingers and cut the bottom of the hair. Then again take another section of hair between the fingers and cut bottom. Continue this step until you get all the hairs done.
Men's Hairstyles with Layered Undercut
In this article, we will discuss the best types of men's layered undercut that will definitely make you stand out at any event or place.
1. Taper Fade Layered Undercut
This undercut has a classic combination of a comb-over, part, and beard. It works fine on any type of hair(curly, coarse, fine or straight).it is a big problem solver for those men who have a big head as it contours the shape of your head as well.
2. Pompadour Layered Undercut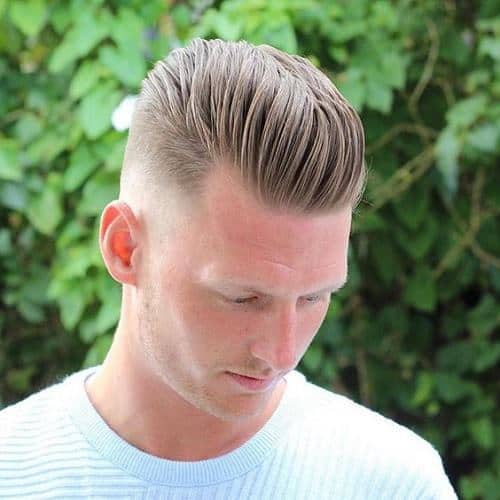 This undercut is a combination of layered pomp cut providing the clean, neat and sharp look. The top of the head has a bunch of layered hair and the sides are of short length. Layered hair is slick to back giving an elegant look to men.
Popular Undercut Hairstyles for Men
3. Layered Undercut with Spiky Hair
This is the most impressive one, among layered undercut hairstyles for men. Spikes are always "in" if we talk about the rocky look. The layered cut adds an additional cool factor to this hairstyle.
4. Men's Layered Undercut with Side Quiff
It is undoubtedly the stylishly layered undercut for men. If you want to have a promising personality among your fellows or friend circle you can try this undercut without any fear. Messy quiff also looks good as shown in the image.
5. Simply Layered Undercut for Men
This simple men's layered undercut provides the fresh and youthful look to men. The top of hair on the head is cut into layers with a combination of a short undercut. It is the smartest and easy way to give a stylish look to your hair.
The top of the hair is cut in shorter layers and swept on the side of the head to give a mature look to men. You can also highlight these short layers to make them prominent. It will add a cool effect to your personality. With a beard, it looks more ravishing as shown in the image.
7. Layered Undercut+Fringe
The top is cut into long layered fringes with the combination of undercut as shown in the image above.
8. Layered Cut + Long Curly Hair
A long layered hair will create such a great contrast if you also get an undercut on one side. Show that shortly trimmed area by tossing your hair on one side, revealing that perfectly styled trim.
9. Side Swept Hairstyle
A layered side-swept hairstyle with a sexy undercut is the best option for guys who want to get any girl's heart. Get a short jawline beard and a short mustache if you want a more masculine but sexy look.
10. Blonde Highlights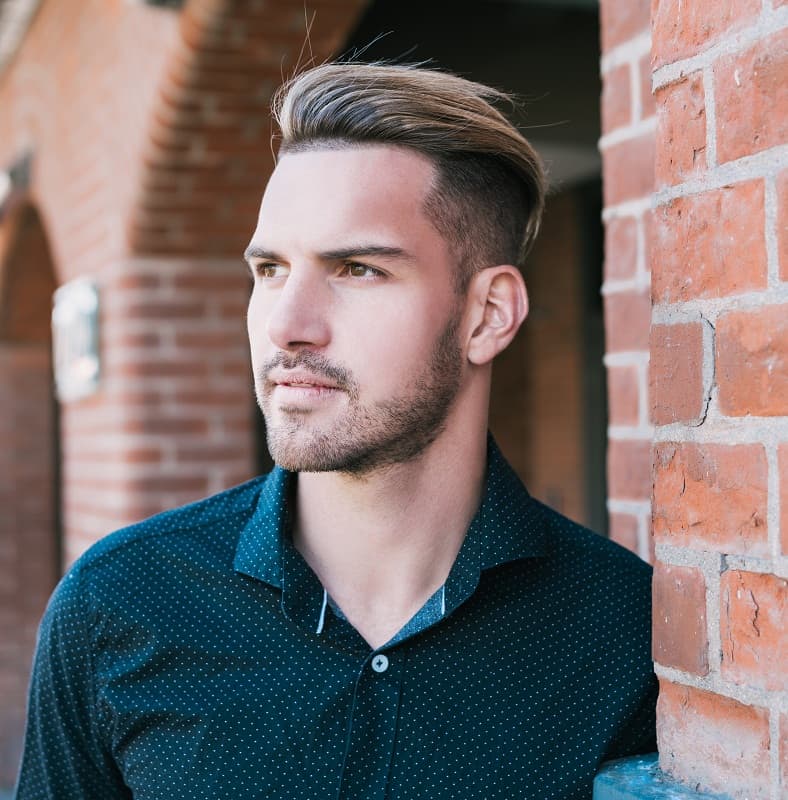 A layered hair with a disconnected undercut will certainly transform you into a real badass. Opt for a short trim for the sides and the beard and create some blonde highlights for the combed-over top.
11. Taper Fade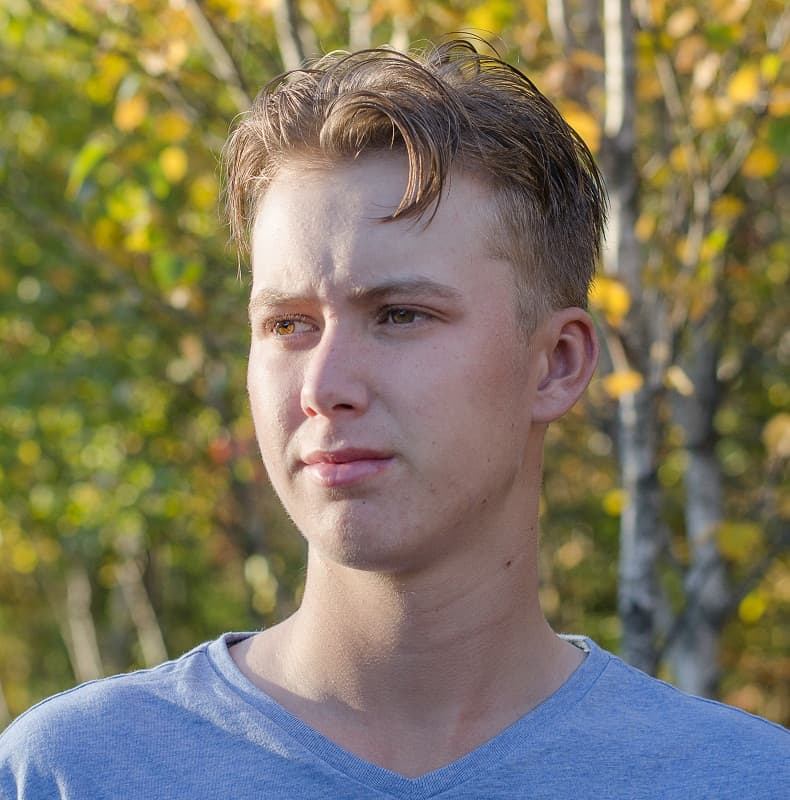 A messy layered undercut will suit all men who want a careless look. Style a taper on sides and back and use hair mousse to define each strand and create that unkempt appearance.
12. Short Undercut
Such a short layered undercut will highlight the top and make your features seem elongated. If you like a sharp, neat look, go for a stubble beard that you can easily pull off at home.
13. Slicked Back Hairstyle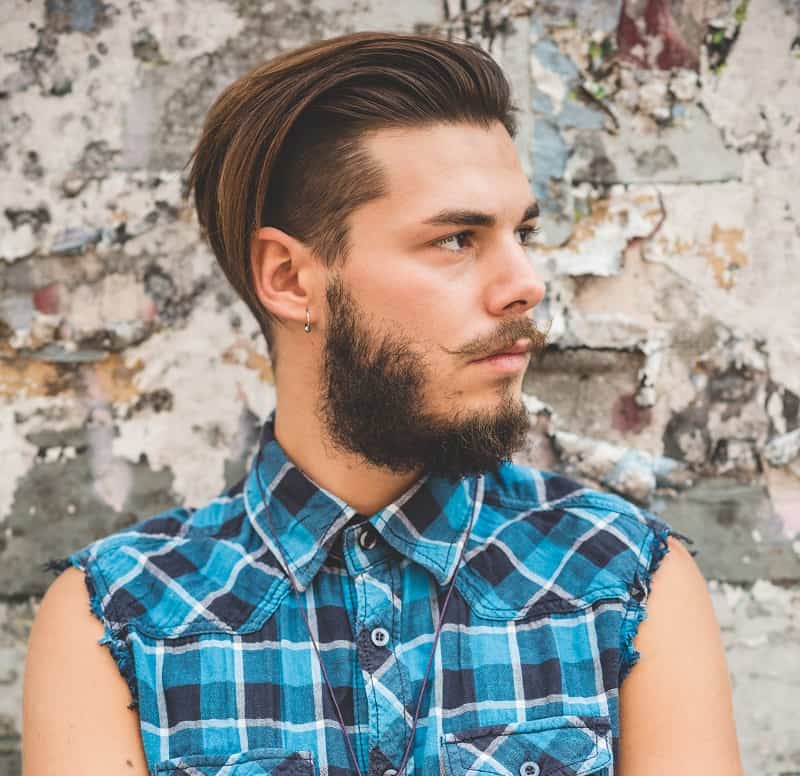 A layered slicked back top with an undercut will perfectly work with a mustache with rounded and a beard. You will look masculine and trendy and no girl will be able to resist your charms.
14. Curly Hairstyle for Thick Hair
Any men's layered thick hair will look so much better with an undercut that draws all the attention to the top. You can also go for some mild blonde highlights if you want some glow.
15. Undercut for Blonde Hair
A blonde layered undercut will suit all men who want to look sharp. Taper the sides and flip the top on one side and slightly on the back. Shave your face daily if you want that gorgeous babyface.