Short and attractive undercut hairstyles have become so trendy among fashionable men. They love to combine practically effortless and timeless styling with high fashion points. However, living in the age of technology means more than one variation and design tailored to this undercut combination. Thus, making it harder for us to choose the right one wisely.
When it comes to trendy undercut hairstyles, the short hair undercut is unquestionably amongst the best. The short undercut is usually youthful and adaptable, allowing it to work exceptionally well for curly, wavy, or straight hair types.
The other features of undercut hairstyles for short hair can be interpreted in several ways, depending on your face shape. Finding the right selection for your lifestyle demands is easy. But we have taken that hurdle for you, and here are the best 33 hairstyles for men.
How To Style Short Hair Undercut
The short undercut for men is among the few selected undercut hairstyles continuously evolving. To style short hair undercut, you are going to first agree on a top style or something better. This would be followed by:
Get a look at afro hair types.
Get a professional to handle your selections.
Agree on a buzz or trendy undercut.
After cutting, add a super low undercut with fade.
Leave short hairs on top for styling.
To style undercut on short hair with a beard, it's necessary to choose the right beard style with your hair because the mismatch of the combination may look weird.
Comb over or side part undercut matches well with a full beard and a bushy beard.
Slicked back hair is suitable for a short beard.
Short undercut with medium-length hair looks good with a long beard.
Men's Short Undercut Hairstyles
Their versatile quality makes us fall in love even more with short undercuts. Because whether you have curly, thin, kinky, wavy, or straight hair, you can flaunt an undercut. But, with different hair types and different style desires comes different undercut choices.
Therefore, we have put together the list of the trendiest undercut hairstyles for men with short hair below to help guide you through this tough decision.
1.
2.
3.
4.
5.
6.
7.
8.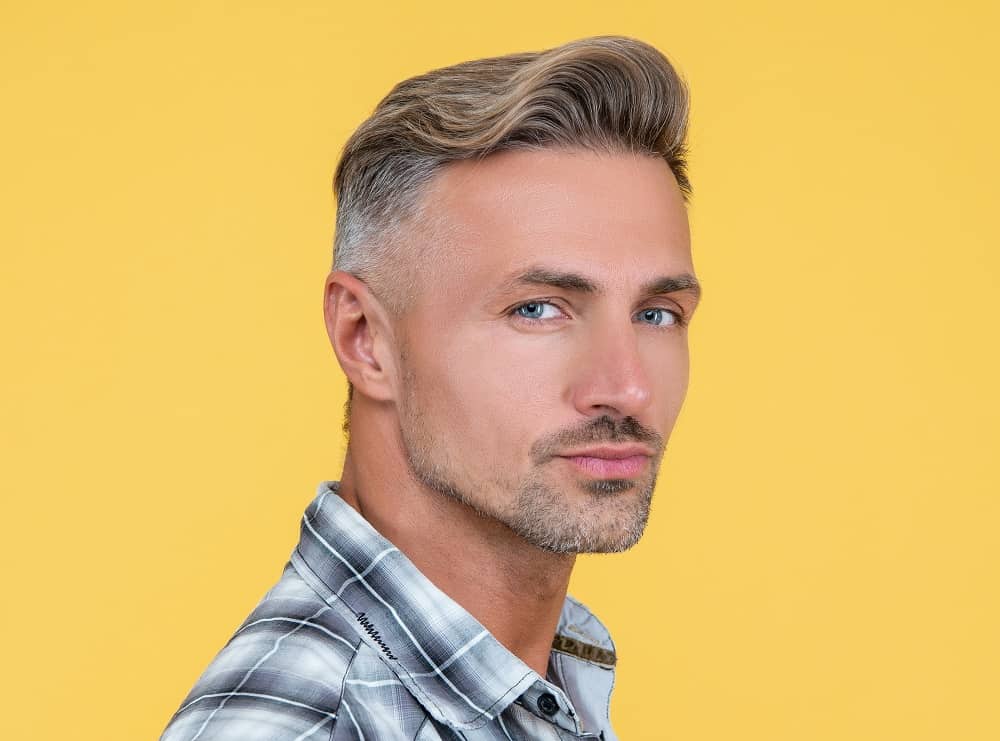 9.
10.
11.
12.
13.
14.
#15. Fade Out Short Undercut
Sometimes you need to think outside the box in order to stand out from the crowd. Because apparently, the basic undercut is not enough to make the ladies swoon.
So, you need a secret ingredient as a bonus point that would make your impeccable style worth noticing. Thus, you can do that with the help of the fade-out effect to the sides of your hair for a more dramatic effect.
#16. Lowest Maintenance
Another great feature of short undercuts is that they require minimal to no maintenance whatsoever.
Therefore making it the ultimate choice for every busy man who always needs to rush out the door each morning with bedhead hair. Because with undercuts, you can go out with your " I just rolled out of bed look" and still look as stylish as ever.
How to Style Long Undercuts: The Style Guide
#17. High Contrast
This short undercut hairstyle is another way to grab everybody's attention in the principle of contrast. But, what kind of contrast can we have in hair design?
Because hair length is the easiest game you can play, achieving contrast using variations in hair length is the key to your stardom. So, all you need to do is tell your barber to trim the sides short while the tops remain relatively long.
Quick Tip: Increasing the difference between hair lengths will increase your eye-grabbing chance at any crowd.
Possibly the look kept your hair in line with the undercut but restrained to match its modern setting. The half-pony with short hair undercut remains a popular choice for years now. It remains an excellent option if you seek an edgy and under-control look.
#19. Au Naturel
Only the greatest kind of short undercut hairstyles will enable you to go out au naturel without the help of any hair product whatsoever. So, get ready, get set, go out with your au naturel hairstyle because that's what trendily is all about these days.
While electing for a blowout haircut, this undercut creates a hairstyle that looks modern and relaxed, united with tapered sides retaining an overall clean and sharp look.
#21. Fashionable Undercut
For men who don't want extremely short hair even though they are going for undercut, this is the right design for you because this looks better for longer styles that include slicked back hair.
How to style it?
Run hair pomade through your hair. ( Use pomade with shine if you want that inner glow)
Blow dry back using your fingers to style it into place.
#22. Short Undercut for Men with Extra Volume
If you are craving more voluminous undercut hairstyles, there are two ways to make it happen.
Good hair mousse will add volume to your hair, making it more noticeable and eye-catching.
Blow drying before adding any product will help increase the volume, especially if you use a bristle round brush for curls and twists.
#23. Cute In Curls
Here's another incredible design specially tailored for guys with curly hair. Because the textured curls on the top are responsible for giving life to your style, you need to take good care of them.
So, you have to use medium hold pomade to give your curls extra bounce and volume.
#24. More Volume
What makes this guy's hair so attractive is its voluminous nature. However, not all of us are born with super powerful hair with excess volume.
So another universal key to more volume is simply blow drying. In addition to that, don't forget to neatly brush it backward with a toothcomb in order to make this look complete.
#25. Temple Undercut
Not ready to chop off your hair underside? That is not an issue. The temple undercut, unlike other undercuts, uses shorter hair only around the temples.
So, other hairs found at the back of the head and behind the ears are left to resemble the top. The outcome is always unique.
Amongst the best undercut on short hair is the spiked hair that allows you the freedom to style hair on top in any way you prefer. The undercut blowout remains an excellent style always to try out.
#27. Spiky Yet Not Messy
This kind of short-length undercut hairstyle is a mashup of several different looks because the undercut has longer textured hair on the top with a spiky yet not messy look.
Tip: Using a strong hold pomade in slightly damp hair can help the spiky texture stay intact all day.
#28. More On Maintaining Your Undercut
When you visit the barber shop, there are two ways to maintain a manly undercut hairstyle:
Ask them to trim the sides and back while keeping the top intact. Thus, adding extra length on top while keeping the sides short and simple. Moreover, this will prepare your hair for a longer hairstyle in the future, like disconnected cuts that require long hair.
Ask the stylist to get your hair entirely touched up, so it regains its original silhouette and length. So, you should do that if you want to keep the same undercut for an extended period.
Disconnected undercuts are probably the most undercuts noticeable with the most dramatic variations. For example, in the photo above, we get some retro design that still works in the modern age.
So, if you want to get this look tell your barber to get your hair on top disconnected from the sides with a clearly defined line where the short hair stops and the long hair begins. This short undercut makes a bold and striking appeal that is fashion-forward and daring.
#30. Off Center
Unlike the usually disconnected cuts that place the defined line between the short and long hair on the edge of your head, this one has its charm.
So, by placing this line on the usual edge, you can grab even more attention. The style depends on a distinction between the hair on top and shaved sides.
Tip: Disconnected undercuts rely heavily on good quality hair products, especially for men with thick hair types that require stronger hold products.
#31. Short Undercuts for Men with Thick Hair
If you have thick hair, you are included in the best short undercut men's hairstyles. Because with thick hair, it is like letting your hair type do all the work for you.
However, you will need a stronger pomade with an extra hold to ensure no flyaways will make a surprise appearance.
#32. Spiked Up
You will have to sharpen those hair strands and shape them into spikes for an edgy badass look. It would increase your style by a factor of 10 and send a message to everyone about the personality behind this fierce look. So, in order to get it, you'll need to use lots of hair gel to keep its place.
For guys who seek fullness and depth in their hair from a visual perspective, these undercut hairstyles with short hair are your ultimate savior from any styling tragedy. Because by adding layers, it will visually amplify your locks and make them bolder than ever. Thus making your hair more voluminous.
Tip: Start by cutting smaller segments to form the layers. After that, start trimming off longer segments when you are sure about the style. Otherwise, you would be forced to wait a long time for it to grow back.
The undercut offers contemporary sophistication and an edgy look combined with sharp contrast accompanying short undercut hairstyles. It applies a smart side part styling alongside a daring take on the look. If you enjoy a subtler look, kindly stick to a few long sides.
#35. Zayn Malik Style
The undercut hairstyles have become so popular lately that celebrities are hung up on them. So, take the one and only Zayn Malik, for example, with his taper undercut. Because it has almost zero hair on the sides and the back as it graduates into more hair on the top, it is really attractive.
This haircut takes a blend of two stylish looks into forming an incredible one. The short Caesar hairstyle remains popular since the time of Julius Caesar. This short hair undercut is always a classic under men's haircut featuring a small fringe and a short length.
The curly undercut is amongst the best short undercut hairstyles suitable for naturally curly, kinky short hairstyles. It is an excellent choice for showing off your curls on top. Shaves on the back and sides lead to a smart and neat look that also brings out your natural volume and texture concentrated on top.
The hard part undercut gives an edgy attitude. Everyone loves the mixture of the hard part and undercut. This short hair undercut features a modern shaved part and style and always makes a statement. All that is required is to fine-tune the thickness and length to suit your appearance.
#39. Short Undercut
Not all undercut hairstyles require a partner on top. Rocking shaved sides, with short brown hairs on the head still offer a stylish appearance. So, if you enjoy a subtler style, the undercut remains a perfect answer that is often best balanced with full styles.
Short Asian undercut styles are becoming popular nowadays. So, if you seek to stand out, the undercut with Bangs would add a fresh element to your appearance. Bangs remain a fantastic option to make an additional fashion-forward touch to undercut. It is best to make sure these hairstyles suits your face shape before sticking with it.
#41. Faded Undercut
The forward-swept undercut does take a modern approach bearing some similarities to the fringe's resurgence. This undercut fade offers a neat appearance that is best with shorter hair.
Finally, from classic and traditional to the modern looks of the 21st century, short undercut hairstyles have been so successful and versatile. So, all you have to do to get a 100% successful guaranteed new look is to pick one of the top choices above!