Several 80s and 90s hairstyles have been making a comeback and the mullet hairstyle for ladies has been creating some waves. This popular hairstyle is once again in the limelight, thanks to celebrities like Miley Cyrus and Zendaya, who have given us amazing inspiration on how to rock this classic look with a modern twist.
The mullets of today are more stylish and edgier as women are trying out different combinations like mullet with bangs, mullet with shaved sides, and more.
Time to Rock the Mullet Trend
If you are looking to give yourself a much needed hair transformation, there is nothing better than getting on the mullet trend! Check out this list to find your perfect mullet inspiration, ladies.
1. Swept Back Mullet with Bangs
Keep it simple and classy with this subtle yet powerful swept back mullet with bangs. It is a classic mullet with the hair reaching just below the nape and tucked behind the ears. Complete the hairstyle with some short razor bangs!
2. Voluminous Mullet
Do you have thick textured hair? Then, this voluminous mullet should be on your list of must try haircuts! The voluminous short curls on the top of the head coupled with short, straight hair on the back and sides finishes off this classic mullet.
3. Short and Chic Mullet for Women over 60
Mullet hairstyles look amazing on women of all ages. As you can see, this short and chic mullet looks stunning on older women as well. This sophisticated hairstyle also makes it easy for women to manage their hair on a daily basis, without putting in too much effort.
4. Mullet with Baby Bangs
If you are not shy to try, then this unique long mullet hairstyle with blunt baby bangs is worth a shot. The entire hairstyle looks two-dimensional where the long hair makes it look like your simple, classic long hair and the blunt baby bangs give off an impression of an undercut.
5. Rocker Chick Mullet
Time to bring out the rocker chick in you with this uber cool, wavy mullet with short spikes. The edgy spikes paired with those gorgeous blonde waves is sure to make heads turn everywhere you go.
6. Straight and Sleek Mullet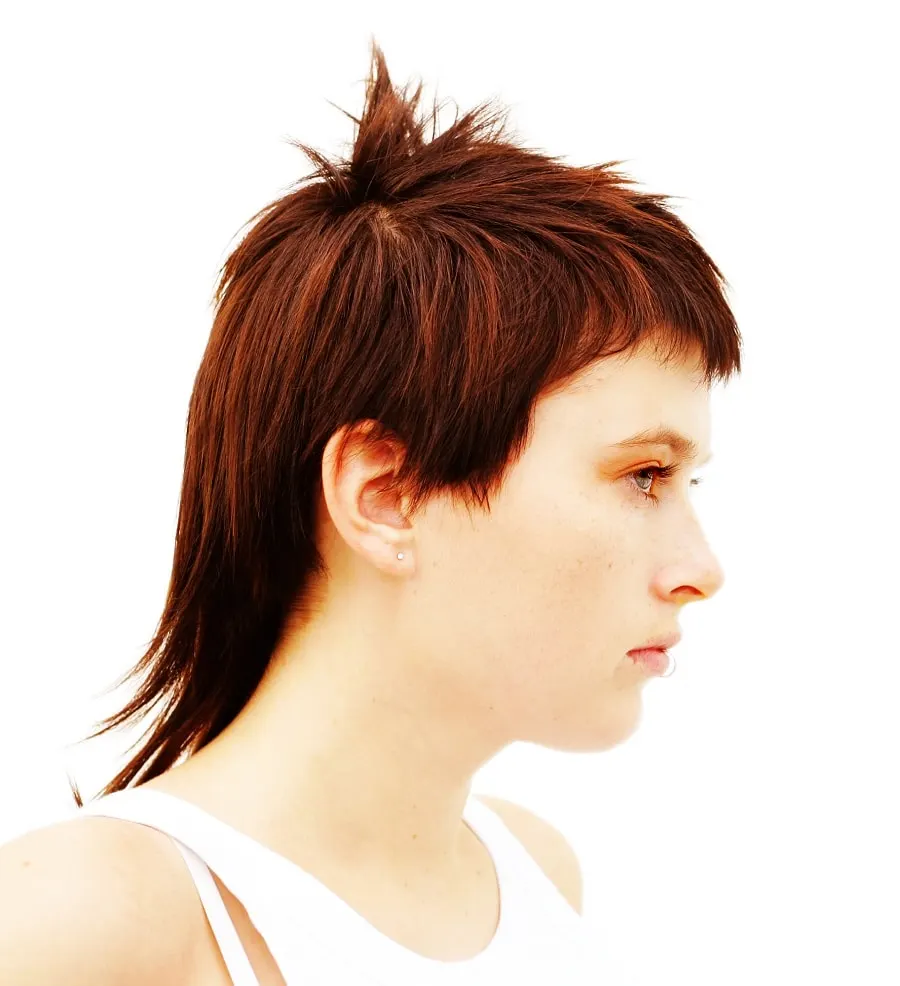 This is a classic woman with a mullet look where you have short hair on the forehead and sides, and long, sweeping neck length hair on the back. The simplicity of this hairstyle is what makes it a popular hairstyle among women.
7. Pixie Mullet with Shaved Sides
Get your sass on with this pixie mullet and shaved sides! If you are aiming for a no nonsense, low maintenance, and powerful mullet hairstyle, this should be your top pick. The shaved sides are a great idea to elevate your average looking mullet.
8. Two-toned Mullet
Now that is one eye popping mullet! This is the perfect way to give a modern twist to your regular, old mullet. With the hairstyle slightly on the shaggy side, the fluorescent green hair color addition is one way to make everyone take notice of your fab hair.
9. Dreadlocks Mullet
This dreadlocks mullet is by far the most unique and edgy hairstyle in our entire list! A perfect hairstyle for women who want to show off their rebellious and fierce side to the world. From the dreadlocks, the unique shaved sides, and to the two-toned blunt bangs – this style has got it all.
10. Short Curly Mullet with Shaved Design
Though mullets in themselves are a unique and eye catching hairstyle, you can still elevate your look by adding simple elements, such as shaved designs on the side. Take a look at this simple, curly haired mullet which looks interesting because of its shaved patterns on the side.
11. Mullet with Inverted Ends
This variant of the mullet hairstyle is ideal for women who have thin hair. It is an easy, everyday hairstyle which can be styled within no time. Just make sure that the ends of the hair are inverted to make your hairstyle look neat and in place.
12. Red Short Mullet
Go big, go bold! If this is your mantra, then this cool, red, short mullet is the perfect fit for you. Apart from the bright red being a head turner, make your mullet hair stand out by opting for shaved sides.
13. Mullet with Side Swept Bangs
Women over 30 looking for classy mullet hairstyles can try this look. The long mullet paired with side swept bangs looks professional and sophisticated. This is a great hairstyle for women with medium to thick textured hair.
14. Curly Spiky Mullet
Do you have a costume party coming up? How about adding some drama to your look with this over the top curly mullet? The combination of the red at the base with the bright blue edges on the top and bottom is sure to grab some eyeballs.
15. Edgy Multicolored Mullet
Finishing off this list of top 15 mullet hairstyles for ladies with this beautiful multi-hued mullet hairstyle. The sharp razor edges of the hairstyle coupled with those warm colored streaks make the entire hairstyle look uber cool, chic, and classy.
A mullet hairstyle may look simple and practical, but the modern mullets are all about sass and edginess. As you can see from this list, adding simple elements, such as bright fluorescent colors to funky shaved designs can completely elevate your mullet hairstyle.
Women today have the option to choose from a wide range of mullet hairstyles and looking at its popularity, there is no doubt that this easy to maintain hairstyle is here to stay. So, go ahead and pick out the style that you liked the best and kickstart your hair transformation journey!
Trending Topic