The wolf cut mullet has come up as a stylish and daring new trend in women's hairstyles. And if you're open to a bold change, you should definitely try this haircut.
This hairstyle is a combination of two haircuts that feature a wolf cut with a more prominently defined, longer mullet section.
If you are bored of one-length haircuts, this could be the change you want. So, we have listed the best wolf mullet styles that will provide you with an edgy look.
Stylish Wolf Mullet Haircuts for Women
Not sure how to style a wolf mullet? Let our list of 18 awesome styles be your guide to a cool new cut!
1. Wolf Mullet for Fine Hair
If you have fine hair, a wolf cut with a long curly mullet on the back can be a good option for you.
You can easily get this hairstyle by trimming your bangs just above the eyebrows with a razor edge and cutting the sides short while keeping the hair long on the back.
2. Blue Shag
Bright color and a wolf haircut were practically made for each other. Combine a vivid light blue with a thinly layered mullet, and textured fringe easily styled with a little mousse for support.
3. Curls and Undercut
Is your hair naturally curly? Buzz the sides of your head so they peek out from under your mullet, and give your bangs a short blunt cut.
The edgy touches will have you feeling like an instant badass the minute your new look is unveiled.
4. Blonde Waves
If you'd rather have a wolf mullet with a more feminine feel, you'll want to go bleach blonde or even platinum blonde. The light color and soft waves make for a hot wild woman style.
5. Layers for Women with Glasses
Do you wear glasses often? A mullet with thick layers in the back will help define your face and flatter a pair of cute specs. Opt for a wispy layered fringe that stops about an inch above your eyebrows.
6. Straight Wolf Cut
Whether your hair is naturally straight or you just prefer to wear it flat-ironed, a wolf cut is still going to look amazing. In fact, your long layers and angled bangs will look ultra-sleek and chic.
7. Ginger Mixie
For women who prefer a much shorter haircut, we recommend a mixie wolf cut. Women who have small faces are better suited for this version. Leave the tail over your neck long to give your look an 80s vibe.
8. Dyed Tips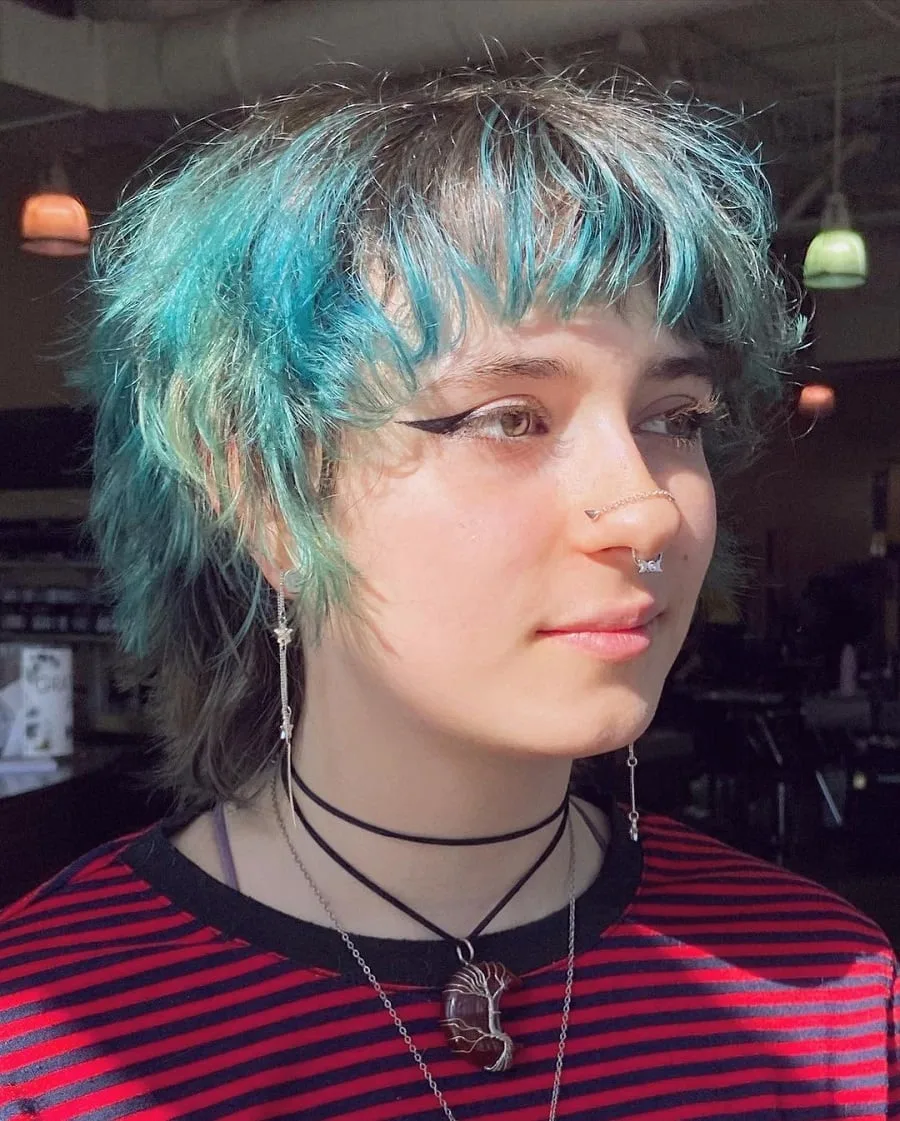 Another fabulous way to flaunt unique hair color is by dyeing the tips of your locks.
A short wolf mullet will show off the color perfectly, as this teal style shows. Fluff up those layers with a spritz of hairspray and some teasing at the roots.
9. Straight with Jagged Fringe
Between the dark green color, the jaggedly cut fringe, and the straight texture, this mullet makes for one dramatic wolf hairstyle no one will forget.
The buzzed sides are a great slimming option for women with a round or wide face.
10. Short with Middle Part
If you already have short hair, you can liven it up instantly and give it a refreshing shape with a mullet and middle-parted wolf bangs. The result will be flipped-out layers that fan out flatteringly around the face.
11. Wolf Mullet for Older Women
For older women, don't make the mistake of thinking you can't rock a trendy wolf mullet just because of your age.
Feel like a hip, more youthful version of yourself with a style that accentuates natural waves or curls and adds body.
12. Long Textured Bangs
Struggling to style your long hair? Lots of layers from a wolf cut will tame those locks! You can even dye the ends in a muted shade, like pastel pink.
Work in a little hair oil for enhanced shape in the top layers and curtain fringe.
13. Two Tone
If your hair is naturally dark colored, add a fun pop of a light color underneath to create a two-toned wolf mullet hairstyle.
The vibrant color combination is a fun way to give your cut extra character as this wavy style shows.
14. Mohawk Mullet with Shaved Sides
Ladies with curly hair and an appreciation for hairstyles with many different characteristics will really love this style of wolf cut.
Its closely shaved sides are a rough detail that contrasts in a unique way with the long curly body.
15. Long & Purple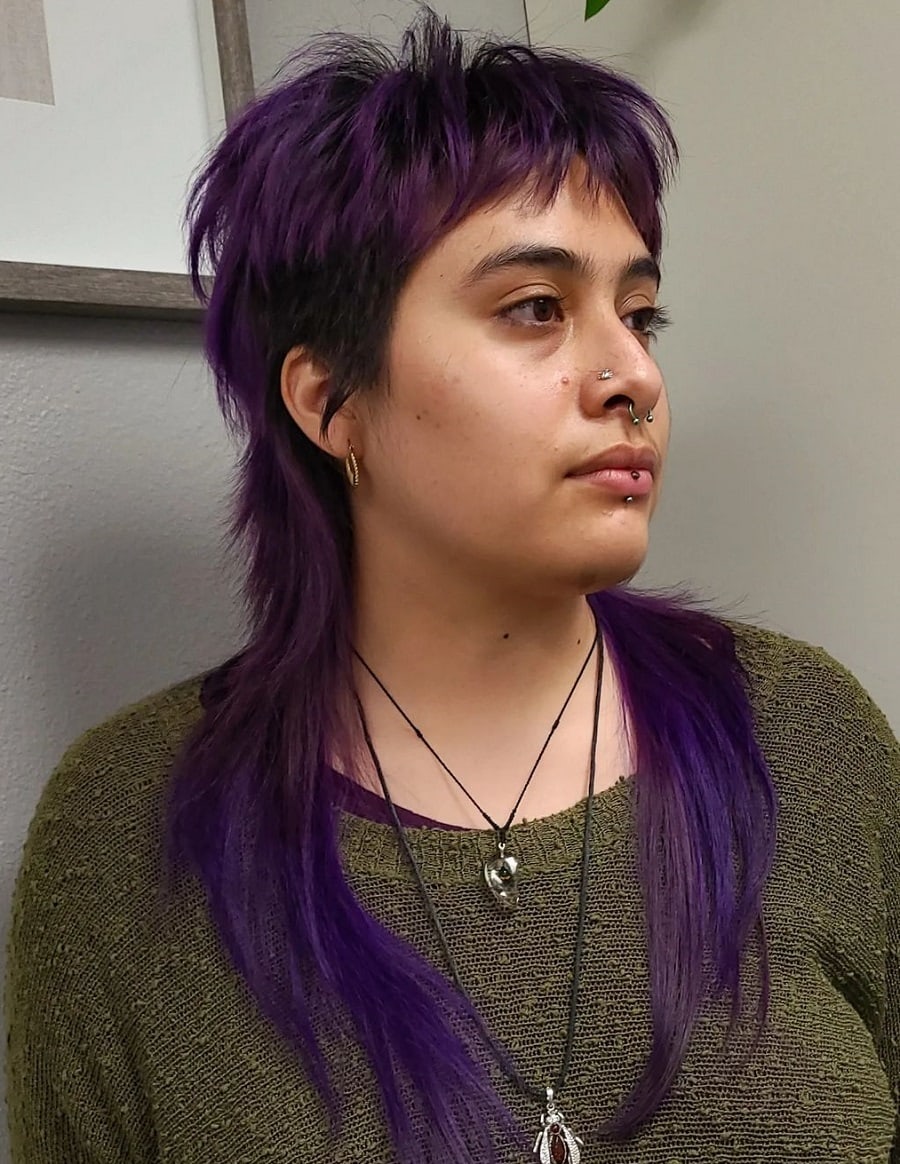 Dark purple is mysterious and moody, so it pairs well with a mullet. Try the wolf cut and color on your long hair with extra thinned-out layers and thin, piecey bangs.
16. Asian Shullet
Yet another cool way to rock color in your hair is by dyeing only the ends at the very bottom of your haircut.
On Asian women, a light or golden yellow is a nice pop over dark hair. Try giving the top half of your mullet a rounded cut for different shapes.
17. Choppy Rainbow Wolf Cut
Can't decide which color(s) to rock in your hair? Rock them all in an edgy wolf mullet! This short style is super eclectic with its yellow undercolor and rainbow patterning up top.
18. Hime Cut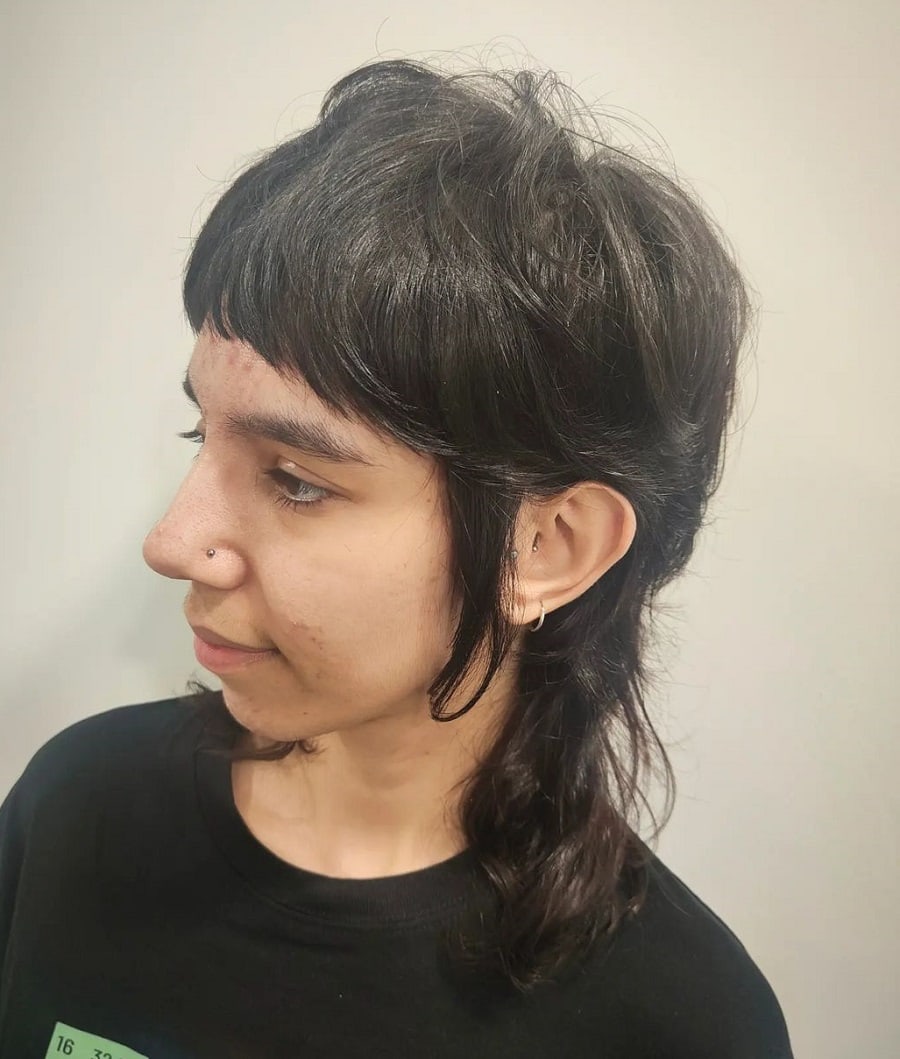 Straight cheek-length side locks give this wolf cut mullet a very unusual touch that will catch everyone's eye. If you have an oval face shape and mostly straight hair, this is a good option for you.
Which wolf mullet is your favorite? With the number of ways you can style the cool cut, it's easy to put your own touch on it to reflect your personality and tastes. Mix and match the details featured above and have fun creating your one-of-a-kind look!