Are you looking for a new addition to your blonde hair? Have you been going back and forth between pearl blonde vs. ash blonde?
You may think about which would look best with your skin tone and eye color. We'll be going through what pearl blonde and ash blonde hair look on the head and an overview of these specific blonde shades.
Plus, we'll take you through the differences between these two shades to help you find the blonde shade that works for you.
What Does Pearl Blonde Hair Look Like?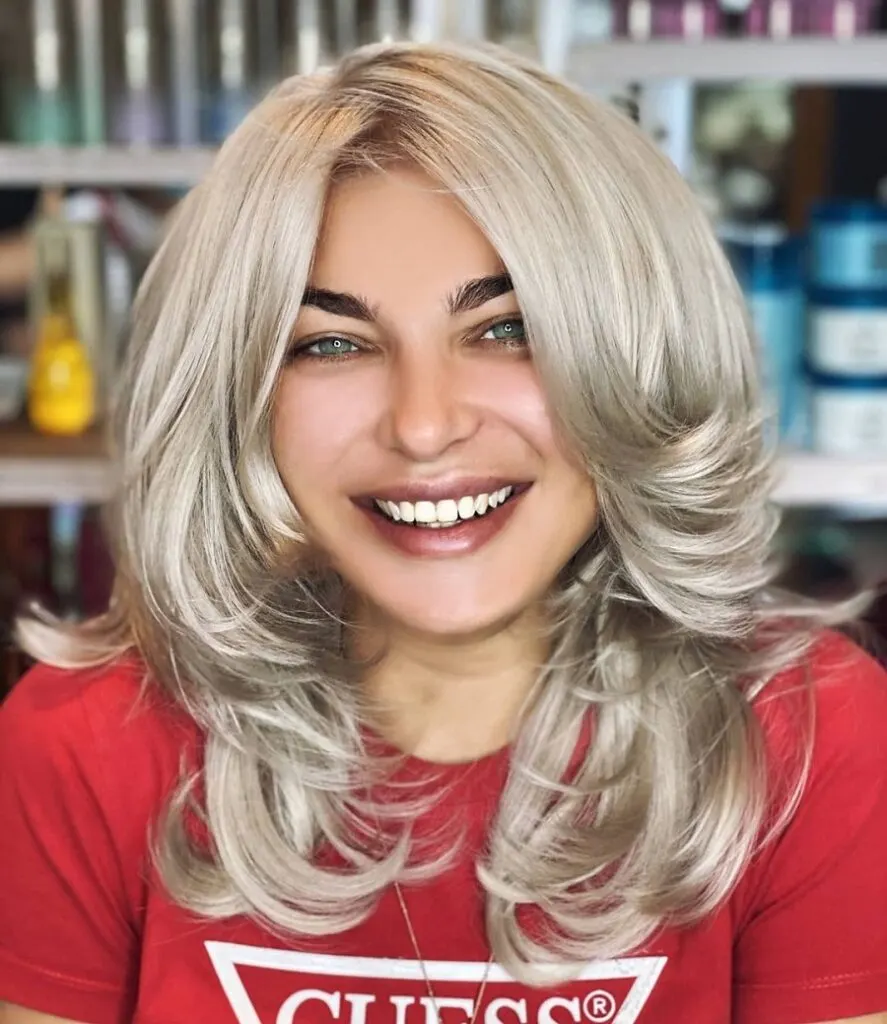 Pearl blonde hair is a specific type of light blonde that lies between platinum and champagne of the blonde color spectrum.
The platinum blonde base blends with natural and cool tones to eliminate any traces of warm tones for an overall cool-tone hair color.
Since pearl blonde is close to platinum, it's known as an icy shade, which means this color has a shiny brightness in the light.
What Does Ash Blonde Hair Look Like?
Ash Blonde is a distinct blend of blonde and ash brown. It's a cool blonde with gray, silver, and white hues.
The cool hues and undertones make ash blonde hair known as a wintery blonde. Also, ash blonde is a significantly warmer shade than pearl blonde.
Identifying Ash Blonde and Pearl Blonde Hair
Though both pearl and ash blonde lie in level 7, the former has a warm tone while the latter has a cooler tone.
There are three main types of ash blonde hair, ashy blonde, light ash blonde, and dark ash blonde. All the shades result in a smokey color with slivers of silver.
One way to distinguish what ash blonde hair looks like is it's a non-vibrant hair color that can resemble brown shades.
While ash blonde hair may look dull, adding colorful undertones for a fun and fresh color is easy. These undertones depend on skin tone, hair structure, eye color, and hair type.
Here are the common colors added to ash-blonde hair:
The uniqueness of ash blonde hair doesn't take away from the sophistication due to its subtle and natural look. However, the colorful additions can add a bit of edge to any hairstyle.
Pearl blonde hair color looks shimmery and delicate during any season. It's full of white and silver hues, making this the perfect color for any skin tone.
The beautiful and vibrant colors in pearl blonde hair can include balayage, highlights, and even ashy highlights. These additions make pearl blonde hair visibly unique compared to other blonde shades.
Major Differences Between Ash Blonde and Pearl Blonde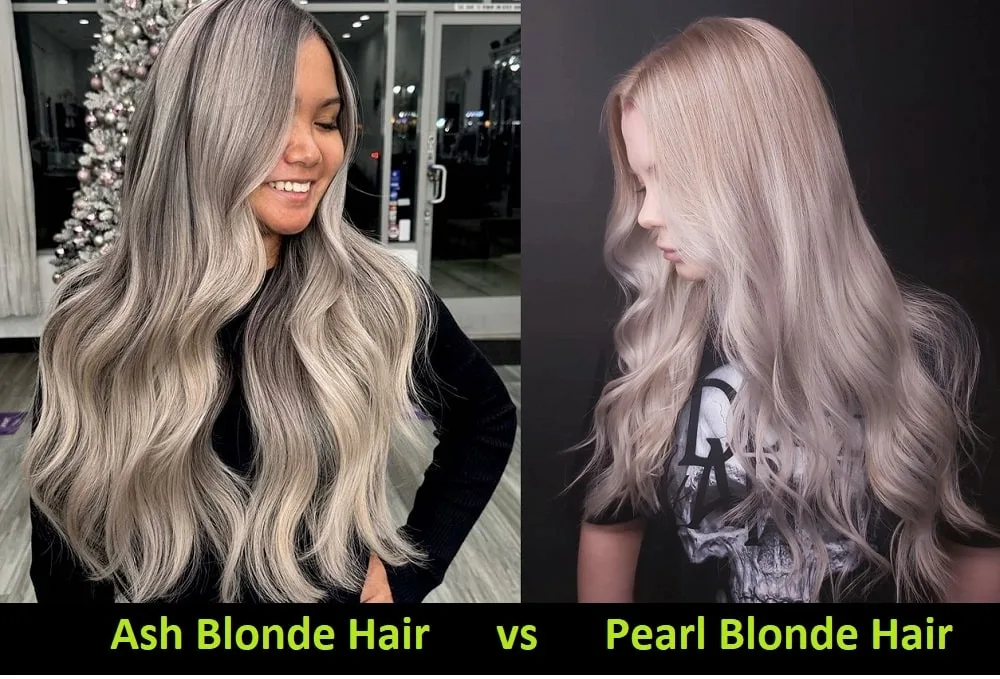 As we're looking at ash and pearl blonde shades, it's important to note the two have major differences.
Undertones
Ash blonde is a cooler tone, and it's the best way to avoid brassiness because they're less like to become brassy. In addition, blonde shades develop warm undertones, including yellow, orange, red, and even purple.
Also, ash blonde overpowers warmer tones hidden within either your natural blonde hair or your bleached hair.
On the other hand, pearl blonde hair is prone to brassiness because the undertones are warm shades. Therefore, you need to balance the undertones for a neutral color bordering on white or platinum.
Your hair type plays a factor in the undertones of pearl blonde hair. If you have fine or thin hair, the hints of pink and violet will add volume and depth to your hair.
On the other hand, ash blonde works well for people with thick hair who want to minimize the volume.
Maintenance
It's no secret that people with light blonde hair need extra maintenance.
Here are the best ways to protect your hair and keep your blonde hair looking the best:
Purple shampoo and conditioner
Trim your hair regularly
Avoid sun
Avoid hot tools
Ash blonde hair is lower maintenance than pearl blonde, but these two shades require more work than darker shades.
If you're starting with naturally dark hair, you'll need to continue to bleach your roots as they appear over the blonde. For some people, bleaching can be done every two weeks or every two months. Of course, everyone's hair is different, but it's a constant trend you must remember.
Also, pearl blonde hair requires the most maintenance because you need an almost white base. If you have dark hair, you must frequently touch up the color.
Fortunately, you can use hair masks at least once weekly to strengthen your hair and avoid further damage.
Cost
For anyone wanting to go blonde, it's going to be expensive. It requires multiple steps to ensure you receive the hair color you want. In addition, if your base color is darker than average, the more expensive your color treatment will be.
Pearl blonde hair is more expensive because you must blend multiple shades for the base. Afterward, add white or platinum highlights to achieve the pearl shade you want.
Unlike pearl blonde, ash blonde is one of the cheapest shades to achieve. Also, ash blonde is a shade that could save money using at-home maintenance tips.
Skin Tone
Pearl blonde can work with any skin tone by adding undertones that match your skin tone.
However, pearl blonde and ash blonde look great with green and blue eyes.
If you have a lighter or more fair skin tone, pearl blonde hair gives you metallic and luminous shades that give you pastel coloring.
For anyone with warmer skin tones, you can add warm highlights to ash blonde hair to balance color. You can add icy tones for a cooler finish for people with light skin tones.
So, the difference between pearl and ash blonde lies in the specific blonde type and the undertones you'd see when the look is completed.
Now that we've gone through the differences, you should go through different shades and ask questions about which shade looks best.
When deciding between pearl blonde vs. ash blonde, you'll notice that both are beautiful blonde shades that look amazing, but you need to see which would look best on you.