Do you have black hair and worry your braids won't be visible? The braided ponytail is a way of making your simple hair look textured and beautiful. We have combined 15 awesome braided ponytail hairstyles for black hair that can be made for any occasion – from everyday school life to even a wedding, and what could possibly be more mesmerizing than ponytail hairstyles!
Let us help you master the art of making the perfect ponytail braids that'll suit black women.
1. Box Braided Ponytail for Black Hair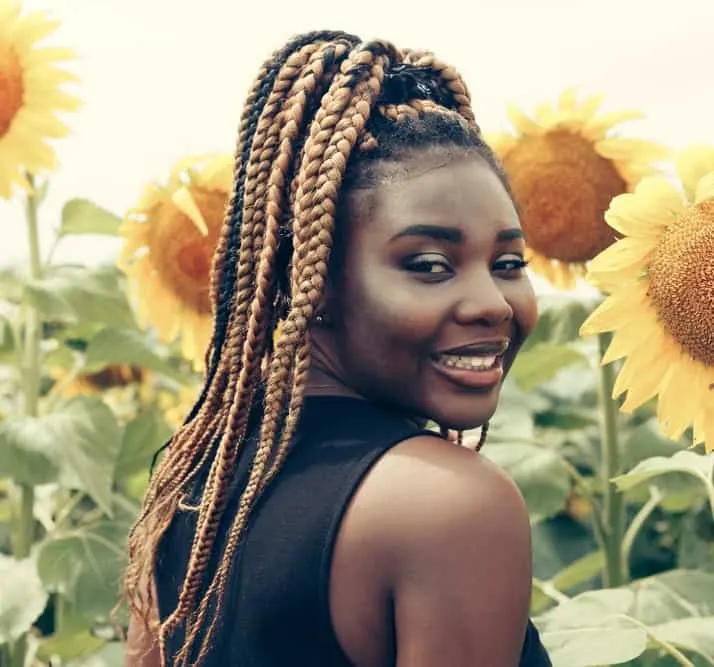 In need of a beautiful protective hairstyle for your black hair? Box braids are always in style and look peppy and beautiful in a high ponytail at the crown.
2. Low Braided Ponytail for Black Hair
Smooth back your black hair before creating a thick braid. Wrap the base in a lock of hair to disguise a hair tie and throw in some gold hair hoops for fun.
3. Ponytail Braids for Black Curly Hair
Seeking a dramatic black hairstyle? This ponytail is packed with different sized braids and cornrows, as well as tight spiral curls and gold accessories.
4. Two Ponytail Braids for Black Hair
Who says two ponytails are only for little girls? These black ponytail braids are super sweet on adult women and even prettier with pearled hair accessories.
5. Black Braided Ponytail with Weave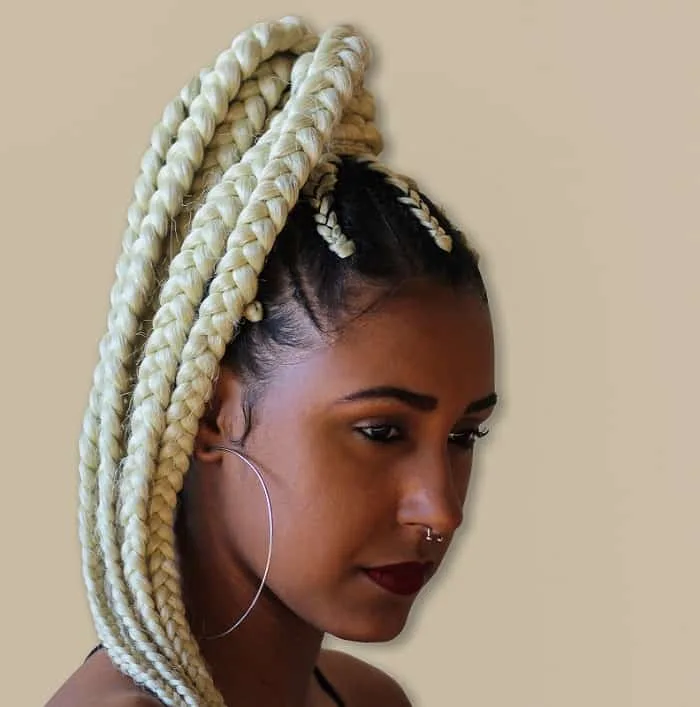 To liven up black hair, throw in some platinum hair color. A high ponytail centered at the top crown is dramatic and very glam.
6. The famous "Nicki Minaj" Ponytail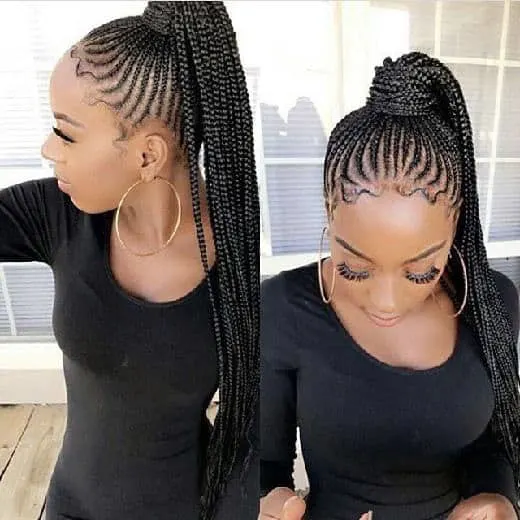 The Nicki ponytail might take some time for it to be perfect, but it is considered to be one of the most unique and classy braided hairstyles and will leave every person in awe. The technique is to take a small number of strands for each braid and tossing them around the ponytails. Ironically, you might not even want an actual ponytail for it. You can get a wet hair look if you want that way.
Best Braided Ponytails Handpicked By HairstyleCamp
7. Upside-down braided hairstyle
Want to highlight the back of your hair with a braid? Some people avoid making braids in front because it does not give them the look they want. However, for all the girls who still want a braided hairstyle, you can always opt for the one in the back. The method is to bring all your hair down and start from the very bottom of your scalp and go up till the part you want to go, and then tie it in a ponytail. It is super easy and takes minimum time to look this classy!
8. Dutch braided ponytail
The Dutch braided ponytail is quite old and dates way back but is considered to be great if you are going for an edgy and messy look, and it is optional as to how many braids you want with this ponytail. But for a perfect Dutch hairstyle, ideally one should start from the sides. This one's also great for all the girls who love taking selfies from the side!
9. Long & Thick Braids
If you want traditional ponytail braids for black hair that goes with every outfit you wear, this braided look will get you covered. This one is similar to Dutch hairstyles, but it has an additional braid that goes right along with your ponytail and gives a fresh new look to it! Once you start to make the braid from the side, make sure that it goes till the end so that it goes along the ponytail.
You might have noticed a waterfall braid on brides or most girls at the wedding. Best suited for such occasions, this one is also a bit hard to make and requires more consistency. However, the end result is as amazing as you would hope for and the best part is that you can make this at your home too! Also, there are many ways to begin it and can be made according to what suits you.
11. Front braid and high ponytail

It is no surprise that when a braid and ponytail are made together, it gives the best look. For those who like their braids in the front and also want to add sheer volume in this braided ponytail for black hair, this one is for you! It is one of the simplest hairstyles to make and is most desirable for everyday routine
12. Ladder braid
Even though a ladder braid might take a lot of time, this is one unique hairstyle for black hair and you can master it after a try or two. Also, like other hairstyles, this has many variations as well and can be started from either the bottom or above, or even one of your sides. The key to having the perfect ladder braid is to be consistent and patient while making it. All good things require time, don't they?
13. Fishtail braids with ponytail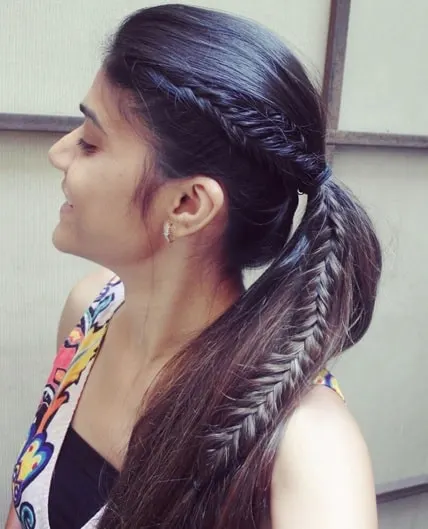 Now, who has not heard of a fishtail braid? It would be safe to say that the fishtail braid is the most popular and easy hairstyle to make, which can go two or even three ways. Any person can master it very well, and can go with whatever outfit you wear, be it a short skirt or even a formal dress!
Our Favorite French Braids With Ponytail
14. Mohawk braid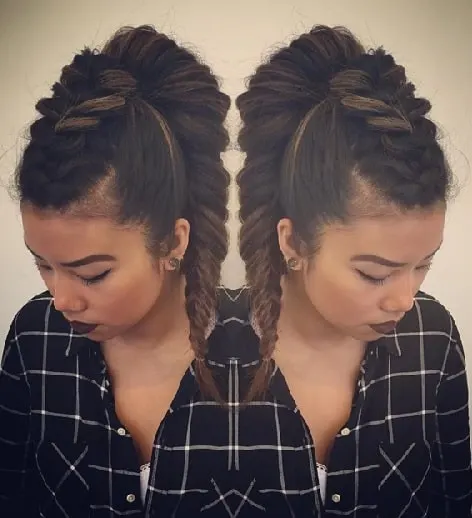 Personally, the mohawk braid has got to be our favorite one in this list since it throws a very subtle vibe and has the trendiest look. Anybody can rock a mohawk braid on with a good pair of shades and a jean jacket. Trust us, you would want to make this hairstyle every day once you get a knack of making it.
15. Twisted High ponytail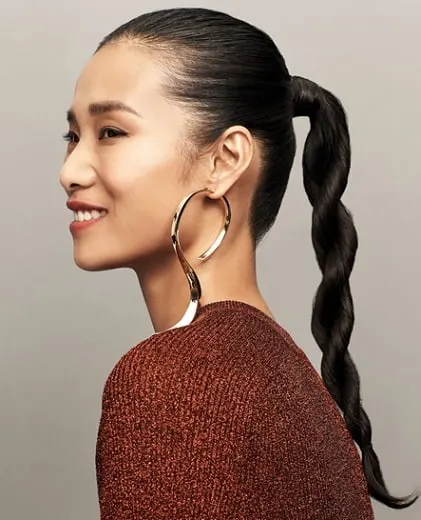 Ever wanted to look rough and tough like one of those karate kids? Well, the twisted high ponytail is the braided hairstyle for your black hair! A high ponytail might seem like a simple ponytail but would make you look 100% more classy, especially if you have a slim face.