Waterfall braids are the epitome of grace and beauty when it comes to women's hairstyles. While there are many types of braided hairstyles, a waterfall braid is one of the only ways you can wear your hair down while simultaneously sporting a gorgeous braid.
It features a regular braid but incorporates an extra lock of hair in-between (the waterfall) and throughout to create a waterfall appearance. It works for every hair type and texture, although hair does need to be at least several inches long.
How to Style Waterfall Braid
After such an enthusiastic intro, probably most you are dying for the up-close and detailed step-by-step info to make these waterfall braid updos come to life. So here's a YouTube tutorial video to guide you along the way. Not: It will teach you how to use the waterfall braiding technique while still being able to flaunt your long and healthy locks.
And just as a quick wrap up for all the steps, here are the noteworthy steps we wrote down!
1. Brush out all the knots in your hair beforehand.
2. Work With gelled hair to have a better grip.
3. Start by creating a deep side parting by taking a small side section from your hair.
4. Divide hair into three equal sections.
5. Begin braiding in the front.
6. Follow the simple three-strand braiding technique. (Note: left strand under the middle one then the right strand under the middle one and repeat)
7. Pick up a new strand on the right and move the piece you are working with over to the center.
8. Release the left strand and add a new one from the bottom.
9. Move it over to the middle strand.
10. Continue and repeat until you reach the back of your head.
11. Secure loose ends with the help of stylish elastic bands.
Creative Waterfall Braided Hairstyle Ideas
You can rock your own waterfall braids with the help of the below braided hairstyles and tutorials.
#1. Waterfall Twist Braids
The waterfall twist braid is the classic style many women choose for their straight hair. Start by twisting two strands of hair, then drape another section of hair in between before twisting again; repeat throughout. It takes only two minutes to create once you get the hang of it and creates an illusion of long, flowing hair, even if your hair is short.
#2. Waterfall Headband Braid
A waterfall headband braid is the best way to get a fancy faux headband without the use of an actual headband. After creating a deep side part, start a normal braid, bringing in an extra section of hair after each criss-cross. Wear hair curly or straight for this style.
#3. Pull-through Waterfall Braid
The pull-through style of a waterfall braid involves four sections of hair that intertwine. At the end, the braid is pulled loose to create a thick braid with a boho vibe. Wind it all the way across the back of the head, leaving hair straight or adding curls with a flat iron.
#4. Waterfall Dutch Braids
If your favorite style of braid is the Dutch braid, you'll love this easy mix that incorporates a waterfall braid. Start with a simple Dutch braid, following the waterfall braid technique as you go. It's more sophisticated than the typical Dutch braid, especially when only braided to the neck, leaving ends to be loose and curly.
#5. Four Strand Waterfall Braid
A waterfall braid with four strands is a little more intricate, but the result is a beautiful hairstyle that looks like a bunch of cute bows lined up across the back of the head. End the braid in a super pretty rose shape for your own built-in flower. Pull loose when finished and set with hairspray.
#6. Waterfall Braid Crown for Short Hair
A crown waterfall braid is beautiful on short hair. Start a waterfall braid at the forehead on both sides, connecting them in the back. For both thin and thick hair, this braid will give you cute date night vibes. Wear hair loose or pull into a low bun to switch it up.
#7. Knotted Loop Waterfall Braids
A looped waterfall braid creates a cool wavy look. If you have thin hair, you'll love the way this braid makes your hair look thicker. Straighten hair before creating this look, and leave one side of your hair loose so a side bang can fall across the forehead.
#8. Scissor Waterfall Braid
The scissor waterfall braid looks very similar to a fishtail braid. This style features two regular braids that connect in the back with a scissor braid, which involves four sections of hair. Leave it to hang down or wind it up in a fun ballerina bun.
#9. Waterfall Elsa Braid
Feel like a princess with your very own Elsa braid. This style of waterfall braid looks best on women with thick hair. It forms two waterfall braids at temples that weave into a thick French braid. Drape the braid over your shoulder for the Elsa look.
#10. Waterfall Fishtail French Braid
The main focus of this side style is a French braid, but the waterfall braid weaves into it from the forehead and down by the ear. This braid would make a beautiful choice for a wedding, whether you're the bride or the bridesmaid.
Variations of Waterfall Braids
#11. Red Cascading Waterfall Loop Braid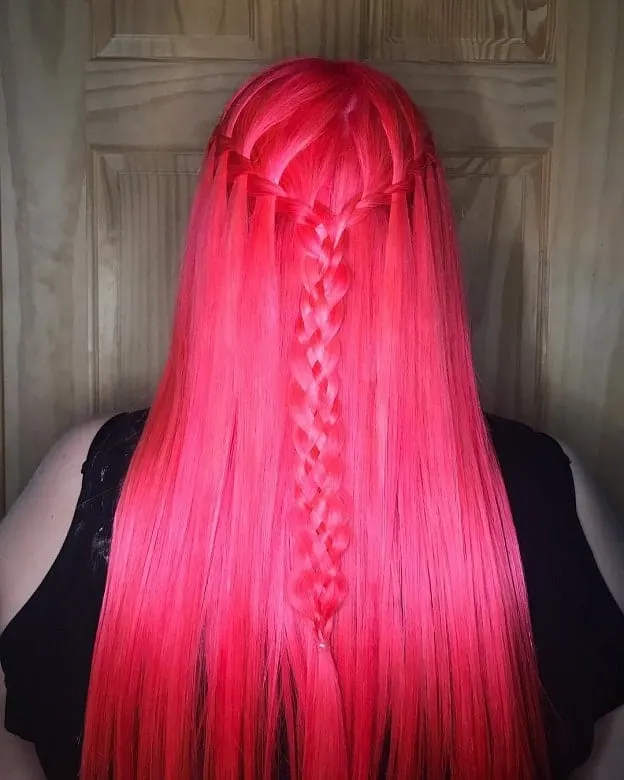 When you pair up red hair with a waterfall cascading braid, you get the major entrancing highlights in your appearance. It provides you a wonderfully unique look. By wearing this look, you are surely getting the compliment of your choice from your fellows.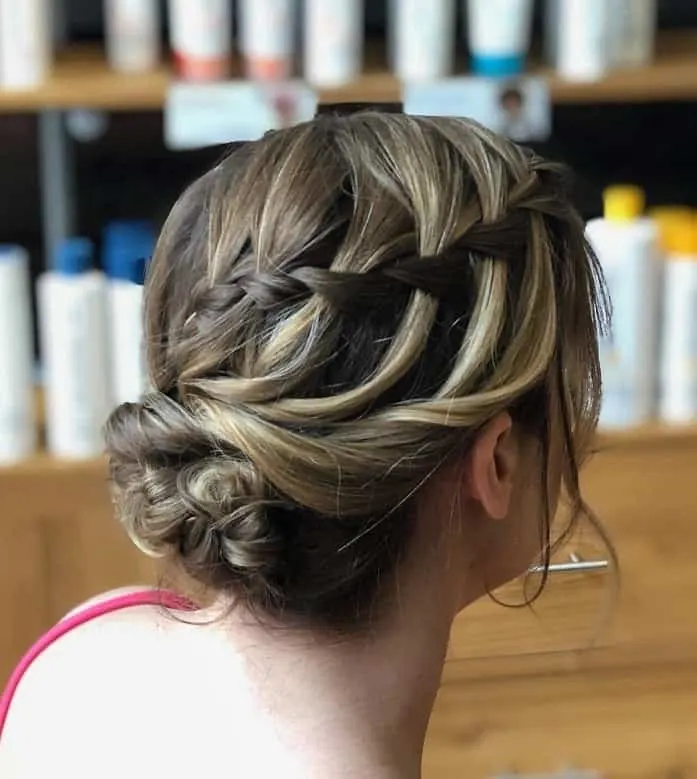 Braids and updo hairstyles can be a failsafe and elegant choice for girls to carry out for any occasion and when these two iconic styles combined together with versatility then, it provides girls a classy appearance. Here, waterfall braids are tied into a low bun for an effortless look.
#13. Bravura Bridesmaid Look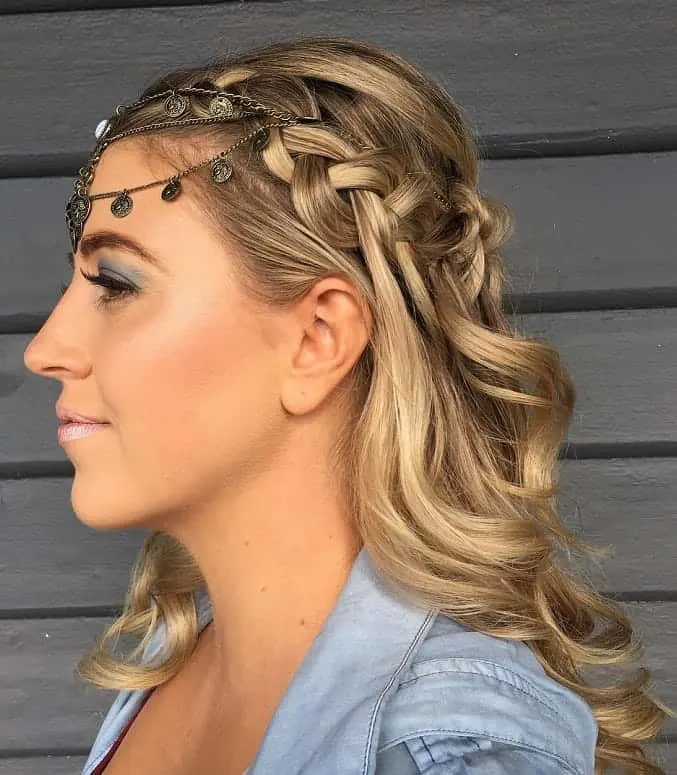 This gorgeous look features waterfall braid, soft wavy long layers, and striking ancient head jewelry. It's an impeccable choice to wear as your bridesmaid attire for your best friend's wedding. Place a sponge at top of the head for puffy structure.
The beachy soft waves and waterfall braid gives off the romantic vibes to girls. This messily chic look can go incredibly promising with boho attire as well. Keep the braids loose to maintain the casual element of this look.
#15. Ice Blue Waterfall Braid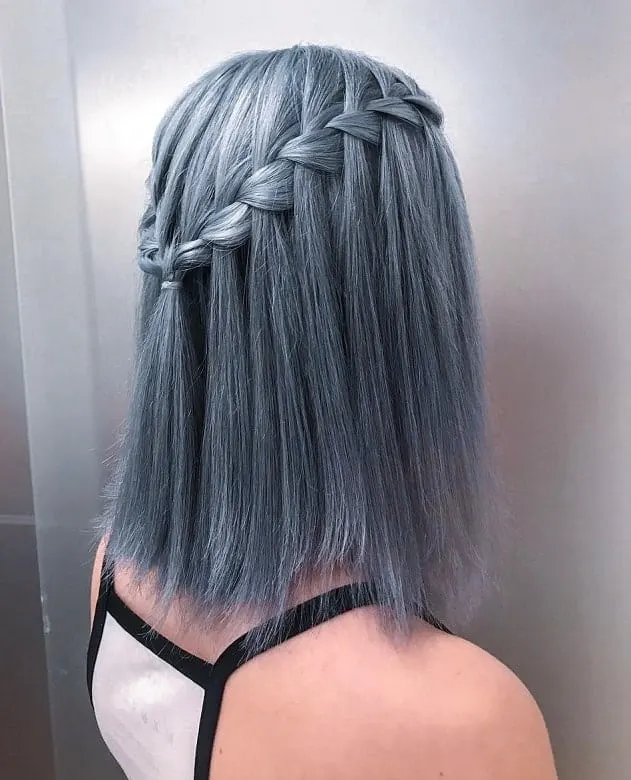 Isn't it the most relaxing hairstyle in terms of color and refined look? Yes, sure it is. This cool blue color hue is absolutely a treat for eyes. Despite its distinct color, it looks sober on girls and suits any outfit very well.
#16. Waterfall Braid with Highlights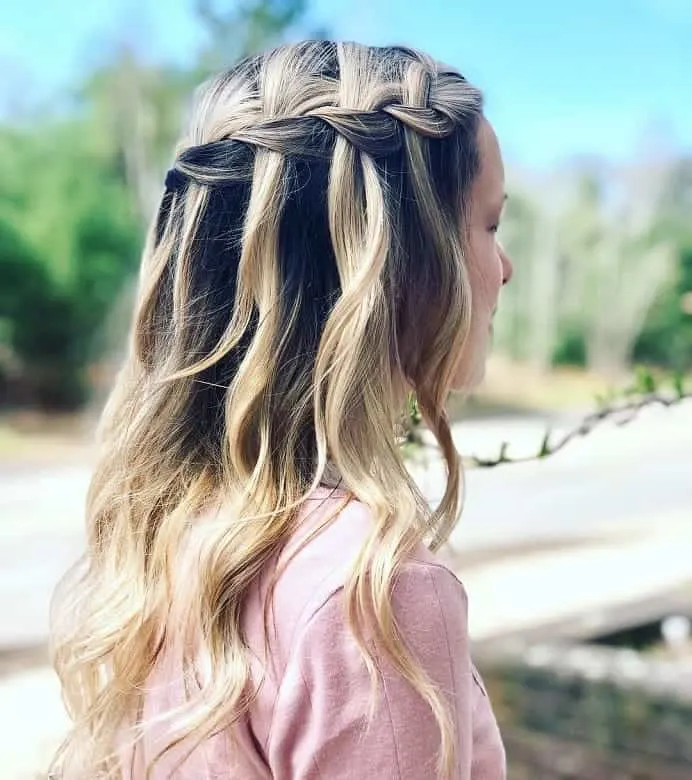 Whether you are going for a beach party, official meeting or any other festival, loose wavy hair can give you a bodacious appearance; and combining it with waterfall braids and golden highlights create a wonderful contrast!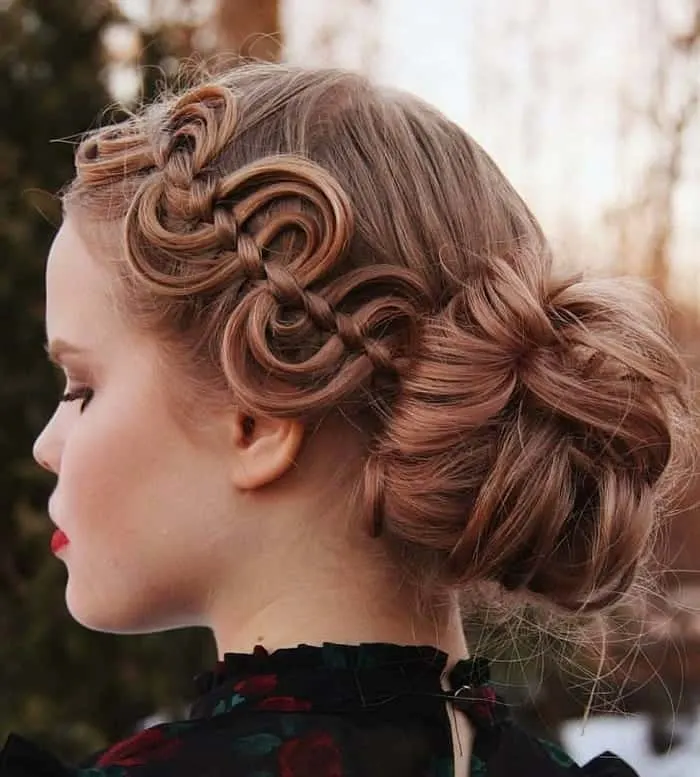 A braiding expert can execute this delicate waterfall side updo without any flaw. In this particular braid style, the waterfall strands are wrapped around the braids in the zigzag pattern rather than keeping it flowing.
#18. Unicorn Color Sparkle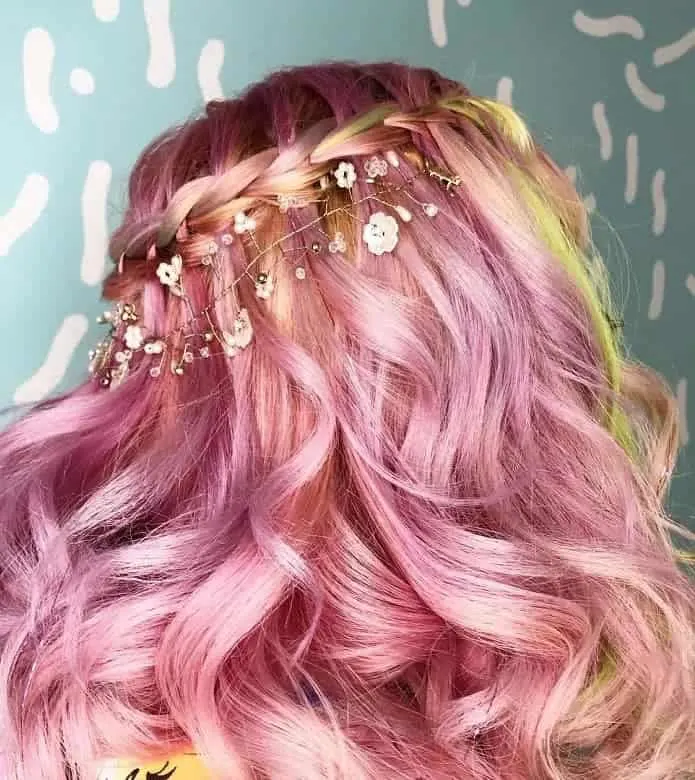 Do you find the unicorn colors magical? If yes then, the above hairstyle will also put you in a deep enthrallment. The hair strands are styled into a backside waterfall braids which are further bejeweled with charming hair accessories.
#19. Vibrant Highlights
Exaggerate the bolder element of your personality with vibrant highlights! To achieve this look, sweep the hair back and start making the waterfall braid. The colorful waterfall stands emerging from the black base provides a delightful stance.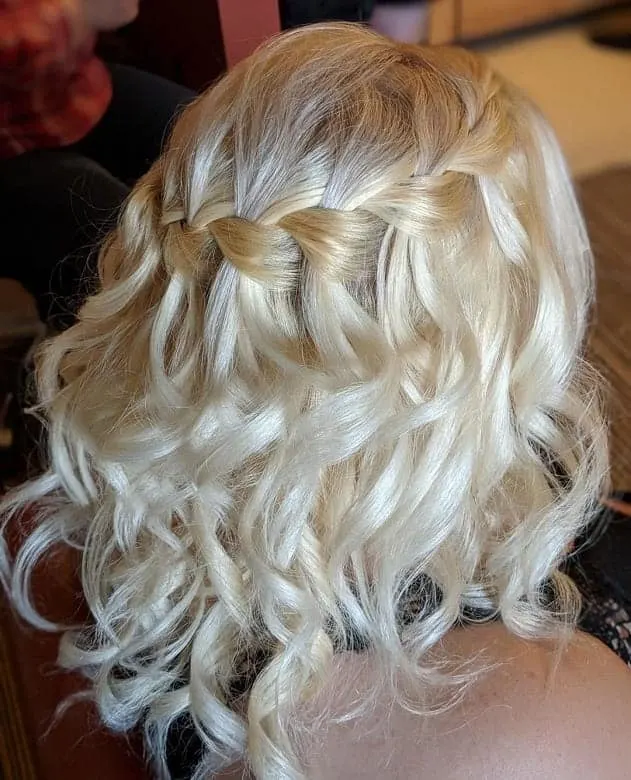 Curly cascade waterfall braid provides girls with lavish textured appearance around their face. The platinum silver blonde with black undertone makes the entire hairstyle structure a wispy smooth look. Leave a few strands at the front in the form of side swept bangs to complete the spruce outlook.
#21. Low Side Waterfall Braid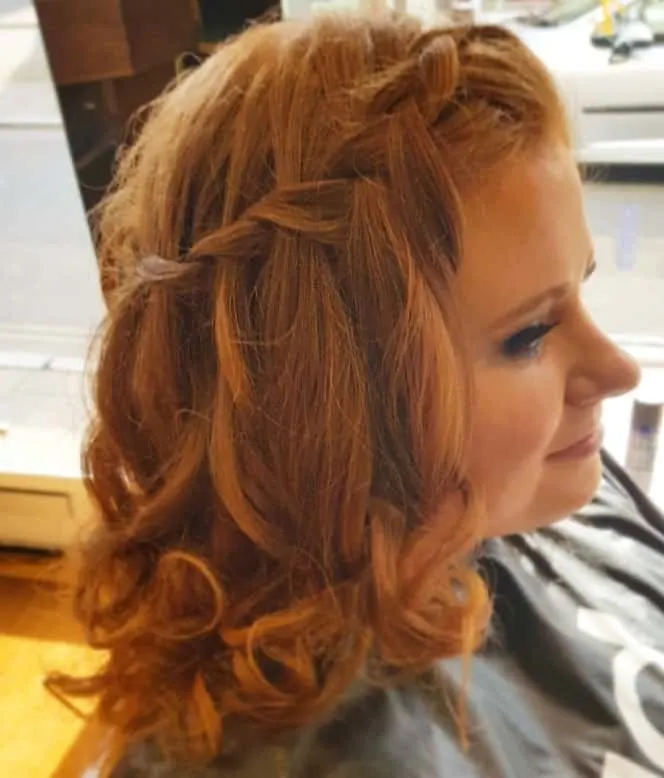 You can do so much fun with shoulder-length hair especially when you have natural red hair, otherwise, you can opt for cinnamon hair color to get the exact resemblance like the above image. Start braiding the hair from one side of the top front and lead it toward the back. Turn the hair tips into the muddled curly texture to add glam into your looks.
#22. Classic Waterfall Braid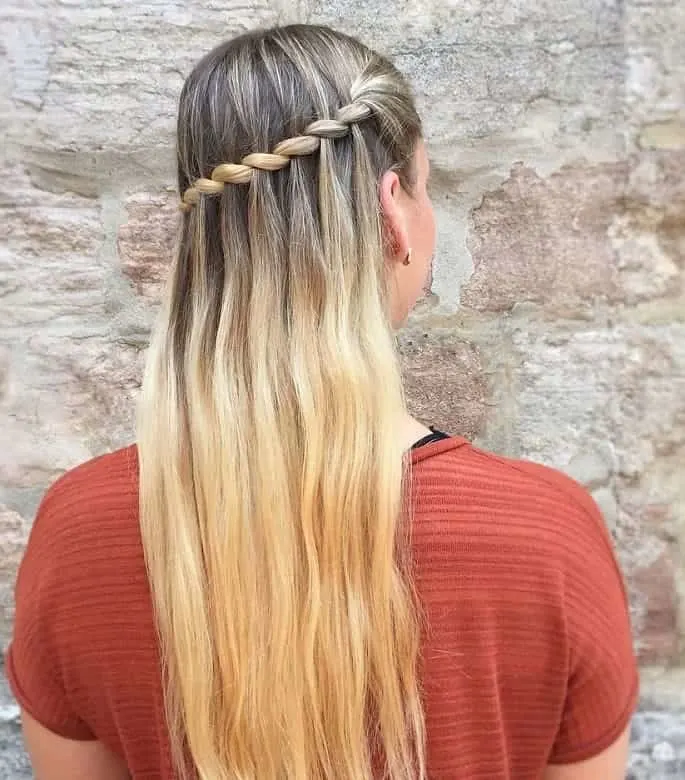 This particular style involves the twisting procedure instead of tight or loose braiding. If you are in a rush and do not have time to execute perfect waterfall braids, you can achieve the exact style charisma by replacing it with taut twists. The platinum blondes locks and the black base provide this penny plain look a voguish element.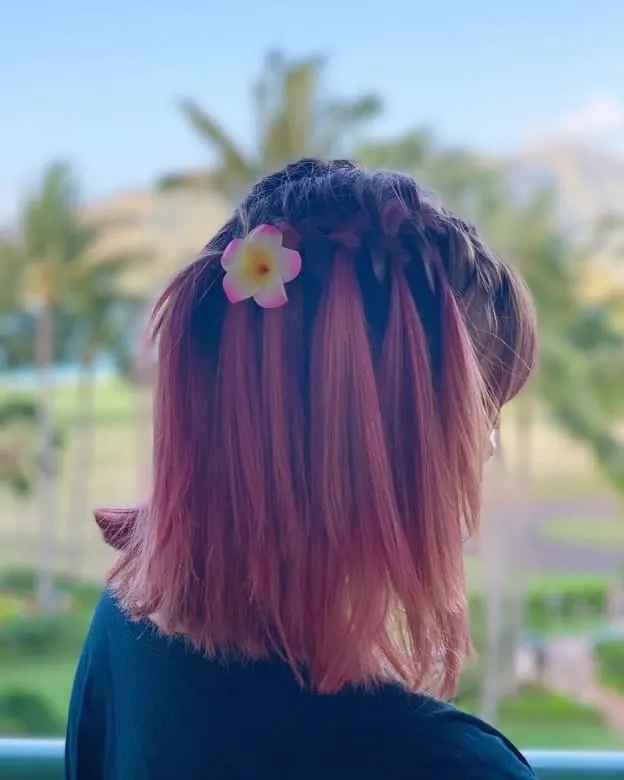 If you are thinking to sport a blunt bob with bangs then, we suggest you pair it up with waterfall braids and midnight violent hue to add allure to your personality. Front bangs and fresh flower will give you a vivacious sensation.
#24. Braid Half up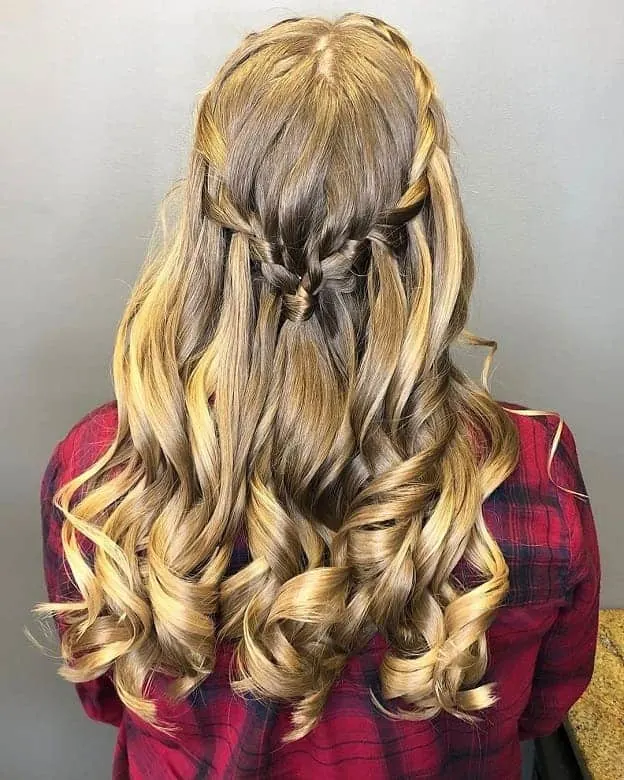 The fascinating golden blonde balayage running through each waterfall strand gives a whimsical finish to your entire look. You can give ultra-definition to this waterfall half-up hairstyle by converting each strand into a swirly structure.
#25. Waterfall Side Fish Braid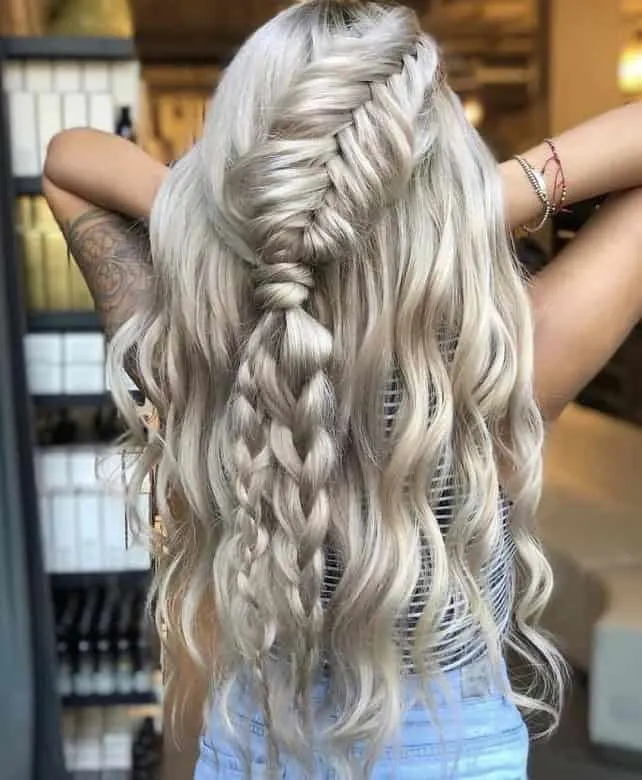 This mystical hairstyle can be achieved by clubbing up the waterfall fishtail braids, simple plaits, and swirly locks. The silver-blonde will make the hairstyle even more polished and enhances the femininity. Start by making a tugged fishtail braid at one side of the head and tie it into two simple plaits at the back of the head to add ultra-distinctive features to your appearance.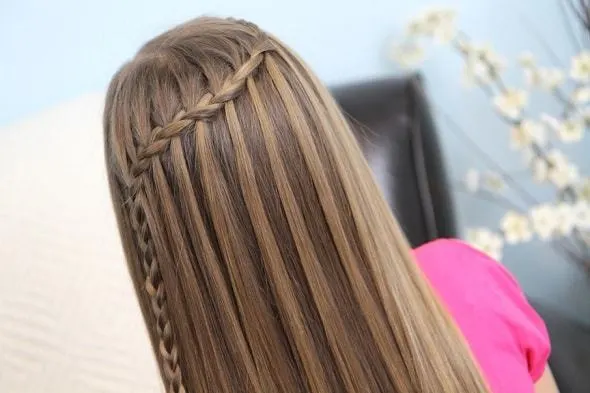 This amazing effect is created by alternating which sections of hair are included in the braid. For each new section of hair that you take from the top to include in your braid, you should drop a section of hair out of the braid at the bottom.
#27. Double Feeder Braid
Create a braid close to the top of your head with sections of hair that drop out as new pieces are pulled in from the roots. Use the sections of hair which drop out of the top braid to feed into the secondary braid.
#28. Tail Like Waterfall
This style transforms from a standard plaited style into a French fishtail braid style when the two sides meet in the middle at the back of the head.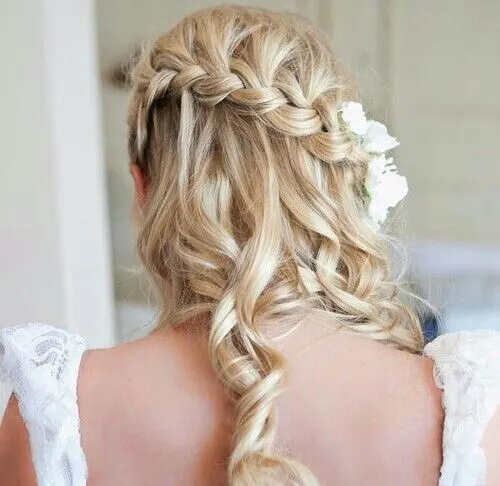 This diagonal curly waterfall braid is perfect for wedding hair. Use a curling wand to create beautiful flowing curls coming out of the bottom of the plait.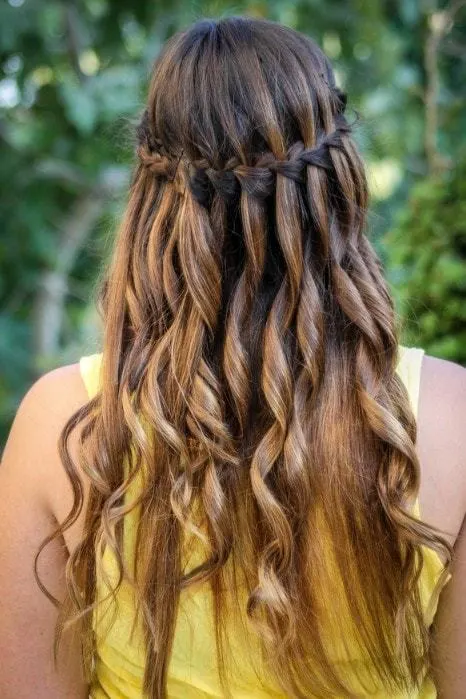 Try something a little bit different by going for chunky knot-style braids instead. Leave your hair free flowing beneath the knots or style it however you would like. These loose curls look great.
#31. Loose Double Braid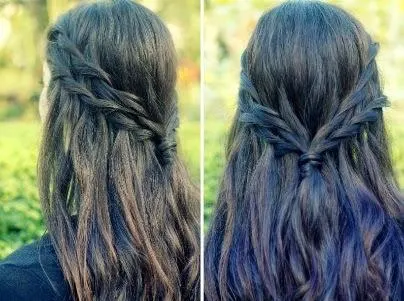 A loose double braid is an easy-to-do, casual style. Take four sections of hair from each side and loosely twist each section with one other from the same side. Join all of the sections together with a tie at the beck of your head.
Colorful braided hairstyle ideas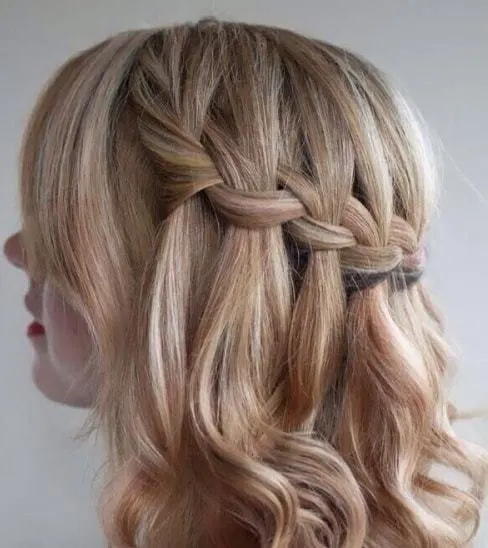 Start your braids further back and allow your fringe to hang down freely. Your fringe will help to frame your face and give it a beautiful softness.
#33. Stepped Roots
When creating a braided style with stepped roots, you need to make sure that every section of hair is really pronounced. Do this by lifting right from the roots. This style is most effective on straight, sleek hair.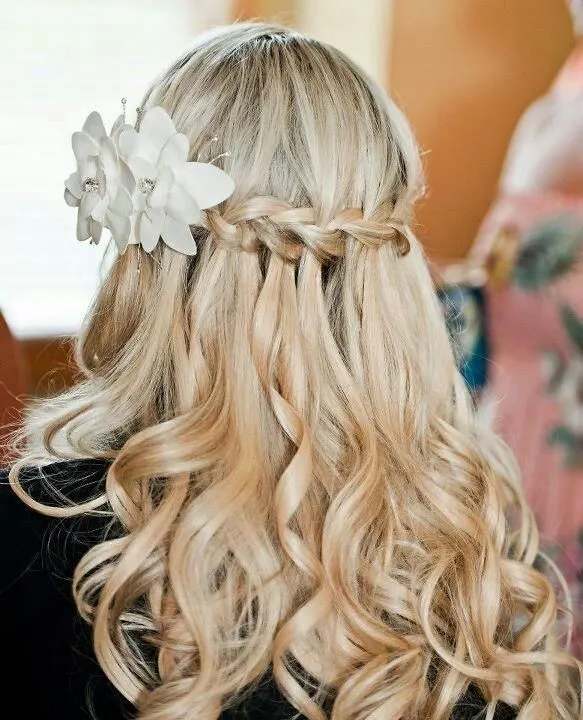 Waterfall braids are often associated with fantasy characters and the outdoors. Play on this theme by enhancing your style with a brilliant floral accessory. If you can't use real flowers, fabric flower accessories are just as beautiful.
#35. Soft Braid
This type of waterfall hair braid utilizes a very soft plait effect which has been created by braiding two sections together with each other, rather than three.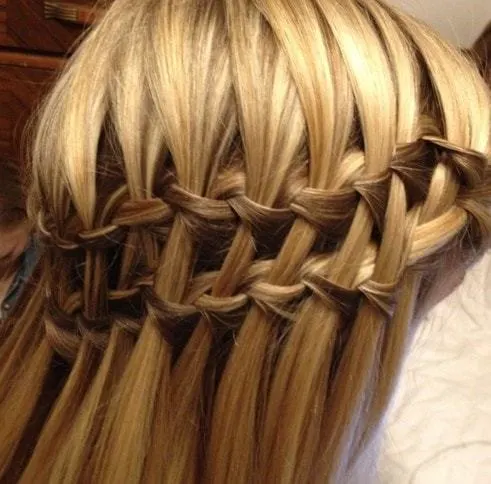 A chunky double waterfall braid looks amazing, although it can take a long time to do this style. Make sure that your hair is sleek to make it more manageable if you are trying a double waterfall crown braid.
#37. Waterfall Dutch Braid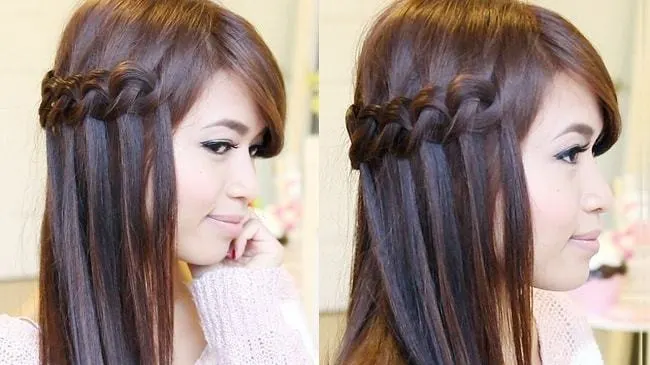 In this style, the "crown" of hair used to create the braid is wide, but it sits flush against the head. This can only be achieved using thin and very sleek hair.
#38. High Crown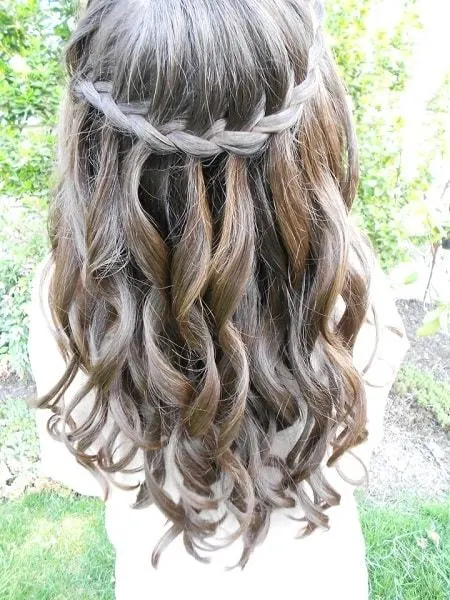 A crown braid style which sits high up on the head can help to add volume to the hair. High crowns can be work with wavy, curly or straight hairstyles.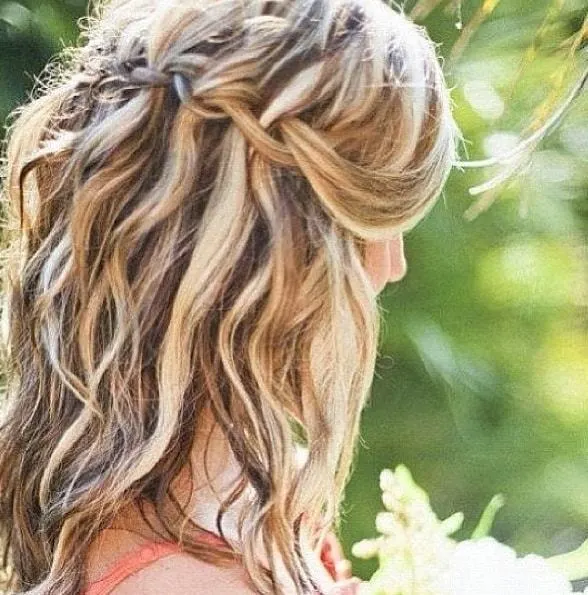 Waterfall braids for long hair look spectacular with highlights and lowlights that complement your natural hair color. Highlights and lowlights help to give your hair an even more textured appearance.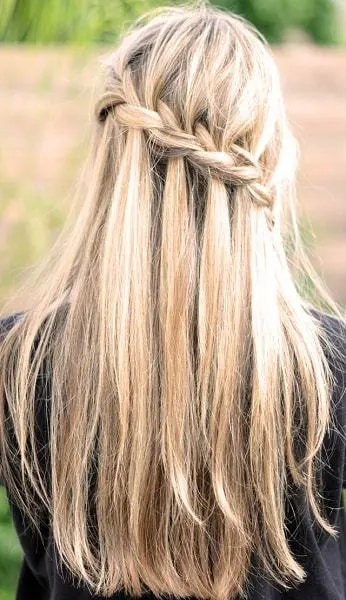 A mid-diagonal waterfall looks better on longer hair than on shorter hair, because there needs to be enough hair flowing downwards out of the braid. This style could look bottom heavy if used on shorter hair cuts.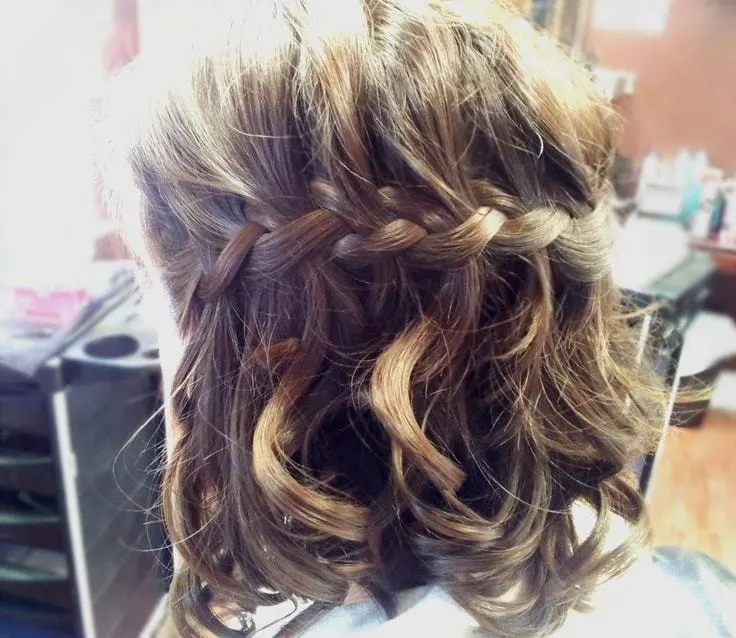 Waterfall braiding is not only for people with long length hair cuts. Although they are not really possible with short hair, waterfall plaits look great with shoulder length styles.
Waterfall styles are traditionally created using very long hair. In this style, the long flowing hair is reminiscent of water flowing in a gentle stream. Loose waves like these can be achieved by putting your hair into a full plait and then sleeping on it.
#43. Braids with Small Accessories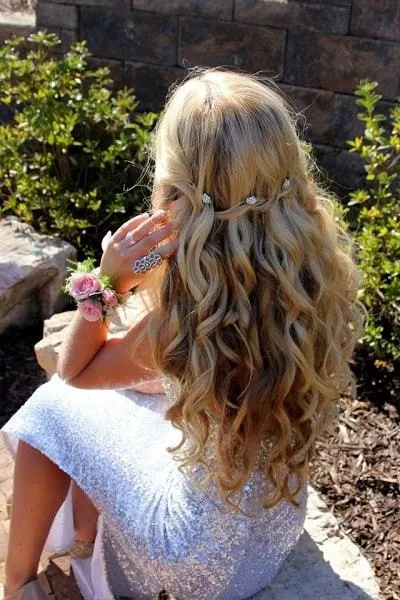 If you want to accessorize your style, but you do not want something which is completely "in your face", then try pinning something small and subtle at the intersection of each braid.
#44. Color Layering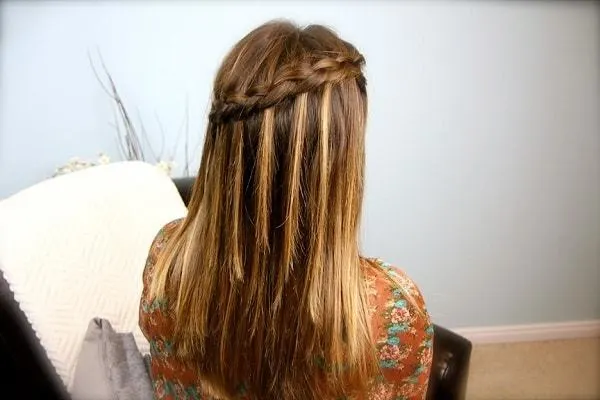 If you have layered color in your hair with light color over a dark color, then you can make an effective waterfall style that shows off your different shades.
#45. Painted Waterfall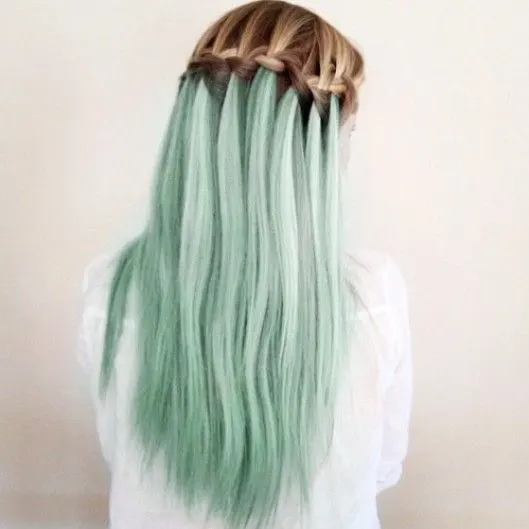 This amazing effect has been created using a technique known as fluid hair dyeing. Once the braids have been plaited into the hair, the style is fanned out across a flat surface and the color is literally painted on.
#46. Box Braids with a Waterfall
Whether you have chosen to put your natural hair into tiny braids or used braided extensions to make your hair look longer, you can change up your style by putting it up into a loose waterfall style.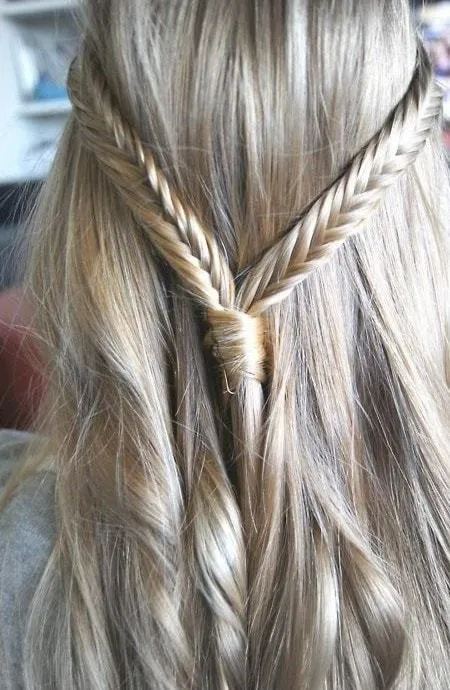 Create a thin plait from either side of your head, and then join the two plaits together in the middle of your head using a loose hair knot.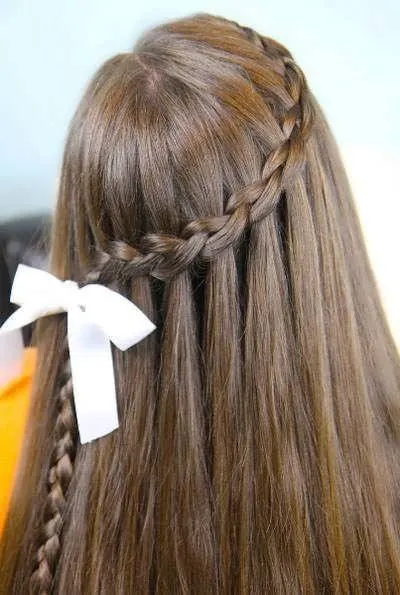 A simple hair bow is a really gorgeous accessory to put in any hairstyle, but it looks particularly effective when it is used as part of a waterfall braid style.
#49. Contrasting Bow and Band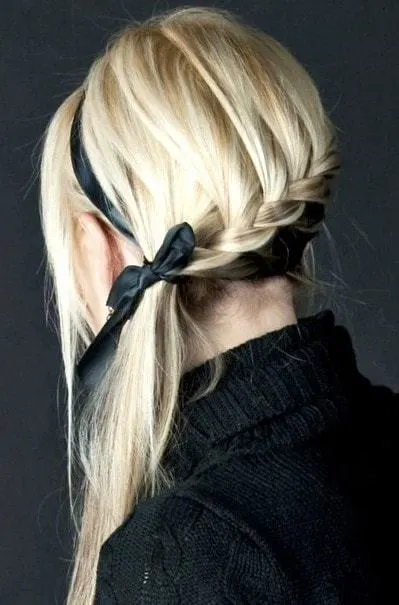 A simple hair band and bow look particularly striking when they are a contrasting color to your hair color. Blonde looks great with a dark bow and dark hair colors look great with a white bow.
#50. Waterfall Braid with Side up-do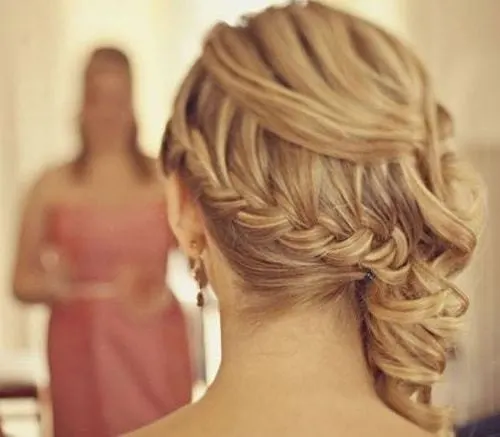 A braid which segues seamlessly into a pinned-to-one-side up-do is a beautiful choice for wedding hair. This style teams up a braid with flawless waterfall curls.
#51. Waterfall with Soft Waves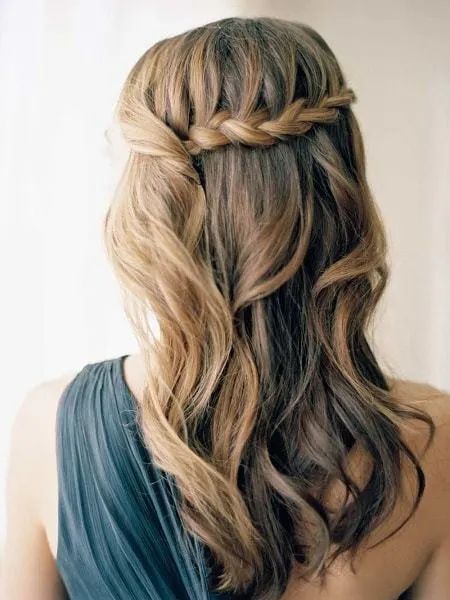 Any kind of waterfall braiding looks brilliant with lovely soft waves. To create waves like these, wrap your hair around a curling wand and then brush through it with a soft bristled brush to give lovely waves.
#52. Braids with a bob
If you have a bob, you can still put in lovely braids. Take most of the hair for each section from the underneath so that you do not lose too much length.
#53. Super Braid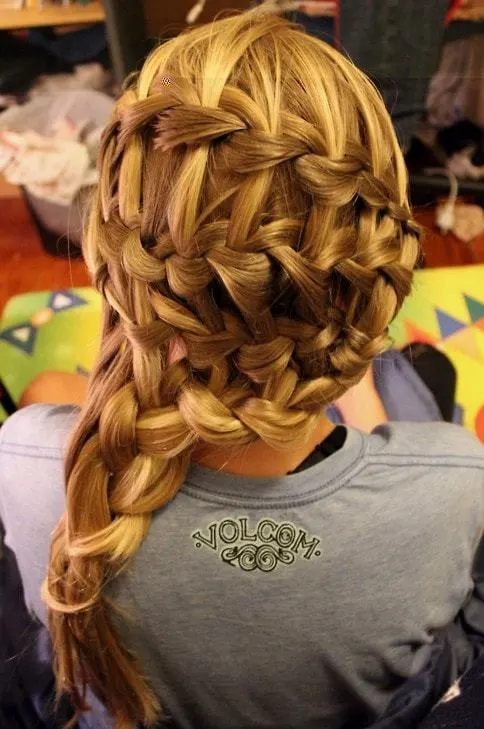 This style utilizes lots of different braid styles and uses all of the hair. If you want to do anything this complicated, you may need to ask a friend or stylist to help you to ensure that it looks perfect.
#54. Multi-coloured
If you have multi-colored hair, then a braided look can work really well. Waterfall braids can help to separate out individual sections of color if you want to make things look a little bit different.
#55. Candelabra Braid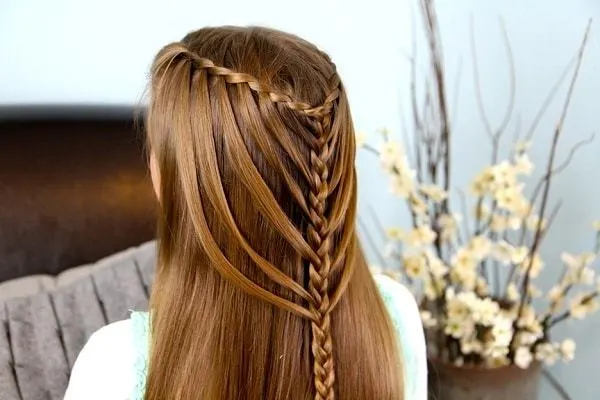 A candelabra braid is so-called because the strands that feed into the braid look like the arms of a candelabra. This looks best when it is done on super sleek, smooth hair because the design stands out more.
#56. High Diagonal Braid with Defined Waves
To create defined curls like these ones, you should wrap sections of your hair loosely around thick curling tongs. Once you have taken them off the tongs, pull downwards to create length and then spray with hair spray to help them to keep their definition.
#57. Low Braid with Big Curls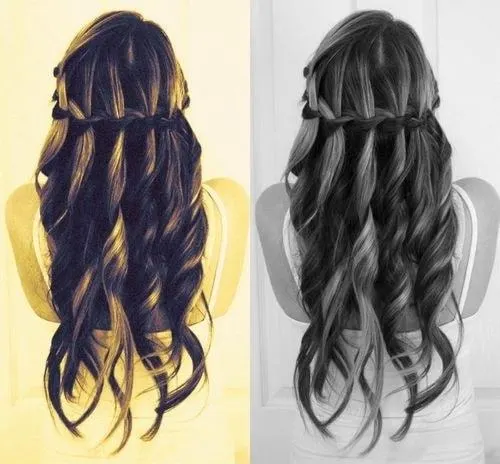 This low braid sits further down the head than some other types of braids do. Create big curls by winding each strand vertically around a hot curling wand. Apply hair spray to each section right away to help your hair to stay in shape.
#58. Super Sleek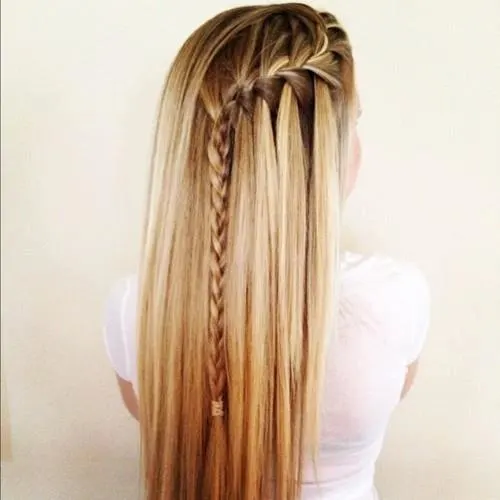 A simple braid looks perfect over super sleek hair. Use ceramic straightening irons with a heat protect serum to ensure that your hair looks perfect without getting damaged.
#59. Extreme Low Side Braid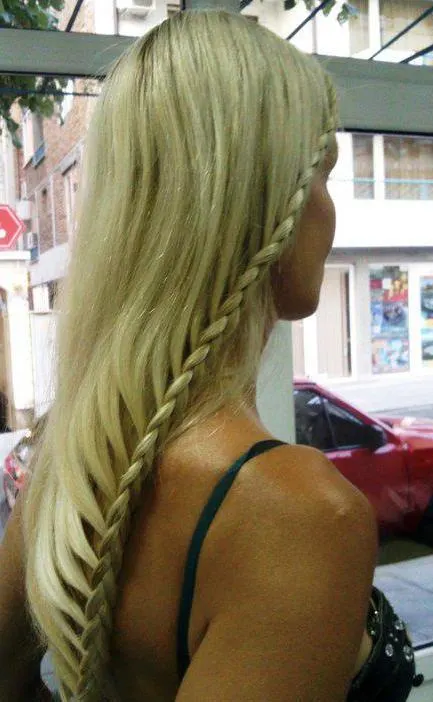 This plait runs down the side of your hair, rather than down the middle. You will need to have sleek and smooth hair with no split ends because only the ends of your hair really get integrated into the braid.
#60. Curls over Straight Hair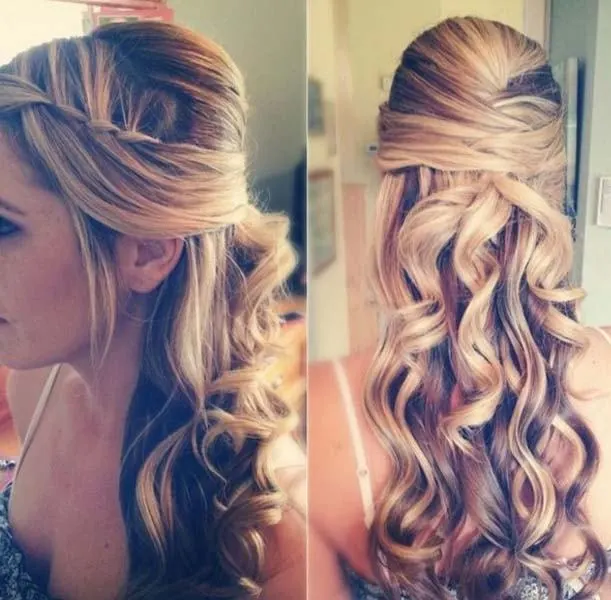 This style works by layering different components up on top of one another. It teams up fine braids with straight hair, then loose curls on the underneath and then more defined curls on top.
This shoulder-length cut looks perfect with a fine braid. Severe bangs help to give the style a modern and fashionable look.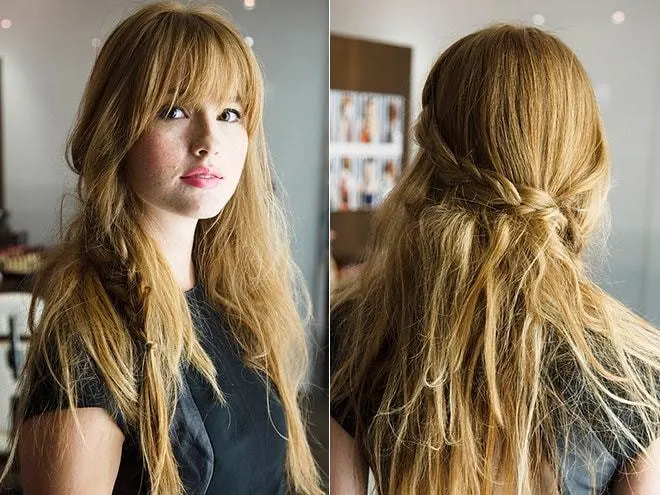 This is a really fun, country casual style which is easy to do. Create a braid which comes round your head from one side to the other. Once your braid is in place you should run your fingers through your hair a few times to give the rest of your style a tousled look.
#63. Fine braid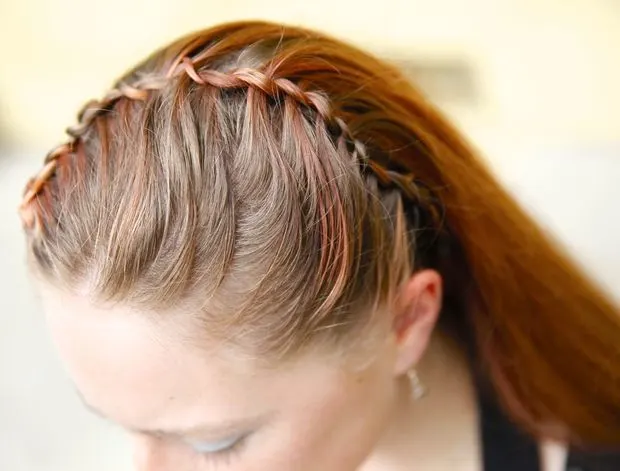 Waterfall braids do not always have to be chunky. If you only have thin hair, a relatively fine braid will actually look much better because it will not overwhelm your hair.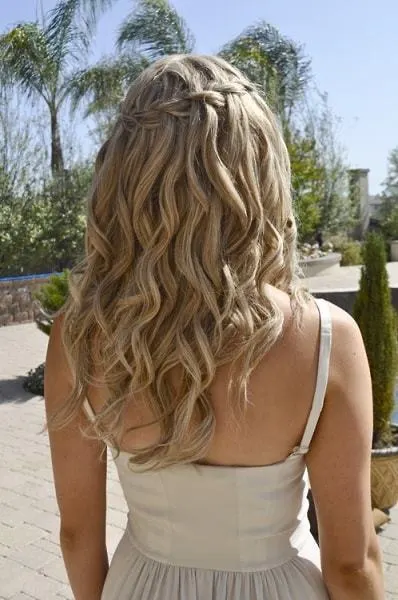 Loose waves in a lightly tousled style are perfect for the beach. Style your hair with a braid if you want something that looks a little different. Add plenty of hairsprays if you want to formalize the beach style.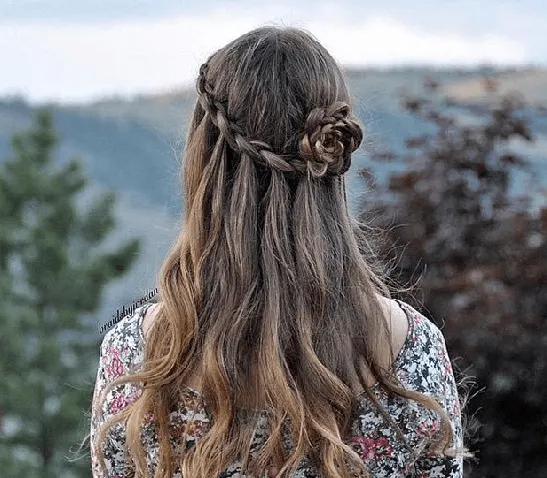 Use your own hair as an accessory. Twist your braid around and around itself and carefully pin it so that it makes a flower shape. This is a really fun piece of hair art which anyone can have a go at.
A thin braid crown can look very special with a simple layered hairstyle. Although it is very simple to do, it can be used to add red carpet glamour to your style.
#67. Enchanted Braid
Use a thin braid as a way of keeping all of the rest of your hair in place. Wrap a very thin braid around a fat side ponytail for this really enchanting fairytale "Rapunzel" look.
#68. Loose braid on Mid-length Hair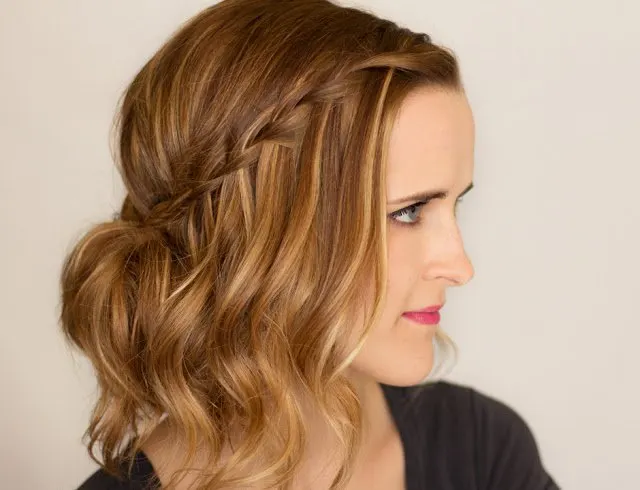 A loose braid is a lovely part up-do for short-medium hair. Add volume to your style by integrating some loose waves beneath the braided section.
#69. Double Braided Lock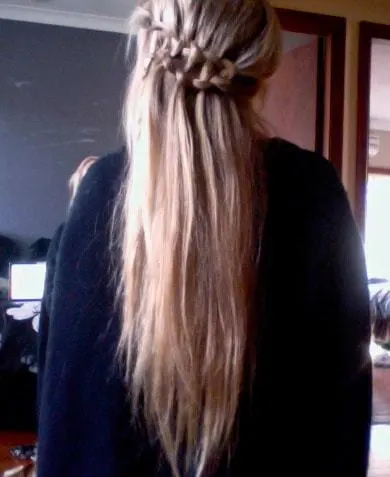 In this style, the double braids are cinching the hair and holding it in place, almost as if the person were wearing a large clip in their hair.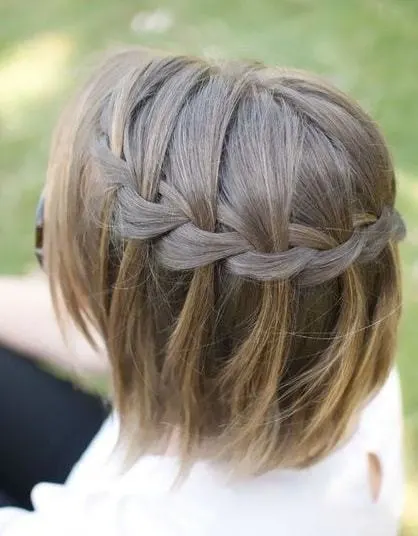 This short-medium bob style really suits a thick waterfall braid. The braid helps to give the bob a fresh and different shape, so it is a good way to style short hair.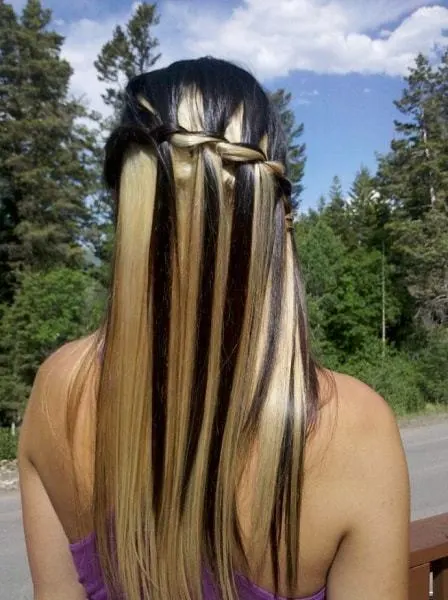 Waterfall styles look really cool when they have been created with contrasting hair colors. Whilst this looks amazing with dyed hair, you can also have extensions put in to emulate this look if you do not want to make such a drastic change to your own style.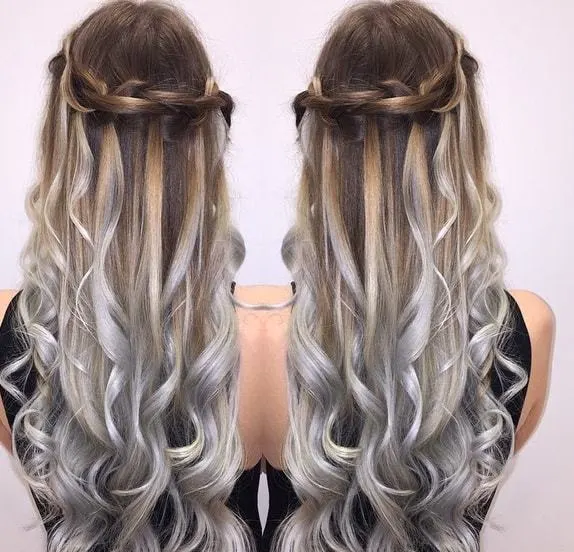 Any type of waterfall hair looks amazing when your hair tips have been colored. Hairstyles look particularly cool when they changed from one color to another on a gradient.
#73. In and Out

In this very modern style, you can create a plait down the center of your head which mainly includes hair from one side of your head. Sweep the rest of your hair over so that it all sits in a down style at the other side of your head.
#74. Purple Streaks
Purple looks really good when it is put into blonde hair because the contrasting colors really stand out. A braided style allows the different colors to dance with one another.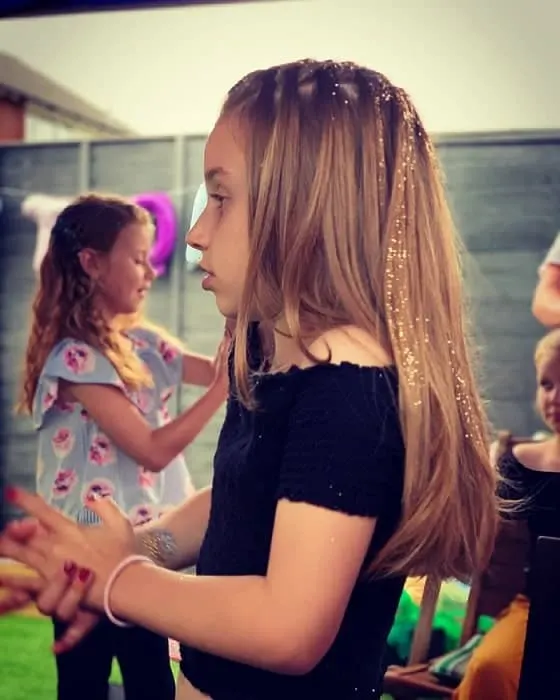 This braided hairstyle for little girls looks so amazing with the hair cascading from the crown.
Waterfall Braid Tutorials for Beginners
Why settle for something less than perfect when you know how to create a real masterpiece? Don't back out just because you think you are not up to it. These waterfall braid tutorials will help beginners achieve great styles.
Easy As Pie
Wordy But Useful
Grand New Look
Do it Yourself Now
Long But Useful
Loop Waterfall Braid
Knotted Loop Waterfall Braid
Now you are ready to start experimenting. We recommend you begin with the simplest and the fastest waterfall braid tutorial and go on to more complicated ones. If you start today, tomorrow you can sport a striking waterfall wonder.
Waterfall Braids with Curls
Waterfall braid with curls can make your dream of a simple yet stunning hairstyle come through. While it might not be easy to achieve, this style is bound to make an amazing impression.
You can wear such a braid to your graduation party, wedding, or office get-together. With some practice, you can learn how to make an amazing waterfall braid without too much hassle. Adding some curls is always the best bet to turn a classic hairstyle into something truly special. Below are 20 amazing waterfall curls to consider.
86. Highlighted waterfall braid
If you have highlights, you can try choosing the highlighted strands to make your stunning waterfall braids with curls. When the colors of the cascading strands and the braid differ, the effect is truly mind-boggling.
87. Loose and natural
If your hair is naturally curly, the waterfall braid might get lose against the background. That's why you should consider making a loose braid, which allows you to get a natural and exciting appearance while keeping the hairstyle visible.
88. Wedding style
The waterfall braid looks amazing with curls as a wedding hairstyle. The best part about it is that it provides special space for hair accessories and a veil. If you are choosing the color for your wedding hairstyle, all shades are blonde will do.
89. Partial braid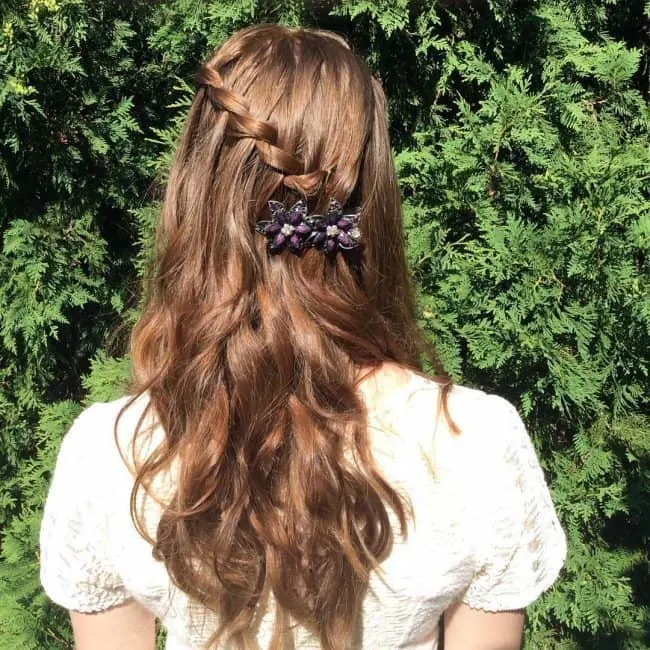 The waterfall braid doesn't have to run around your whole head. It can start near your hairline and go toward the bottom. Such partial braids look wonderful whether you have naturally curly locks or do a few tricks with a flat iron.
90. Double fun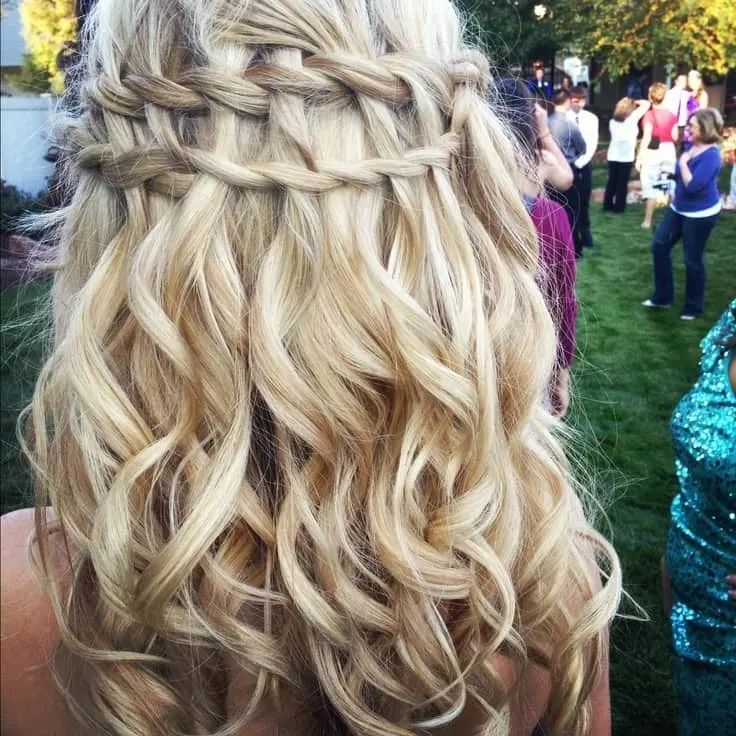 A double (or triple!) waterfall braid looks even more amazing than the classic single one. Play around with your hair to create a true curly masterpiece. A double braid takes just a little extra effort to make but creates an amazing impression.
Waterfall Braided Updo
Waterfall braided updos are one of those unique styles that enable you to have some fun with the geometry of your hair strands. Because it includes weaving circles, horizontal or diagonal plait through loose hair while strands stream through it like a real-life waterfall.
The Perks:
Works for both day and night time.
Works for both formal events and for causal everyday routines
Works for almost all hair lengths except really short pixies.
Suits any hair type from frizzy to smooth.
No special tools or professional stylists needed.
Downside:
It is time-consuming and some side effects include the excessive arm workout like arm straining. However, the results will make you forget all of that because it is totally worth your time and trouble!
91. A Jeweled Barrett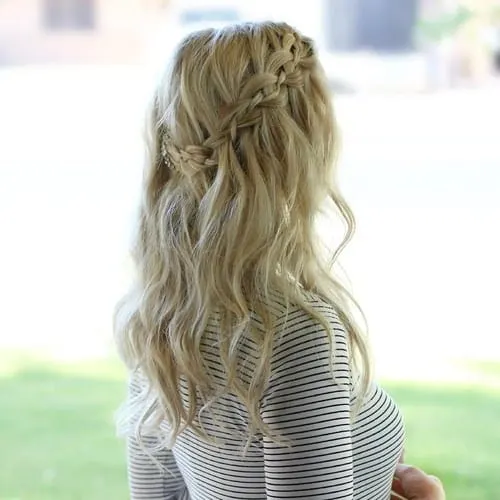 Accessorizing is not only essential when trying to pair up a sleek necklace with your dressy outfit. It also applies when you are looking to end up with unique eye-grabbing hairstyles. And nothing is more catchy than shiny silver jewels rhinestones to glimmer and shine under the spotlights.
Moreover, it works great for a casual stroll in the park or a spring picnic with your special someone. Therefore, this 4-strand braid will definitely add some intimacy to your romantic rendezvous. Especially when paired up with golden beach locs like the one shown above.
92. On The Edge Waterfall Braid Updos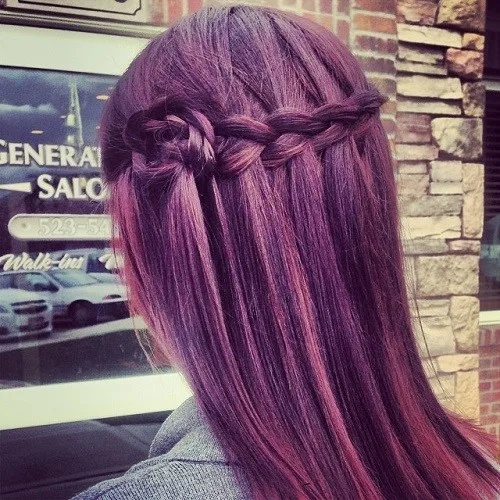 Another advantage of waterfall braided updos is that these braids can work wonders with edgy hair options like extreme purplish hair. Moreover, a delicate flower made up from the twists and curls pairs up perfectly with the violet midnight glam. Thus, for young and fun-spirited ladies this is the design you need.
93. Waterfall Braided Updo
Long flowing waves will only add up to your girly look some bonus styling points. So, if you are looking to show off your ombre effect especially when you have got some new balayage or a trendy dye job.
Tip: Don't forget to brush and blow-dry before you braid to get the full-on perfect and flawless look. Because it will only take up a few extra minutes yet save you a lot of upcoming trouble during the event.
94. The Curly Waterfall Wacky Waterfall
This one might require some extra help in order to come out just like shown in the picture above, yet it is worth every penny. Because despite not being able to put up this kind of cute and twisted curly waterfall braided updos on your own, yet you can gain from your stylist experience by watching them as they work their magic.
Note:
This one works for any kind of occasion.
Curls can make take a few years off your age and make you look younger.
95. Not Hard Work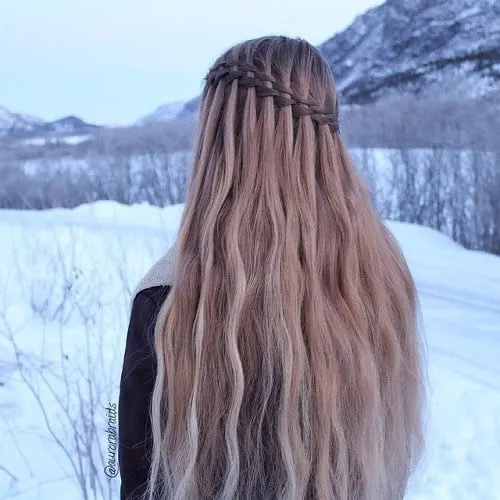 In order to avoid all the hot and heavy lifting that comes with styling long and luscious hair, here are the diagonal waterfall braided updos to help relieve you from your timeless agony. So, instead of the cliché princess crown, try to direct your braid diagonally to create a sense of dynamic movement and grab some extra attention.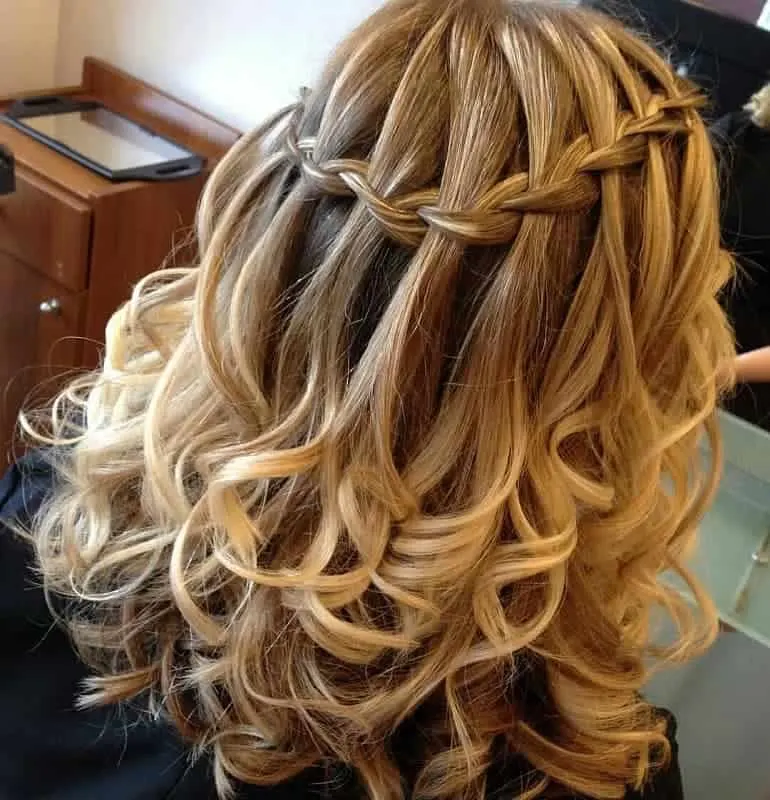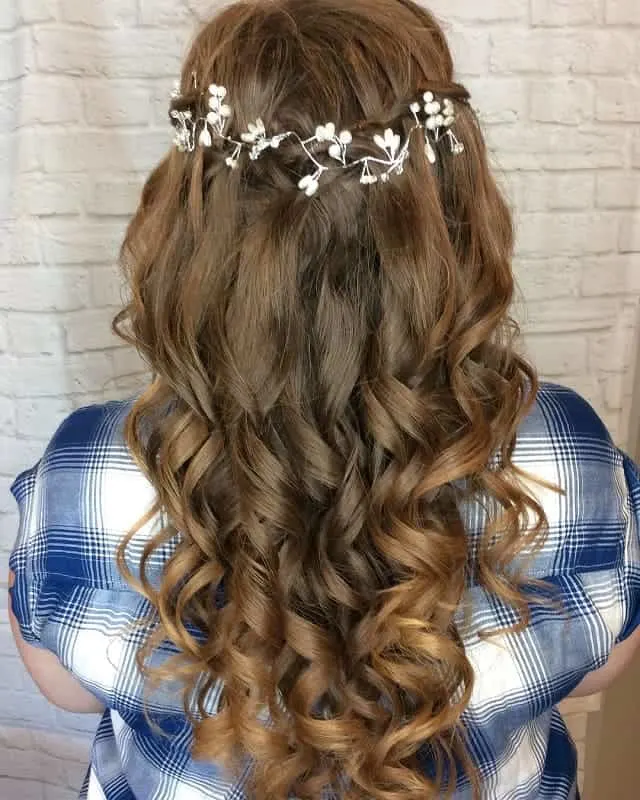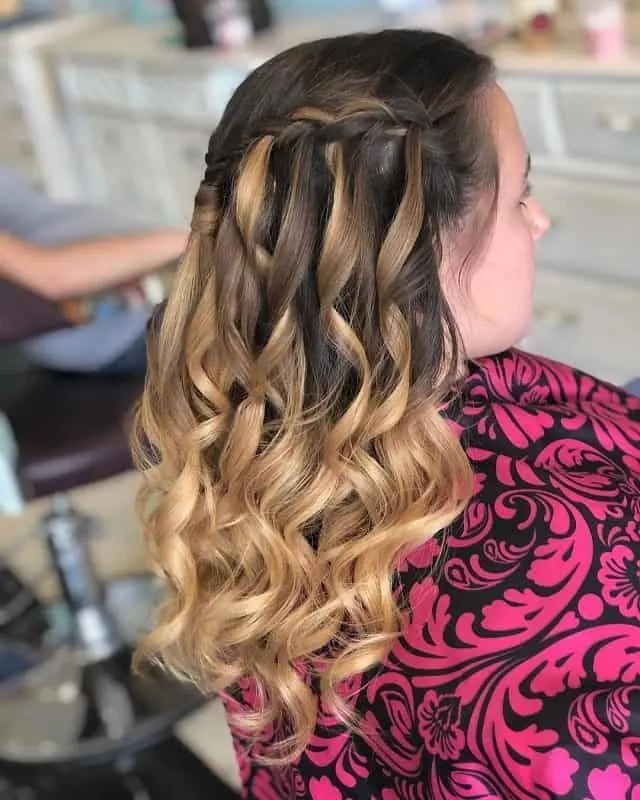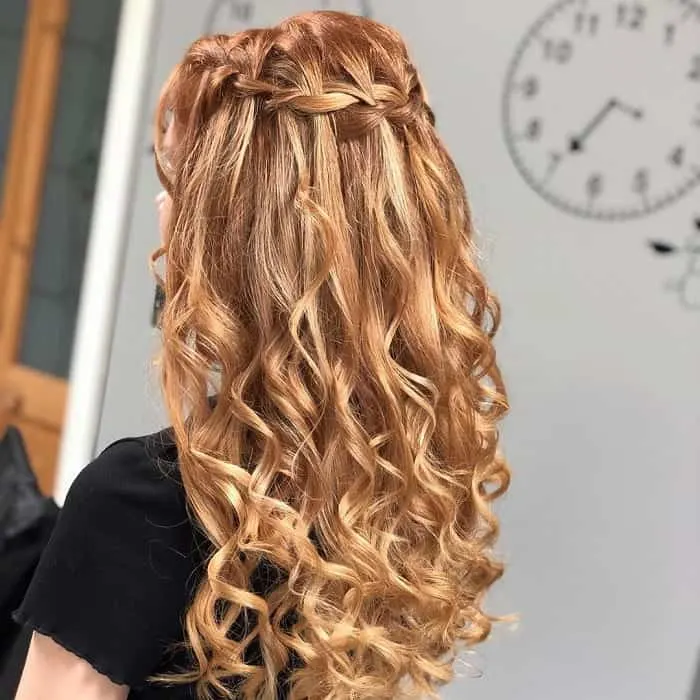 There are thousands of different braided styles to choose from. Once you learn how to do waterfall braid hairstyles then you will have great fun trying out all of the different ways that you can wear your hair.