Purple box braids can be a lot of fun, particularly when paired with dark roots to create an ombre effect. This rich color is both versatile and eye-catching, but this fashion-forward and fabulous look is definitely not for the faint-hearted.
Why Choose Purple Box Braids
Box braids are easy to wear, easy to style, and are the perfect way to keep your hair out of your eyes and off your head during the hot summer months.
They originally got popular in the 1990s, thanks to their frequent appearances on the runway and in music videos, modern box braids are now available in a wide rainbow of colors and styles. Among those, if you want to get a unique look, go for the purple box braids!
The best thing about box braids is they are not made using your natural hair, you can experiment with as many bright and bold colors as you wish without damaging your own hair.
Purple is a great color to experiment with. Here are some fabulous and fashion-forward purple box braid styles for you to explore:
1. Purple Ombre Box Braids
Light purple is a fun addition to long box braids. A bunch of tiny box braids make hair look thicker and will keep it looking creative and beautiful for months.
2. Purple and Black Box Braids
The roots of these long tiny box braids are black but they quickly and beautifully turn to light purple. Wear the hair down to better display the color or pull it up in any updo for glam.
3. Light Purple Box Braids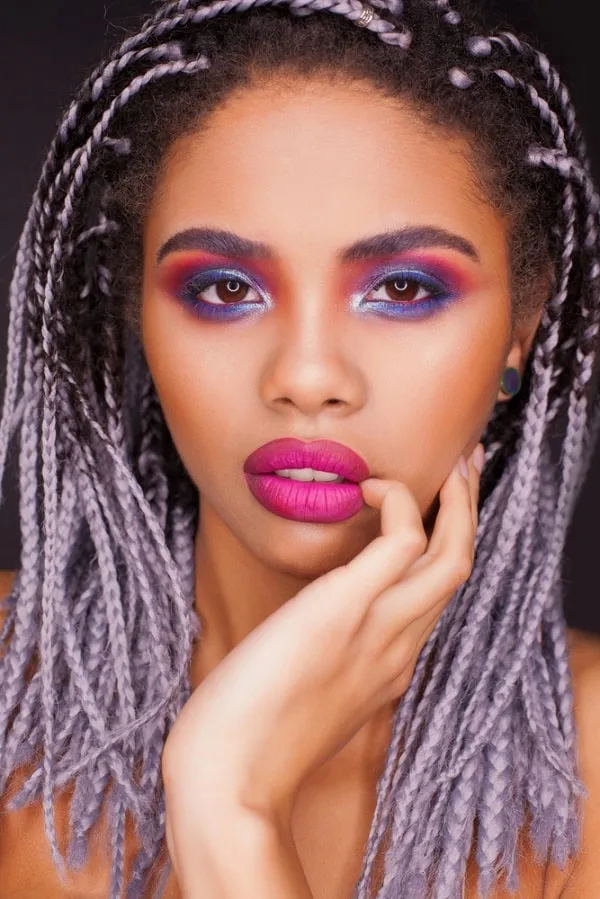 For short box braids that meet the shoulders, add light pastel purple. This shade is gorgeous against dark skin and only takes a center part to be fashionable.
4. Pink and Purple Box Braids
Black will be the base for another short box braid style, but it will only help the hot pink and dark purple pop. Secure ends with black ties for more contrast.
5. Dark Purple Box Braids
Dark purple is the start of the show for long box braids, but a few maroon-colored braids up front draw attention to the face. This style is a great way to rock two of your favorite colors in a chic way.
6. Purple and White Box Braids
White or platinum blonde is the perfect color to make purple pop on box braids. Ask your stylist for lots of tiny braids for full hair and gorgeous style no matter how you wear it.
7. Purple Box Braid Updo
Need a fun, funky hairstyle to switch up your daily look? Try these cute space buns that use just the top half of your hair, leaving long purple locks to hang over shoulders.
8. Medium Purple Box Braids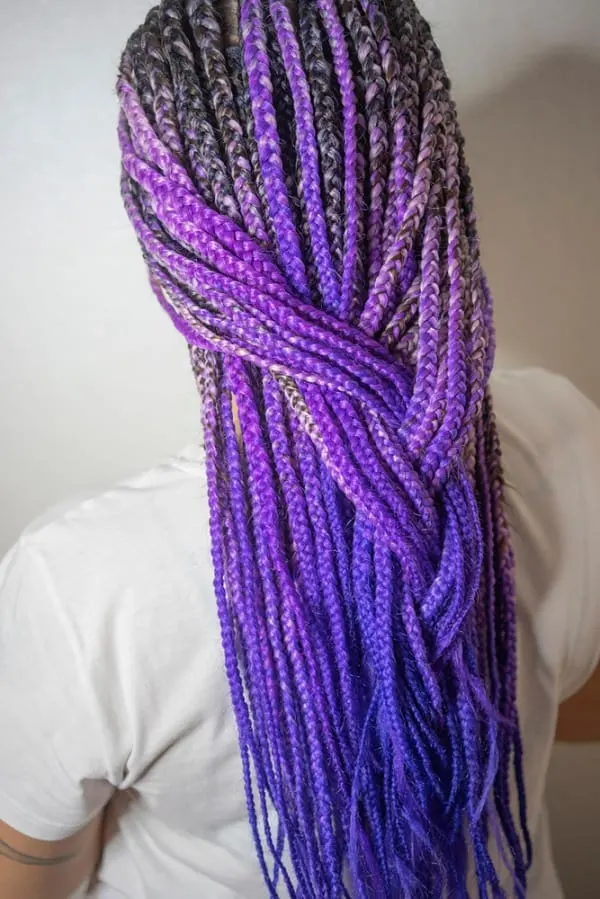 Medium purple is key when you can't decide between light or dark. With a shade of light blue, a half updo shines with all the glam you could want in a box braid hairstyle.
9. Lavender Box Braids
Lavender makes a statement look on box braids that come past the waist. These braids aren't followed through to ends, which leaves the tips to be loose yet straight. Wear it down or in a half updo and you'll feel confident all the time.
10. Dark Purple and Silver Braids
Another way to show the world your creative side is by coloring half of your box braids dark purple and the other half silver or light blonde. Wear it down for a dramatic, eye-catching style.
11. Multi-Colored Box Braids
Can't decide between colors? Color the tips of your box braids dark and light purple, and use the rest of the style to rock yellow, orange, or your heart's desire.
12. Long Vibrant Purple Box Braids
Long hair is feminine and face-flattering, but it can be difficult to maintain. By wearing your hair in long-box braids you will get all the benefits of having long hair but without the tangles, styling problems, or daily upkeep. Sweep your hair away from your face to create a glamorous Hollywood style.
13. Lavender and Lilac Double Knots
If you're looking for a truly eye catching and fashion-forward style then choose light and bright box braids in shades of lilac and lavender, then style then into double knots on the top of your head, leaving the length of your hair loose to show it off.
14. Long Purple Box Braids with Undercut
If you have very thick and heavy hair that you would like to thin out then why not shave the sides of your head to create an undercut effect and then have the rest of your hair woven into skinny purple box braids. Curl the lengths of this hair to soften your style.
15. Box Braided Top Knot
Pull your purple box braids away from the nape of your head by piling them on top of your head in a fashion-forward twisted knot style. Not only is this a great way to move your hair out of your face, it is also an excellent way to showcase your color.
16. Purple Box Braids with Shaved Design Sides
Purple box braids are a bold and eye-catching style, but if you want to make yours stand out even more, try shaving an angular, geometric pattern into the undercut at the side of your head. This is a great look that combines two hot trends into one hairstyle.
17. The Purple and Grey Ombre
To create a sophisticated and eye-catching style using grey and purple braids, choose braids that perfectly blend the two shades for an eye-catching ombre effect. Start with a deep purple, which will merge into the natural roots of your hair.
18. Two-tone purple box braids
Add texture and dimension into your purple box braid style by adding a hint of another colour. When it comes to color, a little goes a long way, and just one or two strands in a shade lighter than your all over color will have a dramatic impact on your style.
19. Purple Crochet Box Braid Knot
Looking for a glamorous and show-stopping updo that will look fantastic with your long box braids? Try crocheting your hair into a box braid knot at the front of your head: not only will this make an incredible visual impact, it is also a great way to sweep your hair off your face.
20. Purple Box Braids with Beads
Add an extra style-dimension to your purple box braids by clipping in some fun hair beads. These can be easily added and removed and home, and come in a wide range of colors, helping you to match your hairstyle to your outfit.
21. Purple Highlights
Purple is such a bold hair color that, often, a little can go a long way! If you want to inject some color into your classic black or blonde box braids then why not add a few vibrant strands into the front of your style to create a flattering and eye-catching frame for your face.
22. Lavender Mid-Length Box Braids
Looking for a warm shade of purple to liven up your skin tone? Vibrant lavender is a great choice. Blend your braids with your natural hair color at the roots to ensure your regrowth looks as flattering as possible.
23. Rainbow Colored Box Braids
If you love purple but want to inject even more color into your hair then why not incorporate your favorite colors into fabulous rainbow box braids? This is a great way to add warmth to your hair: choose brighter shades of pink and green to contrast with the cooler lavender shades.
24. Purple Box Braided Mohawk
For a fashion-forward and edgy style, have your stylist cut your hair into a punk-inspired mohawk before adding your braids. You can then choose to wear your hair loose to cover the shaved sides or pull your hair into a crochet pattern or pleat to show the full visual impact of your style.
25. Purple Box Braids on Dark Skin
When it comes to purple box braids, there is no limit to the length you can choose to add to your hair! The extreme length looks ultra-feminine and makes a huge style statement, making it very popular with fashion-forward girls. This is a style that can be very heavy though, making it a serious commitment during the summer months.