Blue and purple hair colors can completely sweep you off your feet. There is nothing more extraordinary than dyeing your locks with two of the brightest and the most unnatural hair dyes.
Not many women are brave enough to take advantage of these bright shades. But if you've made a decision to make an impression while making a statement with your hair, these colors are for you. You might not know how to approach the mix to make the colors look even more striking. That's why we have a collection to show you the right way.
How to Make Purple Hair Color Last Longer
Purple hair color is very bright, but over time it starts losing its shine. In order to make it last longer, you need to do some color-preserving procedures.
Buy special hair masks that keep the color inside the hair instead of allowing it to be washed out. It's better to ask your hairstylist for the hair care products they recommend. You also must wash your hair with special shampoo and conditioner for colored locks.
Try not to wash your hair too often. Whatever you do, you need to know that purple color will eventually wash out and you'll need to touch it up.
Dark Blue Hair Dye Colors
When you are choosing the shade of blue for your hair, consider getting the darker hues. Most of the time, they are easier to apply to brown and black hair and they create a rich blue color.
Lighter shades of blue don't always look as you want them to on dark hair. If you have blonde or light brown locks, then you might want to try lighter blue colors. If not, go for dark blue dyes.
Different Blue and Purple Hair Color Concepts
If you are far from fashion and want to make a stand with your image, blue an purple hair colors are here to help you.
While each of them looks extraordinary on your hair, the combination can be even more impressive. Knowing how to combine blue and purple is an art.
If you are planning to go to a hair salon, make sure to bring a few of the below photos with you. They are here to give you some inspiration and make your choice of a hairstyle simpler.
1. Blue Purple Ombre Box Braids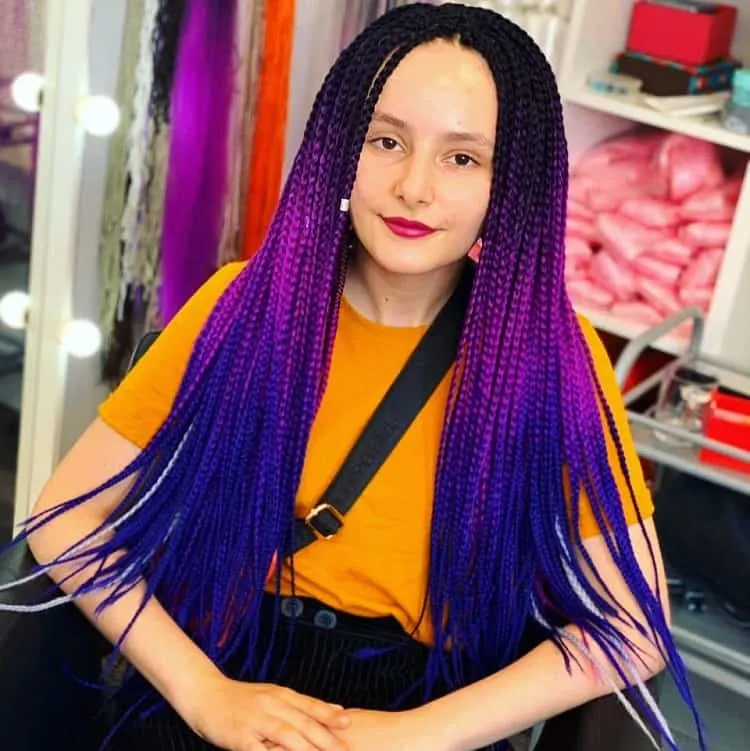 Black blue and purple hair can be easily pulled off without dyeing your hair. All you need is some ombre Jumbo hair that you can use to build box braids. This way you'll obtain not only more length, but also a gorgeous knitted mane.
2. Unicorn Hair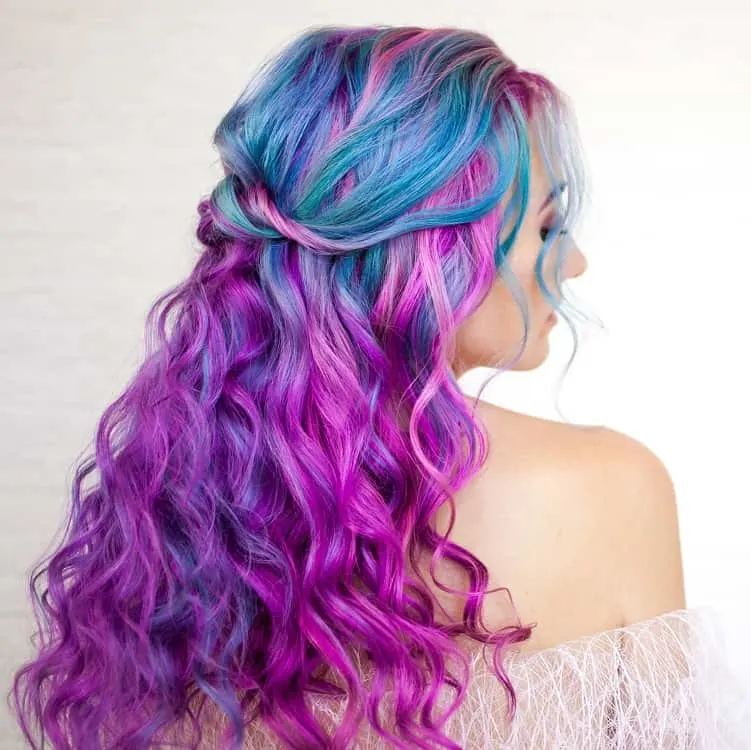 Unicorn hair makes you want to pause time just to admire this fantastic fusion of mind-blowing electric shades. Create loads of highlights for the roots and top hair and gradually transform the tones into purple and blue hues.
3. Blue and Purple Hair for Black Women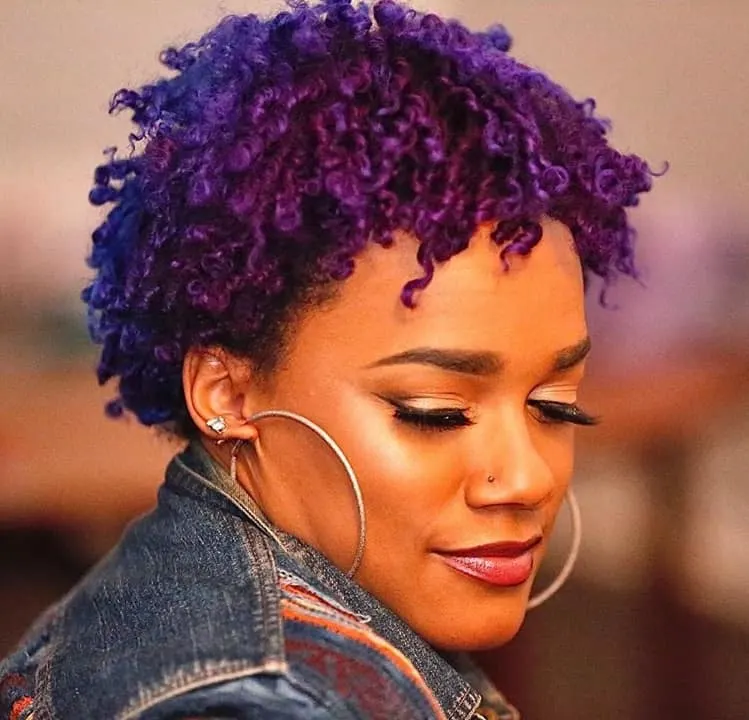 Blue and purple shades will work their magic on short hair, especially if you are a black girl with well-defined coils. Complete the look with a big pair of silver rounded earrings and you'll look so chic.
4. Dar Blue Purple Ombre Hairstyle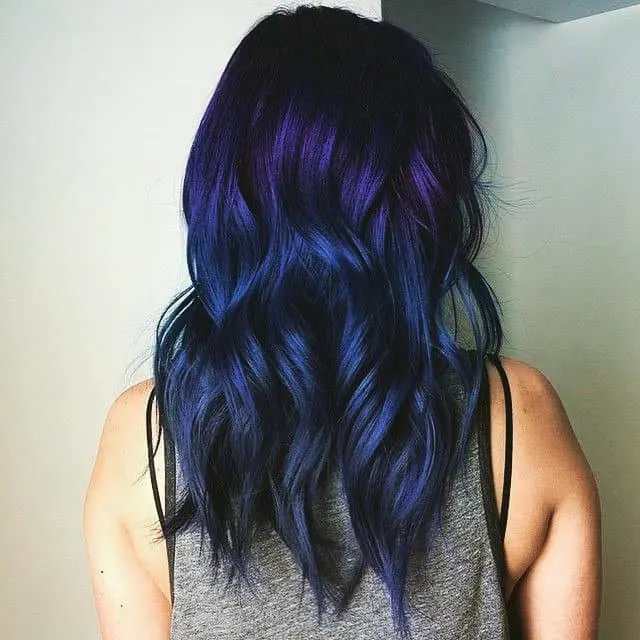 If you want shades that attract sun rays like a magnet, dark blue and purple nuances are everything you ever dreamed of. Make these two tones amazingly blend and you'll never get tired of this wavy colored hairstyle.
5. Pastel Blue Hair with Purple Bangs
Play with color intensity and opt for a light blue and purple hair. Your electric dark lilac tones will gorgeously complement the pastel nuances.
6. Azur and Purple Ombre
Blue and purple hair colors require bleaching so if you're not up for that, there are always amazing alternatives like wigs. They are a fabulous option when you want to make your hair look longer and painted in a marvelous nuance.
7. Thick Navy Blue and Dark Purple Highlights
One of the best things about colored hair dye is that they are semi permanent. They last up to 8 12 washes so if you quickly get bored, you can always wait for it fo fade off and switch to new shades. To pull off this look, you will need electric blue and purple dye and create wide sections to get your highlights.
8. Unicorn Mohawk
Mohawks are very popular and even if the hair on the sides is shortly cut, you can still do a lot with the center piece. Pick blue, pink and purple dye to style a beautiful gradient, from front to back. With a round brush and a blow drier, give your hair height and volume.
9. Teal Blue and Purple Ombre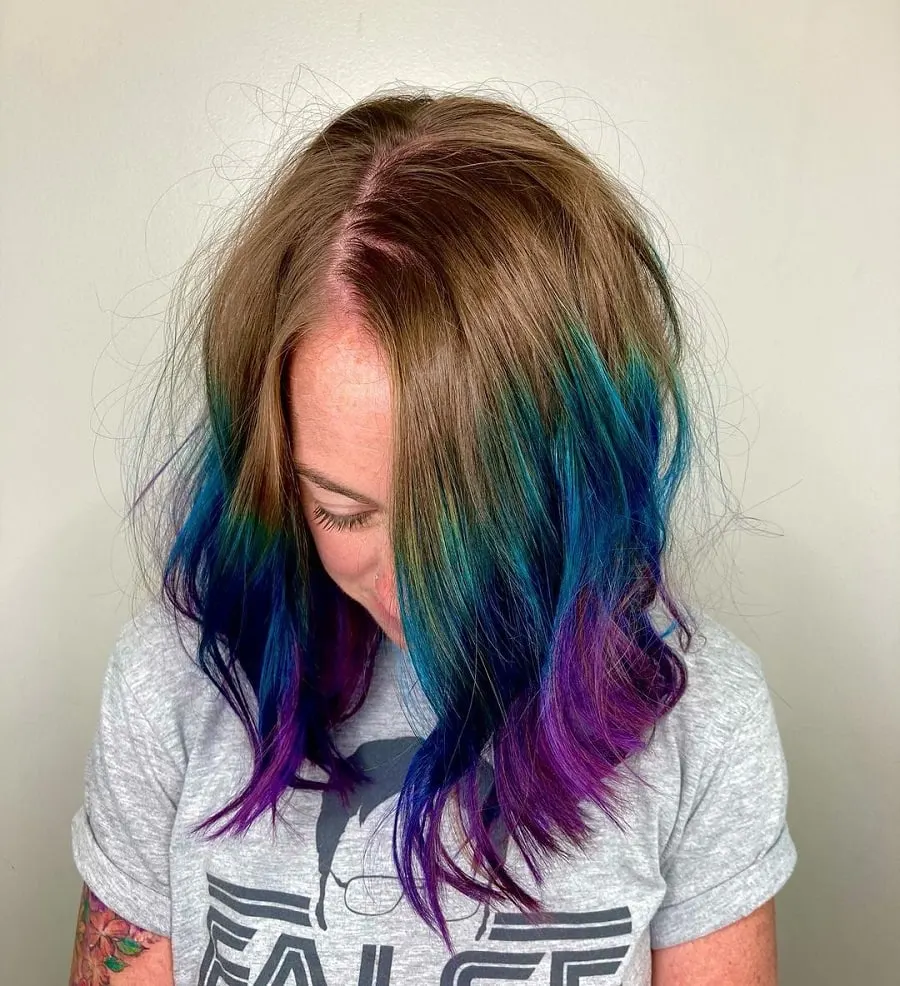 You don't always have to apply the colors on the roots. Consider leaving out almost half of the hair and then apply the navy nuances that blend into a purple. Wave the tips and keep it slightly messy.
10. Half Teal Half Purple Pink
Create layers and give your tips a rounded shape, with shorter tresses in the corners. Part the whole hair in the middle and dye one side in a bleu celeste color and the other in a rouge pink. Select two strands from the top and make a knot in the back. Use a curling wand to provide more texture.
11. Pink Blue and Purple Waves
Some trends come and go but when we're talking about bright and beautiful colors, their popularity never seems to fade. Create a magnificent pink purple and blue ombre hair and style waves and curls.
12. Purple and Blue Twisted Braids
You don't need to dye your hair to recreate your look, just get blue and purple Jumbo hair and knit twisted braids. Secure the ends by dipping them in hot water.
13. Purple Blue and Red Waves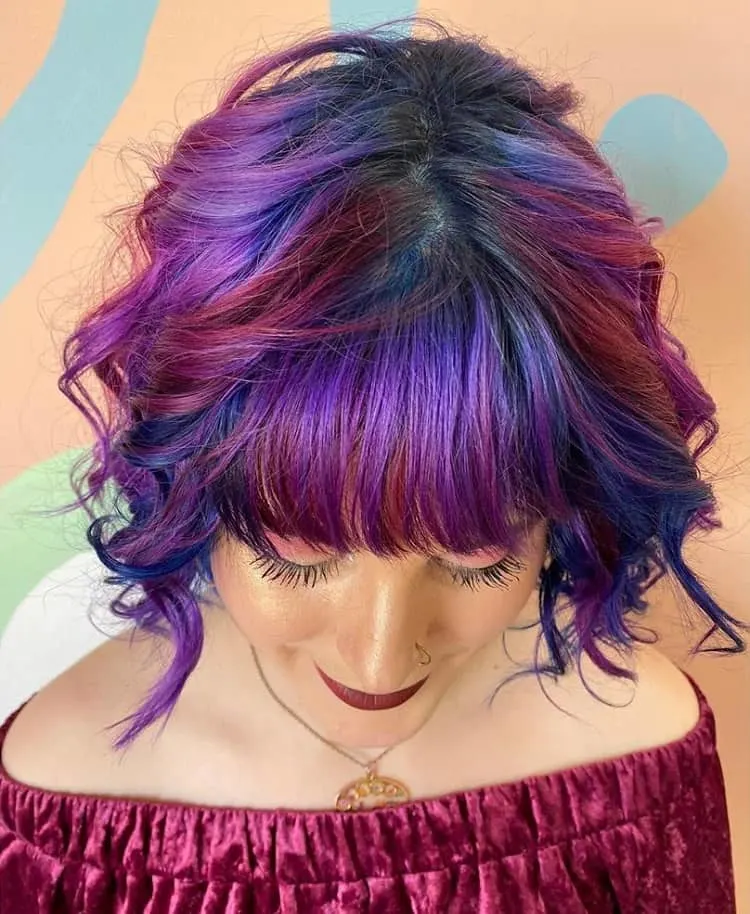 Go for an inverted bob haircut with blunt bangs that cover your forehead and give the hairstyle an electric glow by going for a red blue and purple hair. Create waves to define each strand, and you'll have all the attention you craved for.
14. Black Hair with Blue and Purple Highlights
Go for a black hair dye and create amazing vivid purple and blue highlights. Create messy waves to obtain a mindblowing texture for your beautifully layered hair.
15. Teal Blue and Purple Intricate Braids
Teal blue and purple hair is not only so modern but can help you obtain a gorgeous ocean-inspired look that is perfect for 2023 summer. Style an ombre and combine it with some highlights or lowlights and create intricate braids. Decorate them with hair jewelry.
Nowadays you won't surprise anyone with a stylish ombre unless you make it with outrageous hair colors. Bright purple on the top and dark blue on the bottom create a magnificent image.
This fantastic balayage can only be achieved by a professional hairstylist. The soft transition from dark blue to purple hair color is so impressive, it will have everyone turning their heads your way.
18. Color mix
Purple shades on the top and blue highlights on the bottom allow you to experiment with at least three colors. These lighter shades of blue and purple are exactly what you need to soften your image a bit.
Mohawk Hairstyles for Black Women
Purple hair color looks perfect when mixed with dark or light blue highlights. If you decide to curl your hair, the highlights will appear even more prominent. It's completely up to you to make the decision.
20. Prominent balayage
This is another example of a prominent purple balayage. Allow yourself to dive into the world of purple and light blue colors mixed with some dark blue strands. What a great choice for any occasion!
21. Touch of green
When mixing purple and blue colors, don't forget about other interesting options. Adding a touch of green to your otherwise extravagant mane will make your image even more awesome.
50 Alluring Brown Hairstyles With Caramel Highlights 2017
22. Blue bangs
If your hair is short, the color experiments are even more fun. Use blue hair color to dye your bangs and keep the rest of the locks purple. You'll definitely make a huge statement.
If you have long hair and a great determination to look like a fairytale princess, you can show your hairdresser this photo. The various shades of blue and purple come together to create an extraordinary image.
24. Azure blue to purple meltdown
For an aesthetic look, try going for a blue and purple ombre look. Ask your stylist to dye your top hair an azure blue which melts down to a deep shade of purple. This hair color gives you a really fantastic look, and even the fading process is awesome.
25. Purple hair with vivid blue ombre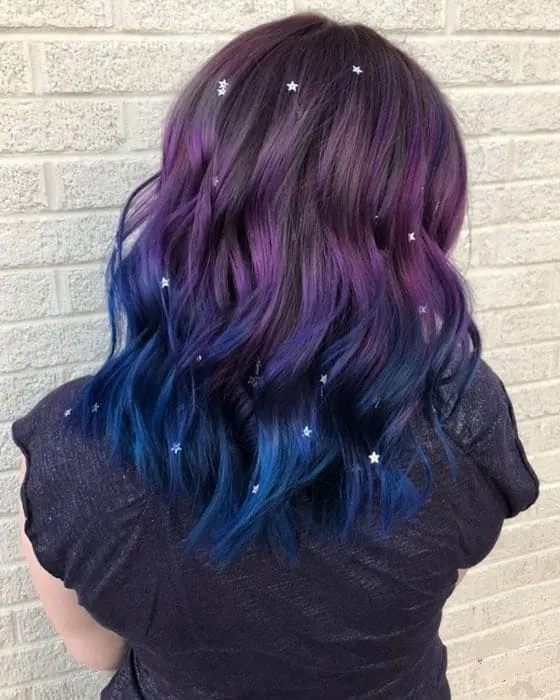 The combination of blue and purple ombre looks just as amazing as it sounds. Now that you obviously can't resist it, get your hair dyed to a purple shade, leaving the edges. Add a vivid blue ombre to the edges of the purple hair, to sum up the look.
26. Bright purple and blue ombre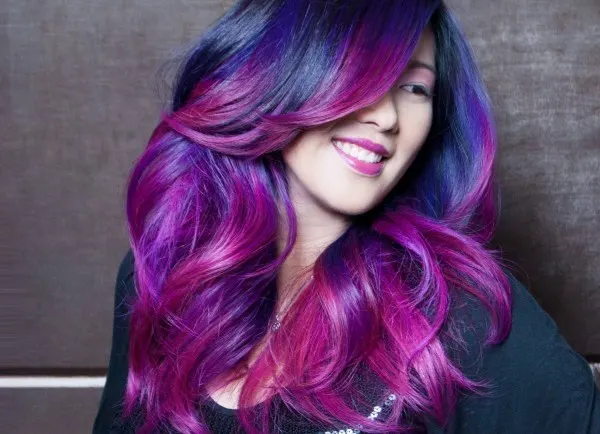 Luscious purple ombre hair color mixed with blue highlights can make your mane look like something out of a fairytale. Keep up your romantic image by creating beautiful waves.
Best Short Hairstyles for Teen Girl
27. Purple and blue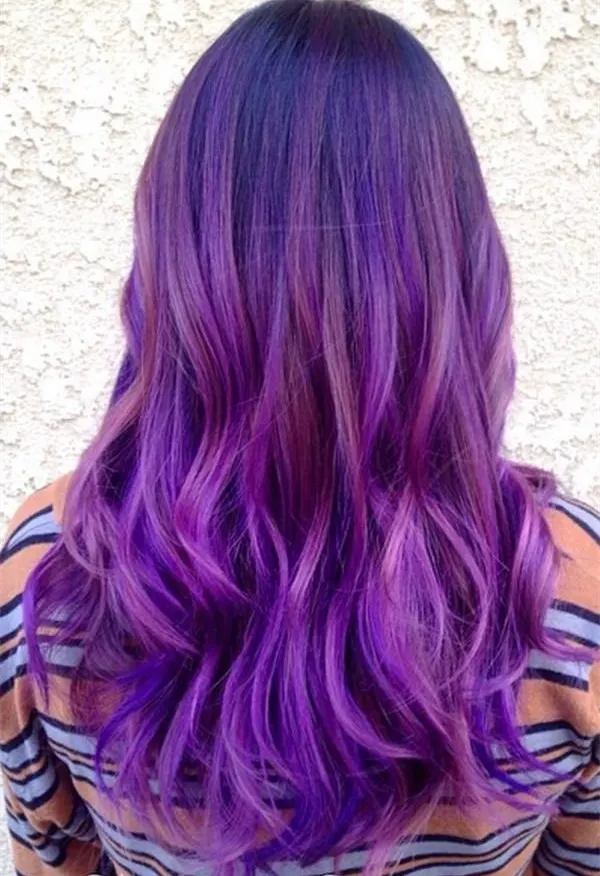 Blue top and purple bottom ombre look fantastic if you don't overdo the blue color. The purple ombre hair color can be quite natural if you opt for darker shades. The darker the purple, the more subtle it looks.
Best Mahogany Hair Colors – Trendy Styles
28. Sapphire blue to neon purple
If you have long brown hair and you can't decide what to do with it, then you might like the idea of coloring your beautiful hair a sapphire blue to purple ombre. It definitely gives you a whole new look in a really positive sense.
29. Purple and blue for dark skin
Purple and blue go amazing with dark skin and curly hair. So, get ready to flex in your beautiful complexion by coloring your hair a mix of blue and purple starting a little lower at your dark roots. Everyone is going to envy you with this hairstyle idea.
30. Multicolored Highlights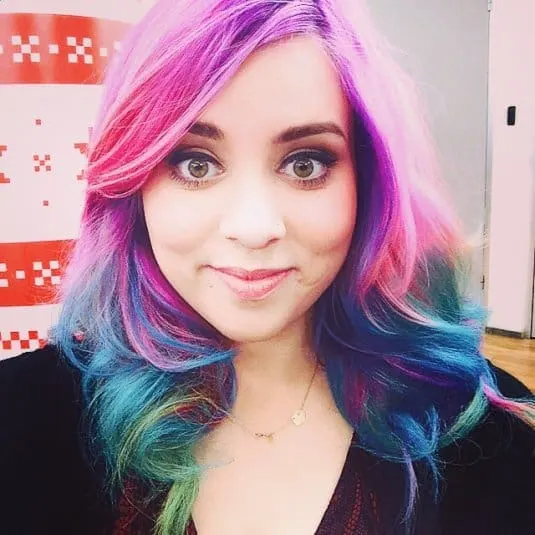 Blue and purple hair colors works just fine with other electric nuances. Go for a pink purple top that slides into a blue hue. Sprinkle some green highlights to capture everyone attention. Swipe your bangs to one side and curl half of the hair to gain more dimension.
31. Dark Shades of Purple
To achieve a stunning look, it is very important to find colors that match and beautifully blend. Go for an indigo shade and a slightly lighter purple for highlights. Curl your hair with a wand to gain that bounce and decorate your hairstyle with a half moon jewelry with dripping tear glass.
32. Teal Highlights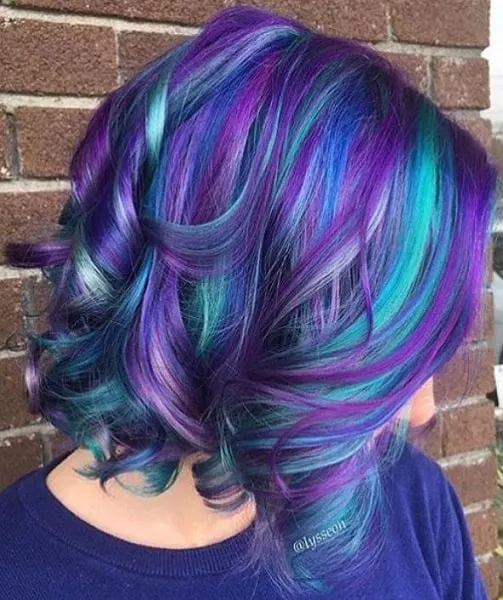 Bob hairstyles can be the perfect canvas for your color mix. Choose teal, blue and purple colors and create highlights, swipe those longer bangs to the side and curl your hair. Tousle it to achieve that messy look and you're ready to receive all the compliments.
33. Mermaid Hair
When you have long tresses, a teal blue and purple ombre will create such a stunning gradient. To obtain these amazing colors, you will firstly need to prep your hair by bleaching it. Apply the blue for the top and some purple on the roots and tips. Use hair jewelry to pull off those puff crown braid and wave the hair with a straightening iron.
34. Braid and Diamond Shaved Design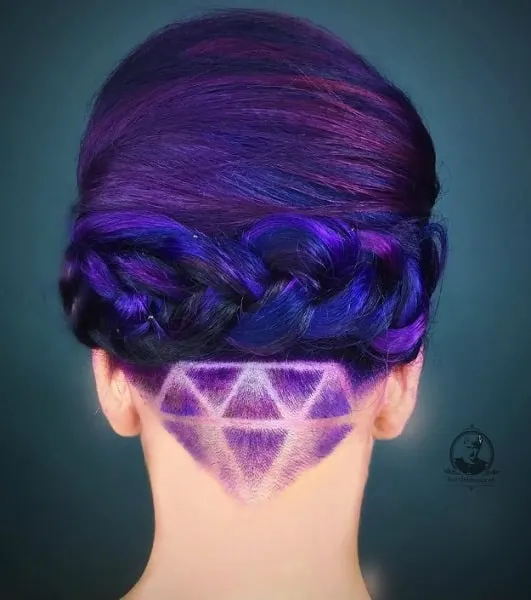 Blue and purple hair colors will look remarkably especially when you pair them with a shabed diamond nape design. Choose darker shades for the longer hair and apply the purple on the shaved part. To draw all the attention to the diamond, create a large braid just above.
35. Two Thick Highlighted Parts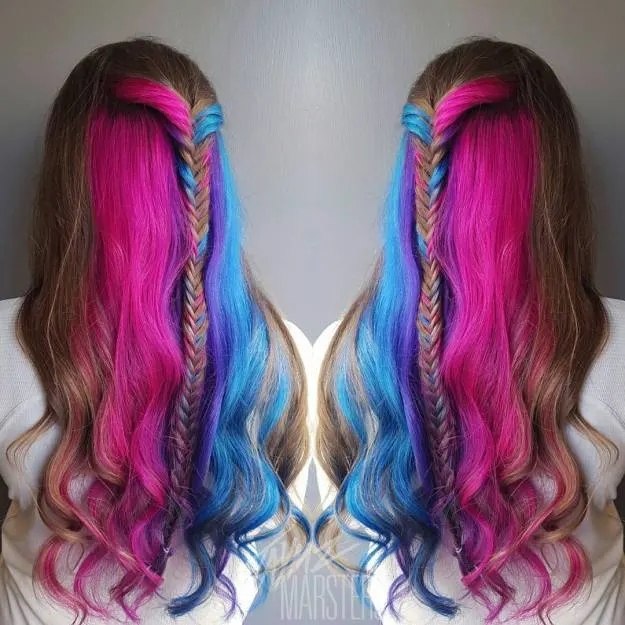 If you want something unique, this is a hairstyle that will definitely suit your expectations. Select your back hair and section it in two even parts, in the middle. One side you'll dye in a blue color while the other will have a darker fuchsia nuance. Style a fishtail braid in the center, as parting.
36. Navy Blue Hair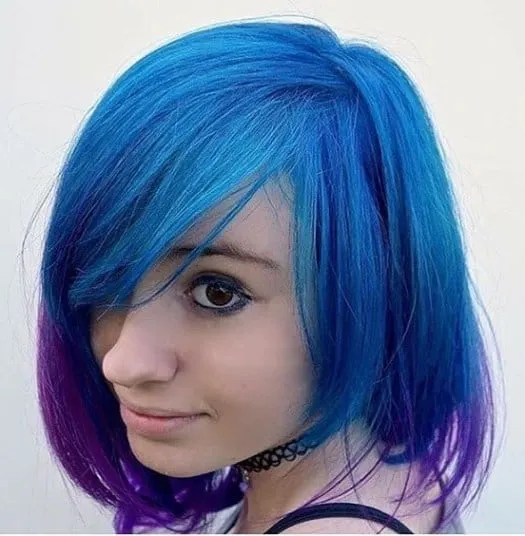 Navy blue hair is such a wonderful idea for women with fair skin that are not afraid to sport a bold look. Get an asimmetrical bob hairstyle and dye one side in a purple shade. You can also do some highlights for the back strands.
37. Pale Purple and Blue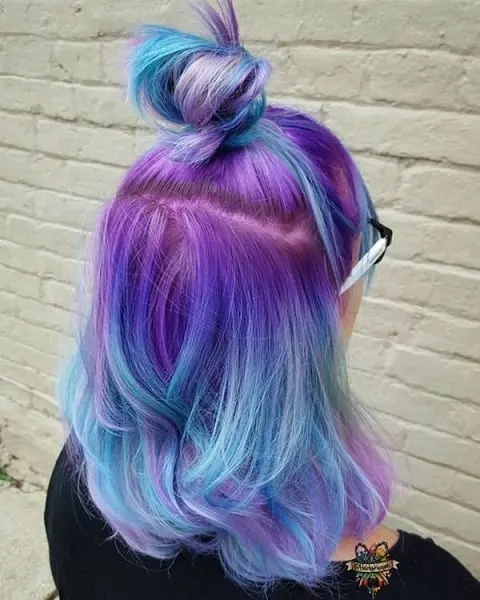 Pale nuances are still very popular and they look fabulous when more hues are blended. Even if the colors are not electric, they attract looks like a magnet. Choose an intense purple for the roots that will blur towards the ends. Layers are a must if you want those tresses to look thicker and gorgeous.
38. Dark Blue Pixie
Dark indigo shades are perfect as a base color for a pixie cut with longer top swooped to the side. On this extended hair part you can play with other different hues like purple or lighter blues and even insert some white highlights.
39. Braided Colored Crown
Hair crowns made out of loose French braids look simply mesmerizing and have quite an effect on long hair. To recreate this hairstyle you will firstly need to bleach your hair, part it in two even sections and dye one side in teal and bright purple. Connect the two in the nape area creating a bun.
40. Twisted Top
Layers work so great with colors, especially when you use multiple pale and intense nuances. They give your hair more volume and shape and the hues blend beautifully. For a romantic look, part the top in two and create two twisted that connect in the back.
41. Half Space Buns
Blue and purple hair colors area ideal when you choose one nuance for the top and blend it into the other hue, using a balayage or an ombre. Also, they are perfect for cute space buns done only using the crown hair.
Tips and Tricks for Blue and Purple Hair
Dying your hair a "fashion color" can sometimes require careful technique and more maintenance than dying your hair a natural color. There are a few things to keep in mind if you decide to go with a shade in the blue or purple family:
Don't skimp on the bleach. If your hair isn't light enough, the color may not show up the way you want.
Be a little flexible. If you have dark hair, you likely won't be able to bleach it to pure white. A good stylist may be able to adjust to create the color you're looking for, but stylists aren't magicians.
If you're dying your hair from home, do your research before purchasing a dye. Some brands are very, very difficult to lift out of your hair.
Use a color-safe shampoo and conditioner, and try to avoid products with sulfates as these may cause your color to fade faster.
Wash your hair as few times a week as possible. The fewer washes, the longer the color will stay vibrant.
FAQs
Here are some frequently asked questions about blue and purple hair.
What shade cancels out blue and purple hair?
You will need to cancel out purple hair with yellow or gold toner. To cancel out blue hair, you need an orange toner. The exact shade of toner you need will depend on the shade of your hair.

Reddish-purple hair will need more of a yellow-green toner whereas bluish-purple hair will need a yellow-orange toner, and teal or aqua hair colors will need a reddish-orange toner.
Purple or blue color – what fades fast?
Any non-natural hair color is likely to fade within one or two months. The exact amount of time will depend on:
● Color
● Shade
● Type of hair dye
● Brand of hair dye
● Your natural hair color
● How damaged your hair is
● Your stylist's skills
● Your stylist's experience with working on your type of hair
● How well do you preserve your hair color

To keep your color vibrant, use a color-safe shampoo and conditioner, wash with cold water, and only wash your hair a couple of times a week if possible. If you spend a lot of time in the sun, use a hair protectant to prevent fading.
Do I need bleach for dyeing hair blue and purple?
Yes, most people will need to bleach their hair for blue and purple, but this will depend on your original hair color and the color you're hoping to achieve.
Someone with light hair may not need to bleach their hair at all. Dark hair, however, may need several bleach treatments to show color especially if you're hoping for a pastel shade. If you are looking for a darker color, you may not need to bleach as much.
If you are still wondering whether you should use blue and purple hair colors for your hair, take another look at the above options. See how amazing you can look by taking advantage of these two colors.