Blue and purple hair colors can completely sweep you off your feet. There is nothing more extraordinary than dyeing your locks with two of the brightest and the most unnatural hair dyes.
Not many women are brave enough to take advantage of these bright shades. But if you've made a decision to make an impression while making a statement with your hair, these colors are for you. You might not know how to approach the mix to make the colors look even more striking. That's why we have a collection to show you the right way.
How to Make Purple Hair Color Last Longer
Purple hair color is very bright, but over time it starts losing its shine. In order to make your purple hair color last longer, you need to do some color-preserving procedures.
Buy special hair masks that keep the color inside the hair instead of allowing it to be washed out. It's better to ask your hairstylist for the hair care products they recommend. You also must wash your hair with special shampoo and conditioner for colored locks.
Try not to wash your hair too often. Whatever you do, you need to know that purple color will eventually wash out and you'll need to touch it up.
Dark Blue Hair Dye Colors
When you are choosing the shade of blue for your hair, consider getting the darker hues. Most of the time, they are easier to apply to brown and black hair and they create a rich blue color.
Lighter shades of blue don't always look as you want them to on dark hair. If you have blonde or light brown locks, then you might want to try lighter blue colors. If not, go for dark blue dyes.
Different Blue and Purple Hair Color Concepts
If you are far from fashion and want to make a stand with your image, blue an purple hair colors are here to help you.
While each of them looks extraordinary on your hair, the combination can be even more impressive. Knowing how to combine blue and purple is an art.
If you are planning to go to a hair salon, make sure to bring a few of the below photos with you. They are here to give you some inspiration and make your choice of a hairstyle simpler.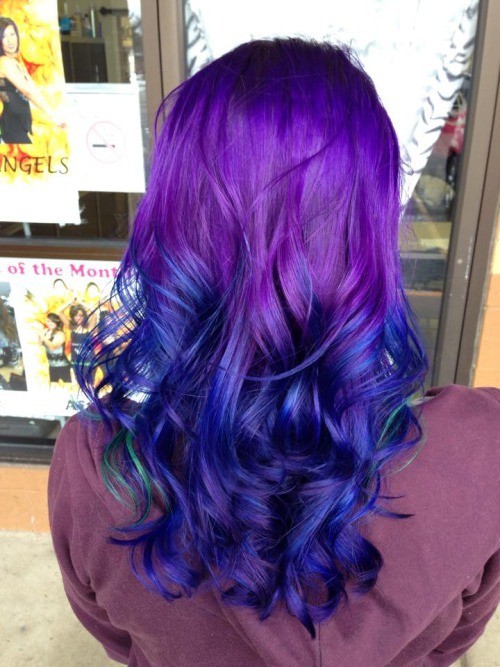 Nowadays you won't surprise anyone with a stylish ombre unless you make it with outrageous hair colors. Bright purple on the top and dark blue on the bottom create a magnificent image.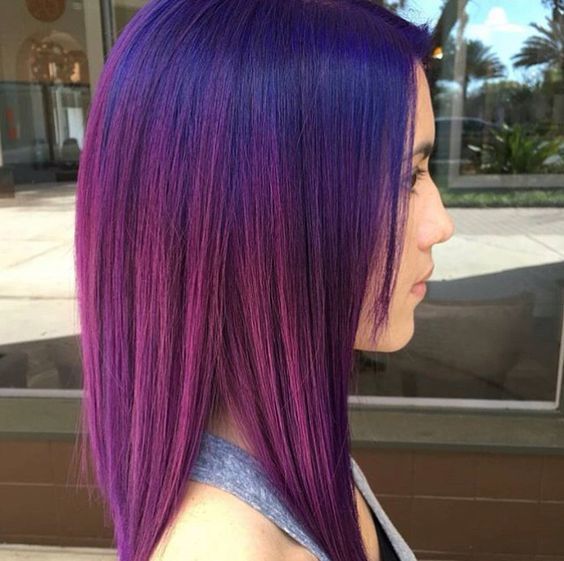 This fantastic balayage can only be achieved by a professional hairstylist. The soft transition from dark blue to purple hair color is so impressive, it will have everyone turning their heads your way.
3. Color mix
Purple shades on the top and blue highlights on the bottom allow you to experiment with at least three colors. These lighter shades of blue and purple are exactly what you need to soften your image a bit.
Mohawk Hairstyles for Black Women
4. Dark shades
Dark purple and blue hair colors look very rich and exciting. They are a perfect choice if your natural hair is black or brown. Unfortunately, the brightest colors are hard to maintain. Be ready for monthly salon visits.
5. All shades of purple
Consider using various shades of purple to create partial highlights. No matter how asymmetrical the highlighted strands are, the overall image will be fantastically striking. Give at least two shades a try!
Purple hair color looks perfect when mixed with dark or light blue highlights. If you decide to curl your hair, the highlights will appear even more prominent. It's completely up to you to make the decision.
7. Prominent balayage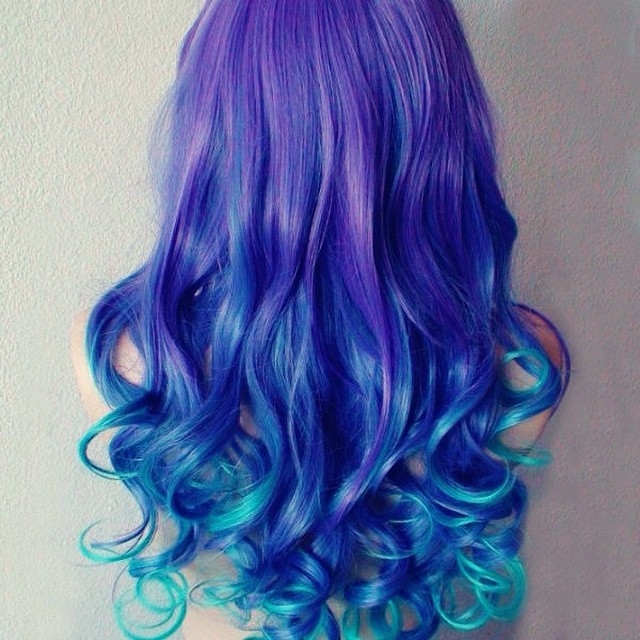 This is another example of a prominent purple balayage. Allow yourself to dive into the world of purple and light blue colors mixed with some dark blue strands. What a great choice for any occasion!
8. Touch of green
When mixing purple and blue colors, don't forget about other interesting options. Adding a touch of green to your otherwise extravagant mane will make your image even more awesome.
50 Alluring Brown Hairstyles With Caramel Highlights 2017
9. Blue bangs
If your hair is short, the color experiments are even more fun. Use blue hair color to dye your bangs and keep the rest of the locks purple. You'll definitely make a huge statement.
If you have long hair and a great determination to look like a fairytale princess, you can show your hairdresser this photo. The various shades of blue and purple come together to create an extraordinary image.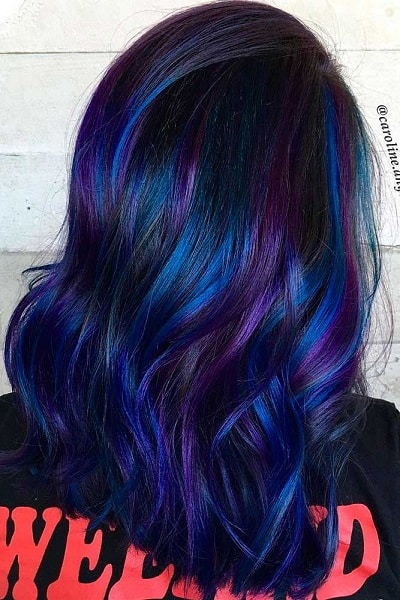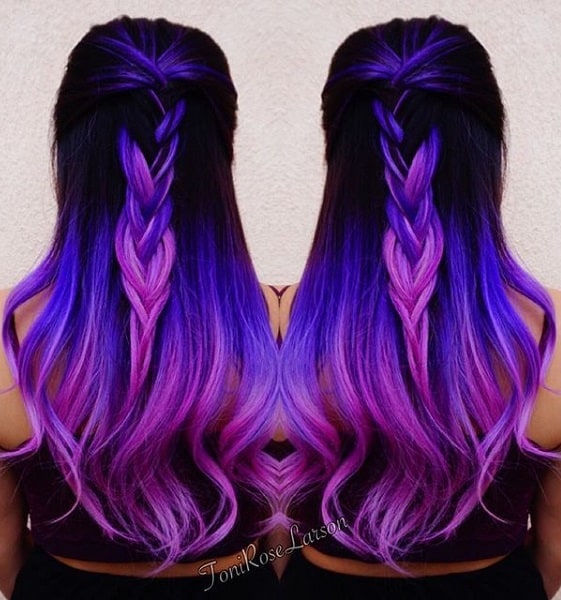 If you are still wondering whether you should use blue and purple hair colors for your hair, take another look at the above options. See how amazing you can look by taking advantage of these two colors.