When you are looking for something new but all the popular hair colors just don't seem right, you have one interesting option left. Rainbow hair colors might appear confusing and out of this world at first but once you take a close look, you might not be able to stop.
You don't have to go for all the colors of the rainbow to create the hairstyle we are talking about. A mix of two, three or more bright colors can help you achieve the appearance of a real star. If you are ready to have people turn their heads and stumble when they see you, rainbow colors are your thing.
How To Do Your Rainbow Hair Color
While rainbow hair color is amazingly cool, achieving it is not as easy as admiring the result. Before going for this hair color, you need to give it some thought. Are you ready for the maintenance? Rich and outrageous colors are hard to maintain. They wash out in a flash, making your overall appearance less than satisfactory. So you have to always be ready to retouch one, two or more of your colors.
i. Get a Haircut
Once you dye your locks the color you always dreamed of, you won't want to cut the hair anytime soon. That's why it's better to get the haircut you want beforehand.
ii. Find a Friend
Dyeing your hair rainbow colors is not an easy task. Most of the time, people can't do it on their own. Ask a friend to become your assistant for the day. Together you can get the job done faster and neater.
iii. Bleach Your Hair
Yes, unfortunately, none of the beautiful rainbow hair colors can be achieved without bleaching unless you are a natural blond. That's why you have to be ready to say goodbye to your healthy locks and deal with damaged tresses, which will require plenty of your attention.
One bleaching session might not be enough so be patient. Some people have to bleach their hair 3-4 times to get the desired result. You have to wait at least 10 days between the bleaching sessions.
iv. Get to Dyeing!
Wash and scrub your bathtub so there is no dirt that the colorful dye can cling to and stay forever
Put on an old t-shirt that you are ready to throw into the garbage after the procedure
Apply the conditioner to the strands you don't want to dye
Put petroleum jelly on your neck, chest, back and wherever else the dye may be dropped.
Put the gloves on and start dyeing!
Paint your hair any way you like. You can choose a picture to follow or come up with your own combination.
Once done, clip your hair up and wait for one hour.
Fill your bathtub with some water so the dye doesn't stick
Wash your head. It may take up to 20 minutes to do it.
Voila!
Round Face with Medium Length Hair? Try These hairstyles
Wildest Rainbow Hair Color Ideas
Rainbow hair colors are truly stunning. Even if it takes some effort to keep them looking rich and fresh, the effect is priceless. In the modern world, sporting a unique hair color is not possible since each woman is trying to experiment.
Meanwhile, the rainbow approach can help you come up with a truly unique option that can make others sigh with envy. Highlights, Ombres, balayage, and sombre are a great choice for mixing several rainbow colors.
1. Rainbow ombre
If you are not a big fan of bleaching but you can't leave the idea of getting a rainbow hair color alone. You can go for an ombre. Leave the top part of your hair its natural color and play around with the bottom part.
2. The real deal
If you want a real rainbow hairstyle then you need to mix the 7 rainbow colors. If you want your hair to be even more extravagant, you can opt for a special haircut. A rainbow undercut or a mohawk can definitely turn some heads your way.
3. Half and half
Think about dividing your hair into two parts and dyeing each side a different shade. You can go further and add some similar colored highlights to each side. Another fun idea is to add one strand of the opposite color to each side.
4. Pale and beautiful
Wild rainbow hair colors don't have to be bright and rich. You can achieve a great result by using paler colors, such as aquamarine, light blue, and yellow. These shades allow you to make the maintenance less frequent.
25 Quinceanera Hairstyles You Always Dreamed Of
5. Highlights
If you are a fan of bright red or blue colors, you can diversify your look by adding rainbow highlights. Bright red looks perfect with the shades of green, yellow, and orange. You can make as many as you wish. Just keep the majority of your mane one color.
6. Hidden Rainbow
If you are not a fan of awed glances and turned heads but still want to sport a rainbow hair mix, consider hiding it. As you can see on the picture, only the middle layer of the girl's hair is dyed. She can choose to hide or flaunt it.
7. Closer to nature
While this rainbow hair color is hard to call natural, the shades used make you feel close to nature. Green and blue hues remind of the fresh grass and clean water. Adding flower accessories can make the hairstyle truly fantastic.
7 Short and Cute 27-Piece Hairstyles
8. Rainbow layer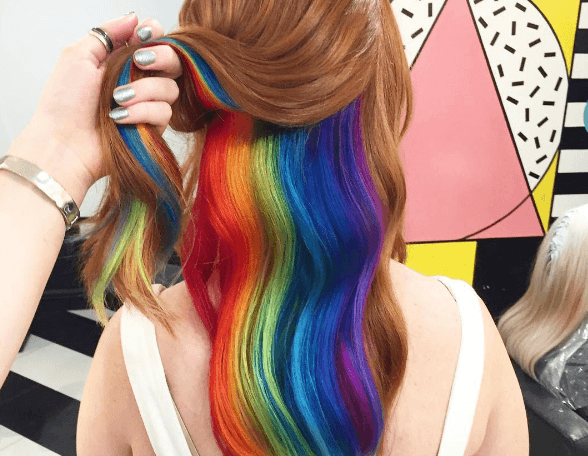 This is another example of a beautiful rainbow layer. You don't have to keep your natural hair color on the rest of the locks. You can use this opportunity to experiment with lighter and softer shade for a bigger contrast with the rainbow.
9. Darker shades
Rainbow hairstyle doesn't need to include bright, rich, or pale colors. You can experiment with dark tones. For some of them, you might not even need to bleach your hair. Ask your hairstylist for advice.
10. Blinding beauty
If you really want to blind people with your beauty and style, go for the brightest rainbow colors. They are not too long lasting but will stay intact long enough for you to make an impression.
Best Short Hairstyle Ideas for Teen Girls
Rainbow hair colors vary greatly. Now that you know your options, you have something to think about. Ask yourself if you are ready to dive into the amazing world of crazy colors. If yes, go for it today.