When a girl turns 15, it is always a special day. Many girls think about their quinceanera hairstyles long before their fifteenth birthday.
In Latin American countries turning 15 means becoming an adult. And even though in most of the countries this age is still considered quite young and far away from adulthood, it doesn't make the birthday any less special. Every girl spends a lot of time planning her birthday party.
Looking perfect for your 15th birthday is an absolute must. There are many different hairstyles available for young girls with both short and long hair.
There is even no need to wait for a special occasion to try them. So, whether you are about to turn 15 (or 20 or even 40), these beautiful quinceanera hairstyles will look great on you.
Beautiful Quinceanera Hairstyles for Stylish Girls
Learning how to make a perfect quinceanera hairstyle is not very easy. That's why most of the girls ask a specialist to help them. The most important part is to choose the right hairstyle for the occasion.
We prepared a concise list of quinceanera hairstyles for girls to consider. Most of them require a lot of effort but the result is truly amazing. These styles can be used for any special occasion starting from the prom and ending with a wedding.
Turning 15 is always an amazing time and a 15 year old teenager will look great with these quinceanera hairstyles. Remember, long hair is not a must for them. You can always opt for a weave!
1. Loose braid
Loose braids are pretty easy to create but are hard to hold together. The hair is curled, swept backwards and a loose high braid is created. This braid should be secured with a headband, an elastic band, and some pins. Apply some hairspray to keep the hairstyle neat.
2. Barbie curls
These complicated Barbie curls are nothing more than a loose and high ponytail. The hair is curled and swept upwards and back. It is held together by pins and elastic bands. Make the hair flow freely and let it cover the accessories you use to keep it intact.
3. French braid with a twist
Just a simple braid would be boring, so why not add some zest to your style? Start braiding your hair as you would for French braid but keep the bottom strands hanging freely. Don't forget to curl your locks beforehand.
Stunning Princess Braid Hairstyles
4. Braid burst
This quinceanera hairstyle will definitely make a beauty queen out of you. The hair is curled. One thick strand on the side is left loose and the rest is arranged into a low bun. The loose strand is then curled and wrapped around the back.
MUST WATCH: Our Favorite Quinceanera Hairstyling Tutorial
5. Side swept curls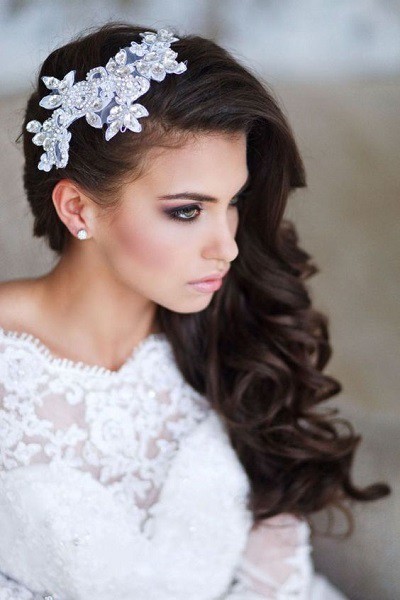 This simple hairstyle will really make an impression. Curl your locks and sweep them to one side to let the hair fall freely over your shoulder. Pin the top part from the opposite side to the back and attach the accessory over it.