If your hair is naturally kinky, then I'm sure you gave kinky twists a try or wanted to all along. And no doubt, that's a style you won't regret trying!
Among the natural hair looks, braided styles and kinky twists are the most popular. No matter what style you choose, it is always going to make you super stylish. Kinky twists are for a whole new look that you are craving for so long. Now is your chance to get the kinky twists style for a fresher you.
Popular Kinky Twists to Try
The kinky twists can be done in many ways depending on your creativity and imagination. And with the huge variety of styling options, you won't get the same look twice. Every time you try it, you are a different person with a new mindset and more skillful hands.
The seemingly endless list of styles can be segmented into several categories, one of which we'll be showing a small portion of, in this article.
Here are 25 beautiful kinky twists, to show you more about a look you might want to sport right after reading this article. So stay tuned!
#1: Burgundy Twists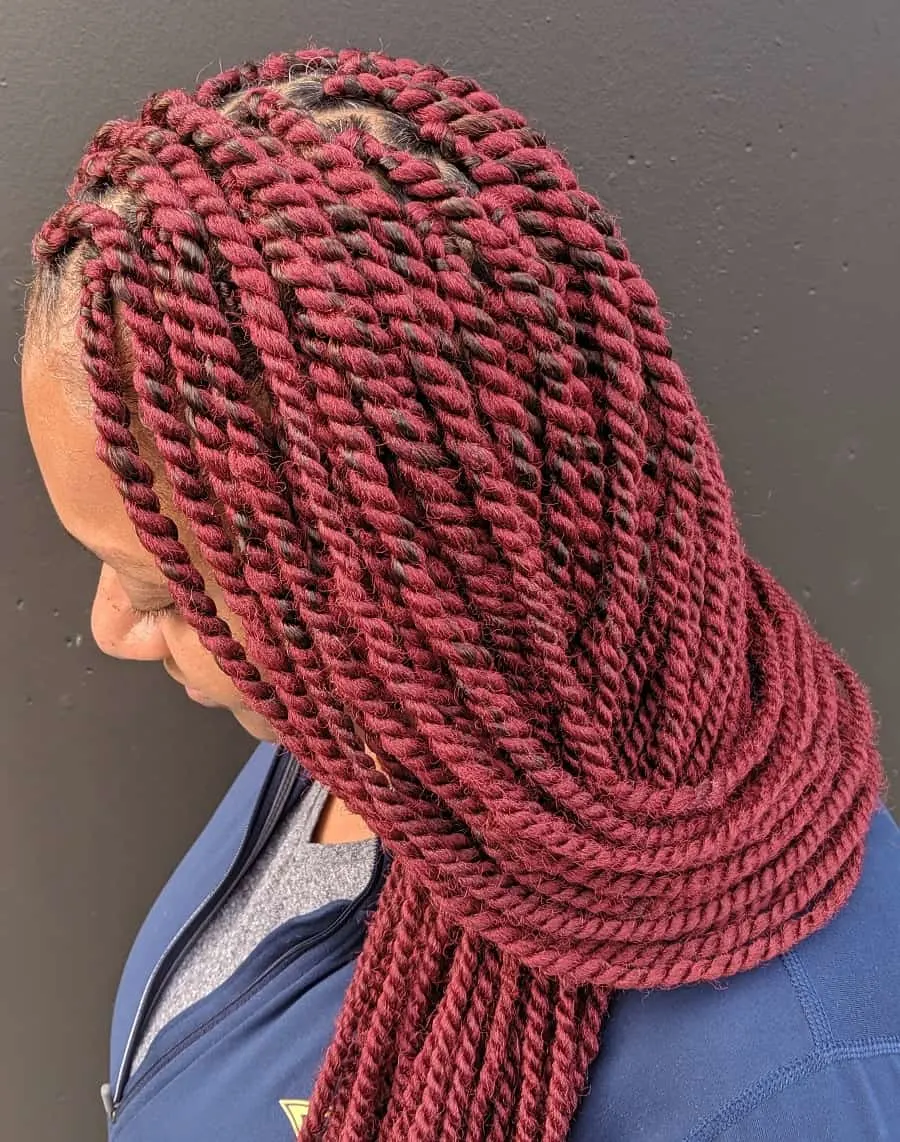 Kinky twists are a great option for women who need a suitable hairstyle for everyday activities. Choose the proper hair extensions and attach them close to the roots if you have a certain color in mind. Wear your braids on one side or in a cascade, on your back.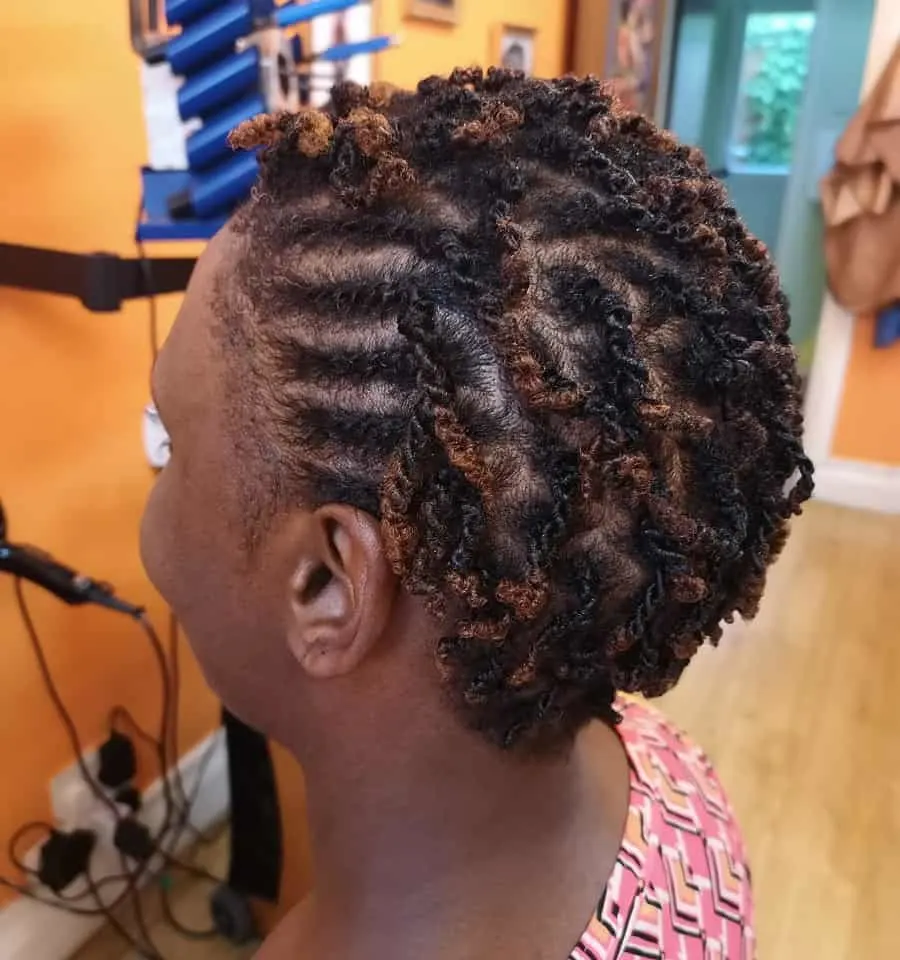 These two-strand twists can fit most hair lengths, including short 3C curls. To make the most of your hairstyle, get cornrows for the temple and forehead area, and combine them with short twists. To make this hairstyle look even more eye-popping, you should consider dyeing the tips in a brighter brown hair nuance.
#3: Half Straight Half Curly
Whenever you want braids that look feminine and flirty, you should consider getting kinky twists. Feed-in the braids with brown hair extensions to create that fabulous blend. Roll half of your braids on a rod and dip that section into hot water to create curls. The hairstyle will be perfect for events or busy workdays.
Twists are so versatile and can be styled however you please. Pull them all up, and secure them with a hair elastic. Use a few braids to hide the hair tie. Simply roll them at the base of the pony.
#5: Bob Twists
Crochet braids will look adorable, especially if you trim and style them properly. You can use these twists to obtain a layered bob hairstyle with a top tossed on one side.
#6: Crossed Twists
You can get so creative with these braids. First of all, create a crisscrossed pattern on one side. Make sure these braids are thinner than the rest. Once you've braided the twists, roll them on a rod to achieve ringlets. After dipping your braids into hot water, the shape of your knit will be preserved.
Hair ornaments such as silver applications will highlight each braid. If you want thicker braids with more volume, we recommend adding jumbo hair while knitting them. These protective hairstyles will do a fabulous job of preventing natural hair damage.
#8: Intricate Braids
Use your imagination if you want a hairstyle that is cool, sophisticated, and unique. Combine cornrows with kinky twists and dye in a bright blonde color all the tips of your braids. Make sure the sides are flawlessly braided. For the laterals, direct the braids straight to the back, while the nape knits go slightly downwards.
For this hairstyle, parting the hair plays an important role. Use a regular comb to style triangle sections, then messily roll your braids. Don't knit them too tight because you want to reveal your hair's natural texture. If you want more length, add extensions.
Half up half down hairstyles will reveal your facial features and create a simple yet elegant hairdo that you can match with all sorts of outfits. Spare two braids from the forehead and let them fall on sides. Also, to give this hairstyle some sophistication, you can dye the tips in a warm blonde color.
#11: Dark Burgundy
If you need a color change without dyeing your hair, you can create protective hairstyles and add your favorite nuance hair extensions. A dark burgundy hue will beautifully blend with your natural color. To make the hairstyle look more glamorous, you can slightly wave the tips of each braid.
When you have dark skin and want to go blonde, you must choose the proper lighter color. So consider keeping your roots darker and gradually enlightening the hair until you reach the nuance you want. Once you're done with the braids, pin them in a high-top ponytail. Spare your bangs and spread them on the forehead.
#13: Twists With Pattern
Braids allow you to get as creative as you want. So, if you are done with dull hairstyles, use cornrow braids that extend into kinky twists. Create crossovers in the temple area and curl the ends of your knits. You can add a pinch of color towards the ends, like a burgundy or a dark purple hue.
#14: High Bun
If you love hairstyles that reveal the parting, make sure the sectioning is done right. Use a fine-tooth comb to create small squared parts. After you have braided the hair, tie it in a voluminous bun. Spare a few knits and let them messily fall, framing your face.
#15: Light Caramel
Who said short haircuts couldn't be feminine and elegant? To recreate this amazing pixie hairstyle, you need to use a different technique for those kinks. Instead of tightened twists, create loose braids. Also, pick a light caramel hair color that suits your skin tone.
#16: Long Kinky Twists
Loose long kinky twists tend to add volume and shape to your hair. Once you try it without stressing much on your hair, you will sure love its framing effect on your face.
Senegalese Twists Vs. Box Braids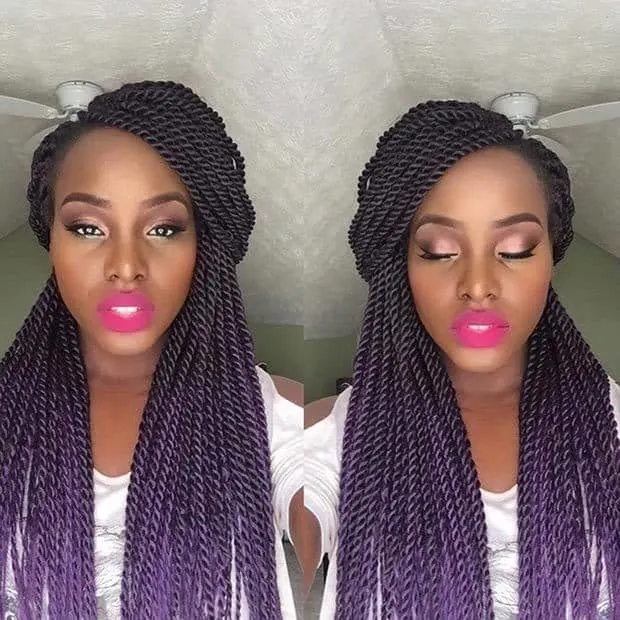 Not only are kinky twists fabulous when they are created in different shades of hue as well. With a purple ombre, your hair will shine and stop shying from people's eyes. If you don't want any of your long fringes over your face, consider pinning them to the back with bobby pins.
#18: Ponytail Twists
With twisted hair, try sporting a ponytail to get your hair out of your face. A ponytail that is on top instead of the back of your head, will help to hold the weight of your hair, and hence stays well-shaped.
#19: Infinite Curls
Consider leaving your kinky hair curly half way down when you're wearing twists. Curly ends give off a feminine funky look that can go for both normal and special occasions.
#20: Faux Hawk Twists
You can create a Faux Hawks even with unshaved sides. Simply create cornrows on the sides and let the rest of your hair loose. With kinky twists, you'll get a unique end result. But if you wish, you can also create a top knot with your loose ends which will give you a contemporary look. Check some fresh dreadlock styles for modern women.
Among the natural hair community, Senegalese twists are considered the top favorite. This hairstyle comes to form by straight braiding hair. This kinky twist style goes best with long hair.
Going short on hair is trending this year. You can add extra spice to the trending style by braided kinky red twists that will complement your dark skin. Use flex rods to curl the tips.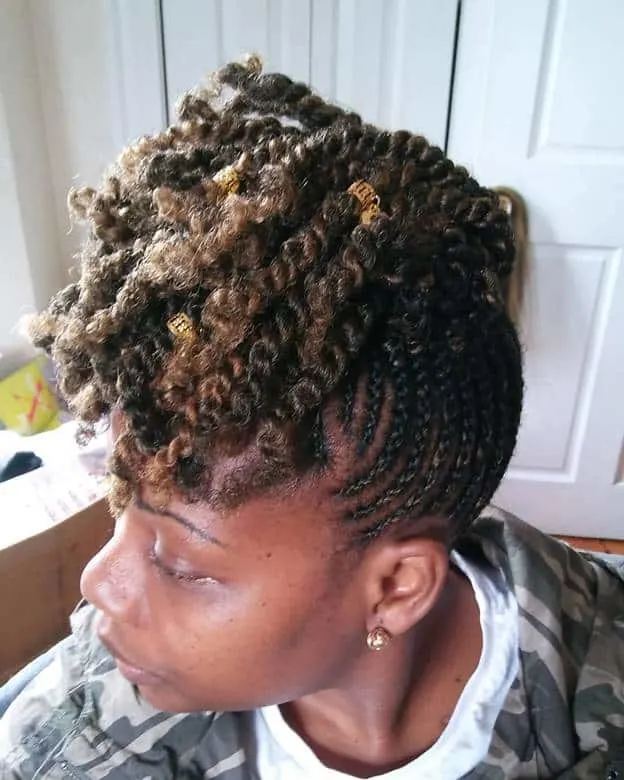 Braided cornrow designs to your kinky twists can add the spice it needs. Braid your hair to one side and then combine medium-length kinky twists to it.
#24: Chunky Twists with Topknot
A topknot is a sexy upgrade of the classic half up bun hairstyle and is the ultimate game-changer. Put half of your kinky twists at the top for a dramatic topknot. Style with beads.
#25: Medium-length Twists
Crochet braids styles have incorporated in themselves all the simplicity and creativity. Medium-length kinky crochet twists can go well with any face shape and are pretty easy to install. Sweep the twists to one side for balancing out the volume of your hair.
Kinky twists are literally for everyone. They do extraordinarily well for the natural hair community. These twists are the super sexy way of styling your hair. This offers a wide range of styles. Depending on your taste and appearance, you can play around with any length and color.
This was only a small share of ways to style your kinky twists, we hope it at least gave you an idea of what you can sport with stimulated interest. Don't be scared to try new hairstyles, aim for uniqueness in your style and bid your old boring hair goodbye.
Trending Topic