Spiky haircuts are fun, non-conformist and low-maintenance; therefore, they are a great option for women in their 60s. If you are not afraid to stand out and make a striking appearance, then consider trying at least once a fresh new look from the below listed spiky haircuts for women over 60.
So whether you go for a short pixie with spikes in the crown area or an edgy and funky look for the back, such hairstyles will do you justice.
Best Short Spiky Haircuts for Women Over 60
Whether you're looking for a complete transformation or a little update to your look, going for a short, spiky cut could be a refreshing change. The below spiky hairstyles are perfect for women over 60. Try the ones that suit your personality and complexity!
1. Purple Pixie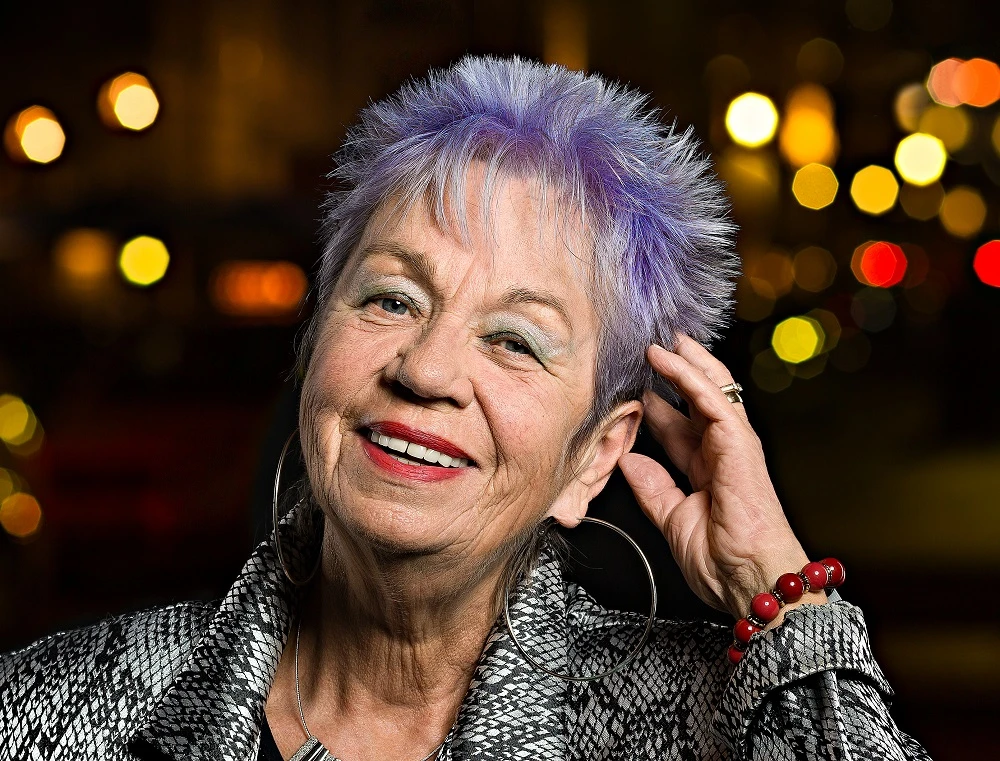 In 2023, short cuts are more popular than ever, and it would be such a shame not to take advantage of this trend.
If you want to make this hairstyle look more eye-popping, then you should give it a twist by adding a purple color, creating bangs that you can spread on the forehead and spikes for the top.
2. Edgy Sides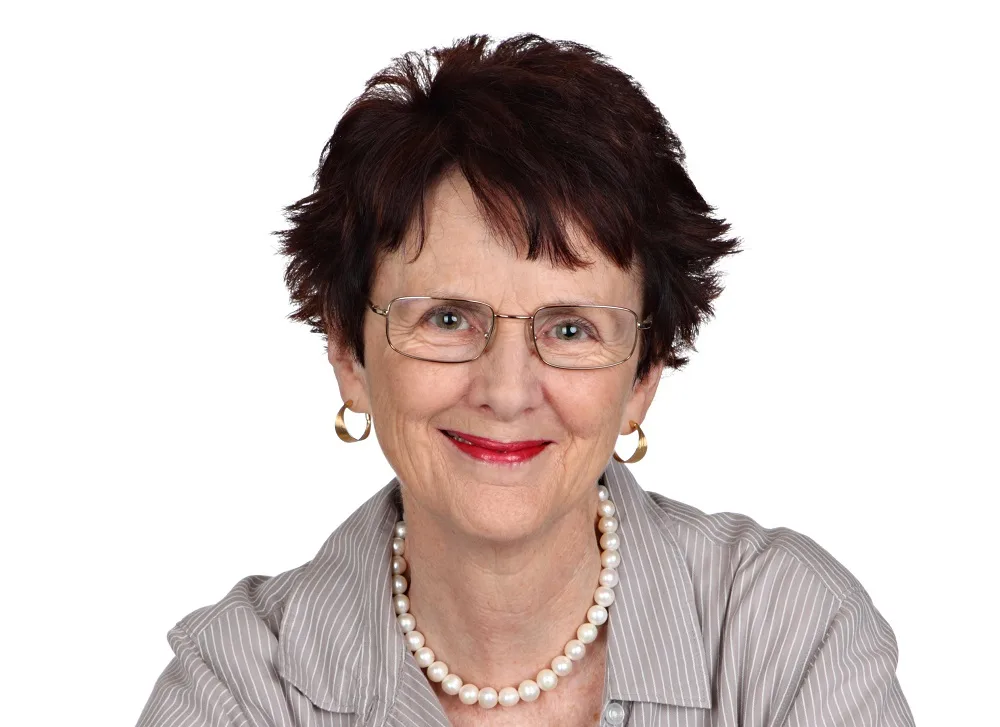 As a woman over 60, you probably already know this is a very popular and frequently requested hairstyle.
It has the sass, it's far from looking dull, and creates texture, especially for the sides. Make sure you choose a color that complements your fair skin tone, like this dark burgundy nuance.
3. Messy Short Cut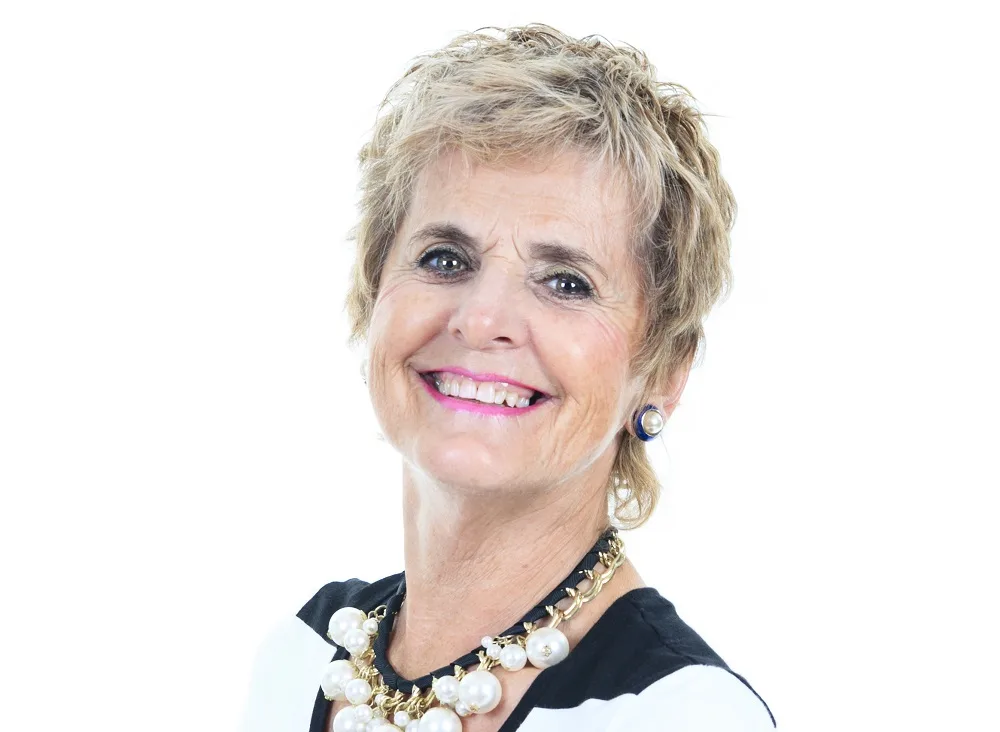 This combination between a pixie haircut and a mullet has extended length in the nape area. If you are struggling with white hair threads, then you should certainly consider lightening up your hair color.
Go for a golden blonde brown nuance that will help you blend hairs that have lost their pigment.
4. Elegant Soft Spikes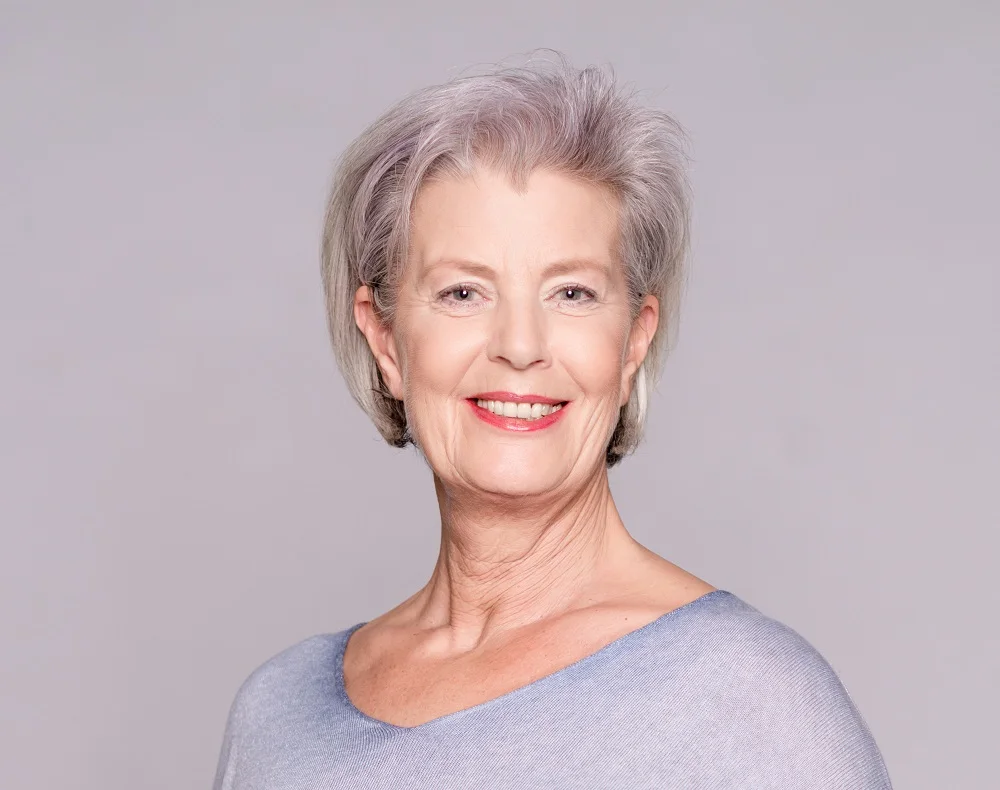 A short bob haircut is an awesome way to style fine hair that has no shape. The cut should be slightly longer than your ears level, while the crown and fringe are lifted.
This way you will create more height and volume.
5. Copper Crown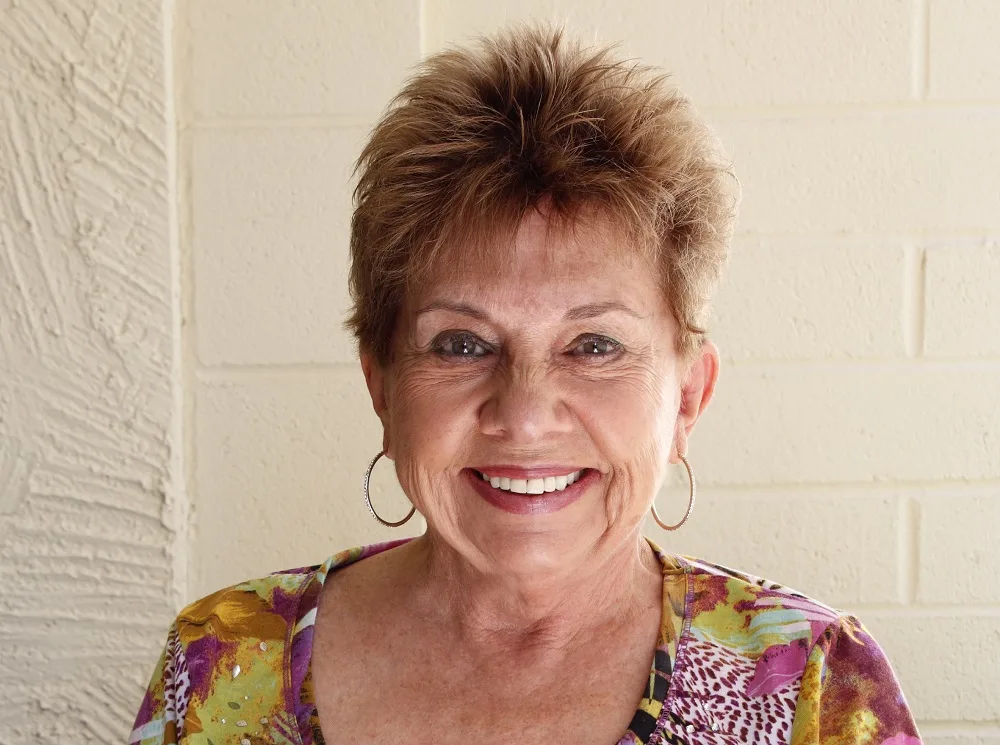 A short spiky haircut like this pixie is an excellent choice for a woman over 60. The sides are shortly trimmed, allowing you to concentrate your attention on the top.
The hairstyle highlights your neckline and allows you to create more dimension for the crown hair.
6. Asian Full White Pixie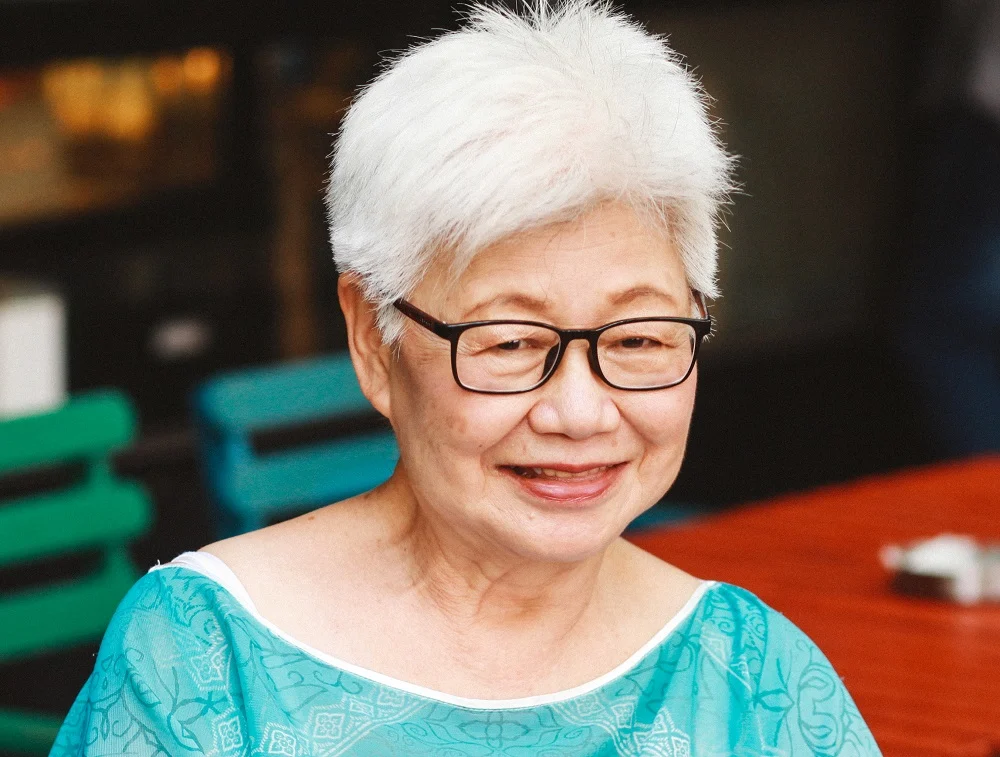 Pixie cuts with asymmetrical bangs are one of the best options when you have a square face. Your prominent jawline will be highlighted, and the fringe will create angles that will soften your cheekbones.
If your hair has fully turned white, it's not mandatory to dye it, use styling products to give it a spiky look.
7. Platinum Blonde Mohawk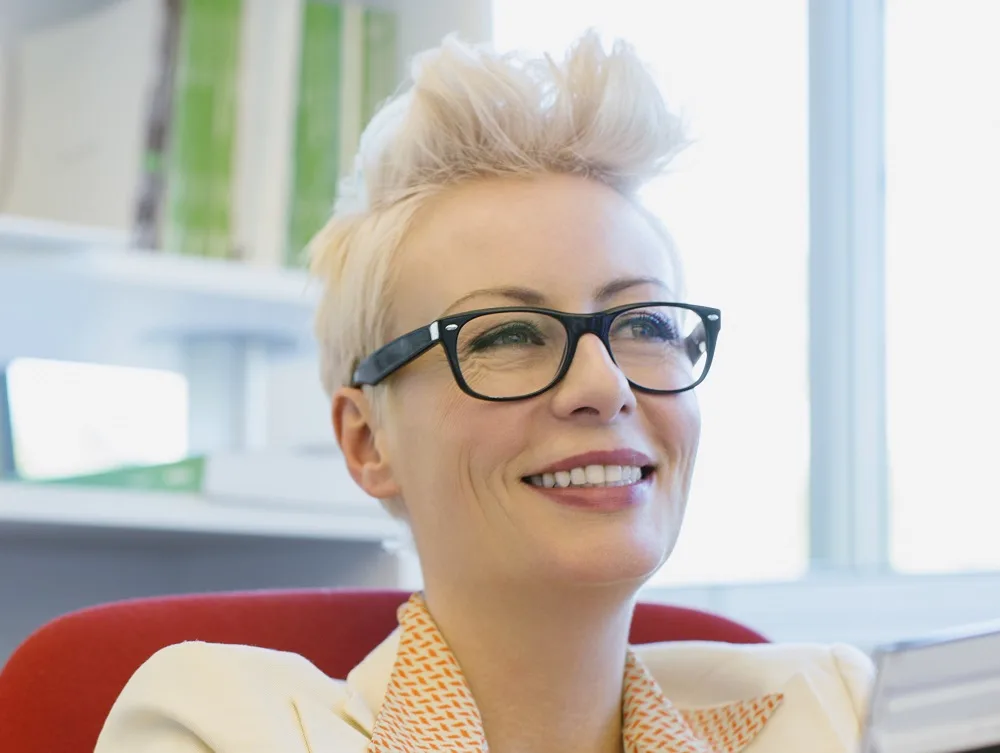 A platinum blonde hair color is a great selection, especially for a woman over 60 who wants to look modern and with less accentuated wrinkles.
Combined with a fancy pixie cut, this look will make you feel and look so much younger. Add a pair of glasses if you want to create contrast and spice things up.
8. Lifted Crown with Bangs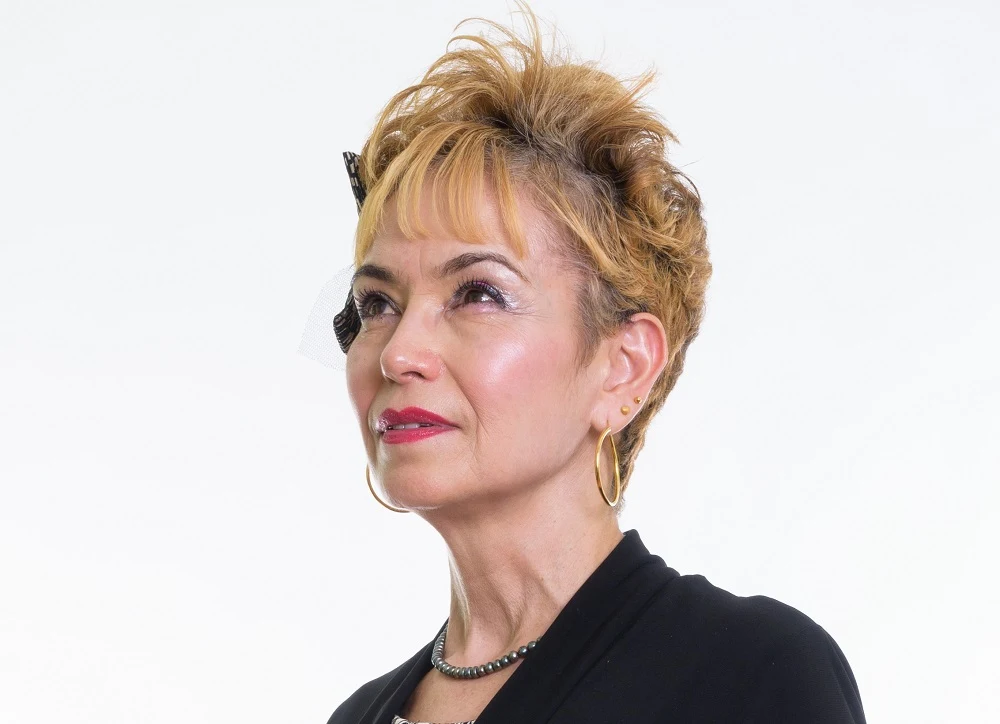 A golden blonde pixie cut can be styled in so many ways. Tease the hair to lift up the crown and go for straight wispy bangs.
Spread them on the forehead and decorate one side with a hair accessory.
9. Salt and Peppr Mohawk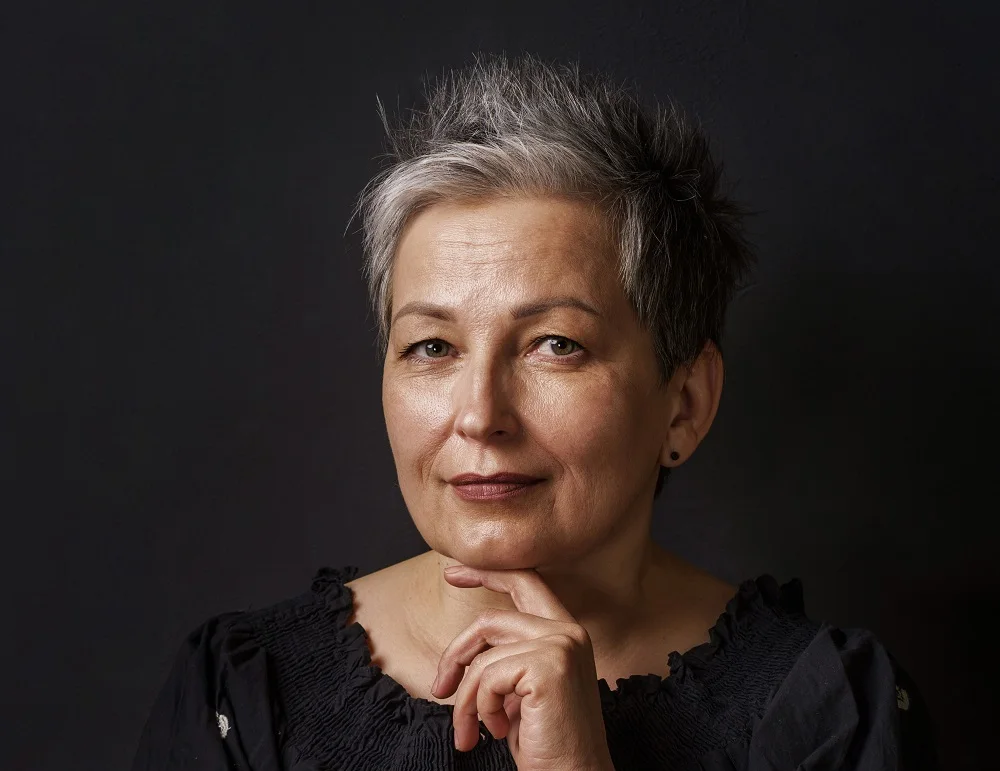 Square faces will benefit most from this pixie haircut with asymmetrical bangs. To make your hairstyle feel and look more modern, you can style the crown like a mohawk.
This way, you will achieve an elongated look that will soften your jawline.
10. Pixie with Brown Lowlights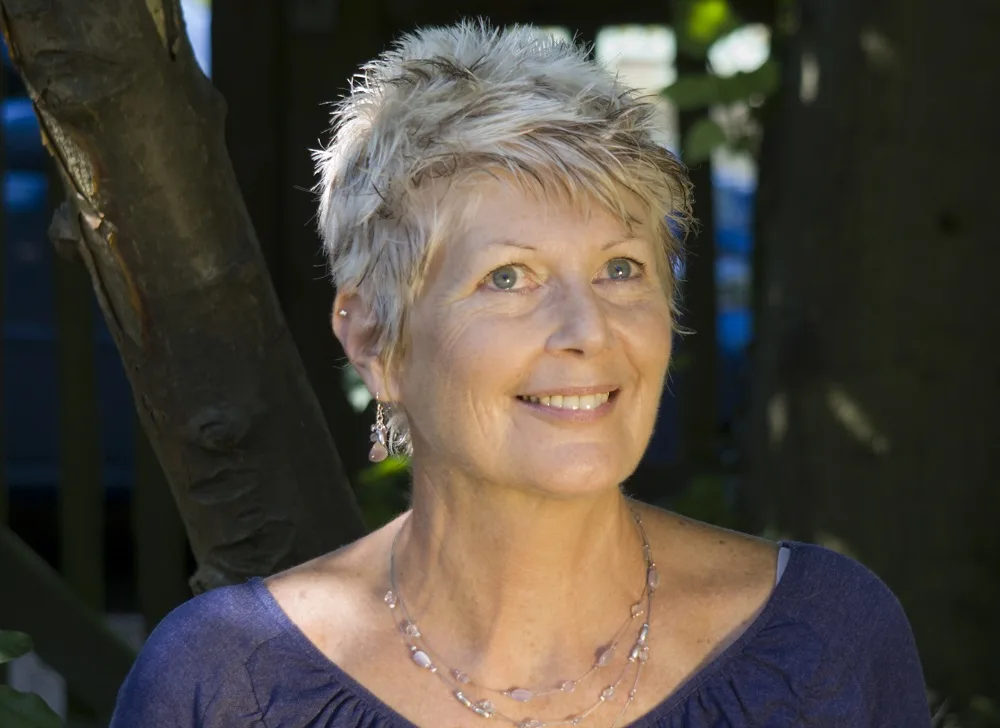 You have embraced your white threads but you probably think your look is too boring, right? Instead of dyeing your whole head, you can sprinkle some brown lowlights.
These will create depth and an amazing contrast with your natural white hair.
11. Teased Crown with Bangs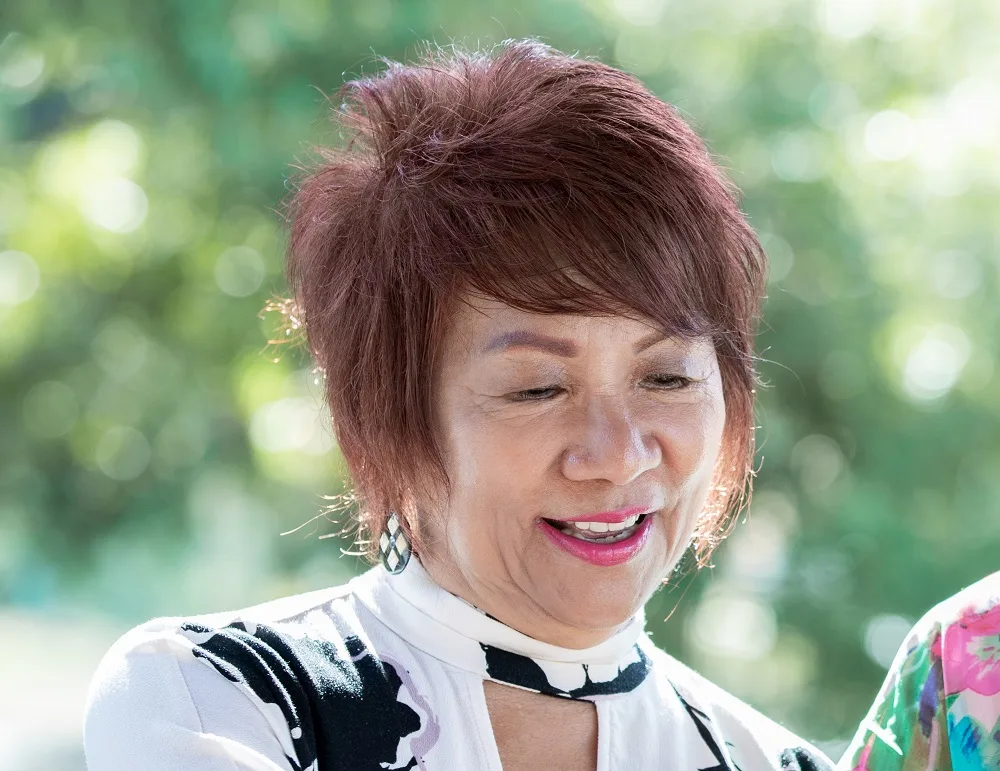 If you are lacking volume, this short spiky hairstyle with bangs and long hair on the laterals will greatly suit you.
Go for a long fringe that you swipe to the side, opt for a burgundy hair color and tease the hair before using volumizing spray.
12. Pale Red Lifted Strands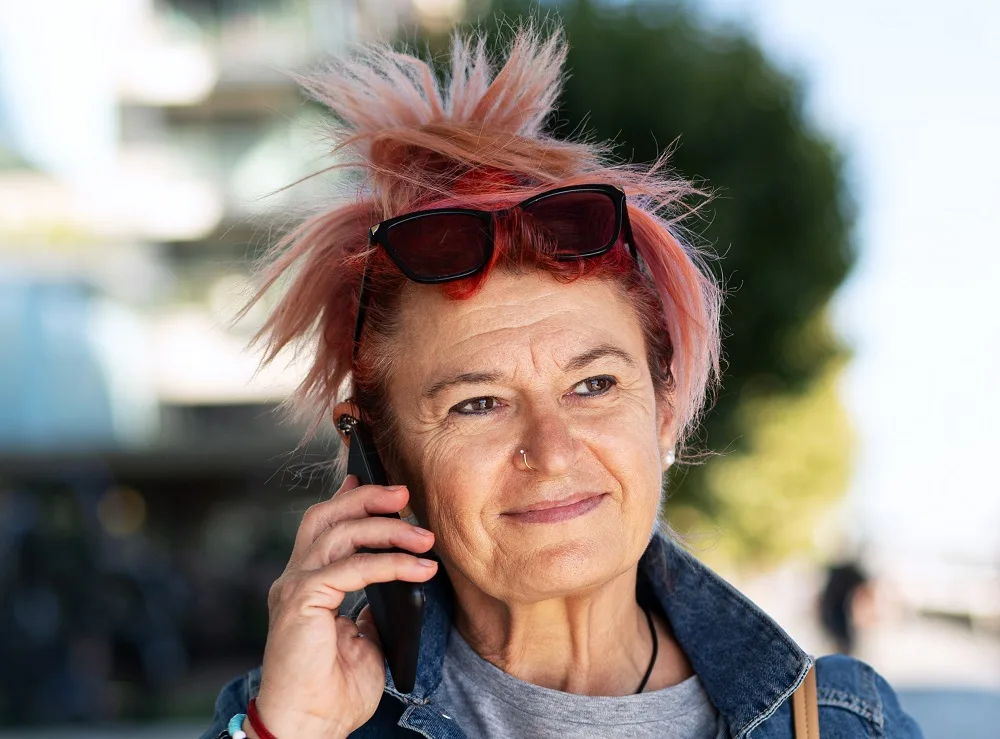 Do you love messy nonconformist looks? Then you're going to adore this hairstyle with crazy long pale red strands.
If you want to get that height, you should roll your hair in the back and pin it with a hair clip, allowing the remaining strands to fall however they go.
13. Layered Pixie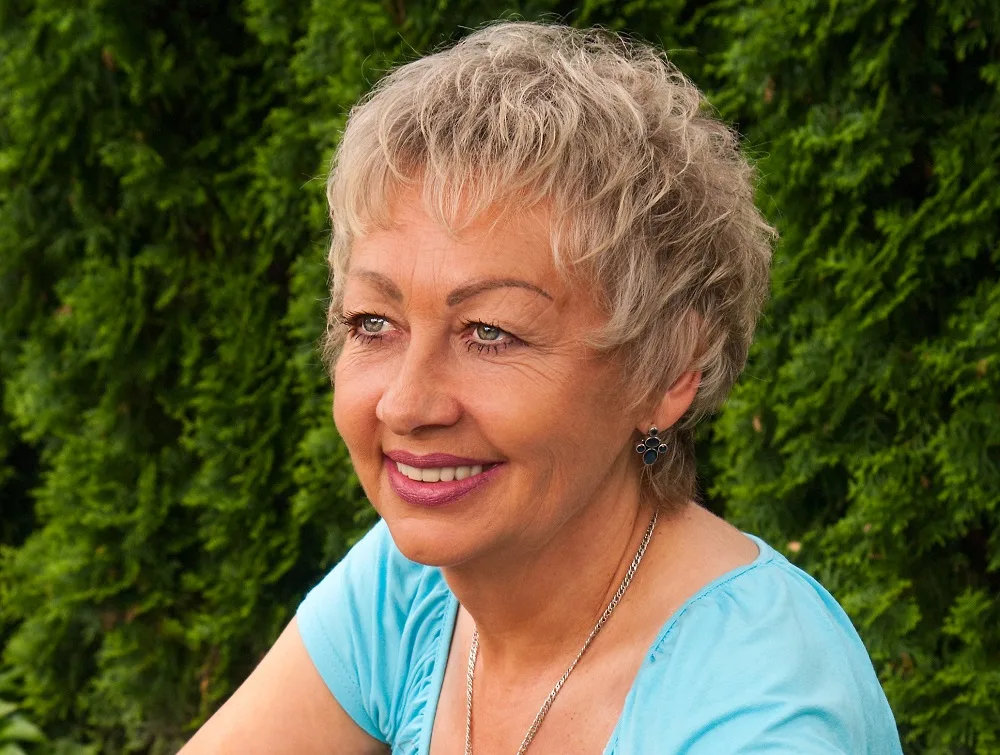 When you want to draw all the attention to your eyes, you should try a short haircut that frames your face.
Go for a layered pixie that creates volume for the crown and short bangs that you will style on the forehead. Use a pomade to define each strand and to get that spiky effect.
14. Messy Lifted Sides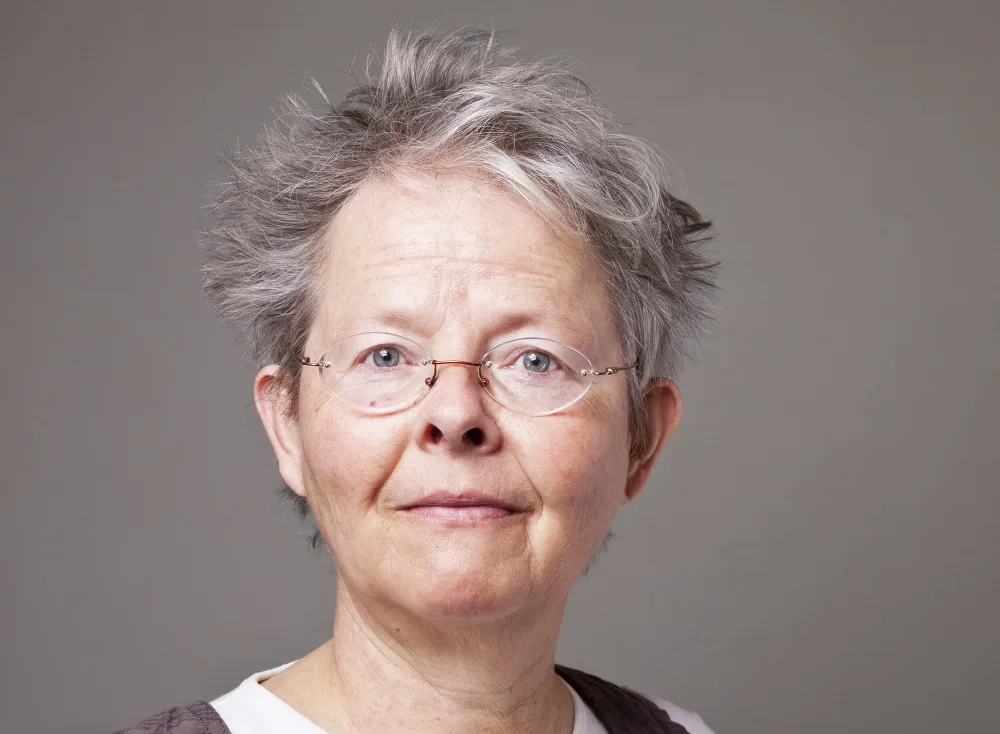 One way to get more volume is to gain dimension for the sides. As your hair starts losing not only its pigment but also its richness, you must find solutions that can improve its aspect.
And tousling the top to create height is the right call.
15. Crazy Burgundy Pixie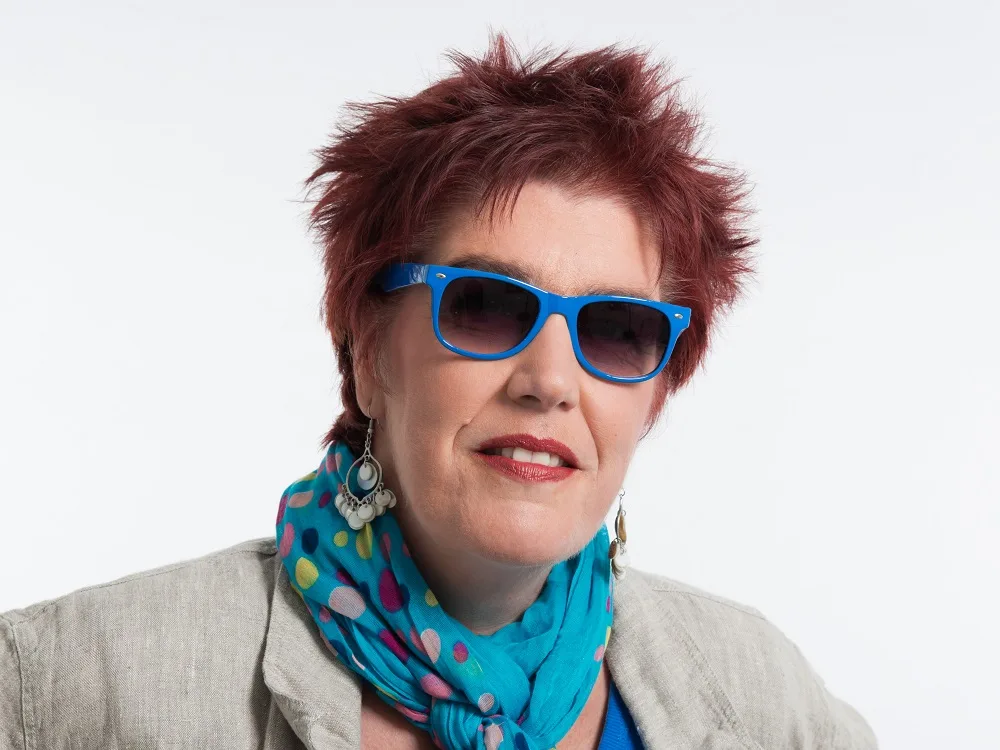 Loving a nonconformist look that allows you to style your hair however you want? Then you should definitely choose this pixie and burgundy color.
Mess up the top and the sides to create spikes and get a funky scarf and matching sunglasses to complete the look.
16. Platinum Blonde Short Hair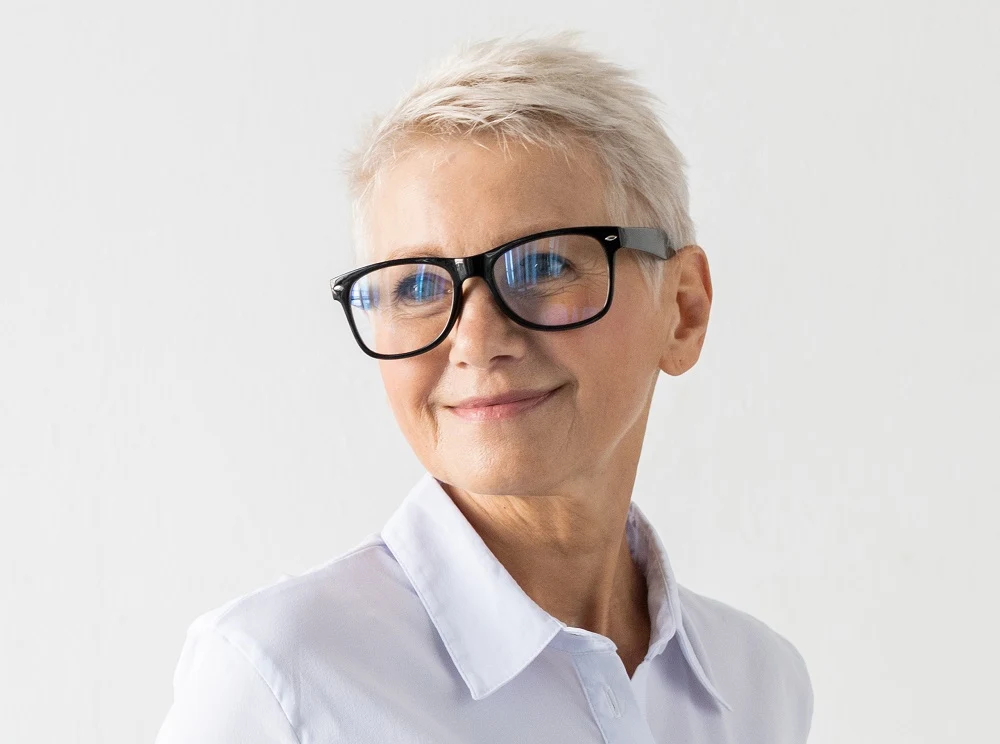 Short white pixie cuts are a stunning option for women who want a formal and professional look.
Bleach the hair and choose a white toner that gives you that ice queen look. Also, if you want to highlight your blue eyes, you should definitely pick a pair of black-framed glasses.
17. Golden Spiky Crown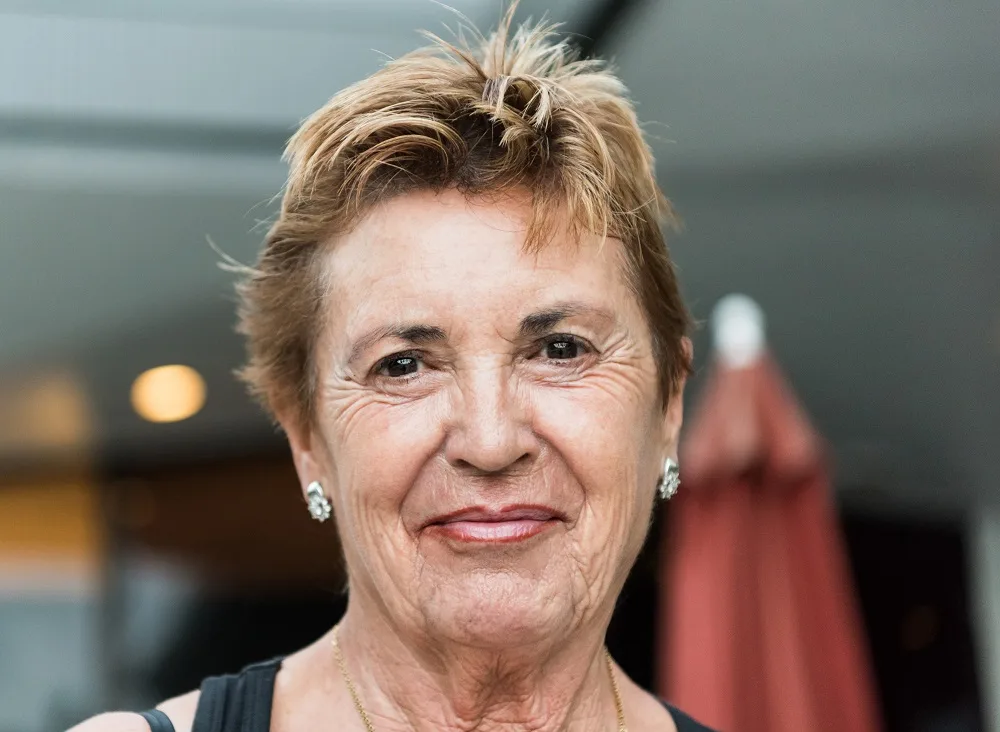 Even if it's rather messy, this short pixie can pass as an elegant hairdo for a woman over 60. Make it look spiky and curve those bangs to build texture and some height.
Choose a golden brown color that will match your olive skin.
18. Purple Roots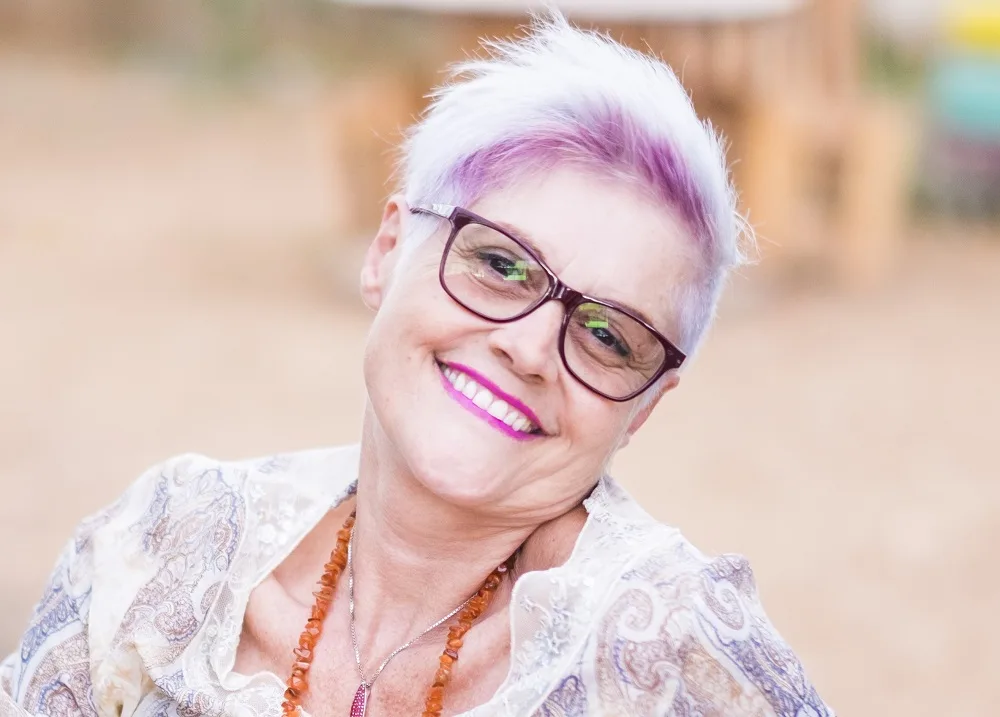 Purple roots are instant eye-catchers because they create a vivid contrast with the rest of the hair. Dye only the front, in the fringe area, and choose an icy white color for the rest of the hair.
You can also add a grayish toner to spice things up.
19. Side Bangs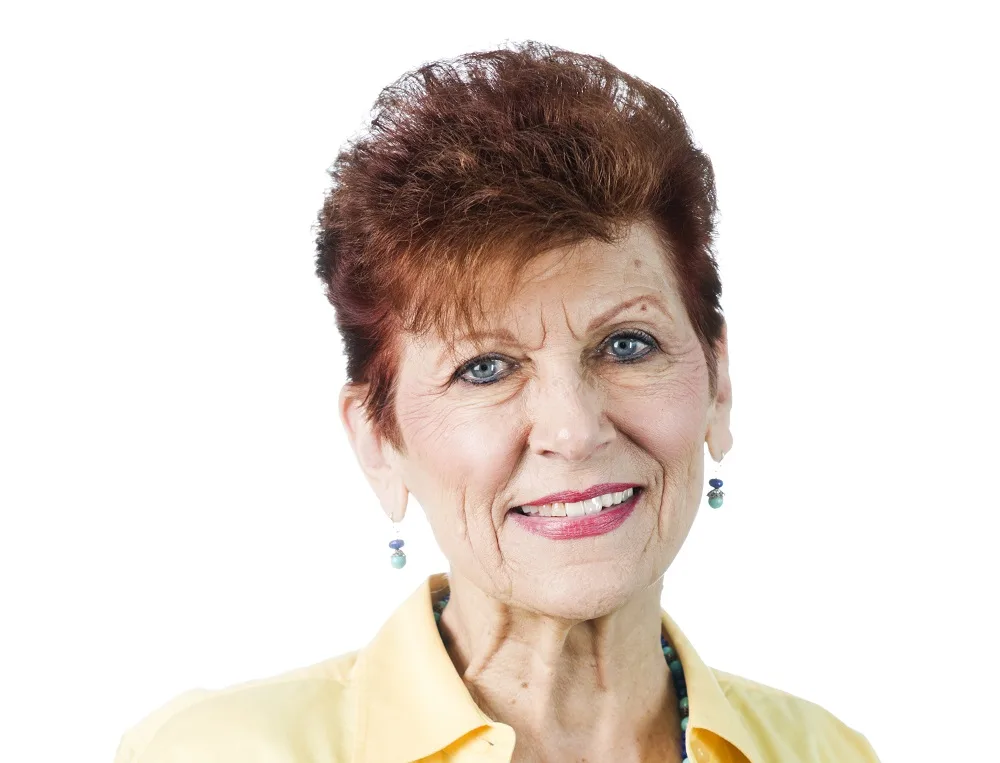 There's no shame in loving more old-fashioned looks! To replicate this hairstyle, you need a pixie cut with long crown hair that you will perm.
It will create the texture your need, while your hair will have volume and height.
20. Mohawk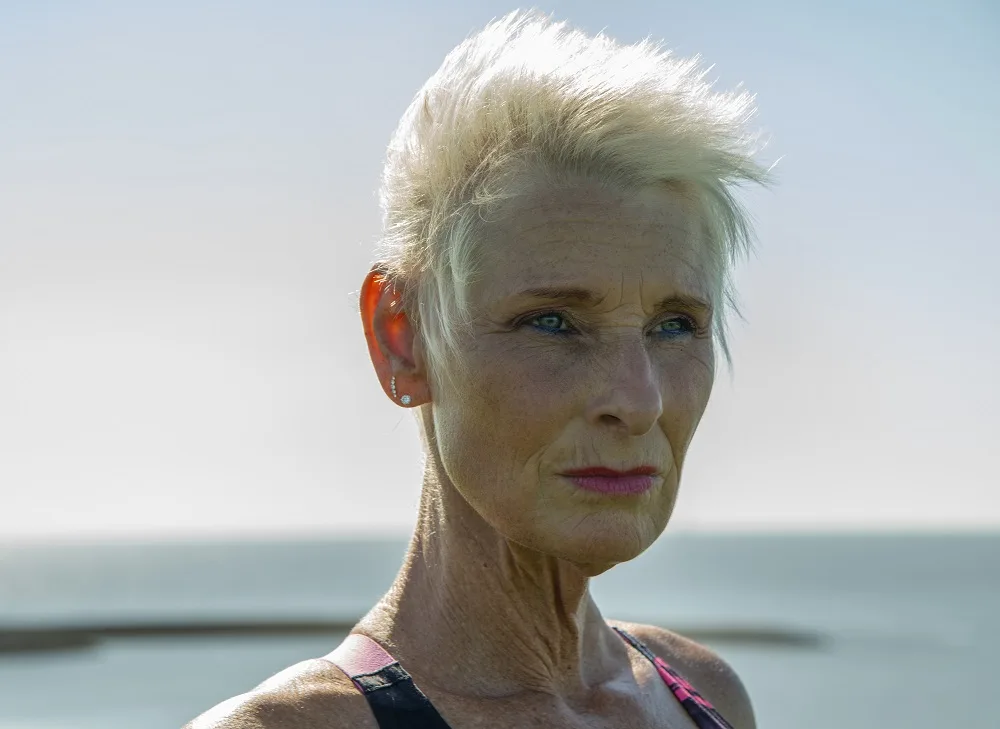 One of the most common short spiky haircuts is a mohawk. It requires styling all the hair up, centered in the middle.
It is a fabulous idea for women over 60 who want to look fresh and younger.
21. White Pixie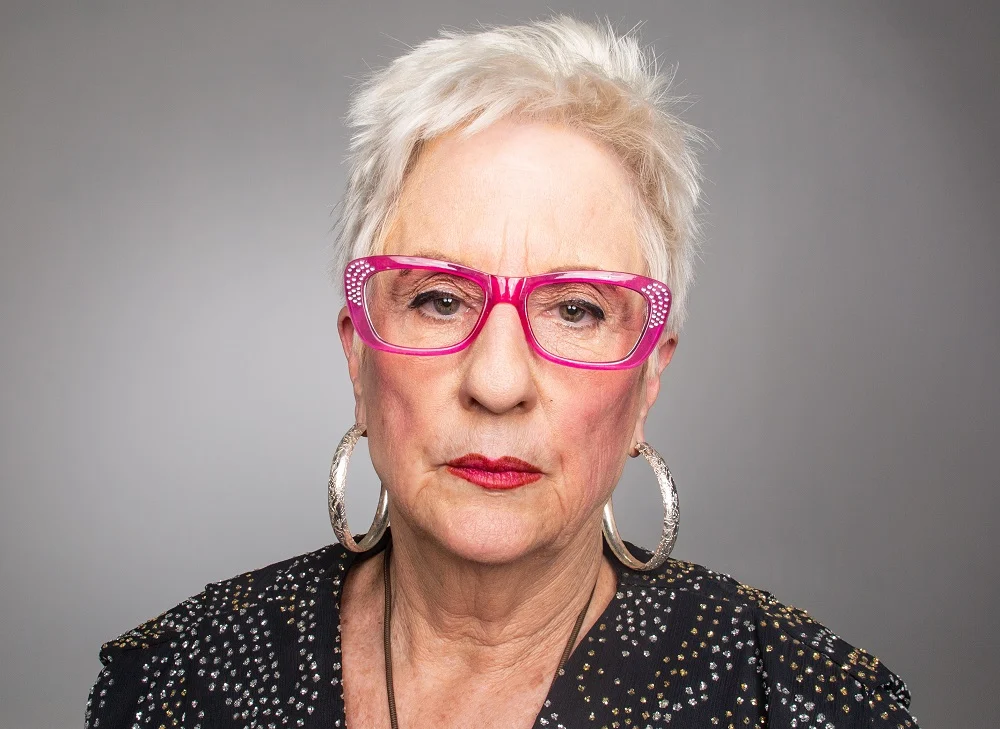 The white pixie and those large fuchsia glasses are breathtaking because they channel your inner fashionista.
This mix creates breathtaking contrast and transforms you into a star each time you go for bingo nights. Bleach your hair and pick a white hair toner.
22. Spiky Platinum Blonde Pixie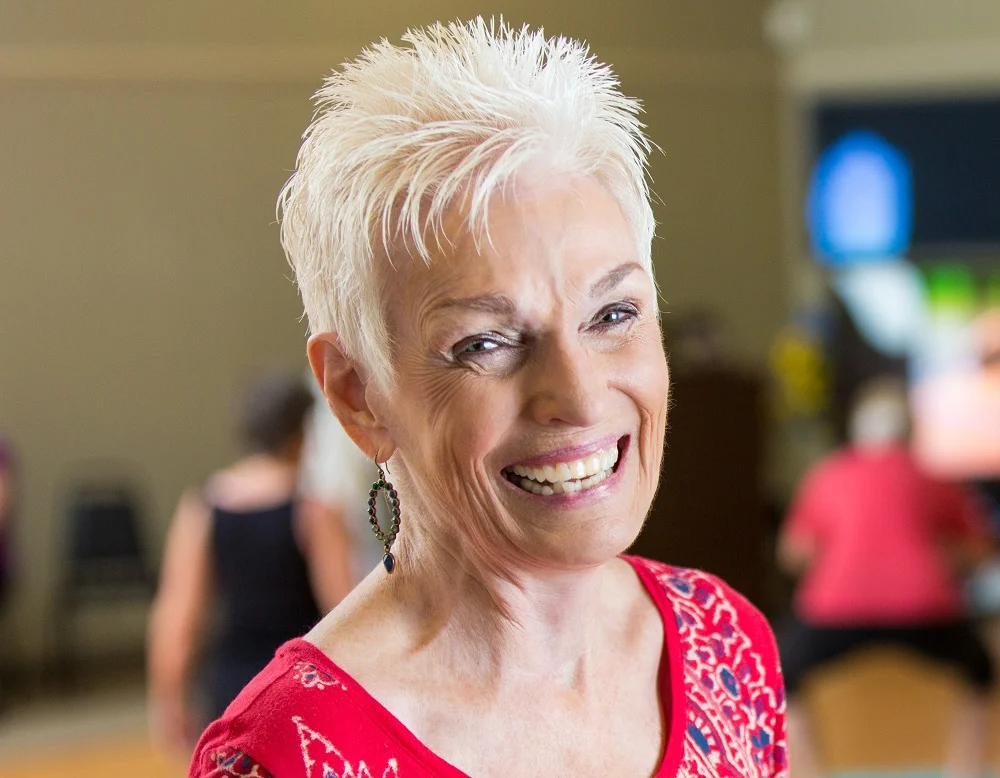 To recreate this look, you will need to get a platinum blonde color and a short pixie. Abundantly use hair gel and then comb the crown to separate those spikes.
Lift the crown strands and twist the fringe to give it a curve.
23. Side Short Bangs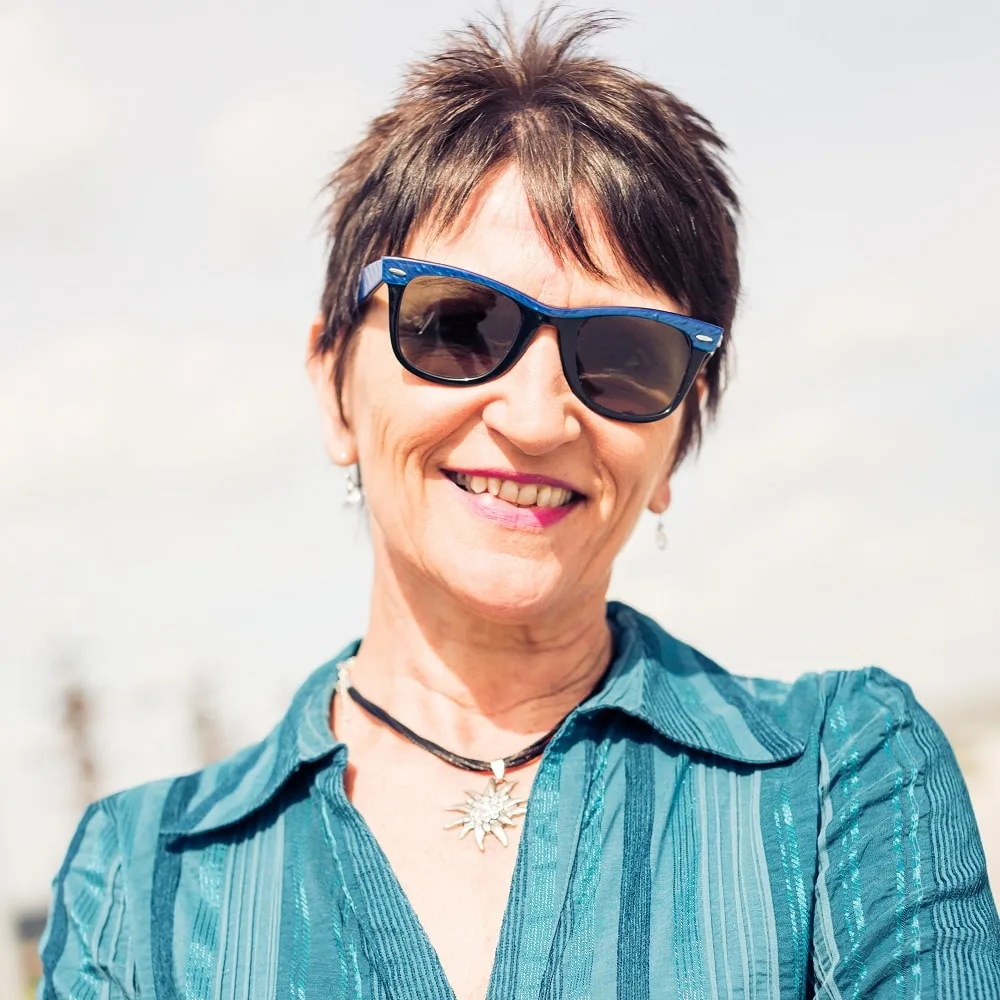 To obtain a short spiky haircut that suits any woman over 60, you should go for a layered trim with feathered bangs.
Spread the fringe on the forehead and do a side part, while the top is tousled and some of the pieces are lifted.
24. Asymmetrical Bangs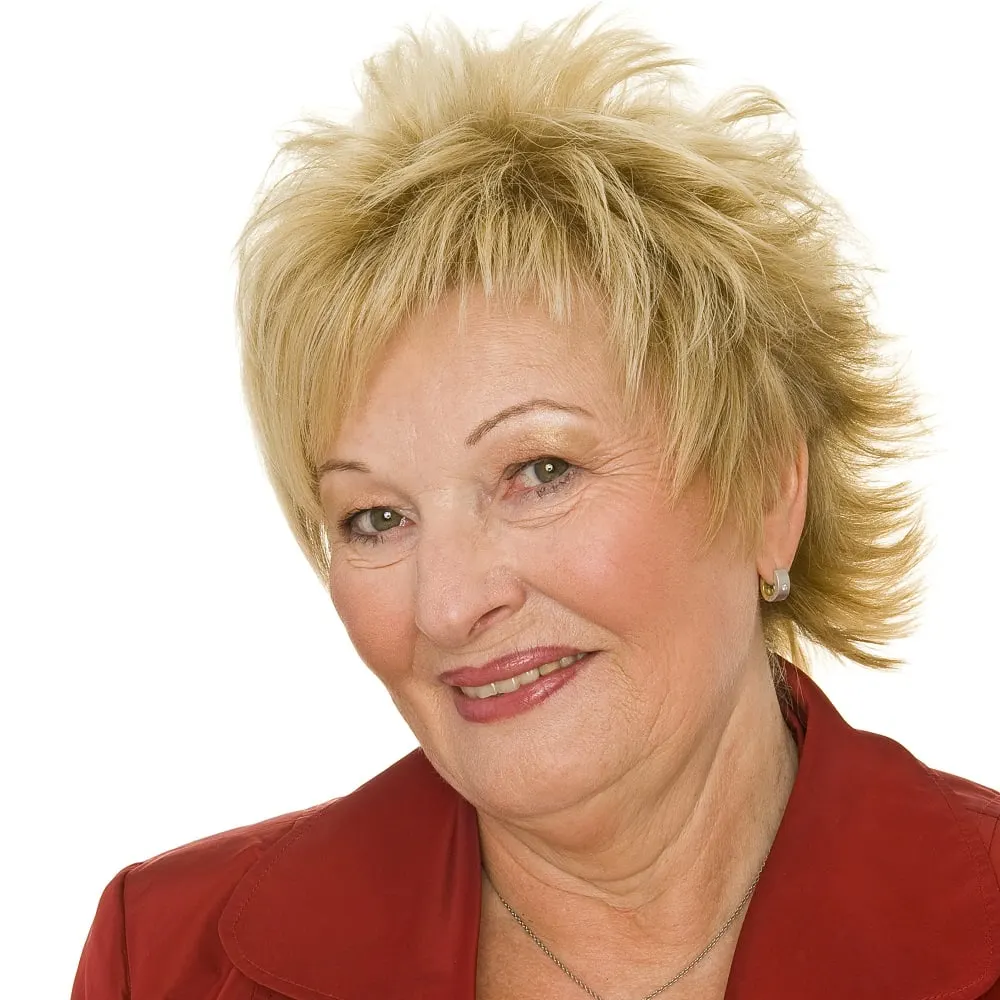 Layers are the main ingredient for this hairstyle. It features asymmetric bangs and crown hair that is lifted.
In the back, the haircut resembles a mullet as it's curved upwards, and the sideburns are thick and long.
25. Metalic Blue Pixie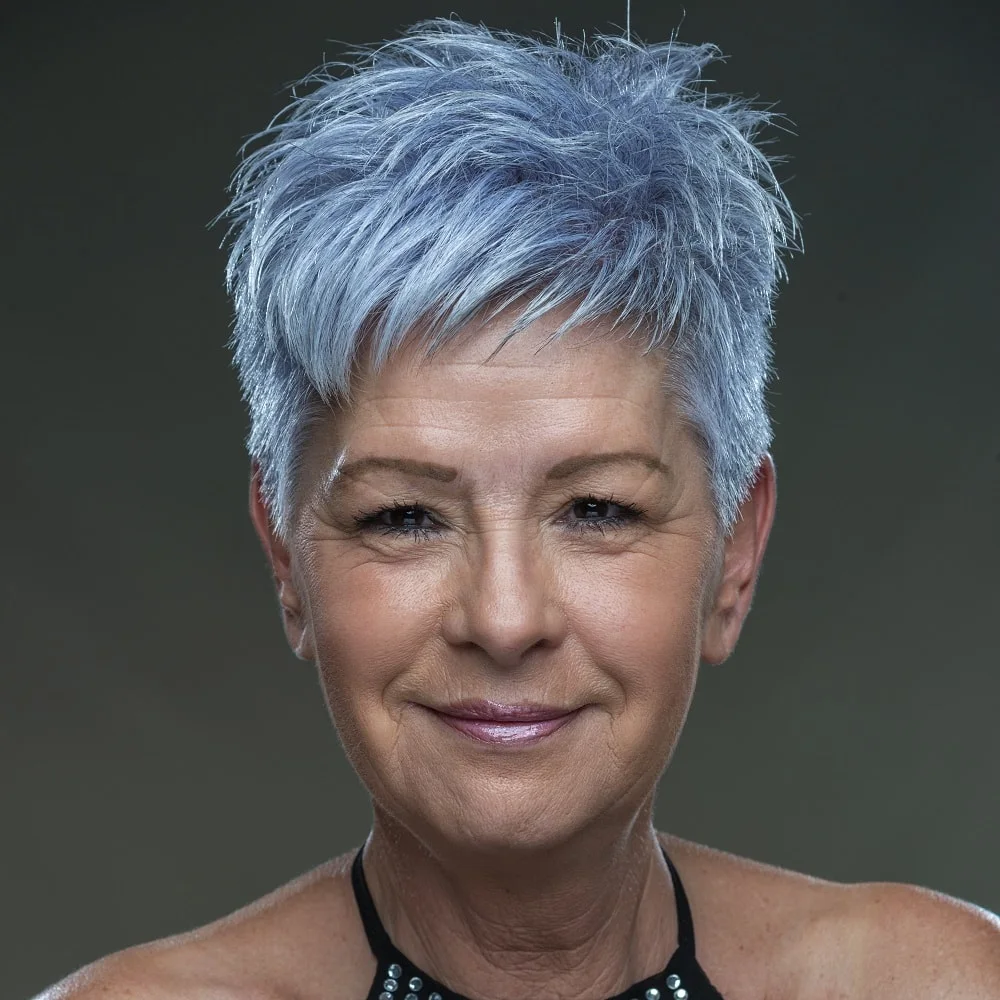 As a black woman with short hair, most shades of blue will suit you. And if you want your hair to become an attention grabber, choose a more nonconformist color like a metallic shade.
Mess the hair up, swipe the bangs to the side, lift and tousle the top for more height.
Short spiky haircuts can be a dramatic change for any woman over 60 who wants to get a look that is far from dull. However, if you don't feel comfortable with a striking appearance and prefer a more old-fashioned hairstyle, there are plenty of options you can try.