When you are above 60 with a square face, your goal is to get a haircut that softens your features and makes you look more feminine. And you can easily acquire that with multiple layers, curls and long hair.
We definitely recommend long bobs or long tresses because they provide that glossy effect.
Another useful practice and trick you can do as a woman over 60 with a square face is to work with a combination between layers and waves. You should be very cautious when you pick a short hairstyle for your square face.
How Do I Know If I Have a Square Face?
Here are the key points to determine if you have a square face:
Look for a pronounced jawline.
Check if your cheekbones are wide and sit at the widest part of your face.
Observe if your forehead is large in proportion to the width of your cheekbones and jawline.
Notice the length of your face, which should be roughly equal to the width.
If you have these features, you likely have a square face shape.
How to Pick The Right Haircut for Square-Faced Women Above 60
When it comes to haircuts for square faces, the goal is to frame the face and draw attention away from the angular facial lines. To achieve this, opt for a haircut that: Covers the sides, falls to the forehead, and extends to chin level.
Keeping the hair at chin level will ensure strands go over part of the jawline, softening the look. Curly or wavy styles work particularly well for square faces, as do layered cuts that add volume and fullness.
For those with a broad forehead, consider adding bangs to cover most of it and further soften the face. For a prominent jawline, side bangs that reach chin level can be especially effective.
To add versatility to your look, choose a haircut that can be slicked back, tousled, swept across the forehead, or made wavy, so you can switch up your style as desired.
Best Hairstyles for Women Over 60 with Square Face
Long bangs, and middle parts with layered hairstyles are mixes that can't go wrong when trying to soften a square face.
So if you are wondering what hairstyle should a square-faced woman above 60 wear, check out these beautiful examples listed below.
1. Tight Curls for Women Over 60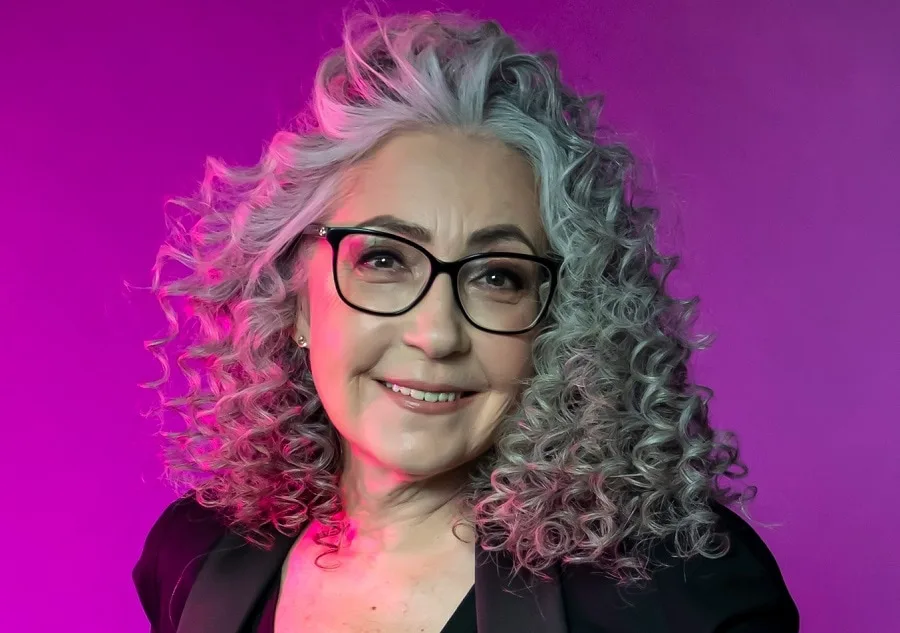 One of the best medium hairstyles for women over 60 that have curly hair will definitely involve layers. To give them this amazing aspect, select small strands of hair and use a heated curling tool. A curl activator will also help get a stunning pattern.
2. Wispy Bangs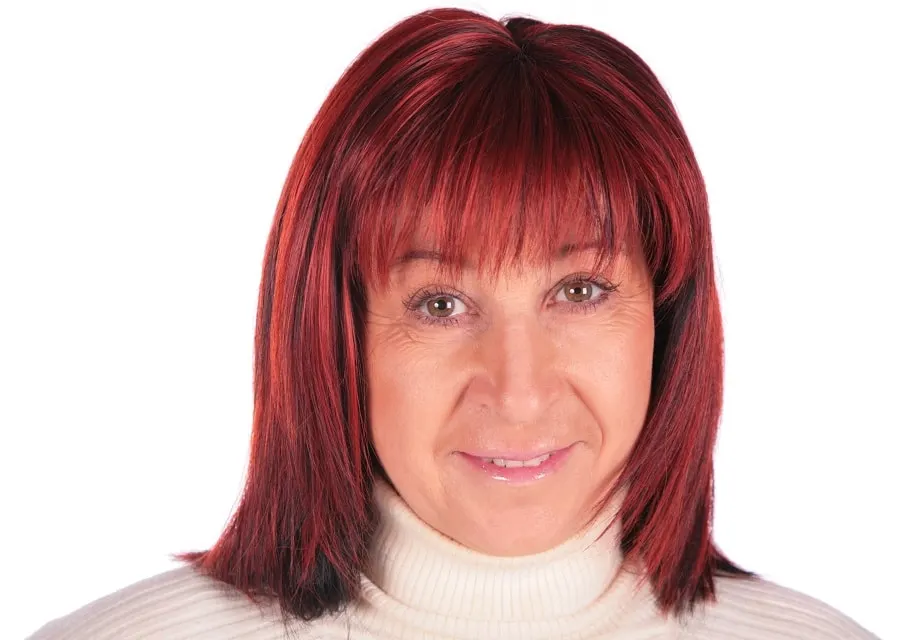 Wispy bangs are also on your to-do list when you are searching for a hairstyle that suits a square face. You can play around with layers and add a bright red color that suits your complexity.
Also, it will look even better if you add some black peekaboo lowlights that peak under that red hair.
3. Warm Blonde Bob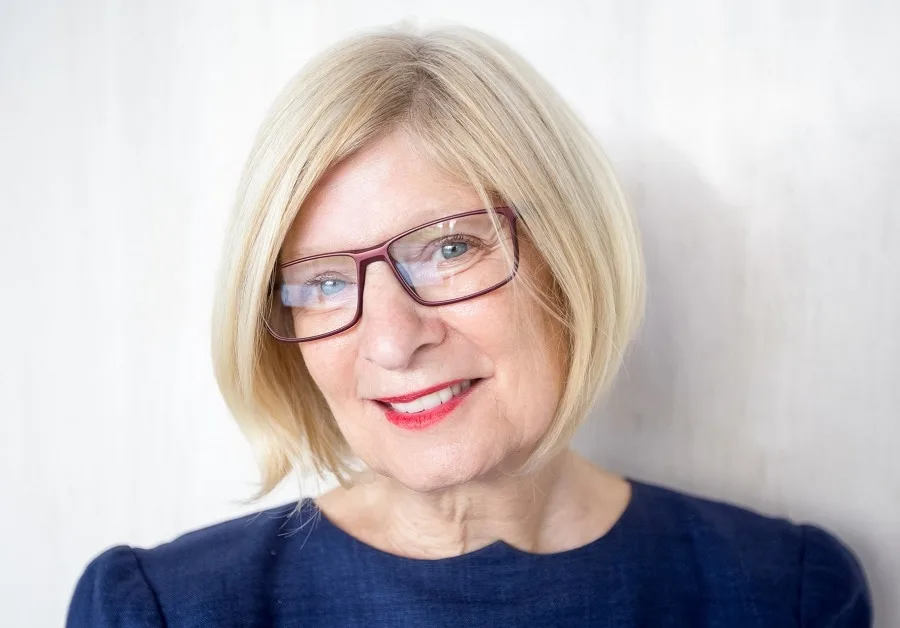 If you have fair skin, a warm platinum-blonde color will add a lot of value to your short layered bob haircut. Style a side part and use a rotative brush to twist the ends to the inside, giving your hair a more appealing shape.
If you're wearing glasses, choose a brown or dark purple color.
4. Short Bob
A short bob haircut is not necessarily the best choice when you are a short-haired woman over 60 with a square face. However, short wispy bangs will help you create more angles and soften the cut and that prominent jawline.
5. Face Framing Layers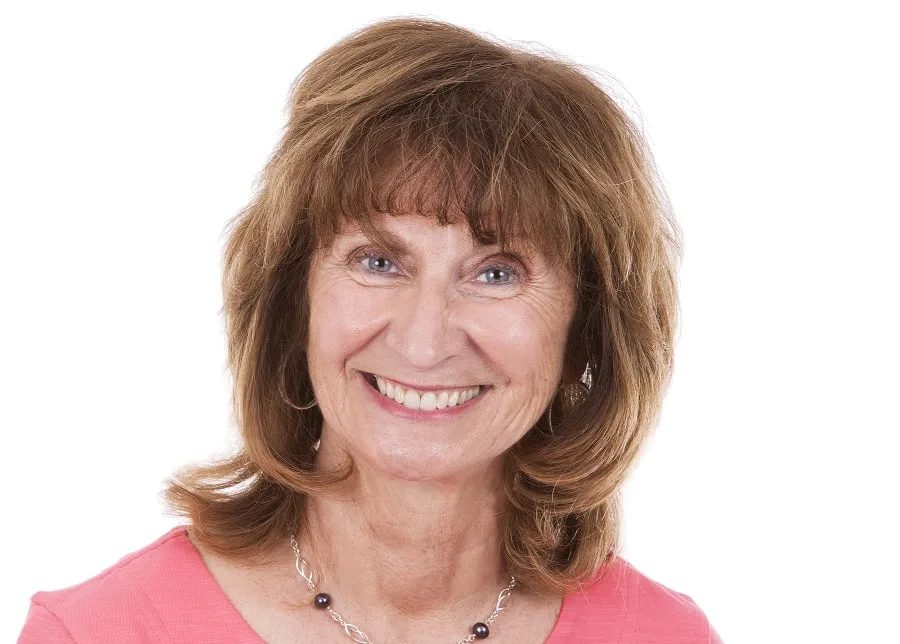 This old-school hairstyle for women over 60 with a square face is a must-have, especially when you have thick hair that already has volume. Get two layers, one level that uses inside twisted tips and the longer ones, that are styled outwards.
The color should be a blonde brown nuance. As for the bangs, keep them wispy and spread on the forehead.
6. Long Hairstyle with Top Layers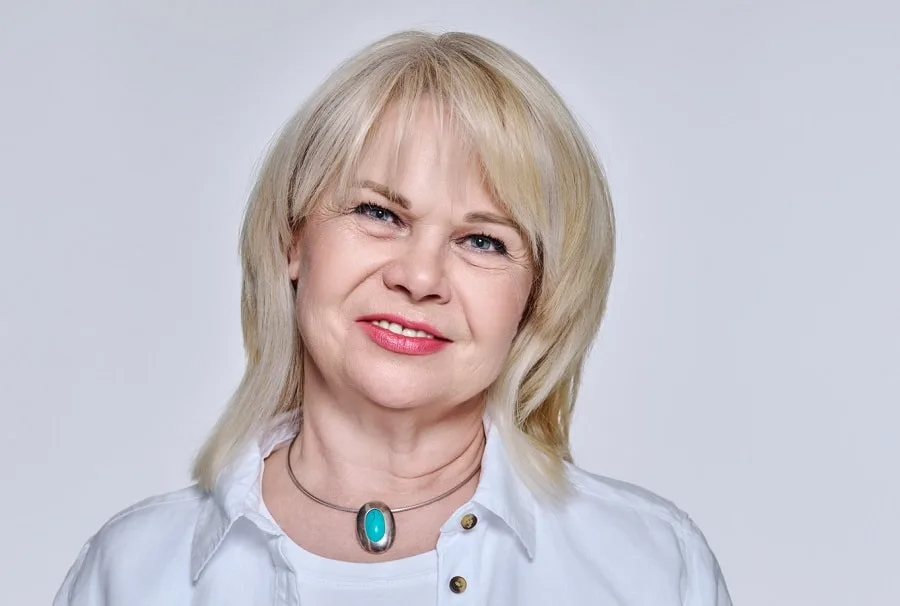 The platinum blonde will flatter any woman with fair skin and blue eyes. First of all, you will need to bleach your hair. Use hair treatments like Olaplex to prevent damage during this process.
If your hair is this thick, layering your hair will not be a problem, you will still be able to have a lot of volume. Go for wispy bangs that get more length on the sides. Once a week, wash your hair with purple shampoo.
7. Salt and Pepper Lob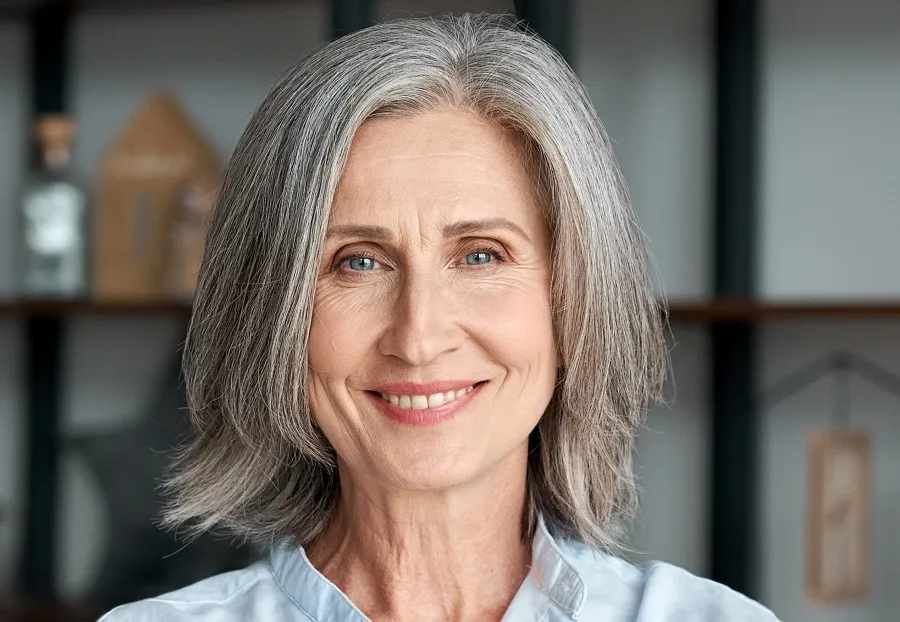 When you are getting older, you can also choose not to dye your hair and let those white threads mix with your natural hair color. This way, you won't need those frequent touch-ups at the salon and spend a great amount of money.
Just get a medium cut that reaches your shoulder line and create layers. Do a part that is slightly on one side and style the tips.
8. High Bun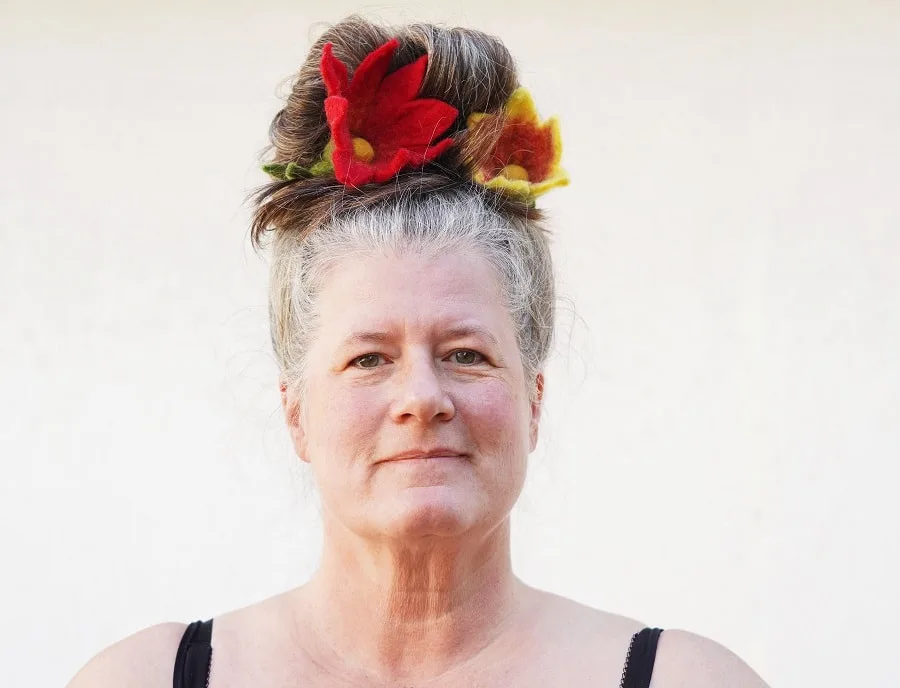 Building more height will help you gain an elongated figure, but will not necessarily help you soften that square jawline. For this hairstyle, you will need to get a big bun on top of your head and decorate it with wool flowers.
9. Messy Bob with Bangs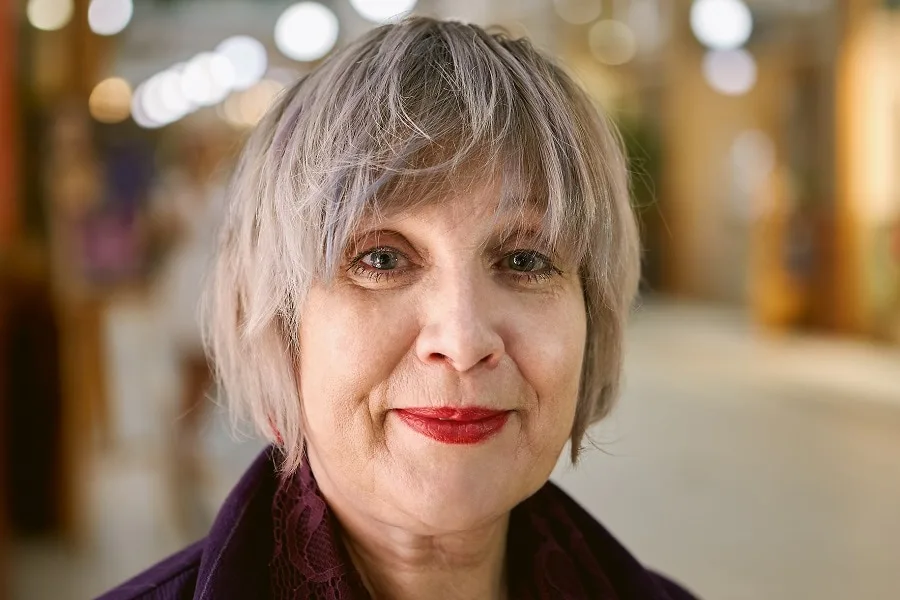 A short layered bob hairstyle with loads of layers. Softening those harsh angles is your main goal. Choose a warm blonde nuance and sprinkle some gray lowlights for your bangs. Tousle it and keep it messy.
10. Afro Hair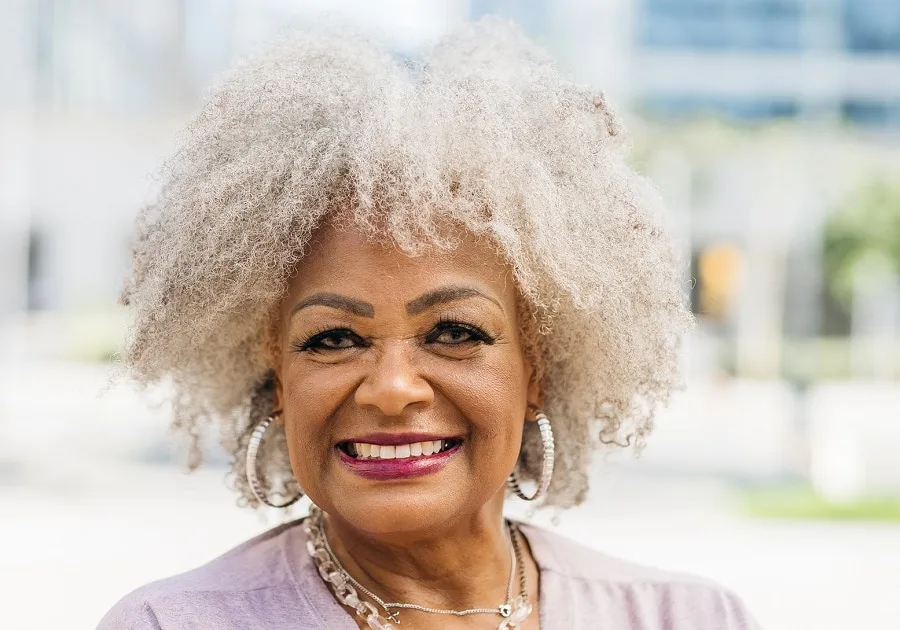 Suck a tight curl pattern requires a layered cut that lets the shorter pieces fall over the longer ones. This way you avoid the triangle shape that a blunt cut gives you.
If you're over 60, that means your hair is already white. So embrace this transformation and let your white threads take over.
11. Fluffed French Braid
This hairstyle for women above 60 is ideal for those ladies that have a square face. This classical French braid never goes out of style and is also easy to style.
To get this halo braid, you need to start braiding from the forehead and feed in the braid, following the hairline, creating a braided crown.
12. Feathered Bangs with Highlights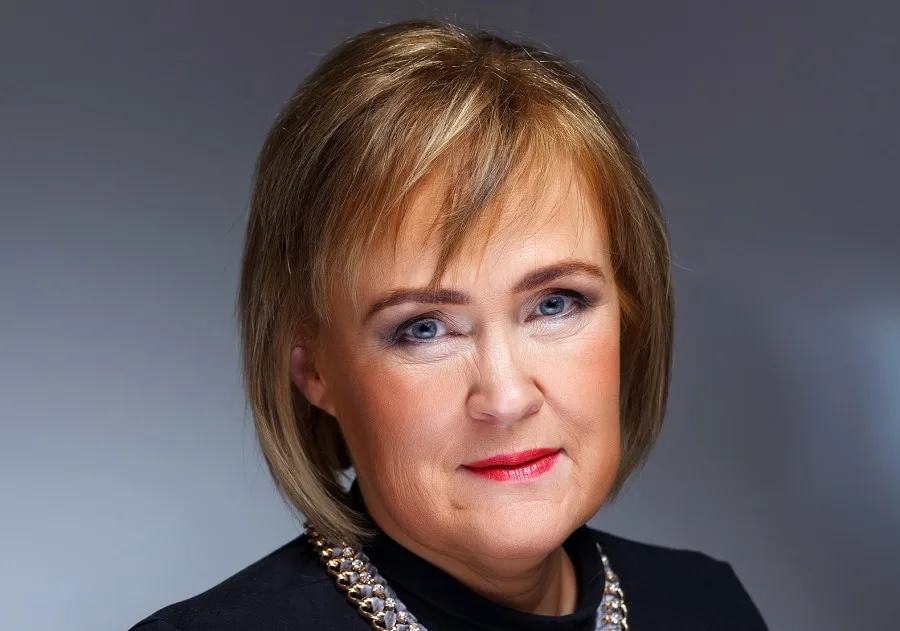 Softening sharp angles such as your prominent chin and jawline must be your goal. Work with layered and wispy bangs that you style to the side. Get more volume in the apex area and instead of keeping your hair flat, give it a wave.
13. Long White Curls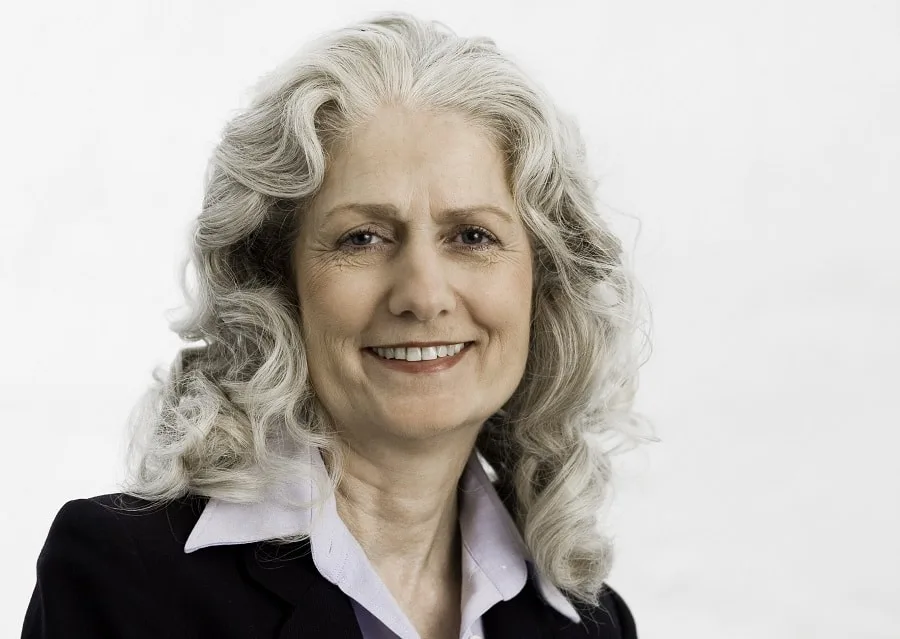 As your hair loses its pigment and your hair becomes whiter, it's becoming harder and harder to keep it always dyed and in perfect shape. However, you can choose a blonde ashy blonde that will help you better blend those white threads when your roots start growing.
14. Top Rolled Bun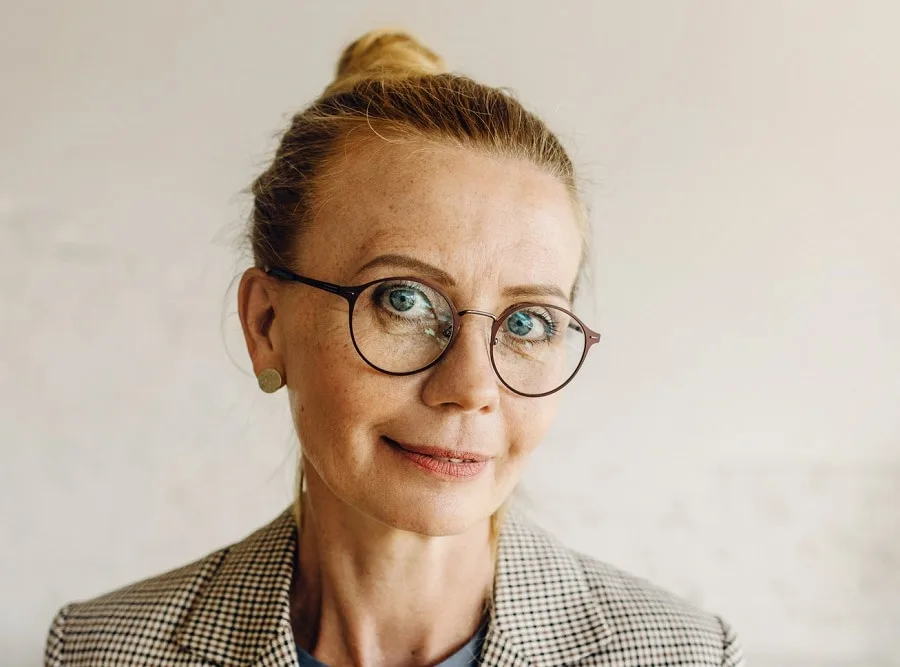 Many times your job or context requires a professional hairstyle. If you want to keep it simple but classy, all you need to do is pin your hair in a rolled bun.
15. Long Curled Hairstyle
Why fight the whites, when you can fully embrace these threads, bleach your hair and dye it fully white? To gain that color, you will also need the proper toner and wash your hair with purple shampoo.
This way you will neutralize the yellow and preserve the gray tresses longer.
16. Top Ringlets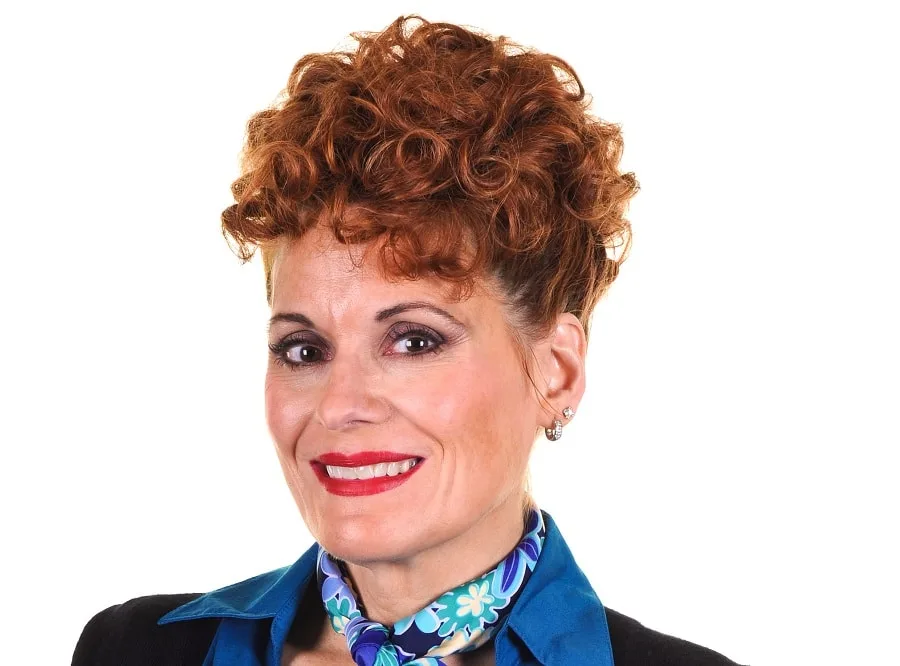 This short hairstyle for women over 60 that want a coiffure to match their square face will create more height and volume for the top.
Get all those curls up and instead of wearing the pony on the back, style them on the apex and forehead using bobby pins.
17. Pixie Cut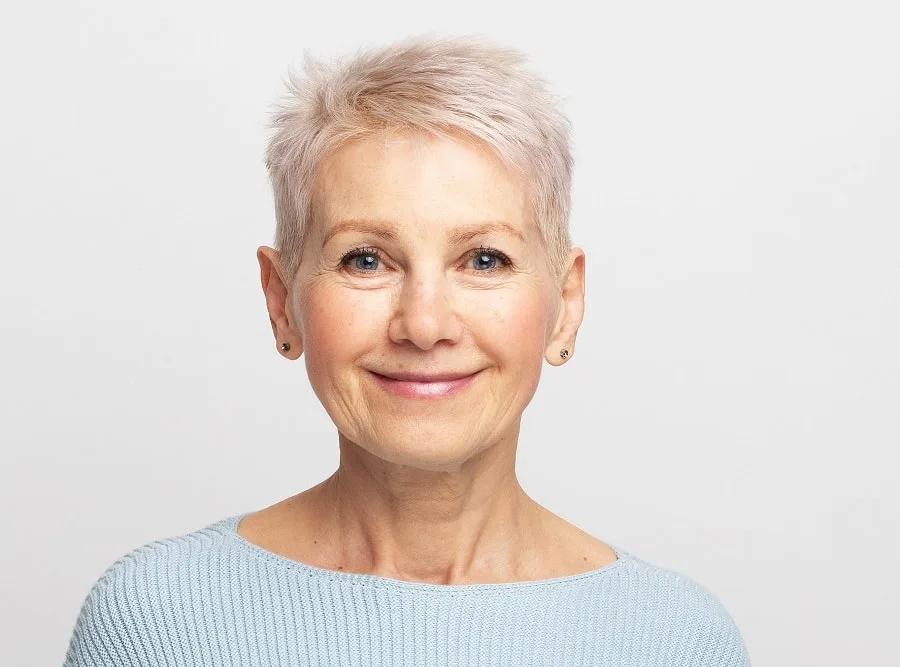 A short haircut is not the best idea when you want to soften those jawbones. However, if you need a short cut that is easy to maintain, there's nothing stopping you. In this case, a pixie cut is the right decision.
Get a white bleached color and add a pink tinted toner.
18. Outwards Tips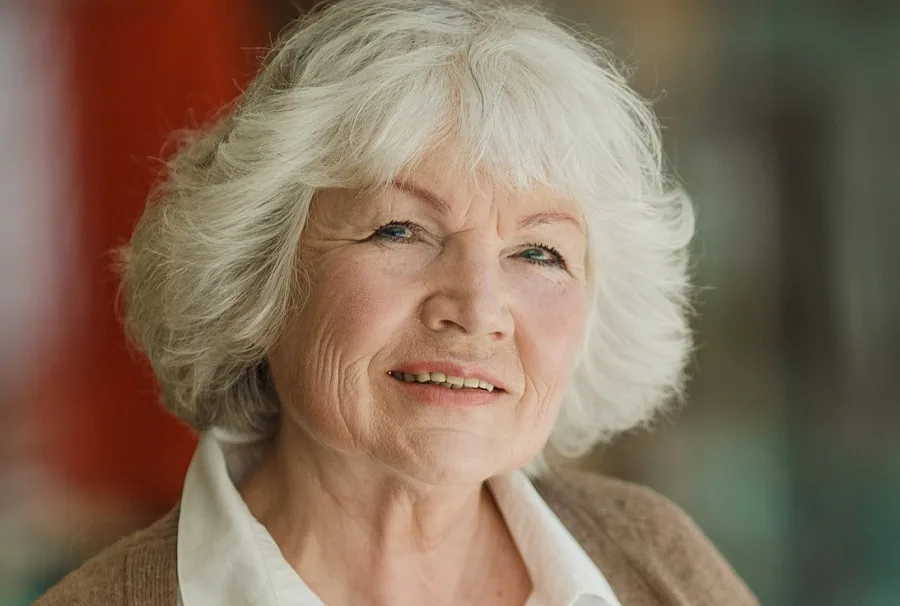 Get a layered bob haircut with bangs that are longer on the sides. Use a rounded brush and a blow dryer and style the tips outwards, creating more volume.
19. Side Braid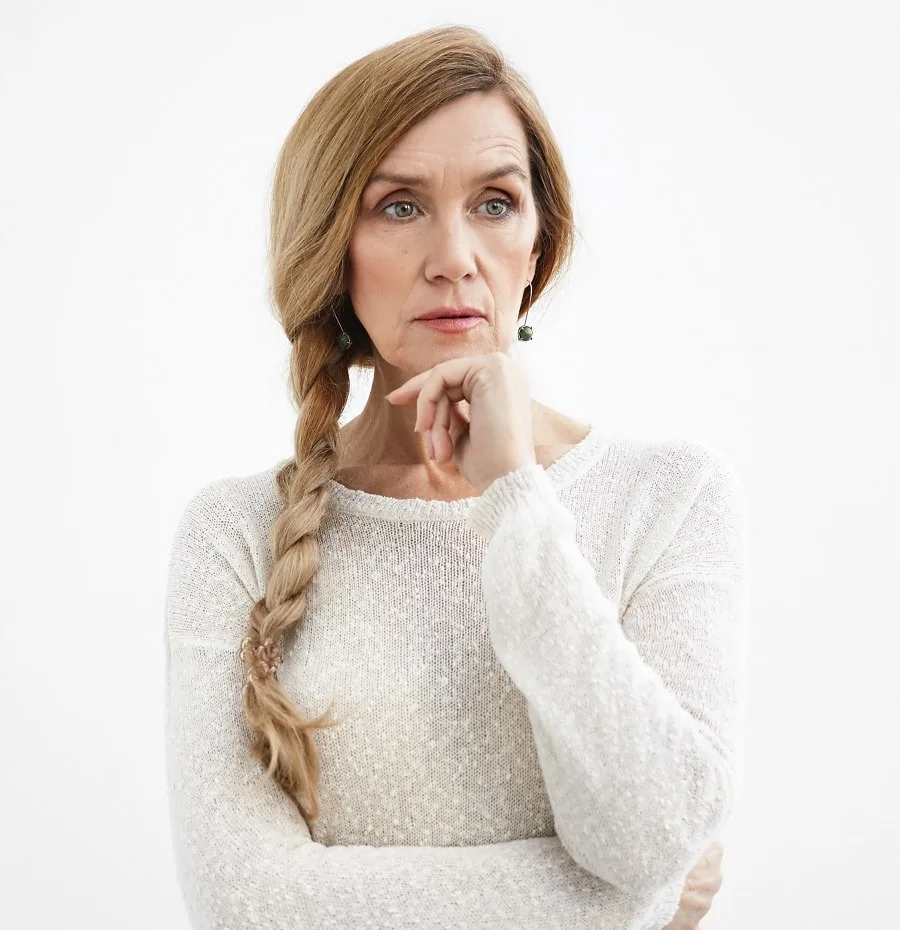 If you're a square-faced lady who is blessed with long hair in your 60s, try the above cute side-braided hairstyle. You need a hairstyle that softens your look, and that also means choosing a light warm color. Go for a sombre with a sandy brown color and keep your hair long and layered.
Do a side part and braid the hair, secure it with a swirling hair elastic.
20. Classic Bob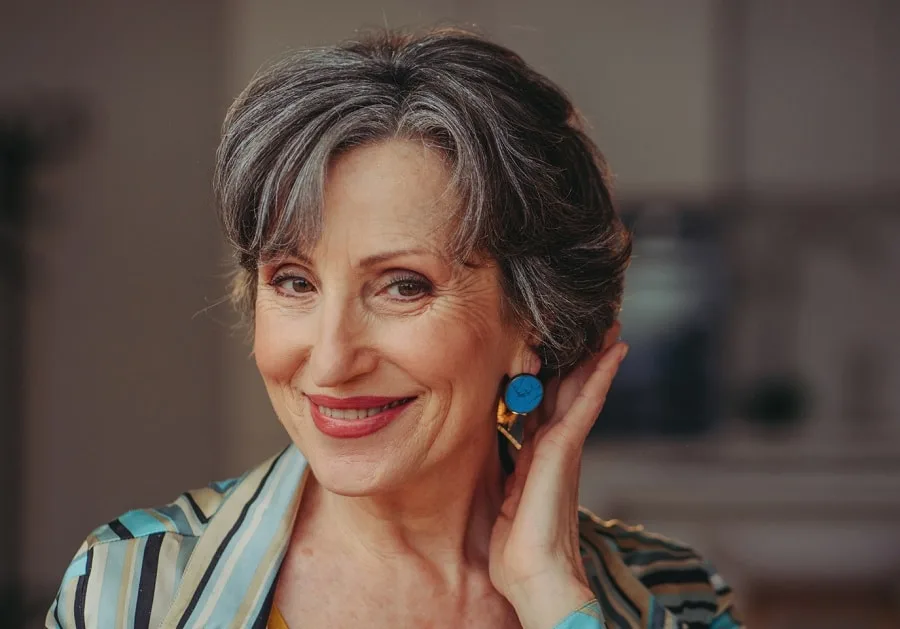 Let your black hair and those white strands blend, getting you a salt-and-pepper look. Go for a pixie bob and wear your bangs fluffed, with more volume.
When talking about older women over 60 with square faces, some of the best hairstyles include long tresses, loads of layers and wispy or feathered bangs.
Related Topics