Bangs are a very important part of any hairstyle. If you have decided to go for bangs, you are probably searching for ways to style them. There are myriads of options for bang styling and one of them is side swept bangs.
This is one of the most popular ways of wearing bangs, so learning how to create such hairstyles is imperative to any woman with short or long bangs.
In fact, in order to side-swept bangs look at their best, it's important to get them cut properly. Here are some tips on how to cut and style side swept bangs.
How to Cut & Style Side Swept Bangs
Side swept bangs are placed diagonally across the forehead and usually suit any face shape. However, maintenance for side swept bangs is imperative. It is important to trim your bangs every two to four weeks in order to keep them in shape. If you learn how to style your bangs, you will save a lot of time and money, since there would be no need for frequent salon visits.
In order to cut bangs properly, you need to brush the rest of your hair backward and leave just the bangs up front. This will prevent you from cutting the wrong strands. Once the bangs are brushed forward, pull them to the opposite side from where you want to wear them.
Separate your bangs in sections and cut each one of them separately. This might take longer, but the results will be much better. Once the cutting is done, brush the bangs to check out if they are even. If you see some stray hair sticking out, correct them with the scissors. Once you are done with the cutting, style your bangs to check your work.
Sweep the bangs to the side you usually wear them at with a brush and put it in place with the help of a hairdryer. Check out your new look to make sure it is done exactly as you wanted.
Best Side Swept Bangs Ideas
If you have side-swept bangs, there are a lot of ways you can style them. We have collected 70 different side-swept bangs ideas for you to check out and decide which one will look the best with your bangs. Whether your bangs are long or short, there is a great variety of options for each length. You can experiment with different ones every day!
1. Highlighted side swept bangs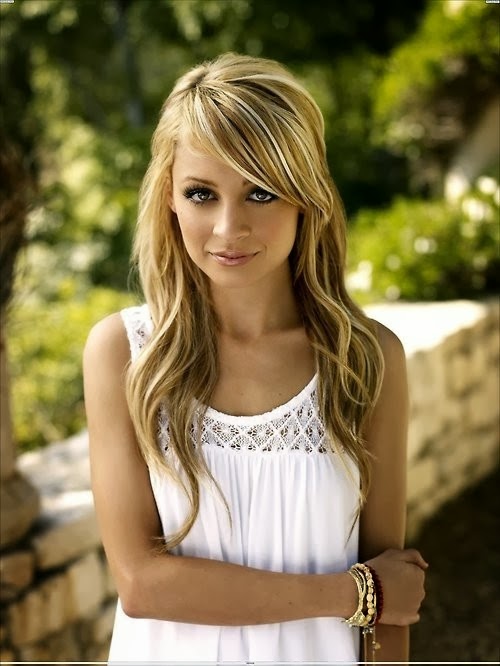 Side swept bangs look fantastic with highlights, so let your imagination run wild and choose any mix of colors for your highlights. There are no ways to make a mistake here. Mix and match the colors and the result will amaze you.
Best short & long bangs hairstyles to copy in 2021
2. Medium side bangs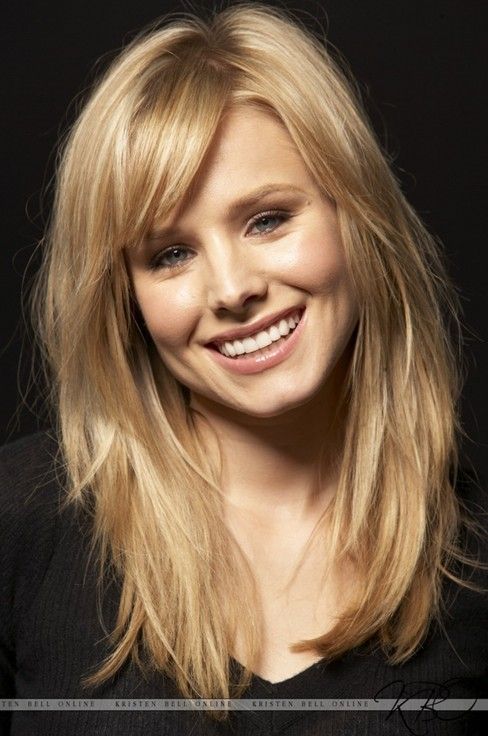 There are several lengths of side swept bangs you can choose from. A good idea would be to start with the medium length ones and go from there. The medium bangs look classy and make a great addition to any hairstyle.
3. Dyed side swept bangs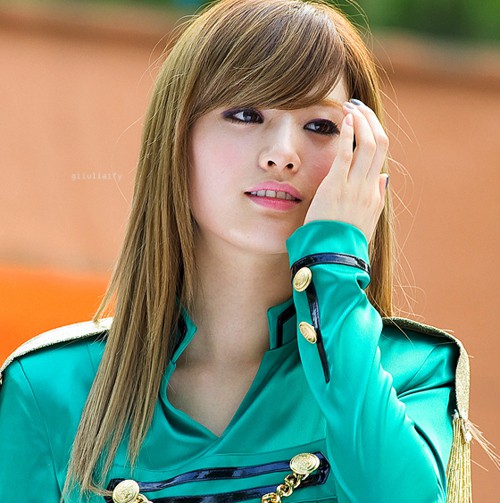 Dye your bangs with a color which differs from the rest of your hair and you'll keep some heads turning. The transition shouldn't be too drastic. Make the bangs a little darker than the rest of the hair and you will add them some volume.
4. Graduated bangs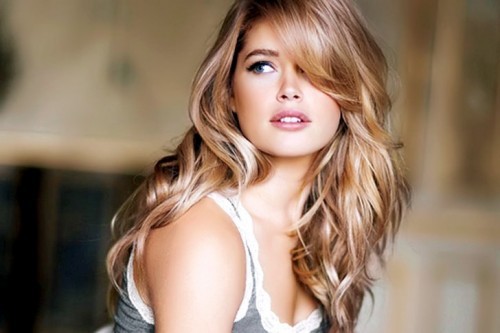 If your hair is leveled, there is no reason why the bangs shouldn't be. Add some levels to your bangs to make them look very stylish and suit the rest of the haircut. The longer the bangs, the more interesting the levels will look.
5. Full side bangs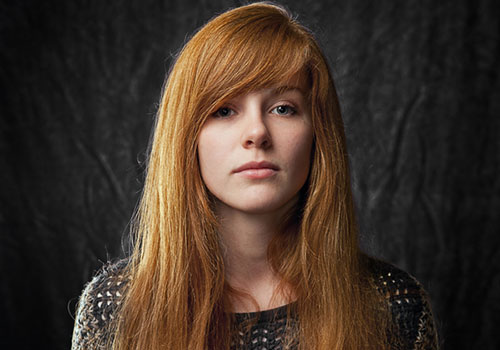 There is no reason why side swept bangs can't cover most of your forehead. If you want full and voluminous bangs you can go ahead and sweep them lightly to the side, without opening up too much skin.
6. Asymmetrical side swept bangs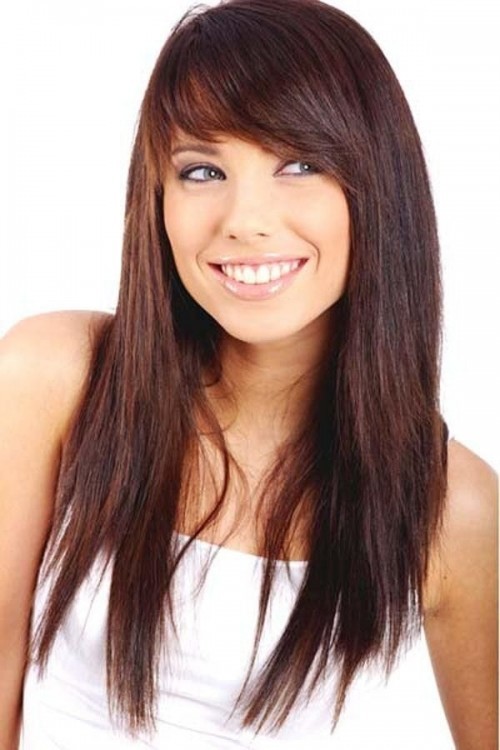 Symmetry has long gone out of style, so let's welcome the asymmetrical side swept bangs. They should be longer on the side they are swept to and shorter on the opposite side. The mischievous look they create is amazing.
7. Zebra side swept bangs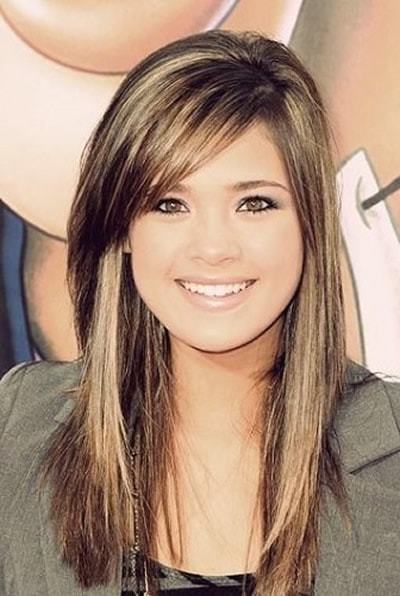 If the regular highlights don't appeal to you, you can make zebra side swept bangs. They are achieved by coloring the hair in horizontal wide stripes. The bigger the difference in shades, the better and the more out of the ordinary the look will be.
8. A comb over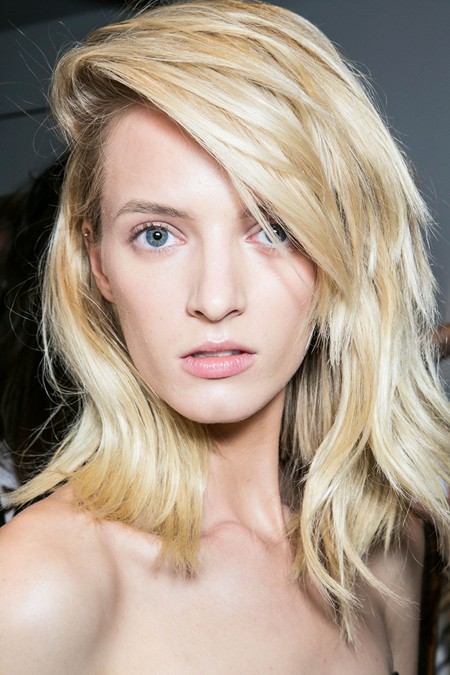 A radical comb over is a great way to create side swept bangs. The more hair you comb over, the better the style will look. However, you will need a lot of hair products to keep it in place, so be ready to wield some cosmetics.
9. Blond and red side swept bangs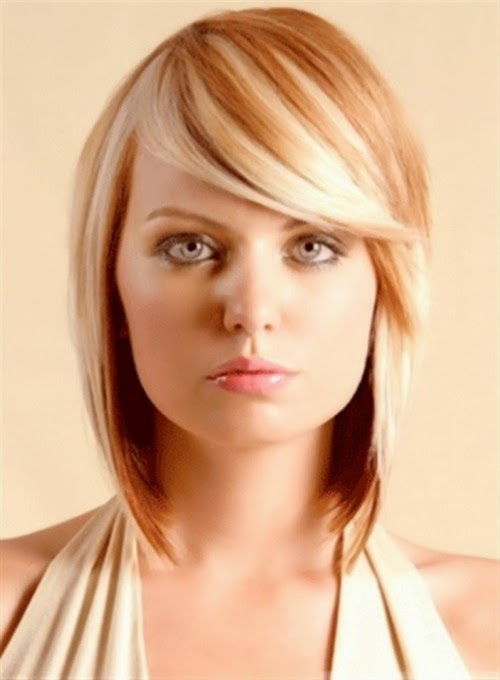 Blond and red are great colors to mix. Your side swept bangs will look fantastic with red highlights and a blond base. The longer the bangs, the more obvious this colorful mix will be and the more compliments you will get.
10. Shaggy side swept bangs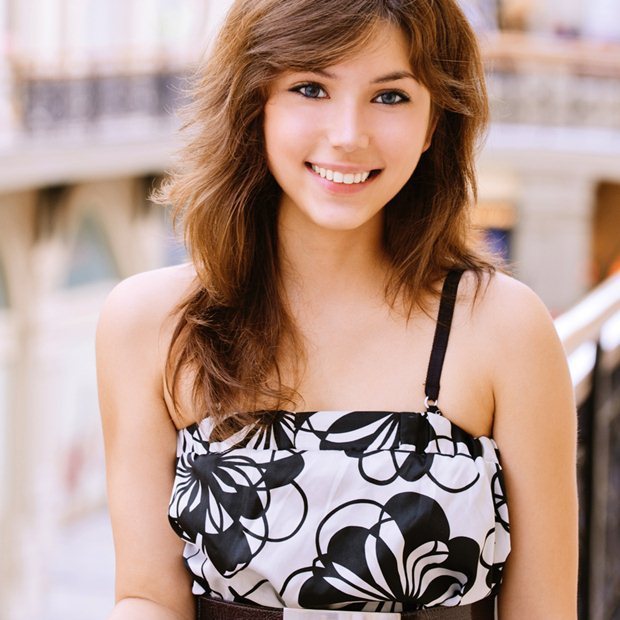 Shaggy bangs always look great on thick hair. There is almost no effort needed to create shaggy bangs. All you need to do is brush them in the morning and you are ready to go. Perhaps sometimes you will need a little flat ironing.
11. Side swept bangs for thin hair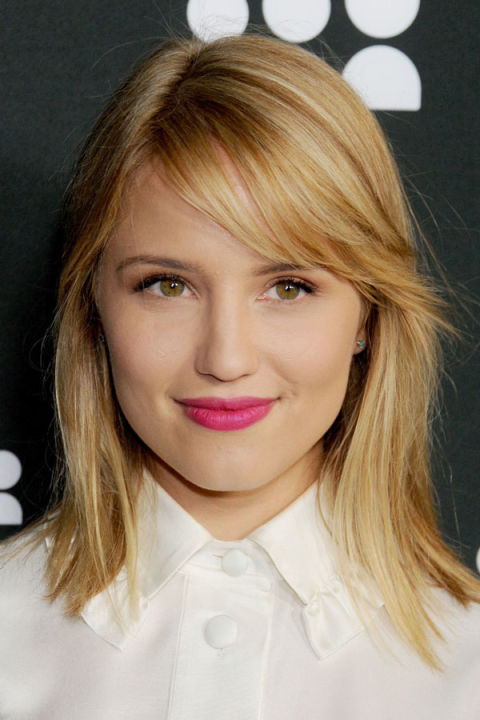 If your hair is thin, the side swept bangs are your savior. When the bangs are brushed to one side, more volume is created and the hair looks thicker. Leave the bangs long enough to produce as much volume as possible.
12. Long side swept bangs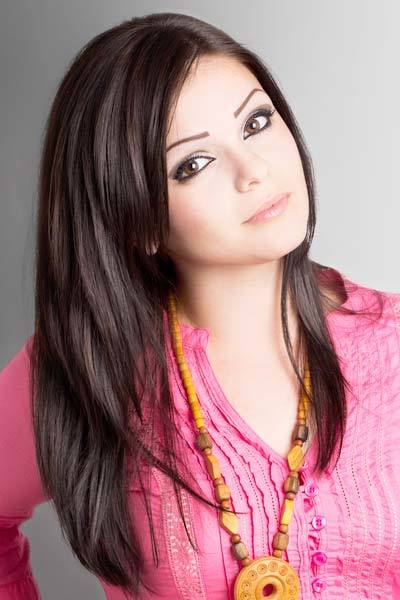 There is no need for your bangs to end above your eyes. There are loads of interesting styles for long bangs. This one doesn't require much maintenance, just regular brushing and maybe a bit of hair gel to keep it in place.
13. Tucked side swept bangs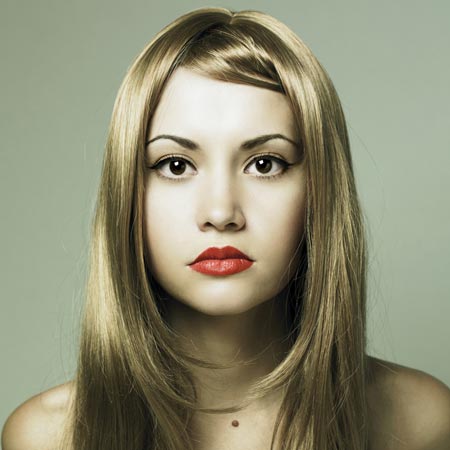 This original hairstyle is achieved by tucking the side swept bangs under the rest of the hair. This style will need some hair cosmetics and a little time, but the result is absolutely amazing and very unique. There is nothing hard about it, give it a try.
14. Straight bangs with wavy hair
The straight bangs with wavy hair mix is a great idea for both long and short side swept bangs. The contrast the bangs create to the rest of the hair looks very intricate and adds the haircut a lot of style. Some flat ironing is in store here.
15. Eye-covering side swept bangs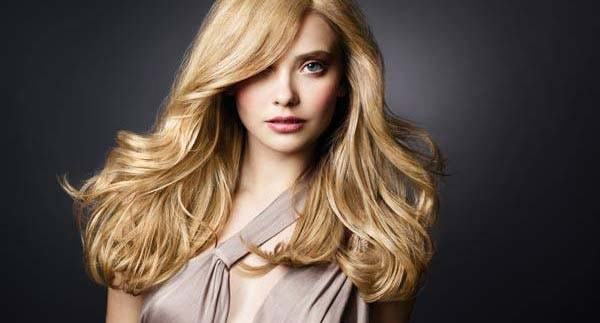 Long bangs are often styled to cover one eye. This is a great looking hairstyle, however, it is not very comfortable to wear. So, the eye-covering side swept bangs are good for special occasions and photo shoots but are useless for every day wear.
16. Vibrant side swept bangs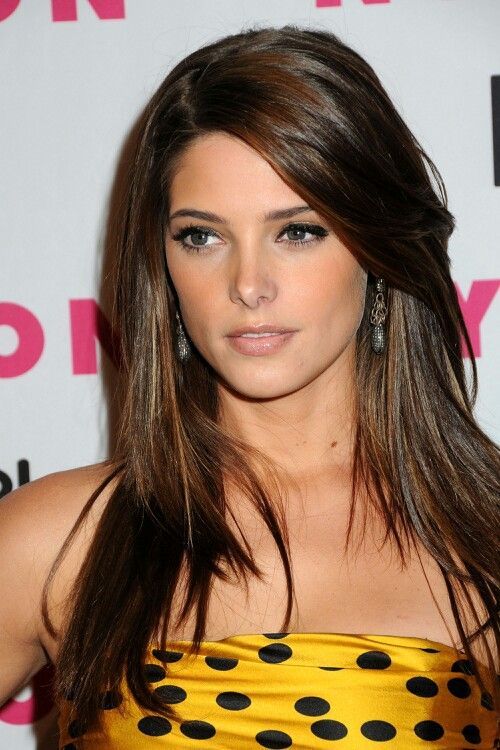 Proper coloring is very important for nice-looking side swept bangs, so the shinier the color you choose, the more vibrant your look can be. Bangs are just an addition to the hairstyle, so the hair must be taken good care of.
17. Long side swept bangs with hidden highlights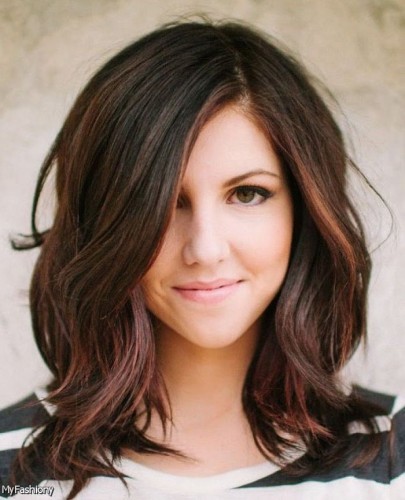 Hidden highlights are a great idea for the side swept bangs. They become a special flavor, which is often needed for simple hairstyles. So, learn how to use hidden highlights and your style is bound to turn some heads.
18. Thin tucked bangs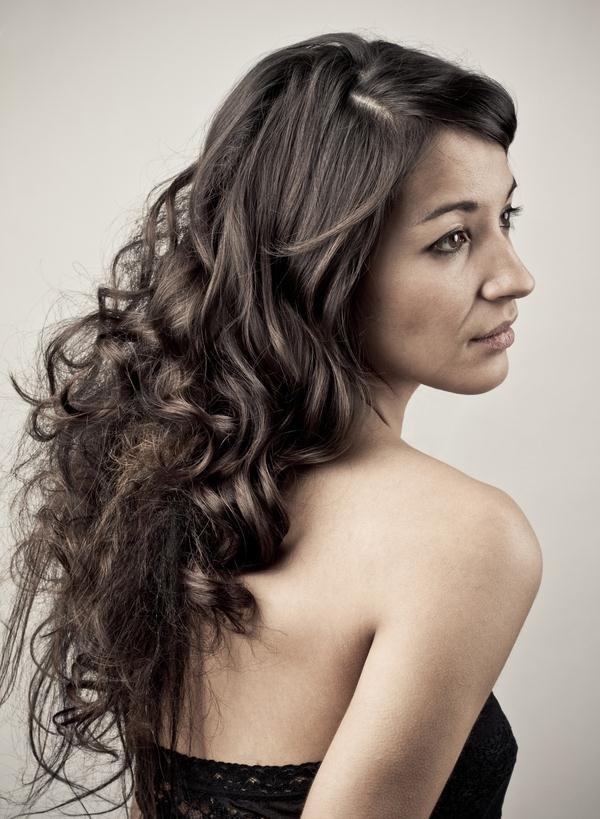 Tucking a thin strand of bangs under the rest of the hair is another way to style your long side swept bangs. If you have curls, make sure you straighten out your bangs in order to get a proper tucked look.
19. Partially swept bangs
Side swept bangs don't need to be brushed all the one to one side. You can leave part of the on the other. While this is not a classical side swept bangs look, it is still very nice looking and can really diversify your style.
20. Long asymmetrical bangs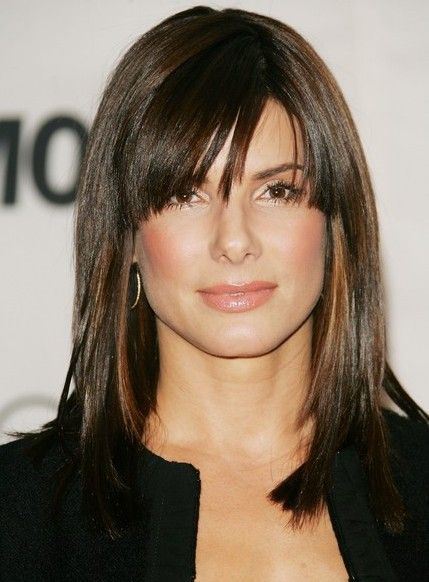 There is an interesting asymmetry, which can be tried on long and partially swept bangs. Leave the bangs longer on the sides and shorter in the middle and you can play around with the amount of hair you want to sweep.
21. Long thin bangs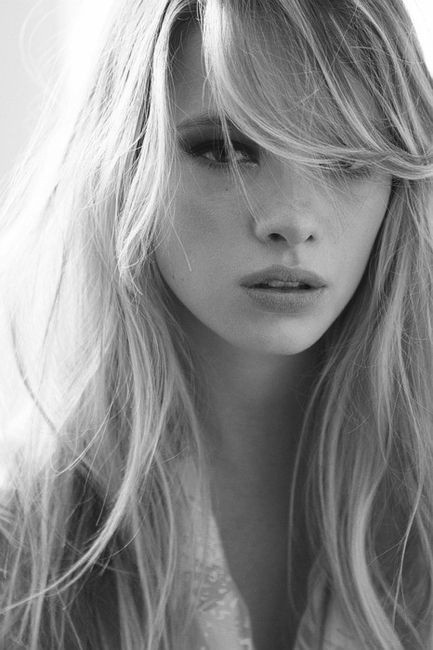 If your hair is thin and bangs are long, you can make a sort of a messy look on your forehead which will seem very sexy. This look doesn't require any brushing. In fact, no brushing allowed! Just put the bangs in place with your finger and you are ready to go!
22. Textured side swept bangs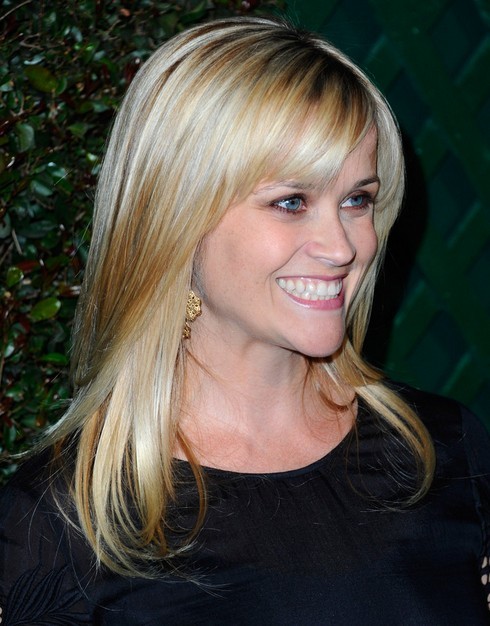 Textured hair looks wonderful, so why not texture the bangs? No matter what color or hair type you have, go for the textured look and you'll be amazed at the way your hairstyle will change. Don't forget about side sweeping the bangs.
23. Styled side swept bangs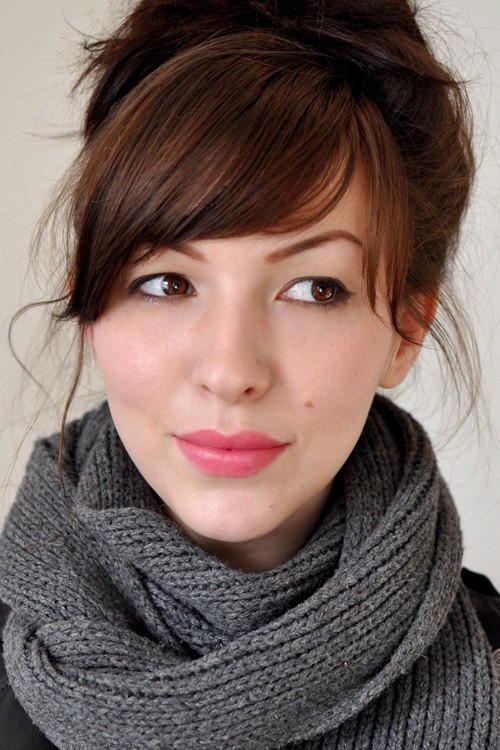 If your side swept bangs are long, you must do some styling. Long bangs will not look good on your own, so you must use a round brush and flat iron to make them stay in place just the way you want to. Don't forget to curl the ends inward.
24. Peach bangs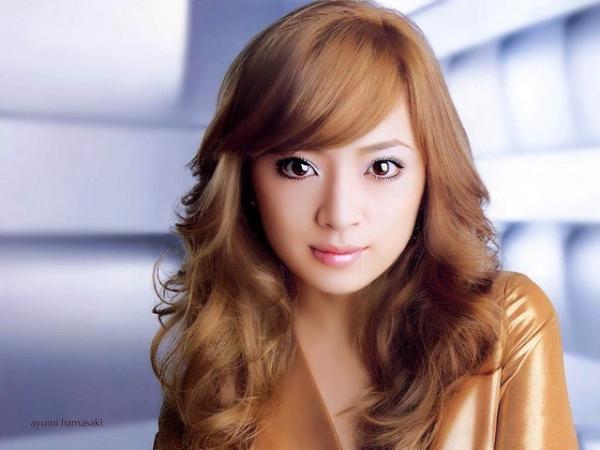 When you are playing around with your colors, give a chance to the peachy shades. Such colors always look very soft and is a great way to add some zest to your hairstyle. Once the coloring is done, make soft curls on the end and straighten out the bangs.
25. Hot Blond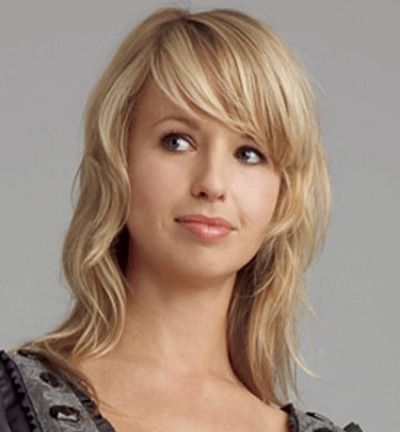 Side swept bangs look especially well on the hair, which is properly colored. If there are no dark roots and highlights, the side swept bangs will be accentuated. Try the textured blond side swept bangs at least once and you are sure to like them!
26. Long thin and blond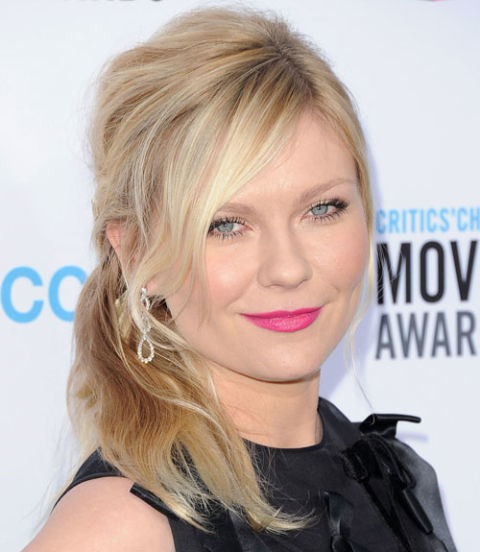 Long bangs are always in style. Even if your hair is thin you can easily sport long bangs, which are side swept. Blond bangs look amazing if you keep the color bright and don't forget to dye the roots on time.
27. Yellowish bangs
If you decided to go blond, give some thought to the bangs. You can color the bangs with a yellowish shade to give them some volume. Sweep the bangs to one side and leave a stray strand on the other. This will make for a sexy look.
28. Side swept bangs and dark eyebrows
If you would like to focus attention on your eyes, cut your bangs to reach the eyebrows. Then color the hair a lighter shade than the brows in order to create a contrasted look. The overall view will be amazing.
29. Long and red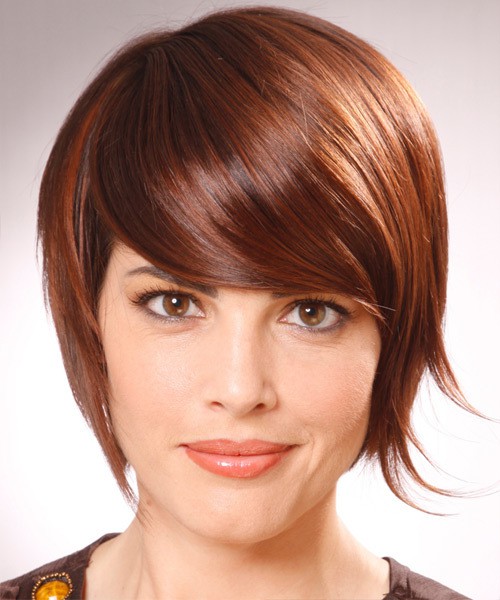 Experiment with colors. Long and red side swept bangs look amazing on women with olive skin tone. They outline the eyes and make you look even more fantastic. Make sure to trim these bangs on the regular basis.
30. Light bangs with roots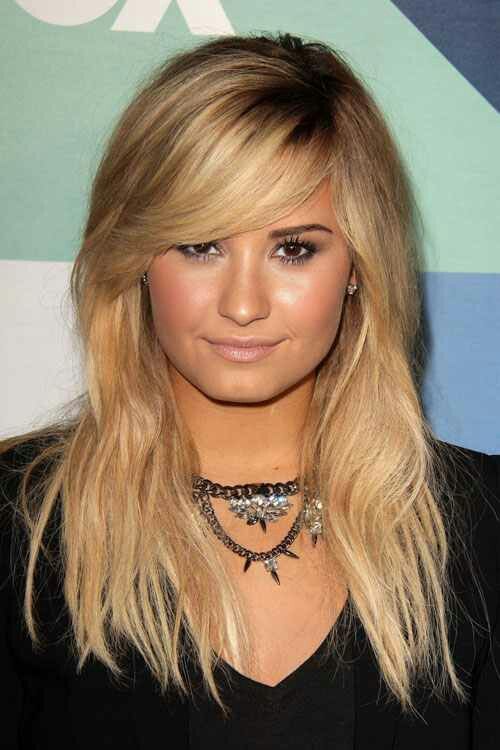 Some might think that dark roots are not allowed. But this is not true. In fact, dark roots can look stylish if the hair is styled properly. Create neat long side swept bangs with the use of a little hair gel and the dark roots will not look inappropriate.
31. Windblown bangs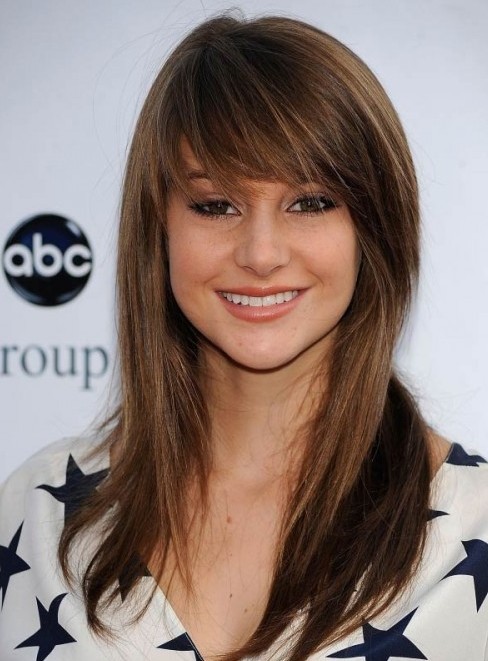 Side swept bangs look amazing when they are styled in a windblown way. Not all the hair must be swept to one side, some can be left on another. The windblown look is always fashionable and requires little maintenance.
32. Wispy textured bangs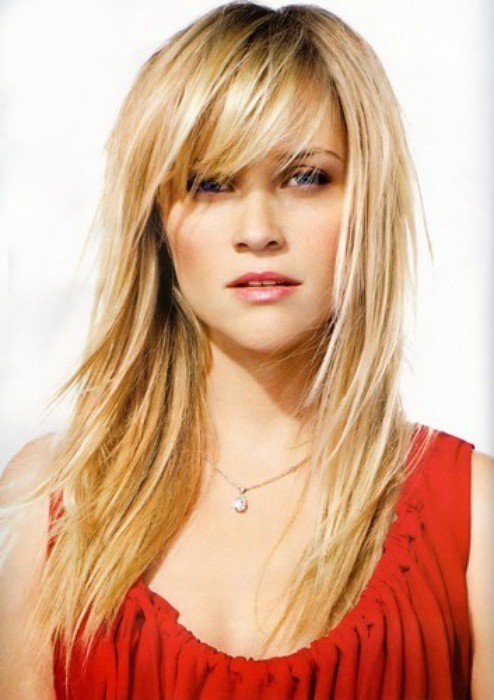 If you want your bangs to really stand out of the crowd, make them wispy and textured. It doesn't matter what color you choose for them, just make sure that the bangs are wispy and a little windblown. The longer they are, the better.
33. Brushed over bangs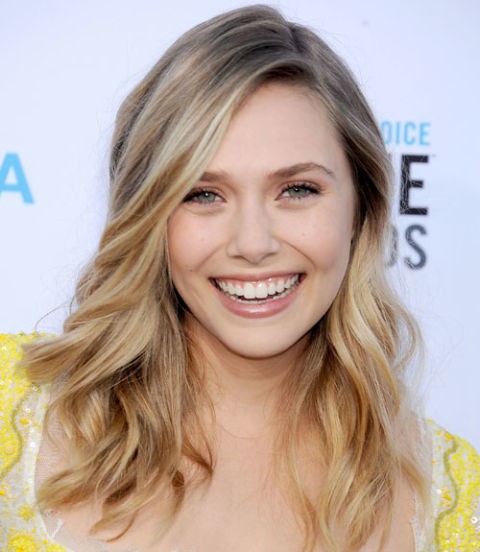 If your bangs are long enough, you can brush them over to make it seem as though there are no bangs at all. Only a voluminous look on the side will reveal the existence of the well-styled bangs. Make sure to use some gel to keep them in place.
34. Fiery red bangs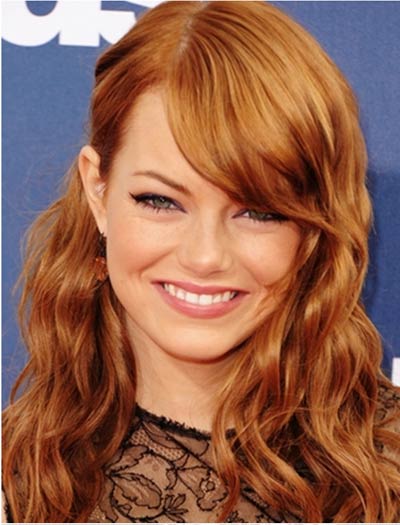 Red has been the most popular color for many generations. So, choosing this shade is a great idea for many women. Red bangs look wonderful whether they are short or long, but if they cover the eyes, you are bound to get a sexy look.
35. Brushed up bangs
A great way to add some volume to your bangs is to brush them up. This is achieved by using a round brush and a hair drier. Lift your side swept bangs up a bit to create a feeling of volume and your style will definitely be changed for the better.
36. L-shaped bangs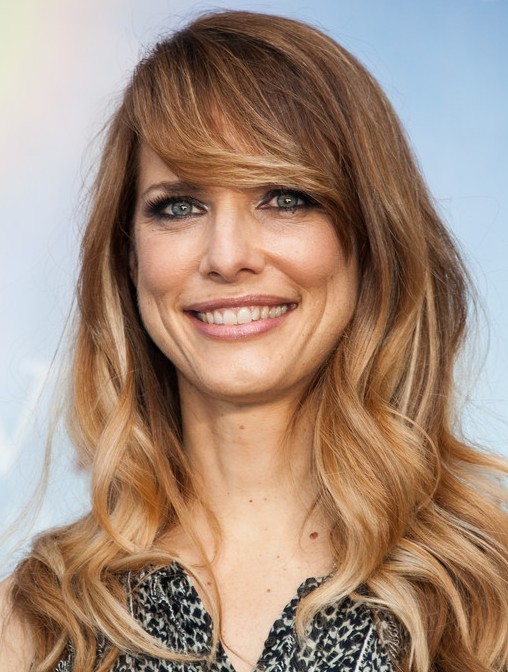 A great way to diversify your side swept bangs is to make them L-shaped. This is achieved by brushing the fringe carefully to one side and curling the bottom part, so it ends near the forehead line, thus creating an L-shaped style.
37. Long and thick bangs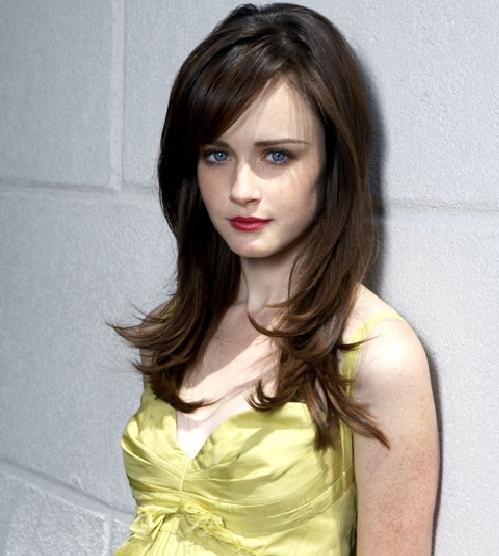 Long and thick bangs are a great choice for women with dark thick hair. Such bangs don't just create volume they make the hairstyle look very neat and impressive. Give these side swept bangs a try and you won't regret it!
38. Straight and gentle bangs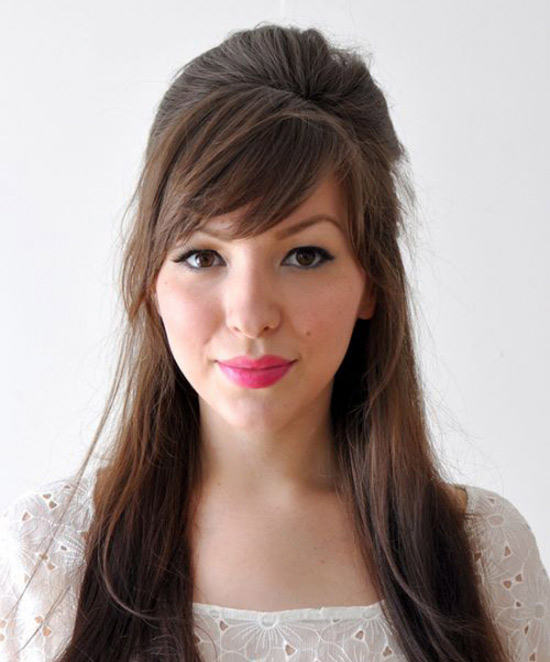 If your hair is straight but you want a little diversity, create a messy look in front by "forgetting" to brush the straight and gentle bangs. You will add a little wilderness to your look and will appreciate the lack of maintenance.
39. Slanting long bangs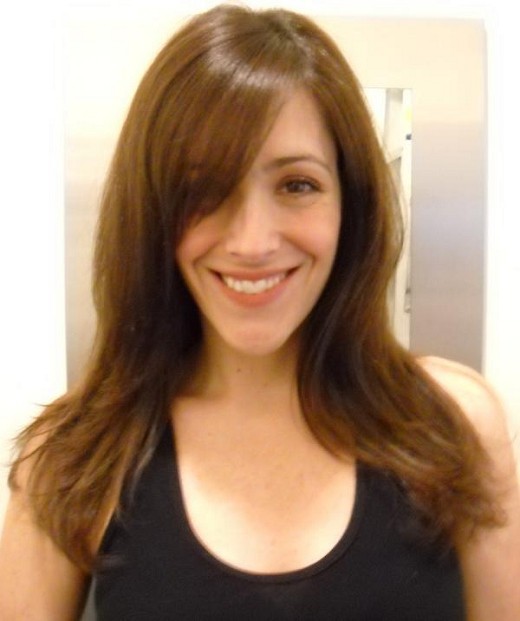 The long bangs look great if they are slanted and brushed neatly. Lucky owners of straight hair can achieve this look without a daily flat iron escapade. Just make sure the bangs are long enough and don't curl in the unexpected places.
40. Short and thick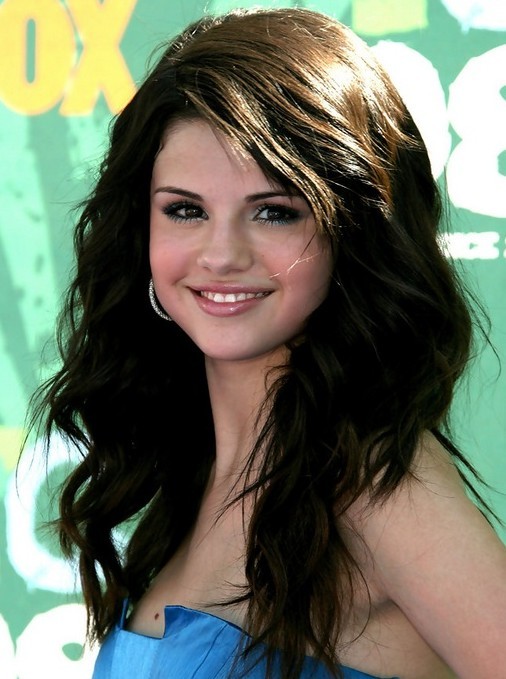 If your hair is thick and wavy, this style will fit you the best. Sweep your bangs to one side and straighten with flat iron as needed. Make sure to add some hair gel to get rid of the waves and make them look neat.
41. Chopped bangs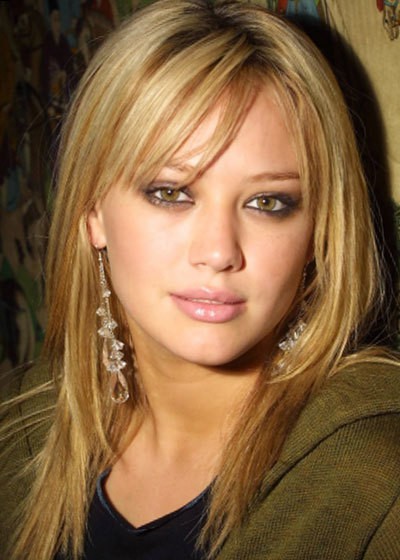 Chopped bangs do wonders for livening up your look. While they might look simple, they add a nice and fresh look to your hair and allow you to spend less time in front of the mirror in the morning. Just make sure not to let them grow too long.
42. Casual look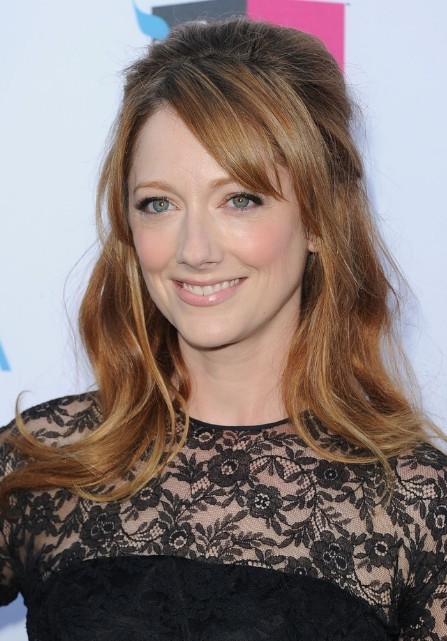 Pulling the top part of the hair backward while leaving the bangs side swept makes for a great everyday casual look. The length is just perfect for outlining the face and bring out the eyes. This style is easy to make and to keep intact.
43. Curls and bangs
If you are going for a curly style, don't forget about the bangs. Never make the bangs curly, they will not look fashionable and neat. Try to straighten out the bangs as much as possible and arrange them to neatly fall to one side.
44. Full straight fringe with a subtle sweep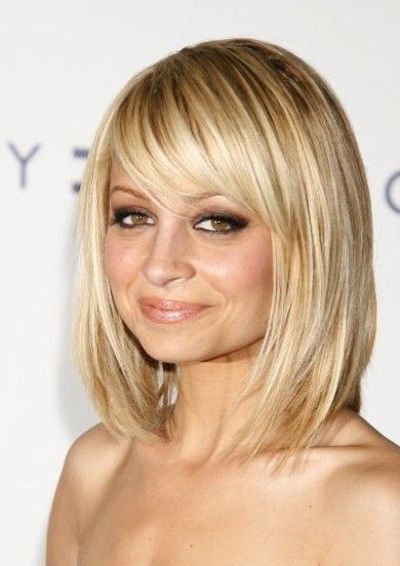 A subtle sweep looks great on the straight fringe. While full bangs might seem boring or out of place with many styles, subtly swept bangs is a great idea. However, such bangs might be a little hard to keep in place, so don't forget about the hair gel.
45. Tips curled up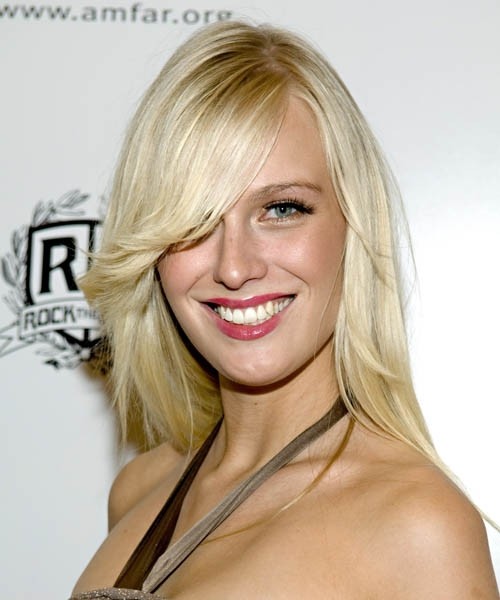 Side swept bangs with curled-up tips make for a great and unusual hairstyle. Such style can be achieved on long bangs, however, it is possible to make on medium-sized bangs as well. Play around with the length of the curled up ends to create your own style.
46. L-shaped bangs with a blunt bob
A blunt bob can become a great background for well made L-shaped bangs. A little flavor can be added to the hairstyle by dying the under hair with the darker color than the rest, so when the bangs are side swept it becomes visible.
47. Layered bangs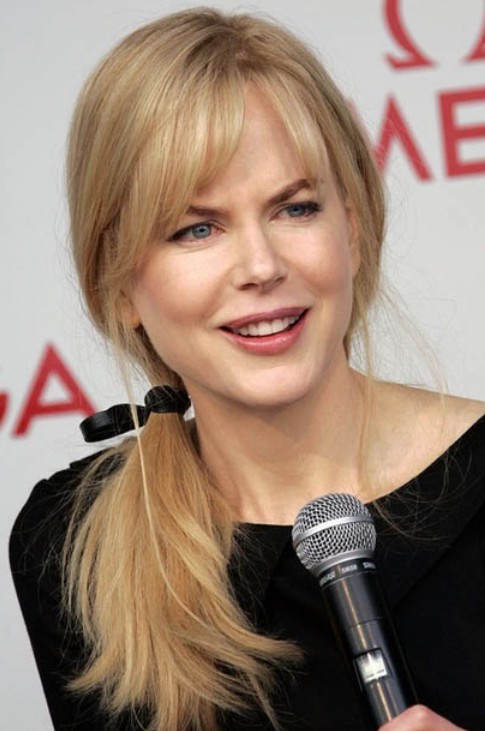 Layered bangs are a great solution for women who want to wear them long but to still keep them neat. Add as many layers as you wish to make the bangs cascade down your forehead in your own special style. Keep them out of your eyes so the look is not ruined.
48. Subtle brush over
Create a fabulous style by making a subtle brush over which will make the bangs look fantastic. Keep the rest of the hair a little shaggy to complete the style and you are bound to see some heads turning. Use some gel to keep the bangs in place.
49. Chin length bangs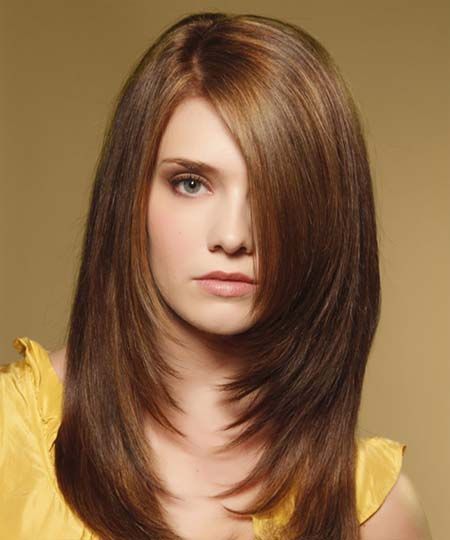 Chin length bangs look great on straight and long hair. However, this style will need daily maintenance to achieve the smooth look you see on the photo. If you are bold enough to try it, go ahead! If it is too tiring to deal with daily, change it to an easier style whenever you want.
50. Long and choppy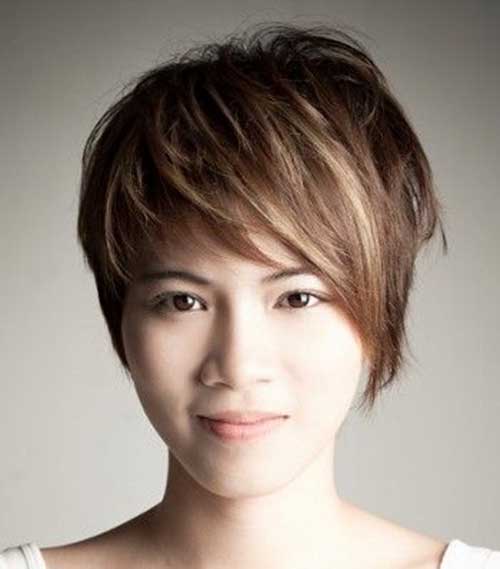 Long and choppy bangs look amazing with pixies. They outline the facial feature and add any regular pixie a great amount of style. Add some highlights to the long and choppy bangs and you will achieve a wonderful look you've always wanted.
We hope you found what you've been looking for among these fabulous and unique hairstyles. When you are choosing the side swept bangs hairstyle, try to take a look into the future. Many of them are created to be easily changed by a simple flat iron or scissors session. Pick the one to start with and change it whenever you feel like it.