Blonde beauties are said to rule the world. If you disagree, take a minute to look at all the female Hollywood celebrities who are always slaying the red carpets while receiving praise and awards for their acting skills, most of them are blonde actresses!
Whether talking about Nicole Kidman or Jennifer Aniston, the following actresses over 50 with blonde hair have either been dying their hair or wearing their natural golden tresses in the most flawless ways throughout their careers.
Apart from that, these very personalities have proved that aging is not a bad thing at all and comes with many benefits.
Actresses Over 50 with Blonde Hair
We hope the following iconic senior blonde actresses over 50 will inspire you enough to go blonde and refresh your hairstyle while getting on in years.
1. Uma Thurman – Golden Blonde Beach Waves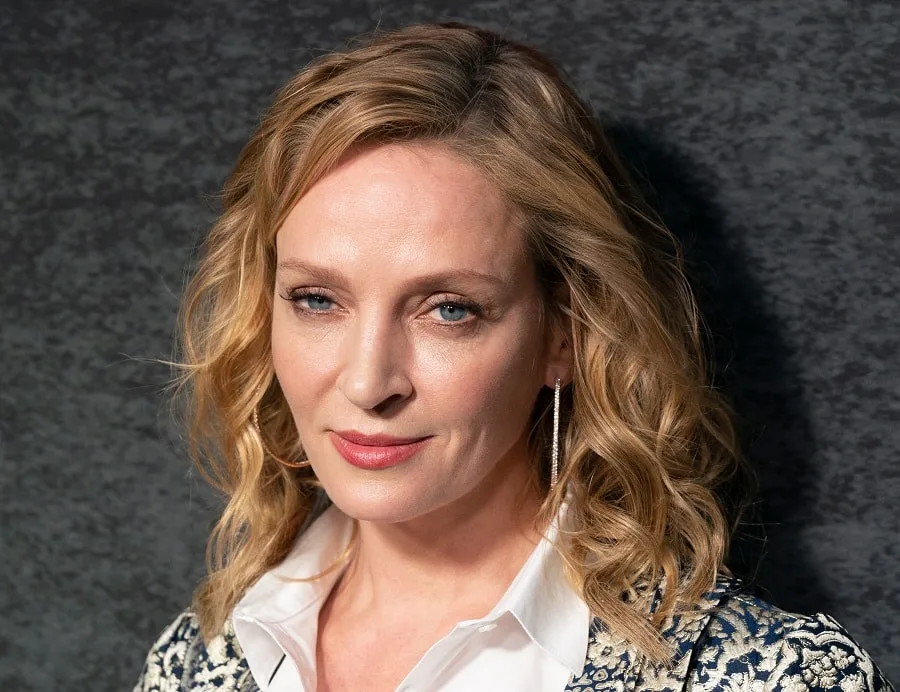 Uma Thurman is an American actress over 50 who knows how to rock blonde hair with style. Here she went for a golden blonde base with barely-there highlights and dark roots. Uma coupled the look with tousled beach waves at shoulder length and a simple side parting. Sexy!
2. Laura Linney – Ash Blonde Highlights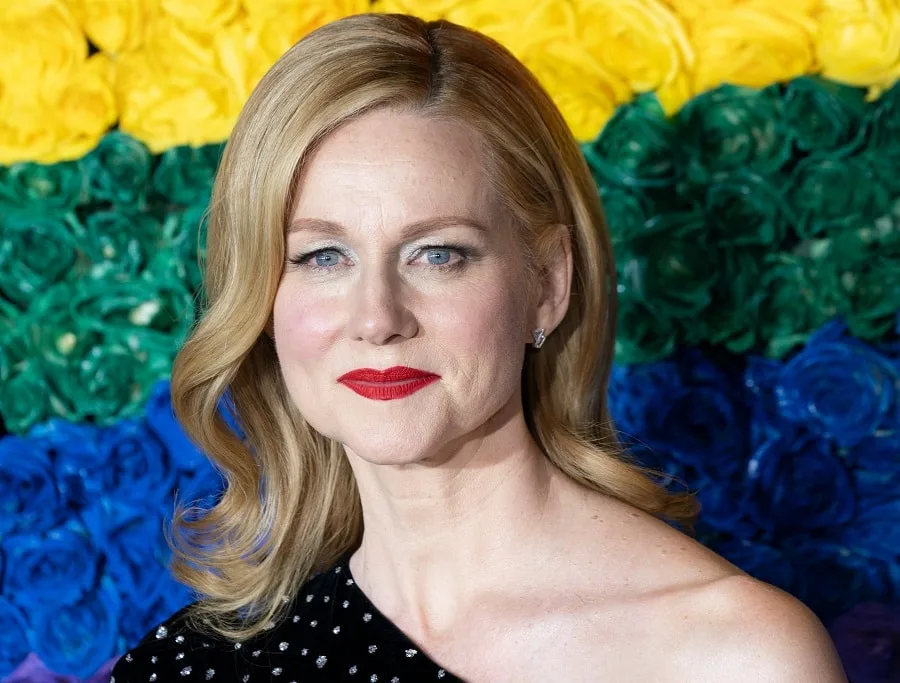 The 'Ozark' actress rocked the red carpet at the Tony Awards 2019 by accentuating her piercing blue eyes with champagne blonde tresses and ash blonde highlights. Throw in some soft waves with bold red lips and see jaws drop wherever you go.
3. Robin Wright – Multi-Tonal Pixie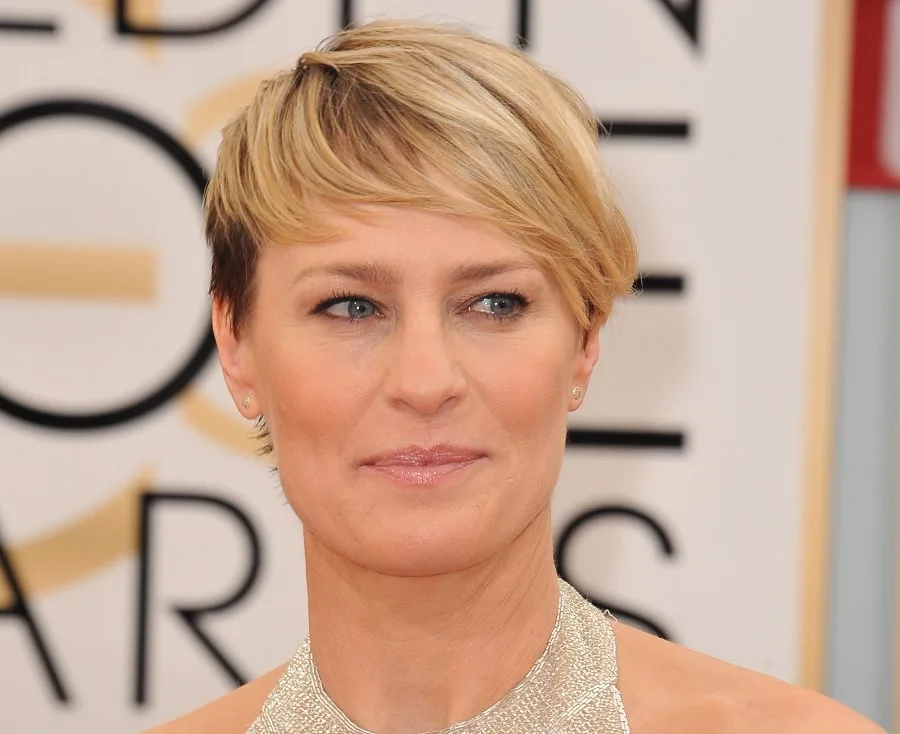 This Golden Globe Award winner has shed off a few years with a sassy pixie haircut exhibiting multiple shades of blonde.
Robin went for dark roots and sides with a mix of medium and light blonde highlights and lowlights. The side-swept bangs worked well to focus all the attention on her eyes.
4. Cate Blanchett – Light Blonde Curls
Cate Blanchett is one of the finest curly blonde-haired actresses of her generation. At one event, she went for a messy yet sexy hairstyle where she coupled a layered light blonde lob with side-parted bangs and bouncy curls. This look is suitable to add some body to thinning tresses.
5. Gillian Anderson – Bleached Beauty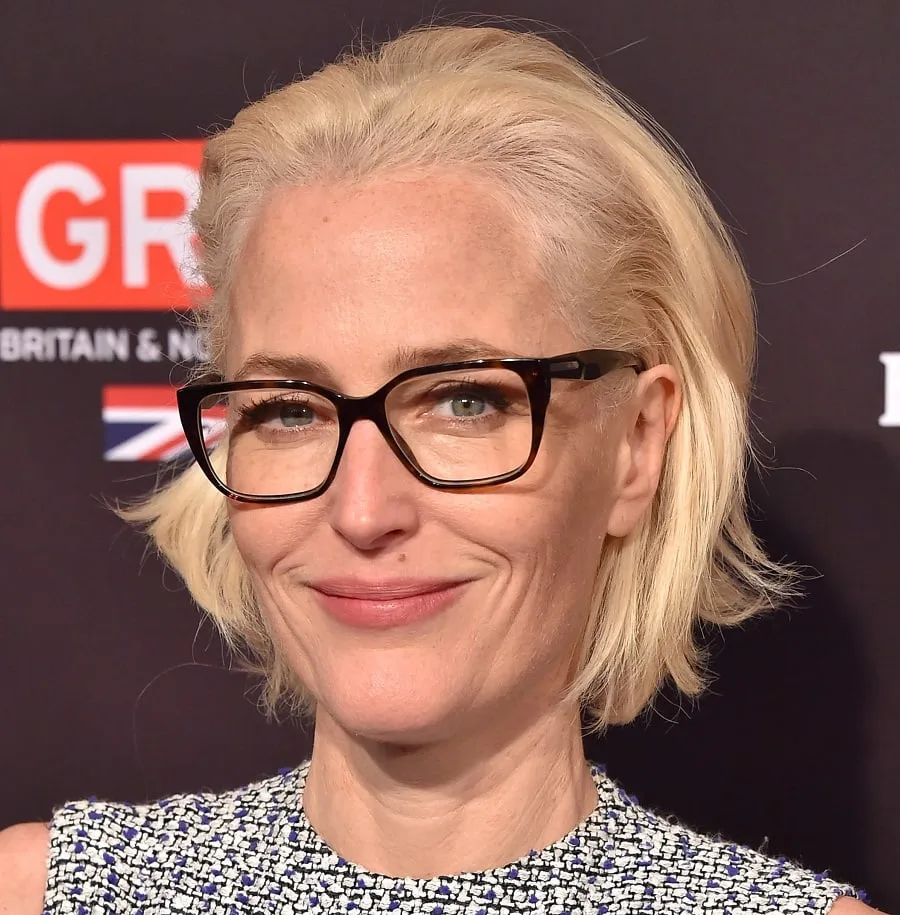 One of our favorite Hollywood celebrities from our childhood currently aged over 50. Gillian Anderson is an American television sweetheart well-known for The X-Files series.
She is a natural brunette who has sported blonde locks most of the time. Here she bleached her mane into a sandy ash blonde tone while brushing back all the hair keeping the attention on her face and specs.
6. Julia Roberts – Honey-Blonde Sweetness
Discussing blonde hairstyles and forgetting to mention Julia Roberts?
Impossible! This Hollywood superstar rocked the Cannes in 2016 with honey-blonde hair, dark roots, and some highlighted streaks. Face-framing layers and loose waves paired with soft makeup set her look truly on fire.
7. Patricia Arquette – Beige Bob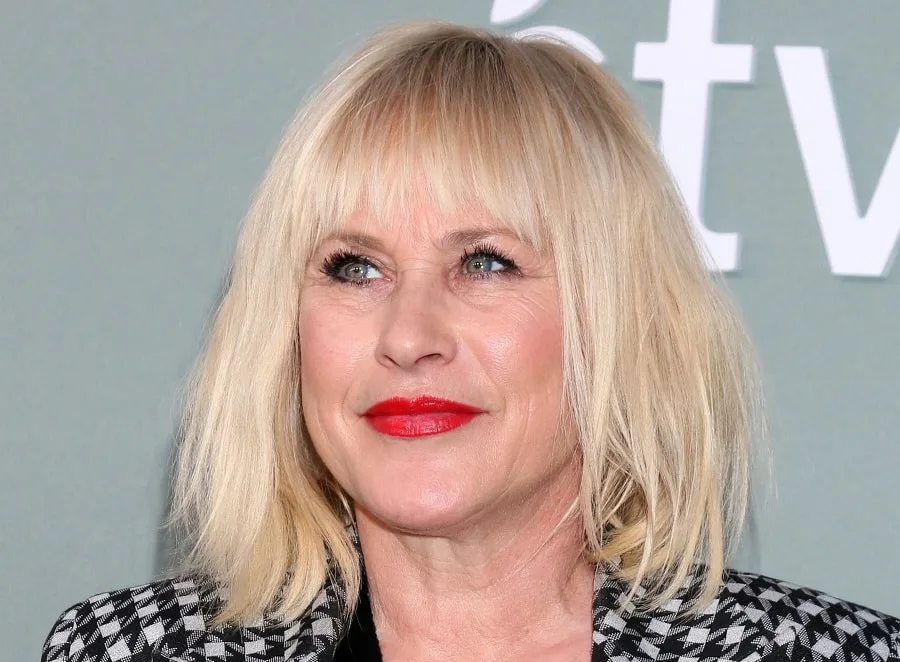 Another blonde celeb over 50 proves that age is just a number. Patricia snipped her fine hair into a choppy pageboy bob with uneven bangs covering the forehead. The beige blonde hair shade, red lips, and thick lashes made her look much younger for her age.
8. Mariah Carey – Natural Ombre
Mariah Carey is a true inspiration for those who want to accent their warm skin tone with a blonde mane.
The American songstress is a natural brunette and she often couples her ash brown roots with light golden blonde hair resulting in a natural ombre that is difficult to ignore.
9. Laura Dern – Coppery Tones
The 55-year-old American actress, director, and producer Laura Dern stole the show at the Golden Globe Awards back in 2012 with medium-length blonde hair and warm coppery undertones. She went for heavy curls and some gorgeous bangs while her sparkling emerald green dress is totally another story!
10. Naomi Watts – Sandy Blonde Lob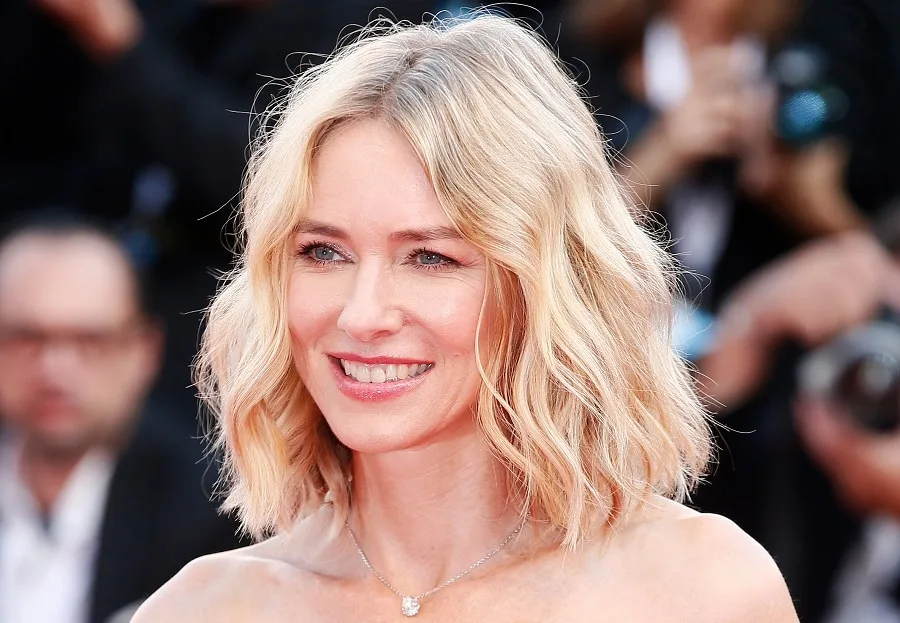 You might be surprised to find Naomi Watt in the list of actresses over 50 with blonde hair, given her youthful appearance throughout her acting career.
She rocked a choppy sandy blonde lob at the Venice Film Festival. Her ruffled beach waves are a must-try this season.
11. Nicole Kidman – Yellow Blonde Locks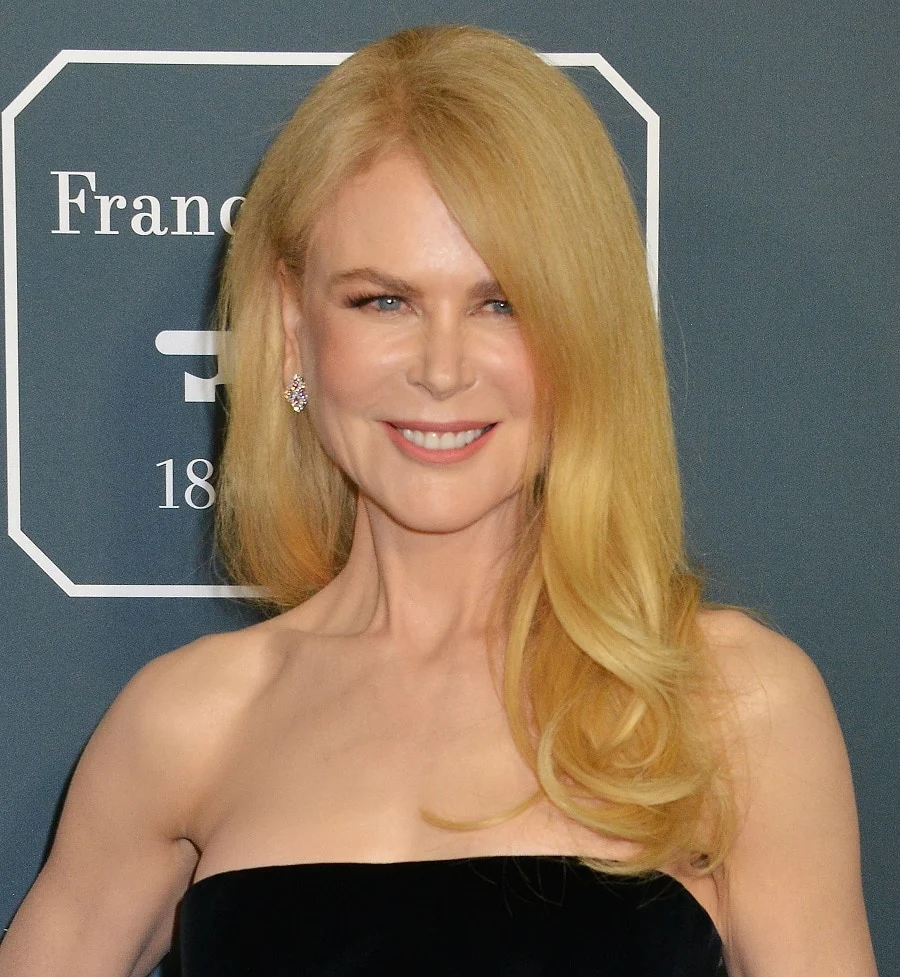 Who rocks blonde tresses better than Nicole Kidman? She is a natural redhead and one of the highest-paid actresses who sported a golden yellow mane with flicked ends back in 2021 that made her look nothing less than the younger generation of celebrities. Elegance at its best!
12. Sarah Jessica Parker – Two-Toned Highlights
Sarah Jessica Parker, a name that needs no introduction at all. The 'Sex and the City' actress went for a graceful ballerina bun showing off her two-toned highlights along with her natural greys at one of her movie premieres.
This brunette went blonde for a long time and has maintained her look ever since.
13. Renee Zellweger – Light Ash Blonde Mess
Renee Zellweger turned heads by entering the 'Living Proof' premiere in a sexy black lace dress. Considering her hairdo she opted for an ashy light blonde hue to accent her fair skin and icy blue eyes while assembling her short hair in a messy updo.
14. Kristin Chenoweth – Platinum Perfection
Kristen Chenoweth has proved how one gets better with age. The 'Glee' actress has naturally brown hair that she ditched a while ago and is famous for her iconic blonde hairdos throughout her career.
Here she went for a casual look featuring platinum blonde hair with loose waves.
15. Amy Poehler – Delicate Babylights
Those who feel platinum blonde looks too pale can use this icy color as babylights on a light blonde base just like Amy Poehler did on one of her red carpet appearances.
The 51-year-old comedian's choppy layers, soft waves, and deep side parting are sure to inspire you.
16. Jennifer Aniston – Bronde Waves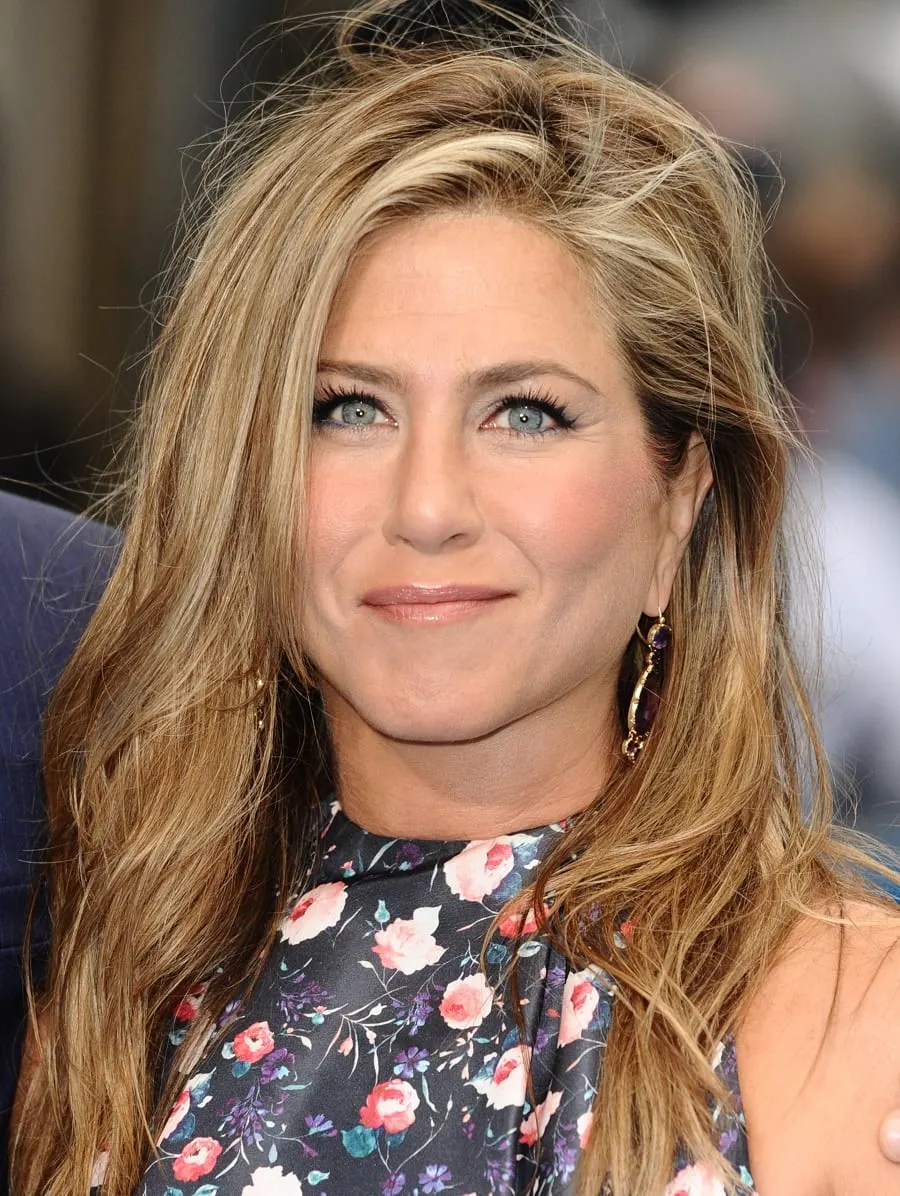 Although the beloved Rachel Green from 'Friends' is mentioned last in the list, she is undoubtedly one of the most beautiful Hollywood celebrities aged over 50 with blonde hair.
She often goes heavy on highlights leaving only a hint of her natural brown hair color beneath. Add some messy waves and voila!
It wouldn't be wrong to say that these actresses over 50 surely do rock the world with their blonde hair. The color itself has countless tones to choose from.
So if you are thinking of lightening down your tresses, recreate the look that attracts you the most from the above-mentioned list. Have fun!
Trending Topics