When it comes to hairstyles, the Karen haircut should be at the top of your list to AVOID!
In 2020, the term 'Karen' came about as a way to describe a woman who is obnoxiously demanding and who seems the type to cause unnecessary problems.
In other words, asking to speak to the manager whenever they are slightly inconvenienced.
News articles and Tik Tok clips of these types of women have shown us that there is one hairstyle these women typically have: short, layered, spiky, and straightened.
We'll show you which haircuts to stay away from, so you are not mistaken as a Karen!
Origin of Karen
Karen was once a friendly and easy name for a girl, but not anymore.
Since the late 2010s, it has taken on a different meaning. "Karen" in current-day lingo is a disparaging word for a white person, particularly a woman, who people perceive as entitled. It also applies to anyone who has unreasonable demands and expects them to be fulfilled.
The term became popular through videos that showed white women using foul language, tantrums, or threats to get their way in restaurants, shops, and just about any public place you can think of.
Meme culture took it from there and made the term "Karen" a widespread description of women who acted rude and childish.
What Is a Karen Haircut?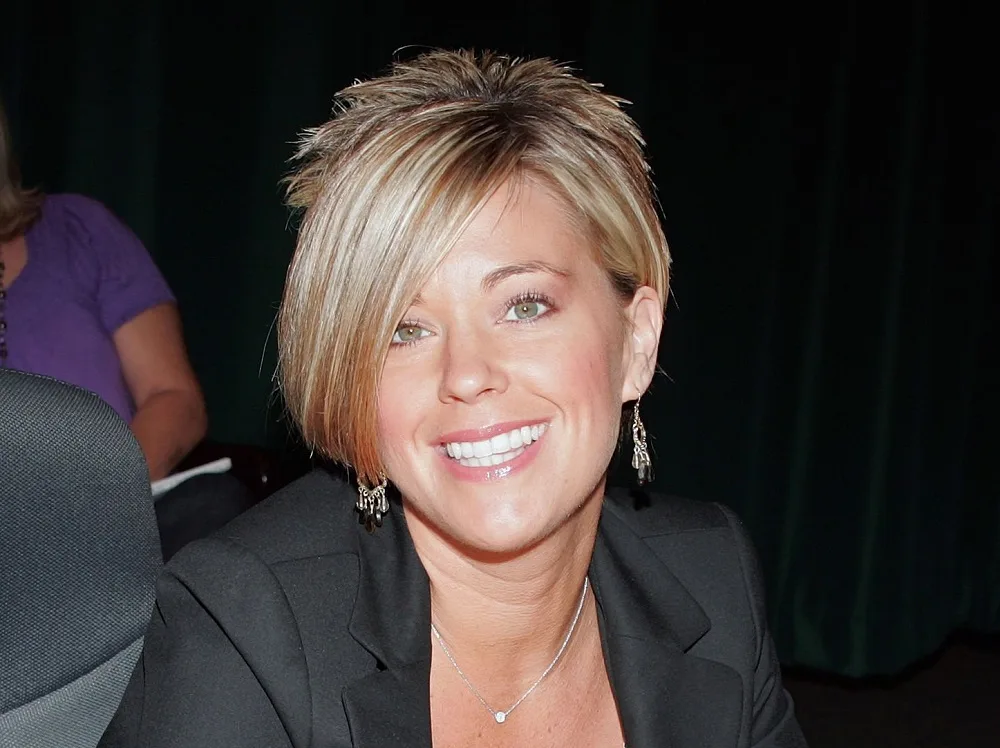 While it's unclear if the memes or real-life examples came first, the Karen haircut is a universal symbol. Think of an inverted or asymmetrical bob with lots of layers at the crown and long side bangs.
Most people imagine Karen as having a bob haircut. The asymmetrical haircut is usually blonde but sometimes features a bad brunette or blonde highlight.
Currently, there are several variations of this haircut, but they all feature the same aspects. Some are shaggier and feature spikes and excessive highlights.
Other Karen-style haircuts are more toned down and sleek but keep the dramatic side-swept bangs and volume.
Tips to Avoid a Karen Haircut
If you're looking to have a short hairdo or a bob and don't want the label "Karen," here are some tips.
Stay Away From Side-Swept Bangs
With long hair, side-swept bangs still look elegant and chic. They also provide perfect volume. On short cuts, these are a mistake.
Whether you have a pixie cut or a bob, avoid the long, side-swept bangs and opt for shorter ones. You can use face-framing or blunt-cut bangs. Ask your hairdresser for other suggestions too.
Reduce the Volume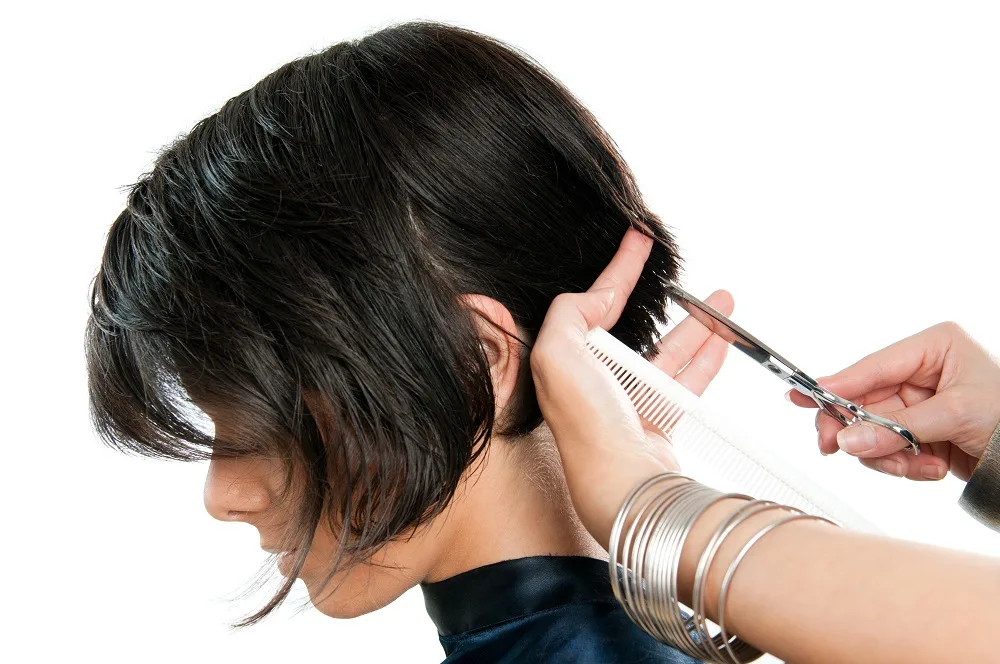 Another classic Karen cut characteristic is the voluminous top. It's reminiscent of the 2010's bump obsession. Many would add a bump into the crown of their head to give their hair more volume.
The current Karen cut adopted the trend, and it continues to be a common marker for the style. If you're thinking of cutting your hair, try to add volume with layers instead of the crown bump.
Avoid the Asymmetric Pixie Cut
If you want the pixie cut, stay away from the asymmetric version. Victoria Beckham popularized the look in the late 2000s.
However, Karens took it over.You can choose an icy short pixie cut, an ash-blonde pixie undercut, a jet-black, short spiky cut, or any other variety of pixie cut instead.
Go Light on the Contrast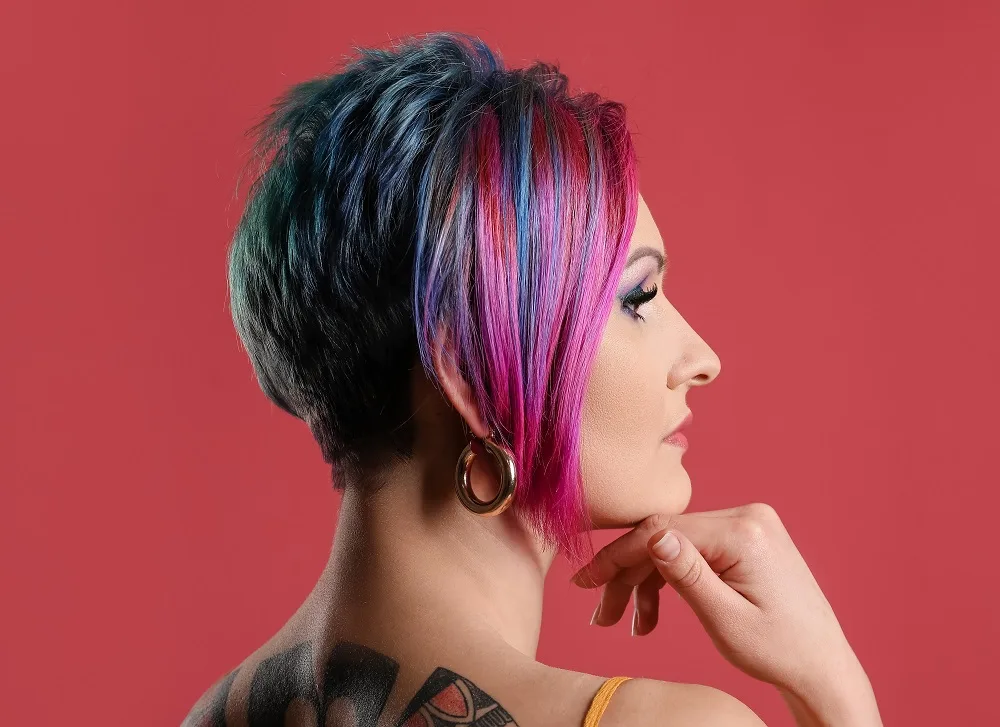 The classic Karen cut featured a heavy contrast from brunette to blond. To avoid this look, you can choose to get a full-dye job and completely change your hair color.
You can also go for a soft ombre from brunette to blonde or vice versa. Ideally, pick a unique color like copper, blue, pink, or silver for your short haircut.
Avoid These Karen Haircuts
Nobody likes a Karen, so avoid looking like one by skipping the below haircuts!
1. The Gosselin
Remember Kate Gosselin? Thank her for inspiring the original Karen, a bob with a spiked back of this bob to add texture. When combined with off-center straightened side bangs, the whole thing screams Karen.
2. Ombre Karen
Just because bright red and purple are a pretty ombre, that doesn't mean no one will notice it's a total Karen haircut. We would The short asymmetrical bob has a nasty reputation, so we're less than enthusiastic.
3. Sharp Edged Karen
'Just plain unattractive' is how we'd describe this pixie cut that is trying too hard. Its layered back stops at the neck, cuts short above the ears, then tapers sharply to long again. The half wavy layers, asymmetrical pixie cut, and semi-straightened are totally Karen.
4. Extra Heavy Part
Overly heavy side parts on inverted bobs classify as a Karen. The straightened tapered layers lend itself to 'Can I talk to a manager?'
5. Soccer Mom Karen
It's another asymmetrical bob style, this time featuring teased textured layers. We appreciate the cut for women with glasses, but to avoid a Karen feel, take the teasing down and let hair grow a bit longer.
6. Crazy Karen
There are better ways to show off your curly hair than an inverted bob. When you let your hair air dry and comb it out, you get stretched, frizzy curls that scream crazy lady. Prevent it by adding curl cream while hair is still damp and not combing it out.
7. Rainbow Punk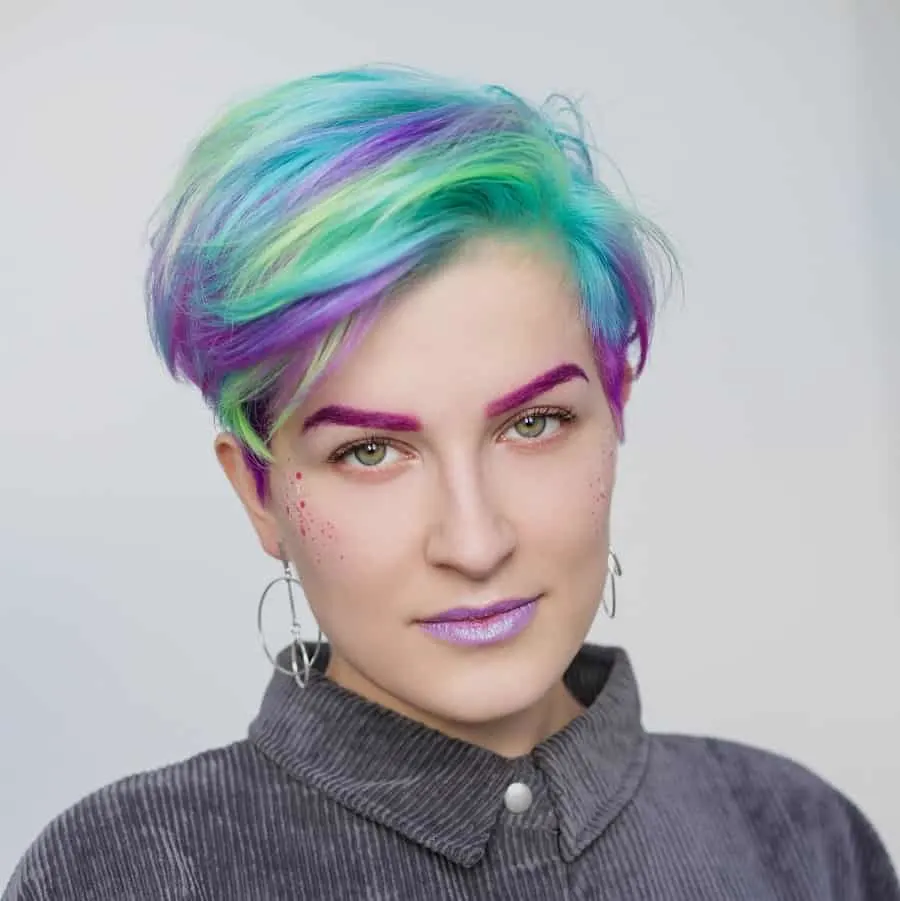 Since this soft layered pixie rocks the rainbow in its coloring, we won't knock it too much. It could be made Karen-proof, however, by letting both sides be long and parting off center, or by pinning back a few front pieces.
Light blonde is a great color when your hair goals are to look youthful. However, this inverted bob is a flop because of the bubble-like shape at the teased crown, making it a Karen. Skip the teased crown and hair straightener, letting those locks be natural.
9. Side Swept Karen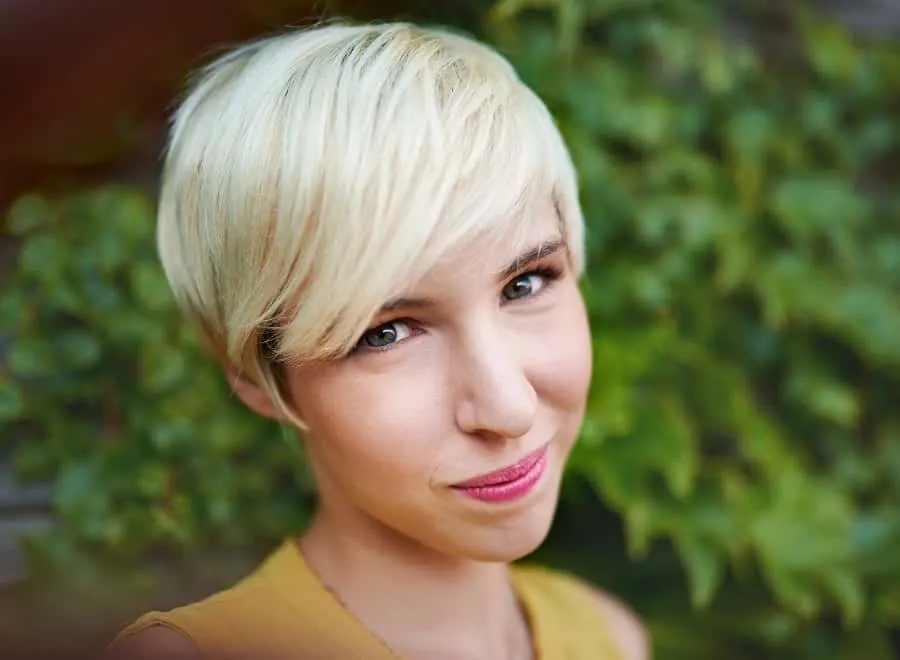 Long side bangs are a great detail to utilize on a pixie cut when you're trying to switch up your face dimension, but steer clear of Justin Bieber bangs by going a little longer in length all around.
10. Karen Wig
Unless your personality is naturally dramatic, the only time you should use this dark purple, insanely textured bob wig is at Halloween! Otherwise, you've unfortunately run into a Karen haircut bordering teenie-bopper.
11. Overly Long Side Bangs
An extra long front and super short back are the quickest ways to reach K status. While we love beautiful blonde coloring and layers, the straightened side bangs are way too long and too much for a small face.
12. Misdirection Karen
The mix of directions these short straight and wavy layers are heading is enough to make our eyes criss cross. Pick one hair texture at a time – like straight – to fix this mess of an inverted layered pixie.
13. Contrasting Textures
The ribbon-like curls seen above that lie over straight hair are out-dated and fail to make a Karen haircut edgy. Instead they just look confusing. Skip the eye sore combination of baby bangs on an inverted pixie, but keep the dark blue highlights.
14. Too Much Volume
We've already established that a bob with stacked layers is the epitome of a Karen haircut, but the extra volume is the ridiculous cherry on top. While the blonde highlights are pretty, the volume is just over the top.
15. Plastic Bob
If this blonde highlighted pixie wasn't perfectly sculpted and smooth, it wouldn't be so plastic and fake looking. The stiff layers and poofy back give it every chance of looking like a Karen haircut. Keep the buzzed section near the ear and the blonde/black coloring, but cut down on the layers to make it a winner.
Overall, the best ways to prevent ending up with a Karen haircut are to nix short hairstyles that are overly layered or stacked at the back, piecey, and/or teased at the crown. Any of these (especially in brassy blonde) on an inverted or asymmetrical bob is a bad combination.
If you really want a short haircut, go with styles like the blunt bob or a razor-cut pixie – they won't have anyone expecting you'll want to 'see a manager!'