Silver white hair look is trendy, edgy, and sophisticated all at the same time. Every now and then we need to do something to spice things up and change our style to feel more confident and youthful.
Some people change the way they dress, and others like to start with hair. If you're in the latter group, then silver and white hair color is a must-try style this season. So, let's see 15 gorgeous styles you can rock.
Silver White Hairstyles
Having hair dyed in silver-white shade gives you plenty of styling options and the best thing of all it works on any hair texture and length. These ideas will inspire you to try something similar to yourself as well.
Women with long and straight hair who are looking for an inspiration to spice things up may want to try this silver white haircut. Dye your hair in whitish silver to accentuate the shine and smoothness of your hair. Create a braid using only a portion of your hair while the remainder flows gently down your back.
2. Two-Dimensional Pixie Cut
The best thing about pixies is that they are always in style, and we can rock them in many ways. Women who are feeling extra edgy should definitely consider this look.
Use a silver white hair dye to get the "icy" blonde hair and cut it into a pixie cut, but make sure one side is shorter than the other. For example, you can shave the other side and just let it grow out.
Women and girls with fine and thin hair can boost the fullness of their hair with a short and layered cut. Your layers will be particularly accentuated with silver hair color. Blow-dry your hair in order to achieve this elegant effect.
4. Short and Elegant
White silver hair gives us an elegant look with a dose of edginess. One way to achieve elegance is to cut your hair short, create a deep parting, and rock it with ease. What we love about this pageboy hairstyle is that it's modern, yet classic all at the same time.
Looking for a casual yet elegant look? Then half up and half down hair is a good choice. Create two sections (top and bottom).
Pick up your hair in a bun or create some other style and let the remainder of your hair down your back in a sleek and straightway. It's easy to realize this is one of the cutest silver white hairstyles you can find.
An easy way to feel instantly younger is to cut your bangs super short. In most cases, women cut them in eyebrow level or longer, but you can go in a different direction. Silvery white hair dye will only accentuate your chic baby bangs and short cut.
Top knots are girly, adorable, and one of the most fashionable styles these days. The best thing about top knots is that they can work perfectly with casual as well as elegant outfits.
Ponytails will never stop being stylish. You can rock a high or low ponytail, depending on your personal preferences. While ponytail always looks great, there's something special about it when you dye your hair in silver white color. Try it out, and you'll fall in love instantly.
Milkmaid braid is elegant, sweet, and stylish. Basically, it involves creating a big braid that you'll place across the crown. While it looks like it has taken hours to perfect this braid the reality is that you can do it quite fast. If you're searching for an elegant yet practical hairstyle, this is the one.
Updos are versatile, especially if you have long hair. Just pick it up in a bun or use bobby pins to create any unique style you want. For the best look, you'll need to get a high-quality silver white hair dye that will give you an amazing silver shade.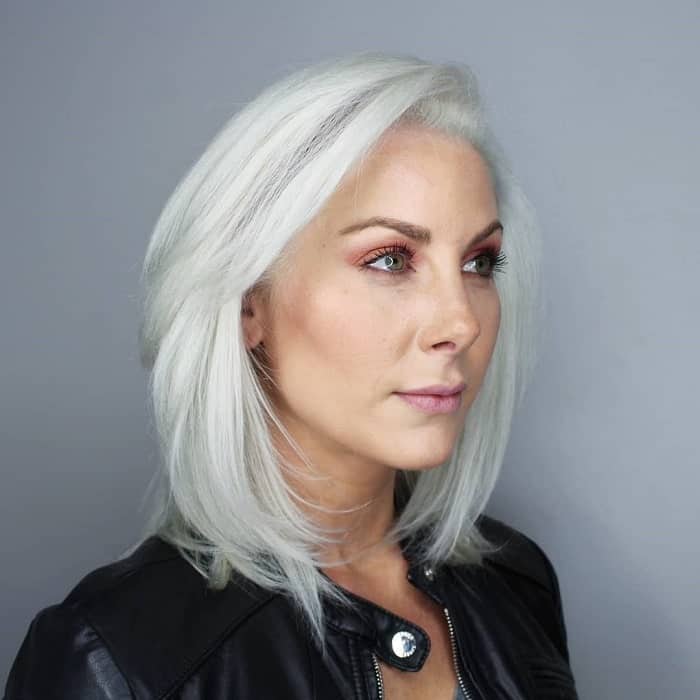 Sometimes minimalistic approach to styling your hair can speak volumes. Take a look at the photo below and see how amazing this white hairstyle is. Medium length hair is styled in a minimalistic way, yet it is absolutely gorgeous. You can rock it with casual or elegant outfits.
Got fine and thin hair, but you want it to seem fuller? Then dye your hair in silver white and get a pixie styled in layers which will give more texture and fullness to your hair.
You can never go wrong with a braid. Turn your long silver white hair into a gorgeous, big braid, and you'll look super sexy.
Long bob or lob is always sleek and elegant, but you can take things to a new level with short silver hair with a white hint. For a more casual look, you can use a curling iron to create gentle waves and locks.
15. Elegant and Modern
Short cuts are modern today, especially pixie bob styles. Instead of giving more volume to your hair with locks, curls, and waves, you can keep it straight and fashionable.
Black & White Hair Color Ideas
Silver white hair ideas from this post are absolutely stunning, and you probably want to try them all. Explore and give them a try until you find the style that works for you best. Remember, in order to keep your hair looking perfect, and it's vital to find a great hairstylist.