Like any other ombre color, white ombre hair has gained popularity amongst the middle-aged women, who love to experiment with their hair by stepping out of their comfort zone and trying out different hair colors that they've never tried before. You must be thinking that white hair is only attributed to grannies and is a turn-off but you're wrong. You can look ethereal yet stunning in white ombre and raise the bars of hair fashion.
If you're stuck in a dilemma of whether to go for ombre or not when there are endless options to choose from – worry no more! This guide will help you in taking the right decision and make you fall in love with white hair ombre hair. Transform yourself into an ice princess and conquer the world as you go.
How To Do White Ombre On Hair
Ombre hair requires bleaching the ends of your hair because, for a color that is different from your natural hair color, bleach can strip off the hair color so you could add the color of your own choice to achieve best results.
If you're thinking of doing it on your expense, you can do it at home. However, it's best to seek a professional hair stylist that would help you in deciding the suitable ombre and transform your hair.
Here are steps you should follow while you're at it:
You'll need
Bleach
Comb
Rubber bands
Hair Dye
Old T-shirt
Applicator
Developer
Step #1: After selecting the color of your choice, decide at which portion you want the fade to stop. The two colors should meet at the lower side. Otherwise, it will look unnatural. Ombre hair is much suited to longer hair than short hair as it allows you to go further down when applying the hair dye.
Step #2: Comb your hair to make sure that no tangles remain. It will ensure a smooth application of bleach.
Step #3: Grab an old T-shirt because the process is going to be a real mess. You may end up getting bleach on your clothes.
Step #4: Mix bleach and the contents of the developer. Developer comes in different volumes (10, 20,30 etc.) You can choose 10 or 20 volumes to achieve an ombre look. Not more than that.
Step #5: Part your hair with a tail-comb and divide it into various sections. Half on each side. Divide it further until no more sections can be made. Secure the sections with rubber bands.
Step #6: Wear your gloves and pick out the applicator because it's time for bleaching your hair. Start bleaching your hair from the tips, all the way towards the desired ending line. Don't be in a hurry while you're applying the bleach. Take your time and don't miss out any area.
Step #7: The setting time is between 10-45 minutes. For best results, let the bleach stay for 45 minutes. If you're opting for a lighter shade, leave the bleach for 10-15 minutes.
Step #8: Wash your hair with luke-warm water while wearing your gloves. Make sure that you get rid of the bleach completely.
Step #9: After washing your hair, you want to let it dry until it's fully dried up.
Step #10: Repeat step #5 before you start applying the hair dye.
Step #11: Read the instructions of the hair dye product you've bought and followed the directions to prepare your hair dye.
Step #12: Start applying the hair dye to every bleached section of your hair and ensure that you haven't missed any spot.
Step #13: Wait for the hair dye to set for the given amount of time written on the packaging of the hair dye and wash your hair.
Now, you're all set to rock your white ombre hair!
White Ombre Vs. White Balayage
People tend to confuse balayage with ombre, but there is a major difference between the two. In an ombre hairstyle, the transition from light-colored tips to deeper root is pretty short whereas, in balayage, the transition is much longer and the dye blends well with your natural hair color.
It's up to you to decide whether you want to opt for white ombre or balayage as both of them look stunning on its own. If you want to achieve the desired hair color, you should consult a professional hair stylist who can decide which technique would achieve the end result.
Amazing White Ombre Hairstyles for Women
Here are 25 best white ombre styles for women that you can't go wrong with:
1. White Ombre on Black Hair
If you've got long straight hair, this monochromatic hairstyle looks elegant and sophisticated for everyday style. White color ombre blends well with your natural black hair and makes the transition visible. If you've got jet black hair, white ombre is the way to go about. Add a hint of grey and white to your black hair and slay all day because why go for one shade ombre when you can have two shaded ombre that looks ravishing?
2. Greyscale Ombre Hair Hairstyle
There are contrasts of grey color that lies between the white and black spectrum. Enhance your waves by defining the edges with a white-grey tone that sets well your black hair and make you look aesthetic.
3. White Ombre with Purple Tips
If you distinguish between traditional ombre and reverse ombre, the only major difference you can find is that reverse ombre has lighter roots and darker edges, whereas a traditional ombre consists of darker roots and lighter edges. With white colored ombre hair, you can go for energetic colors for the edges such as hot pink, electric blue, and burgundy and look flattering.
Step out like a fashion diva with this exquisite look. If you're a magenta head looking for a sultry ombre color, pink and white ombre hairstyle will look spot on!
5. Pastel Hairstyle
Lavender grey hair roots with white ombre edges look absolutely gorgeous. The color combo compliments each other and gives off the Game of Thrones vibe.
6. White Ombre on Ash Blonde Hair
Show some love to your blonde hair by going for white ombre style. It looks natural and is an easy look that any blondie can pull off.
7. Mauve Colored Braids with White Ombre
How beautiful these Dutch braids look? The white hair ombre style shows a mauve color that transitions into different shades of white color.
8. On Blonde Hair
Who says that blonde doesn't go well with white ombre? This short blonde ombre hairstyle is the go-to look that looks effortlessly chic. Remember that it's easier to apply on a lighter base of your hair than the darker. The white tips totally compliment the blonde hair.
9. Blonde To Platinum White Ombre
This is an asymmetric look that displays the color transition from champagne blonde to platinum. The ombre hairstyle with white hair color gives an icy princess vibe.
10. Silver White Ombre Hairstyle
The hairstyle looks neat and killer as the white ombre gives definition to the hair.
11. Metallic Grey Ombre
This fun quirky haircut is low-maintenance and shows the beauty of grey gradient colors. The roots of the hair are darker that changes into a silver grey color that looks mesmerizing.
If you don't want white tips, you can go the other way round by trying out a reverse white ombre style on top and going for funky turquoise blue on the bottom. It's indeed a perfect blend of two colors.
Mix and play with blue, grey and white and create a stunning look. If you want to spice up your boring hair, you can't regret going for this transformation. The transition is aesthetically pleasing to the eyes.
13. Two-toned Ombre Hairstyle
Add some hues to your white ombre hair to give a popping look. You can go for lavender purple hair, blue or any other clue that gives a certain highlight to your hair.
You can easily apply white hair ombre on your natural grey hair. Add a flower crown to complete the look and flaunt with style.
Lob cut never goes old. It looks perky and stylish in greyish white ombre hair. The angled cut gives an edgy look that looks astonishing.
16. Pale White Ombre Hairstyle
Whether you've got black or brown hair, white ombre seamlessly stands out on dark colors. You don't have to worry about growing out your hair because the ombre will simple cascade along and look impressive.
The transition from grey to silvery white ombre looks too good to be real. The flower crown adds a cherry on top.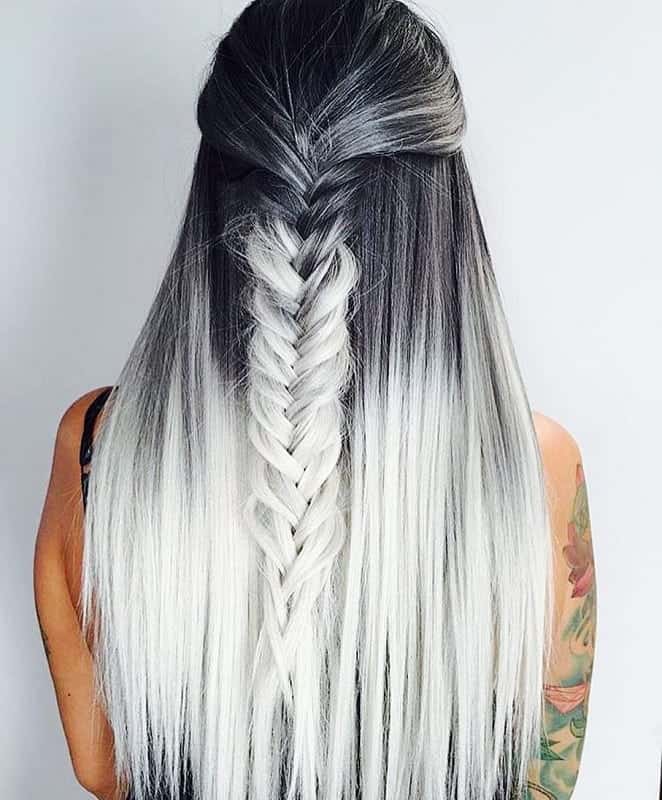 Style your long hair with a subtle fishtail braid that beautifully shows a transition of white ombre hair color.
Braids are a great way to show off your ombre hair in white shade. It gives off a creamy vanilla texture to your hair and looks magical.
20. Platinum White Ombre Ponytail
This funky messy ponytail incorporates a chunky braid that transforms ordinary ponytail into a subtle look. The shades of white ombre look vivid in this hairstyle.
It's amazing the number of shades white has. The transition from black to white looks ethereal and flawless here.
The hair color is a light gold that magically exhibits a wow-factor with silver/white ombre and has a dreamy-like vibe.
Whether you want to go for a full or half ponytail, it's totally up to you. You'll look gorgeous either way with this white ombre hairstyle.
24. Grey And White Ombre Hairstyle
Grey and white makes a classy combination and gives an icy theme to your hair. The white base smoothly blends into grey hues with perfection.
25. Metallic Ice Blue Hair with White Ombre
The slightly white ombre on the tips looks on point with the metallic blue base. Pastel color displays a smooth and cool texture to your hair.
FAQ's on White Ombre Hairstyles
Q1: Grey or Silver? Which goes well with white hair?
Ans: Grey will look striking and appear more vivid on white hair as compared to silver. On the other hand, if you want your hair to look shiny as platinum, you can choose silver ombre.
Q2: How long does white ombre hair last?
Ans: It can last for 3-4 months because after every wash the color fades. Therefore, you need to die it again after every 3-4 months. You don't have to worry about the roots growing because it won't do much to the white colored ombre hair.
Q3: Can you do white ombre on grey hair?
Ans: Without a doubt, you can easily apply white ombre on your grey hair that will lift up your natural hair color and make you look fabulous.
I'm sure you must've made up of your mind of going for ombre style with white shade because it's definitely trendy and there are so many styles to choose from. At the end of the day, you definitely wouldn't regret going for white ombre hair.