White ombre hair is highly versatile and can be paired with most hair colors. Using highlights or creating full white ombre hair will raise your style score.
We are sure your Instagram profile is full of gorgeous hairstyles with grey, silver, or white cool and edgy parts. Place strategic color variations and blend them with your mane or go for a full white ombre hair.
How To Get White Ombré Hair
First of all, even if you are blonde, you will need to bleach your hair. Ask your hairstyle to create stunning graduation from a darker top to lighter tips.
Dye to hair in a platinum blonde color and make sure you use Olaplex or a similar product that prevents hair damaging during the bleach. To preserve the color, use special shampoo for dyed hair and go for frequent touch-ups.
If you love white ombre hair, you must know that it flatters any skin tone or hair color combination. Gain a stunning just by following the steps below.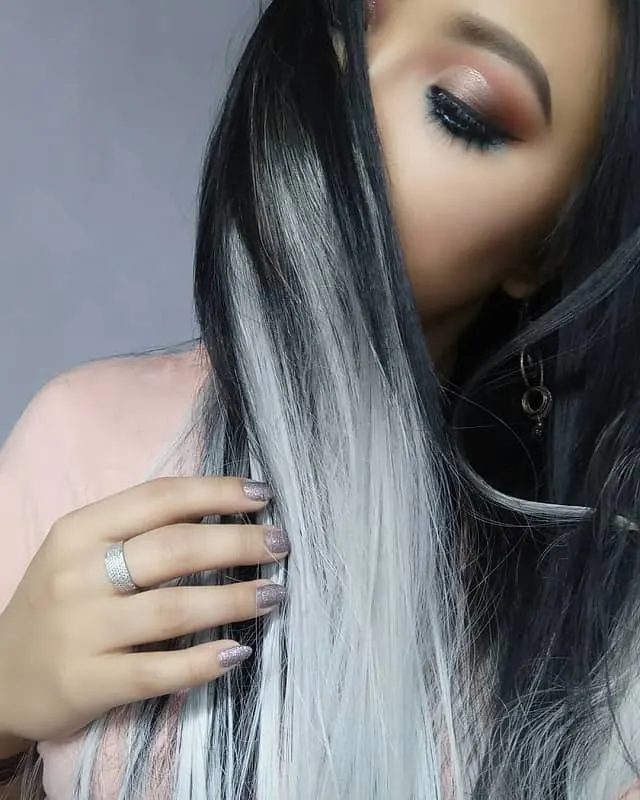 Ombré hair requires bleaching the ends of your hair because, for a color that is different from your natural hair color, bleach can strip off the hair color so you can add the color of your own choice to achieve the best results.
If you're thinking of doing it at your expense, you can do it at home. However, it's best to seek a professional hairstylist that would help you decide the suitable ombre and transform your hair.
Here are steps you should follow while you're at it:
You'll need
Bleach
Comb
Rubber bands
Hair Dye
Old T-shirt
Applicator
Developer
Step #1: After selecting the color of your choice, decide which portion you want the fade to stop. The two colors should meet on the lower side. Otherwise, it will look unnatural. Ombré hair is much suited to longer hair than short hair as it allows you to go further down when applying the hair dye.
Step #2: Comb your hair to ensure no tangles remain. It will provide a smooth application of bleach.
Step #3: Grab an old T-shirt because the process will be a real mess. You may end up getting bleach on your clothes.
Step #4: Mix bleach and the contents of the developer. Developer comes in different volumes (10, 20,30, etc.) You can choose 10 or 20 volumes to achieve an ombre look. Not more than that.
Step #5: Part your hair with a tail-comb and divide it into various sections. Half on each side. Divide it further until you can make no more sections. Secure the sections with rubber bands.
Step #6: Wear your gloves and pick out the applicator because it's time to bleach your hair. Start bleaching your hair from the tips, all the way towards the desired ending line. Don't be in a hurry while you're applying the bleach. Take your time, and don't miss out on any area.
Step #7: The setting time is between 10-45 minutes. For best results, let the bleach stay for 45 minutes. If you're opting for a lighter shade, leave the bleach for 10-15 minutes.
Step #8: Wash your hair with lukewarm water while wearing your gloves. Make sure that you get rid of the bleach completely.
Step #9: After washing your hair, you want to let it dry until it's thoroughly dried up.
Step #10: Repeat step #5 before you start applying the hair dye.
Step #11: Read the instructions of the hair dye product you've bought and follow the directions to prepare your hair dye.
Step #12: Start applying the hair dye to every bleached section of your hair and ensure that you haven't missed any spot.
Step #13: Wait for the hair dye to set for the given amount of time written on the hair dye packaging and wash your hair.
Now, you're all set to rock your White Ombré hair!
White Ombré Vs. White Balayage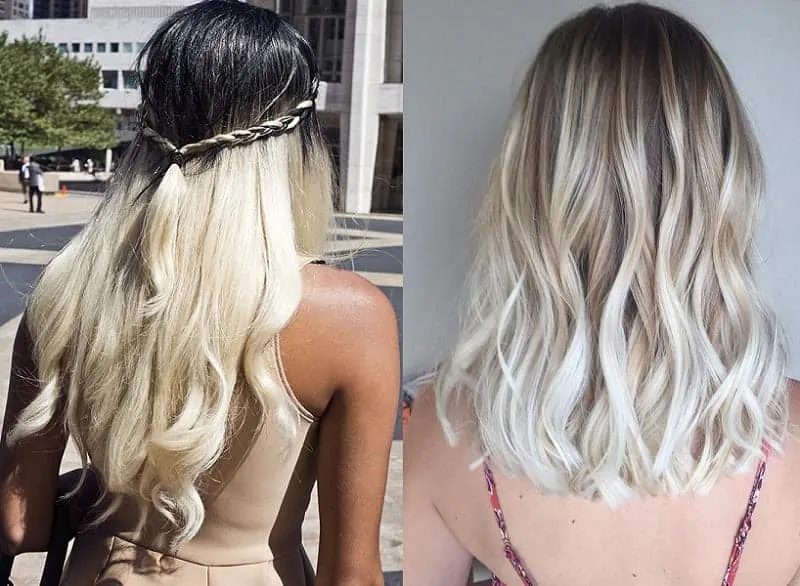 People tend to confuse balayage with ombre, but there is a significant difference between the two. In an Ombré hairstyle, the transition from light-colored tips to deeper roots is pretty short, whereas, in balayage, the transition is much longer, and the dye blends well with your natural hair color.
It's up to you to decide whether you want to opt for white ombre or balayage as both look stunning on their own. However, if you're going to achieve the desired hair color, you should consult a professional hairstylist who can decide which technique would accomplish the end result.
White Ombré Hair Looks
1. Long Dreadlocks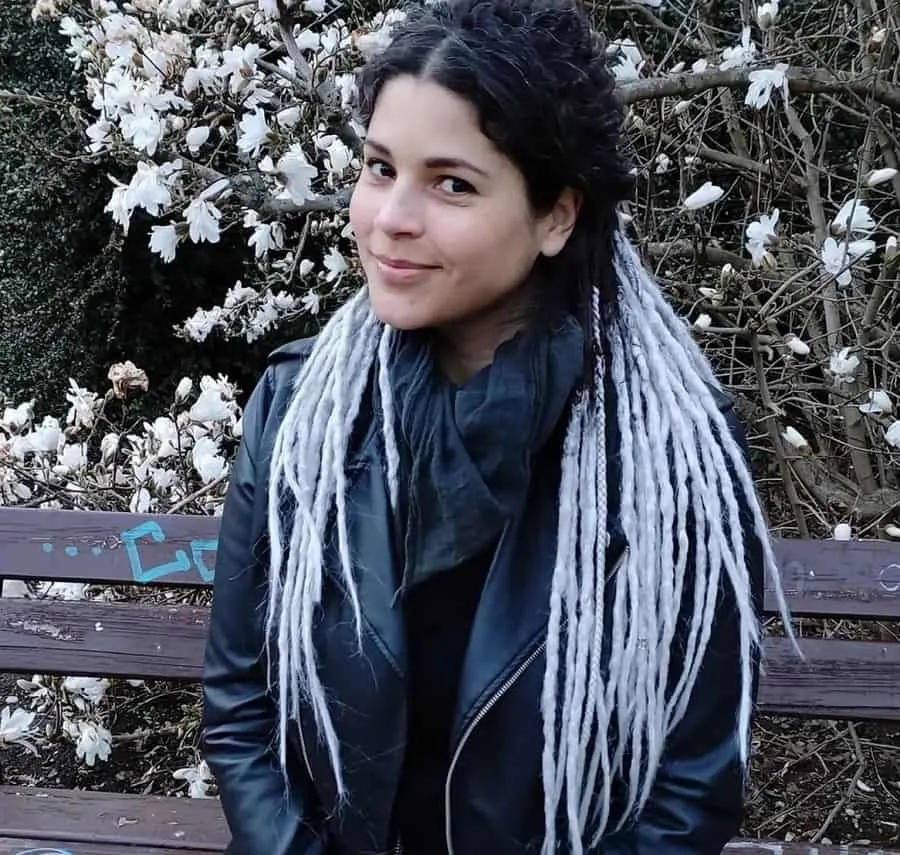 When you're building your dreadlocks, you should consider adding some jumbo hair. This way, you won't have to bleach your natural tresses and you can extend them and style waist-length locks.
2. White Hair with Dark Tips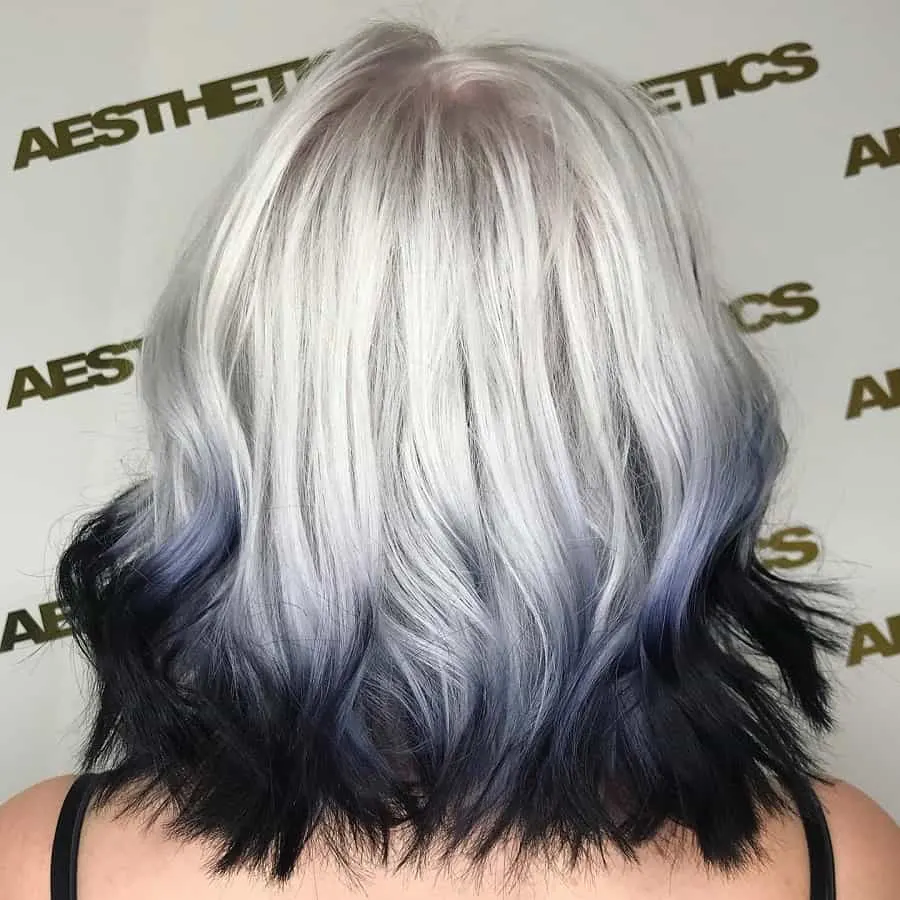 This is a mesmerizing combination of white hair with darker tips. It's like an inverted ombre, it has a lot of contrast and depth. Those loose waves give your hair a gorgeous texture that must be achieved in a hair salon.
3. Ombre Highlights
A layered bob hairstyle with bangs swept on one side will look gorgeous with white ombre highlights. Use a straightening brush how to make your hair look flawless.
4. Two French Braids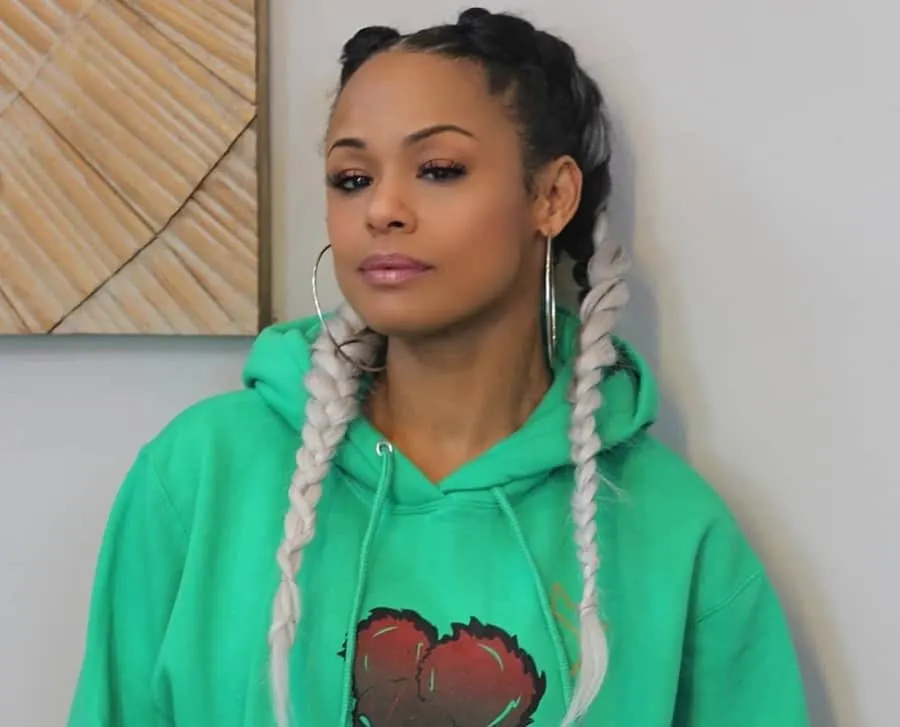 To style this amazing white ombre with braids, you will need one hair bundle that you will split into two sections. You will use each part to create your French braids.
5. Box Braids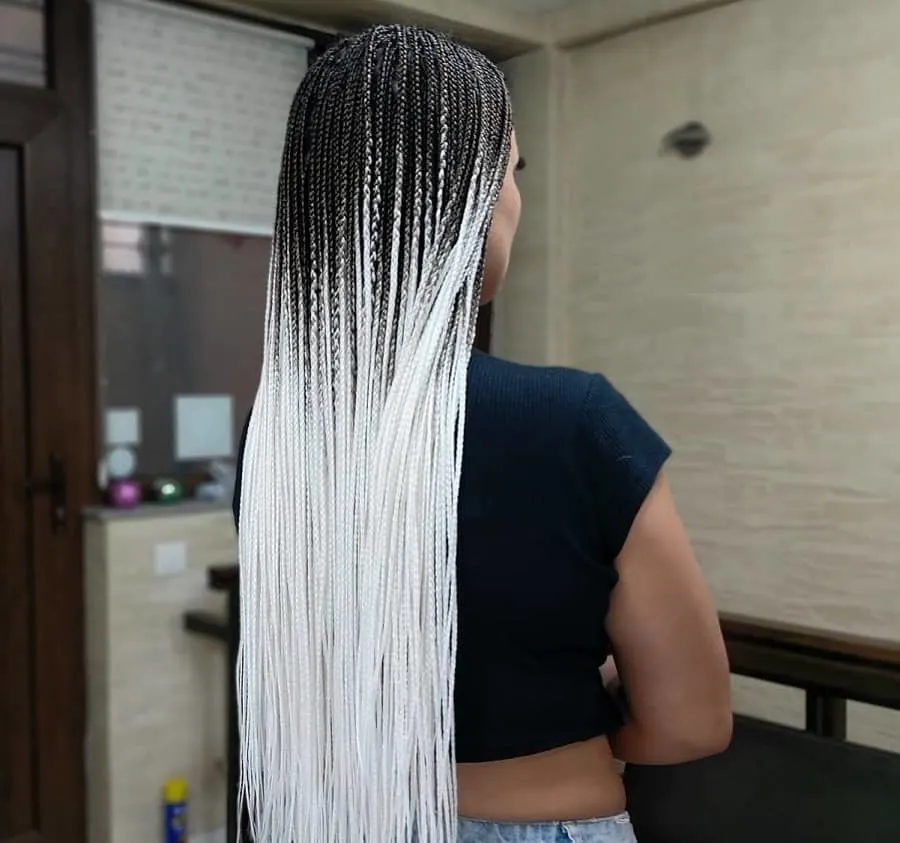 Box braids with such length require a lot of work. However, if you're going for this hairstyle, you can keep the knits for even a month. All you have to do is sleep with a silk cap overnight. This way, your braids won't get messed up.
6. White Ombré on Black Hair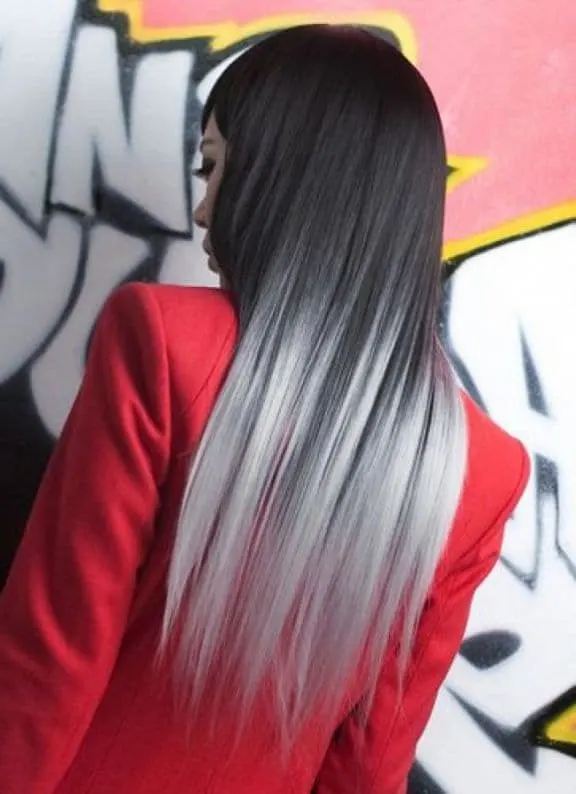 This monochromatic hairstyle looks elegant and sophisticated for everyday style if you've got long, straight hair. White color ombre blends well with your natural black hair and makes the transition visible.
If you've got jet black hair, White Ombré is the way to go. Add a hint of grey and white to your black hair and slay all day because why go for one shade of ombre when you can have two shaded ombre that look ravishing?
7. Greyscale Ombré hair Hairstyle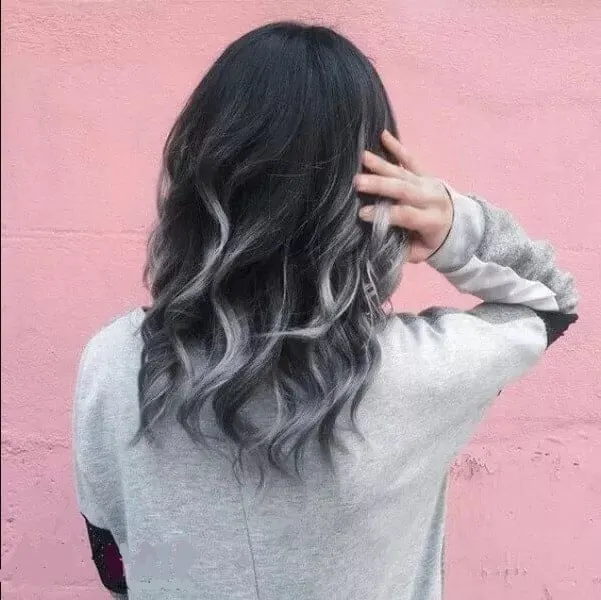 There are contrasts of grey color between the white and black spectrum. Enhance your waves by defining the edges with a white-grey tone that sets well your black hair and makes you look aesthetic.
8. White Ombré with Purple Tips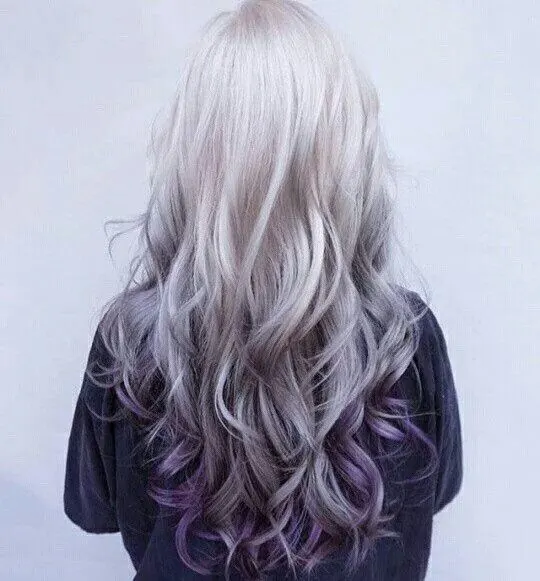 If you distinguish between traditional ombre and reverse ombre, the only significant difference is that the reverse ombre has lighter roots and darker edges, whereas a conventional ombre consists of darker roots and lighter edges.
With white Ombré hair, you can go for energetic colors for the edges, such as hot pink, electric blue, and burgundy, and look flattering.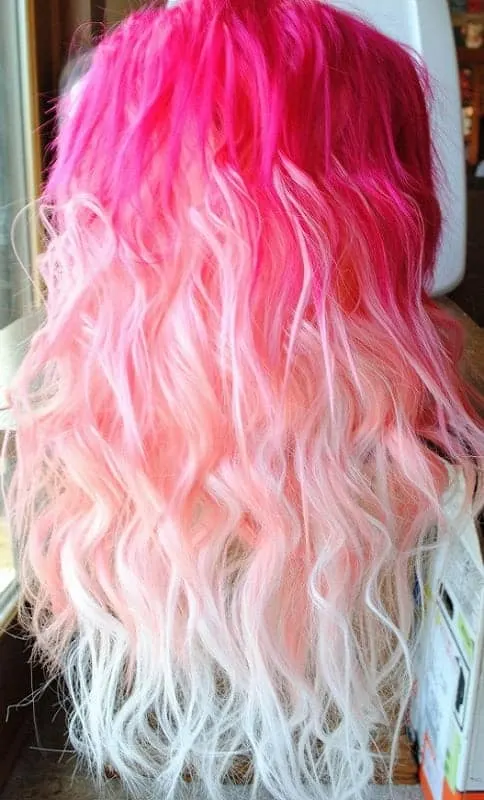 Step out like a fashion diva with this exquisite look. If you're a magenta head looking for a sultry ombre color, the pink and White Ombré hairstyle will look spot on!
10. Pastel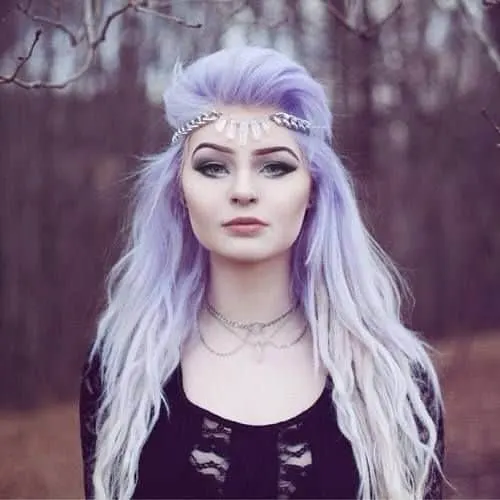 Lavender grey hair roots with White Ombré edges look gorgeous. The color combo compliments each other and gives off the Game of Thrones vibe.
11. White Ombré on Ash Blonde Hair
Show some love to your blonde hair by going for the White Ombré style. It looks natural and effortless look that any blondie can pull off.
12. Mauve Colored Braids with White Ombré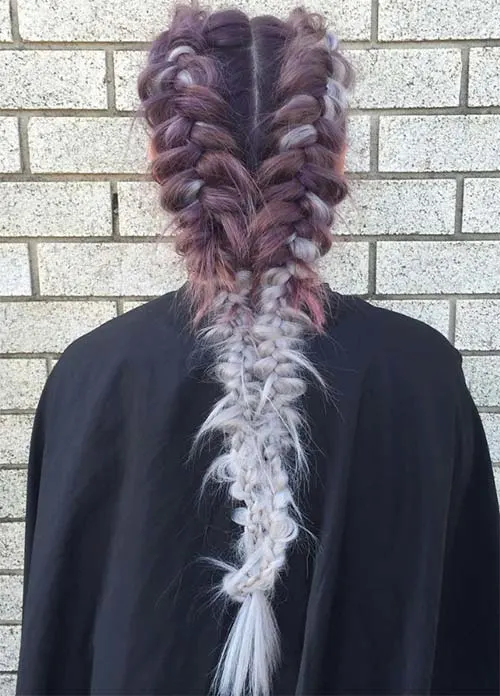 How beautiful do these Dutch braids look? The white hair Ombré style shows a mauve color that transitions into different shades of white color.
13. On Blonde Hair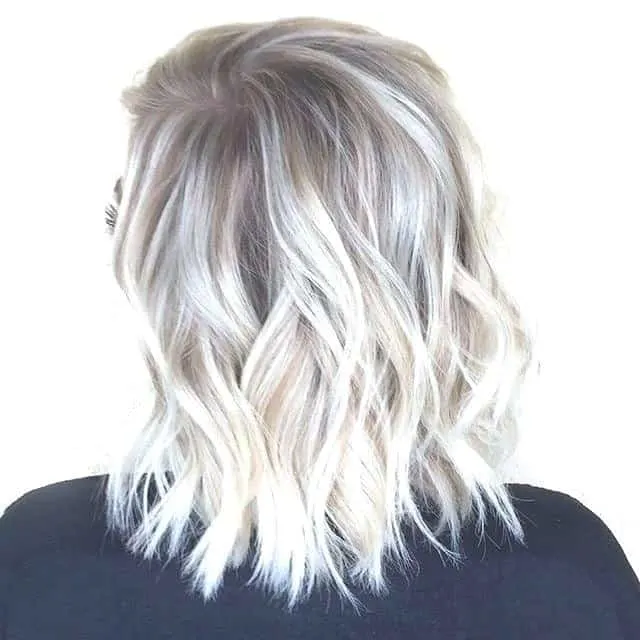 Who says that blonde doesn't go well with White Ombré? This short blonde Ombré hairstyle is the go-to look that looks effortlessly chic.
Remember that it's easier to apply on a lighter base of your hair than the darker. The white tips totally compliment the blonde hair.
14. Blonde To Platinum White Ombré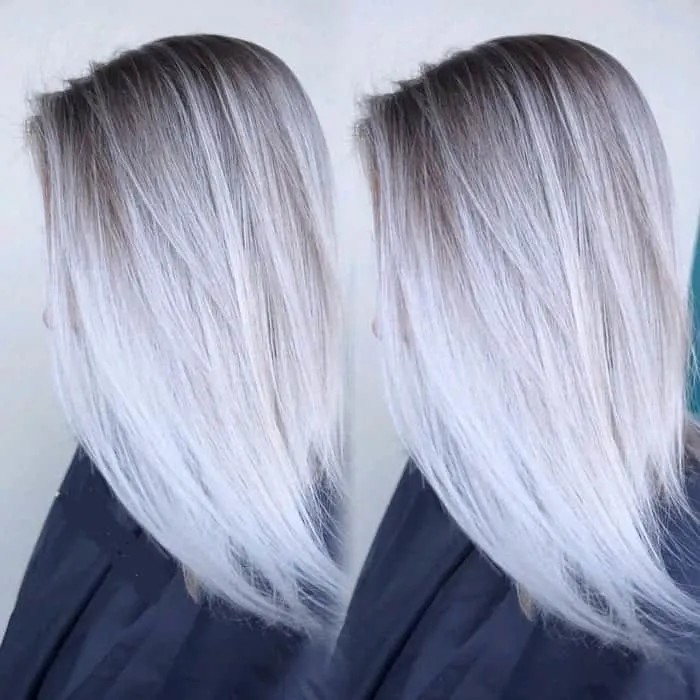 This asymmetric look displays the color transition from champagne blonde to platinum. The Ombré hairstyle with white hair color gives an icy princess vibe.
15. Silver White Ombré Hairstyle
The hairstyle looks neat, and killer as the White Ombré defines the hair.
16. Metallic Grey Ombre
This fun, quirky haircut is low-maintenance and shows the beauty of grey gradient colors. The hair's roots are darker and change into a silver-grey color that looks mesmerizing.
If you don't want white tips, you can go the other way round by trying out a reverse White Ombré style on top and going for funky turquoise blue on the bottom. It's indeed a perfect blend of two colors.
Mix and play with blue, grey, and white and create a stunning look. If you want to spice up your dull hair, you can't regret going for this transformation. The transition is aesthetically pleasing to the eyes.
18. Two-toned Ombré hairstyle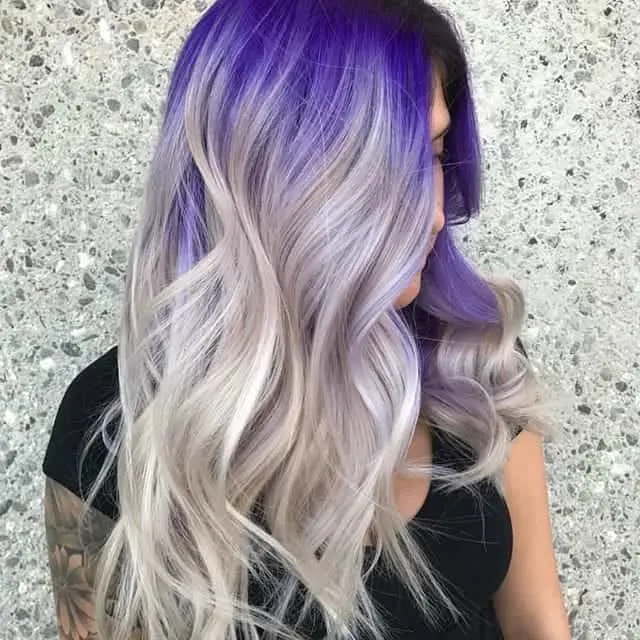 Add some hues to your White Ombré hair to give it a popping look. You can go for lavender purple hair, blue or any other clue that gives a certain highlight to your hair.
You can easily apply a white hair ombre to your natural grey hair. Then, add a flower crown to complete the look and flaunt with style.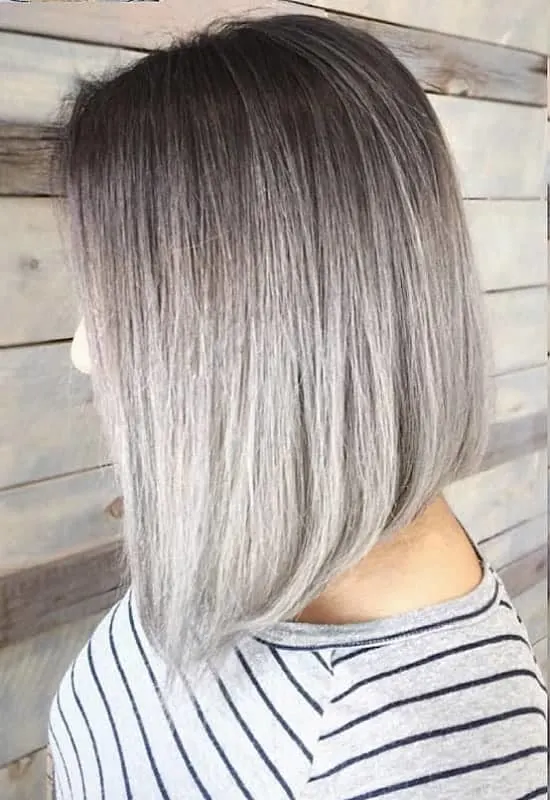 The lob cut never goes old. It looks perky and stylish in greyish White Ombré hair. The angled cut gives an edgy look that looks astonishing.
21. Pale White Ombré Hairstyle
Whether you've got black or brown hair, White Ombré seamlessly stands out on dark colors. You don't have to worry about growing out your hair because the ombre will cascade along and look impressive.
The transition from grey to silvery White Ombré looks too good to be real. The flower crown adds a cherry on top.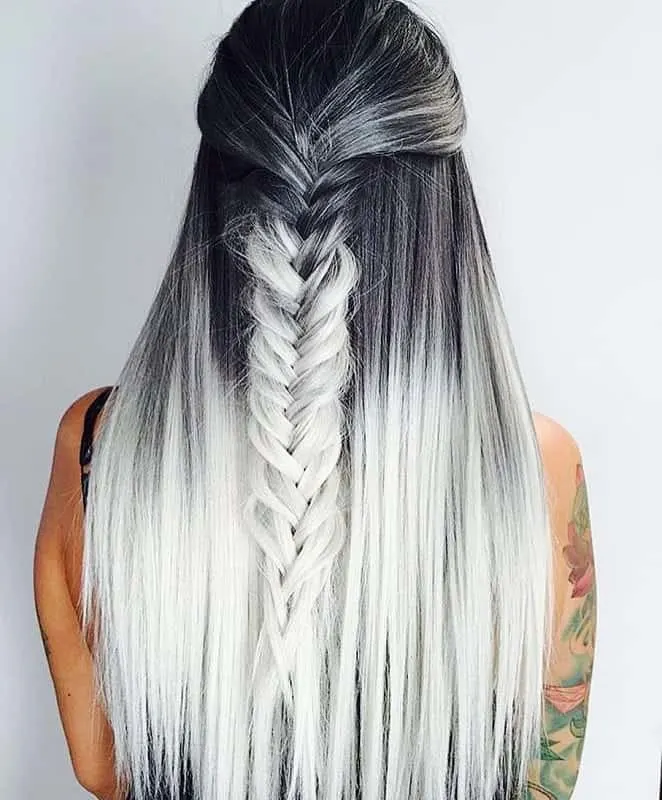 Style your long hair with a subtle fishtail braid that beautifully shows a transition of White Ombré hair color.
Braids are a great way to show off your Ombré hair in a white shade. It gives off a creamy vanilla texture to your hair and looks magical.
25. Platinum White Ombré Ponytail
This funky messy ponytail incorporates a chunky braid that transforms an ordinary ponytail into a subtle look. The shades of White Ombré look vivid in this hairstyle.
It's incredible the number of shades white has. The transition from black to white looks ethereal and flawless here.
The hair color is a light gold that magically exhibits a wow-factor with silver/White Ombré and has a dream-like vibe.
Whether you want to go for a full or half ponytail, it's totally up to you. You'll look gorgeous either way with this White Ombré hairstyle.
29. Grey And White Ombré Hairstyle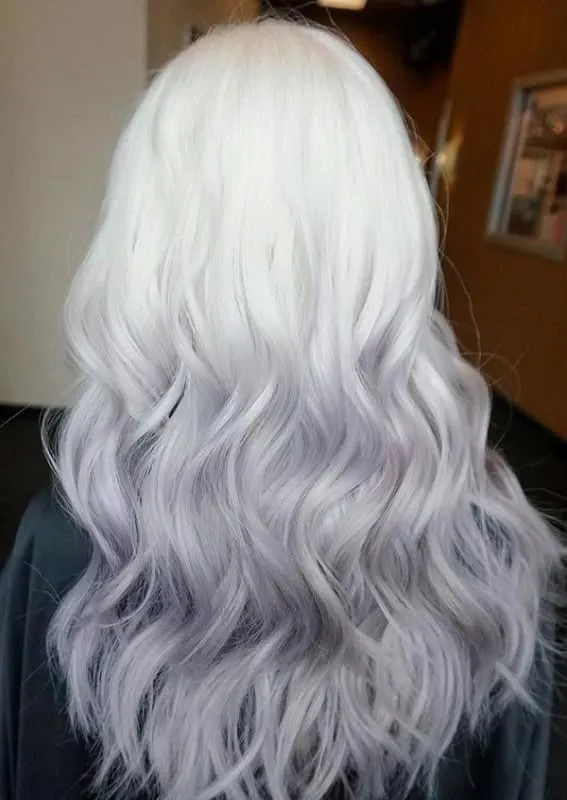 Grey and white make a classy combination and give an icy theme to your hair. The white base smoothly blends into grey hues with perfection.
30. Metallic Ice Blue Hair with White Ombré
The slightly White Ombré on the tips looks on point with the metallic blue base. Pastel color displays a smooth and cool texture to your hair.
FAQ's on White Ombré Hairstyles
Grey or silver? Which goes well with white hair?
Grey will look striking and appear more vivid on white hair than silver. On the other hand, if you want your hair to look shiny as platinum, you can choose a silver ombre.
How long does White Ombré hair last?
It can last for 3-4 months because after every wash, the color fades. Therefore, you need to die it again after every 3-4 months. You don't have to worry about the roots growing because it won't do much to the white Ombré hair.
Can I do White Ombré on grey hair?
Without a doubt, you can easily apply White Ombré on your grey hair; that will lift your natural hair color and make you look fabulous.
I'm sure you must've made up your mind about going for the Ombré style with white shade because it's trendy and there are so many styles to choose from. At the end of the day, you definitely wouldn't regret going for White Ombré hair.