It really feels like the 90s are back with the return of chunky highlights. This is a trend we never thought we'd see again, but here it is. You can definitely be a skeptic or not even like them, but the chances are you will change your mind after going over the below hairstyles.
Chunky Highlights
Read on to learn how to do the chunky highlights and why they are different from the thin version and to check out the most vibrant looks.
1. Red, Grey & Black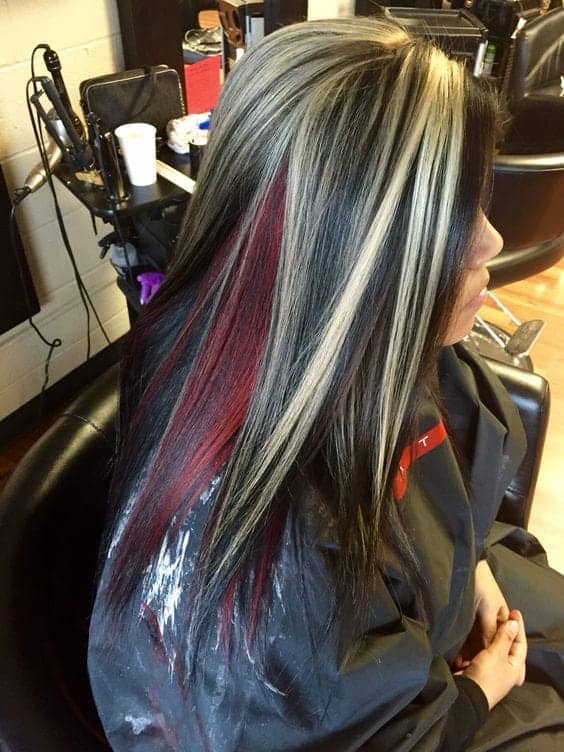 Black hair with blonde or caramel highlights does give you the space to experiment a lot and this hairstyle is here to prove exactly that.
Ideal For: It will look much more alluring on long hairdos. There is a larger canvas for the artistry of these chunky highlights.
How to Style: Do a super-straight and sleek mane so that everyone will be able to see your new look.
2. Electric Blue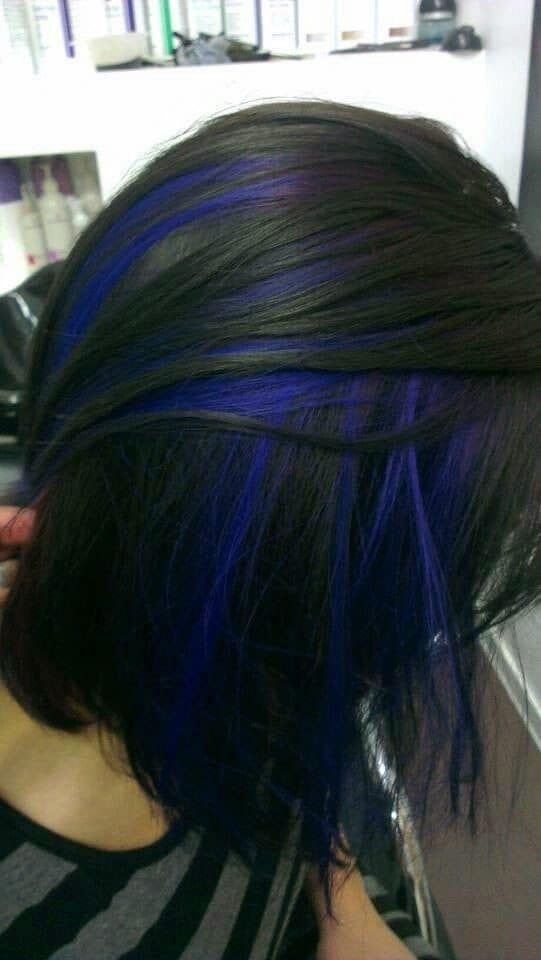 Another proof that black is a versatile hair color. Add even more depth to it with the stunning dark blue hair color.
Ideal For: Everyone who wants to refresh a boring and plain black hairdo can do it with hints of blue.
How to Style: Search for a hairstyle that will really put the hair dye into the spotlight. That is possible with an updo as well.
3. Black & Vibrant
Are you prepared for the biggest change in your life? The chunky highlights can also come in several different hues.
Ideal For: So good for all hair lengths, but most appropriate for the younger gals. It doesn't mean that adults should not get it, but they usually have to have a work-appropriate mane.
How to Style: Let the hair down and keep it straight, just make sure to protect the vibrant pink, blue and purple hair tones with special shampoos.
4. Front Chunky Highlights
The great thing about this method is that you can choose where to get the new additions. It can be all over the hair or just in the front.
Ideal For: It's not easy to settle for a big hair change, but a small one like this will have you convinced right away.
How to Style: Opt for curls, especially if you have pixie bob haircut.
5. Indigo Blue Is Gorgeous
The most feminine hair color, aside from pink, is indigo blue. This chunky blue highlights on brown hair work so perfectly.
Ideal For: Perfect for natural light brown hair colors.
How to Style: To get the best out of the mane, get the curling iron and do some soft waves.
6. Match Black with Intense Purple
Sometimes an intense tone of purple is the solution to all of your problems.
Ideal For: The longer your hair is, the more magical it will look.
How to Style: This is a very luxurious version of chunky hair highlights so why not do glamorous curls.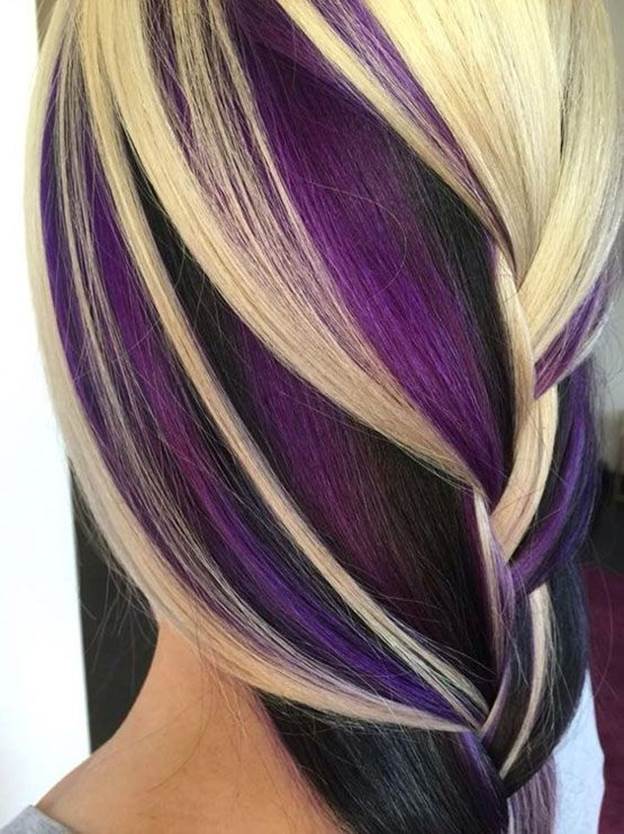 Mixing two completely contrasting blonde and purple hair shades can result in a very unique but beautiful hairdo.
Ideal For: If your mane is already platinum or a very bright blonde, you can definitely try the intense lilac as a second tone.
How to Style: An oversized voluminous braid will be so flattering.
8. Brown & Blonde
Keep it simple with the recognizable shades that are meant for everyone.
Ideal For: If dark brown is a little too much for you, go shades lighter. Finish off with chunky blonde highlights.
How to Style: Short haircuts with blonde highlights look very cute.
Black and silver blue hair is not only meant for adults. All shades of this color are back on trend.
Ideal For: If you have some dark hairs make the best out of them.
How to Style: By adding chunky highlights, you will really freshen up the silver hairdo. Straight manes are really flattering for this mix.
Did you know that you can get a single strand colored with several different hues?
Ideal For: Longer haircuts will be much better for this hairdo.
How to Style: Ask the hairstylist if they can do the rainbow strands in the colors that you'll choose. Adding a braid will really compliment the bohemian mane.
11. Elevated Red
The two colors used for the base and the highlights can be only a shade or two different.
Ideal For: All women with copper red hair can elevate it with some blonde chunky highlights.
How to Style: Go for a blunt and short crop, and include side-swept fringe.
You can't go wrong with an orange and blonde mix.
Ideal For: Don't be scared to try this unconventional look, it will really have all eyes on you and you'll get so many compliments. It's appropriate for all ages.
How to Style: Whether it's up, down, it doesn't really matter as long as you like it.
13. Red, Hot
Red has never looked better!
Ideal For: If you don't want to risk for the hair to look like it's too much, do the technique on a shorter cut.
How to Style: Straight styles are bolder, while curls and updos are more subtle in this case.
Most of the dyes you can do on black hair, you can also do on a brown shade.
Ideal For: Perfect for women with light brown hair.
How to Style: Do the waves, and you'll be surprised at how many people will love your new chunky highlighted look.
15. A Fun Mix
The combo of four different colors is so alluring. There are hints of red, brown, blonde, and black.
Ideal For: If you've done chunky highlights before and you loved them, this is your next step.
How to Style: Straight and smooth is what you should be doing.
16. The Classic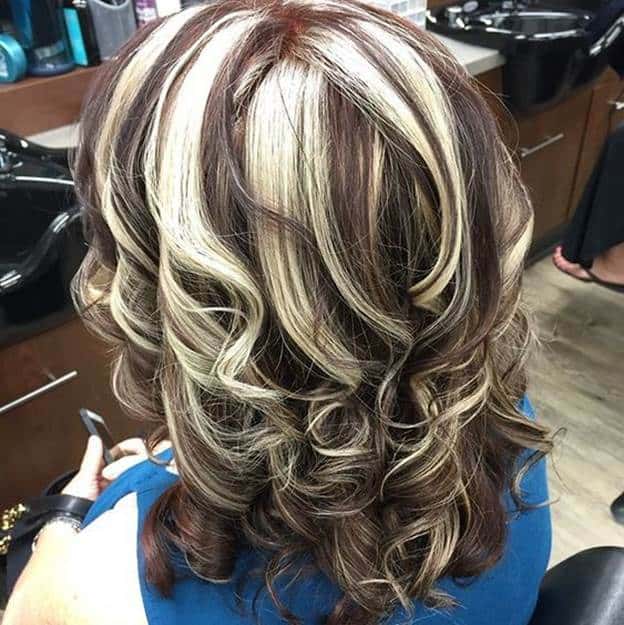 This is one of the first brown hair with chunky blonde highlights combinations that date back to the 90s. It is such a classic that it will never get old.
Ideal For: The dark brown and light blonde create a dramatic contrast. If you can get used to it, this should be your mane of choice.
How to Style: Opt for those curls, as the most recognizable way to flaunt the classic curly brown hair and blonde highlights.
Even gals with curls can opt for these chunky thick highlights.
Ideal For: Great for when you really need a change and you have dark hair.
How to Style: Let the curls be, just keep them healthy with products for colored hair.
18. Neon Yellow
Have you seen a more mesmerizing hairstyle lately?
Ideal For: Great for young girls who adore neon colors.
How to Style: Add only a few of these neon highlights. Keep them fresh with special hair products.
19. Go For Turquoise
Choose at least one shade of turquoise to upgrade your dark brown hair.
Ideal For: Teenage girls will want to copy the look immediately. Turquoise is eye-catching, youthful and popular.
How to Style: It all depends on where the highlights are. Sometimes it will be better to have the hair down, but in some cases, a high pony will showcase them much better.
20. Blonde & Burgundy
The richest tone of burgundy and bright blonde are so fierce when together.
Ideal For: This is the best combo for a short A-line bob.
How to Style: Straight looks are often the mane of choice for the blonde and burgundy style.
Use all the possible colors that you like and you will end up loving the final result.
Ideal For: Great for any hair color and length, as long as you score the right palette for the chunky highlights for brown hair.
How to Style: Wear it straight and simple, the dye is already eye-catching enough.
After going through the article you are now probably obsessed with chunky highlights. You only live once, so make sure that you try all the trendy hairstyles that come in your way. Since the choices are so many, if this is your first time getting this type of highlights, you can start with some basic colors. You'll eventually end up going experimental and loving it.