It really feels like the 90s are back with the return of chunky highlights. This is a trend we never thought we'd see again, but here it is. You can definitely be a skeptic or not even like them, but the chances are you will change your mind after going over these 21 hairstyles. Read on to learn how to do the highlights, why they are different from the thin version and to check out the most vibrant looks.
How to Do Chunky Highlights without Foil
Yes, there is an option to do these highlights without foil. Some women simply don't want to go through the process of placing the foils, packing them and want to avoid the extra heat. This option is known as balayage highlights, it is interesting and anyone can try it. Of course, it's much better if you can turn to a professional hairstylist.
Get the kit that you'll be using for the chunky highlights. It comes with everything you need, except for a plastic wrap. This will be your alternative if you're not using a foil. The process is almost the same. Start by preparing the hair dye that you bought. Always wear gloves to protect your hands from chemicals. Some hairstylists prefer to work with hair that hasn't been washed for several days for the best possible results.
Separate the hairdo in at least 6 parts. Clip them with pins and start working with the first one. You will need to get larger chunks of hair. Go over each one with the dye and wrap it around with the plastic wrap. Do that section by section. Follow the instructions on the packaging, and wait for the dye to do its job. Take off the plastic foil and wash your hair.
Chunky Highlights vs Thin Highlights
These are two completely different looks. The chunky highlights are very obvious and you can know it's that technique right away. There is a clear distinction between the color of the hair with the actual highlights. The coloring technique includes grabbing bigger sections.
Thin highlights or lowlights are the complete opposite, as the name suggests. They are much thinner, sometimes even barely noticeable. There is a number of techniques that use these thin highlights and all are extremely popular these days. Women tend to choose hues that are only a tone or two lighter than their natural hair, so they can achieve a natural look. The coloring technique includes getting much smaller hair strands.
It's completely up to you which style you prefer. There is always time to experiment with both.
Amazing Chunky Hair Highlighting Ideas
Below are some stunning chunky highlight styles that are trending once again in 2019.
1. Red, Grey & Black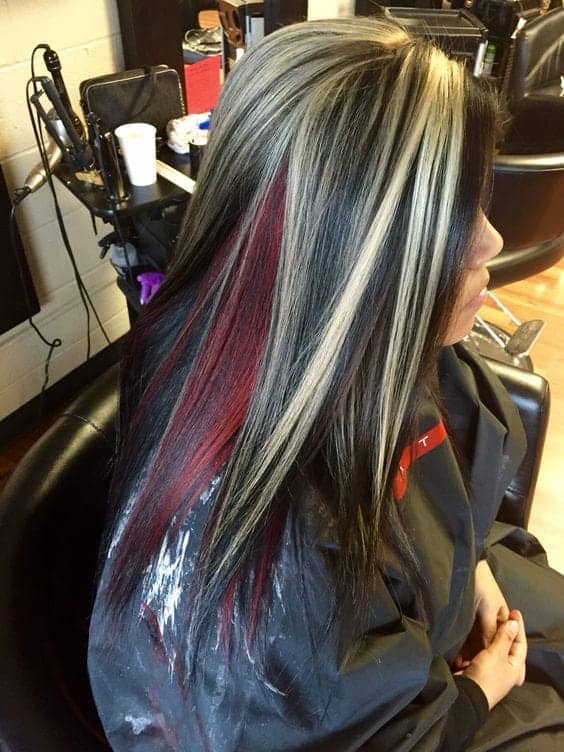 Black hair with blonde or caramel highlights does give you the space to experiment a lot and this hairstyle is here to prove exactly that.
Ideal For: It will look much more alluring on long hairdos. There is a larger canvas for the artistry of these chunky highlights.
How to Style: Do a super-straight and sleek mane so that everyone will be able to see your new look.