Highlighted hair is one of the most beautiful curly hairstyles. The curly hair highlights, especially on a naturally curly one, create a unique and beautiful look that no other hair type can present.
They look is playful, interesting, vibrant and original. Highlighted curls are not very often, but the final look is quite amazing.
How to Get Highlights on Curly Hair (Pintura + Foilyage)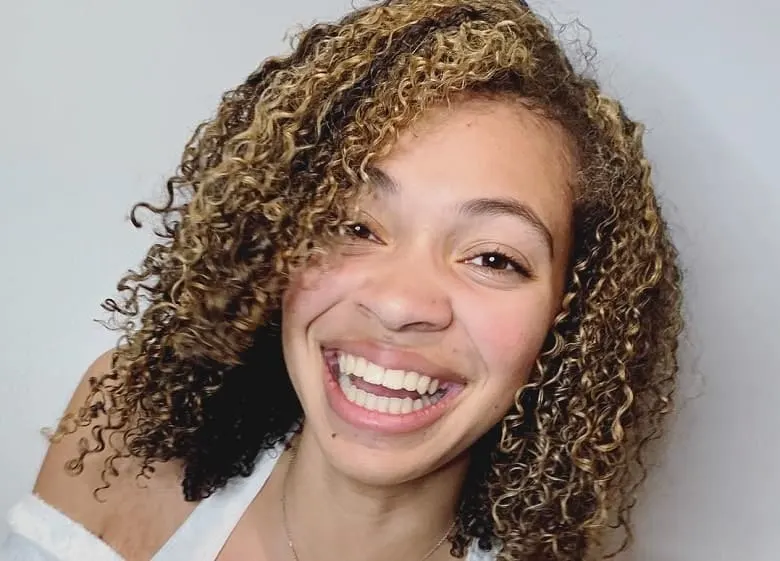 The balayage and highlights are a trend of making parts of the hair in different color. It both appeared a few years back and is still a very popular coloring trend. They can be done on all hair types, but when it comes to curly hair different techniques come into action.
The first one is the foil technique or also called foilyage. This technique is used on curly or wavy hair for achieving blonde shades. It can be precise, and very defining.
The other technique is Pintura. It comes as a special technique just for curly hair that highlights the hair without looking too try-hard or stranding out of its natural movement. It means "to paint".
During the process of Pintura, colorists are hand-painting the curls without any use of foils so that they can add dimension and accentuate the curls. Lightening the curls brings a different look to each face, but it certainly becomes brighter and lighter.
Always remember that highlighting can and might damage your hair, and with that your curls too. depending on the size of your curls choose the proper technique that you want to do the highlighting with.
Pintura technique is best to be used on the tighter curls because they have to be brightened to be seen. The looser curls and waves already have a greater light reflection because of the hair and they can be done in any other highlighting technique.
Watch The Following Video to Learn How to Do Pintura Highlights on Natural Curly Hair
Tips to Maintain Healthy Colored Curls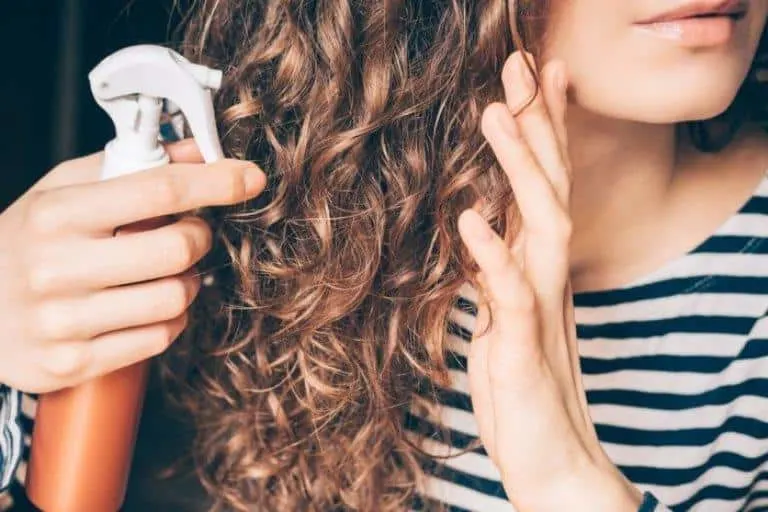 Curls are the most beautiful attributes of hair. No matter if they are colored or not, they demand special daily care, treatments, and routine. The proper nurture will result in healthy and beautiful curls.
Chemical treatments cause damage to the curls and they have to be treated so that the curls will remain as healthy as possible and the color will be vibrant and long-lasting. These are some of the tips that you should incorporate in your maintenance routine:
Shampoo with sulfates is bad for the hair, but, you should use it only once and that should be just right after the coloring. It helps all the chemicals to be washed out.
Coloring dries out the curls, so for them to be bouncy and healthy, you will need to moisturize them a lot. Use a silicone-free conditioner to detangle them. The leave-in deep conditioners is great for nourishing and reliving your curls.
The regular cotton towel can cause friction of your curls that will result in frizz. For maintaining healthy curls, use a microfiber towel. It will suck the excess water but let the curls dry and define themselves without causing frizz.
Sleeping on a satin pillowcase will reduce the friction that might create between your hair and any other pillowcase, which eventually results in frizz and breakage. A satin pillowcase will help you maintaining your curls.
Using a diffuser on the hairdryer is important for curly hair. The heat from the hairdryer is more evenly disposed of with a diffuser, preventing frizz and maintaining the natural curl pattern.
Charming Curly Hairstyles with Highlights
Following are the trendy curly hair highlighting ideas for women to flaunt their curls.
1. Curly Hair with Highlights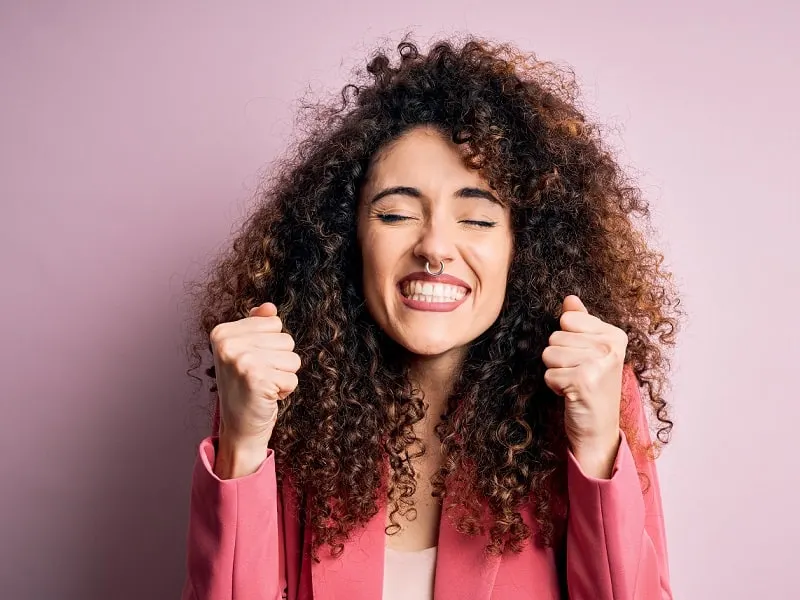 If you are a brunette, you can easily change your look only by enlightening the tips of your hair. A dark curly hair with highlights will always look natural and healthy, especially if you keep your mane long and layered.
2. Short Curly Hair with Blonde Tips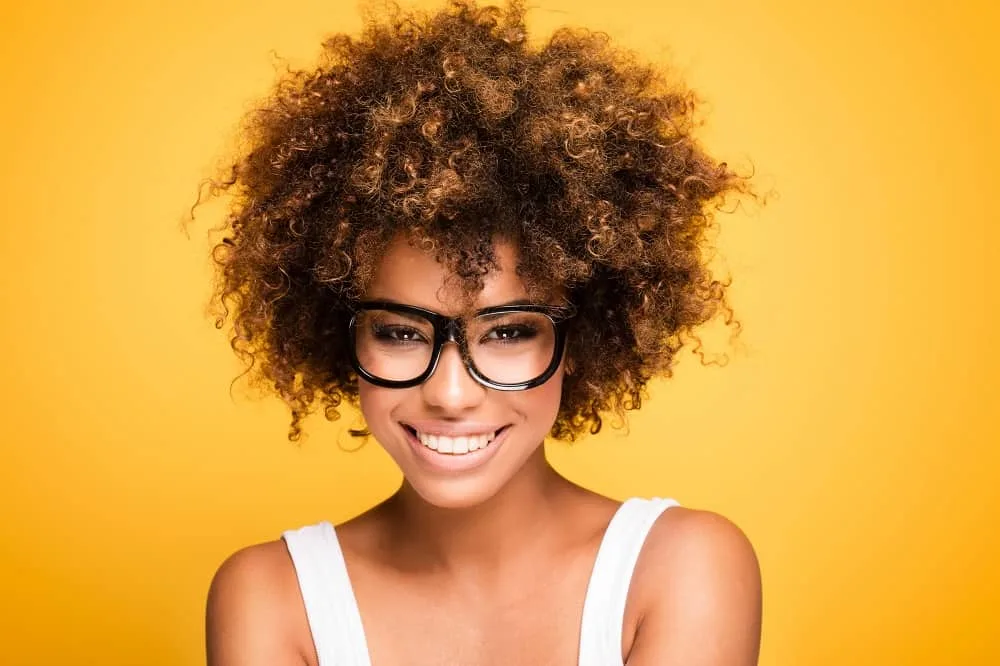 Natural curly hair highlights will make your African American hair look ravishing. Keep the hair medium short and complete the look with a pair for glasses with thick frames. Smile, and you will beautifully beam.
3. Highlighted Curly Bangs
When you have pixie hair, use the bangs and go for short curly hair with highlights only for the tips. You will give the hairstyle a particular shine and a touch of craziness. Nobody wants to look dull, right?
4. Ombre Curly Hair with Highlights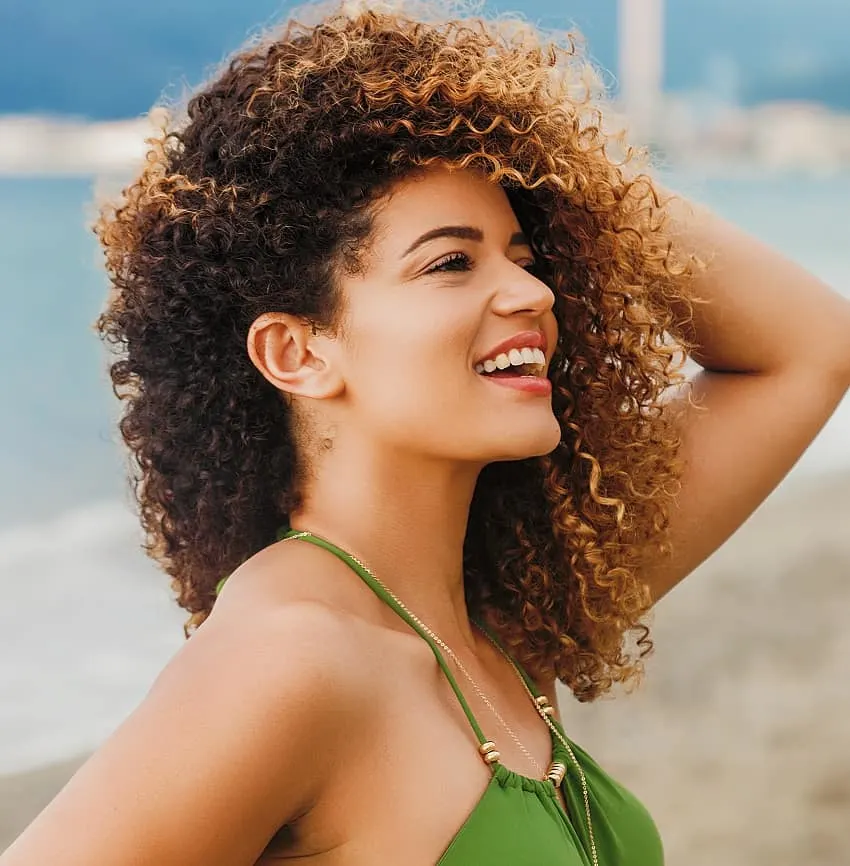 Balayage highlights for curly hair are ideal for summer and any warm days when sun rays make your hair shine. Give the coils more definition by using your favorite hair jam and let the wind play in your hair.
5. Lowlights for Curly Hair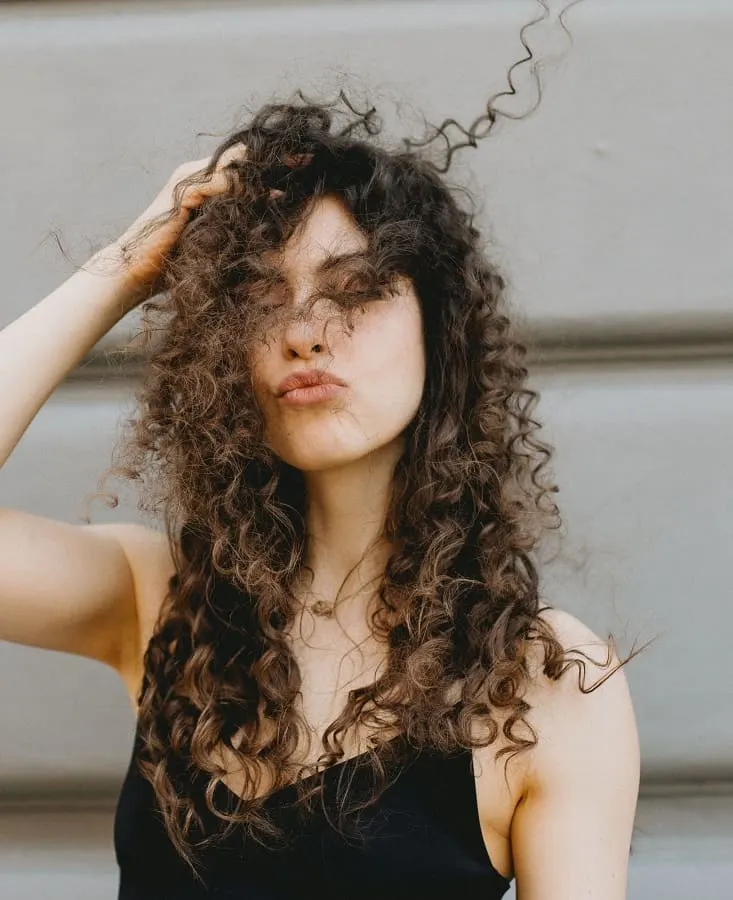 When you have a warm hair color, curly hair with lowlights will add a lot of depth to your hair. Go for a darker brown hue to obtain that eye-popping effect. Keep the mane long and let the hair fall on your chest.
6. Pink Purple Pintura Highlights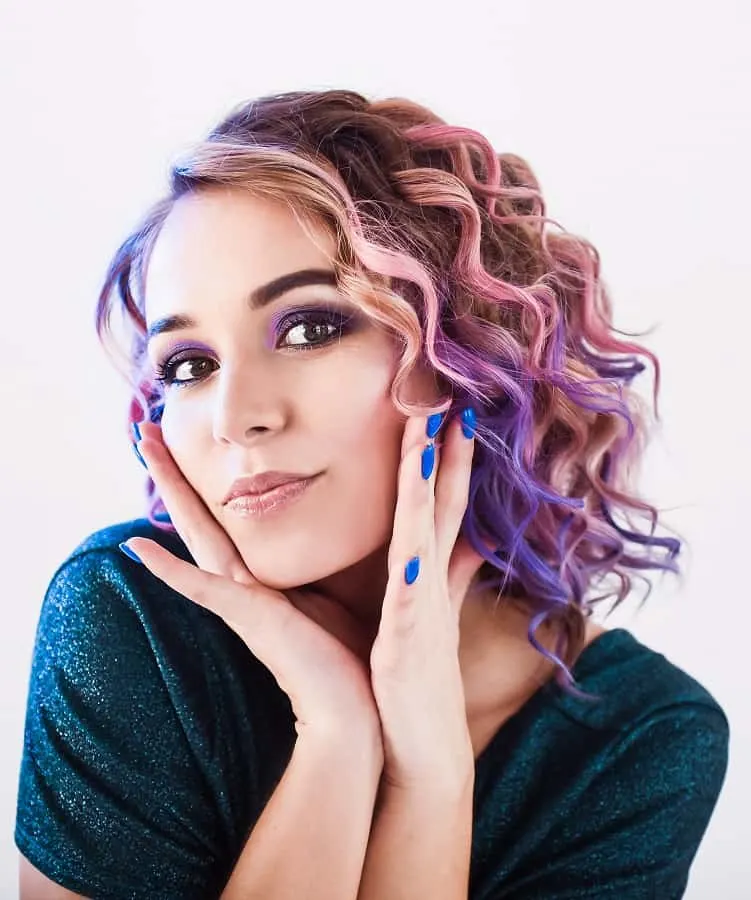 Curly Pintura highlights keep the roots in their natural state and aren't as damaging as other hair procedures. Take advantage of this marvelous option and create pale pink, fuchsia, and purple highlights because they will amazingly blend.
7. Blonde Highlights For Curly Hair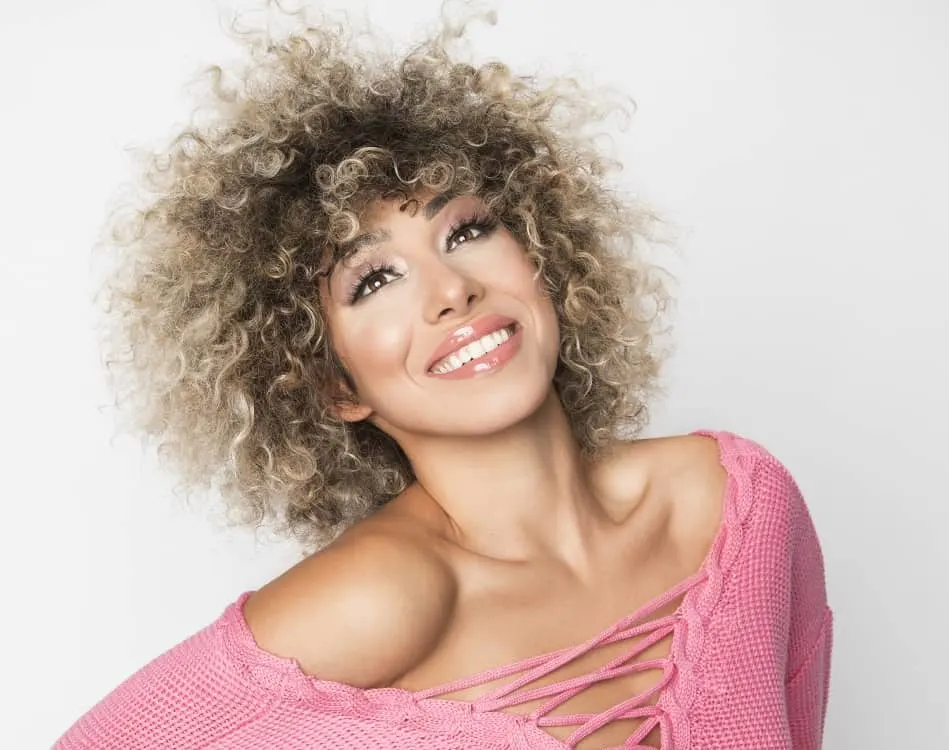 Ash blonde highlights on curly hair are truly magical, and they immediately work their spells by making the hair look modern, cool, and undoubtedly eye-popping! The darker roots astonishingly blend with the blonde tones, and the outcome is breathtaking.
8. Auburn Highlights for Curly Hair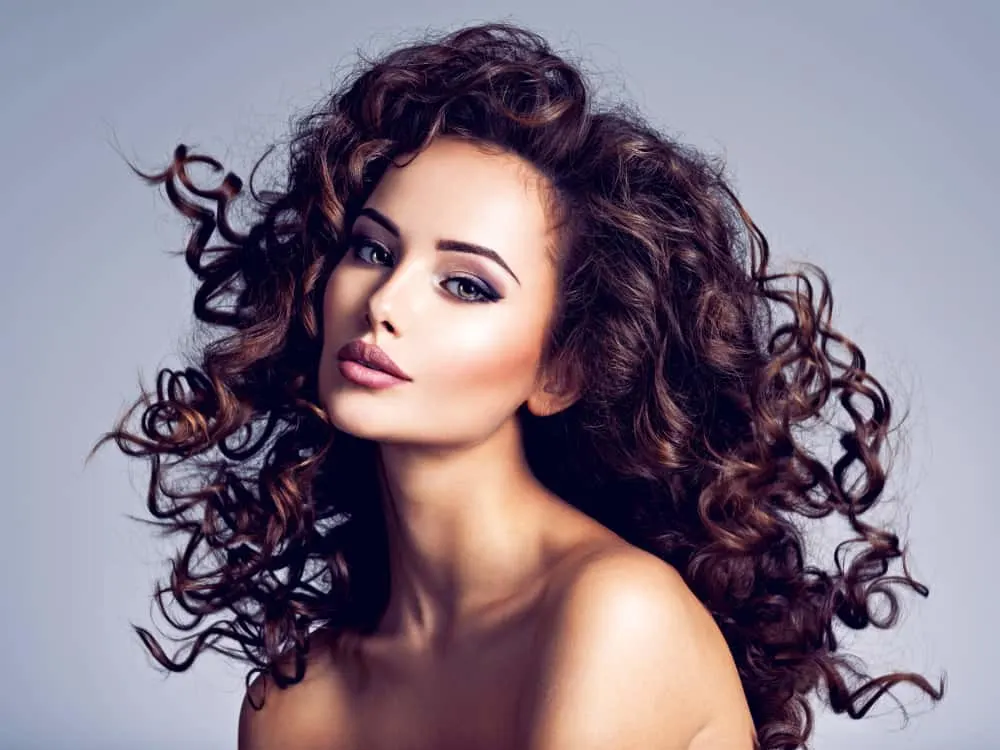 Curly hair with partial highlights looks ravishing because the newly added color blends beautifully, and it offers a magnificent hidden shade. The curls will have more texture and will mesmerizingly stand out.
9. Blonde Pintura Highlights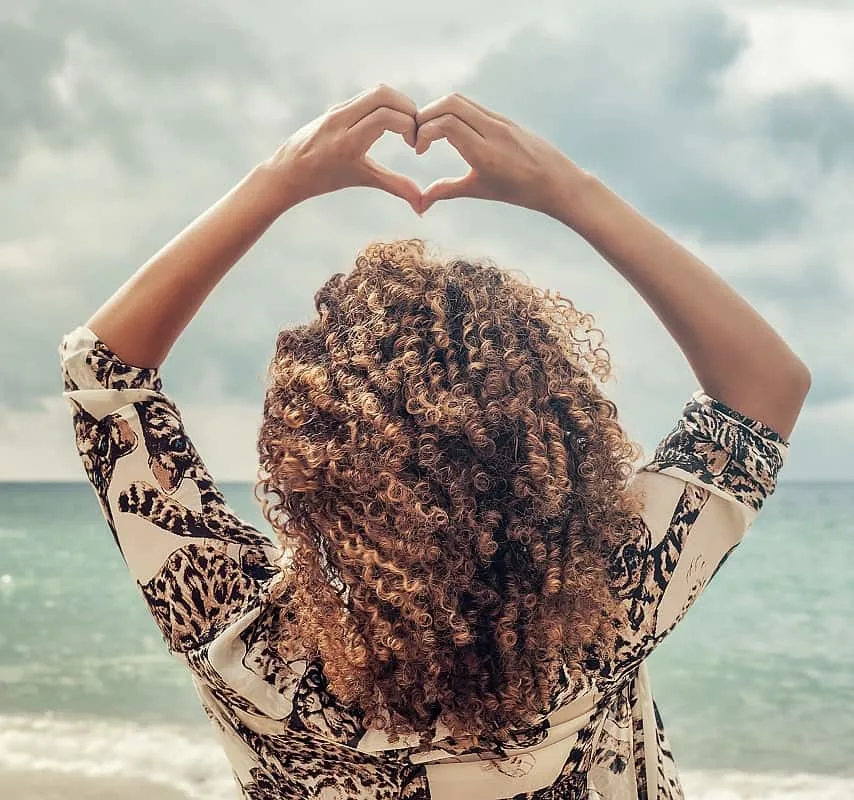 When you are getting ready for the summer, it is also a great idea not only to change the outfits but also to add some curly blonde highlights to your mane. You will obtain a warmer shade that will make you look sun-kissed all the time.
10. Curly Blonde Hair Tips
Keep your mane long and make sure you periodically trim your tips. They will look healthy, and you can style blonde long curly hair highlights that won't make the ends look like you used the hair straightener every day.
11. Hint of Mahogany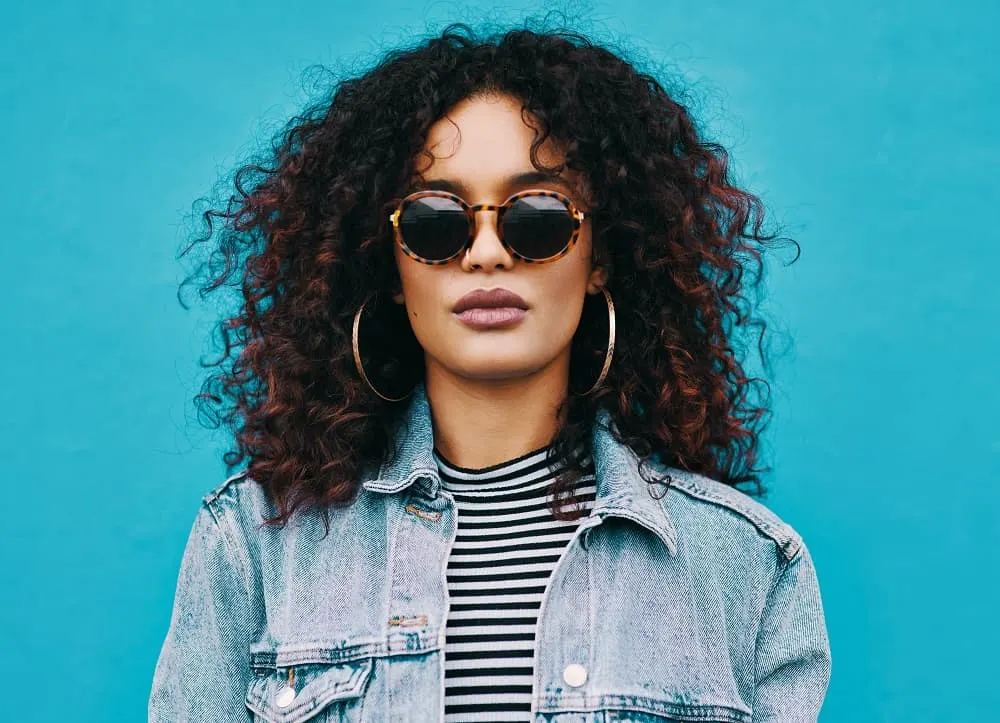 Ladies with naturally black curls can keep it low-key yet stylish with this simple look. The curls are tinted in a coppery light mahogany hue midway to the ends creating a subtle highlighted effect. This style is low-maintenance as the hair grows out beautifully.
12. Two-Toned Top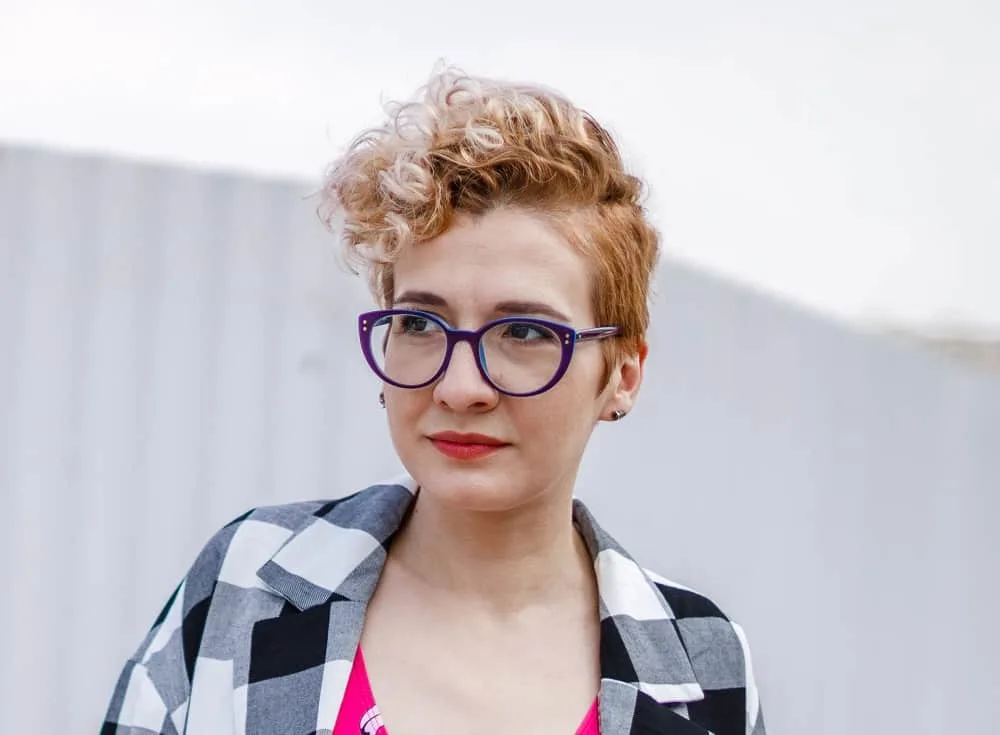 Give your curls a fresh makeover by chopping them off into a boyish haircut with neatly trimmed sides and a relatively long top.
The look features a caramel blonde base with vivid platinum blonde highlights on the top creating an enchanting two-toned tousled hairstyle.
13. Platinum Magic
Platinum blonde hair has been trending this year and curly-haired ladies can take part in it too.
Ask the hairstylist for cool platinum blonde pintura highlights to stand against the naturally dark afro. Tease the top creating a messy pile on the head that won't go ignored.
14. Peekaboo Highlights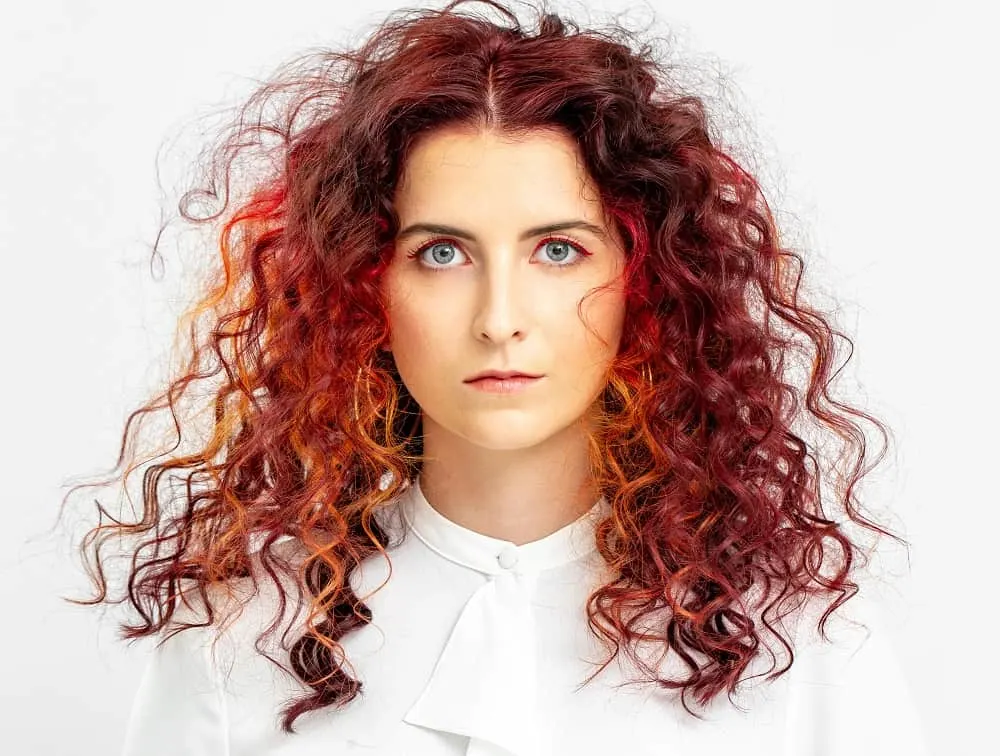 These curly hair highlights are a must-try for those who want to turn around some heads. Dye the mane in a dark burgundy red shade while separating an underlayer and adding a vivid rusty orange hue that melts into a bright yellow color bringing the sunset on your head.
15. Soft Balayage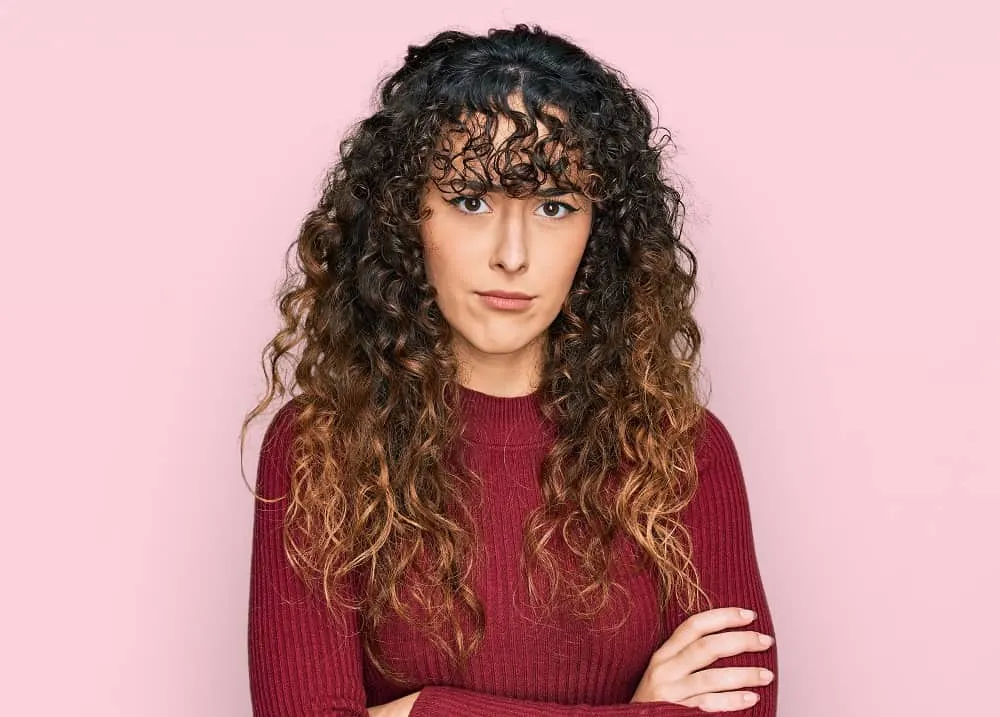 A subtle soft balayage looks flawless on curly hair. This look features armpit-length tresses with a curly fringe falling on the forehead.
Hand-paint the curly strands in a honey blonde shade with a touch of light blonde on the ends resulting in a gorgeous highlighted effect.
16. Blonde Beauty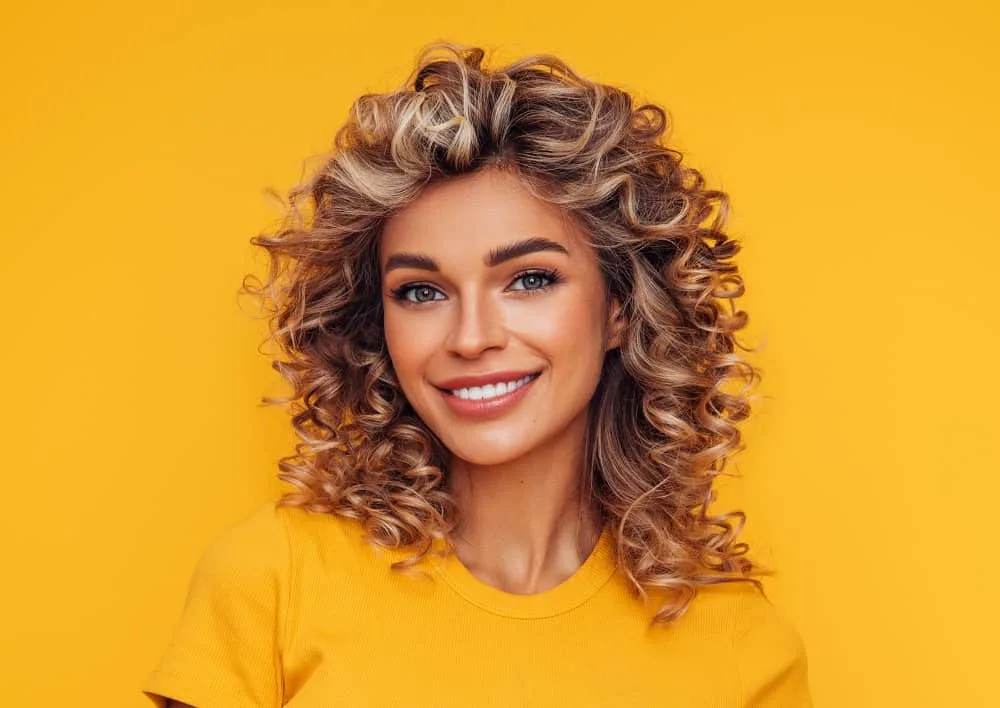 Get noticed from a distance by dancing around with these luscious curls. Go for a shoulder-length deva haircut before dying the hair in a dirty blonde shade. Finish off with vivid light blonde highlights adding an instant refreshing glow to the face.
17. Pop of Colors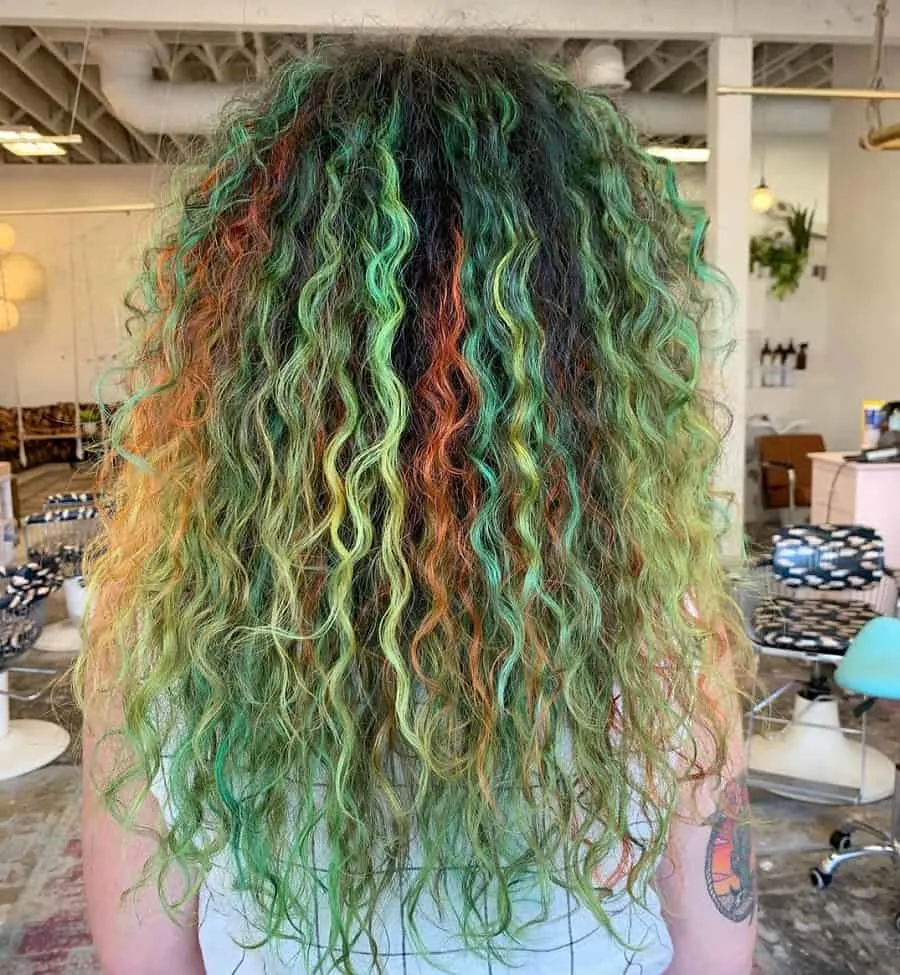 Can't decide on a single color? No worries! Gather all the shades you like and add them to the curly mane creating a pop of colors on the head.
Recreate this bold yet high-maintenance look by opting for orange, yellow, light green, and dark emerald green highlights.
18. Fiery Red Curls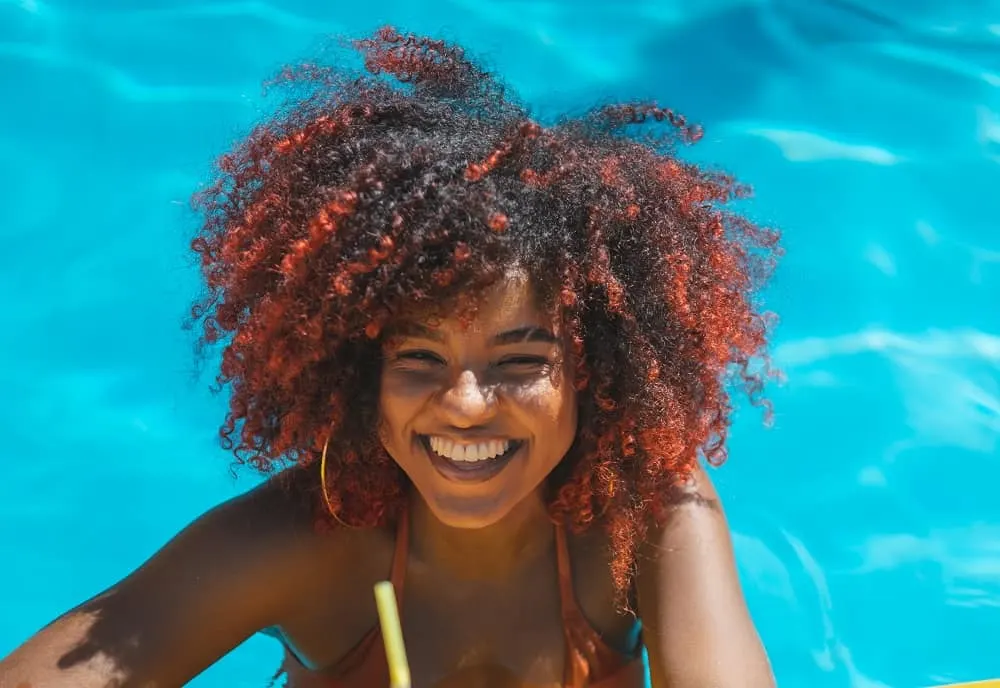 Highlights look exceptional on kinky afro curls. African-American ladies can express their wild side by adding a rusty red hue on the tips of their curly strands to stand against their remaining black hair. This look is effortless to maintain as the highlights fade out beautifully.
19. Highlighted Front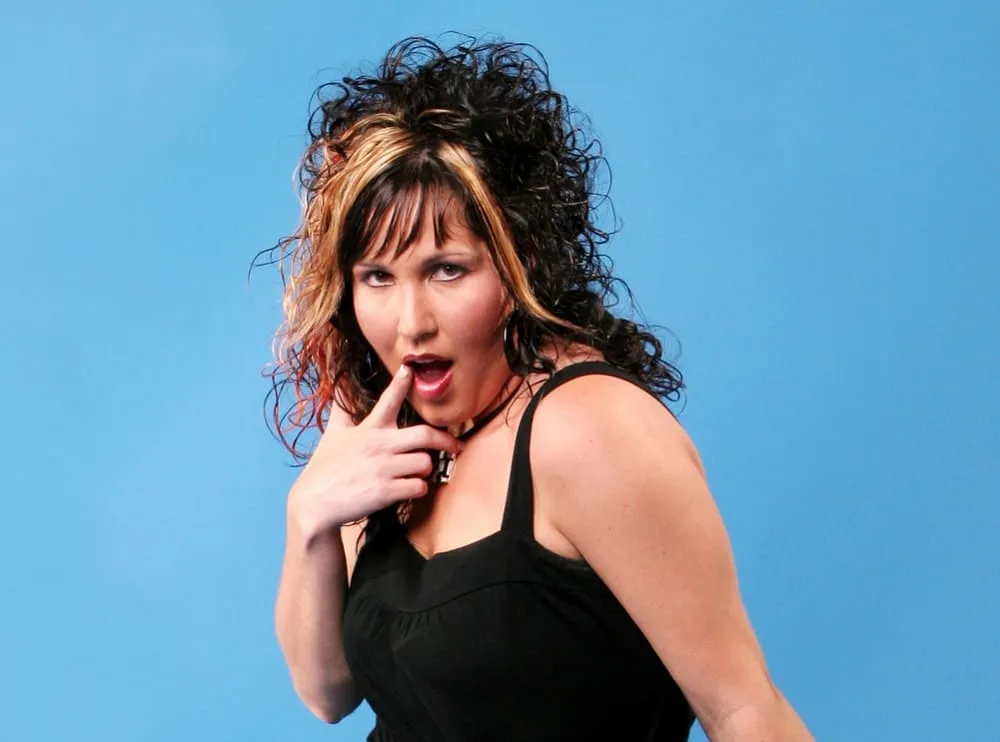 Those who don't want to overpower their natural hair color can consider this style. Separate out the middle-parted strands just behind the eyebrow-grazing bangs and dye them in a blonde shade resulting in chunky highlights framing the face while the rest is piled up in a messy updo.
20. Earloop Highlights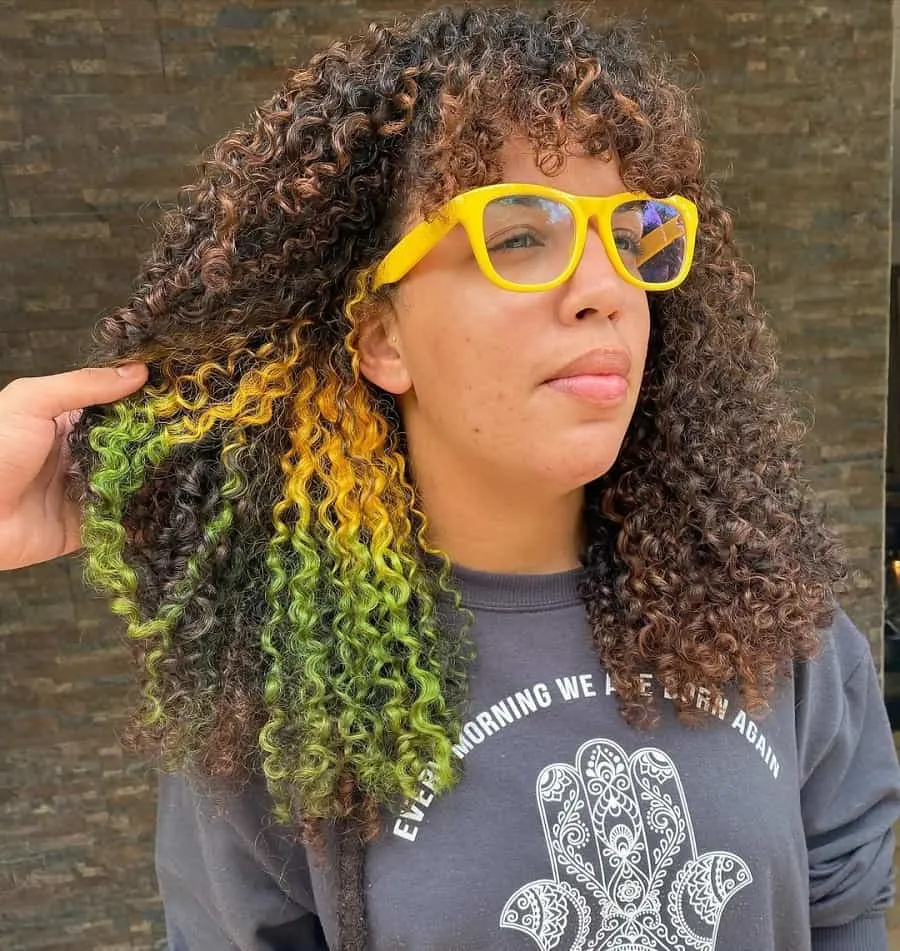 This charming curly hairstyle with highlights is ideal for young girls. The tips of the shoulder-length coils are dyed in a warm caramel hue while a chunk from behind the ears is colored in a bright yellow shade melting into the light green tinge creating stunning earloop highlights.
21. Faded Highlights for Curly Hair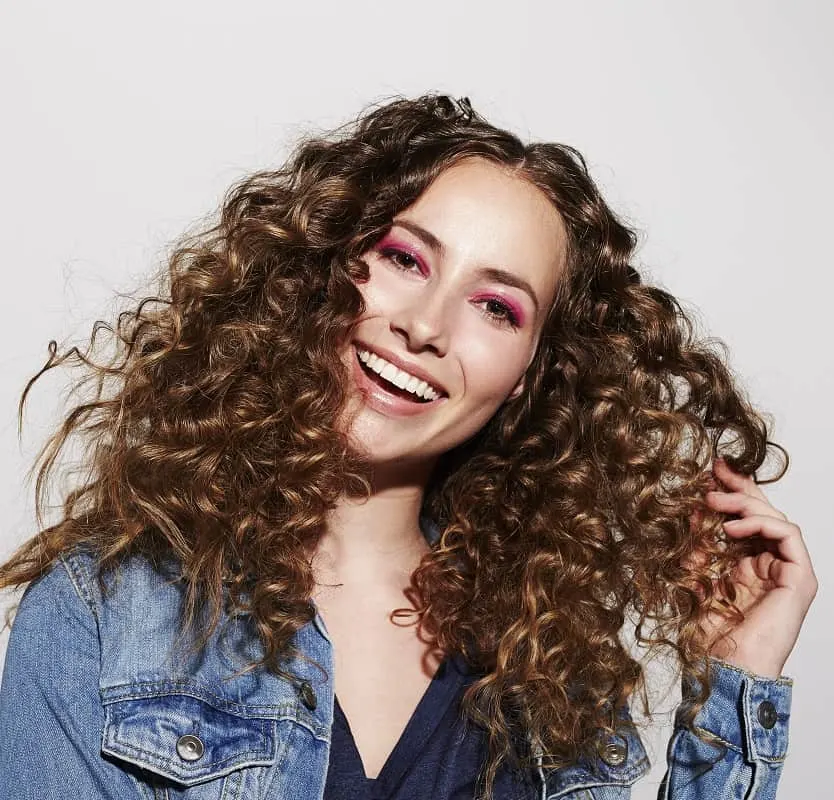 If you are a brunette and want to give your hair some shine and texture, we advise you to get a hair glaze and some warmer curly highlights for brunettes. They will totally transform your look and the hair will have the shine you always craved for.
22. Burgundy Curly Highlights
If you want to give your hair even more volume, cut your hair in layers that keep the bangs in a medium length. Opt for curly burgundy highlights every time you crave for a unique nuance and your ringlets will look impressive.
23. Grey Highlights on Curly Hair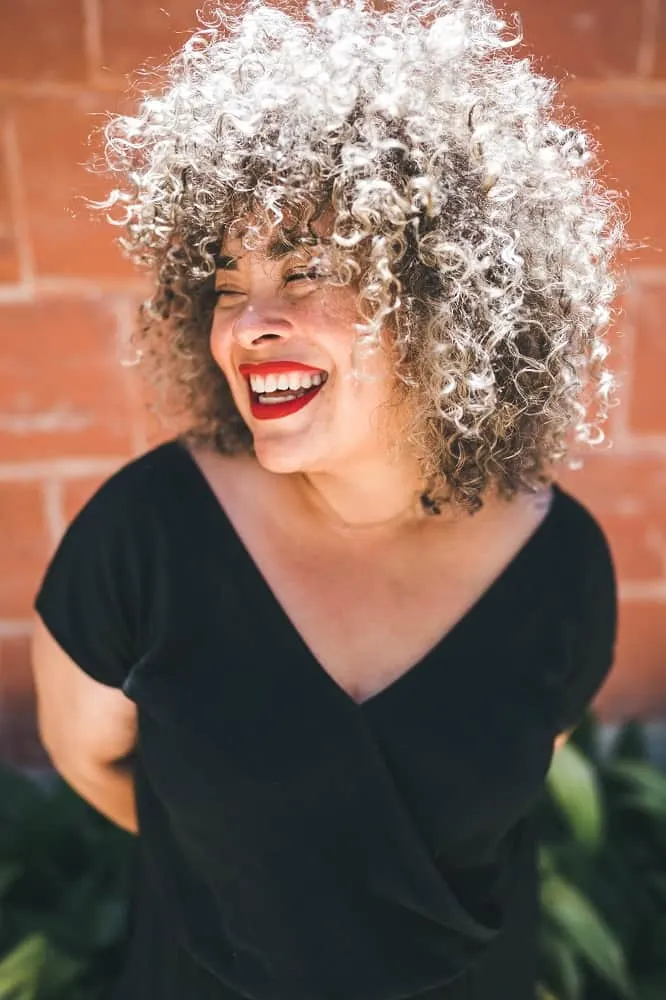 Opt for a layered haircut that allows your ringlets to shine and stand out and get curly grey highlights to obtain a marvelously modern look. Also, go for some bangs that will cover the forehead and smile, girl, you look ravishing!
24. Pink Pintura Highlights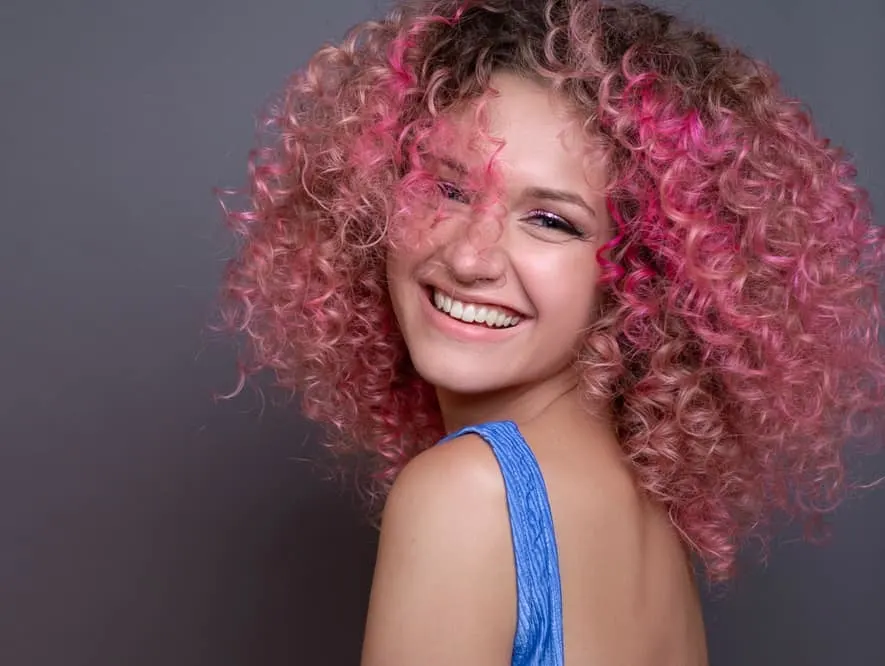 If you want an eye-popping shade and a hairstyle that will make even other women turn their heads on the street to admire you, curly hair with pink highlights is certainly the best option for you.
25. Blue Curly Highlights
This blue shade is warm and it makes a gorgeous blend with the dark brown curly hair. You will obtain a unique, fantastic look and people will compliment you wherever you go. Get ready to feel like a real rockstar.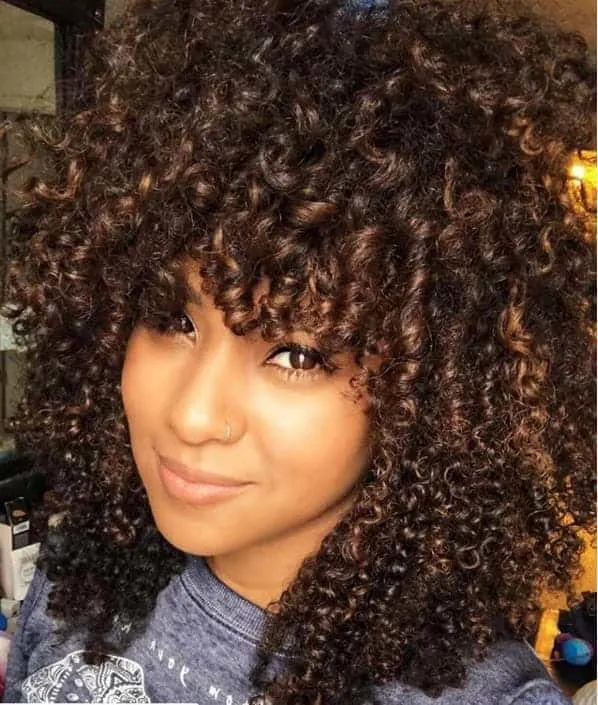 Caramel is part of the blonde shades. However, on brown hair, it might present with a red undertone. The final curly highlighted look is glowing and rich hair color and curls that are shiny and eye-catching.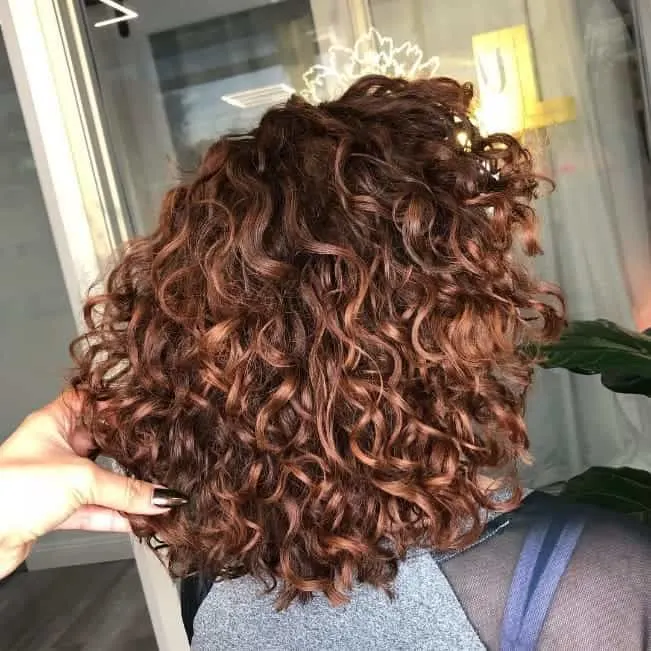 The auburn highlights come with a brown reddish tone. They come naturally on brown hair, open up the face and give beauty that only curls can give. Falling from all over, they blend nicely with the natural hair color. Chicest curly hair highlights on the list.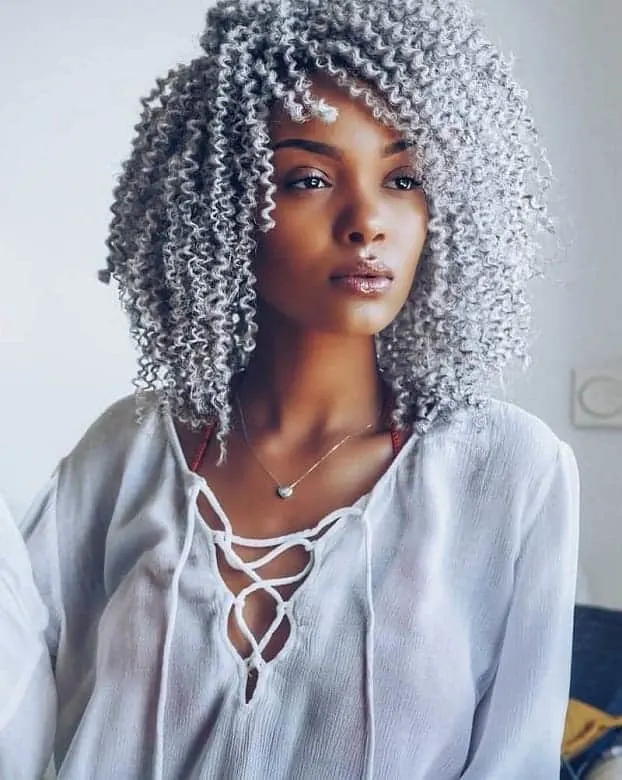 The silver highlights on a dark base create a cool and trendy look. The silver highlights on curls are best shown on a black base. The color blends wonderfully and gives an extremely trendy and unique look.
29. Copper Highlights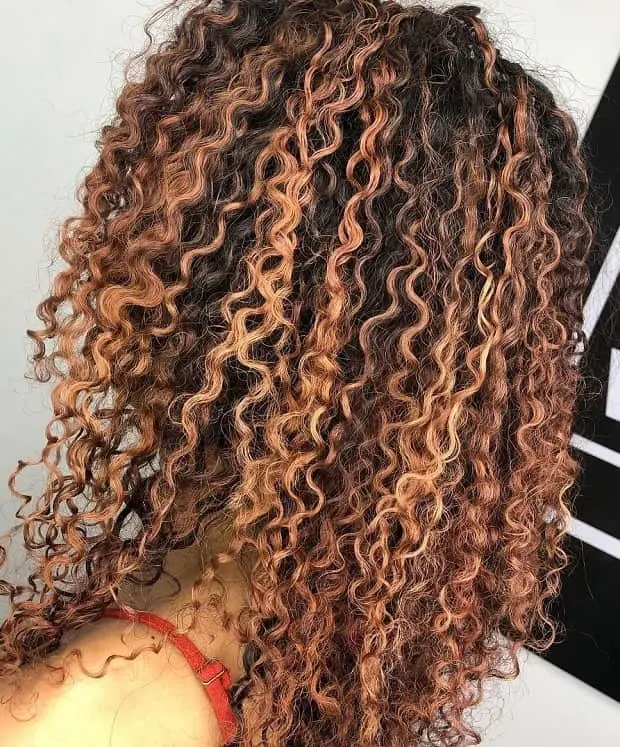 Copper is a reddish brown hair, but on a dark base, it presents as a shade of blond. It is shiny and pigmented color that is used in the highlighting technique to add life to the curly hairstyle. On the long hairstyles, it comes as light and warm shade, making the curls bouncier and interesting.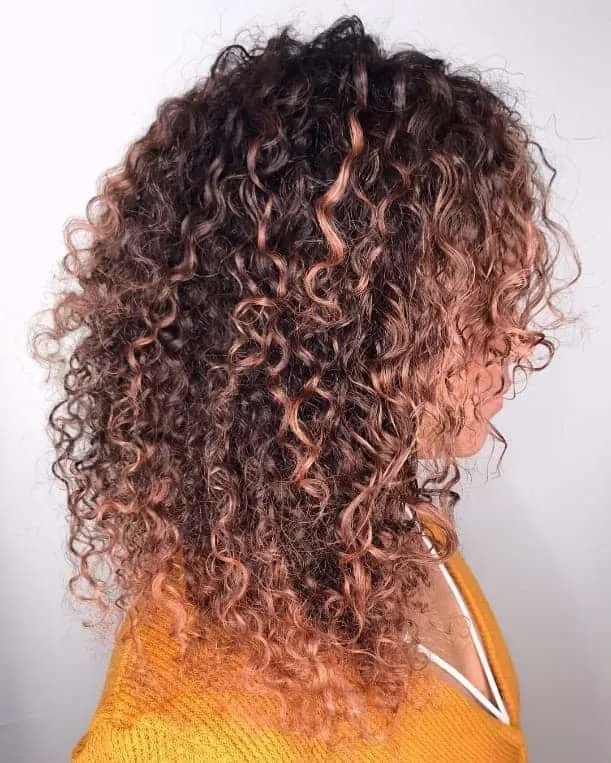 A trendy and very stylish and fashionable hair color that is most usually used as a highlighting color is the rose gold.
The combination of gold and rose tones gives a nice contrast to any dark hair, especially accenting the shine and the rose and red undertones.
When done as curly hair highlights, the hair themselves present in a wonderful rose light and the shine illuminates the whole hairstyle.
31. Purple Highlights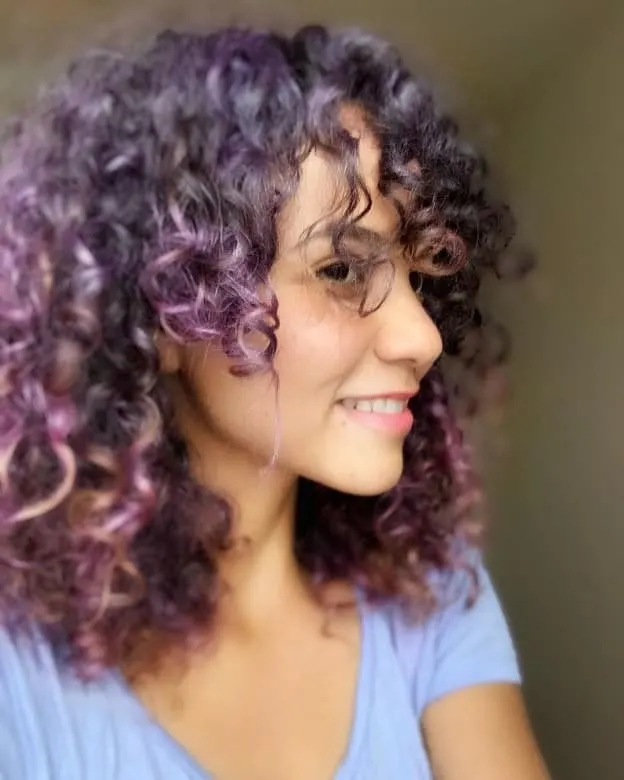 The vibrant and strong colors make a nice appearance on curly hair. In the case of purple curly hair highlights, some of the curls coming on the top layer are done in a purple color. for a more appealing look, the shades of purple can be different.
Golden highlights on this curly Lob make for a unique and rich hairstyle. Such highlights work great on a natural medium-sized curl. The golden babylights bring just the right dose of difference that is glowy and shiny.
The blonde highlights on a red-brown curls present an ultimate look. The change of color and the nice blending between the blond and the reddish tones are chic and very modern. The blonde highlighted curls appear at the end of the hairstyle, giving it sun-kissed appearance.
34. Bronze Highlights
Bronze highlights go well on brown hair. Bronze and its brownish and golden undertones complement every brown shade bringing it more to life and making it natural.
The side part curls with bronze highlights are present all over the hairstyle, some hidden among the other curls. They gradually give a lighter effect on the curly hair highlighting style.
Honey blonde is the most common hair color when it comes to highlighting. It looks natural and can vary in paler and darker shades depending on your hair color. On the long curly hair, this highlights gives even greater volume.
Red is bold, daring and intense hair color that suits women with a stronger attitude. The desire to show off is seen in the red highlighted curls that are colorful and strong.
The curls are tiny and while the base the dark, the red gives a nice dose of color and complements the skin tone.
37. Blonde Highlights on Brown Hair
The blonde highlights on curly brown hair might seem like an ordinary look, but they are very beautiful. This curly highlights is a dynamic and fashion-forward style. The number of highlights and lowlights through the whole hairstyle make the color pop.
38. Red-Brown Combo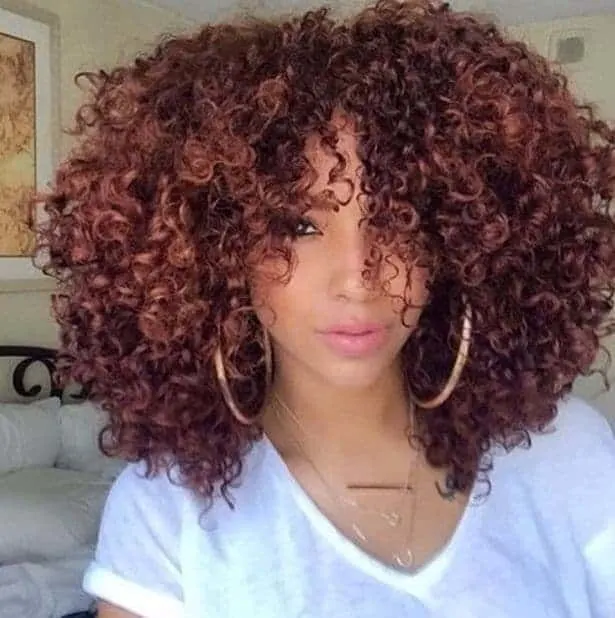 The red-brown blend comes as a mixture of red, copper, and Auburn. The base of the hair is brown. The curls are spiral, falling all over, and creating a nice vibrant look in warm tones. A beautiful curly hair highlights idea for women.
Adding some color to your curls can be done with a pop of pink. The blush is hidden as an undertone in the lavender grey hair color.
This highlight makes the curls brighter and more vibrant. Even though we are talking about pink shade here, the final look still looks natural.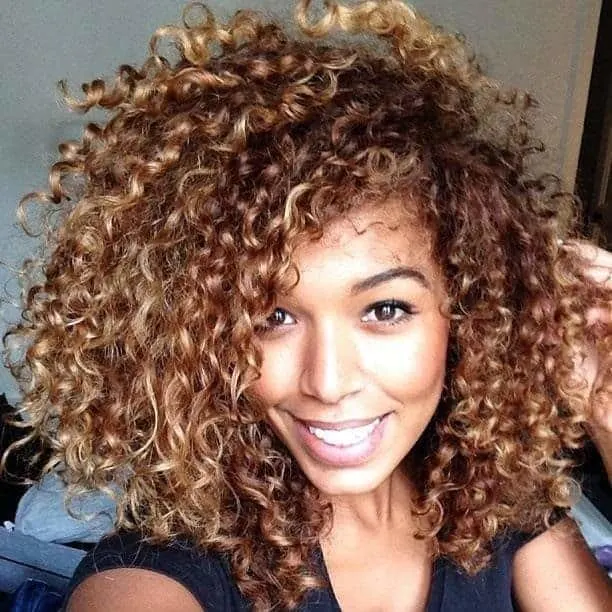 Shades like gold and blonde go together very nicely, and on naturally curly hair with highlights, they create a color explosion of curls. The golden tones give the proper shine, while the brown base can always be refreshed with a hint of red.
FAQs on Curly Hairstyles with Highlights
Highlights or lowlights – which one is better for curly hair?
The choice among highlights and low lights depends on the type of curly hair. For those who have naturally curly hair, both techniques can be done, with a greater accent on the highlights.

The Highlights, as the name suggests, start high up, and when they are done on curls the whole hairstyle is somehow colored.

The lowlights come in the lower parts of the hair and they are usually part of the balayage technique. The waves or curls that are loose or not natural better present in colored as lowlights.
Can highlighting damage my curly hair texture?
Highlighting is a technique that most usually involves the use of chemicals. Chemicals damage the hair, and the curls are fragile and can be more affected.

When doing highlights on curls it is important to prepare the hair and use suitable hair products for the aftercare
These are the popular curly highlights ideas that you can rock this season.