Black hair with blonde highlights might look strange at first. But when you take a closer look, you'll realize what a stunning image they can help create.
Most people use highlights to slightly brighten up their hair. But classic black and brown mixes are a thing of the past. The prominent zebra-like highlighted manes are coming to conquer the world.
Be one of the first girls to take advantage of the contrast between black and white. The blonde looks perfect when matched with the black strands in the right way.
Blonde Highlights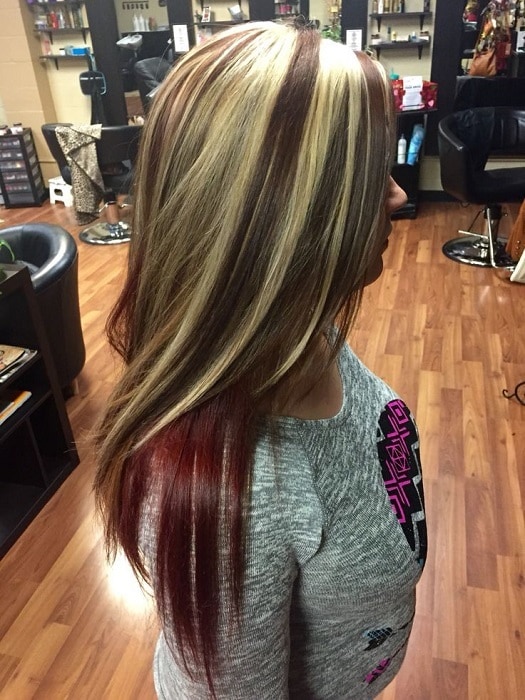 You might be surprised to learn that changing your image doesn't require creating full-blown highlights. You might want to consider using the partial highlighting technique at first. It's very easy to achieve. You just need to highlight the side strands of your hair and your bangs (if you have them).
When you look in the mirror you'll immediately see the effect and can make a decision whether you should go on with full highlighting. Many girls stop at this stage and are very happy with the results.
Different Shades of Blonde Hair
Blonde Highlights on Black Hair
Did you know that black hair with blonde highlights is becoming more and more popular each month? If you always hated your dark mane but bleaching the locks seemed too much for you, the time has come to check on the contrast highlighting.
The striped zebra appearance can definitely help you make a statement, change your image, and get plenty of compliments. Allow yourself to look and feel beautiful just by dyeing a few strands of your hair. Even if your locks are brown, you can still achieve similar results.
Below are some awesome blonde highlights on black hair. Check out these popular blonde hair color ideas too.
1.
2.
3.
4.
5.
6.
7.
8.
9.
10.
11.
12.
13.
14. Blonde highlights on top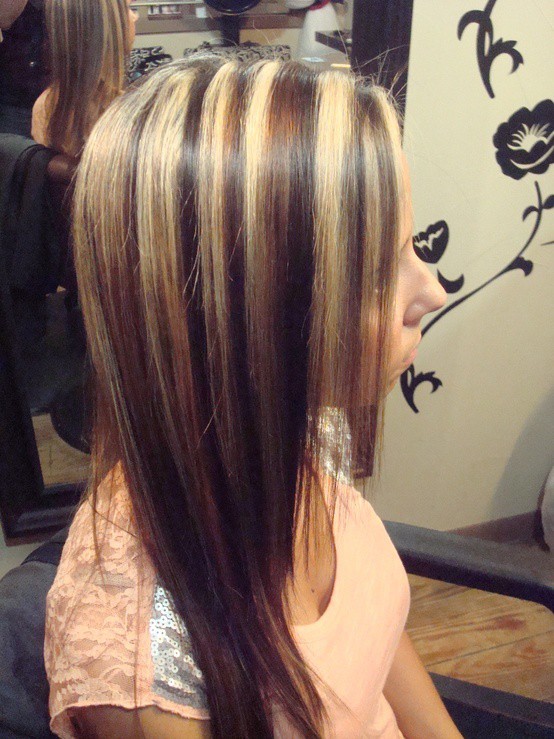 This original zebra appearance is achieved by highlighting just the top part of your hair. You can think of this style as some kind of a special ombre. The top black strands are highlighted blonde, while the bottom stays natural.
15. A little black
Once you get into blonde highlighting, it might be hard to stop. If you make a decision to lighten up your hair color, allow the hairdresser to leave a few natural black strands. They will look great.
16. Stunning blonde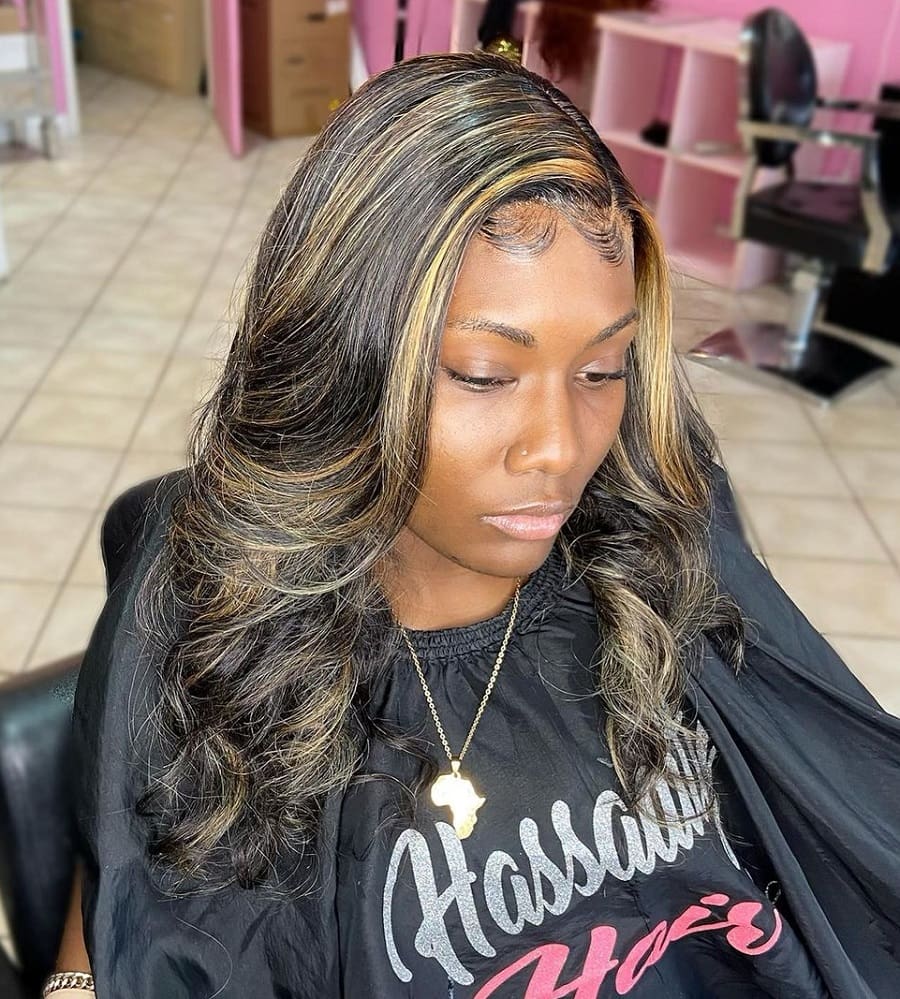 If you choose dark blonde highlights for your black hair, you can create a natural image that you might stick to for many years to come. Besides changing your hair, you are allowing yourself to change the whole outlook.
17. Thick highlights
Allow the blonde highlights to do a better job on your black locks by highlighting wider strands. The focus should be on the top part of your head, while the bottom can either stay black or be highlighted.
18. Platinum blonde
Black and brown hair look stunning with platinum blonde highlights. Don't hesitate to experiment with the lightest shades of blonde in order to look original. You'll definitely make an impression.
19. Honey and golden hues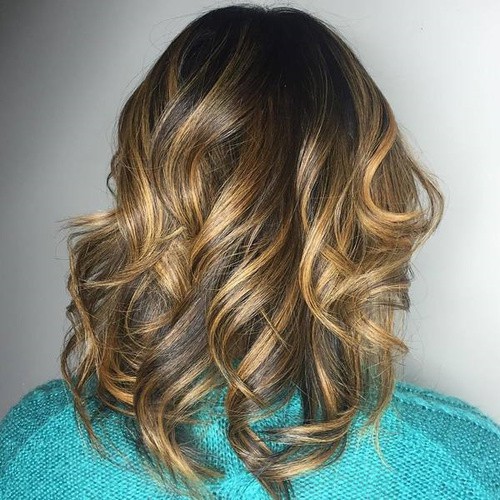 Honey and golden hues are exactly what your image needs to brighten up the black hair and give you the extra zest you've been dreaming about. Use various shiny dyes to diversify your black mane.
20. Slight highlighting
Highlighting even a few thin strands with honey blonde dye when your natural hair is black can create a stunning image. These few strands will look like dashes of flame on your black locks. Give them a try!
21. Blonde spots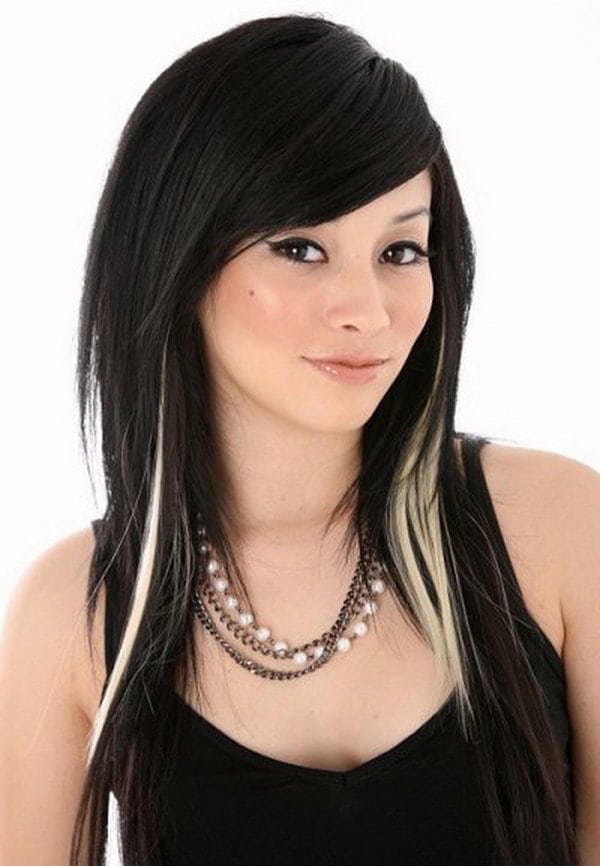 Creating just two blonde strands on your black hair is a wonderful idea. Without too much effort, you can achieve a stunning result.
Frequently Asked Questions
Is getting blonde highlights on black hair expensive?
Generally speaking, getting blonde highlights on black hair should have a similar cost to other highlight services. However, sometimes the treatments required to lift the dark color out of your hair may cost extra money.
Is it hard to highlight black hair with blonde tones?
Highlighting black hair with blonde streaks can be hard to achieve, but it's not impossible. To avoid damaging your hair, be sure to go to a high-quality salon where an experienced colorist can properly lighten and tone your hair.
What are the criteria to choose the best blonde shade for your black hair?
When choosing a blonde shade for highlighting black hair, you should consider your skin tone and the color of your dark hair. Warm skin tones and warm dark hair are best flattered by highlights in honey blonde or caramel shades. People with cooler skin tones and hair colors should look for highlights in ashy or icy blonde shades.
Black hair with blonde highlights looks truly amazing. Don't wait to start experimenting with your black locks and you'll love the new shine your locks will get.