The golden blonde highlights are an upgraded and modern version of the regular blonde highlights. They come as soft, romantic and feminine change to all blonde hair colors, refreshing them and reviving them.
Short, middle or long hair, every length is great for doing a small but effective change with adding golden blonde highlights.
How to Get Gold Blonde Highlights
Golden blonde hair highlights are done by the same technique and procedure as all of the other types of highlights. The golden shade can be achieved by a mixture of a different shade, from which all should be highly shiny and pigmented.
In order to make your golden highlights stand out, there has to be a difference in the base color of your hair. If there is not one, then the highlight will barely be visible. If they are done on darker hair, then, the process of bleaching is unavoidable since the base for the golden highlights must be light.
Styling short hair highlights with golden blonde hue are no different than styling any other hair length. Depending on your cit, you can style the hair straight or wavy.
However, the waves are the number one styling option when it comes to showing off the difference in color. Curl or waves, however, you like them will flaunt the golden highlights.
Alluring Golden Blonde Highlights Styles
We have shortlisted 30 golden blonde highlighting ideas for every woman out there. No matter what the hair length or color is these styles will suit everbody1
This is wonderful warm tones hairstyle that is a mixture of a dark blonde base with highlights in warm honey and gold. This combination gives a golden finish to the hair, with some of the lights lighter than the others.
It goes wonderfully on a tanned skin because it complements the bronze glow. The best way to wear this mixture of warm shades is in soft wavy beach waves.
Rose gold hair is currently trending hair color because of its vibrancy and beauty it gives to the face and the tan.
The thin subtle golden blonde highlighting that comes on this hair color complete the final look making it shinier. The golden tone blondes are better visible on wavy hair and from different angles.
Copper brown is another hair color that is perfect for showing off gold toned blonde highlights. The reddish undertone that is found in the copper brown comes along with a golden blonde hue very nicely. This combination is great for women with shorter hair.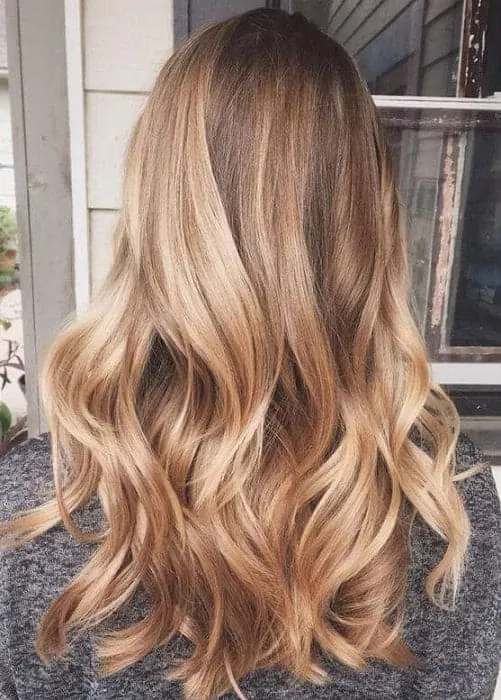 The base of this hairstyle is medium blonde hair. The highlights are done in golden blonde shade and they are visible on the base.
These two shades create a nice contrast because the medium blonde is more matte shade, while the golden highlights are shiny and warm. The curls or waves come at the ends of the hair, accenting the golden tone.
5. Dark Brown Hair
In this combination between brown and golden blonde, the contrast is not so strong because brown contains some golden tones that make a balance in the tonality. The golden blonde hair with highlights start high up, some even from the roots, and as they go towards the ends, they became denser.
6. Dutch Braids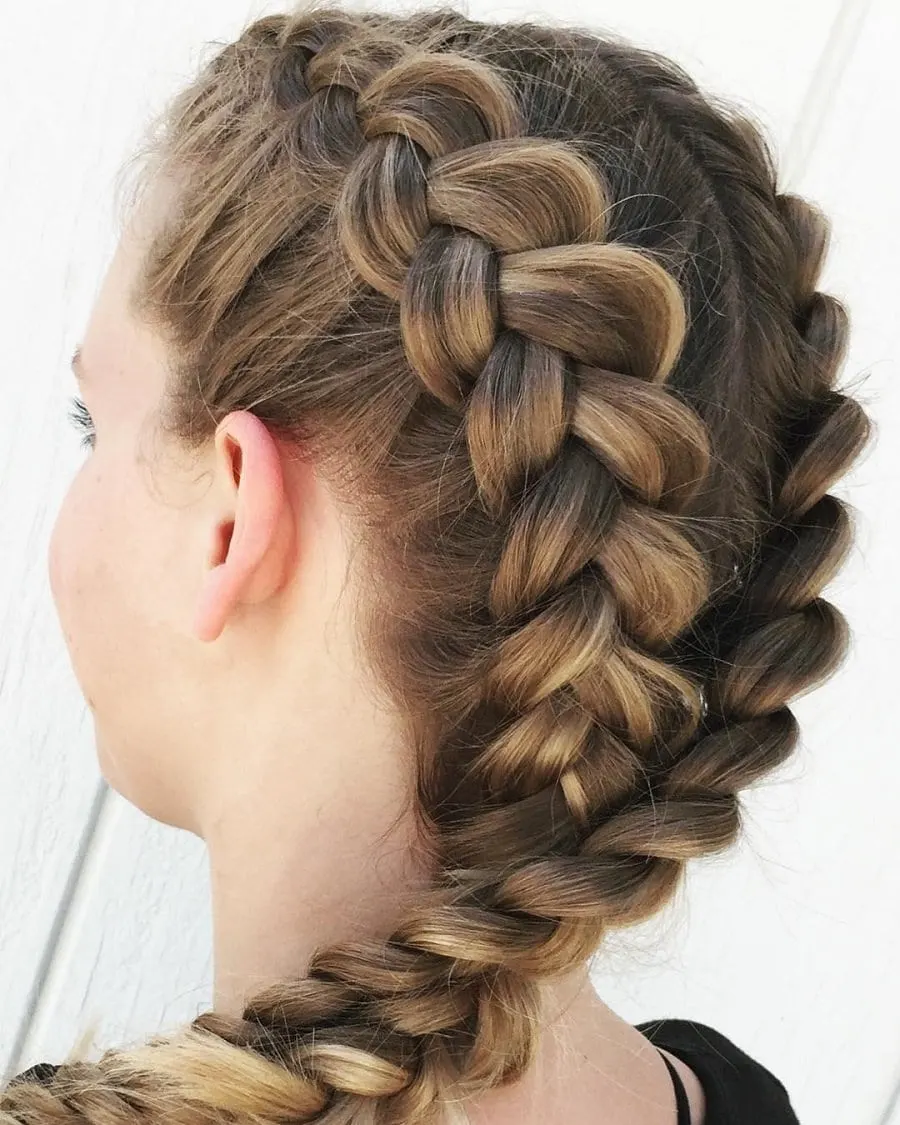 Wearing Dutch braids is the best way to showcase your beautiful golden blonde highlights. The lighter shade of your highlights shows off the braid's intricate movement and weave.
7. Brown Lob + Golden Blonde Highlights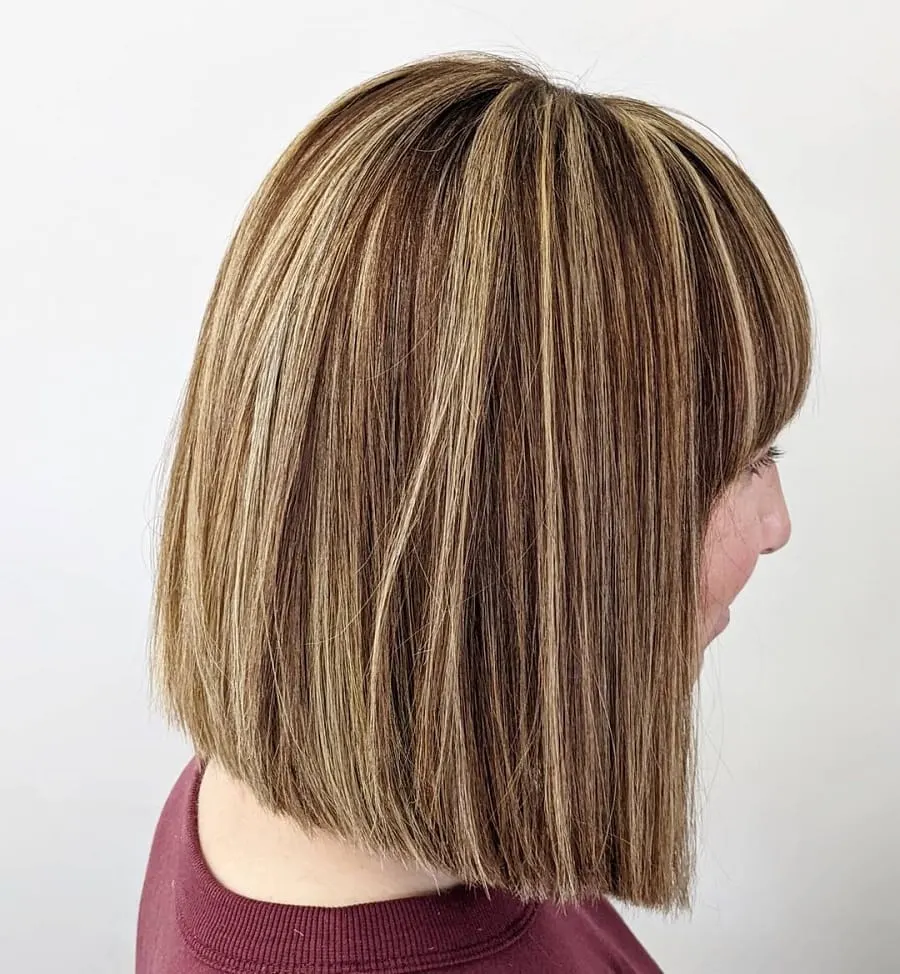 Transform your ordinary-looking lob into an attention-catching one with the addition of highlights. Your dark brown long bob will surely look extra amazing when paired with light golden blonde highlights.
8. Brunette Hair + Thin Highlights
As they say, the brunette is better. But here's the deal: you can make your dark brown hair look the best with a few golden blonde streaks.
The stark contrast between your dark brunette base and light golden streaks will make your curls pop out even more.
9. Chocolate Brown Curls
No other hair color can look yummier than chocolate brown. It's rich, decadent, and just irresistibly amazing!
But if you wish to make your curls look even more bouncy and playful, you'll need the sweet charm of honey-blonde highlights.
10. Dark Hair with Curly Ends
Highlights and curls are meant to be for each other. The highlights add definition to your already-defined hair texture while your curly hair showcases your highlights in the best way possible.
To make the highlights stand out even better and your brunette hair shine brighter, we recommend going for a gloss treatment.
11. Half Up Fishtail Braid + Balayage
Whether you're going to a party or just running a few errands, this half-up crown fishtail hairstyle is the most convenient and stylish on-the-go hairstyle you can try.
The golden blonde balayage made it look more eye-catching and interesting. This coloring technique is highly recommended if you want a natural-looking sunkissed effect and a less noticeable re-growth in the future.
12. Black Waves + Gold Highlights
Blonde highlights can instantly glam up your dark brown curly hair. For a subtle touch, we highly recommend going for a few highlights that are two shades lighter in addition to a few streaks that are all-out blonde.
The mix of dark brown, light brown, and blonde shades make the hairstyle look more natural.
13. Babylights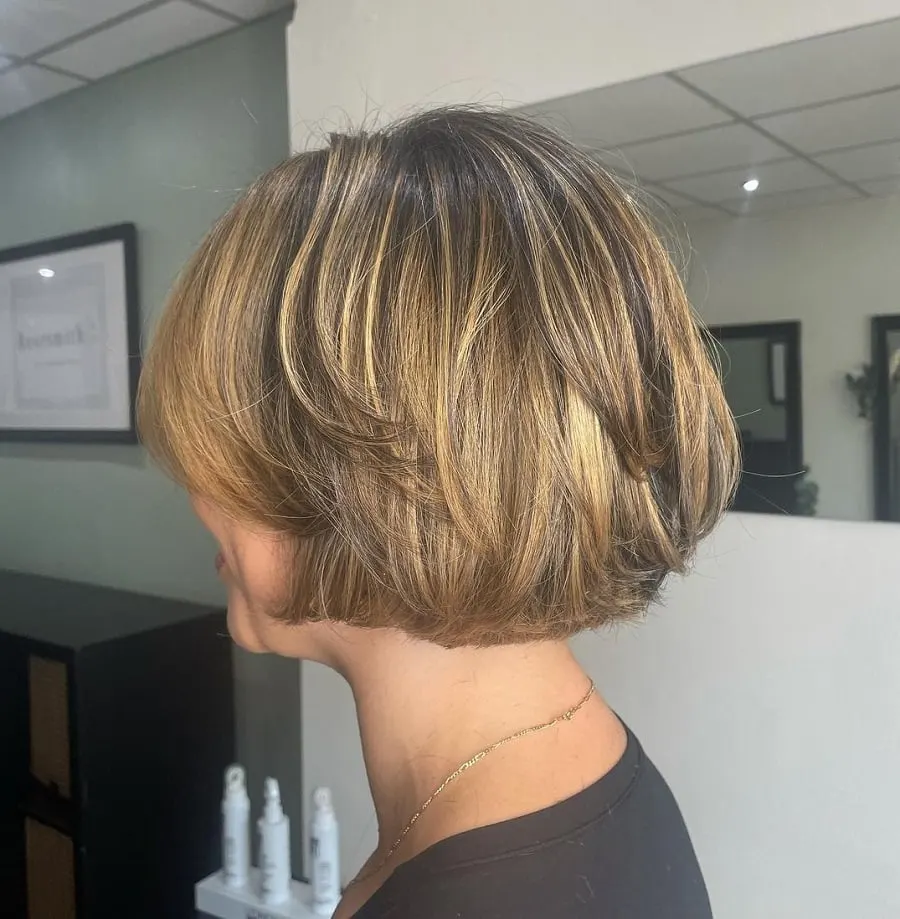 If you want to subtly update your hairstyle, babylights are the way to go. Babylights are finer versions of highlights that are designed to blend seamlessly with your natural hair color.
It's meant to make your hair look sunkissed or naturally lightened by the sun.
14. Curly Updo
If you've found the perfect updo for your big day, congratulations! But if you want to make a textured, airy, and perfectly curated updo look even better, adding a few streaks of golden blonde highlights will give you that gorgeous bridal glow.
15. Pixie with Highlights
Women over 50 always go for the ever-dependable pixie haircut… but it doesn't have to look outdated! Ask your stylist to incorporate some golden blonde highlights to make it look more stylish, modern, and youthful!
16. Bob with Bangs
Make your usual bob look more golden (literally!) with a few light blonde streaks. The highlights will add depth and texture to your boring hairstyle and make your face look slimmer than it really is.
Additionally, the wispy bangs perfectly frame your hair and conceal a large forehead.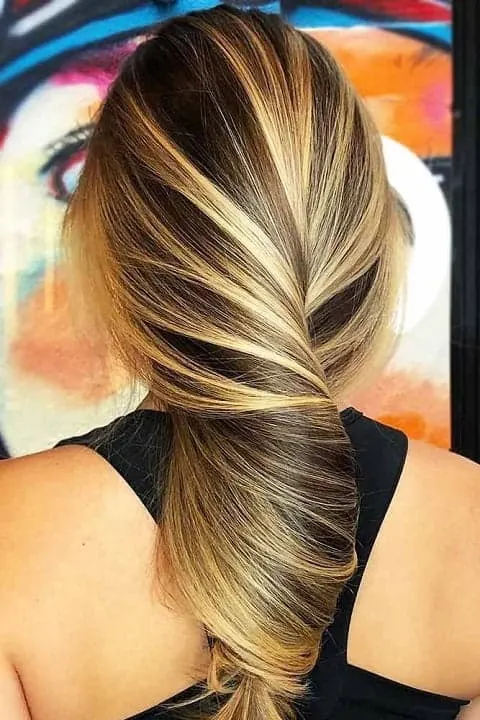 To get this fabulous look, the first thing to do is to highlight your hair in light blonde. After that, do a second highlighting process with taking random pieces and doing them in golden blonde. The final look is amazing!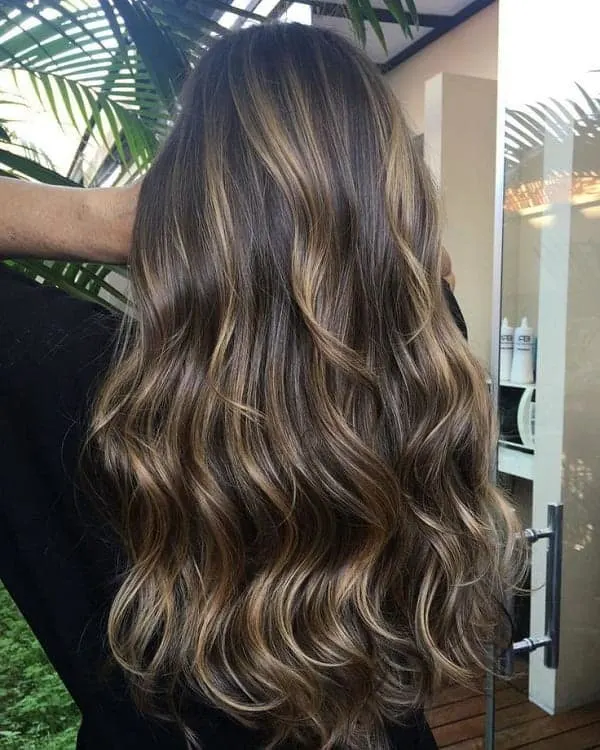 The golden blonde lowlights do not have to be light. They can be darker, and the look you get from darker highlights is very sexy and deep. On a dark base, take out highlights that will come in golden blonde, but let the hair take in the color, without bleaching or with minimal. The gold tone you will get is unique.
Taking out gold blonde highlights can be done on a short strawberry blonde hair. This is currently a very trending color. The highlight with golden blonde shade will add to the shiny and eye-catching appearance. These two tones go perfectly together and on a short straight bob, they give an exquisite look.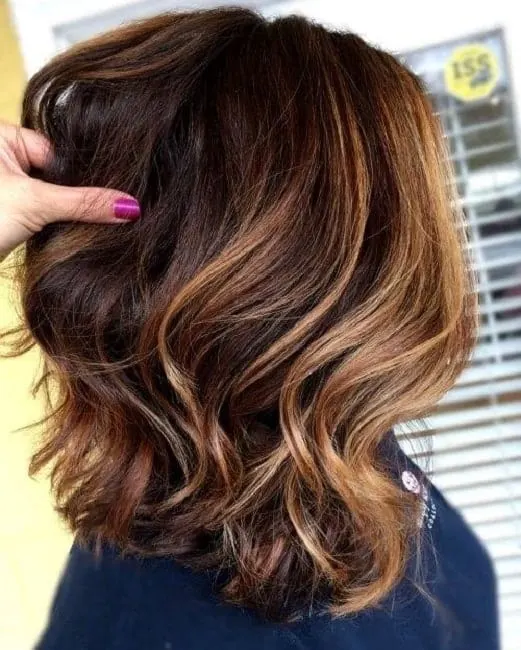 The caramel is a warm tone that with golden highlight create a completely different look from what is usually expected. With a hidden deep tone of subtle maroon, the caramel makes a perfect option for golden matte blonde highlights. This choice will look well on women with fair and medium skin tone.
A reddish hair is a combination between a red and orange hair color that is more subtle instead or bright. This subtle mixture makes a great base for fresh golden blonde highlights. The highlight starts somewhere around the middle, and go all the way down, finishing is loose, voluminous waves.
Many women who wear dark hair want to try a different look by including light highlights. In this case, the black hair is being refreshed by highlights. The transition from black to golden blonde is nice, soft and neutral.
To achieve this look, the black base must be bleached and the golden tone must include yellow ashy shades because otherwise, it might turn to orange or red. Flowy waves are the best way to show off the difference.
On-Trend Golden Blonde Hair Color Ideas
Golden blonde highlights is the perfect mix of hair colors and shades. There are slight reddish hints to help to give the color its golden hue. Golden blonde is also a warm and bright color which is evocative of the sun. The color will instantly stand out in a crowd! Below are more golden blonde hair color ideas we think you'll love.
23. Coy Golden Blonde
Give yourself a seductive coy hairstyle with a sweeping fringe that covers one of your eyes. Layering around your face will help to add to the seductive glamour of the style with layering around your face.
24. Voluminous Golden Blonde Highlights with Soft Waves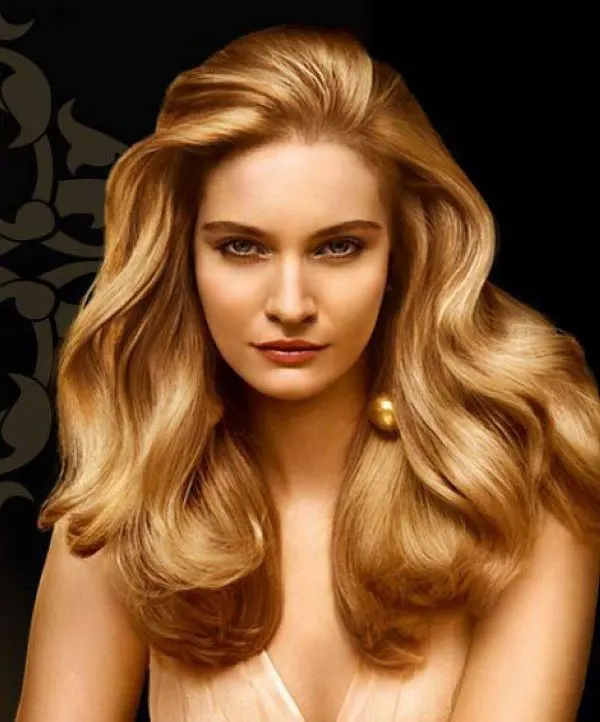 Big, soft waves have always been synonymous with Hollywood glamour and unrivaled sex appeal. Light golden blonde locks like these are the envy of women all over the world.
Tousled hairstyles help to evoke an outdoorsy or beachy look. Golden blonde hair colors can look as though they are sun-kissed. The color is also very warm and friendly.
26. Dark Roots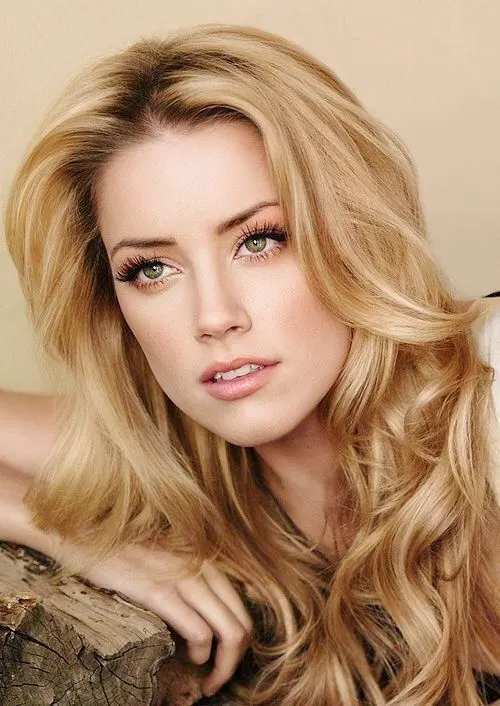 If your hair is not naturally golden blonde in color, you might have to dye it. Inevitably, your roots will start to show through. This isn't a major problem because dark roots can actually help your hair to look thicker and fuller.
27. Bouncy Curls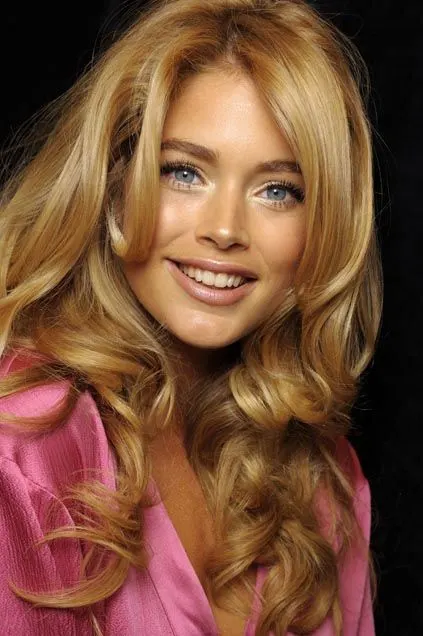 Create a few large curls in your hair using a curling wand. Set the curls with a soft hold hairspray so that they keep bouncing all day long. This is the perfect pageant hairstyle for women with golden blonde highlights.
28. Windswept Hair
Light layering can help you to create a sexy "wind in the hair" look. Run your fingers through your hair to separate out your locks into finer strands. Finally, a light wave will give you the all-important windswept look.
29. Perfect Curls
For perfect curls, you might need to get a perm. If you dye your hair a golden blonde color, your hairstylist may not be able to perm your hair straight away, because the chemicals can interact badly with one another.
30. Soft and Thick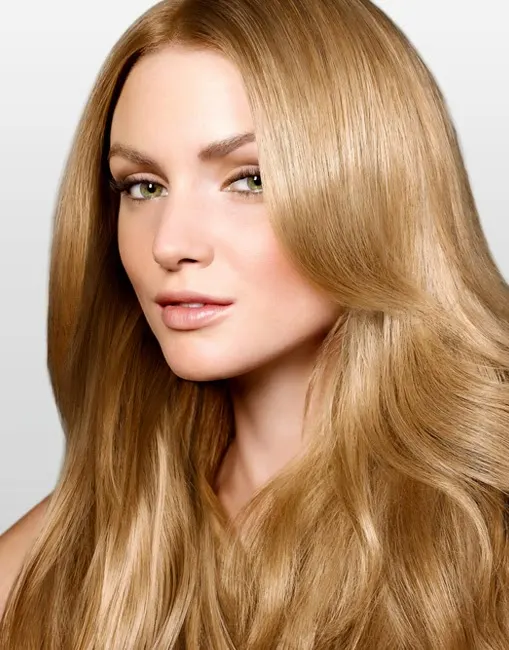 Use volume boosting haircare products to help to give your hair some extra oomph. Blow-drying your hair and combing from the roots will help to create both softness and volume.
FAQs on Golden Blonde Highlights Hairstyles
Which skin tone suits golden blonde highlights best?
The gold blonde highlights suits every skin tone. The women with fair skin tone usually have a light color of the hair, and the golden highlights give them warmth.

Those with medium skin tone usually have darker hair, and the highlights come naturally and fresh. The darker skin tone creates a contrast with the golden highlights, creating some of the most unique hair looks.
Can I try golden blonde highlights on black hair?
Yes. Golden highlights can be done on a black. What is important to mention here is that for the golde highlight to express their best color, the black base must be lightened.

This means that bleaching is a must. Achieving the perfect golden shade on a bleached hair must be done with a combination and mixture of several shades.

This is important so that the bleach does not turn the hair into some orange or red shade. After that, the regular touch ups will fix the color and the look will be great.
Blonde highlights with golden tone are the best option for those who want to keep in the frames of blonde but are not a fan of the yellow undertones. The golden tones are warm, and with their shine, they make every face and every hairstyle look so much better.
They can be styled as waves, curls or just on a straight hair. Whichever style you choose, the beauty that the golden blonde highlights will bring into your hair will not get unnoticed.