There's no better way to switch up your look than to color your hair. It adds instant pizazz to your style and may even jazz up your personality. There's an inconvenient little reality no one ever talks about, though: Those pesky roots; the rude regrowth that sneaks up on you every 3-5 weeks like clockwork, compromising your gorgeous do.
Now, if you have one solid color on your mane, a quick touch-up, here and there, is quite easy to do; if you have highlights, not so much. Here's how to touch up roots without ruining highlights between salon visits.
How to Touch-Up Roots Without Ruining Highlights
As tempting as it might be to want to fix your mismatched color the moment you spot hair regrowth, it's always better to wait until you have at least 1 cm of new, virgin hair to work with.
If you can wait until it grows out to 2 cm, even better. That way, it's easier to touch up your hair roots without ruining your beautiful highlights in the process. Getting this length of growth takes roughly four weeks.
Different Ways to Retouch Your Hair Roots on Highlighted Hair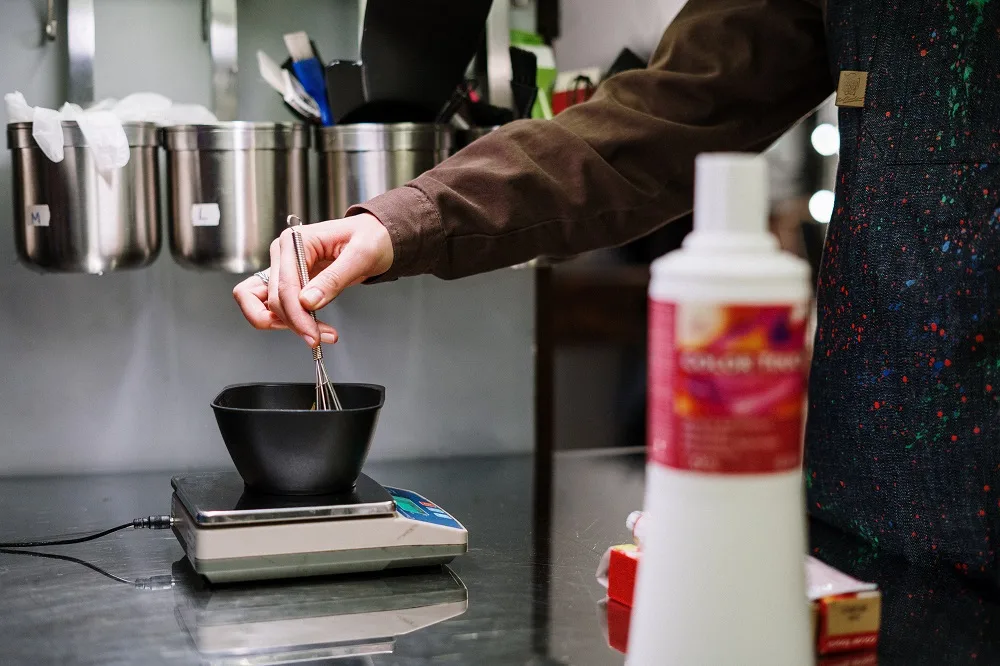 If this is the first time you're learning how to touch-up hair roots without ruining existing highlights, the rule of thumb to keep in mind is: Apply the hair color only where required. Dyeing hair that's already colored is an absolute faux pas that will lead you right back to your hairdresser's chair to fix it.
Likewise, coloring already-colored hair makes it look dull and unnatural and will most certainly ruin the highlights. Here are three hair coloring techniques you can use to retouch your hair roots on highlighted hair.
1. The T-Zone Method
This root touch-up method involves sectioning your hair in the middle to form a letter T. Start the part from the middle of your hairline above your forehead, running it to the topmost part of your head. Then, part the hair along a horizontal line terminating behind each ear.
You should now have three equal sections to work with, completing the letter T. Secure each with a butterfly clip and then apply dye to the hair along the lines. This includes the entire hairline circumference as well.
Leave the hair color on for the recommended time as indicated by the manufacturer. This technique is ideal if you're working with very little regrowth and is fairly easy to do.
2. The Bottom-Top Method
For this root touch-up, you'll need to divide your color-treated hair into four equal sections. Then, split each section horizontally into smaller divisions starting from the nape of your neck and apply hair dye on the dark roots as you work your way up. Repeat this for the other three sections. Finish off with the hairline.
This root touch-up technique requires extreme precision. Therefore, it is better suited to individuals who have some prior coloring experience. Remember to leave the hair dye on for the time indicated on the instruction manual.
3. The Applicator Method
This third technique calls for an applicator. Place the developer and color cream in the applicator bottle and shake well until it's an even consistency. Next, divide your highlighted hair into four equal parts, as described in the previous section.
Cut off the applicator tip, make fine, horizontal partitions from the nape of your neck, and start applying the hair dye on virgin regrowth as you work your way up. Repeat this process for each of the three remaining sections, and then finish off with the hairline circumference.
Choose the Right Tone
Finally, ensure you pick the right hue for the touch-up. It's always a good idea to choose a hue within the color range of the base tone, preferably a lighter color. This is because virgin regrowth tends to absorb pigment faster and, therefore, may end up becoming darker.
Be careful not to stain the highlights during the application process. Precision is key. Here are some expert tips from a professional colorist on how to protect highlights when dyeing your hair.